89 Reviews
Recommended by 96% of couples
Quality of service

4.9 out of 5 rating

Average response time

4.8 out of 5 rating

Professionalism

4.7 out of 5 rating

Value

4.9 out of 5 rating

Flexibility

4.8 out of 5 rating
10 User photos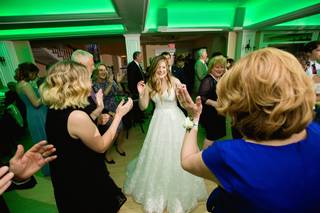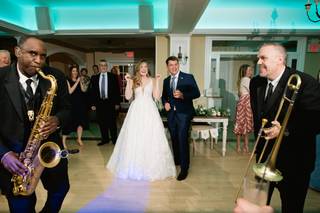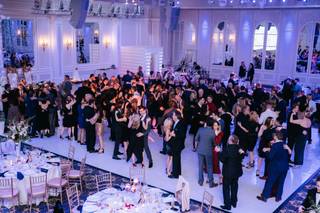 + 6

photos
Morgan P.

Married on 01/13/2023

They Will Make Your Wedding

The Time Machine Band was the perfect choice to perform at our wedding. The band was talented, versatile and full of energy. I cannot think of a song that was requested that they could not play. We had an 11-piece band including trumpets and saxophones. They even came on the dance floor and danced with the crowd. Joe and John were also a pleasure to deal with, extremely responsive, reasonable and just genuinely good people. If you are looking to have a fun-filled, lively and memorable wedding - make sure you make the Time Machine Band part of your big day's foundation.

Virginia P.

Married on 05/07/2022

Awesome Band!

Very early on in our wedding planning, we booked with Time Machine Band. We had seen them perform at two different weddings, and knew we wanted them for our day. I can confidently say it was the best decision we made. Time Machine Band did not disappoint and kept everyone on the dance floor at our wedding. Our guests are still talking about the band! The band is extremely talented and can play a wide range of music styles - from oldies to the 90s. I cannot recommend Time Machine enough!

Melissa K.

Married on 11/19/2021

Great Energy & Vibe

I can't recommend this band enough! They brought such a great vibe to our dance floor & the music was incredible! Our dance floor was never empty!!

Are you interested?

Send a message

Cara F.

Married on 10/08/2021

The best!

Wowwwww Time Machine Band is the BEST band around. We booked them in 2019 and Joe was so responsive and helpful through Covid and rescheduling our date. We had never Time Machine Band play a wedding, but I fell in love with them when I went to see them at their studio. They were amazing then but the energy they brought to our wedding was unreal. My husband wanted to surprise me with having someone else (outside of the band) sing our first dance song (she sang when we had our micro wedding) and the band had no problem having someone else sing and worked with her to play their instruments while she sang the vocals.
We got married a month and a half ago and our guests are still talking about the band!! We know someone who didn't even attend our wedding book them for their wedding because they heard SO many amazing things from guests who attended!!
BOOK THEM!! You will not regret it!!!

Laurie

Married on 06/05/2020

Awesome, unbelievable, incredible, fantastic band!

The words AWESOME, UNBELIEVABLE, INCREDIBLE, FABULOUS, FANTASTIC, all rolled into one. I can't even begin to describe how I feel about this band that played at my daughter's wedding.

At one point I wondered where all the guests were because they weren't at their tables and then I looked around and realized that was because they were all on the dance floor, just where I hoped they would be.

Our guests are still talking about Time Machine and how the members of the band even sang and played their instruments on the dance floor interacting with them.

So if you want a great party where all of your guests are up and dancing, this is the band!

Featured

Whitney B.

Married on 12/27/2019

Book them! You will not be disappointed!

We got married on December 27, 2019 and The Time Machine Band was one of the biggest hits of our night. Time Machine played at my sisters wedding 6 years ago, my best friends wedding 4 years ago and my cousins wedding 3 years ago. They were one of the first vendors that I reached out to because I knew they NEEDED to be our band! Joe was quick to respond to me and set up an in house preview show so we could hear and meet the band to make sure it was the right fit for us. That night we met and talked about pricing and we booked and sent our deposit the next morning. They are THAT GOOD!
Overall our process was very simple. We got some paperwork to fill out by 3 months before our wedding date with our song requests and our first dance songs so they could get to work learning everything. After that we had one final phone call touching base about everything a few weeks before the wedding.
Finally, the night of our wedding! We had them play at cocktail hour as well as for our reception. We booked the entire band with the horns and the DJ. I forget how many people that was but….if you are spending the money for a band in the first place...get it all! The horns are seriously an amazing touch! Also...if you are from Jersey, Born to Run MUST be on your list to play….SOOOO GOOD!!! Overall, if you want a band to get your guests on their feet and on the dance floor, this is your band! They had our whole party dancing and talking about it for weeks after. I still have friends commenting about how amazing it was to have the horns and singers on the dance floor with us joining the party. They interact with the crowd keeping the entire night upbeat and fun. If you are looking for an unforgettable night they will not disappoint you and it will be entertainment that people will talk about for a long time! Thank you Time Machine for making our special day so unforgettable!


Melissa

Married on 11/09/2019

Simply Blown Away

Ignore the website and limited social media/online video presence and just go for it. We knew going into our wedding that we wanted a killer band that would simply KEEP PEOPLE ON THEIR FEET and through word of mouth and first hand experience we knew that Time Machine does just that - including my husband and I for literally the entire reception. They even let us do karaoke :) Wireless mic's and an all-star cast of talent allow them to engage with the crowd on the dance floor throughout. Planning was a breeze and we completely trusted their lead on the playlist and they nailed it. Everything from BSB/Nsync hits, to Frank Sinatra, to hip-hop throwbacks, and Springstein too - it's covered. All I'll say is when in doubt.... go with the horns!!!!

Kristie

Married on 09/29/2019

Must have!

My cousin had The Time Machine Band at her wedding 5-6 years ago and my family still talks about how we never wanted to leave the dance floor! We did not want to sit to eat dinner! When it was time to start planning our wedding there was no question that we wanted Time Machine as well! The band is friendly, energetic, very talented and gets everyone on the dance floor! One of the first things our guests said to us was how amazing the band was! Time Machine will not disappoint!! Thank you Joe and all members of The Time Machine Band for making our wedding night amazing! Dan & Kristie September 29, 2019

Jenecke C.

Married on 08/17/2019

Outstandingly amazing! So fun & engaging!

ABSOLUTELY AMAZING! You CANNOT go wrong with booking this band. We literally booked our venue around this band because they played at a family member's wedding and we could not NOT get them. They are worth EVERY penny. Our wedding was months ago and our guests are still asking about this band at our wedding for their weddings and for their friends. They play their hearts out and sing the best songs to get the crowd going whether its an oldie or a newly released song with their own spin on it. Truly truly a talented group! I loved how they came out on the dance floor and immersed themselves with our dancing guests too. Our guests even wanted pictures with them! YOU must book this band if they are available!

Lauren

Married on 12/29/2018

Best Band Hands Down

Hands down the best band I have EVER heard at a wedding! I was blown away and so were my guest on how amazing The Time Machine band is. They made my wedding. Joe is extremely personable and very easy to go through the booking process with. Guests from my wedding have continually reached out to tell me how maxing the band was. The best they ever heard as well. They get everyone in the dance floor and also interact with people while singing and playing on the dance floor. I highly recommend this band and was blown away by them getting everyone up and dancing the entire night.

Joy

Married on 10/06/2018

What can I say about this band but AMAZING!!! We are so incredibly thrilled to have had Time Machine entertain us. Joe and his crew are absolutely one of the greatest. No am sorry they ARE the greatest. I cannot explain enough about how great they were. We just had them play at our wedding at Hawk Pointe! They are one of a kind. Our guests could not stop talking about them all night and they still today cannot stop talking about them. Thank you Joe for everything from start to finish! You were amazing. Even with the little hiccup in the beginning of the ceremony you were more than accommodating with everything!! I cannot recommend them enough. In fact I will recommend them to EVERYONE!! Thank you Time Machine for making our special day one we will never forget!!

Joy & Dave

Kendall

Married on 02/03/2018

WOW!!! Time Machine Band was INCREDIBLE at our wedding. We could not be happier with the band. The whole crew was professional and fun and such a joy to work with!

Valerie

Married on 10/28/2017

Time Machine, Best Machine!! I was referred to the Time Machine Band by a family friend when I was searching for a wedding band and was promised they would not disappoint! Words cannot describe how fantastic this band is. My family and friends did not leave the dance floor the entire night and all my guests are still raving about their performance. If you are looking for an energetic band who gets your guests off their feet, look no further! The cocktail hour jazz performance set a swanky, comfortable mood during the cocktail hour. The band is so lively during the reception that they join you on the dance floor and electrify the crowd! Thank you Joe and all members of the Time Machine Band for making our wedding unforgettable.

Sarah S.

Married on 10/14/2017

Breathless Band was amazing!

Time Machine was absolutely amazing! Very responsive, helpful and incredible entertainment on our big day.

Anelia

Married on 10/01/2017

These guys are incredible. Yes, the DJ will be able to play the exact songs that you want to hear, but you should hire these guys for the ENTERTAINMENT that they provide during and between the songs. They are hilarious when appropriate, serious when necessary, and definitely do everything they can to cater to the public. I dealt with Joe, who was very honest, helpful, and personable. The pricing is extremely fair... I had some DJs quote me more for my four-hour reception than the quote I received for this amazing band. There is nothing better than having live music/performance at your wedding. Definitely a great investment. I highly recommend them, especially if you would like to have a reception where guests of all ages and cultural backgrounds are loving the music and the entertainment.

Maria

Married on 07/29/2017

The ABSOLUTE, HANDS DOWN, best band someone would want to have at their wedding. They can play anything and kept our guests dancing all night. The entire band is extremely talented, fun, and make the night a truly unforgettable one.

Joanne

Married on 06/24/2017

My daughter was married in June at Eagle Oaks Country Club and we all are still talking about the amazing "Time Machine Band". We extended the reception another hour so we could all remain dancing into the wee hours of the night! I saw family members dancing that I had never seen dance before. The dancefloor was packed from the minute the reception began and remained that way all of the night. Many guests have told me, at times, they thought the original artists were singing the songs, now that's talent. The music, the enthusiasm, and the love the band puts into the room is AMAZING!!! They are not only true showman/show women, but very special people. They don't make you feel like they are just working for you, they make you feel like you are part of the "Time Machine Family". The funny thing is we originally had another band booked from our hometown of Freehold that is very well known to all of us here in Freehold, and they double booked us and we had to find another band. A friend recommended Time Machine, and all I can say now is, "thank you to the Freehold band for cancelling with us", because Time Machine exceeded our expectations way better than we could have ever imagined. If you are having any upcoming events, especially a wedding, book them without hesitation, they are fantastic!!!! I wish I had another child to marry off so we could hire them again, but since we don't we will try and find another excuse to have a party and hire them.Once again, thank you "Time Machine" and Joe Corey for providing an amazing dancing and singing night for my daughter, son-in-law and our extended family. We love you guys!!!!

Julie

Married on 06/03/2017

My husband and I had the Breathless Band of TME play at our wedding on June 3, 2017. To say they were amazing is an understatement. A band can make or break a wedding, and let me tell you, they really made our wedding so much fun. We had 200 people at our wedding, and this band had EVERYONE dancing. They were so fantastic - they played every song on our play list and really brought so much energy to the crowd. True professionals and entertainers. Beyond talented!!! One of the best decisions we made planning our wedding was having TME! Highly, highly recommend.

Caitlin

Married on 09/02/2016

Time Machine - Silk Band was, hands down, the life of our wedding reception! They performed at my husband's brother's wedding two years ago and we were completely blown away. We had never seen anything like them! When we got engaged ourselves, we didn't look at a single other band or even go to one of their events before we signed the contract. We knew they were the best and that's exactly what we got when our wedding day came around. They do everything from Top 40, to classic rock, to Motown renditions, and they KILL it. They got everyone at our reception on the dance floor, and they kept them there. Even if you consider great music to be a given from such a highly-rated band, these guys go a step further. They call themselves a party band for a reason: these guys are PERFORMERS. Whether they're donning red tuxedo jackets for a rendition of Bruno Mars' 'Uptown Funk', or having their saxophonist, guitarist and vocalists come out and play among the crowd, Silk Band is immersive, dynamic and nothing short of fantastic. Our guests have been raving about them, and we wish we could have another wedding just to see them perform again! We are extremely happy with everything!!

Kathy

Married on 07/02/2016

The Best Wedding Band Ever!!!

The Time Machine Band was our choice for our son's wedding on August 17,2019. The entire band members where professional, engaging and made our reception a night to remember for a lifetime.
From the booking to the end of the reception was seamless. I know that other families say that they receive calls after the wedding about how great their band was.... we are receiving calls from our guests that they have NEVER been to a wedding where every person was on the dance floor ALL night long. The band leader Joe, works hand and hand with the reception staff and moves your reception along with absolutely NO down time.... I give them 100 stars for making our son's wedding more than we could ever have asked for. Thank you Joe and your team for a lifetime of amazing memories.

Ariel

Married on 05/15/2016

Look no further. This is your band. They were so amazing that our venue wants to start promoting them.

There are really no words to describe how incredible The Time Machine is! My wedding was a THURSDAY first off, number one my guests partied like it was the weekend because of time machine band ! 2 my guests are still talking and raving about the band! 3. people danced in my family that i never saw so alive in my life LOL . 4. Joe Corey is the NICEST guy , thank you so much Joe for all your amazing help through our wedding process! You and the band made Joe & I's reception UNFORGETTABLE! not just for us but for everyone at our wedding! I want to redo it all over again! The music was really great and the band members interacting with the crowd got everyone dancing and posing for pictures all while singing and not missing s note! Everything was very easy and fun while planning. But most importantly, they had the dance floor filled during the entire reception! Everyone was laughing, singing, and just getting crazy – which made for some awesome pictures. The cocktail hour trio was also amazing ! My husband and I give The Time Machine Band our highest recommendation! You rocked our party so hard thank you so much for being part of Joe & I's day we love you guys!! You're not only an amazing band leader but an amazing friend as well!

Jennifer

Married on 11/07/2015

There are really no words to describe how incredible The Time Machine is! My wedding was three months ago (11/7/15) and my guests are still talking and raving about the band! They were very easy and fun to work with while planning. But most importantly, they had the dance floor filled during the entire reception! Everyone was laughing, singing, and just getting crazy – which made for some awesome pictures. My husband and I give The Time Machine Band our highest recommendation!

Heather

Married on 10/24/2015

The band was amazing and made our wedding the best day ever! They were easy to corridor are with, they were professional and made sure the night was amazing. The guests at our wedding complimented us all night on the band. Everyone danced and had a great time. I wish we could re live the night over and over again! Thank you Time Machine!

Chelsea

Married on 07/12/2015

Time Machine played at our July 12th wedding at The Grove and they were fabulous! Our guests were first introduced to a jazz trio that played beautifully on a balcony during cocktail hour. During the reception, people could not believe the band's ability to go from playing oldies to today's top hits, while sounding so much like the real artists each time. Each member was full of energy and even came out onto the dance floor to interact with the people dancing. My husband and I had taken the decision of choosing a band very seriously, and we are so happy that we chose Time Machine as well as adding on the unbelievable vocals of John Anthony! All of the logistics leading up to our big day were done in an organized manner. Joe is so funny and personable and even set up a private session for us to come and hear them before we signed our contract. If you want the intensity of a full band at your wedding, but still want diversity in the music they play, go with Time Machine Entertainment. They are like no other!
Are you interested?
Send a message