37 Reviews
Recommended by 92% of couples
Quality of service

4.6 out of 5 rating

Average response time

4.7 out of 5 rating

Professionalism

4.8 out of 5 rating

Value

4.4 out of 5 rating

Flexibility

4.5 out of 5 rating
34 User photos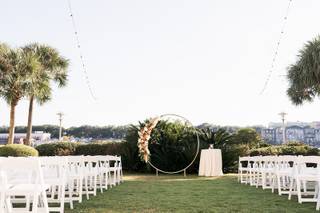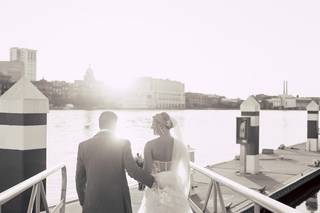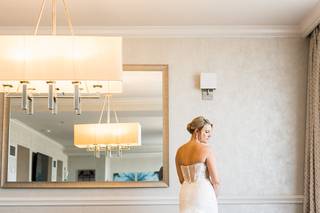 + 30

photos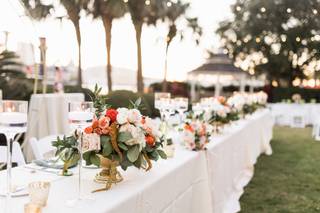 Featured

Katrina B.

Married on 10/23/2022

Absolutely Perfect-Dream Venue!

The Westin couldn't have been anymore perfect for our wedding day. We live out of state and have travelled to Savannah and stayed at the Westin in the past. When we started planning our destination wedding and we saw what they had to offer there was no changing our minds. Meaghan was amazing to deal with during the planning process. The communication was consistent and truthful.

We had our ceremony/reception on the Harbor Lawn/ Harbor ballroom. The flip during cocktail hour from the ceremony to the seated dinner reception was flawless. I was in awe when I saw everything come together. They truly know what they're doing!

+ 17

photos

Brianna

Married on 02/18/2023

Dream Venue and Dream Staff!

I recently had my wedding at The Westin and truly had such a 5 star experience. Meaghan Lowe was such an incredible person to work with over the course of several months to plan this special day. She was quick to respond to emails, incredibly helpful, and always made me and my wedding feel important to her. On the day of, the venue staff that was in charge was phenomenal! We had someone who was specific to the sweetheart table and I wish I knew her name because she was so amazing in consistently checking on us to see if we needed food, drinks, food boxed up, literally anything. The bartenders were complimented multiple times throughout the night by guests. I'm soooo glad I chose to have my wedding at The Westin and beyond grateful that I got to work with Meaghan during this special time! I absolutely recommend this resort with it's gorgeous views, several venue options, beautiful hotel rooms, and wonderful staff!

Ambria

Married on 06/13/2020

A Castle fit for a very Royal Wedding

Everyone at this hotel from the front desk to the servers. Everyone made our day special and the food was magnificent. The views were unmatched. The Hotel was very clean and very accommodating during this pandemic.

+ 8

photos

Are you interested?

Send a message

Megan C.

Married on 09/28/2019

Wedding at the Westin

We had our cocktail hour on the harbor lawn and our reception in the harbor ballroom at the Westin in Savannah. It was amazing! The staff are so responsive and helpful. About two months before the wedding, a tasting is done where you attend the Westin and try versions of the foods offered, and they are all amazing!
They give you an executive suite for the bride and groom the night of the wedding as well. They gave me the option to book the room the night before the wedding so that we could have the hair and make-up team come up there for getting ready. When I checked in, there was a gift bag with traditional Savannah sweets and savory items and a lovely card from the Westin wedding coordinator. When the hair and make-up team arrived the following day, the Westin also sent up complimentary champagne mimosas and fruit trays for us!
Everything was just so perfect and professional the entire time! They worked with the vendors and the wedding planner on decor and lighting and the lawn and ballroom looked absolutely stunning! I could not have imagined a better more perfect place to have my wedding cocktail hour and reception than at the Westin. Thank you so much to Brittany and the staff at the Westin for making me feel so special and making my day perfect! 5 amazing stars, if I could give more, I would give them all!!!

Heather

Married on 04/07/2017

Kristen Haddick and the staff at the Westin Savannah helped create the most beautiful wedding I could have ever imagined. Thanks to her and her team we had the Champions suite for my bridal party to get ready in- highly recommend this gorgeous view! We were able to take pictures throughout the resort because of the fantastic views and well maintained hotel and lawn. Kristen was always a quick email or call away and helped put my mind at ease throughout the entire planning process. Our meals were just as good as we remember from the tasting and the staff were all incredibly professional and accommodating. If you are looking for an "all in one" venue then this is the place for you!! I'm an incredibly happy bride!!

Donza

Married on 03/25/2017

We had an absolutely beautiful wedding at the Westin, and we can not thank Sarah Aliffi-Baez and her staff enough for making our day a dream. The Westin's team was responsive throughout the wedding planning process and then went into overdrive on our wedding day to ensure our day went exactly as planned. The location of the venue is picturesque right on the Savannah River. We held our ceremony on the River Lawn under a constructed tent providing us with amazing views of the water throughout our ceremony. Our reception was held in the newly renovated Grand Ballroom. The space was top notch and provided plenty of room for us to host our 200 wedding guests. Our guests raved about the food and were especially appreciative of the servers that took care of them throughout the evening. The staff was professional and attentive at all times. Overall, we had a great experience and would gladly choose again to have our wedding to take place at the Westin. We thank you Westin for your part in making our day so special!

Beautifullllll! I love the view, the staff is amazing. they were very easy to get in touch with, very friendly staff.

Morgan

Married on 06/04/2016

Staff and venue could not have been more perfect!

Leslie

Married on 10/25/2015

We chose this location because of the beautiful back drop of historic Savannah that can be seen from the Harbor lawn. Sarah was our main contact at the Westin and I am beyond grateful for working with her. Of all the vendors we worked with, she was one of the most caring and sincere. We live out of state so 99% of our communication was through email and Sarah was always available to answer my millions of questions and very prompt with her replies. We also received tons of compliments on the food from our reception and the Harbor ballroom is a beautiful space for entertaining. Getting married at the Westin was like a dream come true for us and so was working with Sarah!

Bethany

Married on 10/03/2015

It is so difficult to find the perfect wedding and reception site in a city as beautiful as Savannah. We toured many gorgeous venues, but something just "clicked" when we saw the Westin. Not only was the property beautiful, it was so nice that our guests didn't have to travel all over the city for our wedding events. Although it rained the day of our outdoor ceremony, Sarah was AWESOME at accommodating us so we could do our ceremony outside in between showers. We were very happy with the Westin and wouldn't change a thing!

Andrea

Married on 09/04/2015

Wow! I don't even know where to start! My wedding was everything I have ever dreamed of. I did not have my ceremony at the Westin, however, I had my reception and day of wedding bridal suite (getting ready for the wedding party), and two night stay in the presidential suite.
My reception was everything I imagined it would be. Sarah was amazing, she was so great at being sure the everything went as planned. I have to say, not one thing went wrong. The food truly was out of this world. Everyone continues to tell me that they loved the food. I remember sitting down with Sarah 3 months before the wedding to taste the food, it was amazing and they were sure to bring every bit of amazingness to the wedding. I had my wedding in the Harbor Ballroom and we were able to use the harbor lawn for the cocktail hour. The cocktail hour tapas were amazing and the room was beautiful. I truly can't say enough about how pleased I am with the outcome. I have to give much love and gratitude to Sarah Aliffi-Baez and her assist Nadine Medeiros for a job well done!
Next, I also want to be sure that Kristi Chistoforatos is also mentioned, she made my bridal suite (presidential suite) experience one to never forget. The entire day of the wedding was lovely and all of us ladies hung out in my bridal suite getting ready. Kristi was sure to make the stay perfect for the ladies and, on the night of the wedding, for my husband and I. After the wedding, we arrived to chocolate covered strawberries and champagne on our bed with a beautiful card (which, I will keep forever) from the wedding team thanking us. It was too good to be true. I would recommend the Westin every time! What a wonderful way to start your happily every after.
--Thanks to Sarah, Nadine, Kristi, and all of the Westin Staff taking care of us at our wedding. Best regards, Andrea

Kiley

Married on 06/27/2015

Sarah & The Westin staff made our dream wedding come true. We looked at many venues when choosing our wedding location in Savannah. The Westin Savannah was the first venue we looked at, but in the end we knew that it was the perfect spot for us. Sarah was beyond awesome to work with! She answered our many questions and made us feel comfortable and confident that our wedding day would go smoothly and beautifully. We planned a lot of the wedding from another state and she was so patient and thorough in the process. We were even able to enjoy relaxing by the pool with family and friends two days before the wedding at the resort. We got married outside at the River View and our cocktail hour and reception followed at the Golf Pavilion. All of our guests loved not just the wedding, but also enjoyed staying at the resort. We had heavy rain during our scheduled time for our outdoor wedding-- the entire Westin staff was AMAZING with pushing back the wedding 30-40 minutes, but also clearing the area/chairs from the rain. We couldn't be more appreciative. The food was also delicious at our cocktail hour and reception, Sarah was so helpful in finding the perfect menu for our big day. She also stayed through the cake cutting to make sure everything ran smoothly. They also made sure to send a bunch of our wedding food up to our amazing suite they had set up, including champagne for us to enjoy! We can't thank Sarah and the Westin staff for helping with all of our details and requests throughout the planning and our big weekend. The Westin Savannah will always be a special place to us and we would definitely recommend working with Sarah and The Westin for your dream wedding!

Debbie

Married on 05/03/2014

AMAZING! Everything was perfect!

Ashley

Married on 10/20/2012

I had my Wedding on October 20th on the Harbor Lawn with my reception following in the harbor ballroom. Sarah was our contact at the Westin and I can't say enough good things about her. She is fun, sweet, and so helpful. She helped answer any questions I had along the way and she worked so hard on the day of the wedding to make sure everything turned out perfect for us. The food and service at the wedding were amazing. All of the guests complimented the food, drinks, and service. They not only fixed us plates for our table but they also sent us a huge spread up to our room at the end of the night. Everything turned out perfect on my big day and the Westin definitely helped make that happen.

The Westin Savannah Harbor Golf Resort and Spa is a beautiful place to get married! We were upgraded to the Harbor Ballroom and Lawn when it wasnt being used the day of our wedding. Also, since it was VERY hot... they moved the cocktail hour inside at the last minute. The space was beautiful and the food was AMAZING! Our guests and family loved staying there too. Working with Sarah, our Catering Manager, was an amazing experience and highly recommended!

Jayme

Married on 05/05/2012

Food was delicious! Sarah is a delight to work with. She is so considerate of your big day in every aspect. Any questions I had or concerns were addressed immediately and perfectly.

Jessica

Married on 12/03/2011

Ok, let me just say... Amazing!! It was so wonderful to work with kind, knowledgeable, open minded, classy people. From day 1 I felt like no matter what everything was undercontrol and taken care of. Our wedding was the day of the Bridge Run and every detail was perfect and on time as scheduled. The Tint was a DREAM, I never imagined lighting could add so much detail. Every aspect from linens to food was perfect. It made us so happy to hear our guest pleased with service, food and there stay here in Savannah. We had a lot of out of town guest and everyone I have spoken to had a pleasent experience. Thank you EVERYONE who took a hand in making our night the very best!! We felt like apart of Starwood family!!

Natalie

Married on 04/16/2011

Our wedding at the Westin was perfect. Sara was incredible and so patient all throughout this whole process. All the staff were super nice and helped us with any and all things asked. The ceremony and reception was absolutely gorgeous and the staff took care of everything, all we had to do was show up. After we returned to our room, we had chocolate covered strawberries and champagne. This day will forever be remembered in our hearts and we owe it all to Sara and the staff at the Westin for making it unbelievable. Our families were from out of town and they had a blast, loved the resort!!! The food at our reception was delicious, the steak was perfect, and the bloody mary's were rocking. This wedding exceeded all expectations that we had and on our wedding day and we could not be happier. THANK YOU SO MUCH SARA!!!!! AND ALL THE STAFF AT THE WESTIN.

Alejandra

Married on 09/05/2010

Could not have made a better venue choice for our wedding. Not only is the Westin Savannah beautiful with many different ceremony/reception options; the staff there is top notch (Sarah Aliffi-Baez went out of her way to accommodated our request and our guests during our wedding weekend) and the food was delicious. Another benefit, especially if you are planning your wedding from out of town, is they have great relationships with many other vendors in the area and you can rely on their recommendations.

Liz

Married on 06/12/2010

Sarah was the best! She was so easy to work with and went above and beyond to make sure everything went smoothly.

I will recommed the Westin (and specifically Sarah) to anybody looking to get married int he Savannah area!

Alison

Married on 09/27/2008

The Westin was professional and picture perfect. We couldn't have chosen a better venue and our guests are still raving about our wedding. Everything seemed to go on without a hitch. Our catering manager, Robyn Joffe, was professional and flexible. She helped us choose the right options for our event. We highly recommend The Westin!

Jennifer

Married on 07/01/2006

The Westin was very professional. The whole reception seemed to go perfectly because of their help. I would def. recommend this place for your wedding. The view, and the amazement on people's faces when they see the huge cargo ships is great!

Sari

Married on 06/14/2014

Bill and I started working with Sales Manager Sarah Aliffi-Baez about 8 months before our wedding. Sarah was excellent from the first meeting and always quick to respond to all of our questions about the ceremony and reception. We had a vision of what we wanted and it all came together without problems as time passed. We had a fabulous tasting few months before and as we are locals, we had a chance to go and see many wedding set ups to see how we wanted to set the room. Sarah was delightful and so helpful all along. The winter had been very rough and some of the grounds needed additional work and after requesting the lawn to be fixed and palm trees clipped, Sarah made it happen! The venue was beautiful and reception perfect. The weather gave us a challenge and we had to move the cocktail hour indoors but it happened quick and with her leadership all hands were on deck! I had no idea of any challenges as the team of professionals were at work! Just like duck on water, smooth at surface although she was paddling like crazy under the water (LOL). As a hospitality professional and event planner I know what it takes, and I know that Sarah put her everything into it! She was still there at the end of the evening as we were going to the sparkler exit. Her dedication is unsurpassed by any wedding professional in Savannah!! The Westin is a beautiful property, a little pricey but you get what you pay for!! The food was unbelievable!! We are both culinary trained chefs, so quite hard to impress and we were totally impressed and our expectations were exceeded!!! I cannot say enough of Sarah and how dedicated she is! I know she deals with so many brides but she truly cares and knows what it takes!! The Westin is so lucky to have her in their team!! Bravo!!

Erica

Married on 04/14/2012

The Westin was wonderful!!!!

Sarah was great to work with and everything went as planned. The food was wonderful, servers were very friendly, and the venue was to die for!

I planned our wedding from Atlanta and only visited the Westin 2 times. I would HIGHLY recommend using this site as your wedding venue and ceremony location!!!!

I can't say enough about how great the Westin was!

Anna

Married on 03/26/2011

The Westin was absolutely wonderful. Sarah was always available to answer any questions that my mother and I had. I had my wedding ceremony on the Harbor Lawn and reception at the Harbor Ballroom. It began raining just 30 minutes or so before my ceremony was supposed to start. Sarah was on the phone with me telling me what time the weather channel said the rain was supposed to stop and giving me advise on how to continue. We decided to wait the rain out, we started just 20 minutes late. Sarah and the staff wipped down all of the chairs multiple times and we were really glad we decided to hold off. The rain stopped and the wedding was beautiful. Cocktail hour was great my guests loved the crab cakes and the bbq chicken on cheddar biscuits. My guests also told me after the wedding that it was the best wedding food they've ever had. We chose lots of stations on different sides of the room. That way people never had much of a wait. My husband and I even had our own waitress who made sure our drinks were never empty and that we were eating. My experience with the Westin was so great. I can't say enough about how great they are. Best wedding decision I made.
Are you interested?
Send a message