197 Reviews
Recommended by 96% of couples
Quality of service

4.8 out of 5 rating

Average response time

4.7 out of 5 rating

Professionalism

4.8 out of 5 rating

Value

4.8 out of 5 rating

Flexibility

4.8 out of 5 rating
71 User photos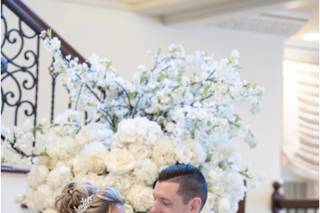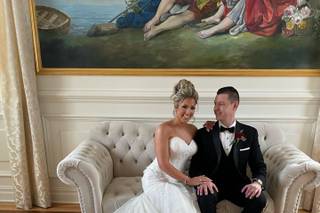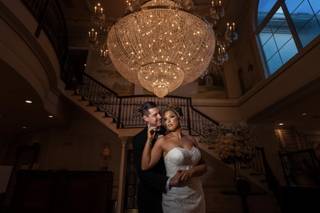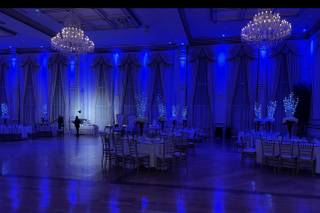 + 67

photos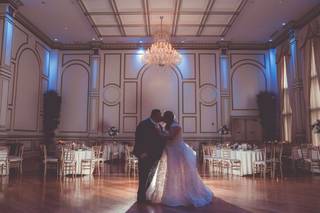 Featured

Amanda

Married on 09/15/2017

I really don't even know where to begin with praising The Tides Estate ... we got married there in September 2017 and it was absolutely magical! My husband and I looked at 9 different venues after we got engaged, and when we walked into the Tides, our jaws actually dropped. The Ballroom, Cocktail Room and Grounds are incredibly impressive. The Ballroom is GORGEOUS and really unlike anything else I've seen, with high ceilings, floor to ceiling windows and a HUGE dance floor - which was a BIG selling point for us. The Cocktail Room is so spacious with plenty of seating and tables, and the Grounds were the perfect place to hold a reception and take photos. We recently got our pictures back, and the The Tides' Grounds served as a beautiful backdrop. Our guests RAVED about the venue and really felt that it was breathtaking.
It was such a pleasure working with Tito throughout our whole wedding planning process. He is incredibly personable, and always got back to us with any questions or requests we had - we are going to miss him!! Mike was our Matire'D for the day/night, and waited on us and our families hand and foot - he really helped make the day seamless! In addition, the whole Tides staff were absolute professionals. We brought in A LOT of decorations and inventory, and everything was set-up perfectly!
Last but definitely not least ... THE FOOD!! Not only is the Cocktail Hour Spread massive (and delicious), but we had many guests come up to us afterwards telling us that it was the best food they've ever had at a wedding. We really enjoyed the Tasting process leading up to the wedding as well.
We got married on a Friday night, and it was in the same price range or LESS compared to other venue contenders we looked at. We really feel that we stumbled upon a pot of gold by choosing the Tides as our venue. It is a stunning place, and we truly had the wedding of our dreams.

Jamie

Getting married on 01/26/2024

I got married at The Tides Estate in the grand ballroom and it was everything I could of ever dreamed of. From the moment I met with Tito I knew this was the place I would be getting married in. Out of 13 different venues this was the only one that after meeting with I had no questions or concerns. The staff was more than accommodating and my Maitre'D Steven exceeded any expectation I could of had. The Tides was very easy to work with which definitely helped in reducing that wedding stress. The food was amazing and my guests still talk about it months later. The grounds are stunning and the grand ballroom is like a fairy tale. My husband still asks if we can do it all over again because our experience was truly magical and that is all thanks to The Tides Estate and their staff.

Jillian T.

Married on 12/09/2021

Outstanding Wedding Venue

We cannot say enough about the quality of service we received from The Tides. Like many couples, we were forced to postpone due to the pandemic. Michael Stronganoff, our event manager, and The Tides team worked with us and made the transition to an outdoor wedding seamless. The food was outstanding, the venue was gorgeous, and every amenity you could possible want was readily available for us. We will continue to recommend The Tides and Michael as a fabulous place to have a wedding. Thank you for making our day so incredibly special!

Are you interested?

Send a message

Anthi S.

Married on 10/23/2021

Fantastic Experience!

Our Wedding Reception at the Tides Estate could not have gone better. From the beginning, we had an extremely professional and productive relationship with Mike Stroganoff.

He was extremely straight forward and certainly has a tremendous amount of experience with these events. His attention to detail is unbelievable and he deserves more plaudits than we can give. It certainly put our minds at ease. The timeline of planning provided by him was very appropriate and allowed us to hash out the details we wanted.

The event was executed so well. The guests were simply in awe of the venue and the event. The feedback was simply tremendous and we could not have asked for more. The Maitre'D (Alberto) was extremely attentive to sequence of events and even made sure that we had something to eat in the midst of the event. It was truly a pleasure to work with Mike Stroganoff from the beginning to the end.

We enthusiastically recommend the Tides Estate to anyone looking for an amazing venue to host their important life events.

Michelle C.

Married on 10/15/2021

Great meeting experience!

The gentleman that we met with was great about answering all of our questions. The ballroom is stunning. Ultimately I ended up going with another venue, but this was my second choice. I thought the renovations that they did were absolutely gorgeous.

Alexis H.

Married on 10/02/2021

Dream come true.

From our first tasting & booking through the planning process to our wedding day Tito & the staff at the tides were incredible. We can't thank them enough for making our dream Come true wedding a reality & beyond our wildest dreams! Mike our maître d' was amazing & went above and beyond he even bustled my gown after the ceremony before reception so my MOH could enjoy
Cocktail hour! We are forever grateful & hope no one misses an opportunity to host an event at this amazing venue. 🍾💖🎉

+ 13

photos

Jessica

Married on 07/17/2021

Gorgeous Venue!!


The Tides is one of the most beautiful venues around. From the second I turned into the drive for the Tides and saw the cobblestone road I was hooked. The venue inside is absolutely gorgeous and the chandelier in the main lobby is stunning. The main ballroom has beautiful high ceilings which bring so much volume to the room! After our initial tour, I was ready to sign. When we first booked the Tides we were working with Tom. He was very kind and definitely helped us ensure everything we wanted for our big day. When we had to postpone it in 2020, Tom left and we started to work with Michael. Michael is wonderful to work with as well. He cares and is willing to answer any question that is thrown his way. He is willing to meet at any time and he accommodates the bride and groom's needs. When our day at the Tides finally arrived we were greeted by Michael and Michael the maitre'd as we got off the limo. We were welcomed into the Tides and they were genuinely so happy we finally got our day at the venue. Michael, the maitre'd was phenomenal. Anything we asked he did for us. He would bring us drinks, water, food for us without even asking. He helped me package all the stuff up at the end of the night and store it for an easy pick up the next day. He was such a wonderful person to work with. The Tides was such an amazing venue and I really hope someone I know gets married there so I can go back as a guest because the food was amazing, the venue was gorgeous, and it was truly the best day of our lives.


Kenia T.

Married on 06/12/2021

Tides review

The kindness and professionalism from beginning to end could NOT have been greater.
We got ready, had ceremony, cocktail hour and reception all here. As the pictures show, There are so many unique and beautiful designs to each section of this place. I could not have asked for anything more

+ 8

photos

Priscilla R.

Married on 06/04/2021

Class and Elegance

Words cant express how happy i was to choose the tides as my wedding venue. Everything was fantastic from the impeccable service to the delicious food. Ive toured a few places and fell in love with the outdoor area instantly. Steve was an awesome maitre d that made sure everything was seemless and michael did a great job making sure everything went as planned. Ill never forget my big day thanks to them.

Sabrina

Married on 05/15/2021

Spectacular!

Wonderful venue! Did a great job with the timing of everything, the food was divine and all my guests loved the venue just as much as I did. Will be recommending this to my friend who's plnning her wedding for next year!

Alysha S.

Married on 04/30/2021

We love the Tides!

My husband and I got married at The Tides on April 30th. We had such a pleasure working with Tito and his teams and they really did make all of our dreams come true. We had to postpone a few times due to the pandemic, but The Tides worked with us and were so understanding! Would love to go to future events here!

Lauren

Married on 04/17/2021

Amazing & Beautiful!

Amazing!!! Loved this venue so much, it was everything I wanted for my wedding. Would definitely recommend, top quality service and just gorgeous!

Sarah

Married on 01/22/2021

Hands down the BEST!!

I cannot say enough good things about The Tides Estate!! We had to postpone our wedding and they were extremely accommodating. Mike Stroganoff is the best banquet manger out there!! He was always quick to respond to my many emails and met with us throughout our postponement journey. He is the absolute BEST!! The day of our wedding was absolutely perfect! The service and food were outstanding!! Do not hesitate to book this amazing venue!!

Daisy V.

Married on 12/14/2019

Amazing time at The Tides Estate!!

The Tides Estate exceeded all of our expectations from day one. Tito was so attentive and available to us for any questions we had before we even booked. On the days leading up to our wedding and our wedding day itself, we were taken care of throughout every moment. Steven was our maitre d and he was such a rock star for us all day. The venue was flexible with us and allowed us to really play out our perfect day.

Max K.

Married on 10/19/2019

Made our dreams come true

We had our wedding at the Tides Estate and it exceeded all expectations. We had a smaller party (about 120 people) so the downstairs hall was perfect for us. The venue itself is breathtaking. The garden in the back is extremely photogenic, every corner has a different theme. The food was delicious. The service was spectacular (especially our maitre d Steven, the guy was incredible). Also I want to give a special thanks to Tom who helped us evert step of the way to make sure our big day was special. I would absolutely recommend this venue to anyone.

Jillian

Married on 10/12/2019

Dream Venue

The Tides is so stunningly beautiful and elegant. I had several guests tell me it was the most beautiful venue that they have been to. Aside from that, the food is unbelievable. Leading up to the wedding, every time someone asked me where my wedding was and I said the Tides, they replied by complimenting the food there. When I finally got to try the food myself at our tasting and wedding I was in awe.
We booked with Tito and he was so helpful through every step of the process. On the day of, Mike was our Maitre D. He was so attentive. He brought my husband and I plates of food and drinks to make sure we were eating. We hired a dessert food truck and I was too busy to go out and get a milk shake but Mike noticed and brought it to me. The service was all around outstanding from the bartenders and waiters as well. I would recommend this venue to anyone. Also, prices are EXTREMELY FAIR. We paid a lot less than we would have at any other venue and received a lot more.

Naomi

Married on 09/22/2019

Love the Tides!!

Our wedding went off without a hitch! We got married 9/32/19. Besides being able to have your ceremony in their gorgeous gardens, the ballroom for the reception is breathtaking. And of course the most important thing, price! You won't find a better quality venue for the price you pay. Very affordable. The staff was superb. I can't speak highly enough about this place.

Rita H.

Married on 09/12/2019

The venue is breathtaking, the grounds is beautiful, the two ceremony locations are all I imagine, I'm happy I choose this venue.

I will recommend this venu to all who's getting married a complete 5 stars ⭐️ ⭐️⭐️⭐️⭐️

Jackie

Married on 07/27/2019

Exciting and supportive experience

I met with Tom from the Tides while looking to find a perfect Venue. From the start I was blown away from the entrance to the tour of the grounds, I love the look of the estate. Tom was so great throughout the tour and at the end he personalized it, showing us a menu with our names printed on it and our possible date. We attended a food tasting with my family and were blown away by the food. We are beyond excited to get married in July 2019 at The Tides!!

Tamara

Married on 07/19/2019

My fiancé and I just booked our wedding here for July 19,2019! So we have plenty of time, but from the beginning Tom was very friendly, accommodating, and overall super responsive. For what is provided, this place is IMMACULATE! The Tides was the 4th and last venue my fiancé and I had visited and I'm glad we save the best for last. From the entrance, to the bridal FLOOR and the AMAZING BALLROOM! This was a YES from arriving. I visited the grounds twice ( once with my fiancé and other time with my mom and grandma) & both times I fell in LOVE! With the package we worked on with Tom, I'm super excited for my wedding :) Just 600 more days to go!!

Kelly S.

Married on 07/18/2019

Fairytale Wedding

We were married on July 18 at The Tides and we cannot thank them enough for a wonderful and perfect wedding! Our guests raved about how delicious the food was during cocktail hour and dinner, and loved all of the desserts at the end of the night. As the bride and groom, our maitre'd Mike was phenomenal! We were taken care of all night, and no matter what we needed, Mike was there to help us and make our evening smooth and enjoyable. The Tides weren't above and beyond for us in many ways and we couldn't be happier with how our wedding turned out. It's a day we will cherish and remember always, thanks to the wonderful staff at The Tides.

+ 4

photos

Allison

Married on 07/03/2019

Phenomenal

Best wedding venue ever !!!!!!!!

Christine

Married on 06/27/2019

This place makes your dream day come true

My husband and I got married at the tides on 06/27/2019.
Amazing venue. I absolutely recommend them to make your dream day come true.
I was a guest to a friend's wedding at the tides and was amazed by the whole experience. We didn't even hesitate to choose the tides.
both Tito and Tom are great and the whole crew is super friendly and helpful.
Food, wedding cake and drinks are all really good.

+ 2

photos

Katie A.

Married on 06/14/2019

Never ruin my wedding

This wedding never failed. Me and Ryder got married yesterday. We had so much fun. I highly recommend it!

Patricia A.

Married on 05/30/2019

Tom is one best General Managers at Tides Estate

Tides Estate - if you book the Tides and get to work with Tom man oh man you're in great hands. He is the sweetest and most considerate manager. He made us feel like family. He was super accommodating from the time we first met to the day of wedding.
Are you interested?
Send a message