The Ritz-Carlton, Philadelphia Reviews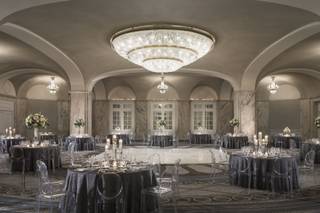 The Ritz-Carlton, Philadelphia
Philadelphia, PA
View more information
18 Reviews
Recommended by 96% of couples
Quality of service

4.9 out of 5 rating

Average response time

4.9 out of 5 rating

Professionalism

4.9 out of 5 rating

Value

4.5 out of 5 rating

Flexibility

4.8 out of 5 rating
Awards
2 User photos
Jenna T.

Married on 01/14/2023

Absolutely Perfect!

The Ritz-Carlton Philadelphia was the most perfect wedding venue! We worked with Diana and she was extremely helpful and responsive all throughout wedding planning. The rest of the staff, including the kitchen & bar staff, waitstaff, house keeping, bell hops, were all tremendous as well. The food at our wedding was amazing and so many of our guests complimented the food choices. I would highly recommend the Ritz-Carlton Philadelphia for your wedding!

Mary

Married on 09/23/2017

I cannot speak highly enough regarding the level of service provided by every staff member of the Ritz-Carlton Philadelphia. Our wedding specialist, Nina, and banquet captain, Amir, made sure every single aspect of my daughter's wedding was perfect. She handled a couple of minor crises instantly so they had absolutely no impact on my daughter's enjoyment of the day. The service was impeccable at every level - from check-in and front-desk personnel to banquet captain and servers at the bridal breakfast. The venue and hotel rooms have been recently remodeled and are beautiful and elegant.

Although my daughter and son-in law's wedding was almost two weeks ago, I am still hearing rave reviews from attendees about the delicious food, the incredible service, and overall how amazing their experience was at the Ritz-Carlton Philadelphia.

Almost all of our wedding guests were from out of town - and the hotel treated each and every one of them with the level of service one would expect at a Ritz-Carlton.

The hotel also provided ready-rooms for the ladies and gentlemen of the wedding party (supervised by Penny) that had delicious snacks and beverages so everyone in the wedding had a chance to eat before leaving for the church. Nina, our wedding specialist, made sure our guests got on the correct shuttle to get to the church (since there was more than one shuttle outside.) We could not have asked for more!

Jess

Married on 05/30/2015

We could not have been happier with our wedding at The Ritz Carlton. The beautiful atmosphere, the service and the staff were impeccable. It exceeded even our expectations!

Are you interested?

Send a message

Everything was beautiful and exactly how I envisioned my day to be. Jamie and the event staff are the best!

Kelly

Married on 10/27/2012

If you're looking to have your wedding at a FABULOUS venue in the Philadelphia area, look no further. Not even sure where to begin this glowing review.

We walked into the Ritz, looked around the incredible lobby and knew this was it. The place is magnificent.

The staff at the Ritz Carlton Philadelphia treated us like GOLD the entire way through. From our first meetings with Staci to planning the wedding with Susan (aka driving her crazy, haha) to the day of the wedding with Banquet Captain Stephanie & Head Server Billy, they couldn't have been nicer, more thoughtful or more thorough. It was an absolute pleasure to work with them!

The food, oh my gosh, the food. If you want your guests to eat well, this place is it. The food was absolutely incredible. As a bride, they say you never get to eat the food. Well I wasn't missing this meal. White gown and all, I ate the entire meal AND the cake. (Which was the best cake flavor I've ever tasted, Sweet Potato, like a Carrot Cake only more delicious)

Susan was incredible with setting up all my DIY add ons (I blame Pinterest) and executed them perfectly! She was extremely flexible with every request I made, making wedding planning a heck of a lot easier!

I cannot say more wonderful things about the Ritz Carlton Philadelphia. They made our wedding more wonderful than we ever could have imagined. It's truly a gem of a venue!

Lisa

Married on 06/23/2012

After researching numerous venues in the center city area, the Ritz Carlton was the obvious choice. Not only was the property breathtaking but also the people were top notch. Plenty of places in the city were pretty but no one treated us the way the Ritz Carlton did. They made us feel like our day was what was important to them, not their bottom line. The venue is simply is stunning. We knew that all of the marble, the enormous marble columns, the elegance of the ball room and the exquisite chandeliers would give us that old world feel we were looking for. The Food was OUT OF THIS WORLD. You could cut the steak with a butter knife! Almost every guest said it was the best meal they EVER had!! But, what really made our day so special was the treatment we received from the Ritz Carlton. The night before the wedding, after the rehearsal dinner, the groom's father was rushed to the hospital and needed emergency surgery. Since he was not able to attend the wedding the Ritz Carlton skyped the ceremony (which was not even on their premises) to the intensive care unit. Not only did they go out of their way to make sure he saw the ceremony they had a staff member, unbeknownst to us, take pictures of the whole day, printed the pictures out, designed an album, and delivered it to his hospital room immediately following the reception. They did absolutely everything they could to make sure our day was as perfect as it could be. None surpasses the service and the feel of the Ritz Carlton.

Patty

Married on 06/16/2012

Can't say enough good things about the whole experience at the Ritz. Wonderful people to work with and very professional. Great venue and service from everyone.

Jeffrey

Married on 04/28/2012

My wife Wendy and I had such an amazing day thanks to the Ritz Carlton and the wonderful staff, I just had to spend a few moments to express my gratitude and mention a few special people who really stood out.

Staci Gussis was the very first person we met at the Ritz Carlton. I remember walking into our initial meeting being frustrated and burned out by looking at other venues in Philadelphia. Staci greeted us with a warm smile and instantly disarmed me from my bad mood. She was so attentive and encouraging, we made up our mind to go with the Ritz Carlton within the first 10 minutes. She stopped by our wedding several times on Saturday to make sure we were ok.

Susan was our event coordinator, from our very first meeting with Susan, she treated us like we were her only clients. She was always so thoughtful and patient with all of our questions. Everything we envisioned Susan made happen, she delivered on every aspect and was mindful of the smallest details. Susan exemplifies the Ritz Carlton brand in everything she does. I have 100% trust in Susan and she is the first person I will call for future events or parties. At the end of the evening, my photographer who has been doing wedding for almost 20 years said he's never seen wedding go so smoothly. Wendy and I could not be happier thanks to Susan. Susan was constantly making herself available for anything on Saturday, but more importantly over the past year.

Brenda also made herself available throughout the evening and whenever we were on the property, she reminded me that the staff was here to make our day special and to let her know if we needed anything at all. Although I have not had the pleasure to work with Brenda as much as Susan, Brenda was always attentive and engaging.

Jerry was our Banquet Captain and executed the evening with flawless precision. He engaged our guests with charisma and completely answered every question; making everyone feel important and special. Jerry's service is crisp and sharp, exactly what you expect and hope for from the Banquet Captain on your special day.

Robert was our head waiter. Wendy told me during the course of the evening she felt like the President and Robert was her Secret Service detail. Robert serves all his guest in a caring, gracious and humble manner, but he really went above and beyond to make my Bride feel extra special. All of our guests commented on Robert's excellent service.

Hubert was our waiter and was focused on providing great service to all our guests.

Our bartender Ramzi did a fantastic job. He was professional, friendly and charming, his service and personality truly added to a wonderful night.

Chef Patrick and Chef Laura stopped by at the end of the evening to make sure all the food was what we expected, which were really appreciated. All of our guests, ourselves included, thought the food was 5 stars.

I'm not sure this falls under Meeting and Events, but Eddie from the Spa is top notch! Eddie has been helping Wendy with the correct color and style for her hair over the past few months. Eddie did her hair for Saturday and made her feel like the most important person in the world. I didn't think Wendy could be any more beautiful, but Eddie worked magic.

Once again, Wendy and I just want to say thank you to everyone at the Ritz Carlton Philadelphia for a perfect and memorable wedding day.


Julie

Married on 09/10/2011

A dream come true.
We had our wedding in the Grand Ballroom at the Ritz and it will be a wedding that people will be talking about for a long time.
Everything went perfectly. Every need was anticipated. And every staff person was a pleasure to work with...from our wedding coordinator, to our banquet captain, to our bellman, to the front desk staff.
Many of our guests said it was the most beautiful wedding they have ever been to.
It was magical!!

Every dream comes true at the Ritz Philadelphia! I could write all day on the perfection that the Ritz offered my husband and I. Everything from the tasting to our one year anniversary present, the Ritz Carlton Philadelphia went beyond 5 stars.

Sharla

Married on 03/28/2009

A Ritz-Carlton wedding made all the difference. The service was above and beyond in every possible area. So cliche, but it was a dream wedding! I am already thinking of the next event we can book there (anniversary? birthday?!!). The Ritz's catering was amazing, but I really valued being able to bring in my own cake as a girlfriend of mine is an accomplished pastry chef (Zoe at Whipped Bakeshop!).
Jamie Fishman especially earned my 100% trust, happiness and satisfaction as a wedding coordinator par excellence!! She attended to every possible detail imaginable or not and made everything easy (even when it wasn't) and FUN.

Nazgol

Married on 09/04/2004

Service and professionalism is what you expect from the Ritz brand. The team with whom we worked topped off their impeccable Ritz service with a healthy dose of Philly down-to-earth charm. Ginger is a star - quintessential professional and genuinely warm and caring. Loved partnering with her and team. Jerry is a gentleman and super attentive to detail. A+ for hospitality.

Rebecca

Married on 01/23/2010

AMAZING!!! I have not one bad thing to say about the Ritz Carlton Philadelphia other than it is a bit expensive to have a wedding here. BUT, it was worth every penny. The whole staff knew me, my family, my husband's family and treated us like royalty every time we called them, had a question or when we were at the hotel. This was especially true for the weekend of the wedding.
The service was unprecedented, the food amazing and every single detail was taken care of. They even had a picture of us dancing our first dance waiting for us in our room the night of the wedding (the first picture we had seen!) along with champagne, rose petals every where and personalized robes. It truly was amazing!

Yeri

Married on 10/24/2009

From start to begnning, Ritz-Carlton was absolutely perfect. Initially, I was a bit hesitant to contact Ritz, knowing very well that they would be out of our budget, but we landed a deal because a corporate function had been canceled on the day we wanted to get married.

Needless to say, the venue itself is exquisite, from the beautiful lobby space, the classy "Exchange" where we had our cocktail hour, and the luxurious ballroom with an enormous chandelier. But in addition to that, the service was absolutely flawless. We were treated like VIP all the way and all the staff were kind and friendly.

Oh and the FOOD!!! We have been getting so many compliments on how delicious the food was. We had the regular passed hors d'oeuvres and a raw bar during the cocktail hour and then salad / intermezzo / steak - chicken - vegetarian / wedding cake plated meals. The steak was by far the best steak I've had at a hotel and definitely rivals that of fancy and pricey steakhouses in NYC, where I live. It was tender, mouthwatering, perfectly cooked according to specification. And what more, when my mom asked for fish, which was not on the menu, they accommodated her request.

I really can't think of anything that went wrong. Everything was perfectly beautiful.

The reason I give 4 stars for responsiveness is that I was planning most of my wedding from abroad and was heavily reliant on e-mail communication. There were times I felt my e-mails took longer than they should have to get processed/replied to. I also felt I did not have enough time to prepare for the menu tasting ... she gave me COB of the same day she first e-mailed me as the deadline.

Jennifer

Married on 05/26/2007

The Ritz-Carlton was the right choice for me because many of my guests were coming from out of town. It was very convenient to have all the guest staying in the hotel, and we had the rehearsal dinner at Maggiano's which is located in the same mall for even more convenience. The Ritz-Carlton provides you with an event coordinator who helps you along the way planning your event at the hotel and she also provides excellent references for other vendors. The hotel provided lovely options for everything from linens, to china and the food was delicious! The service was also impeccable; I would highly recommend the Ritz-Carlton to any bride considering it.

Arianna

Married on 01/12/2007

I have mixed reviews for this venue as I had orginally tried to have my wedding here but they could not work within my budget until I told them I had booked another location. I then decided to have a after-wedding brunch which was fabulous. They had great food, good service and were very accommodating with our rooms and cheking-in/out. However, I also decided to try a makeup test run in their salon,and I ended up doing my own makeup after the trial! I felt like they emptied an entire jar of foundation onto my skin,and I was told I had to cover all my "blemishes" though I have no pimples,but I do have freckles.I didn't feel like me at all,and I didn't feel like the makeup artist was really intrested in doing what I wanted her to do anyway. She told me all the famous people she had worked with I guess to prove how good she is, BUT I am not a TV personality and just wanted to look like me on my wedding day! I don't recommend their salon for makeup but I do recommend the hotel for any special affairs or as your venue because it's beautiful and the service and food is outstanding.

Rupa

Married on 07/21/2006

The hotel was a great choice for us becuase we had a lot of visitors from out of town. The proximity to the mall was a great amenity for our guests. The spa services were very nice and relaxing. The hotel has a wedding coordinator that will work with you and they have a nice room where the bride and groom can choose all the linens and wedding cake. The event moved quite smoothly and the hanging candles in the ballrooms give the room a more intimate feeling. The Ritz has a strict insurance waiver policy so make sure your vendors are aware.
The tasting dinner was nice too because we were able to choose the dishes we liked and add more dishes that we thought would be better for our guests.
Are you interested?
Send a message