Reviews
5.0 out of 5 rating
Quality of service

5 out of 5 rating

Average response time

5 out of 5 rating

Professionalism

5 out of 5 rating

Value

4.9 out of 5 rating

Flexibility

5 out of 5 rating
99%
Recommended by couples
78 User photos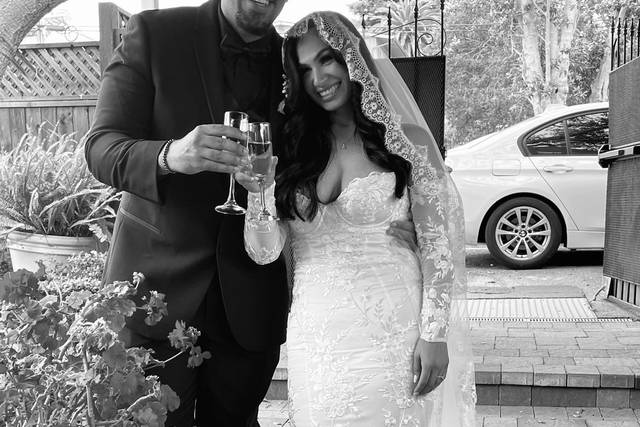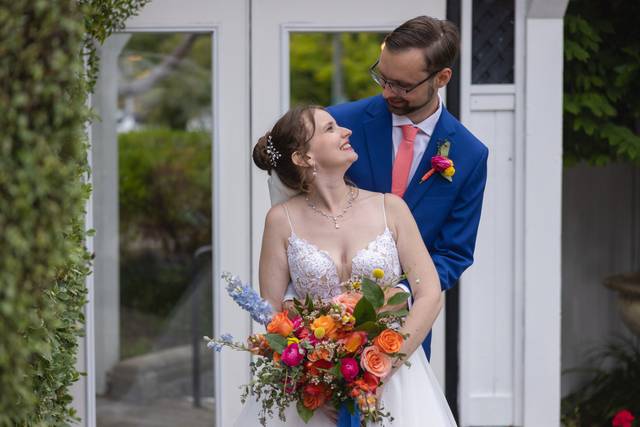 + 74

photos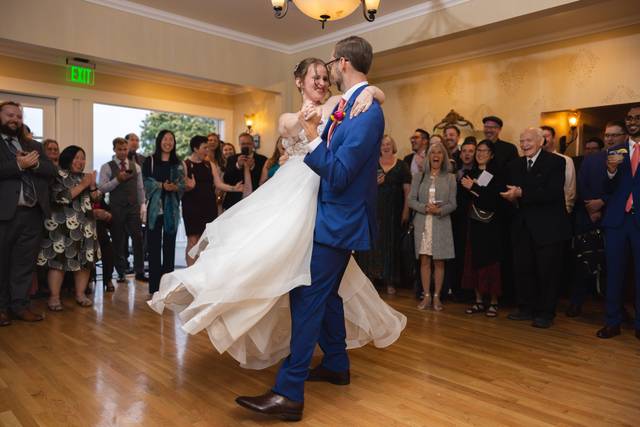 Aley P.

Married on 07/07/2023

Extremely Blessed to be Married at Perry House

I just want to give a big shout out to Frankie and her team for all of their hard work on our day! The Perry House was a dream come true. We will cherish our moments there for a lifetime! I highly recommend this place for intimate weddings! Beyond magnificent!

Katherine C.

Married on 06/03/2023

Absolute perfection

How much more can we add that hasn't already been written by dozens of other 5-star couples? We didn't have a dream wedding in mind; our main goal was to spend as little money and effort as possible to host a fantastic party for our friends and family (and, also, get married). With the Perry House, we got that and so much more.

Can we just talk quickly about the value of a full-service venue? Catering, drinks, staff, linens, tables, chairs, those cute little string lights, heating lamps--it's all just there. You don't have to think about it, you don't need to add it to your checklist, you don't need to deal with last-minute snafus. The Perry House does it ALL, and also has fun add-ons (like a fire pit for late-night s'mores and a pizza oven for a late-night snack--BIG hits with our guests). And it's not like you're sacrificing quality for convenience; the food is phenomenal (don't sleep on the rockfish if it's available), the kids meals are served in the most adorable little dishes (macaroni in an espresso cup?? stop), the staff is efficient and knowledgeable and helpful and in every way perfect.

Speaking of staff--what would we have done without our day-of coordinator, Charlene? Her services were included in the cost of the venue rental, and she was an angel sent from above. She helped us through every step of the process, including planning the timeline for the day, the structure of toasts, the flow from dinner into dancing, and more. Day-of, she helped coordinate communication from VIP guests who were running late due to traffic, directed the processional, made sure the dinner and toasts ran on time, and, well, probably a lot of other things, but we didn't notice because she did it all flawlessly in the background. We are so appreciative for everything she did to make our wedding magical.

Our guests could not stop raving about how incredible our wedding was, and I cannot stress enough how little we actually did to make that happen; all we did was book the Perry House and let the staff do its work. The elegant space, the full-service bar, the ocean view from the terrace, the exceptional food...the Perry House delivered beyond our wildest dreams, and we would recommend it to anyone planning their wedding around the Monterey Bay.

The Perry House's reply:

Hi Katherine and Camron,

You two were so incredibly sweet and wonderful to work with for your wedding! Thank you so much for your support and generous review! I truly enjoyed the wedding planning journey with you two and I'm so glad to know you were able to enjoy every moment of your wedding with your friends and family. We were so glad to be a part of your special day and we wish you two all the best in your new venture together as Husband and Wife!

All the best,
Charlene and the Events by Classic Group Team


Ana L.

Married on 05/27/2023

The perfect venue for our mid-size wedding

The Perry House was an amazing venue for us in every possible way. They were quick to get back to us on any questions (and we had a lot) and efficient with our time getting all the details ironed out. Charlene and Tammy were both wonderful and we're very grateful they helped make our day even more special than it already was.
Day-of they were super organized and everything went smoothly without any worries on our side. They were very professional with the whole event, start to finish.
The food was a definite standout (get the ravioli!) but the venue itself was gorgeous as well. It made figuring out decorations much less stressful knowing that if we did nothing it would still look lovely.
We had about 80 guests and they all had a fantastic time.
We felt very supported throughout the whole process of organizing the event and would highly recommend The Perry House for any mid-size wedding.

The Perry House's reply:

Hi Taylor and Anna,

We loved working with you two on the details for your big day – all the way down to the hand drawn images of the tablescapes you designed. Your family and friends were so fun to work with executing your vision the day of the wedding and I'm glad to know you two had a great time celebrating with your family and friends at The Perry House. (I agree the raviolis are delicious!)
We wish you both all the love and happiness in the world!

All the best,
Charlene and the Events by Classic Group Team


Are you interested?

Send a message

Ayoung K.

Married on 09/17/2022

In AWE of their hard work!

I could write a full 10-page, MLA-cited essay on why this venue is so amazing and why you should promptly sign a contract with them. But I'll try and edit myself down to a reasonable length.

My experience with Perry House and the Events by Classic team was wonderful from the start. My husband and I fell in love with the beautiful, romantic, vintage Victorian home with the view of the Monterey Bay, easy to find and located in a convenient spot with lots of accommodations around for our out-of-town guests. They advertised a service that included so much - the two biggest pluses being in-house catering (so you can trust the caterers know the kitchen and layout) and venue event manager who would help you the day of coordinate your vendors, your timeline, and help you with things like setting out your decor. I had debated hiring a day of coordinator or wedding planner, but between Perry House's detail-oriented service and my type A personality, there was no need and the day went so smoothly.

Some people say wedding planning is a second full-time job. I did not find that to be the case. Working with Amanda to book the venue, and then Frankie who transitioned onto our team as the event manager, I felt confident in trusting them. Every question I had (and I had a lot), Frankie and Amanda answered quickly and thoroughly. Every last-minute change and request I had, they took in stride. Their expertise and experience working on many weddings is really evident. Every couple deserves to have Amanda and Frankie on their side!

Several of the vendors we reached out to commented on Perry House and how lovely it is to work there. We had to do minimal coordination between all the teams, partly because many of them had worked at Perry House before.

The wedding day goes by in a blur. But it was an incredibly pleasant, stress-free blur for me. Showing up after dragging sticks and leaves in my wedding dress from our first look to the dressing room only to see a platter of cheese and crackers and champagne and orange juice laid out as a thoughtful touch from the venue almost made me cry. The ceremony went perfectly (no anxiety since we had a quick and thorough walk-through with Frankie the day before), cocktail hour was fantastic - everywhere I looked I saw a server either passing out appetizers or cleaning up, a drink in everyone's hand. Everything was as delicious as I'd remembered from the tasting, which was good, because we'd been hyping up the fried artichokes to our friends for about 6 months.

We went with the chef's station option for dinner. (A side rave: the level of customization for dinner from the options on the brochure that they offered was next level.) My partner and I were able to enjoy a quiet moment and actually eat, thanks to the servers who brought us full plates and his-and-her cocktails. All night long we received compliments about the food - everyone had different favorites, but the vegetarian pasta options seemed to be a popular hit! The dessert station was perfect (I think my photographer has 10 photos of me shoving tarts in my face, what can you do) but the best part was our late night PIZZA: thank you to the captain of our pizza ship, David, payroll manager by day, pizza hero by night! A late-night snack was an absolute hit with our guests, highly recommend!

I've been at weddings where you wait the entire cocktail hour for a drink, and that was not the case at our wedding. Thank you to our wonderful bartender (also named David?? I'm now worried the whiskey sours got to my head) who served us professionally and courteously. Nobody was overserved or underserved, and we are so grateful.

At the end of the night, my mom was able to sweep up the decorations and flowers so thoughtfully set aside by Frankie, my brother picked up the cake, and we walked away from Perry House with stomachs and hearts full. Stress-free and so painless.

I need to make a separate paragraph for how grateful I am for Frankie - she was the star of the show. She was everywhere all at once. She reminded me that I had a reception dress to change into. I saw her check in with our vendors. Her eye for decor made it so easy for us to simply pass along our box of decorations and trust her. I cannot emphasize how much Frankie did for us that wedding. It wouldn't have been the same without her and her team - I know I would have stressed the entire night, worrying about hosting the party. The night of, I was able to relax and enjoy myself, and feel like I was just a guest at the party instead of the host. What a testament to the service we received from the whole team for me to say that!

This is my very long-winded love letter to everyone that helped make our wedding day perfect. I will sing your praises for the rest of my days. Looking at wedding photos and seeing the beautiful venue and remembering the special day is such a joy. This venue and their team are worth 10 times what they charge. So do yourself a favor and reach out to them and see for yourself how this beautiful venue and the special people that work there can make your dreams come true!

+ 14

photos

The Perry House's reply:

Thank you so much for the wonderful review! I am so happy to hear you and your husband had such a great stress-free time. You two were great to work with and I'm truly honored to be a small part of your big day. From all of us at The Perry House/Events by Classic Team, we wish you the best of luck. Congratulations to you and your family! Love, Frankie.


Jordin

Married on 07/08/2022

A Fairy Tail

The Perry House was the first and only venue we went too. We instantly fell in love with the place and the staff. The staff were incredibly professional and extremely supportive of us every step of the way. Our wedding coordinator Nicolle, was my favorite part of the day. Nicolle stepped up to the plate and made our day run extremely smoothly. Did I mention how good the food was?! Shane and I were very worried about the food, as a lot of our guests (including ourselves) are "foodies". We were SOOOO impressed with the food! Our guests could not stop raving about the food, staff, and the venue in general. At the end of the night, I left with a complete piece of mind because of all the amazing work Nicolle and the staff did. This place was a true fairy tail and I couldn't imagine getting married anywhere else. Highly recommend!

The Perry House's reply:

Thank you so much, Jordin, for such a generous and sweet review. Your wedding was spectacular, and I was honored to be a part of it. Seeing your family and friends come together to celebrate you and Shane was so sweet to see. Our team couldn't stop talking about how amazing you were to work with, and all your vendors said the same thing. The Events by Classic Group Team wishes you a great future of love and laughter. ~ Nicolle

Jacqueline M.

Married on 06/11/2022

Absolutely AMAZING venue

We just had our wedding here, and it was the talk of the weekend! Everyone was obsessed with the venue and food. The views here are absolutely breathtaking. Everyone said this was the best venue they'd ever been to. All the team members were fantastic and Frankie made the planning so easy! This was the only venue we looked at, and were obsessed from the beginning. If you're on the fence, DEFINITELY book it.

Kristen B.

Married on 03/11/2022

The best in the area!!


We had our dream wedding for 50 people at the Perry House, and we couldn't have been happier with everything! From the prime location to the delicious food, our wedding was perfect in every way. And thanks to our wedding coordinator, Francesca, planning everything was a breeze! She met with us a few times before the wedding weekend, and she was always organized and really helped us out when we didn't know where to start. We couldn't imagine doing this all without her assistance! The day before, she helped unload all of the decor and got the families organized for the rehearsal… not an easy feat as the father of the bride tends to be social and easily distracted! The day of, she had all the decor set up before I (the bride) arrived, which made me so excited for the ceremony and reception. During the event, it was like she was the conductor of this beautiful orchestra, and everything went smoothly. Francesca remembered things that we were too busy and distracted to remember, and she was always one step ahead of us. She was the definition of anticipatory service, as she was always there before we knew we needed assistance.
The catering staff were excellent as well, and everyone was so friendly! We never went hungry or thirsty, as the appetizers came around often and the bartenders were fast as can be! AND THE FOOD— the number one thing our guests still talk about! Everything was excellent!! Kudos to the cooks!
Overall, we couldn't be more grateful to have chosen the Perry House for our wedding. Not only is it one of the most beautiful venues in the area, the staff and catering really made our day so special. Thank you Perry House!!

+ 6

photos

The Perry House's reply:

Kristen, thank you so much for your kind words and amazing review. It was such an honor to assist you with your big day! You and your family are very welcoming and made me feel part of the family from the start. You really made the space yours and placed your special touches everywhere and I am still thinking about how amazing your first dance song was. From the whole Events by Classic team, we wish you the very best. ~ Francesca (Frankie).


Megha B.

Married on 06/28/2021

Amazing venue + food

I cannot begin to explain how beautiful this venue is! Ours was an Indian French wedding and perry house exactly understood how to bring this fusion vision to life. The venue is perfect for intimate weddings where you want your guests to mingle with others and not be stuck to one table. The food!! Can't begin to explain how talented the chef is! We wanted Indian + French food and what a fusion it was. Our coordinator Charlene was rockstar! She just made everything happen. Highly recommend this place!

+ 14

photos

The Perry House's reply:

Thank you, Megha, for your review! It was so fun working with you both and learning everything you taught me about bringing two cultures together for both the Ceremony and Reception. We were so privileged to be a part of your special day and we wish you both all the love and happiness in the world! ~ Charlene and the Events by Classic Team


Leah C.

Married on 05/01/2021

Dream Wedding Venue

After getting engaged I knew I needed to do a lot of research and try to secure a wedding venue as soon as possible. After finding The Perry House I knew this was my dream venue. The location, the house, the outdoor space, the VIEWS - this was it!
My event coordinator, Susan, was very responsive and helpful from day one. Being a COVID bride meant dealing with a lot of unknowns and lots of changes in rules/restrictions. I'm so grateful that we were able to keep our original wedding date and that things went so smoothly and turned out to be the best day ever.
The hardest decisions to make were which food items to choose, as they were all so delicious! We ended up going with the tri tip and chicken roulade plated options and everyone complimented how good the food was! It was also nice that they also offered some vegan substitutes for some of our vegan guests!
Can't say enough good things about the most magical and wonderful day of my life - it wouldn't have been possible without the help from Susan and the rest of the staff at The Perry House and Events By Classic!

Melissa P.

Married on 02/10/2021

Perfect match

I am not a huge wedding person, so when I got engaged I was very overwhelmed by all of the decisions that needed to be made and details to plan out. When I found the Perry House, I knew I had found the right place. Rosie was amazing at responding to emails and setting up a tour, and made the process easy throughout. We lived out of town and she was very flexible with food tasting, venue tour, and dealing with a whole bunch of my family members! The food was amazing, and I am still getting compliments regarding the set up and food. Outdoor and indoor spaces available to all guests so everyone was comfortable, and upstairs bridal suite was beautiful for pictures. Really nothing bad to say about this venue! highly recommend!

The Perry House's reply:

Thank you so much for taking the time to review your experience with The Perry House. It was our pleasure making the planning process as seamless as possible for you! We are also thrilled that everyone enjoyed the food & service. Thank you again Melissa, congratulations on tying the knot and we wish you many years of happiness. ~ Rosie and Team

Matt J.

Married on 10/09/2020

Simply stunning

We pulled it off! When we started planning our wedding almost one year ago we thought we had found our dream venue to host our 120 guests for a night to remember. As anyone reading this will know as 2020 progressed we became more and more familiar with living in a pandemic and the challenges that can provide. Once it became clear that there was no way we could host our wedding as we had originally intended; our event coordinator Amanda from the events by classic group could not have been more helpful providing us with options. She of course offered us a 2021 date should we choose to postpone, but instead we chose a different option she presented to us that would both make our guests feel safe to attend and satisfy our needs of a special day to remember. We held our ceremony at The Perry House followed by a small dinner reception in the beautiful courtyard at their sister venue the barns at cooper molera.

The perry house is such a beautiful location for a ceremony and I'm sure the reception there would have been great as well if we chose not to go to the barns. It was impossible for me not to shed a tear as my bride began her walk down the perry houses's staircase.

Everything turned out so beautiful, and we all had such a wonderful time. The food and drinks provided by the events by classic group were stellar, and I could not speak any higher praises of Amanda, our event coordinator. She kept everything on schedule and really brought our dreams to life. If you, like we were, are on the fence about having a wedding in a covid world I hope my words help you find comfort in knowing that you will be well taken care of by the events by classic team at the barns or any of their other venues.

+ 4

photos

The Perry House's reply:

Thank you for the amazing review! Love the photos and cannot wait to see the rest. We understand that planning a wedding during a pandemic is extremely challenging. We truly appreciate your and Nikki's resilience and flexibility, and the day was simply beautiful with two beautiful & different backdrops! Congratulations, wishing you a lifetime of happiness! Amanda Hope & Team

Carla

Married on 02/21/2020

The dream wedding

Chic provided the lighting and draping for our wedding. We couldn't have been happier with the results. Thank you Chic Events for the most memorable day.

Lisette B.

Married on 06/01/2019

Gorgeous Venue

Our guests couldn't stop giving us compliments at the Perry house, the food was phenomenal. The service was great. Very attentive. Everything went off without a hitch. I highly recommend this venue

The Perry House's reply:

Thank you Lisette for your kind review of The Perry House! We appreciate it and are so pleased that you found the service, food and experience something you'd recommend to others. Wishing you all the best in the years ahead!
~Susan & Team

Andrew K.

Married on 05/11/2019

Beautiful location, perfect day

We are so happy that we had our wedding at the Perry House!

When we visited, we were impressed by the venue's location and how nice the space already looked, without any extra decorations (a huge plus). And as the planning process moved along, our event planner Amanda made us feel like we were in excellent hands.

The PH put together a delicious menu that accommodated the various dietary restrictions we had (vegetarian bride, guest with gluten allergy, nut allergies, shellfish allergies…). We had multiple people tell us after the fact how tasty the food was. (Which we can confirm, because the PH staff made sure we got our food first, and actually got to sit down and eat!)

One of the other reasons we chose PH was the flexibility of the space. We didn't need to worry about having too many (or too few) people RSVP "yes", as the PH could accommodate up to twice our expected party size. We ended up with 68 guests which felt like a comfortable amount for the space.

The many different "spaces" throughout the venue were also very appealing to us-- we wanted to make sure that people who wanted to talk and catch up could do so without having to shout over the music, and the people who wanted to dance all night could do that too.

Overall, we are incredibly pleased with our decision to go with the PH, and that Amanda was there to walk us through the process. Thanks to everyone on staff at our event for making our wedding day perfect!


+ 3

photos

The Perry House's reply:

Thank you for your nice review. It was an absolute pleasure working with the two of you! We are so honored be a part of your incredibly gorgeous day. Wishing you a lifetime of love, joy and happiness! ~Amanda Hope

Courtney

Married on 10/12/2018

Highly Recommend This Venue

My now-husband and I were trying to find the perfect place to hold our reception in Monterey when we stumbled upon The Perry House. We immediately felt comfortable and welcomed when we met with the wedding planner and staff and as soon as we toured the venue, we knew that it matched our quirky, laid-back style. Everyone on staff was great to work with, and the food was absolutely amazing!

Sandi

Married on 09/22/2018

Fabulous Wedding at Perry House

My daughter and groom picked out Perry House out of many options, and we all just couldn't be happier. Everything was perfect. The venue, with it's beautiful garden area for the ceremony and the dinner, the enchanting House itself, with its charming rooms, and the staff and food were all incredible. Our Event Manager, Amanda, was patient with us throughout the process, and so helpful right till the end. Since the bride and groom live in SF, and I am out of state and only actually came to the venue once, before the wedding, it was such a relief to have Amanda help with so many of the details.
We decorated the beautiful Arbor, that is on site, for the Chupa, and they chose to later hang a delicate chandelier over their table, under the chupa, and it was enchanting.

We served numerous hors d'oeuvres, passed and stationery, and then had a grill station for the salmon, and even used their on site pizza oven for one of the courses. The food was fabulous! And we even had our Rehearsal Dinner at the Gatherings, also owed by the same owner, and felt just as satisfied with that as well!

The Perry House's reply:

Thank you, Sandi, for the lovely review. We really appreciate your taking the time to share your experience at The Perry House! You were so nice to help Shara & Frank plan their big day; they are lucky to have you :). Thank you for trusting us with the most important day of your daughter's life! We wish you all the best. ~ Amanda & Team

Kyle

Married on 09/14/2018

Simply Outstanding

My wife and I had been searching several venues that would bring to life the experience we wanted to share with our families and friends. Not one compared to the welcoming, personal, and dedicated Perry House team. We felt they took the time to share in a discussion to build a memorable night. It made the planning process enjoyable and the results were amazing. We highly recommend this team and other vendors that worked with us to anyone wishing to enjoy the prelude to their happily ever after.

The Perry House's reply:

We were so honored to be a part of your special day. Thank you for being so wonderful throughout the planning process. Makes what we do so rewarding! We really appreciate your sincere review and wish you and Cassie a lifetime of happiness! ~ Amanda Hope & Team.


Kristal

Married on 08/11/2018

Over-delivered for our wedding

We had our wedding in August 2018 and Susan and the Perry House team gave us exceptional quality in an intimate not-your-average-ballroom venue that our guests loved! We couldn't have asked for a better place!

The Perry House's reply:

Thank you for your kind review and letting us know you were happy with your wedding day at The Perry House! We loved your personal touches that brought a bit of Hawaii to Monterey. It was our pleasure to host your day and we wish you all the best! ~ Susan and The Perry House Team


Colleen

Married on 07/28/2018

The Perry House beyond exceeded our expectations!

My husband and I had our wedding reception at The Perry House July 2018 and I honestly can't say enough good things about it. The whole day felt like it was a dream and not our actual wedding! We planned the wedding from Omaha while in professional/graduate school and Susan made everything as easy as can be. Every single detail was covered, and then some! The food was phenomenal- our guests are still raving about the food! My parents tried to recreate our wedding meal at home because it was so divine. We have so many nieces and nephews and the kids had an absolute blast. The kids meals were also to die for. One of my nephews is a very picky eater and it was the sweetest thing seeing one of the servers ask him if there's anything at all she can get for him that he would like better than his meal. Their attention to detail cannot be matched. They work so well together and we're BEYOND accommodating. Everything came together without a hitch. Every tiny detail was perfectly set up like a fairytale when we arrived after the ceremony which was offsite. Both of our families are still raving about it saying it was the best wedding they've ever been to. I'm biased, but I agree! Thank you, to everyone at The Perry House, and especially Susan for giving us the best memories in the world!! We couldn't say one negative thing about them if we tried. It was worth every penny to have our wedding at The Perry House!

The Perry House's reply:

We were so happy to hear of your experience at The Perry House and thankful that you shared it on Wedding Wire!
We strive to exceed our clients expectations so this is exciting to know that we did! You made the venue look extra special with the specialty rentals we arranged for you.
We love when we get to enhance the venue with our client's personal tastes.
Thank you again and we wish you many happy days and years together!
~Susan & Team


Leigh C.

Married on 07/13/2018

Perfect Venue for the Easy Going Bride

The Perry House is already stunning so no need to fuss over decor. The staff is extremely helpful, selecting our food was a fun experience and overall using the Perry House made everything so easy for me (the bride) I wouldn't think twice about recommending - use them! Guests had space to roam yet it felt intimate. The two bars made it so there was never a line. I originally thought the dance floor was a little small but once everyone was in there and the DJ was going there was more than enough room for everyone to shimmy the night away.

The Perry House's reply:

Thank you for your kind review, Leigh; we really appreciate your taking the time to tell others about your experience! It was a pleasure being a part of yours and Joe's big day, and we wish you all the happiness in the world! ~ Amanda & Team

Katie

Married on 04/27/2018

The Perry House was an absolutely amazing place to have a wedding. We worked with Rosie and she responded to emails quickly and answered all my questions. My wedding ended up being 78 people and the Perry House was the perfect setting for this number of people. The venue is absolutely beautiful. We had our wedding in April and lucked out with a beautiful sunny day. We used space heaters at night, but everyone was very comfortable. The FOOD is SO GOOD!!. My friends and family always have known me for my LOVE of pizza and they offer that as well as many other options! Everyone that I spoke to after the wedding raved about the food and the quality of service they received from the staff. In addition, this place has beautiful views!! I could not have been happier with our experience at the Perry House. This was a destination wedding for me and all of my guests and the Perry House had a list of recommended vendors that I could use and really made this experience easy, which is greatly appreciated when you are planning from far away!! Thank you to everyone at the Perry House!

The Perry House's reply:

Thank you so much for taking the time to convey your experience with The Perry House. It was our pleasure making the planning process as seamless as possible for you. We are also thrilled that everyone enjoyed the food & service. Thank you again Katie, wishing you all the best. ~ Rosie and Team

Nicole

Married on 04/05/2018

perfect location, staff, food, views & day!

My fiancé and I had originally booked another venue for our wedding but had scheduled a tasting for our food at the Perry House. Right after walking in, we fell in love. The entire venue is so charming and we knew it would be perfect for our guests. The view of the bay from the balcony is the cherry on top! Well, we actually ended up switching our venue to the Perry House and it was the best decision we made in the planning process. We are from the midwest so it was a destination wedding for us and Rosie was incredible throughout the whole process- kindly answering all of my (many) emails, working with me on food allergies for our guests, decor suggestions, ETC. We were treated amazingly and they were so accommodating. We also worked with Beverly who coordinated all of our ceremony and a million other little things and we were so impressed by her as well! Every single staff member at the Perry House is so kind, professional and made our experience so amazing. Coming in from out of town, they helped me so much in setting up all of my decor and so much more, I can't imagine what I would have done if they hadn't been so helpful. It's been over a week and we are still receiving compliments on how great all of the staff was, and that it was the best wedding food they'd ever had. Our signature drinks were a huuuge hit as well! My fiancé and I work in the wedding industry so we have seen it all and I can truly say that this was the best service we've seen at a venue! It was the best day ever and it wouldn't have been possible without them. We couldn't recommend the Perry House more.

Kellie

Married on 03/30/2018

The Perry House literally made everything so incredibly easy! I started working with Hana, and about halfway until my wedding she actually moved, and I was given to a new coordinator, Victoria. Initially, I was a little worried, but I had absolutely no need to be! Victoria was amazingly communicative, and made our wedding planning process so easy! Patricia was our captain the day of the wedding, and she was so incredibly accommodating--she even made sure to hunt us down while we were taking pictures, and brought us snacks! I could not have had a better experience on our wedding day! I highly recommend everything about the Perry House--they were fantastic!

Sara

Married on 10/22/2017

I cannot express how highly I recommend The Perry House!!! I first visited the Perry House when I worked for an event company in Monterey. I fell in love with the charm of it instantly, as well as its view of the bay. Working with the owners and staff was always enjoyable, and their food is incredible! When it was my turn to get married, my husband and I both wanted to have our wedding there. However, the number of people it holds, and the number of guests our families wanted us to invite did not match up. After deciding on a larger venue closer to our hometown in Sacramento, our guest count shrank, and mother nature struck! A wildfire broke out a couple of miles from our venue the week of our wedding. I contacted The Perry House to see if there was any chance they could host us, if the fire moved closer to the venue. Not only did they provide me with incredible service, they had a proposal to me by the end of day and had even done what they could to meet my original budget! Luckily, the fire was put out in time and I was able to go with Plan A. However, I am sure I would have been pleased with my wedding, had it been at The Perry House! Thank you Perry House and team! You really helped calm my nerves during a stressful time!

Kelly

Married on 10/21/2017

We had our wedding on 10/21/17 at the Perry House. It was the perfect venue. I knew the first time we visited that it was my dream venue. The house is a gorgeous spot for a party, with beautiful balconies, a view of the ocean, and big beautiful rooms inside. The string lights and outdoor fireplace at night made it feel so cozy and warm. I love all the different "nooks" and hangout areas at the venue. We planned the wedding to be 6 months after the arrival of our baby so we knew we'd have our hands full and wanted a "one stop shop" venue that would handle food, alcohol, servers, linens, etc. I didn't want to deal with small details and, thankfully, I didn't have to!

As for the staff: Susan (our designated planner/captain) was a pleasure to work with, all along. She answered millions of random questions from me. The staff was awesome at the wedding. They kept magically appearing next to me and offering me a drink, apps, or a plate of food.

As for decor: I fretted a lot about whether to do flowers or other special centerpieces and ultimately decided not to. We used the Perry House's standard/default (free) centerpieces and put the bridesmaids' bouquets in them. Other than that and the string lights, we had ZERO decorations. And it was perfect! I wish (in hindsight) I hadn't worried about it so much. You really don't need to worry about decorations at a place like this.

Food: we did the "City Lights" roaming dinner option (with grill station and pasta station). Everyone raved about the food. It was plentiful and delicious. We had many vegetarians and they were all happy.

Our wedding was perfect. Everything went smoothly. I loved every minute of it and attribute that largely to the Perry House and its staff. I would VERY HAPPILY do it all again.
Are you interested?
Send a message