28 Reviews
Recommended by 97% of couples
Quality of service

4.9 out of 5 rating

Average response time

4.9 out of 5 rating

Professionalism

4.8 out of 5 rating

Value

4.8 out of 5 rating

Flexibility

4.8 out of 5 rating
Awards
49 User photos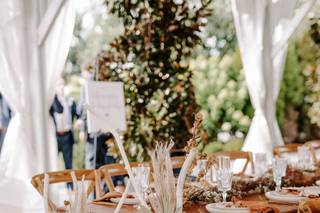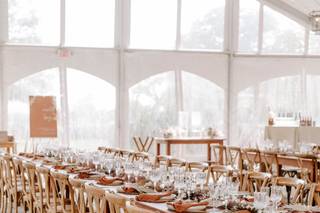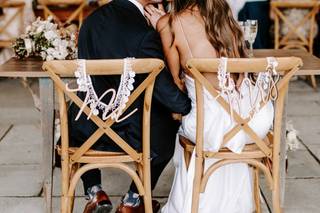 + 45

photos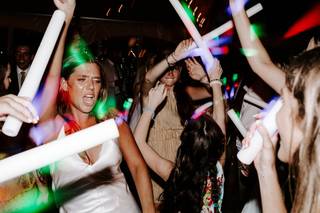 Kelly J.

Married on 12/03/2022

Beautiful space for a December Wedding

We hunted for a wedding venue for months before we found Market at Grelen. As soon as you drive onto the property, you know its going to be a special place. While we got married in December, the (heated) greenhouse setting and large overlook tent provided the perfect space for us and our 100 guests. We could not have been happier with the communication from the Grelen event staff, the day-of service provided, and overall experience with the venue itself. If you are a garden lover and want a space that you can transform into anything you want, book Market at Grelen - it's totally worth it.

Devin E.

Married on 04/23/2022

Amazing venue

This venue is amazing. The tent under the lights is stunning & the character of the rest of place (pergola, half moon garden, greenhouse) is all so unique. All the logistics of the venue were pretty straightforward, staff was easy to work with, and competitive prices for the area. Highly recommend!

Stephanie S.

Married on 04/02/2022

Unsurpassed Beauty

When we originally received the idea of checking out Grelen from our wedding planner, we looked at the website and were interested enough to set up a viewing appointment. The website, however, did nothing to prepare us for how unbelievably gorgeous this property is. Not only did we feel immediately at home working with the event team including Kristen and Morgan, but the location offered endless options for breathtaking photos, a gorgeous ceremony, and a fantastic tent to celebrate the night away. We were lucky enough to house our wedding party at nearby Spotswood Lodge, where we received the same level of professional service and rustic charm. Grelen itself feels like a getaway to some other part of the world entirely, yet also beautifully showcases all that Virginia has to offer. While we received so many compliments for the day itself, the number we received regarding the venue itself was overwhelming. We can't wait to return to the market, cafe and nursery so we can relive our gorgeous event for years to come.

Are you interested?

Send a message

Greg J.

Married on 11/05/2021

Stunning views, friendly staff, an all-around great venue

Got married here in November, and it was everything we could've hoped for and more. The venue has everything you need to host a fun, memorable wedding with a beautiful backdrop, and I can't imagine having had my wedding anywhere else.

Scarlett M.

Married on 07/17/2021

Amazing! Loved it all

The Market at Grelen was an absolute DREAM. We had a July wedding and it was better than we could have ever dreamed or planned for it to be. The staff, especially Kristin Simler and Morgan, we fantastic. So very professional and kind. They made our planning and wedding week so peaceful, effortless, and stress-free. The venue is absolutely PERFECTION. The overlook view of the orchard from the tent is breathtaking. We got married in the Half Moon Garden under the gorgeous willow tree. It was so magical and fit 100 people perfectly. It was transformed by a beautiful oasis by the staff! One of our favorite parts of the ceremony were the plants from around the venue arranged along the aisle, to create the most gorgeous atmosphere. The tent was GORGEOUS with amazing lighting and was so specious. No need to rent a dance floor, as the flooring there is gorgeous and dance ready! It rained after our ceremony and the staff pulled the tent siding down easily, making the rain an absolute non-issue. It was just beautiful to watch the rain from the comfort of the inside of the tent! This venue is absolutely gorgeous. The staff is amazing. It was PERFECT for our wedding day and we are so thankful!

+ 14

photos

Shannon M.

Married on 10/04/2019

Sprawling Views and Starlight Dancing

I always thought that the venue carried the greatest weight when it comes to wedding experience. I was the most picky about my venue out of everything wedding-related. I must've looked at 100 venues online before finding The Market at Grelen and knowing instantly it was perfect! It completely lived up to my expectations. The staff was wonderful to work with and never missed a beat despite their full calendar of weddings to tend to. And the venue is gorgeous! The ceremony space has a sprawling view of the countryside. There are several unique spaces on the grounds to have your cocktail hour, including a whimsical greenhouse and a stone terrace. The reception space comfortably fit all my guests, with a vaulted clear-top tent that made you feel like you were dancing under the stars . I was able to save a lot of money and brain power on not needing many decorations, as the venue itself is so beautiful and you can utilize the plants from the market to decorate your space free of charge. And the best part is that this venue operates as a business open to the public, so I can go back and visit whenever I'd like! The Market was the absolute perfect venue for me and I'm so happy I found it!

+ 8

photos

Nora

Married on 08/03/2019

Absolutely magical

The Market at Grelen is, simply put, a wonderland. From the berry lawn to the greenhouse, it's absolutely magical. The stunning vistas, lush flowers, and verdant greenery transport guests to another world. (There are literally small fairies in the greenhouse!)

I couldn't have imagined a more perfect place to have our wedding, and the guests felt the same way, too.

Tess, Emmie, and all of the staff bent over backwards to make us feel welcome and at home. They are professional, attentive, and kind.

If you want a unique experience and captures the best of Virginian countryside, look no further than the Market at Grelen!

The Market at Grelen's reply:

Nora, thank you so much for your kind words. You and Milind were a dream to work with and your wedding was so beautiful! Wishing you all the best and we hope you come back to visit us anytime you are in the neighbourhood!

Emmie, Tess and the rest of the Grelen Team :)

Chelsea R.

Married on 05/30/2019

Magical Wedding Day

When I stumbled upon the Market at Grelen while searching for venues, I just had a feeling it would be the perfect spot to host our intimate wedding. It truly lived up to all our expectations! We absolutely loved the setting (especially the backdrop of the greenhouse) and so did our guests. Just felt like a magical day all around. Thank you to the Grelen team who paid attention to all my ideas during the planning process, and helped bring every detail to life. Will be a day we treasure forever!

+ 3

photos

Nikki

Married on 05/25/2019

Amazing, amazing venue

Picking the Market at Grelen as our wedding venue was the single best decision we made in the planning process. The entire grounds are stunning. We had our ceremony on the Berry Lawn with the mountain views as our backdrop. Even though a storm rolled through directly after our ceremony, the venue was able to accommodate for our cocktail hour and reception under the tent and it didn't impact the flow of the night at all. We got so many compliments on how stunning the venue was. It's also a great venue for all sorts of photos because there are many different locations to capture (lawn, berry vines, overlook, weeping willow, gardens, terrace, etc.). They all offered a wonderful backdrop.

The event staff is also lovely to work with. They are approachable, responsive, and so sweet. They were helpful throughout the planning process, conducting walk throughs, and beyond helpful the day of the wedding. Overall, I wouldn't have wanted to get married anywhere else!

The Market at Grelen's reply:

Nikki, thank you so much for your sweet review! We absolutely loved working with you and Bryce! We wish you all the very best!

Emily

Married on 05/11/2019

Fairy Tale Wedding

We had our wedding here in June and it was truly the most magical day! The setting at the Market at Grelen is so stunning. From the beautiful natural backdrop during our Berry Field ceremony to dancing the night away at our reception under the stars in the clear top tent, allowed us to have the most perfect day. There are so many beautiful spots for pictures and we loved taking photos at Bloomfield during Golden Hour. Another wonderful benefit of having a wedding here is being able to use any of Grelen's plants and flowers throughout the wedding day. Everyone has commented on how beautiful our wedding location was and many asked us how we found such a perfect location.

The event staff was so wonderful to work with. Tess and Emmie were responsive and helpful during the wedding planning process with our many questions. It is very evident that they are passionate about their work and our whole day ran so efficiently. We could not have asked for a more beautiful spot to have our wedding day and will forever hold onto our amazing memories made here at The Market at Grelen!

+ 5

photos

Graham W.

Married on 10/28/2018

Perfect Venue

The Market at Grelen is an absolutely beautiful and just what we wanted for our wedding. The staff were incredibly easy to work with and happy to answer our millions of questions throughout the process; they also offered a wide range of options (e.g. where to have different parts of the event) and were very prepared for what bad weather and REALLY bad weather plans were. And, of course, taking newlywed shots in different places around the property was spectacular!! All in all, Grelen is a stellar location for anyone who wants an outdoor wedding in a beautiful natural setting.

Lauren

Married on 10/27/2018

Planning Made Easy

We could not be more happy to have chosen The Market at Grelen as our wedding venue. Tess and Emmie were so easy to work with and answered all of our many, many questions. There was a transition of event managers mid-way through our planning process and Leslie, one of the owners, emailed me to let me know of the change and assured me it would be a seamless transition, and it was! Our guests continue to rave about the views at the venue and how no matter where you looked your breath was taken away.
It rained on our wedding day, and Tess and Emmie were so accommodating with letting us wait until practically the last minute to call our rain plan. Even though we did not have our ceremony in our original location, they made our back up location amazing! We could not be more happy with the location our ceremony location ended up being in and feel like it turned our better then what we originally envisioned.
We look forward to continuing to make trips down to The Market Grelen to visit each year and enjoy everything they have to offer.

The Market at Grelen's reply:

Thank you so much Lauren! It means the world to our whole events team that you had a great experience, even with the transition and rain. :) Your kind words are much appreciated. We look forward to all of your future visits. Best, Leslie

Malak

Married on 08/19/2018

Do not think twice, this is your venue! Gorgeous surroundings, every angle is a beautiful backdrop. The team is amazing, very professional and you can really feel they are passionate about their work. Tess was a pleasure to work with, super friendly and helpful. I am so soooo glad we had our wedding here.

The Market at Grelen's reply:

Thank you Malak for your kind review! It is so rewarding to know that the natural beauty of our land is appreciated and loved by those getting married at Grelen. We hope you will continue to visit us and keep us in the loop now that you are forever in the Grelen wedding family. Best, Leslie Gregg (owner)

Bailey

Married on 06/23/2018

We had our wedding in June 2018 at the Market at Grelen. The venue is beautiful and they let us use any plants/flowers we wanted from their nursery! Very accommodating and helpful the day of.

The Market at Grelen's reply:

Thanks Bailey for taking the time to review Grelen! We are happy that you took advantage of the beautiful flowers and plants around the nursery to beautify your event. Of course, we are thrilled you thought we were helpful, too. :) Best of luck going forward and please keep in touch. Leslie Gregg (owner)

Callie

Married on 06/24/2017

A visit to the Market at Grelen is a pleasure at any time and well worth the trip, but the venue provided an absolutely beautiful setting for our daughter's wedding and reception on June 24, 2017. The Market is so well landscaped and flowers are abundant, and the entire area was available to our guests to wander through the entire evening.

Amanda Landon, the venue event coordinator, is very knowledgeable, helpful, and calming. She worked with and allowed us all the decorating ideas we had for the ceremony and the reception. The entire day and evening of the wedding she was right there in case adjustments needed to be made, items moved, etc. at the site, helping to keep things running smoothly.

In addition, the entire staff at the Market are all helpful and friendly. We highly recommend the Market at Grelen for a beautiful venue and atmosphere for a wedding. We were thrilled - our daughter and new son-in law's wedding and reception was everything we wanted and more, and the Market at Grelen and those who work there helped to make that dream real!


Ronnie

Married on 10/03/2015

The Market at Grelen is an incredibly special wedding venue. It was chosen for its physical beauty for an outdoor wedding (with a clear-view tent for a large reception). It rained the weekend of the wedding, and all aspects of the event (ceremony, cocktails) had to be tented. Everyone at Grelen bent over backwards to make things run smoothly. As a tree nursery, Grelen moved loads of plantings and greenery inside the tents, and they were very responsive to all of our needs as the weather required changes. The wedding was wonderful, and the Market at Grelen was beautiful even in the rain.

The Market at Grelen's reply:

Ronnie, thank you so much for your kind words! We just saw some photos and OMG!!! Thank you again for celebrating with us. Your friends and family were wonderful guests to have at The Market at Grelen.

Penny

Married on 10/03/2015

Grelen is obviously a perfect venue on a lovely day, but what about during a hurricane? We found out when Hurricane Joaquin held driving rain over Virginia the day of my daughter's wedding -- and you know what? It was still a perfect venue. The large tent, with its clear sides, still showed the lovely scenery, we tented a space for the ceremony and the drinks, and our guests told us that it was the most beautiful, elegant wedding they had ever attended -- or certainly among them. Smaller weddings could have used the greenhouse, which also would have been perfect. Sarah worked with our wonderful wedding planner to make sure that Grelen delivered everything we asked for -- and more. We also rented the house down the road at Spotswood that is available through Grelen, and that worked very well. Thank you everyone at Grelen!

The Market at Grelen's reply:

Penny - It was wonderful having your friends and family at The Market at Grelen for such a special occasion! Thank you again for celebrating with us.

All of our guests talked about how beautiful the venue was! We felt so fortunate to have booked it during it first year as a wedding venue. We were able to use the plants from the nursery for the ceremony and reception for a fee, which made everything look green and luxurious.
Sarah was so great about meeting us for tours and walk-throughs in the months before the wedding.

Jill

Married on 10/11/2014

Grelen is an absolutely beautiful venue. The views are stunning and the staff was incredibly helpful in all aspects of wedding planning at the venue.

The event manager at the Market at Grelen was very, very helpful to work with. We originally had a few misunderstandings, but she bent over backwards to graciously ensure that things were figured out and ran smoothly. I was deeply appreciative of how she handled everything. And the venue was absolutely stunning!

Katie

Married on 05/12/2019

Guests Couldn't Believe the Views

After my wedding, many of my guests commented that they hadn't been to a more beautiful wedding. I hadn't either! The venue is absolutely gorgeous and the staff very helpful. I would definitely recommend for your wedding day!

The Market at Grelen's reply:

Katie! Thank you so much for you review! Please come and visit when you and Mike are in town :) We loved working with you both!

Kristen

Married on 04/30/2019

Gorgeous wedding venue!

We had a wonderful time at the Market at Grelen for our wedding day in late June! This property is absolutely stunning, and my now husband and I were very excited when we found exactly what we'd been looking for - an outdoor venue with gorgeous greenery and a single location for our ceremony and reception. We were fortunate to have been able to book this venue over a year in advance, but the only downside about having booked this early was that we were strung along with a lot of changes that were occurring with the business - staff changes, catering options, venue changes, etc. While some of these changes were communicated to us in a timely manner, others were not, and that was a little frustrating to deal with during those times. In the end, though, we truly had a fantastic team of coordinators for our wedding day as well as our weekend stay at Spotswood Lodge - Emmie and Leslie worked so so hard to make sure our wedding day and our time on the property was unforgettable, and we were very impressed with how well everything turned out. We could not have asked for a better venue and we certainly look forward to visiting again!! Thank you all so much!!! :)

Lisa

Married on 09/21/2018

Market at Grelen offers so many options to suit each type of wedding. We took advantage of both the accommodations at Boxwood Villa and the Market and tent venue. We started working with Amanda but then Emmie and Tess came on scene. They were both very professional and accommodating. I know I drove them a little crazy because I am not a stickler for schedule, but they smiled and helped make it all happen. They worked well with my other vendors (and even pressed for a refund when the furniture delivery was late.)
Our guests continue to talk about what a spectacular venue we found.

The Market at Grelen's reply:

Thank you Lisa for your kind review! We really appreciate you taking the time and wish you the best in your marriage. We hope you will continue to visit us and keep us in the loop now that you are forever in the Grelen wedding family. Best, Leslie Gregg (owner)

Molly

Married on 09/19/2015

This venue is absolutely beautiful. My fiance and I looked at TWENTY places in the C'ville/Richmond area and this was the last one we saw because at the time they had only just started advertising themselves as a venue. We were in love the second we saw the place. Some of our family members were skeptical because they wanted us to pursue a more formal ballroom type of wedding... well, every single person ate their words when they saw the reception area. Literally EVERY person I spoke with at the wedding said it was the most beautiful venue they had EVER been to. Sarah, the venue manager, is so sweet and genuinely interested in the couples. During our alone time for pictures she pulled up in a golf cart and drove my husband and I to a barn on a private part of the property for pictures in the sunset... it was amazing!

Now, on to a couple not so good things - they are a new venue, so they are working out some kinks. Some things that they had advertised at the time of booking had changed by the time of the wedding, but I think those things are all ironed out by now. Also, we had a huge issue the day of the rehearsal, where the venue asked us that afternoon where a strange alcohol license was that we don't remember being told to have (the caterer also thought it was an unusual request). Even if it was somewhere in the contract (I still don't see it, and I am a very organized person, I e-mailed the venue early on asking them if they had everything they needed from us), I don't understand why they didn't realize until 24 hours before the wedding that they were missing something they needed from us. My husband had to miss our rehearsal because he was running around like a chicken with his head cut off trying to fix it at the last minute. In the end it all worked out, and I think these process issues will smooth out quickly as they do more and more weddings. All in all no reason not to go with them. It is all worth it for the PERFECT venue and supportive staff.

The Market at Grelen's reply:

Molly it was so wonderful to have your friends and family out for such a beautiful celebration! Thank you again so much for choosing The Market at Grelen. i hope to see you both out again soon, maybe for your anniversary!?

Samantha

Married on 10/13/2019

Beautiful Venue

We wanted a wedding surrounded by nature, but not too rustic. The Market at Grelen provided the perfect setting. The tent provides an elegant setting against an absolutely stunning backdrop. Plus, Tess and her team were very responsive when we had any sort of questions. The only draw back is they do strongly prefer that you use a caterer and a Day Of Coordinator from their preferred vendor list, but there are a lot of options.
Are you interested?
Send a message