91 Reviews
Recommended by 92% of couples
Quality of service

4.6 out of 5 rating

Average response time

4.5 out of 5 rating

Professionalism

4.6 out of 5 rating

Value

4.6 out of 5 rating

Flexibility

4.6 out of 5 rating
63 User photos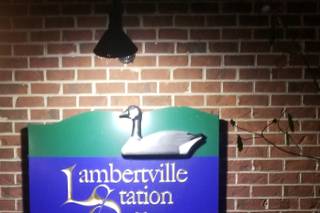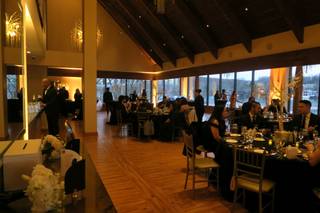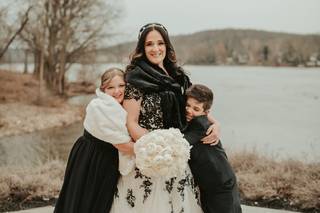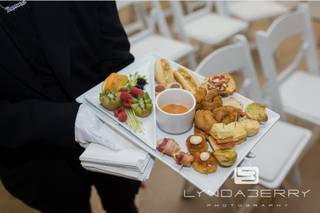 + 59

photos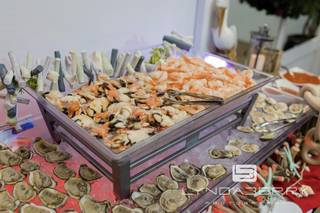 Featured

Emily

Married on 09/17/2022

Wonderful!!

My husband and I had our wedding reception at Lambertville Station on September 17, 2022 and it was fabulous! The team at Lambertville (including Patricia, Neil, and Kathy) created a stunning affair, set against a magnificent river backdrop. It was effortless and pleasant to work with Neil, Patricia and Kathy throughout the planning process. Our guests LOVED the venue and are still talking about all of the delicious food. We received so many compliments - "Best wedding ever," "Best food I ever had," "This wedding was done to perfection," the list goes on and on! Neil and Patricia were nothing short of amazing on the day of - making sure the entire evening went smoothly. And my bridal assistant, Brittany, was so wonderful - I don't know what I would have done without her!! The entire staff was so professional and attended to many details that made the wedding so memorable. We are so happy we choose Lambertville for our wedding. Having a picturesque setting is one thing, but having the experienced and skillful staff to support the affair is most important. Truly, the Lambertville team is top notch and so much fun to work with. We so appreciate every effort they made to ensure our wedding was superb. We cannot thank them enough for the time, attention and care they provided to us. Best wedding ever, best staff ever, best venue ever!

Peggy I.

Married on 01/29/2023

Amazing and wonderful experience

The food, views and staff were spectacular. Everyone went out of their way to make our wedding day special and memorable. Could not have asked for anything more. Top notch service!!

Sean O.

Married on 12/10/2022

Great Venue and Staff

We were married at Lambertville Station in December and I recommend the venue in the strongest terms. Patricia, Neil, Jillian, Kathy and everyone we dealt with were responsive, helpful and just a delight to work with. As everyone knows, the planning process is hectic and a bit of a moving target, but the Lambertville folks were accommodating and helpful every step of the way. The day itself came off without a hitch and we have received nothing but strong compliments from everyone in attendance. As an added benefit, the surrounding area is wonderful and many of our guests took time before or after the event to spend time in Lambertville and/or New Hope

Are you interested?

Send a message

Christine

Married on 12/03/2022

Our wedding was the BEST wedding we've ever been to!! (and we've been to a lot of weddings!)

My husband and I got married at The Lambertville Station Inn on 12/3/22 and it was the most perfect night. The team at Lambertville was a pleasure to work with throughout the process. Patricia, Kathy, and Neil went through every detail with us and made sure that everything went smoothly the day of the wedding. Neil also acted as the maître d the night of the wedding and his attention to detail was truly amazing. He coordinated everything and everyone seamlessly. He even added some extra décor that he had from an event from the night before (after checking to make sure we liked it ahead of time, of course) and styled it in the cocktail hour space beautifully. Miranda, our bridal attendant, was incredibly helpful and attentive as well. She was ready to help my MOH bustle my dress, bring us hors d'oeuvres, drinks, etc. the entire night. She even left champagne, cake, and a plate of desserts in the suite for us. The ceremony room, cocktail hour lounge, and ballroom are beautiful spaces with gorgeous views. ALL of the food was ABSOLUTLEY DELICIOUS which our guests raved about afterwards. Honestly, I can't say enough good things about the food. It's just fantastic. The servers and bartenders were professional, friendly, and attentive. The hotel rooms are also lovely (and it is incredibly convenient for guests to be able to stay in one place for the entire wedding). The Riverview Suite is simply STUNNING and was perfect for getting ready and taking photos. An added bonus for guests is that Lambertville and New Hope are fun and adorable towns with lots of places to visit. Some of our guests even came a day early to make it a whole weekend getaway. My husband and I truly had an absolute blast at our wedding and are so thankful to the team for their efforts and professionalism. We're already going back for their New Year's Eve masquerade ball!

+ 4

photos

Linda B.

Married on 11/18/2022

Over the top!! The perfect venue!!

The Wedding was more than we could have hoped for. The staff are the most knowledgeable, the most detail oriented people I've ever dealt with. The Inn itself is picture perfect. From the first tour through rehearsal to the big day, everything taken care of. Just a special place with special people making it a most special day.

Angela S.

Married on 11/05/2022

The intimate fall wedding of my dreams

Where to even begin with how good this was! From the looks of the space to the incredible food to the impeccable service to the iconic Brittany, who spent a year replying to my increasingly-unhinged emails, getting married at the Station was the best choice I've ever made (aside from saying I do, of course). It was cozy, elegant, and my guests are still raving about the raw bar, the steak, the mini-desserts, and the warm glow of the space as the sun set over the Delaware River. I was worried that with a larger wedding happening in the ballroom we'd feel like an afterthought, but that couldn't have been further from reality--my now-husband and I were treated like we were truly the only couple there by everyone from staff in the restaurant to the wonderful team at the Inn itself. If you're thinking about having a wedding on the smaller side (we were 40 people total), there's nowhere in the area I'd recommend more!

Nicole

Married on 09/24/2022

Amazing! Choose This Venue For Your Wedding

Lambertville Station is a venue you can trust to handle your very special wedding day. Our guests raved about the aesthetic beauty, service, quality of food, and overall, how much fun they had. Patricia at Lambertville Station graciously worked with our budget. On the wedding day, the whole team handled everything so smoothly with top-notch service.

Joe C.

Married on 08/02/2022

If You Want Superior Quality, Exceptional Atmosphere, and Phenomenal Service I Guarantee You Found It At Lambertville Station

I am not really sure where or even how to start. Since Nadya was a little baby my wife and I always had these dreams and plans for all we would do for our daughter's wedding when she found that special person that she wanted to share the rest of her life with. Like so many things in life this horrible Pandemic ripped some of those dreams away. But COVID could not and would not steal Saturday away from Nadya & Alex. It indeed was an emotional and very unique weekend but our daughter did get married COVID style via a micro-wedding. It might not have been the wedding that she and we always dreamed of with bands and hundreds of friends and family, but it was so very special none the less all because of the Lambertville Station, Patricia & Neil. The bride & Groom got to share their love with 24 of their closest family members, shared the church service over Zoom, and celebrated in the most gorgeous facility and the most delicious food we could have ever imagined. Patricia, Neil and the entire staff treated all of us like gold and created the most wonderful celebration we could have ever imagined. My wife and I owe everyone at Lambertville Station so very much make this special day even more special than we could ever imagine. Patricia has always so kind and so caring as we traveled the journey of planning this wedding during these challenging times. You all are so special and I cannot even begin to thank you for all you have done for our baby girl and her new husband. Thank you from the bottom of our hearts and know that we couldn't have imagined a more beautiful and special evening than the one you put together for us.

As I told both Alex and Nadya –the most important thing is the love you have for one another and the start of a beautiful life together. God Bless them both and may they have many blessed years together.



Jackie N.

Married on 07/23/2022

Fantastic wedding venue!

We cannot say enough great things about the Lambertville Station Inn! My husband and I were married there in July of 2022, and truly had a remarkable experience. From our original visit with Patricia (who was the best) a year before the wedding, to having someone as attentive like Neil with us during our reception who made the events run smoothly, we look back fondly on the entire process. They made our dream wedding come true! Our guests still rave about the food to this day, specifically the salmon, surf and turf, and the hors D'oeuvres. Also, we heard from numerous guests the bar service was accessible and excellent in terms of meeting the needs of our family and friends. If you are looking to hire a wedding planner, you may not need to. Patricia, Neil, and the entire staff run a well-oiled machine. Look not further for choosing your wedding venue!

Ann S.

Married on 07/02/2022

Exceptional and Attentive Service

The staff and event space at Lambertville Station Riverside Ballroom created a fabulous event for our only daughter's wedding. Patricia, the banquet coordinator, was extremely professional and attentive the all our needs. It was an absolutely perfect day!

Neil, the maitre'd, was very helpful and professional. He was present and attentive the whole event. The hotel was lovely, the rooms were updated and very comfortable. The hotel staff was also very helpful in attending to my sisters needs. She recently fell and broke her shoulder and was in some pain and had to return to her room. The staff was able to send her meal to her room and made sure she was comfortable.

The cocktail hour and the meal were impeccable! Everyone is raving about the fresh seafood station and the pasta bar. The meals were prepared and served to perfection! All meals were delicious, beautifully presented and served at the perfect temperature. The rack of lamb was a huge hit!

The bartenders and the after-party taco bar at Riverside Lounge were fantastic too!

Some of the reasons my daughter chose The Lambertville were: meal preparation and selection, event space, professionalism of staff, proximity to Bucks County, exquisite view of the Delaware and New Hope, hotel accommodations, and dedicated parking (especially in congested New Hope-Lambertvile area).

We highly recommend The Lambertville Station for your wedding or event needs!


Alicia S.

Married on 06/05/2022

A Magical Day at a Magical Place!

Our decision to have our wedding celebration at Lambertville Station Inn was the best decision! The team is a well oiled machine without making it feel like your day is just another one in their book. We were treated so well and knew we could trust that everything would be perfect! The venue and location is unmatched and the flow throughout the day was seamless!

Felicia M.

Married on 05/22/2022

Top notch -most beautiful day ever!

If you want a venue that caters to your every need, makes your guests feel just as welcome as the bride and groom and Ben's over backwards to accommodate anything you asked for this is the venue for you! Patricia, the event planner and Neil the manager are the most amazing people you could possibly deal with!

+ 2

photos

Catherine B.

Married on 05/14/2022

An Absolute Dream

My husband and I were married at the Lambertville Station Inn in May 2022 and everything at Lambertville was absolutely perfect. Patricia, Kathy, Neil, Ashley and the whole staff were wonderful to work with, ensuring that every need we had was met and every question we asked was answered. The views from the Inn are absolutely stunning, and even though we had rain our entire wedding day, our guests could not stop complimenting the views from the open air cocktail space to the expansive ballroom with large glass windows overlooking the Delaware/New Hope. The food was AMAZING and our family continues to rave about it as one of the best weddings they've ever been to. We cannot thank the event staff of Lambertville Inn enough!

Paul M.

Married on 03/19/2022

Lambertville helped make our weekend amazing!

I would recommend this venue for any event! The team at Lambertville Station worked together to help produce an amazing and memorable event!. The execution of everything during the weekend was well planned and executed! If I ever have a need for an event space in the future this is one of the first I will consider! Thank you to everyone at the Lambertville Station Inn!

Grace C.

Married on 10/09/2021

Wedding of our Dreams

What an absolutely perfect venue! The facilities are clean, the location is ideal for both local and traveling guests, and the grounds are great for pictures (we worked with Grace & Ardor Co). We had a majority of guests stay at the Inn and the staff helped us host a farewell brunch at the restaurant the following day, which was delicious and a nice touch for guests.

Our wedding was simply the best day of our lives and it's all thanks to the staff at Lambertville Station! Kathy and Patricia helped ease all of our pre-wedding day nerves and were so responsive to our endless amount of questions. Neil has great style, organization, and impeccable attention to detail. Our wedding guests are STILL talking about the chef's medium rare steaks, potatoes, overall beautiful plating, raw bar, and hors d'oeuvres. Ashley, our bridal attendant was SO friendly, sweet, and attentive and knew exactly what we needed before we even knew what we needed! The entire staff at Lambertville were super nice and friendly.

We're so blessed we got to work with Lambertville to make our wedding day dreams come true. I cannot recommend this venue enough.


Michael B.

Married on 09/25/2021

Highly recommended

Everything was perfect:

• The ceremony.
• The cocktail hour.
• The dinner. Everyone commented on how great the food tasted.

Neil (The Event Manager) could not have run a better event than he did that evening.

The brunch on Sunday was also very good.


Kristin P.

Married on 09/17/2021

So glad we booked here

Lambertville station ballroom exceeded our expectations for our wedding! I had so many concerns and back and forth feelings on doing a formal wedding during these crazy covid times, Patricia made us feel so at ease and confident with our decision. They had just recently redid the ballroom flooring in gorgeous hardwood and the fact that they include a stunning honeymoon suite for the couple in the package was a big selling point. Lambertville experienced crazy flooding after the big hurricane which was two weeks before our wedding and they did such an impressive job getting the venue back to tiptop shape! Patricia was so amazing in assisting with coordinating the event and so helpful with everything we needed. I would 100% recommend this venue to anyone on the fence, all our guests were so impressed!

Melissa J.

Married on 08/06/2021

Best Day Ever!

I knew immediately that I wanted to get married at the Lambertville Inn once I saw it. Such a gorgeous property on the river! We had the easiest planning process and everything was exactly how we wanted it! The hotel suite was stunning and had incredible views, we were lucky to be able to stay there the night before our wedding and get ready there the next day! We received so many compliments on how gorgeous our wedding was, the delicious, extravagant food (high praise for the chef) and the staff was more than helpful the whole night! We're so pleased to have had our wedding experience at the Lambertville Inn!

+ 6

photos

Marissa

Married on 07/02/2021

lambertville station inn

Marielle who is the coordinator for the venue immediately made us feel comfortable. She also informed us that unlike other venues this particular venue has very minimal restrictions. She responds to our emails fairly quickly and she's always giving us helpful hints and ideas. we have not had our wedding yet but we will review again after.

Pat L.

Married on 06/04/2021

Perfect wedding

My husband and I had our daughter's wedding at Lambertville Inn on 6/4/21. After two years of frustration and tears due to COVID, this wedding venue provided more than we could have hoped for. The staff was very professional and responsive and worked with us to give us what we wanted. The food was excellent and the view from the ballroom was amazing. Photos on the grounds were also beautiful. It was the best wedding we have attended in years. My daughter has said, "it was perfect". Thank you, to the staff at Lambertville Inn Statioin.

Courtney A.

Married on 05/14/2021

Stunning Venue!

Lambertville Station Inn is absolutely beautiful. It was everything we were looking for in a venue when we started wedding planning. We wanted to have a venue that had an outdoor feel without actually being outside in case the weather was bad. The ceremony space at the venue opens up to outside, as does the cocktail hour space, which is gorgeous and right on the river's edge. The ballroom upstairs is stunning, and was exactly what we wanted for our reception space - the view was unbeatable. The food is so delicious - I may be biased, but it was probably the best wedding food I've ever had! The staff was super helpful and responsive, and they worked with us every step of the way when we had to re-schedule our wedding due to COVID. Neil and Stephanie were absolutely incredible on the day of the event. Neil made sure everything ran perfectly smoothly, and Stephanie was always there to help when we forgot our shoes, phones, etc - you name it! We couldn't have done it without them. Lambertville was the perfect setting for our day, and I couldn't have imagined having our wedding anywhere else!

Kathleen K.

Married on 03/26/2021

An AMAZING wedding venue!!!

We had our wedding at the Lambertville Station Inn on March 26th, 2021. It was fabulous! The venue is gorgeous, the view is sublime and the people are out of this world!! Patricia worked diligently with us to plan our special day during these trying Covid times. The wedding concierge Neil was the best. He had everything running perfectly and made you feel at ease and like the most special couple all at once. The food was terrific. Our day was perfect and purely magical thanks to the wonderful staff and unbelievable location! Oh, and I didn't even mention the truly amazing bridal suite! What a perfect experience, I wish I could do it all again! I would recommend this venue to everyone!!!

Nicole C.

Married on 09/26/2020

Best Wedding We've Ever Attended!

My husband and I could not be happier that we booked the Lambertville Station as our wedding venue! We were married in September and even with all the (daily) changes in guidelines and restrictions, Lambertville was with us every step of the way. Patricia and the entire team were always available and checking in with us. The venue is absolutely picture perfect. Neil, our wedding coordinator, was professional and thought of every last detail for us. He anticipated things that we had not even considered. And Quintin, Kathy and the rest of the front desk were so accommodating and pleasant to all of our guests. Planning a wedding is stressful enough, but the entire staff of the Lambertville Station are pros and we felt so at ease with them. We had no doubt that our wedding would be a beautiful occasion. And while this isn't this most humbling statement, we say it was the best wedding we've ever attended. Everyone loves their wedding, but we truly feel so lucky to have had, not only the picturesque location, but also the entire team support of the Lambertville Station for our wedding. Absolutely book your wedding at the Lambertville Station!

Jaclyn M.

Married on 09/12/2020

Just out of this world!

I can't say enough about how wonderful everything was for my October 2020 wedding at Lambertville Station & Inn. Neil took care of every.single.solitary.thing you could imagine. He is a true professional, kind, funny, and completely put me at ease before and during the wedding. I had a couple last minute "oh my gosh I forgot to talk to Neil about this" requests on the morning of the wedding; he was hardly even phased – everything was taken care of perfectly.
The food was excellent; the service was really on point and they really worked with us closely to make sure they we were happy and relaxed. Not to mention, the location is pretty perfect. You couldn't possibly be disappointed by Lambertville Station and Inn.


Maria

Married on 02/29/2020

Beautiful venue with excellent staff

I cannot say enough good things about the Lambertville Station Inn and their staff. From the start, Marielle was extremely responsive to all of our questions. You could tell how much experience she has had with booking and organizing events; I knew I would have nothing to worry about the day of the wedding. She even offered to be a witness when we went to get our licenses if we needed an extra!

The day itself went off without a hitch. Our day of coordinator, Neil, made sure everything was ready to go when our guests arrived and walked us through a mini rehearsal for the ceremony. He was so good at keeping everyone calm and organized! The attention to detail the entire team had was excellent. They thought of things that I hadn't like re-purposing the flowers we had going down the aisle to the staircase for when guests moved to the reception area. Neil and Stephanie, our bridal attendant, made sure that my husband and I got to try all of the food during the cocktail hour and had our drink of choice in hand. There were just so many little things that made the night that much better.

The venue itself is beautiful and the food is absolutely delicious. Our guests are still talking about the food and desserts 4 months later. There are so many great spots for pictures and looking at New Hope lit up on the other side of the river added to the ambiance. Overall, having our wedding at the Lambertville Station Inn was one of the best decisions we made as a couple!
Are you interested?
Send a message