Reviews
5.0 out of 5 rating
Quality of service

5 out of 5 rating

Average response time

5 out of 5 rating

Professionalism

5 out of 5 rating

Value

5 out of 5 rating

Flexibility

5 out of 5 rating
100%
Recommended by couples
91 User photos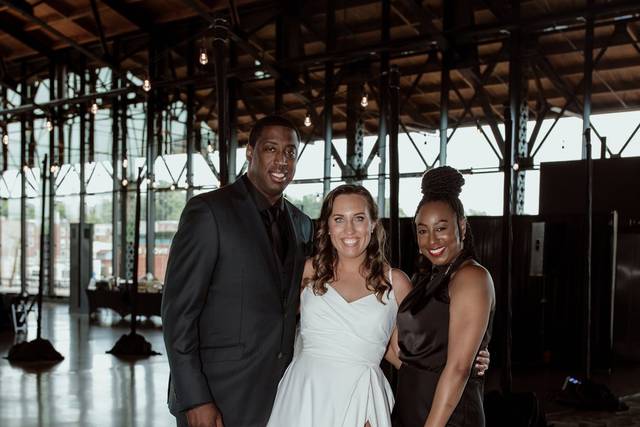 + 87

photos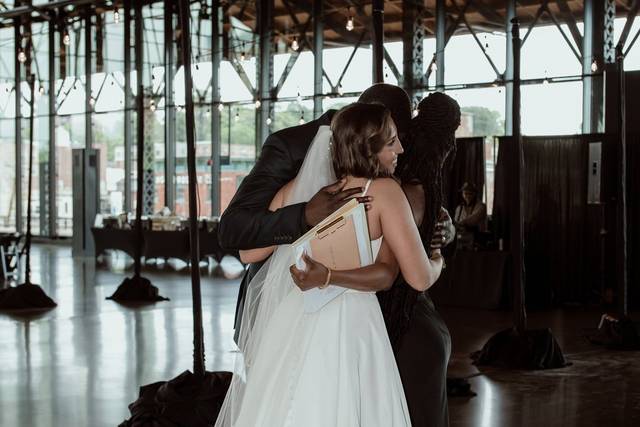 Stephanie N.

Married on 06/17/2023

Hire Heather with The Hive!

Heather is the consummate professional. She is extremely organized, calm, and thoughtful, and is a great communicator. She has excellent relations with vendors, and received high praise from each one. She helped us plan every detail and made great suggestions, so that our day was perfect. Due to Heather's excellent planning skills, our wedding day was not the least bit stressful, and we could focus entirely on our wonderful day.

Jake B.

Married on 06/09/2023

You're in good hands with The Hive!

Heather and team were great to work with on wedding day and every moment leading up to it! We started working with Heather about 60 days out from the big day. She always made us feel comfortable that things would go smoothly and that's exactly how it happened. We had a lot of questions along the way and she was very patient with us and diligent on all follow up items.

Jill T.

Married on 05/19/2023

You Need Ciera Pope

Ciera Pope. We have nothing but the HIGHEST PRAISE for this woman. She is everything you want and more in a wedding planner. After meetings with 4 other planners, we knew the moment we got off the video call with her that she was the one. We both work in very demanding, high travel jobs and lived in 3 different states during these 20 months. She did not flinch once, even when our initial meeting was as chaotic as they come (bride's fault entirely). She gave us the space we needed after a very difficult season of life and supported us through this entire process. As soon as we signed with her, we felt instant relief that our wedding day was going to be perfect no matter what happened. Between opposite schedules, 3-way phone calls at work, and only 2 visits to VA, she was so professional, kind, and accommodating. Her ability to bring everything together and understand our vision (maybe better than we did) was nothing short of amazing. She is very well connected in the area and did an unbelievable job of communicating with us and vendors. In moments of stress, my husband and I were always able to look at each other and say "but we've got Ciera, it's going to be fine." Our guests were so complimentary of everything, and we owe that to her. We asked her from the beginning to be completely honest and transparent with us because we trusted her 100%. Her knowledge of this industry, pricing/budget, and feel for how to bring everything to life is unmatched. Not only did she make the planning process 100000000x better than we ever could have imagined, but also made wedding day stress free. We were able to enjoy our guests and the dance floor without concern (down to a to go box of food for the night!). Ciera is worth EVERY PENNY and we highly recommend you fit her into your budget She is a MUST HAVE for anyone planning an event. Ciera, we love you. We are so thankful for you. You are no longer just a wedding planner but family.

+ 2

photos

Are you interested?

Send a message

Joey

Married on 04/08/2023

Individualized experience that made us feel valued

We had an overwhelmingly positive experience. We were paid attention to and heard at every juncture and all of our goals were met. We truly got a personable, individualized experience that made us feel like we were a priority.

Christine R.

Married on 02/12/2023

You want to be a part of The Hive !!

The Hive is the end all, be all of wedding planning. All of my life, I never imagined I would need a wedding planner. I thought I could take care of everything myself and I didn't see the value. Well, once it was time to plan my wedding, all of that went out the window. I was very stressed and overwhelmed. I did not know where to begin and where to end. Luckily, The Hive was a gift from above. I met Christine from The Hive when I was trying on wedding gowns at her bridal shop, Urban Set. She and I immediately hit it off with the vibe of my wedding and similar interests. She told me about The Hive and I knew immediately I needed her. She exuded confidence and knowledge about planning. From the first day we connected, she made me feel comfortable and secure as we moved through the planning season. She was wonderful at keeping me on track, throwing around ideas, and making contact with other vendors to pull the wedding of my dreams together. She attended a few wedding related meetings with me and she always conducted herself like an absolute queen. She was extremely kind to me and always available, even when I was sending frantic texts about wedding invite options. She bent over backwards for me, finding the perfect decor, pouring over contracts, and dealing with any conflict that may arise. Come the day of the wedding, she had everything running smoothly. I didn't have to stress about how the wedding was going to unfold. I was able to relax with my mom and bridesmaids, enjoying the entire wedding morning experience. I could not have done this wedding without Queen Christine and the boss of a wedding planning company, The Hive!

+ 4

photos

Jamika S.

Married on 12/11/2022

Words can't even begin to explain!

Ciera was the best planner I could've asked for! She took my 5 suggestion pictures and made my wedding exceed what I could have ever imagined. With my job being so demanding as a doctor and living across the country she made the process so easy and stress free which is priceless in my book. To this day family and friends tell me how amazing and beautiful the wedding was and honestly the pictures can't even do it justice it was everything!!!

+ 5

photos

Rachel R.

Married on 12/03/2022

INCREDIBLE Service & Compassion!!

I don't even know where to begin with how impressed and grateful I am to Anne Michelle and the Hive team! I interviewed so many different coordinators and as soon as I met Anne Michelle, I knew I was in good hands. I am a very type-A person, so it was especially important to me to find a day-of coordinator who I could trust completely with all the planning I had done up to that point. Anne Michelle officially started working 3 months before my wedding, but even before that she was super available to ask a few random questions and provide recommendations on what would make our wedding run most smoothly. Having access to the Hive's list of recommended vendors was a HUGE help when it came to planning. Once she started officially working, she was awesome at helping coordinate with all our vendors; there were multiple times where I had a minor panic in the lead up to the wedding only to find that Anne Michelle had already handled the situation. On the day of, she (and her amazing assistant, Keneil) absolutely blew me away with how well they handled all of the things that popped up - bad weather, timeline and photo location shifts, outfit hiccups. Anne Michelle literally was on her hands and knees at one point, helping me clean my dress. I am so unbelievably thankful for her and I could not recommend the Hive any more highly!

Jazzy J.

Married on 11/19/2022

The best Virginia has to offer

When my wife and I got engaged back in 2020, we had no idea what we were doing when it came to planning our wedding. Even after extensive research and personally reaching out to a multitude of vendors and venues, it became increasingly apparent to us that wedding planning and logistics without help is a full-time job, a potentially tedious and frustrating one at that. This is especially the case if you want a seamless wedding experience that really reflects you and your future spouse's personalities and values (btw congrats!). Personally, I think you'll be hard-pressed to find a team more qualified or better suited to bringing your wedding vision to life than the Hive Wedding Co. After our experience with them, we can safely say that they are top professionals in the wedding business: they nurture and maintain strong relationships with Central Virginia's best vendors and venues, they are well-versed in the latest wedding trends as well as the more classical/traditional styles, and the team has a wealth of experience that they pool together. This pooled experience also includes adapting to COVID-19 and minimizing its impact on the entire wedding process. For us, this translated into a great eye for detail, clever and efficient solutions for the expected and unexpected issues that inevitably arose, and most importantly, a chance for my wife and I to actually really enjoy the planning process and being in our wedding. It's very, very cool to have someone you can trust and lean on that will take care of everything leading up to and the day of, and it's something that I want for every couple who are looking to celebrate their big day with minimal stress and maximum joy. Believe me, it was pretty easy to get overwhelmed planning something this special and this big, especially with everything we have going on in our lives. Do you and your partner a big favor and consider getting a Hive wedding planner, they are kind, awesome, attentive and certainly up to the task.

Diana N.

Married on 10/16/2022

For a personal and trusted support through it all!

Read on for more, but if you don't read anything else, just know that Lindsay F. will put you first, balance your wants with your needs, and bring support to the good and bad. The Hive Wedding Collection is really the group you want to work with because I know Lindsay represented their mission beyond expectations.

Okay, a little more detail…

I knew Lindsay F. was "the one" as early as our initial consultation call. I had first intended on just fulfilling my venue's requirement of having at least a day-of coordinator for the wedding, but I quickly realized from all we had naturally unearthed from our call that I needed more help than I realized. With our genuine conversation, I knew Lindsay is THE person to trust, so we worked together to make a plan to have her more involved (scaled to our needs and budget). She really represented the Hive mission that I was expecting (The Hive Wedding Collection already came with high recommendations from my venue), and I was really excited to talk to her especially, because she matched our style perfectly. Lindsay even helped translate my word-vomit ideas into logical and accurate wedding vision-speak. She's just amazing.

There's so many things to say about Lindsay for all she's done for planning and the behind-the-scenes work (let me tell you, she had tons of tricks up her sleeves to save the day). My wedding had a big change mid-planning due to some unforeseen health reasons in the family, and without judgement, Lindsay really stepped up to the plate and helped us figure everything out. Having her support was so impactful, because I just don't have the experience and communication skills to coordinate with the vendors and sort through the necessary adjustment like she did for us. Looking back on it, Lindsay really helped us make the right decisions, whether it was family/friend/bridal party related or vendor/venue related.

My wedding turned out to be a lot of folks' top favorite wedding, and I believe it every time I receive that complement because we had an even balance of personal touch, consideration to budget, and the flow and pace of the ceremony/reception was perfection (even though I know Lindsay was hard at work in the background, allowing us to enjoy our special day). The funny thing is, I know there's so much more that Lindsay put into making sure the wedding was a success that I don't even know about—and that's because Lindsay is someone who will put you first and make sure the day is your day and the day you want to remember fondly looking back for the rest of your life.

When I remember my day, I remember how invaluable it was to have Lindsay there when our life got scary and needed to pivot with the planning. I remember every teary eyed Zoom call where she listened as a human being. I remember her at every dress change, correcting buttons and adjusting bustles, sewing back on buttons on tuxes. I remember her standing next to me and cheering me on before walking down the aisle. She's really the best. All my highest recommendations to Lindsay F. and The Hive!


Karen K.

Married on 10/15/2022

Two Enthusiastic Thumbs Up For Ciera Pope

My daughter Emily and I had the pleasure of working with Ciera to plan Emily's October 15, 2022 wedding at The Wool Factory in Charlottesville. From the first time I spoke with Ciera until we hugged goodbye on Saturday night, I was impressed with her poise, wealth of knowledge about ALL things "wedding", professionalism, and demeanor. Ciera was responsive and offered great suggestions , and really took time to get a handle on what Emily and Justin envisioned for their day. She clearly has excellent relationships with vendors--everyone seemed to know her and spoke so highly of her! It's worth noting that this was the first wedding/reception she handled at this venue.....and she didn't miss a beat! Two enthusiastic thumbs up!!

Casey L.

Married on 10/01/2022

Everything we needed

Where do I even begin?! I don't think I have enough nice words to write about Heather at the Hive. I got married outside the weekend of Hurricane Ian and Heather's voice of reason, her calm demeanor and just overall kindness, really got me through. She was the best support for me and my husband and we are so grateful we had her as our planner. If you're considering hiring a planner, take this as your sign!

Tori P.

Married on 09/24/2022

Brought a vision to life!

My sister and brother-in-law booked The Hive for their wedding planning needs and it was hands down the best investment of their day. Heather was calm in times of stress, professional, and well-organized. Heather helped bring their vision to life. Heather helped to create such a wonderful ambiance for their vow renewal and made sure no detail was overlooked. Heather is a pro and it doesn't go unnoticed! I couldn't recommend The Hive enough!

Esther E.

Married on 08/27/2022

1000000% recommend

If you're thinking about NOT hiring a wedding planner to execute your wedding, please think twice. I'm telling you they are worth every penny. Even though you feel like you have everything together, these planners are EXPERTS within the field and know exactly what to do. I mean... read all of the other 5 star reviews of the Hive.

I was lucky to come across the Hive when I was purchasing my wedding gown at Urban Set Bride. One of the owners of the gown boutique, Christine (a gem) also has a wedding planning business (The Hive) in which Ciera Pope is the lead wedding planner.

There are not enough words to even describe how PIVOTAL Ciera was in carrying out our wedding flawlessly. I'm not one to plan a wedding (absolutely hated it actually) and I'm not sure what I would have done if it weren't for Ciera. Ciera had one of the most positive reviews so I reached out to her and upon scheduling a phone call with her, I think I reached out to her a couple of hours later (LOL) to ask if she could be our wedding planner. I didn't consult anyone else, I just knew she would be our wedding planner.

Now on to the wedding planning- I chose the guided planning so had most of my vendors picked out but for the ones that I needed help on, Ciera jumped in and recommended some amazing vendors including 707 for my now husband and groomsmen's suits, the flower guy Bron (absolutely spectacular florist), and DJ Anthony. Everyone vendor she recommended was the best of the best.

During the week of the wedding, I was pretty stressed but Ciera took control of everything- came up with a detailed timeline, got all of the vendors familiar with the timeline, etc. She also led a FANTASTIC rehearsal. Her leadership skills are unmatched. Lots of family members came up to me to let me know they wish they hired her as their wedding planner because she absolutely knew how to take control. Also, keep in mind Ciera was dealing with us as a multi-racial couple including me (Korean) and my now husband (Vietnamese) and our families... Enough said.

On to the wedding day itself- people have warned me that SOMETHING will go wrong and not to worry about it if it does. Well guess what? NOTHING went wrong, I kid you not. Everything from the set up to the wedding party walking out to the reception went flawlessly... And it was hugely in part because of Ciera. I had my venue at the VMFA in which the coordinator asked if some of my family members could move the ceremony chairs to the reception tables (due to VMFA staff not being able to) but Ciera didn't even ask for us to do it- she and her assistant, Keneil (also amazing) did it themselves. This speaks volumes about their dedication. I also ate my entire salad and dinner entree. I think when I sat that down during the dinner and scanned the room before eating, I knew I was 100% calm knowing I could relax and be myself. I will never forget this moment.

There was one point at the end of the reception that we thought we lost our belongings (in a bag) but I had a feeling Ciera handled everything to make sure nothing was lost. When we got to our car, Ciera had put our important belongings in the back of our trunk. I don't know why this was so meaningful to me but if it doesn't show you that Ciera is a power woman that takes care of everything than please message me and I will let you know of the 100000 other things she did to make our wedding go seamlessly.

If I haven't convinced you yet to hire Ciera from the Hive as your wedding planner, please think twice. I thought I could plan a wedding myself but it would have been near impossible without a professional wedding planner like Ciera. She was also a friend to us and listened to us and was always available when we needed to chat. My husband, Chris who is an even worse planner than I am said we hit the jackpot with Ciera.

Ciera, we are so grateful you were our planner. We know you did SO much that we were aware of behind the scenes and we are eternally grateful. Our guests are still talking about how perfect our wedding was. Thank you for everything.
-Esther & Chris

Amy P.

Married on 07/31/2022

Best Experience Ever

Our daughter married the love of her life two weeks ago, and we are still riding high from the amazing weekend. After working with Christine at The Hive since October 2021, we expected it to be wonderful - but it was beyond anything we could have imagined from beginning to end. She is worth her weight in gold!
We live in Philadelphia and the newlyweds are a busy working couple in Richmond. From the beginning we thought we would benefit from a planner, primarily because we wanted to enjoy the process and not be continually stressed over the amount of work to do. After interviewing several planners, Christine was the clear choice, and she was invaluable from the minute we began working with her.
Christine's strengths are legion; here are a few that we particularly noted:
• Understanding our vision for the wedding, and translating that into connections with well-matched vendors and service providers both locally and online
• Extensive experience, which meant she knew when to complete all the steps required, who to contact to get things moving, and how to resolve any issues that arose
• Organizational skills, so we stayed on track throughout the process
• Prompt communication, with quick turnarounds on any questions we had or tasks delegated to her
• Calm and professional demeanor, which gave us confidence and helped smooth over bumps along the way.
Parents, family members, friends - and especially the bride and groom - were able to be fully present and celebrate the wedding because Christine and her team were managing every detail.
I more than highly recommend Christine and her team at the Hive Collective – I don't think you can do better!


Blake J.

Married on 06/25/2022

The Hive made our day perfect!

Ciera from The Hive literally made our day happen. Our original wedding day was set for May 9, 2020 and we rescheduled FOUR TIMES due to COVID. Ciera was the calm in the storm for us. Not only was she organized and a wedding expert, but she is the exact you want on your wedding day. Calm, fun, and on top of it (three characteristics that are difficult to possess all at once). I literally don't know what we would have done without her. THANK YOU, CICI!

Courtney S.

Married on 06/11/2022

10/10 Recommend!

There are no words to express how grateful I am to Christine and The Hive Collective. I met Christine in December 2020, and knew from the jump I HAD to be her client.

Christine is professional, personable, and all around fun to work with. She provided us with preferred vendors, reviewed contracts, and general planning support without ever pushing her opinions.

Our venue had day of coordination, but thank God we brought in Christine! Throughout our 18 month engagement, the venue had gone through 3 day of coordinators, and ultimately did not have one on our wedding day. Christine jumped in and executed our wedding flawlessly.

On the wedding day, we did not have to worry about a thing. Many of the guests complimented on how lovely Christine is and how effortlessly she made the day seem. My husband who was hesitant in hiring a planner gushed at how wonderful Christine is, calling her "more than a wedding planner, but a BEAST".

Christine is truly the best, and I cannot recommend her and The Hive Collective enough!

Lauren H.

Married on 05/21/2022

We loved the hive

TL;DR - HIRE THE HIVE AND LINDSAY. I was aware of the Hive prior to having a personal need for their services just based on friends who had used them and their general stellar reputation. So while I did entertain other planners, they were always my first choice and I was so glad that one of their planners was available for my date (note: I booked a year or so out and most of them were booked - so act fast!).

Their incredible and fearless leader Christine matched me with Lindsay Force and I immediately knew I was in good hands. I'm a type A, organized, detailed oriented person and knew I could likely handle this myself, but with a demanding job and toddlers at home, I needed a little help so I opted for the 90-day package (no design). In hindsight, I would have had Lindsay do the whole thing cause wow - it's SO much work. And that became apparent the moment I met with Lindsay and she was asking all kinds of questions and bringing up things I hadn't even considered. It was such a relief and I felt supported and confident in her abilities the entire process.

Not only does she obviously know her way around a wedding or a hundred, she was the calming and pragmatic presence that I really needed in the weeks leading up where it feels like you have it, but you don't really have it LOL. She helped me make a lot of smart decisions that saved me money and headache. And then she and her assistant Keisha worked their full butts off on the day of the wedding in 98 degree heat, making sure EVERYTHING went as planned. I had so many compliments from guests (and most importantly my mom), saying that she did an incredible job and everything was so well organized. I recommend her and the Hive HIGHLY.

Rakeshia

Married on 05/14/2022

Heather was fantastic!

My husband and I worked with Heather about two months before our wedding date (5/14/22) and she was very calm but friendly and organized. She asked some great questions when we met with our venue coordinator and even gave us some helpful tips about how to make our day run smoothly. Heather has a wealth of knowledge about the wedding industry, planning, and logistics, so it was no surprise that she was reaching out to our vendors and keeping us updated with anything we needed to do on our end. Due to our guest count, we needed two assistants to help Heather make our day perfect! Both were just as nice and friendly. One of the assistants made sure that I was comfortable and relaxed before my grand entrance and it helped calm me down. If there was an issue, we didn't know about it! I would highly recommend Heather and The Hive Collective to anyone looking to plan a wedding or if they need help with the logistical part of the wedding plans.

Erin T.

Married on 05/14/2022

The best investment!!

Never planned on getting a wedding planner, but it was one of the best decisions we made! My mom and I met Christine at UrbanSet shopping for dresses (would also highly recommend), and loved her from the get go! She has such a laid back, calm, funny yet professional and knowledgeable way about her, which is exactly what I needed throughout the wedding planning process. Christine isn't just a wedding planner, she is your friend and advocate. She made me feel at ease for the 3 months leading up to the big day and on the big day, I didn't even leave my girls to check on anything the day of because I knew it was under control with Christine. From vendor recommendations, decoration and design questions, logistics planning, and even what's worth it or not to invest in, she does it ALL. Not to mention she was the only one who could calm me down about the projected rain all day on our wedding day - and it didn't rain AT ALL. We love you Christine!

The Hive Wedding Collective's reply:

Thank you, Erin! It was an absolute honor to get to know you, Mama T and the whole family. Thank you for trusting us and being the ideal planning client. Love yall!

- Christine

Devin E.

Married on 04/23/2022

Highly recommend

Heather was our planner for our wedding at The Market at Grelen and she was amazing! During the planning phase, she was very helpful guiding us through the process... she kept us on schedule, knew all the details about the venue, and had great recommendations for other vendors. She has a talent for design and excellent instincts on when to give advice vs. when to just reinforce our decisions & give us comfort. On the day-of, she ran the event flawlessly and we couldn't be happier with how everything turned out. Definitely go with her if you're thinking about hiring a planner.

Sarah J.

Married on 04/23/2022

We can't recommend Christine highly enough!

I feel extremely fortunate to have had the opportunity to work with Christine. Though we chose the 60-day package, Christine was responsive and available to answer questions, review contracts, and give planning advice as soon as we hired her. Her connections with other wedding professionals helped us find an incredible team of vendors and she was able to build relationships and work with our ceremony and reception venues to transform and elevate the spaces we were in. She navigated bumps in the road with ease and grace, to the point that we had minimum stress on our wedding day knowing that Christine was at the helm. On top of all of this, she's just a lovely person to work with. I cannot recommend her or The Hive highly enough. Thank you for everything, Christine!

Augusta G.

Married on 04/14/2022

Simply the best!!!!!

Ciera is a premier professional and an amazing, fun person to boot. She took care of every little detail and managed our timeline beautifully. A pandemic did not derail her ability to provide remarkable service. Having Ciera allowed me to enjoy my day and not to be bogged down by event logistics. If you are considering working with Ciera-DO IT!!!!!!!

Candice S.

Married on 04/02/2022

A stress-free wedding thanks to these ladies!

If you are reading this review, HIRE THEM! If you are worried about how to make it fit in your budget, FIGURE IT OUT! Lol they are so worth it! From the very beginning these ladies had our back!
We had the hardest time finding a venue on our own. Once I realized it was time for some help, I went to the Dream Team aka The Hive Wedding Collective and Christine stepped in and made things happen in less than 24 hours! I'm not exaggerating…in less than 24 hours she had helped us secure our dream venue and our wedding date. Christine had a wedding with another couple on our wedding date so she was unable to be our wedding planner BUT Ciera did NOT disappoint. I followed Ciera for weeks prior on Instagram and her content is amazing (and VERY helpful) and I knew she would be a perfect fit for us. She was always thinking ahead, extremely organized and beyond helpful with developing and refining our vision for our special day. She helped us stay within in our budget, and that is really important lol. You dream of all of these beautiful things that you want until you see the price tags lol not only did she keep us on track, she would provide great alternatives if something was out of our budget. I think what I appreciated the most, was her honest feedback based on her time and experience as a wedding planner. For many of us, this is our first wedding…sure, we have attended weddings and maybe been in a few weddings, but planning your *own* wedding is a whole different experience and there a lot of things we don't realize or know…but Ciera does! She was familiar with things for a traditional wedding or a new and modern wedding. She had unique and innovative ideas. She knew the things that were very successful at weddings and the things that were not, which is extremely helpful and will save you money lol! Needless to say, it was a stress-free planning experience. The day of our wedding was even better. Ciera went over and beyond to make sure I was okay, my husband was okay and even our family members were okay. She even brought us food and drinks during the cocktail hour/pictures to make sure we were enjoying every moment of our day! I honestly don't think I would have survived the planning process or the wedding day without her! 10/10 would recommend.

Rebecca H.

Married on 11/20/2021

Booking The Hive is the Reason our Wedding was Perfect

Do yourself a huge favor and book The Hive. Christine was our wedding planner and she was the best wedding decision I made (other than picking my husband, of course). My husband and I both are hardcore planner types and had jobs that allowed us plenty of time to do our own research, so when we started planning our wedding we definitely were skeptical about the value-add a planner could bring. Boy were we wrong!

To begin with, Christine pays for herself in her vendor recommendations. She has a huge list of vendors who are top tier quality and great value for the price. Throughout the process the only decisions we regretted were going off-list to try to save a buck here and there. Don't bother. If a vendor is not on Christine's list, it is probably because the cheaper price isn't worth the sacrifice. But even then, Christine swooped in to make everything right and ensure our wedding was absolutely beautiful!

Also, there are a million details and decisions that, unless you are a wedding planner yourself, you are likely not going to anticipate. I was the Maid of Honor in two weddings and a bridesmaid in a third before I tied the knot. I thought this made me the closest thing to an expert in wedding planning short of an actual professional. Turns out, as in most fields, the gap between an informed layman and an actual expert is unbelievably vast! But even if I had been able to anticipate every detail, the logistics of putting it together is a full-time job - which is why it is Christine's full time job (weird how that works)!

Her vast experience in the industry means she has seen it all and she knows what does and doesn't work. She knows how many guests you need to plan transportation for, she knows how quickly people will be able to be herded out of the venue at the end of the night, she knows how long set up will take, she knows how to enhance your themes or to make traditional details like a guest book new and creative!

Now that I have hopefully convinced you that you need a wedding planner, let me explain why that planner absolutely should be Christine. Christine is a consummate professional. She is organized, responsive, and does whatever it takes to make your day beautiful and easy. And as I mentioned before, she has vast experience in the industry - even the vendors we talked to all gush about what a great planner she is - and she knows how to leverage that experience to your advantage. When we forgot batteries for the polaroid camera we were using for our guest book, she sent someone out to get them. When my florist scaled back our flowers due to covid-based price increases, she went out and purchased greenery and candles to fill out the entryway. When we had a guest tell us last minute that they actually could attend after RSVP-ing no, she texted the venue to get an immediate answer on whether they could accomodate the request. When my hair and makeup team needed to be replaced due to COVID safety concerns, she found me an incredible replacement.

But I think what stands out to me the most about my wedding planning experience is that Christine is so incredibly fun to work with! She is creative, funny, selfless, and just a very cool person. We spoke with several wedding planners before booking Christine, but none of them made us feel so immediately comfortable and excited. My husband and I wanted our wedding to reflect our personalities and our interests. I am a huge Harry Potter fan and my husband loves Star Wars. Christine was able to take my vague outline of a vision and create a beautiful yet incredibly fun wedding that subtly acknowledged our respective fandoms. She was so enthusiastic throughout the whole process and made planning sessions feel like we were hanging out with a long-time friend. From the moment we booked, Christine made herself available for any question we had - long before our 90-day contract began. And when we had to reschedule the whole wedding due to COVID, she took care of the whole thing, again, long before her 90-day contract even began. Christine is worth every penny. Book her.

+ 7

photos

Kelsey

Married on 11/13/2021

A wedding day more perfect than I could have ever dreamed!

We can't say enough good things about Ciera from The Hive Wedding Co! We purchased the Full Planning package and from the time we hired her to our wedding day a little over 1 year later, she never missed a single detail. My now husband and I have very busy careers and I was living states away throughout our entire engagement. We had to rely on Ciera to do so much of the leg work from finding vendors, having meetings on our behalves…even down to picking up our wedding dessert on wedding weekend. She made me feel like being so far away was nothing to worry about. Ciera thought about everything before we could even think about it. More times than not she already knew what our answer would be before posing an idea simply because she learned us that well. It was easy to feel like our wedding was the only one she was planning. We always joked and said it was her wedding and not ours, and I feel like she poured her heart into it as if it was - making sure the planning process was easy and the big day was more than I could have ever dreamed it to be - which it 100% was!

If you're still searching through planner after planner, congratulations your search has now ended. Fill out the inquiry. Get the quote. Pay the deposit. Then sit back and enjoy a stress free planning process. I can't recommend her enough!
Are you interested?
Send a message