Reviews
5.0 out of 5 rating
Quality of service

5 out of 5 rating

Average response time

5 out of 5 rating

Professionalism

5 out of 5 rating

Value

5 out of 5 rating

Flexibility

5 out of 5 rating
100%
Recommended by couples
142 User photos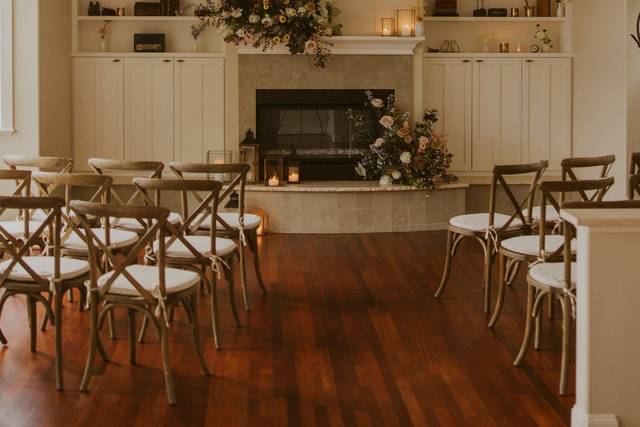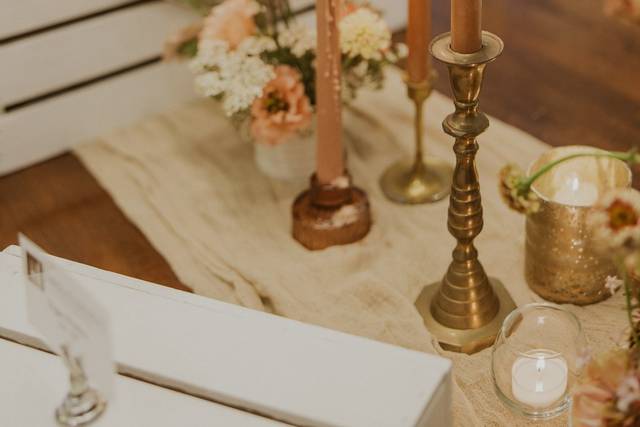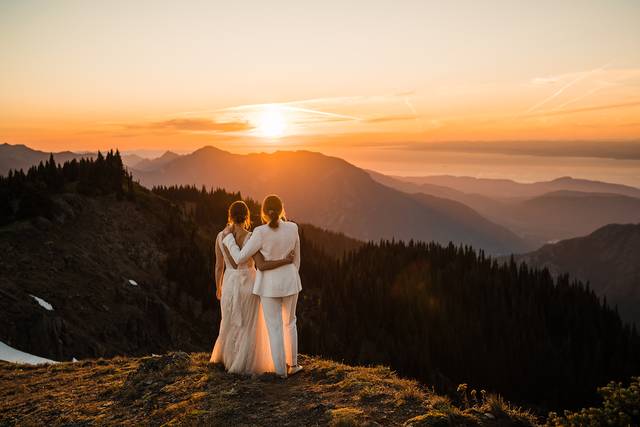 + 138

photos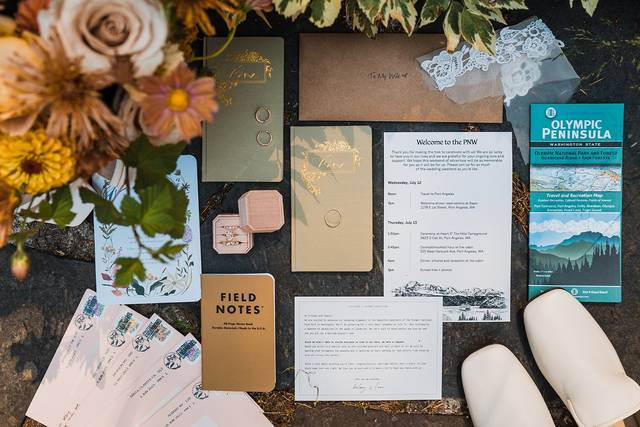 Sharon

Married on 09/03/2023

Our dream home wedding

When we first started our wedding planning journey, we felt overwhelmed with the expectations that came with it, and discerning what we really wanted. After some time, my partner & I decided to focus on making a wedding that felt uniquely us — cozy, intimate, at our home. To pull this off, we found Erika — and we're so glad we did.

We had woefully underestimated the complexity of a home wedding thinking it'd be "simpler," but Erika helped us navigate all the complexities. We really wanted our home to be transformed, and with that, came a lot of planning & design work. Erika listened and not only helped us nail our design vision, but she was organized, helped us find amazing (!) vendors, and kept us on timelines. When we were searching for our wedding planner, we felt like some excelled more in organization, and some in design, but it was hard to find a perfect blend of both. Erika is absolutely both!

In the end, our wedding day was truly a dream. Both my husband & I were taken aback at how our home transformed into a wedding venue day-of. Erika was a master at helping everything run smoothly — we both went throughout the day getting to really relish in the moment, and not having to worry about a thing. All our friends & family kept gushing to us at how special and intimate the day was. We couldn't be more grateful for Erika and all the months of work that went into this day. Would highly recommend hiring her!

Autumn H.

Married on 08/22/2023

Switzerland

Erika and her team made my elopement unforgettable! I knew I couldn't plan a destination elopement on my own, and choosing Erika was the best decision I could've made! The whole planning process was so easy. She was able to take care of most everything and give outstanding recommendations! She was very prompt at responding to emails or even jumping on a call when we needed to chat! A Switzerland elopement was such an unforgettable experience thanks to them!

Laura P.

Married on 07/13/2023

Truly amazing

The most AMAZING team!! We couldn't have had such an incredible adventure without Erika and team. From the first moment we met with her all the way to the wedding day, she was extremely caring, detailed, and made our day so so special. She connected us with almost all of our vendors, helped organize the day and the timeline, and helped us dream up the most beautiful experience for us and our guests. Truly couldn't have done it without them. Thank you so much, Greatest Adventure -- you're the GOAT.

+ 4

photos

Are you interested?

Send a message

Ryland S.

Married on 03/25/2023

Above and Beyond

Erika did an amazing job designing, planning, and bringing our wedding to life on the day of. We are so thankful to have had the opportunity to work with her.

It was clear from the start that we were in good hands. Erika brings with her years of experience, which was evident throughout the entire process, as even the smallest details are thought of and accounted for.

Erika was generous with her time. She was detailed and thorough in providing us vendor options, surrounding us with incredible people to work with. She was patient with us throughout the design process, and quick to incorporate any changes we had asked for. We had a vision, and she brought it to life.

On top of designing and planning, Erika, along with her husband Ryan, went above and beyond on our wedding day. They were proactive in communicating with all of our vendors and constantly steps ahead, making sure everything got done and that every detail was incorporated. We were able to enjoy every moment of our day without worry, and for that we cannot thank them enough.

Erika exceeded all expectations. She was kind and fun to work with throughout the entire process. We would recommend her, without hesitation, to anyone looking to make their wedding day come to life.

Shelby

Married on 11/10/2022

The Greatest Outlander Wedding

We had THE GREATEST ADVENTURE WEDDING!!!! It's all in the name & they surely live up to it. All I can say is HIRE ERIKA!!!!! From the moment my husband & I decided we wanted to elope I of course did what any 'bride to be' does & that was search the internet & in my case that was Instagram. I was following all the wedding/elopement hashtags, following vendor after vendor until the day I stumbled upon Erika & Ryans page & immediately fell in love. I was SO excited to present the idea to my fiancé & he loved it too. It started out with ideas of just hiking some mountain locally like in a lot of the photos we had seen, then I as always got a little more adventurous & suggested Scotland; for our love of history & our favorite show we connect on "Outlander". That's when we decided to contact the greatest adventure weddings, if anyone could make it happen it was them for sure! Without any hesitation Erika was on board! My husband & I ended up deciding on North Carolina as we felt more comfortable getting married in the states & our favorite show "Outlander" (our wedding theme inspired) was currently set in North Carolina about 200 years ago. she handled it so gracefully & reassured us that this was our day and whatever we wanted it was going to happen! She did not disappoint the entire time. So we did just that; we went back in time to the Blue Ridge Mountains, stayed in a 200 year old cabin & got married on Grandfather mountain. We soon learned that Erika & Ryan are also Scottish so she had so many tips for us including our handfasting ceremony! The most special way we will forever be able to display our unity! Now I can't say I wasn't a nervous bride because I definitely felt it, I felt all the nerves all the way up to the big day! That was my main factor in deciding to hire a wedding coordinator. I wanted our day to go completely smoothly with no stress. Since we knew we wanted to elope no matter what & that was most important to us & what was also just as important was making sure we didn't have to think on our special day! We wanted more than anything to just be able to breathe and fully take in this monumental moment. With our decision of eloping alone came with knowing we wouldn't have any family or friends there on the day of to help us or just to be there for comfort; those were nerves I was feeling. However along the way of planning the out of state elopement we realized we didn't just hire planners we hired friends! The kind of people who care for your big day just as if it were their very own; putting everything into consideration, thinking of things before we even had to. The real magic I will say had to be on the day of! Because as a bride you dream of this day all your life and your head is just filled with so many thoughts you feel like you're constantly spinning. But from the moment Erika showed up that morning of our wedding she came to conquer the day with her superwoman organization powers. It took me a moment to realize that I didn't even have to think! Erika was doing that for me too! She truly was the best wedding gift we gave ourselves because she made our day what it was. She made it all happen for us! From scouting out our photo and ceremony spots the day before in the foggy mountains in a place she has never been! To then have backup plans in case of bad weather, as well as being in contact with all our vendors for us & making sure to have our cake, flowers & all our meals for the day! Talk about wow we felt like the whole entire day was all about us! & it was! No outside distractions, my husband & I left our phones at the cabin when we left for our day of adventures, we had no need for them, just to be with one another!! I still am so grateful for all the little things she does that make a huge difference! Things like steaming my dress, helping the groom iron, making sure our photographers had our special props and mementos & that everything was even put back and returned just as neatly as it was given. Again I cannot say this enough if you don't want to have to think on the most important day of your life then HIRE ERIKA!!!! She will make sure from the moment you decide to book with her that everything will be handled and any obstacles can be overcome. We were lucky enough to have no issues, we honestly couldn't have had a more PERFECT WEDDING DAY. It's ALL WE TALK ABOUT, it's all I even think about. For us having Erika as our planner was so much more special for us because as I mentioned previously she has Scottish background & we wanted an Outlander wedding (Scottish tv series) she immediately was just as excited as we were!! She knew all the music from the show, so I didn't even really have to tell her what vibe we were going for, she totally got it, she knew what she was doing! You can say SHE UNDERSTOOD THE ASSIGNMENT! Everyone we have spoken to up to and after our wedding all it has been is singing praises about how we really did have the BEST DAY EVER no matter how "cliché" that is to say but that is exactly what it was. We couldn't have had a better team by our sides for these most meaningful moments, each time I would look over at Erika she would have a big smile on her face & it would just fill my heart up that much more having all that love & support surrounding us! Not to mention having Erika as our OFFICIANT as well was oh so special & she made it absolutely magical, making us feel like we were the only people in the world at that moment. And it doesn't stop there, with Erika choosing the most beautiful location to say our vows, that we were blown away by! Having your wedding also be a complete surprise in a way was our most favorite part! If we didn't have Erika to scout out location spots the day before & the morning too played a huge part in how meaningful her intentions are. The backdrop of our ceremony & the moment the music played as I was walking up to my husband for the first time to officially tie the knot; wouldn't have been what it was if it was for Erika and her team in finding the most perfect area that really fit into what I now call "THE GREATEST OUTLANDER WEDDING" She made our dreams come true, every vision we had she helped bring it to life. Thank you for giving us truly the greatest adventure wedding, it is a day we will forever be replaying in our minds, I know our hearts are forever full from the most perfect wedding day. THANK YOU!!!

+ 14

photos

Julie C.

Married on 09/23/2022

Flawless Execution + Adventure? HIRE TGAWAE

As someone who struggles to let other people help her I am so glad we had Erika to help plan our special day! Not only did she save my a$$, but we were traveling somewhere we've never been, off season, and where a lot of the area was shutting down, (easy panic, haha) but she helped source some of the BEST vendors, scouted out the coolest locations, adventures, and truly made it an experience to remember! We are both SO incredibly grateful and in awe of how perfect the day was, every detail. It was better than anything we could have ever imagined. I think she's basically part of the family now. LOL.

Kate

Married on 09/04/2022

Highly Recommend!

We loved working with Erika! Planning a wedding is no joke.. there are so many small details and logistics that you probably won't think of, and Erika made sure we were staying on track of everything. There was a great balance of letting us run with our ideas, and offering suggestions when we were lost or indecisive. She also sneakily took care of SO many things behind the scenes leading up to the wedding, and the day-of. There was a ton of coordination with our vendors, and the final timeline was incredibly helpful. I'm pretty type A, but I felt comfortable sitting back on the day of the wedding knowing that everything would be taken care of. One of our core vendors got lost and almost didn't make it in time for the ceremony, but it was actually fairly low stress (for us, at least) because it was very apparent that Erika and Ryan were going to solve the problem one way or another. It required a few pivots, but we were so happy with how everything turned out!

Multiple people in the wedding party and family also commented on how smoothly things went! Erika has an impressive way of staying calm, cool, and collected while still managing to get everything done and herding all of the cats.

It was seriously the best weekend, and I would not have been able to enjoy the actual wedding day as much had it not been for Erika and Ryan keeping everything flowing smoothly behind the scenes!

Audriana

Married on 08/08/2022

Erika was the reason our wedding turned out as beautifully as it did

Hiring Erika to help plan and design our intimate adventure wedding was the best decision we made. We wanted to have a wedding with a small group of close family and friends in the mountains, but having never been to North Cascades before we had no idea where to start or what the day could even look like.

Erika was one of the first vendors we hired and she was our partner every step of the way. She recommended all of our amazing vendors, from a catering company that would cater a mountainside picnic reception to helping us choose the Airbnb that we would stay in with our families for the weekend and everything in between. She helped us choose the right locations, from finding a stunning roadside location so that our parents who don't hike would be able to access it easily for the ceremony, to keeping us informed on the road closures and having a back up plan for every scenario, to giving us extra recos for hikes in the area to do before and after the wedding. When covid hit and we were forced to postpone not once, but twice, Erika was so patient and understanding, and we are so glad we were able to keep working with her despite all the delays.

Erika is organized, responsive, caring, thoughtful, warm, and extremely knowledgeable - everything a great wedding planner should be. We were ahead of schedule on our wedding day, something all of our vendors were impressed by and is a testament to Erika's abilities as a wedding planner. Everything went off without a hitch, and all of our guests kept commenting on how beautifully everything came together and what a unique and memorable wedding it was. Our wedding was well worth the wait, and it was everything we imagined and more. Erika took our vision and made it a reality. If you're considering an adventure wedding or elopement, Erika should be the first person you hire for your vendor team!

+ 10

photos

Brendalee S.

Married on 07/15/2022

Eloping to the PNW

We wanted to elope from Florida to Washington, and with that distance, we knew we had to enlist the experts. We were so happy with the decision to choose The Greatest Adventure Weddings & Elopements! Erika made the process so easy and comfortable from the very first call. She made us feel 100% confident that every need would be met for our arrival and big day! It helped that the Instagram page showcased everything they are capable of, and the beauty of what they do! It was absolutely the best moment of our lives, and it was worth every penny for that memorable experience we will never forget! The pricing was very reasonable.

If you are looking to elope in the PNW I highly recommend The Greatest Adventure Weddings & Elopements. What I loved most about choosing TGAW&E is that there was no minimum to customization. They accommodated only what was needed for OUR special day so that we were not paying for anything unnecessary. The pricing was broken out specifically to show fees, and the support to stay on track with the timeline was simplified as well.

Don't look any further! Choose The Greatest Adventure Weddings & Elopements...you won't be disappointed.

Charles B.

Married on 11/06/2021

Beyond our Wildest Expectation

It's hard to overstate just how grateful we are to have worked with The Greatest Adventure Weddings & Elopements for our wedding. From start to finish, Erika and Ryan expertly outlined, arranged, and executed our wedding plans. Their prompt communication, industry expertise, and extensive regional vendor relationships saved our wedding plans when our original venue dropped our contract just weeks before our original date.

Erika & Ryan have a talent for bringing a vision to life. We were shocked by just how beautiful their constructed settings were at our ceremony and reception venue. It was beyond any expectation we had.

Beyond their clear aptitude for wedding planning and day-of coordination, Ryan and Erika are fun, down-to-earth, uplifting people to be around. They love what they do and they'll ensure that you do as well.


Amelia C.

Married on 10/14/2021

An Absolute Dream to Work With!

Erika (and Ryan!) were an absolute dream to work with! Erika helped me plan my small, couples-only elopement and everything went flawlessly from planning up to the big day. Not only did Erika provide me with vendor recommendations and helped us choose a location (we're new to the PNW) but she also picked up our cake and flowers, set up a sweet picnic area post-ceremony, and went above and beyond to make sure our day went flawlessly. Can't recommend them enough!

Alec M.

Married on 09/18/2021

A Perfect Wedding Weekend

When my fiancé (now wife) and I started looking for a wedding planner we wanted someone who was kind, organized, and considerate of the fact that we had absolutely no idea what we were getting into. When we decided to work with The Greatest Adventure we got all of those things and more.

For starters, as a young couple we needed to be very mindful of the budget for our wedding, and The Greatest Adventure offered excellent value for the cost. Through The Greatest Adventure we received the expertise, thoughtfulness, and attention to detail you'd expect from the best event planning services in the world. They're warm and genuine and they curate an aesthetic that immediately impresses.

From the beginning of the process to the end we were able to rely on their services consistently. Even when things weren't going according to plan they went out of their way to "right the ship" and ensure that we had an amazing wedding weekend.

The Greatest Adventure were instrumental in crafting the wedding of our dreams and we can't thank them enough for all of their talents and efforts. We also can't recommend them enough.

Lindsay T.

Married on 09/06/2021

Wedding on Bainbridge Island

We absolutely loved working with Erika! When we started working with Erika in 2020, little did we know we would have to reschedule our 2021 wedding for 2022. We basically started from scratch and I can't imagine navigating any of it with The Greatest Adventure (TGA) weddings. All along the way, I had family and friends asking how planning was going and if we needed any help- but TGA set everything at the right pace so I never felt overwhelmed. The value of Erika's expertise was apparent all along the way but not until the rehearsal did I really understand how much we needed TGA. Our wedding was more conventional than TGA's bread and butter, 60 guests at Heyday Farm on Bainbridge Island but Erika and her team made us feel like we were on cloud nine. I will recommend TGA for any WA locals and every couple planning a destination wedding or elopement!

Lauren C.

Married on 08/21/2021

Hiring TGA was the best decision we made

Being someone who plans events for work, I felt pretty comfortable with the wedding planning process but we knew a day of coordinator was a must have. Once we started the process, I realized with so many possibilities for decor, we also needed some help with wedding design. TGA was a recommendation from our photographer. I knew they specialized in elopements so I wasn't sure we were a good candidate for them since we were looking at a full sized wedding. From the start, Daina was so friendly, thorough and communicative. She let me know where we should be every step of the way and made my vision come to life. I considered myself a pretty "zen" bride but there were times when Covid restrictions and vendor communications were overwhelming and Daina eased all my concerns and worries. On the day of, Daina was there for us like an old friend. She took care of everything and it was clear she just wanted us to have an amazing day. We didn't have to think about anything logistically and all of our guests said it was the most seamless wedding they had ever been to. On top of that, the decor and design were absolutely stunning. Daina and Erika nailed it and our wedding couldn't have felt more like "us". I am so grateful to have hired TGA and I truly feel like I couldn't have had the wedding of my dreams without them. Thank you so much, Daina and Erika!!!

Jacquelyn C.

Married on 08/18/2021

The BEST elopement team!

Erika and Ryan are amazing! We are seriously so grateful for how special they made our day. Every detail was taken care of and we had so much FUN! Erika designed a beautiful table for our family meal, she really is the best! She is so talented and understands your vision quickly! She helped us chose a ceremony location for grandparents that still kept us feeling adventurous and kept our family comfortable all day. Ryan officiated for us and he was awesome! Our day would not have been the same if it wasn't for them and we 100% recommend working with them. They feel like friends now to us and with an elopement style wedding, it is special to have vendors that you loved so much to help make it a memorable experience!

+ 2

photos

Rachel S.

Married on 07/17/2021

The BEST planner for intimate and outdoor weddings!

We worked with Erika to plan our cabin wedding for 31 people on 7/14. This was our third wedding plan due to COVID - and I honestly have to say I would have cancelled the wedding out of frustration and gone to the courthouse were it not for Erika. She was SO helpful during the planning process, she took care of the design plan and a lot of little details that I just couldn't be bothered with. The best part about hiring Erika was that on the day itself, I literally didn't have to worry about ONE thing. She and her husband took care of EVERYTHING - setup, breakdown, florals, rentals, all of it. And the tablescape they created was stunningly beautiful. Our wedding day was above and beyond our dreams thanks to Erika, and we are so grateful to her for that. I would highly recommend hiring her for any intimate outdoor wedding or elopement, she is an expert and really knows what she's doing - and she will give you the gift of being able to relax and enjoy your day with zero stress! Thanks Erika!

+ 5

photos

Jessica S.

Married on 07/07/2021

Erika was AMAZING! Hire her for your wedding!

We LOVED Erika and were so happy we went with her to plan our elopement. I talked with a couple planners and Erika really stood out to me because she felt so personable and I really liked her work.
Our elopement was just the 2 of us and it was a very nice surprise to have Erika and her then fiance there. While Erika was helping me get ready, Ryan was hanging out with my husband and enjoying some drinks. My husband loved having someone to drink with while I was getting ready. They felt more like friends than our wedding planner.
Erika did such an AMAZING job finding the perfect location for our intimate ceremony and picnic reception. We had the entire place to ourselves and the picnic reception was everything I wanted and more.
I would highly recommend you hire Erika. She is very detailed oriented and her styling is wonderful!

Mackenzie M.

Married on 06/19/2021

What a relief to find The Greatest Adventure!

There are so many ways Erika helped reduce my stress during wedding planning that I've lost count. I knew she was the right choice when she helped me narrow down my neurotic list of 60 possible venues to a few great choices and ultimately guided us towards our dream venue, Saltwater Farm. I had a very specific aesthetic vision for the day and Erika understood it and found me the right rentals from such a variety of vendors, something I would have never been able to navigate on my own. I think it's normal to be curious or anxious leading up to your wedding day, wondering how your vision will play out. But I needn't have worried because it was even better than I expected. When I saw our tablescapes, my jaw dropped. As for problems, if there were any, I never heard about them and our guests didn't experience any – which is the mark of a great planning vendor! Hiring Erika allowed us to be fully in the moment with friends and family on our wedding day. We received so many texts after the wedding saying that the event was gorgeous, but not fussy. Impressive, but not stuffy. And so much of that welcoming and celebratory aura is thanks to Erika and her talent. Hire The Greatest Adventure!

Caitlin M.

Married on 10/31/2020

The Greatest Adventure

What frustrations or obstacles were you experiencing while planning your wedding/elopement before you hired The Greatest Adventure?

I never really had an "ideal wedding", I didn't know what options I had or how to find them! I just needed someone to hear what small ideas I had and make them into something amazing!


 
How did The Greatest Adventure's assistance improve your wedding/elopement planning experience?
 
Erika was so chill it really helped to calm me down, because literally everything makes me nervous haha. And it was like she just knew what I wanted without me having to explain it!



What would you tell other brides who are considering hiring The Greatest Adventure for their wedding/elopement day?

I would say if you're looking for someone with similar styles/tastes who enjoy being outside then Erika is definitely the one for you! She's open to everything and super silly and fun to be around!
 

Did you feel that The Greatest Adventure offered excellent value for the cost?
 
Yes definitely! I think she could have charged more for everything she did!


Is there anything that you would change about the wedding/elopement planning process with The Greatest Adventure?
 
I can't think of anything that I would have changed!

How likely are you to recommend The Greatest Adventure to a friend that is getting married?
 
 10/10! I've already definitely recommended to a few :)

Scott V.

Married on 10/10/2020

The ease of planning and day of dreams

Erika is amazing! I can't even begin to tell you how she made our day feel special and made the planning to easy from across the country. Going into a trip from New York to Washington to elope was scary. Going all off reviews, dreams and hope. Erika made this process very easy for us. We would choose her over and over again! Making our day special, hiking about 7 miles to make for the perfect spot to have our ceremony.

Olivia M.

Married on 09/12/2020

Hire Them!

Erika and Ryan were the biggest help in making our intimate wedding a success. After rescheduling and changing plans because of COVID, we felt confident moving forward knowing they would be there to help. Erika was resourceful and personable making us both feel heard about we how we envisioned the day. Would highly recommend them both to anyone who needs help making their day feel special and memorable.


Nicolette M.

Married on 08/29/2020

The best wedding planner there is!

There are not enough words to describe how absolutely amazing Erika is. She is so kind, easy-going, and works with couples from all walks of life. Erika has a huge heart and is committed to making the world a better, more just place and being a good steward of the outdoors. It meant so much to us to be working with someone with such integrity and who held our same values.

I had no clue where to start with vendors and was stressed about having time to do all the research with my busy schedule. Erika listened to what our hopes were for our celebration and curated the most perfect list of vendors for us to choose from. She took all the stress out of getting started and made it so easy and fun for us to put together our vendor dream team! And then COVID-19 happened. Erika pretty much re-planned our entire day when our wedding needed to pivot from a bigger celebration to a small elopement. She showed up for us in the biggest way, and supported us through all the changes and stress. Erika made herself available for multiple phone calls and always responded to my many emails as things seemed to change day to day. I know she was also doing this for every other couple she was working with, and I was amazed at her hard work, care, and commitment to her couples during such a stressful time.

Our Plan B was even more magical and perfect than our Plan A, and I get tears in my eyes every time I think about it! Erika found us the most breathtaking spot in the mountains to get married, and created the most relaxing and fun day for us. We kept all the details that were important to us from our originally planned big celebration, which made it feel even more special with it just being us and our immediate family. Erika and her husband, Ryan, went above and beyond to ensure everything was perfect. Seriously, Ryan was meticulously picking tiny pine needles off of our outdoor dinner table before we sat down to make sure it was *perfect*, which we all were laughing about! They even picked up our mini wedding cake for us from the bakery so we didn't have to drive back into town the morning of our wedding. It's the little things like that that show you how much Erika and Ryan care. My spouse and I have been to weddings where the couple, bridal party, and family are so busy doing things for the wedding that they don't get to enjoy it. That's a big reason why we chose to work with Erika and she delivered - we didn't worry about a single thing the whole day and all of us were able to be present and truly soak up every moment.

Erika has a warmth and energy about her that puts everyone at ease. She is extremely organized, always knows the answer to every ridiculous question you have, has amazing style, and an impeccable eye for detail. You can feel how hard she is rooting for you leading up to and during your big day. She really cares about her couples and it shows. Our wedding day wasn't exactly what we thought it would be, but it actually ended up being better. Erika and Ryan are to thank for that. You 1000% want them as part of your wedding day team!


Elisabeth

Married on 08/29/2020

The Best Decision We Made - Hiring The Greatest Adventure!

Having the Greatest Adventure as our elopement planner was the best decision we could have made! After deciding to postpone our wedding until next year and knowing we wanted to still get married this year, eloping was the perfect solution for us! But, planning an elopement in Washington while living in Ohio seemed like a daunting task. From the first time we spoke with Erika we were immediately at ease. She was so professional, but also kind and personable. Although we started the planning process only a month out, it was very stress-free since Erika was so on top of it! She scouted locations for us, sent us vendor recommendations, explained the permit and marriage license process, officiated the ceremony, handled the flowers, and more! When we finally met her and her husband, Ryan, in person on our wedding day we immediately felt like we wanted to be friends. We cannot recommend Erika and the Greatest Adventure enough! I don't know how we would have planned our last minute elopement without them.

Alexandra S.

Married on 07/14/2020

Erika is a wonderful planner & helped us with our camp themed wedding weekend!

Erika was nothing short of wonderful as our wedding coordinator! She became much more to us than a planner as she supported us through 2 years of (what felt like) endless pivoting of plans due to COVID-19 and helping us get through the often emotional journey. She felt like a friend we could count on during this crazy time.

We trusted her completely and truly felt that we could RELAX and fully enjoy our day! She did an outstanding job coordinating our vendors and styling all of our rentals, DIY details, and tablescape - it was so exciting to see it all come together day-of!

Erika is an experienced planner with a reassuring, friendly & calm energy that is so appreciated during the wedding process - you will not regret hiring her, just DO IT! Thank you so so much, Erika (and Ryan!), we couldn't have done it without you!

+ 4

photos

Annie E.

Married on 06/17/2020

Thank you Erika!

If you take away anything from this review, let it be that our elopement could not have happened without the assistance of Erika! I will try now to express how grateful I am for her services.

My husband and I had originally planned for a 100+ person wedding in which I was determined to plan everything myself. I did not believe that I needed a day-of coordinator, nor did I want to spend money on one. Ieven had almost everything planned and ready to go almost a year out from the big day. Then, I saw she was tagged in one of my photographer's photos on instagram, and I looked at reviews of her services online. After reading the stories from past brides about all the things that happened before and on their wedding day that they couldn't predict, and that Erika was there to manage, I knew I needed a coordinator if I wanted to actually enjoy the day. We met face to face back in 2019 and I knew right away she was the one I wanted!

When COVID hit and turned our big wedding into an intimate elopement, Erika was right there with us to walk through the process. And the process only got more difficult as time went on. We waited until two months before the big day to switch to an elopement, and Erika guided us through reaching out to our vendors, switching the venue, our elopement day timeline, and provided support to us with our decision, as our families were not happy with the change. She helped arrange a new florist, assisted with cake pickup, and immediately helped me hire a new HMU artist when my first one could not commit to the big day.

But most of all, Erika was the one person we could talk to about our situation. No one before us had experienced anything like this, and she was able to use her knowledge and expertise to provide us with what we needed to get married in the way we wanted. Not only that, Erika had to change her own wedding plans during this time, and she never complained or made us feel less-than important to her because of it.

On the day of the elopement, she had a cohesive plan for all of our vendors, set up a lovely cake table for us, and made us feel celebrated. Her presence and positive energy is what made our small elopement truly special.

As COVID continues to impact our world, I can't imagine trying to plan, navigate, and execute a wedding without the support and skill that Erika brings. Take it from a grade A planner who has done an insane amount of research on all things weddings--you want Erika for your day!

Are you interested?
Send a message