57 Reviews
Recommended by 99% of couples
Quality of service

5 out of 5 rating

Average response time

5 out of 5 rating

Professionalism

5 out of 5 rating

Value

4.8 out of 5 rating

Flexibility

5 out of 5 rating
9 User photos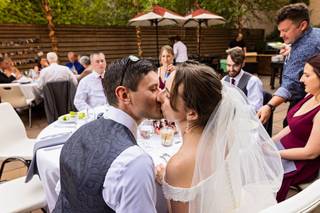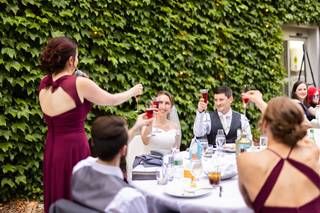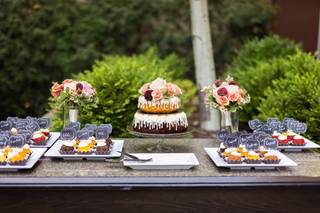 + 5

photos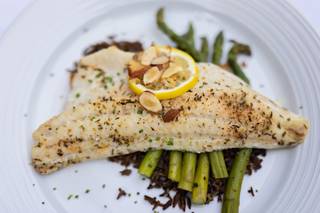 Featured

Elizabeth J.

Married on 06/19/2021

Book them! Amazing venue!

I would 100000 precent recommend having a wedding at the East Town Ballroom. I knew nothing about weddings before starting to plan for my big day. David and Cathy were great people to work with and would respond to any questions I had. They were also really responsive with all the covid guidelines.

Plus, the venue looked like a fairytale and the food was very good!

The East Town Ballroom at the Courtyard Minneapolis Downtown's reply:

Thank you so much for choosing to celebrate your and David's wedding with us here in the East Town Ballroom! It was a true pleasure working thru this process with you, even with the multiple curve balls we've experienced over the last year! We wish you and David a lifetime of happiness together and are so honored to have been a part of your special day!

Congratulations & Best Wishes!
David 'Dee' & Cathy


Ricardo M.

Married on 12/03/2022

Amazing Venue! Amazing Team!

The venue is great. Every staff member we interacted with was happy, willing to help, and they all went above and beyond to accommodate us.

Our main point of contact was Shauna. She is amazing! David and Cathy also helped with the planning and were extremely helpful as well.

The banquet captain was great. The entire service was great. Our special night went exactly how we had planned it, and it was all thanks to the amazing team at The East Town Ballroom.

The East Town Ballroom at the Courtyard Minneapolis Downtown's reply:

Thank you so much Ricky! I'm so glad I could help your night be exactly the way you planned it. Your kind words are truly appreciated!!
-Shauna

Megan S.

Married on 12/11/2021

Cathy at Courtyard

Cathy was great to work with! I recommend this venue to anyone who is on a budget. The food and service was delicious!

The East Town Ballroom at the Courtyard Minneapolis Downtown's reply:

Hello Megan!
Thank you so much for taking the time to leave us a review! It was a an absolute pleasure working thru some of the details with you and Noah on your special day.
Congratulations & Best Wishes to you both!

Are you interested?

Send a message

Jasmine J.

Married on 07/03/2021

Great Venue Choice

My husband and I were married 9.4.21 at the East Town Ballroom. Cathy and Dee (David) were outstanding, full of knowledge and ready to help whenever needed. Response time was always quick and efficient. The venue offers the option for either an indoor or outdoor wedding, the reception area is large and beautiful with the drapery and lights. The space allows for a number of layouts. The social hour and bar space is great with close proximity but eliminates any crowding in the reception space. The venue is VERY affordable and you don't need to hire an outside caterer. There are options to fit a variety of wedding desires, you can really mold the services to make your dream wedding. I cannot emphasize enough the convenience of having our wedding ceremony, reception and room block in one place. You won't be disappointed if you choose the East Town Ballroom. My husband and I were also able to capture great photos with the skyline from the rooftop parking garage.

The East Town Ballroom at the Courtyard Minneapolis Downtown's reply:

Hello Jasmine & Dennelle,

Thank you so much for taking the time to share your experience with us on WeddingWire! It was such a true pleasure working with you on some of the details for your celebration! We wish you both a lifetime of happiness together!

Thank you,

Dee & Cathy

Bridget F.

Married on 06/25/2021

Booking at the Marriott was the best decision -- excellent wedding coordinators & staff!

I was majorly stressing about planning this wedding with ongoing Covid concerns and being on a fixed budget in downtown Minneapolis. The wedding coordinators, Dee and Cathy, put all my worries at ease. Their attention to detail, clear communication, quick follow up, and professional, warm personalities made them a dream to work with. To add to that, the venue was beautiful -- we had a smaller group and decided to have the wedding in the lovely outdoor courtyard. The hotel was recently remodeled, so the lounge area, ballroom, and guest rooms look amazing. The hotel is within walking/driving distance of many restaurants, bars, events, etc. downtown. I cannot iterate enough how fabulous their staff was to work with. We loved hosting our wedding reception at the Marriott and would highly recommend it!

+ 6

photos

The East Town Ballroom at the Courtyard Minneapolis Downtown's reply:

Thank you so much for sharing your experience with us Bridget! It was a true pleasure working with you and Alex on some of the details for your big day! We wish you both a lifetime of happiness and are so honored that you chose to celebrate your wedding reception with us here at the Courtyard Minneapolis & East Town Ballroom!

Jordan

Married on 12/09/2020

Great hotel block option for MPLS wedding!

We used the Courtyard Marriot as the hotel for our guests to stay at for our wedding that was close by. Dee was so great to work with throughout the entire process! Was always very quick to respond & sent updates regularly! Had multiple guests tell me how clean & safe they felt staying at the hotel during Covid!

The East Town Ballroom at the Courtyard Minneapolis Downtown's reply:

Thank you so much for choosing our team at the Courtyard Minneapolis Downtown to be a part of your and Abby's special day. We are so happy that the additional steps we have been taking during the pandemic allowed you and your guests to feel safe during your stays.

Congratulations & Best Wishes!

Tamiko

Married on 10/17/2020

The Perfect Day!

We absolutely LOVED having our wedding here at this venue! The hotel is modern, so clean and the location was perfect for us. We were looking for a place that had everything, which included the food (which was delicious), alcohol and bartenders, and a place to stay for our wedding night. We were thrilled that this location had everything we wanted. The courtyard area outside is what sold us the most and we ended up having our ceremony there which made for beautiful photos. They were AMAZING people to work with as well. April helped us in the beginning, and Dee took over most of our questions and planning help. He knew the answer to every single question and always helped put us at ease as we were planning a wedding during the COVID uncertainty. We worked with Cathy as well and she was so fun and easy to work with. Both Dee and Cathy helped us come up with ideas to make the wedding unique, and that really spoke to us because they really cared about making our day so perfect. Everyone (including the wait staff, bartenders and front desk crew) was super helpful, knowledgeable, quick to respond and we never had a single issue with anything. We seriously had almost no stress planning our wedding because everyone was always so happy to help! We appreciated every person here and they all helped us have the perfect wedding day!

The East Town Ballroom at the Courtyard Minneapolis Downtown's reply:

Thank you so much for the kind words Tamiko! It was a true honor to work with you and Jordan as you planned your special day and we are so happy that everything exceeded your expectations! Cheers to the two of you on a lifetime of wedded bliss!

Dee, Cathy & team

Andrew R.

Married on 10/10/2020

Amazing experience!!!

Dee and Cathy were amazing to work with, even going through COVID they were able to make all our guests feel safe while still having a great time. They were super flexible and easy to work with. All for a GREAT price. We toured at least 10 other venues in our price range and NONE of them made us feel as special as Dee did. 10/10 would recommend over and over again

The East Town Ballroom at the Courtyard Minneapolis Downtown's reply:

Thank you so much Andy & Kelly!! It was an honor to be a part of your wedding celebration! Hugs to Gavyn!
CONGRATS!
-Dee & Cathy

Lindsay H.

Married on 08/15/2020

Simple, Easy, Elegant

We planned a rehearsal dinner last minute and the courtyard were so helpful and easy to work with!! Would definitely recommend.

The East Town Ballroom at the Courtyard Minneapolis Downtown's reply:

Thank you so much Lindsey, it was a pleasure to be a part of your and Charles' day!
Congrats & Best Wishes!

Sara G.

Married on 04/29/2020

Excellent location, staff, and stunning Bridal Suite!

The staff at the Courtyard was incredibly accommodating even as we had to reschedule due to COVID a few different times. Dee was wonderful; friendly, responsive, and took care of everything down to the last detail. She even gave me suggestions for hair stylists after hearing I was a in a pinch. Could not have asked for a better experience! Bonus, the Bridal Suite also has a stunning view of Downtown Minneapolis and was perfect for getting ready with my girlfriends

The East Town Ballroom at the Courtyard Minneapolis Downtown's reply:

Thank you so much for your kind words Sara! It was a true pleasure working with you and Nate throughout some of your wedding planning and unfortunate rescheduling process!

Sarah T.

Married on 12/01/2019

Unbeatable Wedding Block

Our entire experience with the Courtyard by Marriott Downtown Minneapolis was exceptional. The amenities were far nicer, cleaner and accommodating than others in the area, and we were given a truly unbeatable wedding block price. By far what made the experience top notch was the staff, specifically Dee. He was one of the most enjoyable vendors we worked with throughout the process of planning our wedding and was incredibly patient with questions and special requests. We would recommend Courtyard by Marriott to anyone getting married in the Minneapolis area in the coming years.

Elaine

Married on 10/19/2019

Perfect for weddings!

We decided to have our wedding here, ceremony and reception, and I was beyond thrilled with this choice! Our day was absolutely incredible and we can really thank this awesome venue for that! JP, Dee, and Cathy really worked to make sure we were 100% happy through the entire process. Their wedding packages are AWESOME. We even got a two night stay in their suite at the hotel where I got to get ready with my bridesmaids because of how big and how many windows there were in the room! The staff on the day of the wedding were professional and EVERYONE in the hotel was aware there was a wedding going on to help direct quests and make sure everything went smoothly. The food was INSANELY delicious. I got so many compliments on the food, and when we were looking for vendors good food was at the top priority on my list- no one likes meh wedding food. The chef JP killed it in the kitchen. I honestly want to go back there just to get dinner sometime! The ballroom was split in half for our ceremony to be on one side, and everyone went into the designated cocktail hour area while they quickly and perfectly flipped the room for us. Everything was just beautiful, and it was so nice to have everything at the hotel so the out of town quests could just book a room or two in our wedding block right there! Our point of contacts were very responsive and easy to get a hold of as well. Thank you so much to the team at the Courtyard, our day was absolutely perfect.

The East Town Ballroom at the Courtyard Minneapolis Downtown's reply:

Thank you so much Elaine for taking the time to share your experience at the East Town Ballroom & Courtyard Minneapolis Downtown! It was a true honor to be part of your and Eric's special day!

Congrats & Best Wishes!

Miranda

Married on 09/07/2019

Great Experience

This hotel was perfect for our wedding night! We were given an unbelievable block price for our guests! Working with Dee was great, he always responded to our emails in a timely manner. The hotel had great food and drinks, all of the staff were kind!

Zahra

Married on 06/29/2019

Great experience

I recommend this venue and it's staff.. if your looking for great service and help you should host your wedding with them.. I really had great experience with them and would recommend them all day everyday.. thank you guys for everything my night went smooth and had so much complement.. parking was little tough for guests to find since the connected parking building was full but otherwise food was amazing service was excellent and pricing was great thank you again.. am sure will meet you guys again with another family wedding.. wish y'all the best

Alice S.

Married on 06/29/2019

Great time at the Marriott

I didn't actually stay at the hotel, but my guests for the wedding shared that they had an awesome experience.

Abby R.

Married on 06/22/2019

Wedding Weekend Hotel Stay

We saved a block of rooms at Courtyard by Marriott - Downtown Minneapolis for our wedding guests for our wedding reception at Day Block Event Center. Courtyard by Marriott was very accomodating and made sure our stay was wonderful. We are so grateful. They have a shuttle that runs to and from Day Block to pick up guests and bring them back to the hotel. We will definitely be recommending Courtyard by Marriott to any friends that visit in the future. Thank you!

Brent H.

Married on 06/15/2019

Great hotel at a great price

Our entire wedding block had a great time at this hotel. To start, the cost for the rooms was very reasonably priced, and the amenities within were great. All guests were treated very well during their stay, and Dee and his team went out of their way to make us as the wedding couple feel especially special. I would highly recommend this hotel to future weddings or events taking place in MN.

Angie

Married on 06/08/2019

So easy and very nice!

We used the Courtyard for our room block and everything went so smooth for us! David communicated with us every step of the way and made everything so clear and simple. They made it very easy having the option for my guests to make their reservations through a link and also being able to call. The rooms are great and we were able to be in a suite which made getting ready in the morning with my bridal party a breeze.

Lisa

Married on 09/01/2018

This hotel is hands-down the best place for room block(s)! Mr. Dee was very quick to respond to emails, very professional, and extremely helpful from day one of communicating. If I had to do it all over again, I would 100% pick Courtyard by Marriott Minneapolis Downtown again!

Leslie

Married on 08/04/2018

It was an absolute pleasure working with Kyle and his team for my wedding on August 4, 2018. I cannot say enough great things about this venue. PLEASE do you yourself a favor and relieve your wedding stress by choosing this venue to work with on your day!
Quality of Service - Quality of service was great. Staff went above and beyond their duties and was very open to helping all of the vendor setups go smoothly, regardless of what was technically their role or not. This team displayed a great amount of teamwork in execution of my day. Whether it was assisting the decorators, helping my bridesmaids set up for rehearsal dinner, nothing was off the table and I appreciate the quality of service that was provided.
Responsiveness - Kyle, David (Dee) and Dane (A/V) were extremely responsive to my requests and responded within hours of emails and worked many weekends responding to my inquiries, researching my proposals and making sure that I had what I needed.
Flexibility - Kyle and his staff were extremely flexible and accommodated some of our most difficult requests. Where the greatest amount of flexibility was exercised was with the room accommodations. David (Dee) was extremely responsive and allowed us to make changes to guests rooms upon requests due to flight scheduling. Whenever I put in a request that was unique or different, the response I received was "let me look into that" vs. a flat out "no, we can't do that". Everything was on the table for discussion and in the rare instance something could not be accommodated, I was explained the reason and given alternative solutions.
Food - The food at this venue is absolutely amazing and we received so many compliments from guests afterwards. Not your typical hotel food. Portions are filling and on the larger side and appropriately aligned to the cost. If you are looking for a classy venue that provides great value has excellent staff, this is your place!

Kari

Married on 02/24/2018

If I had to do my wedding all over again, I would pick this hotel for our room block every time! Dee was incredibly helpful, answered emails quickly every time, and made so many special arrangements for us. The price/discount of courtyard was also the best when compared to other hotels. Everything was perfect and I'd never stay (or want my wedding guests to stay) anywhere else! Thank you!!

Kelli A.

Married on 09/23/2017

Awesome!

They were awesome. Everything we needed we were able to have.

Kara

Married on 07/01/2017

We booked our wedding block at the courtyard downtown minneapolis with our wedding at Dayblock across the bridge. Dee was amazing to work with. I had no idea how what I was doing to save a block of rooms, but Dee walked me through it without me feeling stupid. He was super responsive and was able to immediately fix an issue we had. He even got us our room for one additional night at our rate after I forgot to book a longer reservation for me any my husband, despite being on vacation. I was so happy with it all.

Sean

Married on 06/03/2017

My wife and I stopped in to the Courtyard Marriott during a wedding fair they were having so we could take a look at the hotel and maybe get some info on reserving a block of rooms for our wedding guests. Dee (David) the marketing and events manager introduced himself to us at the fair and offered to show us some rooms. We contacted him a couple days later to reserve a room block, which was a total breeze. Dee was wonderful to work with, he was very proactive with sending us reservation totals for the room block and flexible when we needed to reserve additional rooms. My wife and I even decided to stay at the Courtyard during our wedding weekend, because Dee was by far the most enjoyable to work with out of the hotels that we contacted. During our stay we were placed in a beautiful corner suite that had immaculate 90 degree panoramic views of Minneapolis. The service, amenities and location are all fantastic and I highly recommend this hotel if you're getting married in Minneapolis.

Elly

Married on 05/06/2017

I booked this hotel for our wedding this past May. I worked with Dee and he was amazing. Answered all of my questions in a timely manner, kept me updated on where we were at, had different suggestions for things for our out of town guests to do and was overall very friendly and responsive. The hotel provided a shuttle to bring our guests to and from the reception and we were able to pay a small fee to reserve it past the normal hours to make sure our late partying guests got home safe! Definitely the best person I worked with for our accommodations. Plus the hotel is in a great location, it's really nice and all of our guests enjoyed their stay! Would definitely recommend this hotel to any bride looking for one less thing to worry about during your wedding planning!
Are you interested?
Send a message