17 Reviews
Recommended by 96% of couples
Quality of service

4.9 out of 5 rating

Average response time

4.8 out of 5 rating

Professionalism

4.7 out of 5 rating

Value

4.8 out of 5 rating

Flexibility

4.8 out of 5 rating
Awards
4 User photos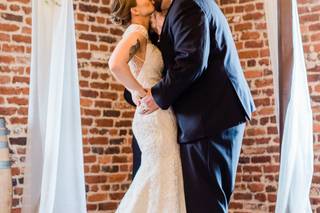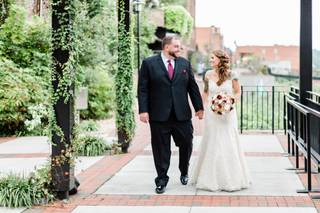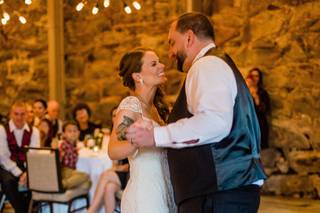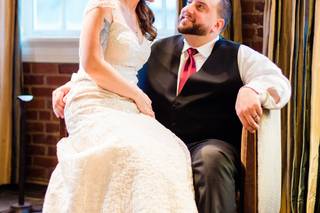 Kelcey

Married on 09/22/2018

We just had our wedding at the Craddock Terry a couple of weeks ago, and it was overall such a great experience! The venue is absolutely beautiful, and you can't beat the fact that they have an amazing restaurant (Shoemakers) as part of the hotel that takes care of the food for you (which was delicious)! Everything is so convenient; the reception area is right beside where you would have your cocktail hour/ceremony (if you have it indoors), which is really easy for guests! We planned to have our ceremony outside on the patio, but the weather did not cooperate, but it wasn't a big deal because the Craddock Terry has a gorgeous option for indoor ceremonies! You will also have so many options of beautiful spots to take pictures, indoors and outdoors.
We also opted to have the day of directing service, which I am so glad we did, Anna did such an amazing job of organizing everything and keeping everything moving smoothly on the day of! She helped alleviate so much stress right before the wedding by reaching out to vendors for us and just made us feel at ease on the day of. Even if you don't get the day of directing service, you will still work with Anna in the planning process and will certainly enjoy the experience. I literally did not have to worry about anything on our wedding day, and honestly didn't feel stressed at all, which was such a great feeling!
In short, I can't recommend the Craddock Terry enough; you will no doubt have a stressfree and absolutely beautiful wedding day!

Lynette

Married on 06/17/2017

Everything was beyond PERFECT! Catering, service, and staff were spectacular. I would definitely recommend them to anyone wanting they perfect wedding.

Linda

Married on 01/18/2014

Schuyler was wonderful to work with. Always gracious. Very reassuring to Misty, the bride, when she
was nervous. The whole staff at Craddock Terry was wonderful. Patrick, in particular, treated the
reception as if it was for a dear friend. He stood in the cold directing traffic, creatively came up with a
way to handle the confetti send-off since it was so cold outside, and managed to whisk the newlyweds
off to their room without anyone knowing (it was a secret that they were staying there). We would
highly recommend the Craddock Terry to any and everyone!!

Are you interested?

Send a message

Linda

Married on 01/18/2014

Schuyler was a delight to work with as was everyone at the Craddock Terry. We really enjoyed having
EVERYTHING there: the rehearsal, all the out-of-town guests, and the wedding reception. Schuyler not only worked well with me and Amy (wedding coordinator), but she was very reassuring to Misty when she was worried about things.
I also appreciated Patrick. He took responsibility the night of the reception as if the party was for
one of his dearest friends. He stood out in the cold directing traffic; he tried to get the slide show (the one detail we forgot), he came up with a creative way to do the confetti since it was too cold to go outside, and he
whisked the newlyweds away to their room without anyone knowing (it was a secret that they were staying there).

Dana

Event on: 11/23/2013

Craddock Terry was a splendid location for our son's rehearsal dinner party. They were so helpful in planning. Whenever I had a question, they responded quickly and with total professionalism. The event was absolutely lovely. The food was delicious and could not have been any better. The ambiance of this historic building made the evening very memorable. The staff were wonderful in attending every need with a polish and professionalism that is not found in most places. It was all down in excellence and grand style. We could never have found any other place that would have done a better job in hosting our special night. The coordinator did a splendid job in organizing and orchestrating the entire evening. Thank you again for a wonderful experience.

As mother of the groom, coordinating the rehearsal dinner from out of town, it was important to have clear communication and confidence in the event staff. The Craddock Terry Hotel and Event Center, with catering by Shoemakers, out-performed my expectations. Advance planning to anticipate issues. Plenty of wait staff to meet the guests' needs. Food that was plentiful and excellent. (By the way, the bacon bar got absolutely rave reviews from every single person.) And a manager who served as maestro of the evening. My guests staying at the hotel were also impressed with the rooms and hospitality of the staff.

Dana

Married on 11/22/2013

Craddock Terry was a beautiful setting for our son's rehearsal dinner party. The service provided was superior and the setting was perfect. The food was absolutely delicious! The professionalism provided by the entire staff of Craddock Terry was excellent. We could not have asked for anything better. It was a perfect evening. I cannot say enough kind words about the entire staff that played a part of the planning and execution of the dinner party. They were very responsive with any wishes that I requested and very flexible. I would highly recommend the Craddock Terry for anyone's special event. I was impressed with the highest quality of service. Thank you for everyone who made the evening a wonderful night to remember. Everyone spoke so highly of Craddock Terry. Thank you !!

Tiffany

Married on 10/12/2013

We just had our wedding reception here and we had an amazing time. The staff was very professional and nice. The food was amazing we received many compliments on that and the decor was perfect, very classy. We had problems with the wedding cake before getting it to the craddock terry hotel and we got it there the chef fixed it for us as best as he could. I was very impressed. We also stayed there for our wedding night and we loved our suite. Couldnt have asked for a better place to have a wedding reception and spend your wedding night.

We had our wedding reception at Craddock Terry and it was beautiful. The food was wonderful and the service was superb. All of our guests were impressed with the hotel and its historical beauty. It was stress free for us and the staff was great in helping us plan the event. I would recommend Craddock Terry to all of our friends.

The Craddock Terry Hotel is AMAZING! We hired Schuyler as our Wedding Coordinator. She was my rock. She was so very wonderful!!! Everyone at the hotel was so sweet and so accommodating. My wedding weekend was perfect. The reception was stunning!!! I am forever grateful for Schuyler and her staff. Thank you for making our day so incredibly special!!!!

Our entire wedding was held at the Craddock Terry Hotel in May- everything from the rehearsal dinner to the reception. Our experience could not have been any better! All of our friends and family loved the venue and had the most compliments. The staff at Craddock Terry was very friendly and very helpful!!!

Schuyler is simply amazing!!! We hired Schuyler as our wedding planner and could not have been happier with her. She was very accommodating and made our wedding weekend stress free. She understood our vision and made our dreams come true! She was there for me and handled any issue that came our way. She spent a ton of time on our wedding and we could not be more grateful for her!!!

Patrick was amazing as well! He made our rehearsal dinner and reception perfect!!! He made sure all our guests were happy and smiling! The food at Shoemakers was delicious as usual. Everyone complimented the food!! Although Patrick worked mostly behind the scenes, it did not go unnoticed! He was very professional and again very accommodating!!

Thank you Craddock Terry and Shoemakers for making our wedding perfect!!!

Brittany

Married on 03/26/2011

The staff at the Craddock Terry Hotel made our wedding weekend absolutely perfect. We chose to have our rehearsal dinner, ceremony, and reception all in their Event Center and everything was not only so beautiful, but also very easy, stress free and accessible for our guests. The food and drinks at both the rehearsal dinner and the wedding were delicious and the staff was very professional and courteous. The rooms were gorgeous and the staff did a great job of "flipping" the rooms several times to accommodate our different needs. We received so many compliments from our guests on the food, look of the wedding, and how much they loved their guest rooms. The venue is so beautiful in its modern yet historical structural elements that we had to do very little decorating and still ended up with breathtaking photos from the day. All around I would reccomend this venue to anyone I know who is getting married. They were wonderful to work with and still affordable.

Janette

Married on 12/03/2017

This place was amazing! Anna was a great help! My day was perfect! The only suggestion is to have extra help if you do your own decor. We were told and planned to decorate the night before but then were told that we couldn't until the morning of so it was a bit crazy for a couple hours but it all went well in the end! And the food was amazing as well!!!

I hosted the rehearsal dinner for 39 at the Craddock Terry the evening prior to the wedding in Lynchburg. Every single thing about the weekend was outstanding from the rehearsal dinner, our stay at the Craddock Terry, to the wedding at Boonsboro CC. The weather, while a tad warm, was glorious and the bride & groom had the wedding of their dreams. Thank you to the Craddock Terry (especially Schuyler Somers and Patrick) for their efforts to put together a lovely evening on Friday, and for the quality care all of our out of town quests received while staying in the gorgeous hotel.

Lisa

Married on 10/05/2013

Schyuler Somers was wonderful to work with for my wedding reception arrangements! The site looked beautiful the night of the event and the food was great. I marked down "professionalism" on my review not for Schyuler's performance, but for the way one issue was handled the night of my event, something out of her control. Thanks, Happily Wedded at The CT Hotel:)

We love the venue and quality of food. We would have preferred that the food choices be labeled on the buffet. Inadequate number of servers for the total number of guests.

Ruth

Married on 07/11/2008

In the planning stages, there were several problems. The sound system had issues the day of the reception. However, it was pretty, yummy, and stylish!
Are you interested?
Send a message