24 Reviews
Recommended by 99% of couples
Quality of service

5 out of 5 rating

Average response time

5 out of 5 rating

Professionalism

5 out of 5 rating

Value

4.8 out of 5 rating

Flexibility

4.9 out of 5 rating
Awards
1 User photo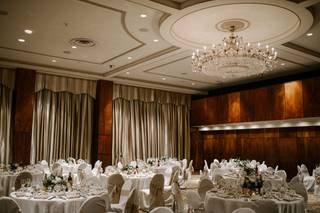 Kristina

Married on 10/05/2019

Perfect Ever After

We had our wedding reception at the Brown Palace in October 2019 and it was an absolute fairy tale! Of course, you can't beat the natural beauty and history of the hotel, but the Catering Manager Megan Bobay Spurlock went above and beyond in answering questions, connecting us with her colleagues in other departments, helping us customize the day exactly how we envisioned, and just being lovely to work with. The package set-up is really great: reception space, catering, bar service, linens/silverware/flatware, florals, and a custom cake are all included, so things all run smoothly and in a coordinated fashion. They were attentive to little details (even running to grab my comfy shoes from the guest room to change before my dance and bringing us a plate from the cocktail hour to eat as we took photos), very flexible about customizations and special requests - even setting up a mini version of their champagne cascade, which was the highlight of our reception! Even the tasting was so special in that we got to meet the Head Chef. It should go without saying that the food was delicious. Love, love, love! (Cross-posting this review.)

Absolutely an amazing venue. Everyone LOVED the food, the decor, the hotel, the staff, the experience was amazing and we couldnt have done it without the entire team at the Brown. Thank you Michelle Gillette & team!

Trinity

Married on 11/30/2013

The Brown palace is such an amazing and magical venue for weddings. We worked with Michelle Gillette who is hands down the best event planner in Denver. She made everything so easy. Almost everything is included with your package at the brown which makes a wedding their reasonable. Our photographer also missed most of my pics (not recommended by Michelle) and the Brown is letting us retake the photo's in the hotel without any problems whatsoever. Thanks for making my dream wedding come true. The venue is amazing, the flowers turned out wonderful and the food was delicious. What more could you ask for!

Are you interested?

Send a message

Robin

Married on 11/29/2013

Everything was wonderful!! The venue is beautiful. Top notch.

Nicole

Married on 06/09/2013

Brandi Humble with the Brown Palace made our wedding amazing! She was so responsive and helpful and I loved the package that we were able to get through the Brown Palace. If you add up the value of all the things that come standard with their wedding packages it is easily cheaper than most other downtown Denver locations, but your guests will know that the Brown Palace is THE top tier hotel in Denver.

Victoria

Married on 04/14/2013

I can't say enough about this fantastic hotel. This was my dream venue, and they went beyond what I even imagined. The hotel itself was absolutely stunning, and they were so accommodating to all of our strange ideas and wedding quirks. Everything was taken care of on site which made my life that much easier, and also made this fabulous wedding more affordable than it appeared. The food was delicious and I don't think I'm ever going to get over the red velvet cake for as long as I live.

Brandi Humble, our on-site coordinator, is without a doubt the most valuable resource we had in the entire wedding process -- she went above and beyond on every occasion to make our day more special and I am so grateful for all of her help. I would absolutely recommend her (and the rest of the Brown Palace) to anyone looking to have a hassle-free wedding planning experience.

Leah

Married on 03/02/2013

I couldn't have asked for a better wedding planner and venue! The BP and staff were amazing and truly able to make our wedding day perfect. They were always available and willing and able to help through the planning process. The food was amazing and the cake was beautiful. The service was out of this world. All of our guests truly enjoyed their stay and I can honestly say that we had a fairy tale wedding. Thank you so much!

Annie

Married on 12/01/2012

I had my reception in the Onyx/Tabor rooms at the Brown Palace on 12/1/2012. Michelle Gillete was my wedding coordinator and I can not say enough wonderful things about her and the Brown Palace. Michelle is very organized and on top of it! She was very helpful making sure my special night went as planned!

My flowers done by Gia at the Brown Palace Flower shopped were BEAUTIFUL. The food and my red velvet cake was also incredibly good! Shauna did my hair/make up at the Spa and she is AMAZING!

If you are thinking about choosing the Brown, I would highly recommend it.

**Note, my ceremony was at Trinity Church across the street, which was perfect.

Amanda

Married on 10/27/2012

The brown is a very beautiful venue to have wonderful memories to last a lifetime. They made everything so wonderful!

Teresa

Married on 09/10/2011

We hosted my daughters wedding reception at The Brown Palace on September 10, 2011. From start to finish, it was FANTASTIC.

Their wedding packages seem a bit costly at first glance, and I suppose they are - but you get what you pay for. Considering that virtually everything is included, it turned out to be just what my daughter dreamed of.

We were in the Grand Ballroom, and the entire event was wonderful. When our guests heard where the reception was, every single person was wow'd, and went to the reception with an expectation of excellence. We did not use a wedding planner, but relied on the expertise of Michelle Gillette who is the wedding catering manager for The Brown Palace. What a gem she is. We loved working with her.

There are so many, many parts and pieces to pulling off a wedding - that looking back I would have done a couple of things differently. All the included aspects of the BP wedding package went off flawlessly. The problems were with a vendor that I selected on our own for Dj/uplighting/GOBO/and confetti cannons. Next time I'll go with the vendor that the BP suggests, because the problems created stress. None of the issues were really noticed by our guests, but WE knew what didn't happen as planned.

I highly, highly recommend the BP for your wedding reception. My daughter had a stunning suite for her and her girls to get ready in, and a beautiful bridal suite for the wedding night. The ease, simplicity, and first class service were top notch. Thank you Brown Palace for a dream wedding for my daughter. If you choose to go there, ASK FOR MICHELLE GILLETTE. She's too amazing for words.

Erin

Married on 08/20/2011

I had my hair and makeup done at the Spa at the Brown Palace for my Wedding Downtown. Everyone was extremely friendly and professional and did a great job. Service was great and my bridal party thoroughly enjoyed the mimosas!

Cassie

Married on 07/02/2011

Flawless is the only word that comes to mind when remembering my wedding day! The Brown Palace staff did an IMPECCABLE job from the planning to the execution of my vision.

The Maids, Moms, and I were all pampered by the Spa and everyone looked stunning after David and Shawna worked their magic! We were able to get ready in a gorgeous suite (which really made the pictures stand out) complete with refreshments. My groom was also given a much-needed haircut the day before and it looked great!!

Working with the BP Flower Shop was a dream! Chuck took my color-scheme and ran with it. My center pieces were the most beautiful arrangements I have ever seen and I had numerous compliments on these from both male and female guests! Who knew men noticed flowers?!

Michelle Gillette was our planner and she completely outdid herself. She worked tirelessly with me on each detail months and months prior to our big day. The day came and she was all-business making sure everything we planned came together perfectly. She promised me she would coordinate with each vendor (dj, candy buffet, up lighting, photo booth, videographer and photographer) and for me not to worry. She delivered!!! Trust me- It is priceless to have that peace of mind on your wedding day!!!!

All of my family and friends (90% were out-of-state guests) continually rave about the food, elegance, and fun they experienced over 8 months ago. The Brown Palace will impress even the pickiest of guests!!!

Hilary

Married on 10/22/2010

I recently had my wedding at the Brown Palace I loved it! My husband and I fell in love with the Brown Palace the moment we walked in. Talk about feeling like a princess on the day of my wedding. I had a pedicure done, my make-up and hair was also done at the Brown Palace Spa. It was so relaxing to know that everything was done at the Brown Palace I didn't have to go anywhere. Also Mary did an awsome job making sure evrything went smoothly during the ceremony and reception. The service was also wonderful! I truely did feel like a princess if I needed anything someone was there to help. Also one of the staff members made sure that our gifts were brought up to our honeymoon suite. When my husband and I walked into our suite we were speechless. They had everything set up so nicely with our gifts and flowers. Thank you so much for making my fairy tale come true!

Kate

Married on 05/30/2010

We hosted our reception in the Grand Ballroom at the Brown Palace and it was absolutely beautiful! Heather and her team took care of every last detail and made it even better than I expected. They were very professional, responsive and personable. They followed up with everything and went out of their way to make us happy.

The food was amazing--every single guest commented on how delicious it was and for a group of 241 people that is very impressive. The decorations, linens, menu cards, everything was wonderful. We used the Brown Palace Flower Shop and they also did an amazing job. Our flowers were beautiful and Robyn was especially fun to work with.

I had my hair and make-up done at the Brown Palace Spa and David and Abby did a great job! They worked with me for months before--to get the exact look that I wanted.

We hosted a few other smaller events in the Onyx Room-- a High Tea for all the bridesmaids and a brunch the morning after the wedding. Both of those events were also well-executed, lovely and had excellent food and service.

The Brown Palace lived up to its reputation for excellence, and made it worth every penny! They also upgraded our rooms that weekend, and on our wedding night put us in the Presidential Suite--it was amazing!

I highly recommend the Brown Palace to anyone--especially working with Heather and Robyn, and David and Abby in the Spa.



Janna

Married on 09/19/2009

The Brown Palace pays attention to every last min detail and truly makes sure that your day is as perfect as possible. The food was amazing ... the room was beautiful and the personal service was perfect! We would recommend this site to everyone!

Robert

Married on 04/18/2009

The Brown Palace made this Wedding a dream come true. It is a magnificant building that provide an amazing backdrop for pictures. We used the Brown Palace Florist for all the wedding flowers and they were the most beautiful flowers ever. We used the Onyx Room for the Cocktail Hour and Reception and every guest commented on how lovely the room was. The linens were perfect, and the wait staff servers were so professional. The Captain, bartender, cordial attendant, were on top of their game. All the other vendors I used (DJ, Photographer, Videographer) had worked the Brown Palace before and that certainly attributed to the smoothness. The wedding coordinator from the Brown Palace listened to every wish and delivered exactly what was promised. A magnificant place that I would not hesitate to recommend.

Peter

Married on 10/11/2008

Not only is the Brown Palace one of the oldest hotels in Denver, but it is also one of the most beautiful. From every detail the staff at the BP was amazing. They not only helped plan all the details, including the wedding cake and centerpieces for our tables, but the food was so perfectly cooked, so tasty, and expertly delivered by white gloved servers. The Prospector Suite, where our reception was held, was beautiful and set up perfectly for our wedding reception venue. Our wedding coordinator Mary was awesome, helping us with all the details, expertly maneuvering us through all the small and big decisions needed to make our special day just that. In addition to the reception, the BP gave us a suite for our wedding and all service we received while getting ready for the wedding was perfect and prompt. When we returned to our room that night we had champagne and strawberries waiting for us. This is one amazing hotel.

Nathalie

Married on 07/12/2008

amazing hotel! great service!

Kate

Married on 03/10/2007

Our wedding was held in the grand ballroom-- it was perfect! The food was amazing and everything was done with great attention to detail.

Phillip

Married on 08/13/2016

We h ave been working with Brown Palace in planning our wedding. Besides the obvious wonderfulness of this venue the fact that they take care of everything (flowers, linens, setup, etc) is great for us. And they have been super flexible and responsive to our needs. More importantly, the professionals we have worked with (Especially Hope) have offered so much wisdom and guidance it's like having a built in wedding planner.

The Brown Palace Hotel and Spa's reply:

Thank you Phillip for this wonderful review. We are honored to host your special day here at the Brown Palace. I am also honored to be a part of your wedding day as well. I continue to look forward to working with you on planning the big day!

Jacqueline

Married on 09/30/2007

The Brown Palace was amazing! They were very helpful though the plannign process by making suggestions and providing alternitives if the first idea didn't work out. While it may seem like a pricer option than other hotel it was really very resonable. The service was outstanding, and all of the staff was helpful with what ever we needed. I highly reccomend this venue for both your ceremony and reception.

Amanda

Married on 04/27/2019

Great Perks, Very Accommodating

Megan was a pleasure to work with! She made sure we were happy with everything and was very accommodating. The Brown Palace has some specific rules and ways they handle events since they have a lot of in-house vendors but the perks are great and they're always willing to make sure you're happy with the end result. Any issues regarding service were quickly rectified.

The Brown Palace Hotel and Spa's reply:

Thank you Amanda for this wonderful review! We truly enjoyed having you and your loved ones here at The Brown Palace Hotel to celebrate such a special event. We wish you a lifetime of happiness!

Tricia

Married on 08/30/2014

We loved having our reception at the Brown Palace! The hotel was beautiful and they provided us an amazing bridal suite the night before and night of our wedding. The photos in that suite getting ready are amazing. Our guests loved the food, cake, service and overall experience. Nearly everyone at our wedding commented on what a beautiful place it was, how good the food was, the cake, the service, etc. We looked at other venues in a similar price range and no one could compare to the timeless elegance of the Brown Palace. We also felt the overall value of the package was best with many inclusions and since the cake and the flowers were included the hassle of dealing with multiple vendors was eliminated. The experience was easy and seemless and I would highly recommend the Brown Palace if your budget allows. The only thing I would say was that we had our event in the Prospector Suite since we had less than 150 guests and the room, while beautiful was shaped a bit awkwardly. It was fine overall, but placement of tables was challenging. We had about 110 guests so anything over that I would say would be not great.

Jennifer

Married on 06/20/2009

We got a full spa day and massages the day after the wedding. It was absolutely wonderful and so relaxing after such a long, stressful process.
Are you interested?
Send a message