27 Reviews
Recommended by 93% of couples
Quality of service

4.7 out of 5 rating

Average response time

4.6 out of 5 rating

Professionalism

4.7 out of 5 rating

Value

4.5 out of 5 rating

Flexibility

4.7 out of 5 rating
Awards
17 User photos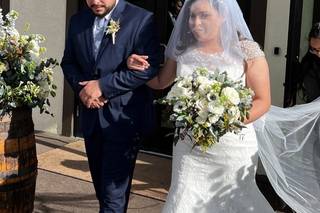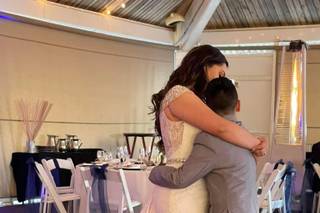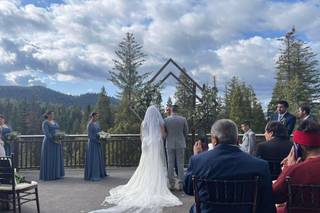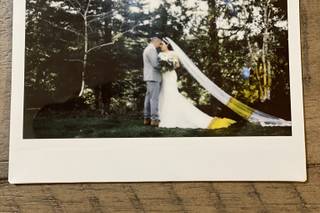 + 13

photos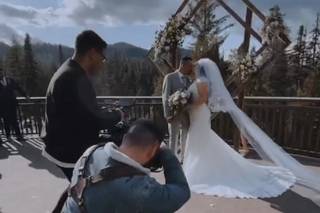 Stephanie

Married on 06/18/2022

Magical Place for My Wedding

Had my wedding here on June 18, 2022 and it was the definition of MAGICAL. The staff were friendly and accommodating. At first, our ceremony site was at the Counties patio (still beautiful but I was really hoping for the Terrace but was unavailable at the time). They told us to keep checking, in case the Terrace will become available. Month after month, I would email them and check. Until about 3 months before the wedding, they told us that the Terrace was available! The Terrace captured everything we love: trees, mountains, skies.

Special shoutout to Sonya (the wedding coordinator). She was PHENOMENAL and on point on everything. She made the day go smoothly and less-stress for us. I was so strongly decided on not having a wedding coordinator during our early planning. Mainly because of budget reasons and we were only having a small intimate wedding. Me and my fiancé did all the planning, from choosing vendors and food to decors to timelines. Things have gotten harder for us, thinking how are we going to make sure that things go smoothly as there are so many things to happen on the actual wedding day. We had the opportunity to meet with Sonya 6 months before our wedding, and she totally gave us the confidence that she will be there on the day to make sure things go well. She answered all the questions that we had in mind, even before we could blurt them out! During the rehearsal and wedding day, she was phenomenal. Even my guests were so amazed by how she made it look so easy. I was so thankful that she was there, making sure my gown was beautifully set, making sure that I drink and eat, making sure that the guests are having fun. I was so amazed because I'm so used to doing everything by myself and end up getting overwhelmed at times. But Sonya was a lifesaver! I accidentally left my centerpiece flowers at home, and we just realized it 3 hours before the event. I became worried, but she found a way to troubleshoot the problem. She found some decors she had and some extra decors that I had and made centerpieces out of them. It turned out so beautifully, even more than the original ones. I cannot thank her enough for making our wedding day perfect.

Can't wait to go back for future anniversaries here!

Jessica B.

Married on 04/23/2022

Best day of our life's

Having our wedding at Tenaya Lodge was the best decision. Sonya was very helpful and nice she really went above and beyond to help us. We had so much fun and we loved our wedding. This is such a beautiful location to get married at. It's so peaceful, romantic and it has a gorgeous view. The staff was all very nice and helpful, they were all so friendly. Thank you so much for everything you guys did.

+ 4

photos

Cecilia M.

Married on 05/24/2021

Wedding at Tenaya Lodge

Wedding at Tenaya lodge at Yosemite
The service we received at the Tenaya Lodge Yosemite was exceptional. They performed every duty with a smile on their faces and answered any additional request with a prompt YES!!! Wonderful group of people to work with!!!

Are you interested?

Send a message

Loretta D.

Married on 10/10/2020

There are no words

I don't even know where to begin when it comes to Tenaya Lodge. My husband and I couldn't have dreamed of a better day. From the moment I reached out to Sonya to the moment we said goodbye to her while checking out of the hotel we felt nothing but love and support from her! She was so extremely helpful and helped with anything and everything we needed. Not only was she kind and caring but she was on top of everything! The day went off without a hitch and if anything went wrong I had no idea because she was there. We really cannot sing her praises enough. If you are even thinking about booking your wedding at Tenaya Lodge—do it! Beautiful venue, helpful staff, great food!

Stefanie

Married on 09/01/2019

Know how many guests you intend to have as there are limits on each room.

Melanie

Married on 09/02/2017

Our wedding coordinator was Charlene Kelley and she is/was AMAZING! She genuinely cared about our wedding and was professional every step of the way. 4 days prior to our wedding, our venue was canceled due to the fire near Yosemite. She relocated us to an amazing venue (The Majestic Yosemite Hotel) and even showed up for our rehearsal and the day of our wedding to see that everything ran smoothly. Without her, our wedding would have been canceled. However, she went above and beyond to make sure that our wedding was perfect. And it WAS perfect. Without her knowledge, expertise, and genuine concern, we would have had to reschedule our wedding. We LOVE Charlene and could never give her enough praise for what she has done for us. If we could, we would give her one million stars! :-)

Elizabeth

Married on 05/06/2017

Let me start by saying Samantha Wasson with Tenaya Lodge is the most talented and professional wedding coordinator/planner/vendors I have ever worked with.
When my original planner absolutely failed me, Samantha took over and she went above and beyond to make sure my wedding was perfect.
She stepped up in every way imaginable, from budget to vendor management to decorations to guests. When my dj was suggesting songs last minute I didn't like, she was even able to come up with our grand entrance song!
This woman is a gem and I hope every bride who books with the lodge is lucky enough to work with Samantha.
She had my family smiling during a time of stress. Every detail was addressed and she eased my concerns especially when my original planner failed me.
She is a gift to Tenaya.
Now, onto the lodge. I see some people complain on here about "hidden fees". I can tell you first hand, every charge that the lodge is going to incur shows on their contract. In fact, by the end of my wedding we received money back. Yes there is gratuity and taxes included in their pricing. This made it easy to manage the event staff, knowing their gratuity was taken care of in advance.
As for the lodge itself, I received nothing but compliments from guests. They were all amazed by the professionalism and courtesy of the staff. The beauty of the lodge is unsurpassed and I am beyond grateful to have worked with the talented and courteous staff there. My one suggestion would be for all brides to visit the lodge before choosing their colors. Every detail from storage to floral was addressed. This place is top notch and for the price, it truly can't be beat. I searched long and hard on the Central Coast for a venue that would even come close in terms of class, quality and professionalism, nothing can compare.The food was buffet style, and guests complimented the quality, taste and selection. Thank you Tenaya for a weekend we will never forget.


Julia

Married on 12/17/2016

Tenaya has a great team of professionals at your disposal. I had Samantha for my wedding planner and she was amazing! She was so kind and helpful and kept everyone in line to make sure that the day went how we wanted it to. They know they are a bit out of the way so they make sure they have a wide variety of catering and events available to you. The only thing we had to arrange outside of them was flowers/cake and photography. And they had a great list of recommendations! We were there for a few extra days before and after and they were very helpful in arranging room moves and even moved our luggage for us! I only wish that it had snowed more recently, but I am sure if Samantha could control the weather she would have helped out with that as well!

+ 4

photos

Karin

Married on 12/09/2016

Yosemite is my husbands favorite place, so we knew we would be looking for venues in that area. Once we booked Tenaya Lodge, Charlene and Samantha took over and made everything so easy for us. Samantha was available for every question, every phone call and email from us. It was a seamless process thanks to the competence and thoroughness of Samantha. She even rushed to change table numbers for me the morning of the wedding when we had guests not able to make it due to an emergency, leaving tables unevenly numbered. There was nothing that Samantha wasn't prepared for and she was with us through the entire process, right down to the bustling of my dress. My family had an amazing time and are still talking about what a beautiful venue the Tenaya Lodge is.

Stephanie

Married on 11/12/2016

Most amazing experience and day of my life. Samantha is amazing, she made sure every t was crossed. They were more than accomodating and attentive. The guest booking experience is horrible, however the rest of the experience more than made up for that disaster!

We had a beautiful wedding at Tenaya. It was in mid October and we wanted the ceremony outside, however it rained the day of:( BUT Tenaya still made our wedding ceremony beautiful inside and everything was perfect! We kept the reception in the pavilion and they brought our heat warmers! Sam helped us out and did an AMAZING job. You will love it there!!!!

I am so happy that I chose to have my wedding here. Charlene and Samantha made planning my wedding easy and they made my wedding day stress-free and easy. I dealt primarily with Charlene and I can't say enough about how great she was! Anytime I had a question she was able to respond in a timely manner. As someone who wanted to throw a nice wedding but wasn't sure how to do it, I cannot explain how helpful Charlene was. She's done this quite a few times and she was able to guide me and make sure I had done everything I needed to do by the time it needed to be done. Tenaya is 4 hours from where I live so I was grateful that I was able to coordinate everything with Charlene. Seriously, she's amazing. My wedding was perfect. The scenery around the lodge is, I mean it's Yosemite so it's one of the most gorgeous places ever. The lodge itself is beautiful and cozy and they maintain it very well. We had to have the wedding inside due to snow and it was still beautiful. Charlene and Samantha set up the reception décor so I didn't even have to worry about it. They took care of everything.

The only issue we had was with the lodge's check-in process. They told our guests (and us) check-in time was at 3 (via email confirmations) but when my guests arrived a handful of them had to wait until 4-5PM to check in. Some people had no issues while others had to wait hours. That was very inconvenient, but that wasn't something Charlene or Samantha can control so I wouldn't hold it against them. Other than that, everything went smoothly and it was beautiful and I can say I was a very calm bride on my wedding day. I can't say enough how much I appreciate everything Charlene and Samantha did to make my day amazing!

I recently had my rehearsal dinner and wedding reception at Tenaya, and everything was absolutely perfect. The event planners are so wonderful and helpful. All the servers and staff are very friendly and nice. The food was delicious. My guests had a great experience they will never forget and so did my new husband and I.

Lisa

Married on 09/05/2015

I cannot say enough good things about our wedding at Tenaya Lodge. It was absolutely beautiful. Charlene was incredible to work with and the entire process was seamless. Everybody at the lodge went above and beyond to ensure our event (and entire stay) was perfect.

Charlene is GREAT! She is so flexible and wants to make your event beautiful!

Tenaya Lodge was almost unbelievably accommodating. My wedding was moved from the Ahwahnee Hotel to Tenaya because of the government shutdown. I needed to replan everything in four days. Tenaya basically gave me a team of 3-4 people to make my wedding happen. I was able to contact them at all hours of the day and really felt constantly supported.

I wouldn't have wanted to have my wedding anywhere else.

Jeanette

Married on 01/01/2013

I can't thank Charlene Kelley enough for making my winter destination wedding much easier than I had imagined. The entire staff was so helpful in making our wedding/new years holiday weekend a success. The bellman who helped me lug in alllll my decorations, dress, etc...to the front desk staff who handed out all the hotel welcome bags for guests, to the serving staff who ran the dinner like clockwork, and I can't forget the setup/cleanup which was unbelievable!

Everything made it to the proper location without me lifting a finger and my guests were able to just have a great time! My dad was so used to other weddings where the bride's family cleans up their own cake cutter, champagne flutes, etc bu the staff told us to relax and they took care of it all! The next morning, all my decorations, cake cutters, flutes etc were clean and ready to go! They even saved all my various centerpieces for the morning after brunch for our guests.

All of the guests raved about the wedding and we got everything we had envisioned with a winter wedding in Yosemite and a reception/morning after bunch at the Tenaya Lodge. The place was so magical covered in snow!

Thank you Charlene!!! We will definitely recommend you to all future brides! You took away a lot of my stress!

Shella

Married on 12/03/2010

The lodge was absolutely stunning. We simply set the date and everything seamlessly fell into place. Charlene Kelley, the Tenaya's wedding coordinator is a true gem- she oversaw every detail of our wedding, making sure all was just as we had wanted and beyond. The lodge provided exemplary service - they set up all decorations, provided linens, tables, stemware, everything! They also cleaned up everything- making sure all of our special items-- even the top tier of our cake were safely stored. Charlene also saved us when our officiant bailed ( Rev. Don & Carole Early), by contacting another officiant for us the morning of our wedding ( Rev. Autry Nassar). I truly cannot say enough about the Tenaya-- we were and still are completely thrilled with how our day turned out. Thank you Charlene!

Sarah

Married on 06/25/2010

This was the perfect place to get married. Kim, the wedding planner was a dream - calm, supportive, on top of everything, Couldn't have done this without her. Everything was great. Places like this in Tahoe or other mountain areas would have been twice or 3x the price. Our guests stayed at the hotel and everyone had a blast!

Haylee

Married on 11/06/2009

The Tenaya Lodge is a beautiful place to get married. The best place is to do it outside on the counties lawn but the day of my wedding it was way to cold and since it was on Nov. 6 after day light savings it was way too dark. We were super bummed that the wedding couldn't be outside, especially after months of planning that it would be. Kim DaSilva though was amazing, she made me realize that it would still be amazing even if it was outside, and believe me it was. I was so taken care of at the Tenaya. I was planning the whole time that I would have to do things myself but Kim did everything! I was truly able to have an amazing day because of Kim and the Tenaya Lodge!

Carmen

Married on 02/22/2014

Charlene and the team at Tenaya made our wedding so incredibly easy and fun! We literally had to worry about nothing. Charlene was always quick with responses and helpful with anything we wanted to do. Many of my guests commented on how nice and helpful all of the staff were. The food was actually quite good too! They will get you on the liquor though (just like any venue). If I had it to do again I would have cut off service an hour or so before the end of the reception. Guests were taking drinks to go (sometimes several) because the bartender told them they were free. Which they were for our guests, not so much for us hosts. Otherwise, it was absolutely perfect. I am very glad we went with Tenaya and I'd recommend it to anyone.

Laura

Married on 06/22/2008

The Tenaya Lodge was the best venue for a wedding. We had everything there...the ceremony, cocktail hour, and reception. The service was inpecable and the quality of everything was better than I could have imagined. The staff was wonderful and the food was great. The day went off without any problems and it was a beautiful setting, too!

Talia

Married on 06/10/2018

Tenaya Lodge was a gorgeous place for an upscale wedding in nature. Our guests loved the setting, the onsite amenities, and the comfortable rooms--it extended our wedding celebration to the whole weekend. The food was delicious and the waitstaff/hotel staff were very friendly and extremely accommodating. The outdoor venue was gorgeous and required very little decor to be beautiful. The wedding manager Charlene was very helpful in helping us pick our vendors and discussing options as we were planning from the East Coast.

We also hosted our rehearsal dinner there which was fun and convenient for everyone. The staff was so nice and helpful at our rehearsal too. They let other wedding guests come into the room after dinner and carry on the party.

This is a popular venue, so be patient with the staff as they get back to you. They book up fast. It was very convenient to have the hotel take care of virtually everything and it makes it easy to deal with if you want something full service, but it comes at resort prices.

Brandi

Married on 02/10/2017

Tenaya Lodge was everything I dreamt about for our Winter White Wedding!!! The venue was decorated for Christmas and looked absolutely stunning for our guests. I was incredibly impressed with the rooms coordinator (Candi Wilson) and the bellman (Brent) - Brent especially went above and beyond for our group and needs a raise ;). The process to get to our wedding was smooth and they were easy to work with. The food for our rehearsal dinner was incredible as well as the appetizers on the night of our wedding. However, the food during the wedding was less than what we expected. As the bride and groom we were extremely excited to eat the salmon because our tasting was great. The night of the wedding we received cold food and it tasted nothing like our original pick. Later hearing the most guests had cold food was extremely disappointing, especially for the price we paid.

Jena

Married on 05/31/2008

They did a very good job at my wedding...i do agree that the prices were a little high for what we got but the staff was very friendly and helpful. Over all we had a great time and the service was good!
Are you interested?
Send a message