Reviews
5.0 out of 5 rating
Quality of service

5 out of 5 rating

Average response time

5 out of 5 rating

Professionalism

5 out of 5 rating

Value

5 out of 5 rating

Flexibility

5 out of 5 rating
100%
Recommended by couples
94 User photos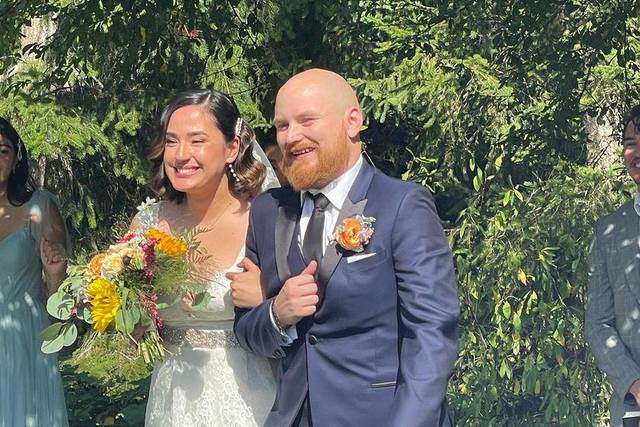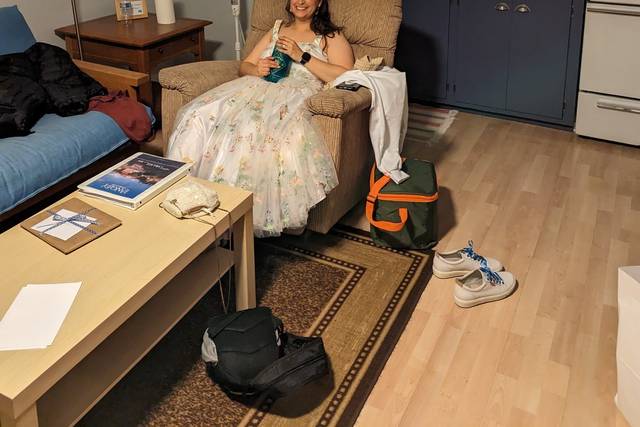 + 90

photos
Kelsey

Married on 09/01/2023

Wonderful hair & makeup experience

Tania did a wonderful job with my bridal hair and makeup, and my bridal party's hair and makeup! She is a true professional and really knows her work! She arrived extra early on the wedding day, too which really helped set us all off on the right track. I loved how Tania's work with the neutral natural makeup look turned out on all of us, and she even found a way to incorporate real baby's breath flowers into my hair, something that was so special to me (these flowers were in my mom's bouquet when she got married, and Tania found a way to make it happen!).

One last thing I really appreciated about Tania was her insight into products and services - she reviews these during your trial and it helped me feel more confident going into the wedding day. Tania really cares about what she does and she will be a benefit to you on your wedding day!

Ruby H.

Married on 08/26/2023

Wonderful to work with!

Tania, did such a wonderful job as my hair and makeup stylist on my wedding day. She also did my Aunt and Cousin's hair and makeup. She took the time to meet with me beforehand to get an idea of my vision for the wedding. We discussed what I liked and didn't like and had a trial two months before the wedding. Tania was very communicative, had excellent costumer service and was a joy to work with. I really enjoyed my wedding day look, she captured what I wanted and the hair and makeup look photographed well. I highly recommend Tania and her services, she will put you at ease and help you look and feel beautiful on your special day!

Brooke B.

Married on 08/21/2023

Great experience!

Tania is such a ray of light and positivity! She brought a level of happiness and excitement to my wedding day. I loved the makeup she did and my hair was perfect! We were able to practice during the trial run and she helped my vision come to life. Bonus: she also gifts you a little goodie bag for the wedding day with thoughtful and useful things! Highly recommend!!!

Are you interested?

Send a message

Kerisha C.

Married on 06/24/2023

Tania makes magic happen

Tania did the hair and makeup for my wedding. She did my girls' hair, my mom's makeup, my best friend's hair and my hair and makeup. Everyone absolutely loved what she did. After our trial she reminded me to tell her if there was anything I noticed that needed tweaking or that I didn't like. I had a few adjustments and she came through on the big day. I felt so beautiful on my wedding day! I wanted a natural look for makeup and she gave me exactly what I wanted. You won't regret hiring her for your special moment.

Katie M.

Married on 05/27/2023

Amazing Artist

I am so glad that I got to work with Tania for my wedding! She is so good at what she does. Having my hair and makeup done is pretty outside of my comfort zone, but she made me feel so comfortable and confident. Tania is very organized, professional, and talented. I have very thick, curly, long hair and my mother-in-law has fine, short, thinner hair. She made us both look amazing. My hair and makeup lasted all night. I would highly recommend Tania!

Gabriella C.

Married on 05/20/2023

Tania is Amazing! :)

I don't think I could have asked for a better hair and makeup artist to support me on my big day. From the beginning when we first connected, Tania was professional, kind and very committed to making me feel special. Every step of the way, Tania provided helpful tips and advice on how to ensure my makeup would last the longest and when we did my trial, my hair and makeup lasted 11 hours with minimal wear, shine, and no smudging or running. My hair, which is prone to being frizzy, was sleek and did not get affected by the humidity at all. This made me even more confident in Tania and I trusted even more that Tania's magic skills would ensure I looked perfect on my wedding day and I 100% did! My hair and makeup were even better than the trial because while I saw very little to improve on, even being as picky as I could at Tania's urging, she saw things I missed and that meant that I was able to run around and sweat and get hugged and kissed ALL day and my makeup and hair still looked pristine at the end of the night, also about 11 hours of wear time— I uploaded a picture here of the last photo taken at the end of the night and while not the best quality, you can see that I still look flawless after all of the festivities. Tania also got to my venue, which was on Whidbey Island, early and started on me early. She prioritized being on time and even being WAY early because she understands how special this day is. I have only the best things to share about Tania and I truly believe you would be making the best choice in choosing her to beautify you on your wedding day or any other special event where you want, and WILL, to look perfect!

Bettina L.

Married on 03/11/2023

Bridal Hair and Makeup by Tania Salazar

After several months of researching, I found Tania by looking up "Seattle bridal hair and makeup" on Instagram. She is professional but warm. She will truly listen to you while offering her expert opinion. There were several tweaks that Tania suggested that I am so glad I went with. Trust her! While planning my wedding one thing that really added stress was vendors being unresponsive. Tania put me at ease by being communicative and prompt with her responses. During the trial and the day of, she was so thorough and meticulous. She gave me a retouch bag with everything I might need throughout the evening. However, she is such a top notch makeup artist that all I used was blotting paper and lip balm. My face stayed on even through the after party! I highly recommend her!

Taylor O.

Married on 08/27/2022

One Woman show and She SLAYED IT

Tania had an uphill battle of not only 7 bridesmaids, but also TWO brides to make a total of 11 services!
My wife and I did our trials for both hair and make up together. Tania was great about scheduling and communication. She asked what we liked or didn't like about certain styles and was able to recommend other options when something didn't turn out as we had imagined.
The wedding day started at 6am due to how many services we had and if you didn't know already you wouldn't have been able to tell because Tania stayed chipper and attentive the whole time!!! I wish I could describe better how truly awesome she was. Great attitude, friendly and truly cares about what she does. Book her!!

Ashley K.

Married on 08/06/2022

Tania is amazing!!

Tania was absolutely amazing. I looked stunning after both the trial and on the wedding day. During the trial Tania was really easy to work with and got the vibe of what I wanted from the inspo pics with just a few edits. On the wedding day itself, everything turned out perfectly. Tania also did the hair and makeup for my maid of honor and mother, and the hair for my mother-in-law - all three women loved their looks and looked great. None of us wear that much makeup in our daily lives, but Tania made us all feel comfortable and look like elevated natural versions of ourselves. Highly recommend Tania!

Angela A.

Married on 07/09/2022

A truly wonderful experience

Tania made my now wife and I feel absolutely beautiful on our wedding day. She supported us every step of the way in our bridal journey. She was accommodating, responded to our texts and emails in a timely manner, and gave us skin care tips to make sure we were ready for our big day. I highly recommend her to anyone who wants to look their best on their wedding day.

Michelle P.

Married on 07/09/2022

The absolute best!

My wife and I absolutely adored Tania and are very very happy we went with her for our special day. My wife and I don't wear much make up or do anything super fancy with our hair on our typical day but Tania truly made our wedding day tremendously special. Not only did we get tons and tons of compliments on both our hair and make up but we also loved Tania's professionalism and dedication to us on our special day. My wife had some eye issues the day of and we got ready down the road away from our venue. Tania raced over to make sure everyone looked their best and truly went above and beyond. My wife and I felt like we were working with a long time friend from the moment we met and are incredibly happy that we went with Tania! Couldn't recommend her enough!

Andrea N.

Married on 04/16/2022

Simply the best!

Very professional, clean, and friendly . She makes the whole experience just about the customer, constantly making sure you love everything. She did my wedding hair and makeup plus my mom's and mother in law's. She had to deal with different cultures (Mexican, Indian) and she was great at making sure we each felt beautiful in our own way. He products are also high quality. Highly recommended.

Juliette W.

Married on 04/09/2022

Mountain Elopement

Tania Salazar Makeup & Hair did the best job at my hair and makeup along with my mom, aunts, and MoH makeup. She not only landed an incredible natural look but my hair even withstood a snow storm!

On our wedding day, we also had to change locations last minute and she was so accommodating to making sure she was able to drive the extra distance to make it happen.

10/10 recommend!


+ 5

photos

Susan M.

Married on 04/01/2022

A true professional

We absolutely loved Tania! She was hired to do hair and makeup for my daughter on her wedding day and did an impeccable job! As mother of the bride, my makeup job by Tania was beautiful and gave me an extra boost of confidence! Highly recommend!

Laura M.

Married on 04/01/2022

She was a dream!

Tania was wonderful to work with. I could not have asked for a better experience. She was friendly, communicative, and professional from the very beginning.

She made sure my sister (bride) was comfortable and created the perfect look for her. She did a fantastic job with all of our makeup. Highly recommended!!

Takes care of every detail!

Tania did a great job doing my hair and make up when I was part of the wedding party. She loves her job and enjoy way to much doing it!!!

Micaela C.

Married on 12/03/2021

Great Hair & Makeup Artist

Tania was great to work with! She was very professional and spent time making sure I was happy with my look. During the trial, what I thought I wanted didn't end up fitting me very well, so she spent extra time troubleshooting with me to make sure we got something that I wanted. Would definitely recommend to others.

Samantha

Married on 09/18/2021

Highly recommend!

Tania was awesome! she was super flexible with our 2 postponed dates because of covid. The communication with her was the best, she responded all my calls and text right away, she even helped to find my hair accessories. The trial day was fun and she came super prepared with my preferences and at the wedding day she was perfectly on time, and she turn my room into a beauty salon! amazing!! the best was that I cried 5 times at my wedding and my make-up was perfect at the end of the night! Thanks, Tania!!

Paul

Married on 08/01/2021

Fall in love with my look !!

Tania is friendly, kind and professional. She made me feel comfortable in every process since contacting her, choosing my look, and while she doing my make up and hair. She made me look beautiful (same as my reference photo). I can't explain all how amazing she is. I would love to recommend her to everyone!!

Lauren

Married on 07/28/2021

Absolutely Above and Beyond!

After getting to work with her multiple times for engagement session/beauty trial/wedding day, I have way too many good things to say about Tania! Starting from day one after asking a couple questions about her services, she consistently went above and beyond. She was so friendly, personable, caring, and just much, much more than a 'vendor'. She was flexible (and super kind about schedule changes), was quick with responses, had great suggestions for skin care, and you could tell she genuinely cares about making you feel beautiful for your big moments. Not to mention, through pandemic times she's incredibly sanitary and shows immense care for the health & safety of her clients. I'm ecstatic that I chose Tania for my makeup and hair. I enjoyed talking with her every time we met and I just can't rave enough about how much I loved working with her. She made me feel SO gorgeous. Highly, hiiiighly recommend Tania!

+ 6

photos

Claudia W.

Married on 07/24/2021

5 star experience!

My bridal party and I had a phenomenal experience working with Tania. She is responsive, organized, and kind, not to mention extremely talented at what she does. She was able to make all of us, from my little sister to my grandmother, look and feel our best on the day of the wedding. I know practically nothing about makeup and don't wear it often, and she was patient when working with me during the trial to figure out what I wanted. Tania helped me feel confident and beautiful on my wedding day, and I cannot recommend her enough. If I ever need hair/makeup services in the future, I would hire her again in a heartbeat.

Natascha D.

Married on 07/17/2021

Incredible!

I was so lucky to be able to book Tania! Makeup was something I did not think about more than a couple of months before my wedding on July 17, and luckily Tania had a cancellation on that day. As COVID-19 continued/continues to loom, she has great, well-defined protocols to ensure everyone's safety before, during, and after the event. She was so flexible and gracious, making checklists and asking questions that I hadn't considered prior to her asking. Moreover, I didn't have to have a full schedule prepared beyond when my bridesmaids/my mom could begin and when we would need to be finished. Based off of the information, Tania was able to create a schedule to fit all six of us in. The schedule went incredibly well, and she even ended up ahead of schedule.

Tania is so kind and thoughtful. She had snacks available on the day of and made sure that I had an energy bar while she did my makeup after asking how much I had to eat. My hair was done by another salon, but when some bobby pins came undone she was able to fix them. Tania also provides a really awesome touch-up kit with all items you could possibly need. It definitely came handy throughout the day.

All of this doesn't even get to the makeup itself which she executed perfectly on everyone. Mine easily lasted the whole day, even through heavy tears from speeches and sweat from dancing. All around I couldn't recommend Tania enough, and I'm so thankful I had her by my side on my wedding day.

Note: photos courtesy of Joe Tobiason photography.

Holland E.

Married on 06/26/2021

The Best of the Wedding Vendors I Hired

Tania is a dream to work with. She has such a kind and generous spirit. I knew from her first email that she was really going to be there for me and my wedding party. She was so responsive and organized. As it turns out, I planned my wedding during a historic heat wave in a venue that lacked air conditioning. Tania was right there with me buoying the team. She efficiently and swiftly got us all ready even though it felt like we were in a sauna. To look at the photos, you would never know how hot it was that weekend. The hair of the wedding party did not fall. My hair and makeup stayed in place all evening even through dancing in 95F heat. Tania has magic. She made our day beautiful and I felt like I had a friend assisting me the whole time. Thank you, Tania.

Barbara G.

Married on 05/22/2021

Amazing day!

Working with Tania was so easy, she is the best! We all felt amazing and it couldn't have been a better experience. Given the opportunity I will hire her again and certainly recommend her to anyone I know.
Thank you!!

Annie C.

Married on 05/10/2021

Absolute Magic!

Tania is hands down the best! She is incredibly professional, organized, flexible, and just so incredibly kind.

Getting hair and makeup done (whether day of the event or just the trial) is extra stressful with COVID. However, Tania put me at such ease. She really takes the time to make sure you feel comfortable and are safe. I was so impressed by her organization and her cleanliness. She really goes above and beyond to protect everyone.

She is also incredibly talented. My makeup was so beautiful, she made me look even better than I could have ever imagined. Tania really listens and takes notes to make sure you look just perfect on your day.

Tania is also one of the nicest people I have ever met. I absolutely loved working with her and just now thinking of another excuse to work with her again because she is just so great!

I cannot recommend her enough! She is truly the best there is!
Are you interested?
Send a message