19 Reviews
Recommended by 99% of couples
Quality of service

5 out of 5 rating

Average response time

4.9 out of 5 rating

Professionalism

5 out of 5 rating

Value

4.8 out of 5 rating

Flexibility

5 out of 5 rating
Awards
3 User photos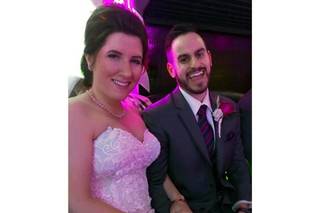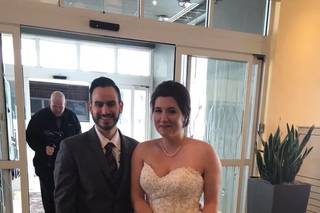 Abigail R.

Married on 10/05/2019

Amazing from start to finish!

After searching and reading endless reviews for a tailor shop for my wedding dress alterations, I finally decided on Sylvia Tailor Shop and I'm SO glad I did! Everyone I worked with was very friendly & knowledgeable.

First fitting started right on time. My dress was quite large and needed a lot of work to get it fitted properly. Prices were in line with my expectations & well worth knowing it was in good hands and the work was done well.

When I came back for the 2nd fitting the dress was flawless. Everything fit snug without being overly tight.

Normally after the 2nd fitting they would then steam & prepare the dress for pickup before the wedding. I live about an hour away from the shop so I really didn't want to make the trip again. I was willing to go elsewhere to have it steamed before the wedding but true to their excellent service, they offered to steam the dress & veil right then so I wouldn't have to come back a 3rd time. The shop was super busy with many other brides coming in & out so I really appreciated them taking the time to do that for me.

Overall I can't say enough good things about this place. I'm so glad I trusted them my dress!

Tanya

Married on 06/29/2019

Love This Shop

Sylvia Tailor Shop is a smaller shop but that's what makes it more personable. They are very welcoming and actually care about you and your garments. They were very accommodating in helping me get my dress on and to show my girls the correct way of closing up the dress and even see tips and tricks. When it comes to your appointments they are flexible and on top of reminding you by phone calls and texts. Their work was flawless and when I went in for my last fitting I brought my flower girl and it happened to be my birthday and they gave us both a small gift! So Sweet!!! Love this shop!

Heather

Married on 06/09/2018

Sylvia was great!

The ladies here were super nice and very knowledgeable. The dress turned out perfectly! They also seamed my mother's veil. They were also great at teaching my bridesmaids how to do my bustle. The value and turnaround time were both great.

Are you interested?

Send a message

Nicki

Married on 07/01/2017

You won't be disappointed. I was in a complete bind trying to find someone to alter my dress in time and her staff accommodated me and squeezed me in. I haven't picked it up yet, but I've had bridesmaid dresses altered by her in the past and it's always been great quality work. Very reasonable pricing too!

Katie

Married on 04/29/2017

Sylvia was a recommended wedding dress tailor from my bridal salon, and she did the most amazing job. I give her the highest recommendation as a wedding dress tailor!

Sylvia was incredibly flexible. I work in the city and couldn't make normal daytime appointments. Sylvia would stay later than her normal shop hours to accommodate evening appointments.

My dress had a multilayer, flouncy organza bottom (not a single straight edge) with a strapless sweetheart bodice. There were 3 things that made me a little nervous (and my mother even more so!): a) that the dress didn't fall down and I didn't have to keep pulling it up, b) the cups were fit to my very small chest, and c) the curved bottom edge was hemmed to follow the pattern.

Sylvia tailored the dress perfectly around my ribcage and waist, and we added a "seatbelt" inside the dress, ensuring that the dress didn't have to be pulled up even once during the night. I was perfectly snug, felt comfortable, and danced the night away without a single problem.

Sylvia added cups and took the sweetheart neckline in from the side, all ensuring the bodice was fit to my chest without gaping. The bodice was ruched, and the ruching didn't looked like it had been altered once it was taken in.

Finally, the bottom curved edges were hemmed 1 inch, and the curved pattern was followed exactly (which I'm sure was a challenge).

The dress looked stunning and I couldn't have asked for a better fitting dress. Thank you Silvia!

Kristi

Married on 01/21/2017

Sylvia did an amazing job with my dress. She made suggestions and the alterations were flawless. She did 2 alterations, plus added a 9-point French bustle and cups for the same price that my bridal salon wanted for the bustle and cups only.

Caitlin

Married on 01/14/2017

Sylvia is absolutely amazing. I chose her for my wedding gown alterations after a recommendation from the bridal shop and I am so happy we went with her! Sylvia's workmanship is exceptional. My mother and I wanted removable straps made to wear during the ceremony and purchased a yard of the beaded lace on the gown to work with. She created, from the extra material, beautiful straps that did not disappoint. The first set made by another girl at the shop weren't quite right, so Sylvia took over and they ended up being perfect. The entire bodice also had to be taken in - it was completely beaded lace so I was anxious that I'd be able to tell when they let it out (after being taken in too much) but it also ended up being perfect. Sylvia was also able to alter my mother's gown on same day notice 2 days before the wedding. She truly saved the day!

Sylvia and her staff will bend over backward to do it right and make you happy. I have taken several other pieces - dresses, pants and skirts - to her to alter and essentially have a new wardrobe now. It's just icing on top of the cake, how sweet she and her staff are. I have moved out of state, but will save all my alterations to bring home for her to do when I visit - the service, quality and value is worth it!

Alexandra

Married on 11/05/2016

Sylvia and her staff are great! They handle MANY wedding dress alterations so they definitely know what they are doing. My dress was strapless and stand in place the whole day. They provide very quick service and the staff, especially Sylvia, is very personable.

Jennifer

Married on 08/13/2016

I went to Sylvia to have my dresses for my bridal shower and rehearsal dinner altered. Sylvia is absolutely incredibly. She always listens to what is wanted/needed and offers her suggestions as well. Everything was perfect the first time. I had my dress for my bridal shower altered first. When I went back to get my rehearsal dinner dress altered, I knew it would come out perfect, which of course it did. I will absolutely go back to her with any future alterations that I need for anything. Prices are so reasonable and it is a quick turn around time.

Christina

Married on 07/30/2016

I LOVE Sylvia and her staff! They tailored my wedding dress, and I am so happy that I decided to put my faith in them. They are incredibly professional and experts at what they do. Sylvia helped me each time I was there for a fitting, and she is so gentle with the garment and was happy to explain any part of the process that I had questions on. They made my dress fit like a glove and I felt and looked like a princess on my wedding day. I plan on using Sylvia's for all of my future tailoring needs.

I made the decision to look for a tailor after being quoted over $800 from the bridal shop that I purchased my wedding dress from. I couldn't be more pleased with how the dress turned out, as it was a fitted mermaid style that requires heavy alterations. My only negative would be the bustle that didn't hold, but it was a very heavy dress!

Tracy

Married on 11/29/2014

My wedding dress was late and too big. Sylvia did the alterations in record time and it was absolutely perfect. She did an amazing job and the dress fit like a glove. I can't recommend her enough.

Jessica

Married on 06/09/2014

Sylvia's Alterations was wonderful! I lost nearly 20 lbs since the time that I bought my gown, and the ladies at Sylvia's was able to make my dress fit perfectly. She didn't charge me an arm and a leg, either! Highly recommend.

Amber

Married on 05/25/2013

Wow!!! Sylvia worked magic on my wedding dress. I purchased my wedding dress from Brides By Demetrios and absolutely loved it! I ordered it in a size larger just in case I gained any weight. When it was time for alterations, I went straight to Sylvia. My dress was huge on me and when the corset was laced, it was completely closed. At my first alterations appointment, Sylvia assured me that my dress would fit perfectly by the time she was done with it. I live in Milwaukee and she made time for me to come in for alterations. At my second fitting, the dress had been transformed. It fit really nicely and I was so happy that most of my bridesmaids and my Mother in law decided to use Sylvia Tailor Shop for their alterations as well. At my final fitting, Sylvia showed my sister how to bustle my dress. She had added beautiful buttons from Europe to the train. My dress fit like a glove. Sylvia turned my dress into a gown. I couldn't have felt any more beautiful on my wedding day and it was all thanks to her. Thank you Sylvia!!!

Best tailor shop ever, I'm not joking! After my terrible experience with my shoes at David's Bridal, I was too scared to bring my wedding dress there for alterations. Instead, I found Sylvia. She is truly a gem! She is the sweetest lady ever, and her work is astounding. She is quick, efficient, professional, and fairly priced. Not only did she make my dress amazing (looked like no alterations were done at all!), her husband cleans all the dresses for you! One stop shop, and worth every penny and every minute spent there.

Alexandra B.

Married on 06/23/2019

Recommend - great job!

Sylvia and her team did the alterations for my wedding dress. They did a great job! The shop is incredibly busy, so I felt a little rushed at the first two appointments, but things definitely slowed down for the last two. The fit ended up being perfect. I would definitely recommend.

Jennifer

Married on 09/30/2012

Cute little shop! Very friendly and knowledgable. I contacted Sylvia five weeks prior to my wedding. She was flexible with fitting appointments, and she listened to exactly what I wanted.

Margaux

Married on 02/09/2018

I loved working with the staff at Sylvia's. I did get to meet Sylvia herself, but she was not the woman who ended up working with me on my wedding dress. We used her for a Mother of the Groom dress, as well as three of my bridesmaids dresses. The nice thing was that they were able to work with all three of those bridesmaids dresses in order to take a few of them out. I'd recommend these guys to anyone, and I'll be going back there to have my regular clothes altered from now on as well.

Sylvia had fantastic reviews on Yelp so I checked her out. I found her to be endearing, accommodating, professional, and kind. She altered my wedding dress and when I told her my concern for the cost she said she could work with me. And when I found her beaded bolero jackets to be way too far out of my price range, she was sweet and selfless enough to point me in another direction.
Are you interested?
Send a message