64 Reviews
Recommended by 91% of couples
Quality of service

4.6 out of 5 rating

Average response time

4.5 out of 5 rating

Professionalism

4.5 out of 5 rating

Value

4.5 out of 5 rating

Flexibility

4.6 out of 5 rating
63 User photos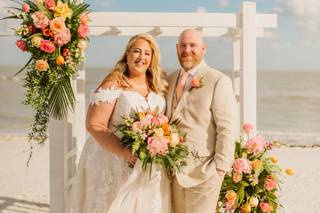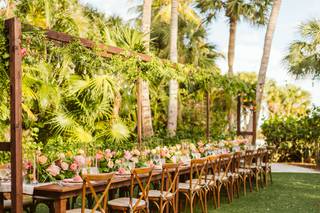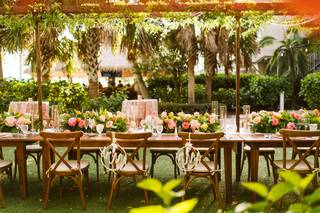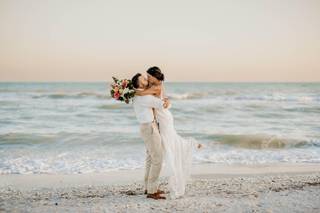 + 59

photos
Featured

Sandra S.

Married on 04/09/2022

Sundial Beach Resort & Spa - Awesome for Intimate Wedding

We had such a great experience hosting our wedding at Sundial. Not only did our guests have a great time at the wedding but we were so pleased with the experience of the planning and execution of the wedding. We had the pleasure of working with Francesca as our Catering Sales Manager and she was so responsive and supportive throughout the entire process. The food and drinks were absolutely delicious. The wedding reception area was beyond perfect as we were tucked between beautiful palm trees.We couldn't have been happier.

Taylor F.

Married on 06/11/2022

Francesca should be your go-to!

Francesca and her team did truly an amazing job with our wedding, from beginning to end! Communication was swift and there was never a time where one of our questions went unanswered. The day was absolutely beautiful and ran so smoothly with the help of the Sundial team! If you are looking for a beautiful venue, I 100% recommend Francesca and her team at Sundial Beach Resort and Spa.

Molly S.

Married on 05/21/2022

May 21st Wedding

We toured and spoke with multiple wedding venues in the area and ultimately chose to go with the Sundial in large part, because of Francesca Giachetta. She was flexible, consultative, extremely prompt with follow-ups, and just FUN to work with! Day of, Francesca continued to be amazing! Many of our guests commented on how attentive and helpful she was to them. Guests also noted that she had a charismatic energy that was fun to interact with. Future brides - you will love Francesca!

The customer service model of the Sundial is exceptional! Every staff member we interacted with, went out of their way to accommodate any request that we had no matter how big or small.

We're so happy with every aspect of our wedding weekend and day!

Are you interested?

Send a message

Shane B.

Married on 05/05/2022

Sundial was spectacular

We had such a great experience with the Sundial they made all our dreams come true. Francesca was amazing. She helped me every step of the way! Our food choices were delicious from the filet to the grouper and the chicken was on point. I could go on and on about our experience! Such a great team they have there from the chef, all the way to their accommodating wait staff.

Veronica L.

Married on 03/11/2022

Our Dream Wedding.

We live on the east coast of Florida but my dream was to always have a sunset wedding. So we went in search of our perfect match & we found it at The Sundial. The resort speaks for itself. Right on the beach with chairs & umbrellas provided as well as multiple pools on property. The scenery is beautiful & guest services are great. We had the pleasure of working with Francesca as our wedding event planner. From day 1 she became our friend & was easy to work with as well as talk to. Towards the end I thought I was going to drive her crazy with my 100 questions & concerns but she was able to answer all my questions & resolve my concerns. Day of food tasting came around & the chef was just as hospitable. The food was so amazing that it made it hard what to choose from. My husband & I had a last minute thought of having our rehearsal dinner at the resort & Francesca & her team made it happen. The same day is when I brought all my DIY's for the day of the wedding as well as favors.
The big day is here & we couldn't have asked for more perfect weather. Our ceremony was on the beach & Francesca made sure our favors were out for our guests to grab. I was able to have a sneak peek of the ballroom before all the guests came in & everything was set up just as I envisioned it. We had such a great time!
We made a whole vacation out of it & stayed for 6 days. We can't wait to come back one day & relax as a married couple & enjoy all the wonderful amenities & beautiful beach!

Michelle M.

Married on 12/05/2021

Excellent!

Everything was perfect! Exactly how we wanted our wedding! Service, food, venue…all excellent'. Can't say enough. Just wonderful!

Hailey C.

Married on 11/12/2021

Beautiful venue and awesome service!

Oh my where to begin! I worked with Lavender and Francesca and they were both so great to work with! Coming from Iowa, I had lots of questions and they were both so quick to respond via email or phone to any questions or ideas I had for the wedding. They were so flexible and helpful when I would change my mind and through all the stress and craziness weddings bring, Francesca helped alleviate so much of that. The rehearsal space they set up for us was so beautiful or guests couldn't stop gushing about how it looked like a wedding reception. When the wedding reception had to be moved indoors, they made sure the space was just as beautiful as my outdoor vision and we're sooo accommodating for all the different dietary restrictions we had. The food was some of the best food we have ever had and the ceremony on the beach and cocktail hour on turtle beach was a dream. I am so thankful we had our wedding here!

+ 2

photos

Ellie J.

Married on 10/23/2021

Excellent experience

Our wedding at the Sundial resort was amazing! Everything from the day we started the initial planning to brunch the morning after the wedding went so smoothly and beautifully. Francesca was a huge help…she was always very responsive, helpful, positive and full of great ideas. She made it seem like coordinating weddings at the Sundial was second nature to her! Our entire wedding day, including my hair and makeup services at the spa, the ceremony on the beach, the cocktail hour and the reception went perfectly and I couldn't have asked for anything more. My only complaint is that I didn't want the day to end! My husband and I would highly recommend the Sundial Resort and we owe a huge thanks to everyone there who made our wedding events so special!

+ 3

photos

Rob T.

Married on 10/12/2021

Awesome. Highly recommend.

Francesca and the crew at Sun Dial were amazing. Everyone was super helpful and attentive. We couldn't have asked for a better support on our special day.

Karen T.

Married on 09/20/2021

Our Perfect Beach Wedding!

We got married at The Sundial on 9/20/2021 and it was the most magical, fantastic experience ever!! We had never been to The Sundial or Sanibel before and we checked it out for the first time after seeing it on the internet in May. We automatically knew that it was the place of our dreams! The property is gorgeous.... it was like paradise! The landscaping is beautiful, and the beach is private and there aren't a lot of random people walking around, so we knew it would be perfect for our wedding ceremony! In the months leading up to our big day, Francesca kept in constant contact with me and calmed all my nerves.
During our stay, all The Sundial staff was personable, responsive, and professional. We and our guests were so happy with the rooms! They were clean, and pretty. We really loved the full kitchens! The amenities were fantastic! We went kayaking, paddle boarding, played pickle ball, rode bikes, played ping pong and BINGO. We frequented the Tiki Bar for delicious food and Pina Coladas and their special drink "Put the Lime in the Coconut"!!! My bridal party and I went to the Kay Casperson Spa for hair and makeup and Ashley (makeup) and Julia (hair) were phenomenal! They made all of us look like models!!! The set up on the beach for the ceremony was beautiful, and the entire catering team was so accommodating and flexible with every little request we made during the reception.
We are already trying to plan our next trip to The Sundial. We just loved it so much, and I think you would too!!!!

+ 9

photos

Nicole R.

Married on 09/04/2021

Hidden Sanibel gem!

Sundial was such a gorgeous place to have our wedding!! The resort is even more beautiful than we realized and the staff across the board was so kind and accommodating. (Shout out to Francesca, Pedro and Tony!) Francesca was a pleasure to work with and was so responsive every step of the way! They even upgraded our room to an incredible beach condo!
Originally, we had planned for all of our events to take place outside, but due to a CRAZY windstorm and freezing temperatures, we were unable to have the reception out there. The staff worked with us to allow for our an outdoor ceremony and cocktail hour, and then set up a beautiful dinner upstairs. What could have been a huge damper on our plans turned out to be gorgeous and a GREAT time!
We would definitely recommend Sundial as a wedding venue and will return ourselves as it now has a special place in our hearts!

Lynn Z.

Married on 02/02/2021

Lavendar was so professional and accomodateing

Everyone from Lavendar the coordinator to Tony the set up and server were so friendly an accomodating.

Kimberly P.

Married on 01/24/2021

Experience was a dream

In the midst of Covid we were looking for a venue that would make our guest feel comfortable. Lavender and the crew at the Sundial Resort made our experience feel like a dream. We forgot all about the worries of Covid and were able to focus on the intimate sunset wedding on the beach. Our guest felt safe in the clean environment set before us at the resort.

Kimberley L.

Married on 10/23/2020

Wonderful wedding venue & vacation resort!

We held our wedding at Sundial this past weekend and the entire event was nothing short of amazing! Our wedding coordinator Tracy was wonderful- from the start of our planning process, through to the day of, she was extremely professional, responsive, and helpful. We had a few last minute changes to our wedding day and Tracy went above and beyond to make sure that everything ran smoothly and that it was the perfect day for us. Her attention to detail, positive personality, and true passion for wedding planning did not go unnoticed. The event and wait staff were wonderful as well- attentive to everything that was going on during our wedding day and providing impeccable service. Everything about the event far exceeded our expectations. Each one of our wedding guests complimented us on how beautiful our wedding day was and how much they enjoyed their stay at Sundial. My husband and I will certainly be returning to Sundial for future vacations, as will many of our friends and family. I highly recommend this venue and thank Sundial for making our wedding day so memorable!

Julie C.

Married on 09/19/2020

Beautiful Wedding Location

We were married at the Sundial Beach Resort & Spa last year (2020) and had the most wonderful experience. From the perfect location, planning of the event, and the service and special attention we received, we couldn't have asked for more. The ladies at the Kay Casperson Spa took great care in preparing me, my mother, my daughter and two granddaughters for our special day. Tracy was absolutely amazing. She assisted with planning, answered our many questions, and ensured our packages arrived safely and were kept secure. Our chef created a delicious menu for our reception that received many compliments from our guests. Tony was an outstanding banquet manager & bartender, and never let our cups run dry; and the servers were also wonderful. They were all such a pleasure to work with. Throughout our stay, the entire resort staff couldn't have been more accommodating. We highly recommend the Sundial Beach Resort & Spa for any of your special events and are looking forward to a repeat visit for our one year anniversary. Thank you all so much for a wonderful experience! Dewey & Julie

Maria I.

Married on 06/11/2020

It was an amazing perfect wedding day!

Lavender was amazing, helped so much with her attention to details! Everything was so beautiful, and unforgettable. She was so pleasant to work with, so patient. Made me feel at ease. The cheese tray ,Champaign and chocolate covered strawberries were amazing! I definitely recommend this resort. everyone is very friendly. The facility is so nice and clean. My wedding on the terrace was a dream come true! The food was delicious and beautifully presented. Thank you again Sundial !

Ashlin P.

Married on 06/11/2020

A great venue to get married at

Overall, the Sundial Beach Resort and Spa did a fantastic job at hosting our wedding. We could not have asked for more diligent, thorough service and help throughout the entire process. The resort is beautiful, and rooms are very nice and have a diverse selection for different numbers of guests attending your wedding. We had our wedding in the West Lawn and it was beautiful. The lawn has a great view of the water but added privacy from the beach. The reception in the Lace Murex Lawn was also wonderful. Based on our wedding size, we had ample room to eat, dance and socialize in the lawn.
Tracey Snyder, the Catering Sales Manager, was very professional, kindhearted and helped us make our wedding day very special and unforgettable. She was very easy to work with and always responded to our inquiries leading up to our wedding. We enjoyed working with her and know you will be in very good hands with Tracey as the main coordinator for your wedding.
The banquet team (Tony from Philadelphia and Stacy) were excellent at our reception. They did a great job orchestrating the meals and refreshments throughout the evening. Honestly, they went above and beyond, exceeding our requests. For example, we had a small box under the table for our campaign flutes that we forgot when the reception ended. They made sure to hold onto it in a safe area, contacted us and asked if we needed it back before disposing of it (which was wonderful because we needed it to keep the flutes safe during our flight back home). This is just one simple example of how diligent they were at making the entire process flawless.
The staff was also very courteous. Brendon and Tony at the breakfast buffet were very receptive to all our needs. We had a 20-person buffet breakfast and they were on top of everything. We felt like they did excellent work and were very friendly. The staff at the front desk was also very helpful and welcoming.
There are certainly many options for wedding venues at Sanibel, Florida. We honestly believe Sundial did a fantastic job and recommend them with no reservations. Further, we believe they will do great work and make your wedding day and overall stay very special.


Nikki

Married on 04/26/2020

Sundial is THE BEST place to have your wedding

Sundial Beach Resort and Spa is hands down the best decision we could've made when it came to choosing our wedding venue. We used Lavender Yi as our catering and event manager, and she was absolutely amazing. She made our wedding planning process a breeze, and was available every step of the way to answer any questions or concerns we had (even when we had to postpone our wedding due to COVID-19). On our wedding day she was right there for every moment, and when it came time for rain call and we unfortunately we're expecting to get rained out, Lavender knew our dream was for an outdoor beach wedding, and she made it happen! She was so flexible with moving our event time to avoid the rain, and provided umbrellas for our ceremony and for our reception area. Sundial provided a beautiful beach wedding ceremony setup, as well as reception area on the Lace Murex lawn - everything was stunning! Every employee was so kind and helpful, and our time we spent at the resort before and after the wedding were also nothing short of amazing. We would highly recommend this resort for a wedding, because our wedding was so much more than we ever could have imagined, absolutely PERFECT! We wish we could relive it over and over.

Cristen

Married on 04/18/2020

Great welcome dinner and experience!

We had our welcome dinner at Sundial and it was amazing! We did a fun taco cantina themed dinner out on Turtle Beach. Lavender was AMAZING to work with. She was incredibly responsive and had our best interests in mind. The food and facilities were great. We highly recommend having an event at Sundial resort and working with Lavender!

Leslie

Married on 03/07/2020

Lovely venue and helpful staff!

My now-husband and I are from out-of-state, and we booked our wedding at Sundial -- and planned everything -- without being able to visit until the day before. I don't think it could have turned out any better even if we had visited! Working with Tracy Snyder to put together our wedding at Sundial was such a simple and stress-free process. She was very responsive and flexible, and seemed to have solutions for everything! The West Lawn is a beautiful spot for a ceremony, and the Lace Murex Lawn was just what we had envisioned for an intimate outdoor reception. I think they say that you know it's going well when you realize you haven't worried about any of the small details. The evening flew by so I hardly had the time to think about all the details that had mattered during the planning process, but after we got our pictures it was clear that Tracy and the staff had gotten everything just as we had wished. Shoutout to the several resort staff who were so helpful and kind -- for helping me to get my dress and bouquet to the suite, for the golf cart rides, for helping to look for a lost item after the reception, and for being so patient while I was stressed. We are so grateful and definitely recommend having a wedding at Sundial!

Peyton

Married on 02/09/2020

Lavender is awesome!

The resort and food were great! Lavender, the wedding coordinator, was so quick to respond to every email and call. She made the whole process a breeze and accommodated all of my wishes for our wedding. I cannot day enough good things about her and the staff. The spot on the beach was great and the lawn the reception took place on was beautiful (one of my favorite parts) THANK YOU LAVENDER!!!
❤️Spud and Peyton Matuszak

+ 4

photos

Karisa

Married on 10/12/2019

The most perfect day!

Highly recommend Sundial for weddings. Everything was perfect! We had most our guest coming from out of town and it was the perfect location that had anything you would need and something for all ages! I would recommend brides to get a 3 bedroom suite the night before the wedding so it can also be your "getting ready" room with your bridesmaids. It was just the right amount of room for everyone to have space for hair and makeup.

Although all the staff at Sundial were amazing, Tracy the wedding coordinator made our day perfect! She is very helpful, extremely responsive and attentive to anything you need prior to the wedding and during the entire wedding weekend.

Becca

Married on 09/28/2019

Only downside is having to go home!

The staff at the Sundial were friendly and were willing to go the extra mile to make our day as perfect as possible. Lavender, the Catering Manager, was kind and professional, only wanting to make sure our day (and stay) was the best it could be. She worked with our budget and went above and beyond our expectations. We had a small ceremony and reception of 11 total and the beautiful Sundial resort and beach scenery complimented the whole event beautifully. The only downside was having to go back home. We will be back to celebrate our anniversary and to bring our families for years to come!

Alex

Married on 04/20/2019

Best decision

Our wedding at Sundial on 04/20/19 couldn't have gone better. Ashley was the absolute best to work - professional, calming, intelligent, and good at her job. When we began the wedding venue selection process it was a daunting task but as soon as I heard from Ashley I knew Sundial was the place we would get married. My husband and I live in Charlotte, NC so most of our planning was done through email. Ashley was quick to respond and answer questions for me. We were able to customize a menu based off what WE wanted which was a joy. We finally got to tour the venue in February when we came into town for a vendor visit and pictures don't do this place justice. The entire property is breathtaking - natural beauty. The beach, lawn, and indoor reception rooms were so gorgeous, and elegant. There was so much about wedding planning that I didn't know (timeline, bridal party order, etc) Ashley was so patience and accommodating with us. The day of our wedding the weather was so perfect. The day went by so quick and I can't believe it is over. The food here was TOP NOTCH. My husband and I got so many compliments on our choices of food and the attentiveness of the bartenders. Thank you Ashley and all the Sundial team for making our wedding dreams come true.

Britt

Married on 11/17/2018

Amazing Amazing Amazinc!

Sundial Beach Resort & Spa, Tracy, we cannot thank you enough for a once in a life time Wedding experience at Sundial! Everything about the resort gave our guests the destination feel, and even us living in Fort Myers felt as though we were somewhere far far away! With everything being a short walk to the beach, the bikes, kayaks, paddle boards, pools, and volleyball net lended endless amounts of fun for everyone! Not only was all the food, breakfast, lunch, and dinner, to die for, but the service was amazing as well. The whole overall persona that Sundial emits cannot be beat! Our wedding could not have been any more gorgeous, with the lights and stairs above us, our guests having a blast dancing in the sand! We could not have asked for a better venue! Literally a once in a life time experience thank cannot be beat! Everyone was so sad to leave! Tracy, you went above and beyond anything I could have asked for and am so very thankful to have had you to coordinate everything at Sundial! Thank you a million times over!
Are you interested?
Send a message