629 Reviews
Recommended by 98% of couples
Quality of service

4.9 out of 5 rating

Average response time

4.9 out of 5 rating

Professionalism

4.9 out of 5 rating

Value

4.8 out of 5 rating

Flexibility

4.9 out of 5 rating
340 User photos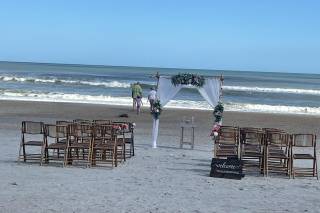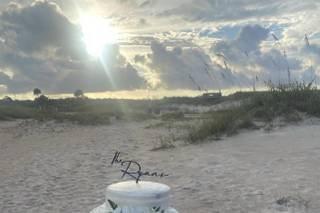 + 336

photos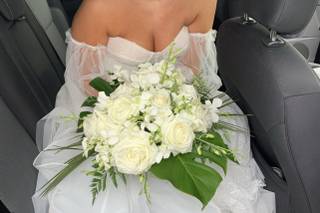 Wildeliz

Married on 11/12/2022

Perfect wedding after the storm

Perfect day! made it possible from Steven and his staff! Our wedding day was just November 12 two days after hurricane Nicole damage part of the beach where we wanted to get married, and Steven was so good at troubleshooting he was always in contact and found the perfect place right next to our Airbnb 5 mins walk to the beach! everything at the end work out perfect and our families are so please on how everything was set up and the team was very sweet too and positive they really want to make your big day go well I just show up and everything was there waiting for me the sand and stone ceremony and Steven words where so nice the photography lady very nice they just want to please you... love this team!

Jessica M.

Married on 11/12/2022

Trustworthy and easy to work with!

If you are looking at Sun and Seas Beach Weddings and wondering if you are about to be scammed, fear not! They are 100% legit and our coordinator Steven made the process super easy. The only thing we had to do was show up with our marriage license and get married. Even when Hurricane Nicole decided to show up a few days before, Steven was confident they could still get it done AND THEY DID!! We had an absolutely stunning arch on Driftwood beach that made for a day we will never forget. I promise, you will not be disappointed!

Allyson T.

Married on 11/09/2022

Top Notch Service

From the very beginning, the entire team at Sun & Sea was a pleasure to work with. They made the process seem seamless. They were willing to listen and willing to accommodate even the tiniest of requests.

Our intention was to do our vow renewal on the beach; however Mother Nature disagreed with our plans and sent us Hurricane Nicole. When it became evident our location was no longer an option, the team thought quickly and came up with a back up plan. And when the back up plan needed a backup plan, they were flexible and accommodating- changing designs to fit the now indoor setting but still giving us the beach feel that we so wanted. They even were open and willing to change locations up until an hour before we were scheduled to start.

Having Varnia lead the way as our officiant, Dan perfectly matching the feel on his guitar, and Marie as our fun photographer made the day even more magical.

In the end, the entire team- Steven, Varnia, Marie, Maddie and Dan- were a true pleasure to work with. We highly recommend Sun and Sea to anyone planning a wedding or vow renewal.

Are you interested?

Send a message

Freddy A.

Married on 11/03/2022

Very Positive Experience *****

After a few weeks of research discussing our needs, wants and hearts desire, we decided to contact Sun and Sea and inquire about our wedding plans.

We had a short time frame, maybe 2 1/2 weeks! The Sun and Sea team was very organized, methodical and had answers for all of our questions. They kept us aware of every detail coming up or what steps needed to be completed. Their recommendations were excellent and everyone always understood our time frame and were ready to assist.

Getting married is such an amazing and important step in life. Sun and Sea made sure everything went perfect for our wedding so we could focus on the most important things... each other.


Deb D.

Married on 10/14/2022

Amazing day! All thanks to Sun &Sea crew!

A special Thanks to Steven Romero. He made the wedding day into exactly what we dreamed of. He truly cares about you & the beach ceremony was breathtaking! Highly recommend!!!

Ashley

Married on 10/09/2022

Trustworthy and Caring

My husband and I have nothing but compliments about the services we received. We were getting married amidst a hurricane in Ponte Vedra, FL. As we were surrounded by chaos, Steven called to check-in on us and our plans. In sorting through the commotion, Steven remained calm and professional. Buying services from someone you never met, especially wedding services made me nervous. However, I was impressed by the professionalism of Steven (planner), Vania (wedding day coordinator and officiant), Cameryn, and Marie. Everything turned out better than we could have ever expected given the little amount of time and effort it took on my end as a bride. I had expected it to be so much more complicated, but they all made the process very easy and everything was done seamlessly. I have no bad things to say here! If you're a bride and want to save time and money, or are doing a destination wedding, but want to receive a quality product and outcome, this is for sure the way to go!

Madison C.

Married on 09/17/2022

Amazing! Vania, Nick, Veronica and the team are so awesome to work with

Planning a destination wedding can be scary, this company made the entire process so easy and made my dreams come true, can't recommend vania and her team enough!

Yshonda R.

Married on 09/04/2022

Beyond Amazing

Amazing!!! Vania - Event Planner & Setup, Veronica and Cameryn - Reception , Derek and Zach - Beach set up, Marie- Photographer, Shawn -DJ /.Florist

Gabrielle J.

Married on 08/20/2022

Experience

Vania and the team were amazing!

+ 9

photos

Connie M.

Married on 08/03/2022

Outstanding

Michelle with Sun and Sea was above and beyond excellent. The weather was not cooperating with us o n 3-20-2021, but Michelle made sure we were able to find a spot that would shelter us from the wind and rain and it was the best last minute spot.

Autumn

Married on 07/27/2022

Great Beach Wedding Planner

I want to express my gratitude to Sun and Sea Beach Weddings for assisting me in the planning of my small intimate beach wedding. Their planning process was really streamlined, straightforward, and stress-free. Because of their expertise and attention to detail, I was able to control my inner bridezilla. Not only was I pleased and content with the services they provided, but so was my husband. We both thought they did an excellent job. Our spectacular day ended up being much more enjoyable than we had hoped! Their wedding planning services come highly recommended by me to any future bride!

+ 3

photos

Whitney M.

Married on 07/02/2022

Spectacular Beach Wedding

Sun and Sea Beach Weddings made our wedding experience an easy and enjoyable process from start to finish. Josie was our wedding planner, and she was amazing! She was a joy to work with and she was eager to answer all our questions along the way. Sun and Sea is more than just a destination wedding company. They are the perfect choice for anyone wanting to have a spectacular beach wedding! We live locally and after several planning meetings over the phone, we had the option to come to the office and meet with Josie to go over our final wedding details. What a fantastic bonus that was. I walked away confident that our wedding was going to be just perfect! Josie and the Sun and Sea team went above and beyond for our wedding! Come wedding day, I was so calm and relaxed knowing that our special day was going to be just flawless and beautiful. When I stepped up on the beach decking and looked out to the beach, I was blown away by how beautiful the ceremony set up was. We had met one of the photographers that work with Sun and Sea and we liked her personality and her work, so I requested her for our wedding. Josie was happy to contact Marie to see if she was available on our wedding day. Josie immediately got back to me to share the great news that Marie was available. Marie was phenomenal and she made sure our wedding day was captured beautifully. We are just overjoyed with how beautiful our wedding pictures turned out. If you want a beautiful, stress-free wedding, call Sun and Sea Beach Weddings.

Stephanie C.

Married on 06/25/2022

An Amazing Experience

Great experience! They made my dream wedding in a month's time.

Morgan

Married on 06/25/2022

AMAZING! Hands down the best

The best wedding EVER. Vania was amazing, easy to talk to, and made sure the bride (me) didn't have to worry about anything. The photographer made sure we got all the photos we wanted and made it fun. 10/10 highly recommend!!!!!

Jamie E.

Married on 06/25/2022

An Amazing Experience

My husband and I used Sun and Sea Beach Weddings for our vow renewal on Amelia Island June 2022. We could not be happier with our ceremony. Coming from out of state, you have a lot of worries, especially when you can't meet with vendors in person. From start to finish, our experience was wonderful. Steven, our planner, took such good care of us. We had several meetings via telephone to iron out details. Any questions or concerns I had were promptly addressed, and I was kept informed of all plans every step of the way. I arrived to our beautiful event truly able to relax and enjoy the day knowing Steven was taking care of us. Everything we planned was just as I imagined and everyone from this company was a joy to work with. Thank you so much for making our special day so wonderful! Jamie

Nacole D.

Married on 06/18/2022

Amazing !!!

I can't say enough about Sun and Sea Beach Weddings . We are from New York and Steven helped us plan the most amazing day . Everything was perfect . Communication between Steven and I was always timely and pleasant. I would recommend them to everyone. Planning a wedding out of state was very easy and stress less with Sun and Sea !

Ashley

Married on 06/18/2022

Amazing and Flawless

Sun and Sea went above and beyond for my wedding! They exceeded all my expectations and never fell short. They met every request and answered all my questions same day…the entire time! I would have my wedding the same exact way 1000 times over!

Ashley T.

Married on 06/11/2022

#OnceUponAThomas

Vania has been easy to talk to and always replies quickly to any questions or concerns that we may have had. On our wedding day she was so patient and understanding! Everything was set up beautifully and so well thought out. The decorations and set up was everything that we expected/wanted and then more :). Our photographer, Ben was amazing and the photos came fast and were beautiful. He was able to get all the photos before the rain caught us. Although the day went by super fast it was well worth it to have Sun and Sea Beach Weddings to be there for us, making our dreams come true.

Conner B.

Married on 06/06/2022

Couldn't have asked for more

Steven, our wedding planner, helped us throughout the entire process, and I cannot express how easy he made everything. Every little detail was gone over and double checked to make sure everything was exactly as we wanted it. Plus, Steven was very transparent and honest with us throughout the entire process, and to me that is something special. Jeannie was our photographer, and not to sound like a broken record here but we couldn't have asked for more. She made everything feel very natural, and our photo session yielded great results. She even let us go into the water for pictures which was a big item on our wishlist. She handled the difficulties of being on a windy beach with absolutely no issues. Shawn and Zack set up our decor and chairs, and it looked wonderful. It was set up in no time, taken down in no time, and they were there the entire time in case anything needed their attention. Again, an absolutely amazing team and company that I couldn't recommend highly enough. If you want an easy, relaxed, beautiful, and memorable wedding, go with Sun and Sea Weddings. I can't express how much they did to make our special day easy for everyone, and an event everyone can look back on with fond memories.

Holly W.

Married on 06/04/2022

Just Perfect

AMAZING experience with Sun and Sea Beach Weddings… highly recommend! We weren't sure about what we actually wanted to do about a ceremony…didn't want a huge wedding, and didn't want to deal with cutting family/friends from the guest list. So when we found the Sun and Sea elopement package, we were thrilled. Josie was our wedding planner and my hero! I'm very indecisive and wasn't really sure what I wanted, and Josie's patience and perseverance helped me make all of the decisions needed and our day was absolutely perfect! Looking back, we wouldn't change a thing!

R. Lee

Married on 06/04/2022

Above expectations!

Amidst all the Covid 19 ciaos we had changed our wedding plans multiple times. Finally after an unexpected circumstance we were at a stand still. A last ditch effort I contacted multiple wedding companies in the Georgia/Florida area. Sun and Sea contacted me first and were the only ones that said they could make it happen. they not made it happen in less than a week, it was everything I wanted!

Cherie C.

Married on 06/04/2022

Thank You! Jekyll Island Wedding

Thank you, Sun and Sea! I loved the floral arrangements for our wedding on 6-4-2022. The photographer was amazing and I cannot wait to see the photos. The roses made my cake perfect!!

+ 2

photos

Sharon P.

Married on 06/03/2022

Beach Wedding

Sun & Sea Beach Wedding made our Wedding experience a very easy process, It was so wonderful knowing that we didn't have to do anything but show up... Steven, Roy and Shawn were on spot! I can honestly say we had no hiccups on anything. If you are doing a destination wedding Beach, please contact them so AMAZING!!!! Thank you to all!!
Sharon & Bobby

Shannon E.

Married on 05/29/2022

Elopement to St. Augustine, FL

There are so many things I would like to say about Sun and Sea Weddings. They were absolutely amazing. I worked closely with Steven, and he was on top of everything from start to finish. I live in Colorado and was anxious about finding someone I could trust to plan our elopement to Florida. The sign-up process was very detailed and provided me with all the options I didn't even know existed. And they got back to me right away to help start planning our elopement. We chose the River to Sea Preserve location in St. Augustine, FL, and I couldn't be happier. Everything went off without a hitch. From the very start, Steven was on top of communication with me. I was unable to have many phone conversations due to the nature of my job, but that did not hinder or hold up any of the wedding planning. Steven provided me with all the information I needed to make the day exactly as I imagined it would be. They even were able to accommodate my personal choice for a wedding bouquet. The flouriest simple just asked for a picture and provided an estimate. On the day of the wedding, everything was set up in advance with plenty of time for us to arrive. Naturally, we were running a little bit late, (my dad took a wrong turn on the way) but that did not phase them in the slightest. I was in constant communication with the staff who were waiting for me at the beach to arrive, guided us through the timing of when to walk down the aisle, and even were so helpful with moving the decorations up the beach multiple times due to the rising tide. The photographer was amazing and she did such a wonderful job. We opted to do a second location for pictures at the Washington Oaks Gardens, and I am so glad we did. It was absolutely beautiful. I fell in love with it the second we arrived. I can't wait to get our pictures! I highly recommend Sun and Sea Weddings to anyone who is looking for a destination wedding. There was no stress involved with the planning process whatsoever.

Beth S.

Married on 05/28/2022

Everything we hoped for and more!

Our Amelia Island wedding was everything I dreamed of and more, and I am so happy we trusted Sun & Sea Beach weddings to make it happen! The whole planning process with Steven was such a joy -- he gave great advice and direction, offered reassurance whenever I was nervous about something, and was very responsive with questions and changes. The wedding day team who handled the set up (Steven, Isaac, and Jada) were wonderful! They were warm and friendly toward our guests, and really helped to create a happy and relaxed atmosphere for our celebration. Everything turned out beautifully from the florals to the decor details. If you are wondering who to hire to plan your beach wedding from afar, look no further!
Are you interested?
Send a message