45 Reviews
Recommended by 100% of couples
Quality of service

5 out of 5 rating

Average response time

5 out of 5 rating

Professionalism

5 out of 5 rating

Value

5 out of 5 rating

Flexibility

5 out of 5 rating
44 User photos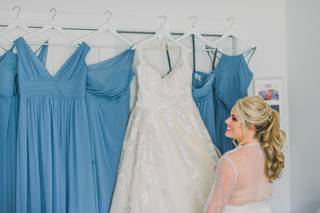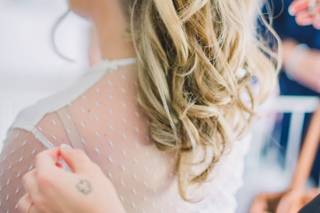 + 40

photos
Christine D.

Married on 07/08/2021

August 31 Wedding Hair by Renee

Let me just start off by saying I was the most indecisive bride in the business. I started out wanted old Hollywood curls, then moved to a boho braid... 6 months later I wanted a low sleek bun and finally I ended up with a total bridal glam ponytail. Renee was so patient with me and was able to show me 3 different looks over the last year to calm my nerves and help me decide. The day of the wedding I even was altering my style we had already done a trial for and Renee didn't even bat an eye! She was constantly checking in with me and how I was feeling to make sure my hair was exactly what I wanted. I don't think I could have found anyone else who would be able to take on the amount of hair I have, and have it stay for 20+ hours! The final look was stunning and having Renee there and part of the morning only made the day better. She is truly the best in the business and there is no one like her! You will not regret having Renee as part of your wedding day!

+ 4

photos

Arlett

Married on 08/03/2019

Best hairstylist in the world

Where to begin, wao having Renee as my wedding hair stylist was an absolute dream. She is so talented, and works so fast and for an amazing price. My whole bridal party loved her, and we looked super glammed with our hairstyles. Thank you so much Renee, you are the best.

Alessandra

Married on 04/27/2019

Best hair stylist (and person) out there!

Renee was an absolute dream to work with. She took "awesome wedding vender" to a whole new meaning. She was clear, easy going and the best hair stylist I have ever seen. Let me tell you, my girls were thrilled at their hair for my wedding day and so was I! She went over the top to style my hair perfect for my special day and even taught my mom how to pin it up for the reception. I rocked 2 styles in one day! I cannot express my gratitude for Renee. Thank you thank you thank!

+ 5

photos

Are you interested?

Send a message

Khadija K.

Married on 04/20/2019

Queen of hair!

When I first saw Renee's work on a friend of mine's hair, I immediately fell in love and knew I had to get her to do mine. I was lucky to get her to do my hair for my Bridal shower back in February and still to this day, I get people complimenting my look from that day! The style was everything I imagined and more and it lasted the whole event, even with someone like me who has the urges to play with her hair constantly.

Renee listens and works with you to figure out what you want and then will do exactly just THAT and efficiently. I have really thick and long hair, so when I usually go to get it done, it normally takes them at least 30 minutes more than what was promised. But with Renee, she was so quick - finished less than an hour and delivered results that may take other stylists a lot longer to complete.

Renee is not only an amazing, professional stylist but also has the heart of gold. The whole time you're there, you feel like you're talking to a friend and wants to make the whole experience for you magical. After my hair appt, I had booked a photoshoot and in the midst of planning for the day/shower, I had forgotten to pack my earrings. Since I was tight on time, I wouldn't have been able to go back home to get my earrings and that's when Renee came and offered for me to borrow her earrings for the shoot. I was blown away by her kindness and it truly shows how much importance she puts for her clients. She wants her clients to look and feel their best!

My experience with Renee was nothing short of amazing, professional and I recommend her to everyone I know (or even people I've just met)!

Hanadee A.

Married on 12/22/2018

The best experience!

I absolutely adore Renee!!! I always tell her how lucky I was finding her a few months before my wedding. I've been looking for a hairstylist in the Raleigh area for YEARS that knows what volume means, how to give me curls that last all night and someone who can do unique hairstyles!

Not only is she incredibly talented and so knowledgeable on what she does but she is the sweetest person ever and always listens to what you want, which is very important when it comes to your big day. She will do anything to ensure her brides are stress free and that's what I loved and appreciated about her.

I did two trials with her, she did my hair for my bridal shower, henna party, my wedding and a friends wedding. EVERY time she does my hair I'm blown away and so in love with my hair! I'm extremely picky when it comes to hair so this is a huge deal lol. I've never been satisfied when getting my hair done until I met Renee. I still get compliments about my hair from my wedding day and every friend I have referred to Renee loves her work just as much as I do.

Girls, I know the struggle of finding a hairstylist for your wedding who will give you exactly what you want. Do yourself a favor and try Renee out! I couldn't be happier with everything she did for my wedding festivities. I HIGHLY recommend Renee!!!

+ 2

photos

Jen

Married on 09/02/2018

Renee is the most wonderful wedding hair stylist. She created the most romantic updo for me on my wedding day. My hair stayed in place the entire night through dancing, humidity and running around. Renee takes her time and listens to her clients to create the perfect unique look for each person. She is the best!

Valentina

Married on 06/10/2018

Renee is an incredible hairstylist. She did a beautiful job for my mother and I. She is an excellent professional plus she has a great and sweet personality. Thank you! :)

Gretchen

Married on 05/19/2018

Rene was fabulous! She is maticulous and truly sees hair as an art! She did all of the bridesmaids hair, the bride and myself. She was on schedule for every girl. She was personable and made us feel relaxed and comfortable! From the girl at 8 am to the bride, everyone's hair lasted through the midnight ending reception. As mother of the bride, I let her determine what hairstyle I should wear. She nailed it! If you want a true professional book Rene. She will give you the comfort you deserve on your wedding day.

+ 3

photos

Norma

Married on 04/28/2018

Renee is the consummate professional. She was punctual and personable and was very willing to please. Her artistry is excellent and she knew exactly what she was doing. She made a stressful situation calm and her work was above reproach. She handled 3 completely different hair types with equal ease and expertise. I would definitely use her again. I have never gotten so many compliments before. Thanks Renee!!!

Kaila

Married on 03/12/2018

No words can describe how amazing Renee made my hair look for my wedding day! She is so easy to work with and made the experience even better with her laid back personality. 10/10 would work with her again!!

Rachel

Married on 03/09/2018

Renee is truly the best at what she does! I couldn't have been happier with how everyone's hair turned out, including my own for my big day. She was attentive, caring and professional. I highly recommend! You will not be disappointed.

Haley

Married on 03/04/2018

I would never trust anyone with my hair on my wedding day, or even a regular hair cut except for Renee. She's a great energy to be around and she knows what she's doing. I trust her so much she could blind fold me and do my hair. Even if you don't like one tiny detail, she's open to your thoughts and ideas and works with you to bring your dream style to life.

Kira

Married on 02/18/2018

I cannot say enough good things about Renee, she is literally a hair ARTIST! i first had my hair done as a bridesmaid about ten months before my wedding and she did a beautiful job on myself and the other bridesmaids and bride and I knew she had to do my hair for my wedding. She did such a goregous job on my wedding day for me, I could not have been happier! She also did amazing on my eight bridesmaids, mother, and three aunts.. that's 13 people! And she was still smiling, laughing and doing an incredible job the whole time. I highly recommend Renee's services to every bride to be!

Quyen

Married on 02/03/2018

Renee is AMAAAAZING!!! From trial to day of wedding, everything was perfect. Her updos and work is so "clean" and creative. You seriously do get a unique and beautiful look. Imagine florida humidity and still my hair held up well with little fuz! I got so many compliments on my hair. Besides her beautiful work, she is super sweet.. always quick to reply.. and is a true professional! We had a tight schedule in the morning starting at 445 AM. She had a timeline for a total of 8 people to be done by 830 latest and it followed through PERFECTLY. Any bride knows how crucial time is on wedding day. Sounds like stress that early in the morning but nope! She's quick, confident, and so so talented! From trial date, she was undoubtedly one of the best and most confident decision I made during the entire wedding planning process.

Noelle

Married on 02/02/2018

Renee is a dream to work with - I wish I could have her as a personal hair stylist! She is very professional, kind, and talented. She gave me a fabulous French Twist when I had super short hair, and recreated a gorgeous updo twice (for my trial and wedding day) with her personal flair. I really love working with her, and would trust her with any hairstyle. Thank you, Renee!

Suzanne

Married on 12/04/2017

Renee Marie was absolutely amazing. After browsing through several stylists, she was highly recommended by a friend. I couldn't be happier and even hired here for both my pre-wedding party and wedding. She is exceptional fast, does breath-taking curls and she is super sweet and flexible.

Sapir

Married on 11/12/2017

Renee was amazing! She was always responsive, on time, sweet and patient. I gave her an idea and she ran with it and I loved the end result! She did my whole wedding party without a problem

Kirsten

Married on 11/05/2017

Amazing to work with!! So accommodating, friendly, and talented and her work is to die for! Thank you Renee!!!

Natasha

Married on 11/03/2017

Renee is truly an artist and sweet soul! She met us I location & created the most beautiful up dos for myself and my two sister in laws for a wedding we were in. Not only did we get complimented but we felt amazing. The styles suited us, lasted all day/ night (even after a photo session oon the beach). I would recommend Renee to everyone!!!!! Hands down the best!


Stacy

Married on 10/28/2017

Renee came to my house the morning of my son's Bar Mitzvah. She arrived at 5:45 in the morning because I needed to be out of the house at 7:45 a.m. I showed her a picture of Eva Longoria's hair up and she did it flawlessly. Absolutely amazing! She is such a professional. She also did my 11 year old daughter's hair as well. She did her hair beautifully. I would recommend Renee hands down any day!

Nisbeth

Married on 10/15/2017

Renee was amazing on my wedding day. She arrived earlier then expected which was perfect because it was a lot for girls to do hair for. She worked according to everyone hair type and everyone came out beautiful. And when it came to me, she took her time and made sure everything came out exactly how I wanted it to! She is truly amazing and I would recommend her to anyone who needs a stylist for an event. I wouldn't trust anyone else for hair styling as much as I do her!

Margaux

Married on 10/14/2017

Renee was absolutely wonderful from the initial hair trials to my wedding day. I originally had my hair done by Renee when I was a bridesmaid at my cousins wedding, and she was fabulous then, too! I had seven bridesmaids, plus a few family members who had their hair done, plus myself, and Renee did an amazing job on all of us! Everyone loved their hair, and I was so happy that all my girls felt as beautiful as they looked. We were on a great schedule, which she worked with me on prior, to ensure we could all relax and have enough time through the day. I loved my hair and she accomplished the vision I had for it!

Marissa

Married on 07/08/2017

I knew I had to hire Renee when I did a hair trial with her and the style she did which involved big curls in a half up half down style lasted for 48 hours and looked great! She BROUGHT it for my actual wedding day at the Breakers Palm Beach- I was thrilled with my hair and many of my bridesmaids she styled absolutely loved their 'do's - a few thought their hair looked better than it had on their own wedding days. She arrived early and was very efficient and has a great fun presence. Her prices are very agreeable compared to other wedding stylists and you will not be disappointed by the final result. Highly recommend!!

Diny

Married on 07/07/2017

Renee was my hair stylist this past Friday and I have zero complaints! My hair and everything about my experience with her was amazing. She had such great energy, and we were singing and dancing as she made my whole bridal party, including myself, look fabulous!! I'd recommend her for sure!

Natty

Married on 05/25/2017

What a professional! Renee was punctual, calm, efficient and kind. Her work on mine and my mothers hair turned out just as I had visioned. Due to the distance I was unable to do a test run, but Renee was patient with me. I told her what I visioned and she made me look the part. I am so thankful to find Renee! I highly recommend her services! Thank you!!!
Are you interested?
Send a message