113 Reviews
Recommended by 99% of couples
Quality of service

5 out of 5 rating

Average response time

5 out of 5 rating

Professionalism

5 out of 5 rating

Value

4.9 out of 5 rating

Flexibility

5 out of 5 rating
47 User photos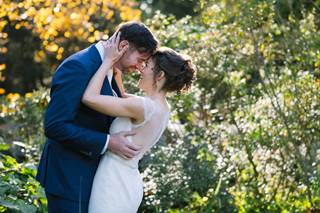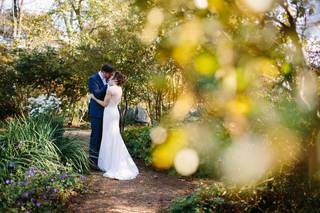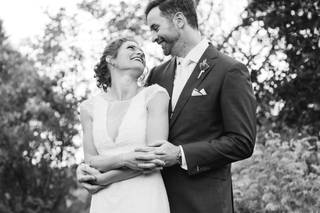 + 43

photos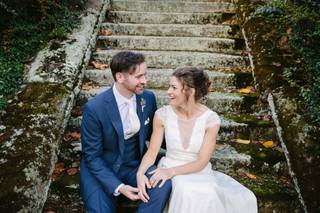 Shannon K.

Married on 09/24/2022

Simply the best!

After getting married last month, we cannot recommend Lara and Studio Nouveau enough! After doing an engagement shoot with her and being blown away, we knew we'd made the right choice, but then we saw our wedding photos and we couldn't believe how incredible they are. We can't thank Lara (and Lara!) enough for all of their time, their help, their patience, and their kindness. They always managed to be in the right place to capture the important moments, but they never felt like they were in the way or trying to coordinate artificial shots, they were just capturing all of the joy and love on our special day, and it shows in all of these amazing photos. If you're looking for the best wedding photographers, stop looking, you've found them!

Amy E.

Married on 09/18/2021

Amazing Pictures!

Lara with Studio Nouveau was amazing! She was great to work with on the day and knew all the best picture spots at our venue to help us run things flawlessly. She was easy going and open to even adding in more family pictures then we originally said once we realized we forgot some. She had made us an amazing book as well with our engagement photos that we were able to use as our book for people to sign. I can't wait to see the final pictures but the numerous sneak peaks we got a week after our wedding were already flawless. Thank you Lara for everything and for making our day such a breeze with photographs!!

Lisa

Married on 10/26/2019

Gorgeous photos & wonderful team

The photographer was one of the most important decisions for us, and we chose Lara based on a recommendation from a friend and it was one of the best decisions. She was AMAZING throughout the process. She was super responsive and flexible during our planning (which is crucial during the stress of any wedding). Most importantly, her vision for where we should take the photos on-site, who should stand where, etc was incredible and thoughtful. She also kept us on-time throughout our wedding day and managed to capture everyone. Thank you, Lara! Lisa & Aaron

Are you interested?

Send a message

Riannon H.

Married on 09/21/2019

Perfect photography

We could not be happier with our experience and the resulting picture. Lara is so easy to work with. We have wonderful photos from our engagement shoot and wedding day, and plan to use SN for family photos in the future. Also a beautiful guest book and thank you cards, and soon a wedding album. Our timeline was stress free and the family photos were efficient so we could get to happy hour! Our first look was very magical. Lara and Allana put us completely at ease and made us look and feel our best.

Alexandra

Married on 06/28/2019

Gorgeous photographs!

Studio Nouveau was recommended to us by a friend for our wedding at The Fairmont Copley Plaza in Boston, and we are so happy that we hired them for our engagement shoot and wedding! The team is incredibly friendly, responsive and professional. When we met with them in person, they made us feel right at home and we genuinely enjoyed spending time with them! We reviewed the beautiful photographs of other couples they had worked with, and we knew they were the photographers for us!

Admittedly, we were both hesitant to do an engagement shoot. Once we saw the gorgeous wedding guest books comprised of engagement photographs that Studio Nouveau offers we were on board! Because we had originally thought that we would not be doing an engagement shoot, it took place only 6 weeks before our wedding. They went above and beyond to provide us with our photographs and our guest book well in advance. Both are absolutely stunning, and we love looking at them! They really captured who we are as a couple in lovely posed and candid shots!

On the day of the wedding the team arrived early (which was much appreciated!) and was friendly and professional to everyone. They have an eye for detail, and we are thrilled that they made sure to capture each one (especially after months of planning and designing!).

We received a link with a preview just a few days after our wedding, and the photographs are more beautiful than we could have imagined! We cannot wait to see the full gallery! We highly recommend Studio Nouveau, and feel so lucky that we had them with us to document our special day!

Studio Nouveau's reply:

Aww we love this so much! It was the best day - we're so honored to have been there for the celebration!

John

Married on 06/07/2019

There aren't enough words to descibe how great Lara is

Holy wow. Studio Nouveau was the best vendor selection we made in our wedding process. We met with the owner, Lara, as soon as we had a date (almost 2 years out) and clicked with her right away. We left her studio and almost immediately booked with her. From our engagement shoot to wedding day, she was nothing but a delight to work with. We convinced her to come ALL THE WAY TO SPAIN for our engagement shoot, and she helped us with everything from location scouting to outfit selection. After the E-shoot and leading up to the wedding, she fielded all my ridiculous questions with grace, connected me with my eventual MUA, and even helped confirm my decision for my dress! She went above and beyond and did WAY more than expected. On wedding day she and her second shooter made sure everything ran smoothly and on time, and reminded us to take deep breaths throughout the day. She captured everything perfectly. On top of her personality and ease to work with, her photos are perfection. To say they're pure magic would be selling her short - because there's no magic/mystery here; this is just raw talent. We are left with incredible memories frozen in time, to help us relive the moments we remember, and to take in some of the ones we were too busy to see. We couldn't recommend Lara and Studio Nouveau more.

Studio Nouveau's reply:

I adore you guys. I vote we do a wedding every year together?!? :) It was an honor to be included in such a fun and beautiful day!

Cailin

Married on 06/23/2018

Lara is amazing! I am SO lucky to have had her recommended to me for a boudior photo shoot. I used the shoot as my husbands wedding gift this past June and I honestly feel like it was a gift to myself as well. I had so much fun the entire time I was in Lara's studio. I felt pampered with hair and makeup first then when the shoot started Lara made me feel confident, strong and sexy. She truly takes away any nerves you could ever have. Now on to the best part my photos came out AMAZING! There is not one thing I would change about them. Every angle, look and pose was on point all because of Lara's expertise! I highly recommend Lara and Studio Nouveau for any photography needs you may have, especially boudoir!

Kate

Married on 04/21/2018

Choosing Lara as our photographer for our wedding was one of the first decisions that we made while planning and undoubtedly one of the best. She immediately made us feel comfortable and relaxed, and she has such an amazing eye for detail and artistry. Our engagement photos looked wonderful (and we were so grateful that they were included in our wedding package--it made being photographed on our wedding day feel much more natural!), and we couldn't be happier with the photos from our wedding as well. Lara has a ton of expertise and every suggestion that she gave was spot-on and helped us have a wonderful day. We were also SO appreciative of the quick turnaround with our sneak peeks of both wedding and engagement photos--it was great to be able to show our guests some of the professional photos at brunch the next morning, because Lara had the sneak peek in our email inbox before we woke up the morning after the wedding! We can't recommend Lara and her team highly enough.

Mariel

Married on 10/28/2017

Lara and her team are just amazing. If you want your big day captured beautifully, stop looking and hire Studio Nouveau! After we locked down our venue, we knew that choosing a photographer would be an important decision. After finding Studio Nouveau, we were impressed immediately by Lara's responsiveness and friendly demeanor over email; when we met her in her studio we were sold! One of the things we were looking for in all vendors were people who we'd enjoy working with through the planning process and who we knew we could trust to make everything happen on our wedding day (we wanted to dance the night away without worrying about details!). We thought Lara fit that bill 100% and she totally delivered. Oh, and she's really, truly, incredibly talented. From our engagement shoot to the wedding, she made us feel at ease being photographed (not a usual occurrence for either of us!) and captured some truly amazing, fun, loving, beautiful moments that we never would have imagined. We love our photos...and also know that we're biased :) But, as we've shared them with friends and family, we've gotten so many compliments about how amazing the photos are! We knew that the photographer we chose would be really important: the photos would turn into the memories we had of our wedding day. We couldn't be happier that we chose Lara and Studio Nouveau!

+ 7

photos

Eric

Married on 10/28/2017

We were given advice early on in our planning process, that our wedding photographs would become our memories of our special day. Given that, we decided to make sure we were comfortable and happy with our photographer as a primary concern. Studio Nouveau was referral from one of our vendors, and one look at the website and pictures easily pulled us in. When we met Lara at her studio and were offered a beer to talk, we felt comfortable immediately. During the course of the conversation, the only difficult thing was keeping a poker face and not signing right away. Lara was a total professional throughout the process. Beyond the breathtaking pictures and albums, which blow me away every-time I look, she was really hands on and responsive. She had a hand in so many aspects of our wedding, that it is really hard to capture -
Our engagement shoot, which built our relationship with her, became our guestbook and save the dates. Her professional network (who all rave about her work and presence) became our Officiant, Videographer, and makeup artists. Her thoughtfulness and work ethic produced a wedding album and family keepsake in a staggering period of time, all the while taking our "constructive" feedback and bringing a strong opinion.

I actually can't imagine our wedding without Lara's amazing vision and influence. I can't recommend working with Studio Nouveau enough -- My wife and I are already plotting our life events with them in mind so that we can capture every big occasion to come!

Studio Nouveau's reply:

This is making me tear up! Love you guys! ❤️

Kelsey

Married on 09/30/2017

Working with Studio Nouveau has been amazing. They are incredibly professional, and many of my family and friends have used them for weddings, as well as a family shoot. The photos that they come out with are unlike anything I've ever seen before. They have a way of capturing amazing moments that really show off who you are.

Madeleine

Married on 09/17/2017

Finding a great, affordable wedding photographer is no easy task! Christine was amazing to work with and she made me feel taken care of. There was no added stress working with her. She was great to work with before and during our wedding. I highly recommend Studio Nouveau!

Drew

Married on 09/16/2017

Chill, super cool, the best.

Amy

Married on 09/16/2017

Studio Nouveau was a dream to work with! Flexible in scheduling, responsive to requests, and totally understood our wedding vibe. And the end product was exactly what we wanted - unobtrusive, almost a "journalistic" approach, no goofy staged photos and yet still captured the most important elements of the day. Thank you!

Kaitlyn

Married on 08/19/2017

I wish I could get married all over just so I could work with Lara again! Let me tell you brides and grooms-to-be out there, she is an absolute genius! From the moment you meet her you instantly feel like you've met a longtime friend. Throughout the whole planning process, from engagement pictures to the big day, she is professional, funny, reliable and able to answer all of your questions, no matter how crazy they may sound! She makes you feel comfortable in front of the camera, and truly captures who you are as a couple. Her eye for different angles makes her photos stand out, and she isn't afraid to get dirty (like hopping a few fences) in order to get that perfect shot!

+ 6

photos

Kaitlyn

Married on 08/19/2017

I wish I could get married all over just so I could work with Lara again! Let me tell you brides and grooms-to-be out there, she is an absolute genius! From the moment you meet her you instantly feel like you've met a longtime friend. Throughout the whole planning process, from engagement pictures to the big day, she is professional, funny, reliable and able to answer all of your questions, no matter how crazy they may sound! She makes you feel comfortable in front of the camera, and truly captures who you are as a couple. Her eye for different angles makes her photos stand out, and she isn't afraid to get dirty (like hopping a few fences) in order to get that perfect shot!

Emily

Married on 08/11/2017

Lara & her team were AMAZING for our wedding. Photography was my top priority and from the beginning, Lara understood my vision, while providing her professional opinion, touch, and talent. Our photos came out better than I could imagine, and we will definitely seek her out in the future for more photos! On top of it all, Lara is an amazing person who brings laughter and comfort to what can be a very intense day. Could not recommend more!! You won't be disappointed!!

+ 2

photos

Alyssa

Married on 07/15/2017

My husband and I were lucky enough to live in the same town as Studio Nouveau, so we stopped in after work one day and sat down with Lara, the owner. We weren't interested in hiring a videographer for our wedding, which made picking the perfect photographer all that more important. When we sat down with her that hot/humid summer night, and she handed me an iced cold Narragansett summer shandy, I knew we would get along. Lara is easy to hang out with, she had us laughing from the moment we met her - which is very important! You are going to be spending several hours with your photographer, and it can get intense. We knew it wasn't just about talent - which let me clarify Lara is UNBELIEVABLY talented - but there also had to be a level of comfort. Lara is the ultimate professional, she answered all of my technical, what-if and sometimes ridiculous questions without hesitation. She never caused any excess stress and her speedy & thoughtful replies always helped put this Type-A bride at ease. It was never difficult to get in touch with her & she was always positive & upbeat. We had a great engagement session by the Charles River, we built a beautiful guestbook together, and leading up to the big day she helped us create a timeline that worked with her and our other vendors. It was actually all quite easy. Lara brought Jaime as her 2nd shooter, and together they were a joy to work with on our wedding day. We got all the photos we wanted and she kept us on schedule without being too intrusive. She gives just enough direction without forcing it. My favorite photos are always the candids, and she knows how to capture those moments beautifully. We've received many compliments from our wedding party about how much they enjoyed our photographers. I've only seen a few of the photos so far, but they are spectacular and I cannot wait to see the rest. Lara is a true talent & a wonderful human being. We felt lucky to work with her!

Brooke

Married on 07/01/2017

Photographers were my biggest priority for vendors so I searched everywhere for the best photographers. Studio Nouveau was FANTASTIC! My husband and I were living in Africa during the entire wedding planning process so we arranged to meet with all our vendors via Skype. We felt it was really important to connect with our photographers so they could get a sense of the photos we want/ the people we are. Our first Skype meeting with Studio Nouveau was great! They capture a lot of emotions and small moments in the photos and were really easy to speak with. On the wedding day, they were wonderful and so professional. They didn't intrude into private moments and kept us on a photo schedule without making us feel rushed. They even gave me advice on how to use the bathroom in my dress (it was tight!) which might have been a big problem without them ;). Many of my guests have complimented how great the photographers were! So far, we have only gotten sneak peak photos but if the rest is anything like them, I can't wait! Really really incredible! I am definitely happy that I chose them.

Amanda

Married on 07/01/2017

I got married 7-1-17 and Lara and Val did an absolutely amazing job capturing the best day ever. Lara sent me some amazing sneak peaks before we left on our honeymoon. I was so excited for the rest!
By far, working with Lara and her team was the best decision we made! If I could do it over again, I wouldn't change a thing about our choice to work without Studio Nouveau!

+ 5

photos

Kelsey

Married on 06/24/2017

Christine did an absolutely amazing job and was so fun and professional for our wedding this summer at the Wolfeboro Inn!!

+ 3

photos

Caroline

Married on 06/10/2017

Choosing Lara as our photographer was one of the best decisions during our wedding planning. Her talent is incredible. She has such an eye for natural moments and also understands the need for traditional pictures as well. She is a pleasure to work with and we were thrilled with our pictures and album!

Ashley

Married on 06/09/2017

Studio Nouveau was one of our favorite vendors to work with for our wedding. She was extremely responsive and completely understood what we wanted out of our weddings and the pictures truly captured that. We were blown away by the quality pictures we received and received so many compliments on them. I love that these are how we get to remember that day and her wedding albums are to die for... such a great keepsake! We had an absolute blast working with lara and team for our wedding. If you want a photographer you will become friends with throughout and after the process you will not go wrong here! We cannot thank lara and her team enough for truly capturing our perfect day and going above and beyond for us!

Ashley

Married on 05/27/2017

Lara is simply amazing. We loved working with her and getting to know her. She captured as us we are - without all the correcting and posing us. Her team was so easy to work with and we instantly felt like old friends. I can't recommend Lara and her team enough!!

Awesome! Lara and Christine photographed our wedding in last year, and we are still in awe over how spectacular the photographs look. The day is documented with such beauty and honesty, and with a gorgeous vibrancy and light.

They came prepared, having read about the important moments in our Indian ceremony, and expertly wove their way through the day, capturing the meaningful rituals, the quiet tears, and the jubilant laughter. Our wedding day was quite lengthy, and Lara and Christine were energetic, excited and consummately professional throughout. They were incredibly flexible and adapted to the dynamic and unexpected changes of the day without missing a beat. We are so happy with our experience, and highly recommend these fantastic ladies for their exceptional skill and talent.

Are you interested?
Send a message