Reviews
5.0 out of 5 rating
Quality of service

5 out of 5 rating

Average response time

5 out of 5 rating

Professionalism

5 out of 5 rating

Value

5 out of 5 rating

Flexibility

5 out of 5 rating
100%
Recommended by couples
18 User photos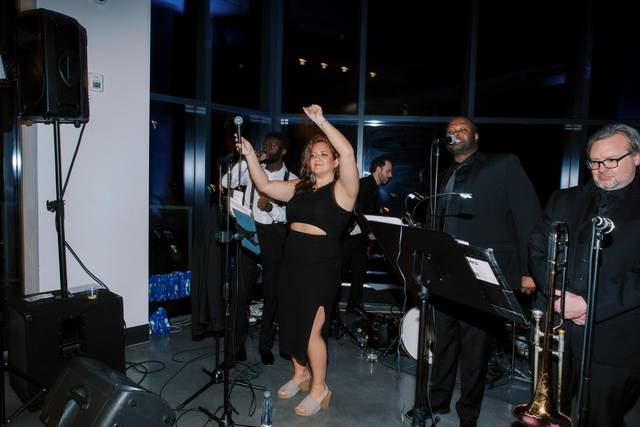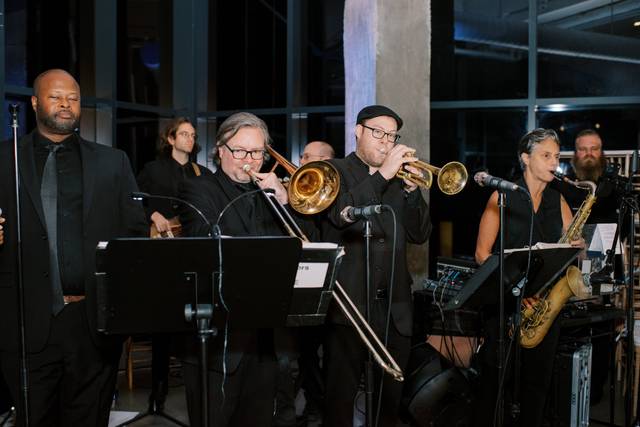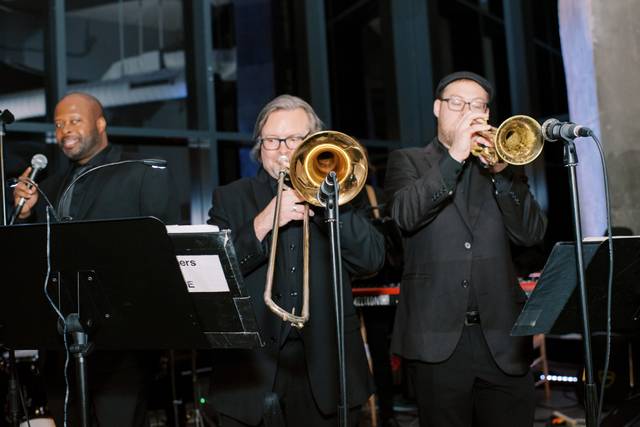 + 14

photos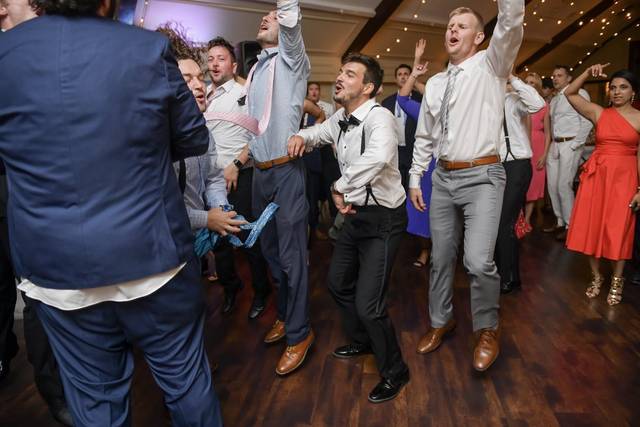 Jacqueline S.

Married on 09/16/2023

RUN, don't walk, to book The Storytellers!

RUN, don't walk, to book The Storytellers! Having a wedding band, especially one that was LGBTQ friendly, was one of our top priorities for our wedding. We hired the Storytellers for our wedding in September 2023 and they were INCREDIBLE. Now, two months later, our guests are still raving about how we had THE BEST wedding band.

Candace, a co-founder and sax player, made every single step of the planning process seamless and painless. Her communication both over the phone and email was excellent and always timely. The planning documents they sent closer to the event date were very organized and ensured the day was everything we wanted it to be. The documents went over our must-plays and do not play songs, the timeline, which Candace helped us determine, and the names of family members who were giving speeches, etc.

The Storytellers also have an amazing variety of songs in their repertoire. From songs that are popular today, to 90's hits to motown and more, we and our guests were on the dance floor all night long!

Every musician of the Storytellers is extremely talented. The guitarist, Emilio, was amazing for our ceremony music, and David, the keyboard player, was also amazing during cocktail hour. Travis and Leah were lead singers and Travis did an incredible job as our MC.

Before booking them, we saw The Storytellers in person at The Red Lion on Bleecker St. in NYC. They know how to get the party going and energize a crowd. We went back to see them a few times leading up to our wedding which was a fun way to countdown as our day got closer. We also got to know the band better before the wedding day and heard songs that we maybe would not have thought of for our must-play list.

You will NOT regret choosing The Storytellers as your wedding band!!

Angelina S.

Married on 07/22/2023

The best there is

Choosing the right band for our wedding was a decision we didn't take lightly, and we are thrilled to say that the Storytellers exceeded our highest expectations in every way possible. They are beyond amazing.

Throughout the wedding planning process, Candace was a pleasure to work with as well. She was attentive to our preferences and ensured that every detail, from song choices to timing, was just right. This made us feel so comfortable and we knew we were in great hands. The dance floor was never empty and they create such an incredible and fun atmosphere.

Even months after our wedding, we are still receiving rave reviews from our guests about how incredible the Storytellers were. They truly were the heartbeat of our celebration, and we couldn't have asked for a better band to create the perfect atmosphere for our special day.

Needless to say, if you're in search of a band that will elevate your wedding to an unforgettable experience, we wholeheartedly recommend the Storytellers. Thank you to the Storytellers for making our wedding day the most magical and musical celebration of our lives!

Shannon B.

Married on 06/03/2023

The Highlight of the Night

Storytellers was AMAZING. The talk of the whole wedding was "how great the band was". They have an extensive list of songs, learned our first dance choices and performed them seamlessly, and really helped to keep the party going.

We were fortunate enough to see them live at the Red Lion in NYC prior to hiring them for our event, which really sealed the deal, and we already are planning to see them again next month. GREAT band, great energy, great time!

Are you interested?

Send a message

Jordan L.

Married on 05/06/2023

The best nyc band

We had the Storytellers at our wedding in NYC and they were INCREDIBLE! Everything from their sound, song choices and stage presence was perfect. Candace and the rest of the team were also extremely responsive and easy to work with throughout the whole process. Our guests haven't stopped raving about the performance. Would absolutely recommend to anyone looking for a wedding band!

Bianca W.

Married on 10/22/2022

Your dance floor will be full all night!

We booked the Storyteller Band during COVID solely based on reviews and videos. It was the BEST decision we made for our wedding and worth every penny! Candace was so easy to work with and answered any and all questions we had leading up the big day. The band was able to cover genres for all ages and tastes. Our guests danced the entire night and could not stop complementing the bands performance for weeks after the wedding. Everyone was pleasantly surprised they could dance between courses due to the bands brilliant day of schedule. We were blown away by the bands talent and ability to connect with every one of our guests. Do yourself a favor and ensure your wedding will be one the best your guests have attended by hiring Storyteller Band for your special day!


Rachel S.

Married on 10/22/2022

Bride and Groom

The Storytellers were the highlight of our wedding night! ABSOLUTELY INCREDIBLE!!! Candace, the band's manager, was communicative and did an incredible job organizing, coordinating and preparing for our day. It was absolutely perfect. EVERYONE couldn't get over how incredible the band was - it's the first thing our guests commented on that night and to this day!

Loanne

Married on 10/01/2022

Amazing Band - Definitely Book!

The Storytellers consistently bring the most amazing energy and set to any wedding they are in. My sister booked them in 2019 for her wedding and I knew we had to book them again for mine because of how amazing they are!

Their team is extremely professional and flexible. Anytime we had a question leading up to our wedding, Candace was quick to answer and help come up with a solution. During the wedding, they have such a good read of the crowd and know when to transition songs or know how to get people dancing. They bring everything they need and can travel in the tri-state area if needed. Highly recommend booking them, you will not regret it! Our guests still rave about them and how amazing they are.

Katria S.

Married on 08/06/2022

Energy and dancing!

If you want your guests on the dance floor the entire time, this is the band for your wedding! Communication with The Storytellers Band is very easy (Candace is very organized)! Their energy and chemistry is off the charts! The day of our wedding we didn't have to worry about a thing, the band had all the information, came on time and set up. They did an awesome job on our first dance song! Our guests are still raving to us on how amazing the band was!

Francine L.

Married on 06/24/2022

Beyond talented

The Storytellers NYC band was the most incredible asset to our wedding! Our guests were literally stopped in their tracks when the band performed their first song after our first dance, some gave a standing ovation! They are talented, easy to work with, and kept the dance floor packed all night. Our wedding was 3 months ago and everyone is still talking about how incredible this band was!

Morgan T.

Married on 06/11/2022

Amazing Wedding Band

We hired the Storytellers to play at our wedding and wow, we were absolutely blown away! So many of our guests came up to us after the wedding and told us how amazing the band was. They brought high energy all night and did a fantastic job getting people up and on the dance floor. They know how to get a party going!

They sounded amazing on every song they played and it was great working with them to make our playlist. They have a huge repertoire and offered to learn a few additional songs for special dances (first dance, parent dances). They also are excellent at reading the room and deciding on a good order to cater to the crowd. Our families and friends love to dance and party and all of them had a great time singing and dancing the entire night.

The music is such a huge part of a wedding and we could not be happier with our choice to go with the Storytellers. They helped us turn the most special and loving day of our lives into the most fun as well!

Helena R.

Married on 05/13/2022

Hire this band immediately

Storytellers NYC not only made our wedding the party of the year, but our experience working with them was absolutely seamless end to end. Candace is an exceptional band leader and from our first conversation, I knew she was someone who I wanted to work with. The musicians are professionals through and through. From our piano soloist during our ceremony to the band's entire reception setlist, everything was perfect. The energy was perfect the entire night and our guests keep raving about how amazing our band was. I cannot recommend Storytellers NYC enough and can't wait to see them again at Red Lion in NYC. THANK YOU for making our wedding the party we've all been waiting for.

Trish

Married on 03/19/2022

Outstanding band for any event!!

The Storytellers are an amazing band. They're talented musicians whose sole purpose is to make your event as enjoyable as possible. From the first number they played, all of our wedding guests were on the dance floor. My advice is to make sure that your venue has a large enough dance floor because all your guests will be dancing the entire night! They play a wide range of songs and their vibe is great. They made my son and daughter-in-law's wedding a huge success!! I can't wait to see them again!

Andree

Married on 12/18/2021

Incredible Wedding Band

Incredible band! Candace was an absolute pleasure to work with and made the entire process so seamless. Our wedding reception guests loved the band as much as we did - the dance floor was packed the entire night! I highly recommend them for any event and look forward to hearing them play again in New York!

Samantha E.

Married on 12/04/2021

The Storytellers bring the party!

We got married on December 4th, 2021 at City Winery in NYC and our wedding guests are STILL talking about how amazing the Storytellers were. They are an unbelievably talented group of musicians who took the time to really get to know my husband and I. Through several prep calls, we were able to curate the playlist together, while allowing the band to take some creative liberties - trust me, they know what they're doing and they have an expansive song list!

They leaned into the energy of the wedding and the dance floor was never empty. They were professional, attentive and, most importantly, FUN. I can't wait to see them live again.

Storytellers NYC's reply:

Samantha & Nico THANK YOU SO MUCH for throwing such an amazing party! We had so much fun and it was your energy and that of your guests that brought out the best is us! I wish we could do it all over again LOL. Best wishes!!!

Kristina

Married on 10/30/2021

Non stop dancing!

Storytellers NYC was a DREAM to work with. They are so detail oriented, yet still flexible if the timeline changes. I worked a wedding with them over the weekend and with time changes and introduction changes, they were willing and ready to make sure the event flowed perfectly. EVERYONE was dancing to them and enjoying themselves. I definitely recommend them for your wedding!

Sheau-Yan

Married on 09/25/2021

Storytellers brought down the house!

Storytellers was a crowd favorite! We opted for a live musician for our cocktail hour and a 9-piece band for our reception. They brought tons of energy and fun -- we got countless compliments on the band and their amazing performance all night and beyond. Candace was extremely professional and responsive throughout the planning process. We couldn't be happier that we chose Storytellers to be a part of our story!

Graham B.

Married on 07/31/2021

Best party of 2021

We had the pleasure of celebrating our covid-postponed wedding with Storytellers at the end of July 2021, in what was the most joyous night of the year, the decade, and our lives. We waited a year to have our wedding and it was well worth it in the end. The band was tight, incredibly professional and treated our guests to what was, for many, their first live concert experience in 1.5 years. The music selections, from the custom first dance all the way to the grand finale, were incredibly high energy and joyful and matched the vibe of our crowd perfectly. The band even let me (the groom) sing a song with them toward the end of the night, which was a huge highlight and made me feel like rockstar for a brief moment. 100/10 would recommend and can't wait to see them perform at the Red Lion soon!

Nicole E.

Married on 07/31/2021

Book this band

This band is amazing and we would recommend them to any bride and groom. We actually heard them at a family member's wedding and had to book them as soon as we got our date. All of our guests felt that they were at a concert in fancy outfits. They really made our night

Alyssa F.

Married on 07/24/2021

Amazing experience!

The Storytellers Band is the absolute best and made our wedding night!! Music was very important for us and once we heard the band play one night in NYC, we knew we had to have them at our wedding! They were one of the very first vendors we had secured, and we're so glad we did. The Storytellers were so easy to work with throughout the whole planning process and kept our dance floor packed the entire night. I would highly recommend The Storytellers Band to all couples - our guests still rave about them!! :)

Christine M.

Married on 05/22/2021

Highlight of our Wedding!

The Storytellers were the highlight of our wedding!

We planned our wedding right before COVID, so we re-planned for a different date, venue, etc. Candace was super helpful, coming up with creative solutions, patient/fledxible with multiple changes, and always extremely respectful of our budget. She is also incredibly kind and reassuring during a stressful and uncertain time. The wedding we orignally planned was not even close to the wedding we ended up having, and she not only rolled with us, but also helped us figure it all out! In all the chaos of planning, she thought of every detail and got our input (without overwhelming us). She even coordinated with our caterer to make sure everything ran smoothly, which it did. She and the band were so low maintaince and easy going. She also was very mindful of COVID and was thoughtful in ways to plan the day so our guests and the band would be as safe as possible. Sara was also really kind and made sure we were happy, and the timing of the event was how we wanted .
As far as the actual music, I had watched and listened to clips of the band playing so I knew they were going to be good, but when I heard the keyboard player start to warm up I knew it was really on. I heard his first notes and I literally said out loud, "Oh hell yea." The keyboard player covered songs of our chosing during the ceremony and during cocktail hour. His instrumental version of the songs we picked - Pink's "A Million Dreams" and Steve Wonder's "Isn't She Lovely" were moving and full of heart. He also played/sang our first dance which was Ben Folds' "The Luckiest" and he absoluately nailed it.

When the full band started for the reception, they was just as verisilte and every single song was so tight. This group has so much talent, I couldn't beleive they were playing for us. I actually still can't beleive it. Their energy was joyful and every single one of them had a smile on their face. It felt like they were celebrating with us. Our friends and family had a blasted, everyone together on the dance floor. Our guests are still reaching out to us talking about how much they enjoyed the band. We ended up with an outdoor wedding in our yard and we've been approached by so many neighbors (some of whom we didn't invite, and some whom we didnt even know) telling us "that band was awesome!" and "we kept our windows open all day enjoying the music!" and "who was that band?!" etc. They were the best and worth every penny.

Abby S.

Married on 05/01/2021

You need to hire The Storytellers!

We had The Storytellers play our March 2022 wedding at Battello in Jersey City. We were clear from the start that we wanted a dance party and music to be the focal point of our reception. We were THRILLED with The Storytellers and all of our guests kept asking "how did you find this band?!?" Guests were even asking for their business card at the end of the night they were that good. Candance was a dream to work with, making things super easy and we had very specific requests. If you can, check them out at Red Lion on Bleeker to get a taste! We were 150% satisfied with The Storytellers and cannot recommend them enough!

Storytellers NYC's reply:

Thank you so much Abby! We had a blast playing for you and your families/friends! Wish we could do it again!!!!

Jeff L.

Married on 05/08/2020

East Side Stories is the best!

This is for East Side Stories - the Storytellers Sister Band:

We had the East Side Stories Band come rock our wedding (8/17/19) and we couldn't have been happier. We wanted to have a band with both female & male singers, a horn section and a party attitude that would grow the energy with our party crowd. Working with Candace and Sara was super easy - and we relied on a lot of their guidance with song flow and working through their awesome musical options. We had originally picked East Side Stories Band relying on youtube links which is always a little nerve wracking, however after signing our contract we saw one of their live showcases at Red Lion in NYC. Very quickly, even without the full band playing that night, we knew we picked the right band - they had great energy, the ability to play a wide variety of songs and had a bar going wild on a Tuesday evening.

On the day of, from start to finish, they were incredible! They read the crowd so well and played songs they knew would get and keep everyone on the dance floor - there was never a time when no one was dancing when they were playing. They even took to the dance floor while performing, dancing and singing with the crowd (and hit our photo booth during their break) - it was awesome! Their closing number, which they recommended to us, was absolutely incredible and our only regret was that we aren't sure anyone got it on film!

I cannot recommend this band enough - my wife and I did so much research of every band in the tristate area via the internet, including a bunch that were significantly more expensive - they were so perfect I can't imagine anyone else. I look forward to seeing them again at Red Lion and thanking them in person (and I think one of the singers may have a video of the end!). Go with East Side Stories!


Megan

Married on 02/21/2020

The BEST wedding band!!!

My fiancé and I hired The Storytellers for our wedding in February 2020 after seeing them perform at my cousins wedding and could not be happier with our decision! They bring the BEST energy to the room and gave us the amazing dance party we wanted. What's unique and special about them is the range they have. The lead singers Melissa and Travis are just AMAZING with very powerful voices. But the third singer Qua is also so talented AND is an awesome rapper. The guitar player Emilio sings lead for the rock songs SO well, and the piano player David also kills it on the songs he leads. He sang the Billy Joel song I danced with my dad to and showed so much passion! Together they can offer such a wide variety of songs that I don't think all wedding style bands are capable of. We've received so much positive feedback about them since our wedding and we are just SO happy we hired them to make our day so a dream!

Phil

Married on 12/14/2019

Couldn't have been happier

Storytellers played at our wedding in December. We cannot say enough good things about them. They were absolutely incredible from start to finish, and if you do not book this band, you are making a huge mistake.

First, they ROCK. They are first class musicians and were so much fun at the wedding. We received endless compliments about them and the crowd was begging them to keep playing at the end of the night. A week later and our friends are still telling us how amazing our band was. They read the audience perfectly and maintained the same high energy through our entire party.

Next, Candace and Sara were a joy to work with leading up to the actual event. The band does not have a separate management company so you work directly with the band, which is a big plus AND keeps the cost of the band down quite a bit. Candace and Sara considered every detail of the evening and guided us perfectly through the planning process. They were extremely proactive, asked a lot of questions, and made it a point to get to know us so that they could cater their performance to our preferences.

We had very specific ideas and visions for the ceremony music, our entrance to the reception, and our first dance, and Storytellers did everything flawlessly. The ceremony music was beautiful and dramatic at all the right moments, the band's rendition of "Bring Em Out" for our entrance had our guests on their feet before we even entered, and every single song they played throughout the evening just crushed it.

If you are considering booking Storytellers for your wedding, DO IT! Your post-wedding self will thank you :)

Tillie M.

Married on 11/23/2019

Amazing wedding band!

The Storytellers were amazing and unforgettable, and put on the perfect wedding celebration in November of 2019! The band was one of our most important decisions that we focused on, and we definitely made the right choice. First off, it was great that we were able to see the Storytellers perform at the Red Lion in NYC to get a sense of their style and meet some of the band members before we decided on a band. This immediately differentiated them from the usual big wedding band companies that don't feel as personal. From the start, Candace was incredibly easy to work with, and ensured everything went smoothly leading up to the big day. The band has a huge song list and is very flexible when it comes to crafting the vibe you want for your party. You can go through their list, show them the songs and genres you like, and they'll even learn some of the special songs for the dances and such. The band really crushed it from start to finish: the pianist greeted our guests on the piano; the guitarist played the cocktail hour beautifully; and the band had everyone up and dancing throughout the entire reception. Everybody, old and young, loved the music, and kept asking us about the band. They do everything – Motown, classic rock, 90s, hip hop, current, you name it. The horn section was a hit, too. We did have a preference for our ideal lineup of singers, but things do sometimes go wrong… one of our singers was sick so we had a last-minute replacement. We were pretty nervous, but she was absolutely incredible. We have zero regrets about choosing the Storytellers and would highly recommend them to anyone in a heartbeat.
Are you interested?
Send a message