34 Reviews
Recommended by 97% of couples
Quality of service

4.8 out of 5 rating

Average response time

4.9 out of 5 rating

Professionalism

4.8 out of 5 rating

Value

4.8 out of 5 rating

Flexibility

4.8 out of 5 rating
2 User photos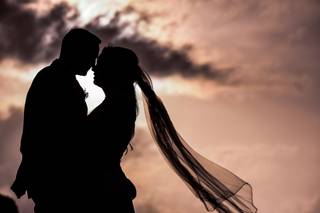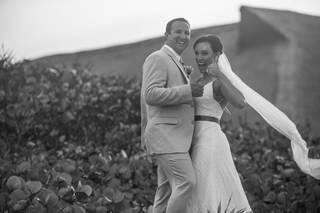 Maranda H.

Married on 09/01/2022

Very happy and impressed!

We could not be more grateful to have had Cydney help us through the craziness of wedding planning. She was fun, relaxed, professional, and really helped us achieve our vision. She made everything feel very personal and significant, which we loved.
If you're looking for a planner that will take the reins and make your dream real, look no further.
Everything about our special day exceeded all expectations. The whole event was handled beautifully, and we were free of worry or stress. What more could you ask for on such a special and exciting day?

Dara

Married on 07/20/2019

Awesome experience!

Cydney made it easy to choose her services from our first meeting. She was clearly knowledgeable and was willing to change her and her staff's hours to work within my budget. I signed the contract 14 months before our wedding date, and Cydney maintained contact throughout the entire planning period- being both reassuring and giving sound advice as needed.
On the day of our wedding, Cydney and her team set up all my decor beautifully. They sprung into action after it began to rain and moved my ceremony under the tent following my plan B layout perfectly. She was, once again very reassuring and seemed to have a great understanding of my personality and the control and input I liked to have.
During the reception Cydney and her team were just amazing. They were helpful to not only other vendors and our guests, but to my groom and I as well. It was so awesome to be asked if we needed something so often!
Finally, even after the wedding Cydney has sent me photos of our wedding and has even been helpful with issues I am having with other vendors. It is clear she truly cares about her clients. Thank you Stiletto Events!

It was absolutely wonderful working with the Stiletto team! Everything looked beautiful and we couldn't have done it without all the help and guidance before as well as after our wedding day! I'd highly recommend their services!

Are you interested?

Send a message

Erinn

Married on 05/31/2017

Cydney was very insightful on helping me through the process of planning a wedding and deciding what the perfect wedding would be. She was very knowledgeable and responsive and she also had a ton of tricks to help save money. She was awesome and I would highly recommend her!

Alan

Married on 10/22/2016

Incredibly helpful not just in the preliminary planning but especially during the day of the wedding. While admittedly we groaned a little bit about feeling like we had "homework" to get all of our stuff to Stiletto one month prior to our wedding, in hindsight we completely get why that's necessary, and ultimately front-loaded the stress away from the actual day. On the wedding day itself, everyone did what needed to be done and didn't feel like we had to give them instructions, it was basically them telling us "don't worry about it...we got it!" We went with the "Basic Booty" package, and this was by far less expensive than other competetors we looked at online. Cydney and all the team were great to work with...totally happy and totally recommend!

Wyatt

Married on 08/05/2016

Cydney and her team were fantastic to work with! I would recommend Stilleto Events to any couple looking for a wedding planning team.

Kate

Married on 09/25/2015

Cydney and her team are amazing! We seriously can't thank them enough!! She provided great advice on all aspects of our wedding in order to save us money and to suit our needs! She was always available when we would call, email or text her with questions. My mom was a little concerned about certain things for the day of the wedding (guests getting out of hand, not getting our damage deposit back, etc), but Cydney made sure everything went smoothly! I highly recommend her and her team to plan your wedding, you won't regret it!

Chelsey

Married on 08/02/2014

Oh my goodness! We still cannot believe how absolutely perfect our wedding day was and still get compliments from our guests about the details, beauty, and smoothness of the whole day. We can't thank Cydney enough for everything she did to help make our day so magical. From our very first meeting I felt a huge relief and immediately became confident that my vision for my wedding would come true, if not better than imagined. Every time I had a question, concern, or moment of panic Cydney was always so quick to respond and very reassuring! My husband and I both agree that the best money we spent on our entire wedding was to have Cydney and her team included throughout the whole planning process and especially our wedding day. We never had any doubts that everything wouldn't be handled perfectly. I felt like Cydney was personally by my husband's and my side every step of the day. Some of the best conversations I remember from my wedding day were with her, as she was always so calm, reassuring, and sweet! Cydney paid particular attention to the little details that she knew were important to us and went above and beyond to make the day just as we had envisioned it. I can't say enough good things about Cydney and her team at Stiletto Events - they truly were phenomenal!


Mary

Married on 07/20/2014

Cydney and her staff were absolutely fabulous. The wedding couldn't have been any better and they handled everything so professionally. I would not hesitate to recommend them.

Lisa

Married on 07/06/2014

I would have been lost without Cydney & her amazing team! It was more like having a friend help us plan our wedding. Bonus, she has a flower company as well & helped design exactly what we wanted! Other bonus, she knows a calligrapher who beautifully addressed our invitations. I could go on, but I'll end with this...Stiletto will go to lengths to ensure your special day is everything you imagined & more!

Lisa

Married on 07/06/2014

I could not have done this without them! Cydney was my hero and always swooped in when I needed her! Great job & would highly recommend her & her team!

Aubrey

Married on 08/17/2013

I knew that I found the right wedding planner for me when I received a return email from Cydney at Stiletto Events within 5 minutes of my original inquiry. My husband and I had only one date that would work for a wedding this year, and of course if fell on a Saturday in peak wedding season. As much research and "envisioning" as I had done, I still was panicked about finding the right venue and vendors for my dream wedding. This is where Cydney stepped in. I met her for the first time to do a consultation and hired her on the spot. Within 10 minutes, we were on the phone calling over 40 venues to check availability. We also immediately booked an incredible team of vendors (Cydney-approved vendors, of course!) Before I knew it, my wedding was fully planned, right down to the tiny details (beautiful paper flowers hand-made by her team, personalized thank-you notes for each place setting, adorable programs for guests). Cydney has a no-nonsense attitude that works perfectly for getting done what needs to be done. Her brides, grooms, and families are ALWAYS put first, even if it means sacrificing her dinner time to make phone calls or answer my constant text messages. She is original, creative, and incredibly artistic. Her ability to envision exactly what her brides want is uncanny...most of the time, she knew what I wanted before I even told her! One of my many favorite things about Stiletto Events is that I could be as involved or uninvolved in the entire planning process as I wanted. Once I started graduate school a few months before the wedding, Cydney was fully entrusted to complete whatever tasks were needed. My wedding day went off PERFECTLY, and the most priceless aspect was that my family, husband, and I did not have to worry about one single thing...Cydney and her team are a seamless, well-oiled machine that produce beautiful events within your budget. I trusted her with the biggest day of my life, and I would do it all over again if I had the chance!

Laura

Married on 06/29/2013

I hired Cydney for our wedding which took place on July 6th. I had the arduous task of planning my wedding in Denver (where I grew up) from Chicago (where we live now). From the day I hired Cydney, she was so much help; whether it be visiting venues, calling vendors, pricing out options, everything! She was very responsive whenever I had any questions and was also able to get me some great discounts through her contacts. She and her team did an absolutely amazing job on the actual wedding day as well. They got to the reception venue the night before to take care of all the set up, which also included tying ribbons around every single napkin. They were completely on top of everything so that I didn't have to stress about anything! I would definitely recommend Cydney to any other bride who needs a little assistance! It was one of the best decisions I made!

Alicia

Married on 06/28/2013

OMG Cydney was a life saver during our wedding!! We had a couple of hiccups that Cydney took care of and she took great care to not stress me out about them! She ways always on top of things throughout the WHOLE day/night and I really don't know how we would have done it without her. Her and her team were fantastic and always one step ahead.

Stiletto Events was an absolute life saver! Cydney and her whole team is extremely organized, professional, responsive, and just on it! We needed a day of coordinator because we realized a month before the wedding how many loose ends there still was to figure out. Besides getting to marry my husband, booking Stiletto Events was hands down the best investment when it came to booking a wedding vendor!

Lauren

Married on 06/08/2013

Cydney and her staff at Stiletto Events went above and beyond our expectations. We would have been a compelete disastor the day of the wedding without their help. Any little problem that popped up was handled quickly and promplety. Our venue didn't order our wine and Cydney noticed right away and took care of it. Without her we would have not noticed until the reception started. I've already given Cydney's information out to a couple of different friends who are about to get married and I will continue to do so.

The Stiletto team was great! They really made our day come together!!!

Kayla

Married on 05/11/2013

Cydney and her team were fantastic. As all weddings do, we had our unexpected mishaps and the Stiletto team was so professional and helpful. We actually got into a car accident on our way to our rehearsal and she was the first person we called, she handled all of our family members and pastor at the chapel and made sure that we were informed on all the details we missed. The reception ran so smoothly and as a bride, I never felt stressed, rushed, or frazzled. Stiletto events was the best investment we made into our day, we got to enjoy all of the perfect moments stress free, and they took care of the not so perfect ones ;)

Love her and would highly recommend her! She is wonderful and made our wedding day perfect!

Christy

Married on 09/01/2012

I am so thankful we had Cydney there when planning our wedding!
She is extremely professional, organized, and creative. She took care of everything we needed and did so with smiles and grace. Everyone involved was extremely shocked that I didn't have any really crazy bridezilla moments and I have Cydney to thank for that!
My favorite thing about Cydney is her attention to detail. She made everything beautiful. Our wedding was completely amazing!. I have many friends who have gotten married and say that they don't remember their wedding day or that it went by so fast that they didn't have a chance to enjoy it. I'm happy to say that it wasn't the case with our wedding. We had fun and enjoyed every moment! I really don't think that would have been possible without Cydney!
I would definitely recommend her to anyone looking to have the most memorable and pleasant experience on one of the most important days of their lives!


Michelle

Married on 09/01/2012

Cydney was AWeSOME!! We couldn't have done it without her. She had so many wonderful ideas and was able to pull them off flawlessly. (or it seemed that way to us...she dealt with all the hard stuff...we just got to do the fun stuff :-)

Lauren

Married on 07/30/2012

Awesome wedding planning!! I would recommend Cydney Johnson and her team to anyone! - Lauren McGann

Aaron

Married on 06/17/2012

Coming from a Grooms perspective Cydney went over an above to make sure my bride was calm and taken care of the day of. She helped her with projects and did a lot of the extra details. She really went the extra mile to make sure me and my wife could have a wonderful stress free day. Thank you Cydney.

Julie

Married on 06/17/2012

There are not enough words to describe the amazing work Cydney did for my wedding, from the centerpieces to the detailed napkins she nailed it all. She made the day run smoothly and if anything went wrong I didn't know about it! I never imagined my wedding day to be what it was and thanks to Cydney it was. She is hard working, detail orientated and will always go the extra mile to make sure your day is special.

Blanca

Married on 03/03/2012

Cydney with Stiletto Events was a great help to me during my wedding planning. As a wedding planner she was able to give me the perfect advice on everything from planning my ceremony to the reception. She has great attention to detail and gave me such great advice that in the end my wedding day couldn't of have been any more perfect!
Are you interested?
Send a message