29 Reviews
Recommended by 100% of couples
Quality of service

5 out of 5 rating

Average response time

5 out of 5 rating

Professionalism

5 out of 5 rating

Value

5 out of 5 rating

Flexibility

5 out of 5 rating
10 User photos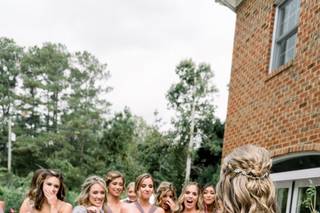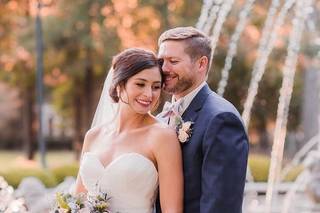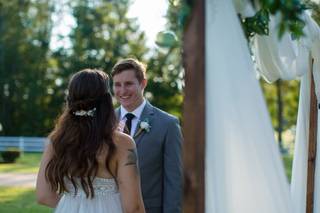 + 6

photos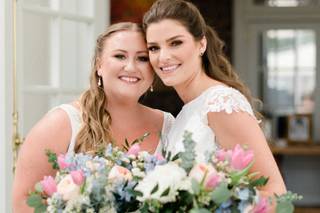 Mary E.

Married on 06/18/2022

10/10 would recommend Stephanie

My wedding hair was the piece I was most nervous about, but Stephanie eased all my fears a worries and gave me the wedding look of my dreams! Not to mention her fun personality made a stressful time more enjoyable.

Jillian H.

Married on 05/09/2020

Stephanie is the best!!

I hired Stephanie for my wedding hair by way of recommendation from my makeup artist. She was phenomenal to work with, and did a great job guiding me in what hair style would be best for me both for the Welcome Party and Day Of. She helped me with recommendations for clip-in extensions and had me looking PHENOMENAL both events. We also did an up-do during a trial, which was GORGEOUS, but we ended up keeping my hair down. Somehow, my fine hair held beautiful curls all night and I received endless compliments on my look. Stephanie is extremely easy going, funny, and sweet! She made it a joy to work with her.

Dana

Married on 10/12/2019

Talented, artistic and beyond friendly!!

I cannot say enough about how amazing Stephanie is! It started almost 1.5 years ago when I saw Stephanie's work through my makeup artist's instagram feed and I loved what I saw. Over the next year I felt like I became Stephanie's friend as I continued to watch her gorgeous updos and personal stories. When it came time for my bridal trial, I first did a consultation because I have had nightmares about my hair falling out on my wedding day..and she put me instantly at ease! After showing her some inspo pics, she took the time out of her busy week to practice on her mannaquin and showed me the progress! By the time I had my trial, my hair was the perfect blend of everything I had asked for..I was blown away. On the day of my wedding, my hair stayed in place PERFECTLY. Not a single piece was out of place after almost 12 hours of dancing, jumping, kissing and hugging. Stephanie is not only a master at her craft but super sweet, friendly and relatable. I'll be using her for any other updo needs in my future for sure!!

Are you interested?

Send a message

Morgan L.

Married on 10/05/2019

Amazing!

Stephanie is AMAZING. I used her for my wedding last week and I cannot say enough great things about her. You show her a picture and she can create it. I had 11 bridesmaids who all wanted different styles and Stephanie made it happen. Stephanie is extremely professional, attentive to what you want, easy to talk to and so sweet! I have had multiple future brides message me asking for who did my hair. My hair was still looking amazing after the wedding! I highly recommend her for any event where you want to get your hair styled!

Emily H.

Married on 09/21/2019

Perfect Bridal and Bridal Party Hair Experience!

Stephanie is not only an amazing hair stylist, she is a super fun person to be around! I felt super comfortable with her during my trial, and she was able to make my bridal hair style dreams come to life. She not only styled me (with a style that lasted through my insanely long and heavy veil AND dancing all over the place at the reception!), but she and her team styled my eight bridesmaids, my mother, and my 5 year old niece! I would highly highly recommend Stephanie Michelle for any important event!

Erin M.

Married on 09/14/2019

Beautiful Job!

Stephanie was awesome. I really liked working with her. She helped me work through the hair style that was best for my wedding and suggested different options that would make me feel the most comfortable. Her booking process was easy, smooth, and she was incredibly responsive to my emails throughout the months leading up to my wedding. On the day of the wedding, despite craziness in the bridal suite (including my little dog running around), she was calm, kind, and just provided amazing positive energy. I'd highly recommend her to any bride.

Kayla R.

Married on 09/07/2019

Amazing Bridal and Bridesmaid Hair

I love communicating with Stephanie all throughout the wedding planning process. She did an incredible job on my and all of my bridesmaid's hair, and dealt with me during my multiple trials to help me figure out what I wanted. She contributed an amazing part of our wedding day, and I look at Stephanie as a friend now.

Jessie S.

Married on 06/15/2019

Stephanie is great

Stephanie did my hair for my wedding as well as my mom, sister, and best friend. She did an awesome job and her work turned out beautifully. She is super knowledgable with different hair types and a great person!

Christa

Married on 04/20/2019

Superb bridal stylist

I found Stephanie via Instagram. I'm very detail oriented and so I wanted to be sure that the stylist I chose also shared that trait. She listened to what I wanted and definitely delivered. She arrived early to set up and was in the best mood. I recommend her to any bride.

Rhena

Married on 10/27/2018

Amazing hair, great experience, great personality made for a relaxing wedding experience

I can't say enough good things about Stephanie. She came recommended by another wedding vendor of mine and I'm so happy she did. I was so comfortable during my first bridal hair trial and immediately connected with Stephanie. I showed her a few pictures of what I was thinking and she replicated it perfectly.

I had some second thoughts about doing an up-do so I even went back for a second bridal trial which she welcomed so patiently, and again- perfected images I showed her. You always want to book someone for their skill and style, but also it's important to book people that have great personalities and ones you want to be surrounded with on your big day.

Stephanie had such high energy, she's so funny and really made our wedding morning stress-free. All of my bridesmaids, my mother, mother in law and even the flower girls were very happy with their experience with Stephanie and her team. Thank you for making me feel so beautiful!

Taylor

Married on 10/13/2018

Wonderful experience

Stephanie was absolutely amazing to work with throughout the entire wedding planning process! I don't do much with my hair on a daily basis, but knew I wanted it to be up and off my face for my wedding day and Stephanie was able to make my vision a reality! She was so friendly and fun to work with and not only did my bridal hair turn out fantastic, but my entire wedding party loved their hair as well! If you're looking for a fun and exceptionally great experience for your wedding day, or any other special occasion, I would totally recommend booking Stephanie!

Carolyn

Married on 09/22/2018

I have hated every updo I've ever had in my life. This is was Stephanie was working with.

And she CRUSHED! I loved my hair and didn't have to worry about it all night at our outdoor wedding. She also did half of my huge bridal party and everyone loved her work.

She's fun and a great conversation while she's working.

She also helped me pick out extensions that were the PERFECT shade to match my hair. I was able to drop them off at her house the week of the wedding for her to prepare for the big day.

She's flexible and affordable. I would absolutely recommend for an event or a big group.

Marianna

Married on 09/01/2018

Stephanie is amazing :) she took all of the ideas my mom, bridesmaid and I had for my bridal hair and made it something beautiful. She is responsive, friendly, professional and fun. She did hair for myself and four bridesmaids and by the end of the night everything was still in place despite rain and a lot of dancing! THANK YOU Stephanie for helping make my bridal look perfect!

Christy

Married on 08/03/2018

Stephanie was Amazing!!!

From the trial to the wedding day Stephanie was easy to communicate with and made me feel very confident in her abilities to make me look amazing on the most important day of my life. She had my best interests at heart and did an amazing job. She is incredibly talented. All of my bridesmaids has different types of hair and she made everyone look amazing. I showed her a picture and she recreated it easily. My hair stayed in place all day and night. I received many compliments on my hair. Stephanie was amazing on my wedding day. She was very calm and positive. She brought a great energy to my day. She made me feel special was great to work with! Highly recommend her!!!


Jaime

Married on 06/16/2018

Creative and delivers beautiful results, DEFINITELY recommend!

First snd foremost, my wedding was at 11am and over an hour drive for Stephanie and team, which meant a very early start for all! They were promptly at our door at 5am, even waking some of the sleepy bridesmaids up! The team managed to get through all those scheduled and even agreed, without hesitation, to squeeze in a few little flower girls who changed their minds last minute. I hadn't chosen a specific do for my bridesmaids, which meant they had free range to ask for whatever they desired. Stephanie and team were able to fulfill each womans wish and deliver exactly what they were hoping for. Our hairstyles held up through the heat of a June wedding, the many hours of dancing and even late into the evening fun! I could not have been more pleased with Stephanie and her team and highly recommend booking them if you want to look your best on your big day!

Lauren

Married on 04/06/2018

Stephanie was a joy to work with beginning with my bridal hair trial. She was accommodating and such a joy to chat with as we figured out the perfect hair style for me. After a great trial, I decided to tweak it a bit before the big day & she was able to execute what was in my mind perfectly. The day of my wedding, she arrived on time with a team of other joyous girls to get the job done with me and my bridesmaids. Thanks to Stephanie & team, all of our hair weathered the rain & looked stunning all evening long!

Nicole

Married on 03/24/2018

Stephanie was great! I have very thick hair and was worried it would be difficult to style in the way I wanted but Stephanie did such a great job, my hair lasted all night long. She also did my bridesmaids hair and they loved it. I highly recommend her!

Brittany

Married on 08/05/2017

Stephanie was an absolute pleasure to work with. Her and her team not only made us beautiful, but they made us have a memorable day. Will be recommending Stephane to everyone I know!!!

Andee

Married on 07/22/2017

I searched for my wedding hair stylist and was completely impressed with Stephanie's work. We did a trial and she allowed me to see different styles so that I would choose the best one. I knew then that I had my girl! When she arrived for my wedding day, I never imagined how impressed I was with her and her team's work. The bonus was how personable and fun her team was on my special day. I felt no anxiety or rush to get everyone's hair finished. They had it under control. They seemed to be perfectionists. 6 of my bridesmaids got their hair done and were all happy. They knew how to do exactly what we wanted. I could go on and on... but to keep it short, I can't thank them enough!

Brittani

Married on 07/16/2017

I absolutely loved having Stephanie and her girls apart of our dream team of vendors. I went to Stephanie for my trail with just two pictures and honestly didn't care what my hair looked like as long as it was off my neck and beautiful. She created a masterpiece not only for myself but 6 bridesmaids, my grandmother, and my daughter. I would highly recommend her to anyone..

Lisa

Married on 06/24/2017

Stephanie was warm and wonderful from start to finish. We hired her for my wedding and my mother and I went to her with a vague idea of what we wanted. She patiently walked us through the creation process to arrive at an updo that complimented my facial features, my dress, and ended up looking great in photos from all angles. On the day of the wedding, she made sure not a hair was out of place. My mother and I both had Stephanie work her magic and our dos looked the same at the end of the day as they did when they were first done. Stephanie was professional, kind, and incredibly easy; I would definitely reach out to her again!

Melinda

Married on 05/25/2017

I met Stephanie on the day of my wedding, she was recommended to me from my makeup stylist, Dhalia Edwards. From the time of initial inquiry to my wedding day, Stephanie was very responsive, friendly and flexible for all of my needs. My list of people needing hair for my wedding was constantly changing – everyone knows how often women can change their minds and I had 11 women involved! She was always easy going and never added any stress for me. She was especially great on my wedding day. We had to add in an additional bridesmaid at the last minute and Stephanie (and her helper!) were fantastic! Everyone's hair was PERFECT, it was the exact chic and beautiful look I was imagining for my wedding day! I did not have a trial done before my wedding day (which I highly recommend now!) and Stephanie was so easy going! I didn't love my first look and Stephanie never got frustrated with me, she kept me calm and assured that my hair would be perfect for my wedding day and it was! Thanks so much Stephanie!!

Nicole

Married on 09/17/2016

Without a doubt we would recommend Stephanie! From the very beginning she was very responsive via email. The day of the wedding she was there and ready to start before the bridesmaids rolled in. She was super friendly, our bridesmaids loved her, and she even provided the music for the suite! Without any problems she was able to do the hair for both my wife and I. And when time was becoming an issue she took control of the situation (this was when my wife was getting her hair done) was professional, fast, and helped my wife feel at ease. We were in great hands!

Diana

Married on 09/04/2016

Upon meeting Stephanie for a consultation, we started to hone in on the look for my wedding. I emailed photos and Stephanie developed a Pinterest board based on our discussion and the hair trial really helped refine the plan for my updo. Stephanie came to me the day of which enabled me to spend time with my bridal party and family rather than running around to different vendors. Stephanie's professionalism and perfectionism instilled a great deal of confidence in me and my hair turned out even better than I could have imagined for my wedding day! I would love to work with Stephanie again in the future!

Emma

Married on 07/24/2016

Stephanie was amazing!! She came to my house bright and early to start styling my hair and met me at the venue to finish it. I even dicided to make a last minute change to my hair right before the wedding started and she was not mad at all and made the change no big deal. I would definitely recommend that anyone hire her for their wedding day. She was really easy to schedule with and made everything very simple. If I could give her more than 5 stars I would !! She also recommended an amazing makeup artist named Dhalia Edwards who was equally as professional and easy to schedule with. All in all Stephanie made the day a piece of cake.
Are you interested?
Send a message