20 Reviews
Recommended by 95% of couples
Quality of service

4.7 out of 5 rating

Average response time

4.8 out of 5 rating

Professionalism

4.7 out of 5 rating

Value

4.8 out of 5 rating

Flexibility

4.8 out of 5 rating
Awards
2 User photos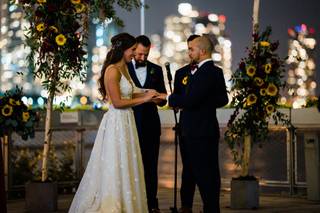 Monica

Married on 07/21/2017

i have no words to thank sandy and her team for everything that they did for us i will give her 100 starts if i could. she goes above and beyond she has a passion for what she does! my wedding on july 22 2017 was perfect because of her, having a wedding coordinador like sandy is a dream come true and every bride deserves to have that! for those people who are planning a wedding or anything else , a wedding coordinador is a MUST( but sandy :))!! honestly a wedding coordinador was the last thing we budget for but i am soo happy we made the decision to do so and we found sandy and for me that was the most worth expense we did for our wedding, we honestly paid nothing compare to everything that she did for us! plus she is bilingual that for us that was a blessing.. Sandy you are amazing and not only you do an amazing job but you personality and your generosity is what make you soo perfect!

Alexa

Married on 02/25/2017

Best. Planner. Ever.

I would give Sandy 10 starts out of 5. That's how amazing she was. Let me dive into everything she did for us!

First of all, we live in Oakland, California and our wedding was in Chicago (home for us). We knew we wanted to have our wedding where we met and where our families are for convenience for them, but it was a real inconvenience for us. Our wedding, for us, basically became a destination wedding, and we couldn't have done any of it without Sandy. It was a logistical nightmare, but having someone in Chicago to handle aspects of the planning for us was amazing.

From our first consultation with Sandy, we knew she was definitely the right fit. Sandy listened to us, our vision, and our budget. We did not want a cookie cutter wedding by any means. From the ceremony, venue, coloring and timeline, we wanted things different. We wanted things "us". Our wedding was 100% ours and us.

She was detail oriented. When we would go through invites, ceremony handouts, menus, signage, our wedding website, etc. Sandy would notice every little detail. I only noticed a few typos here and there that MAYBE occurred, but she was in the details about changing things to be aesthetically pleasing, to fit better, be more centered, etc. She was way more in the details of my wedding than I was! She's incredibly detail oriented and wants everything to have an organic and nice flow to it.

Something I love about Sandy is her honesty. She would not just blindly agree with me to make me happy. She definitely put in her opinion and always had a reason why that she was suggesting something different (and it wasn't suggestions to make it hers, just things that made sense from a wedding professional!). She would alert me if something would look off, or if what I had in mind didn't work or would work, but needed tweaking to make it happen.

She also had amazing suggestions for our vendors. With those vendors, because of the relationship she has built with them over time, we would actually get discounts from them (she basically paid for herself with this feature!). On the same token as vendors- she organized EVERYTHING WITH THEM. From walkthroughs of the venue the week of, to communicating with them, sending them the timeline, letting them know what we wanted and our vision, EVERYTHING. After our vendors were hired (we hired many before we realized we needed her) she would have us intro her via email, and then communicate with them separately if she did not need anything else from us, which was so nice. Some nitty gritty details you just do not need to be a part of, and she recognized when it was appropriate to cut us out.

The day itself went off without a hitch. If there was an issue day of, we did not know about it at all. She handled everything and was on point the entire time. Timeline, vendors, our families, everyone knew who Sandy was and where to ask questions, which is great because the bride and groom are a bit overwhelmed that day!

I highly highly recommend Sandy. She is worth the stress she cuts out during the planning process and day of wedding. A lot goes into a wedding and she is an absolute professional about everything. She is an amazing communicator (via whatever method you prefer, we would chat on instagram, text, email, phone, FaceTime... the works!). She made everything so easy and our wedding was a dream. Thank you does not come close to enough for what she did for us. Do not look anywhere else for your Chicago Wedding Planner than here with Splendid Weddings. XOXO, we love you, Sandy!

Keren

Event on: 11/29/2015


I do not know how to express my sincere gratitude to you Sandy. You did of our baby shower a very special and unforgettable event, and not only for us but for all of my guest too. Since we had our first conversation about it, you were very interested on my thoughts and requirements. Actually, I just needed to give you an idea of what I wanted and you immediately started working on it. Every detail such as the flower arrangements created by you were a perfect match with the other little details. We put our special event in your hands and you made this an unforgettable experience.


Are you interested?

Send a message

Divya

Event on: 11/21/2015

Sandy was very professional and highly responsive to emails, phone calls and texts. She is very detail oriented person, who was very keen on the ensuring the theme, color combinations and decorative arrangements are flawless. She ensured that she listens and understands my requirements and being professional she gave her inputs. She went out of her way to make right recommendations on various vendors. She coordinated during the event in games and all as well ensuring all activities go as planned. She also removed all the decorations and properly handed over my belongings back to me. She was very detail oriented and creative. She decorated the main table, photo booth with perfect artifacts. Not only that she coordinated with venue vendors and ensure the table, chair, plate settings were perfect. I was working with her from a different location but she ensured there was no communication gap. She laid out everything on an excel sheet and very patiently went over item by item with me multiple times so that the D day is nothing but perfect. It was a snow storm the day we had the event but this did not budge her from coming to the venue on time and ensuring everything was in place much before the guests came in!!! She arranged everything just perfectly. Everything looked so beautiful. I was coming all the way from NY to Chicago and being a host was very stressed out as to how the event would go. I enjoyed the party like a guest. I feel very fortunate to have her handle the event. It was my son's first birthday and a super special for me and she ensured it is nothing but the best memory! She even took pictures of the event to preserve the memory. She was very attentive with me guests and even the photographer. She also ensured photographer was capturing all the details. She was consulting me before taking every decision. I am going to reach out to her and have my friends use her services as well. All of them have already reached out to me for her contact details.

Andrea

Married on 07/20/2014

I had the pleasure of working with Sandy on my recent wedding. I am a planner myself so it was hard for me to let go and put my vision and hard work into the hands of someone else. It was the right choice as Sandy was the perfect day-of coordinator. She was very thorough and made sure that all of my little details were perfectly setup. Her timeline and attention to myself and family was perfect and allowed me to really relax on the day of and enjoy the party and my guests, rather than worrying about the logistics and behind the scenes. What I love most about Sandy is her passion for what she does. I could tell how much she cared that my big day went off without a hitch and that is what is most important of all. Having someone there by your side and to help you with anything means a lot, and that was Sandy. I recommend any bride talk to her and see if it's a good fit, which I'm sure it will be!

Tiffany

Married on 04/06/2014

Sandra and Adriana were phenomenal to work with!!! They were professional, courteous and fully understood what they were doing. If you are looking for an excellent company to plan your wedding or help coordinate...hands down, this company is it!

Liz

Married on 01/04/2014

Splendid Weddings and Events was a god-send to our family. Planning a wedding for the first time can be an overwhelming process, but from the moment we hired Sandra and her team, we could feel them take the weight off. I was blown away by Sandra's ability to truly listen to the details of the bride's vision and patiently offer suggestions as to how to make them happen within the budget. Sandra and her team invested not only their time, but their whole selves into our special day, and were really looking out for our best interests. I cannot imagine what our day would have been like without Splendid Weddings and will always be grateful. Sandra and her team's overall desire to make your wedding everything YOU ever dreamed of shows in every step of the journey with warmth and professionalism. Sandy is the best!

Jackie

Married on 01/04/2014

Sandra was incredibly charming, patient, detailed, thorough, and a pleasure to interact with. During an important event where energy and emotions were running high, she was a soothing presence. I can not thank her enough for being such a wonderful person and for being a part of our wedding.

Anyone considering hiring Splendid Weddings coordinator/planner should definitely go for it. This was one of the best decisions I made during the whole process. Sandra is an expert you can trust with your wedding, and there will be too many things and not enough time to waste it with trial and error.

Sandra carried out the day of coordinating activities for our Jan 4th wedding, but she did so much more even prior to that day. She sat with my family and I well in advance to get a picture of what our dream wedding would be and she was amazing at making helpful and appropriate suggestions about anything we might have questions about: dresses, decor, vendors, logistics, budget. She really listened to what we had to say and worked within our constraints of money and time, always offering creative and flexible solutions to any issue that began to appear on the horizon.

Sandra went above and beyond in making everyone feel cared for and never lost her professional poise, even when inconveniences came up. Having her apply her wisdom and experience was absolutely indispensable. The day of the rehearsal and wedding, there were a million and one things that were thrown at Sandra and her staff, yet I never even saw as much as a blip on my radar. Sandra kept everyone informed of what would be done and when, she made sure the bridal party, family, and vendors were where they needed to be, and magically appeared whenever something was needed- like cleaning stains out of my dress. On that wedding day, there is so much to do and no one in your family should have to bear that and miss out on the experience of being with you.

Renata

Married on 09/21/2013

Sandra did an excellent job as our "day of" wedding coordinator (120 people). We appreciated her professionalism and supportive approach. Her bilingual and multicultural skills were a big plus as one half of our family only speaks Spanish while the other half only speaks English. Where I come from, weddings are quite different and relaxed, so she also helped me understand the U.S. way of celebrating weddings while making sure I could enjoy it from my perspective. We met a few weeks before the wedding to transfer all our vendors to her; she prepared our timeline and finalized a myriad of details. I felt confident we had a trooper by our side ready to tackle any situation. Sandra made everybody at the ceremony and reception feel comfortable and made sure all details went smoothly. We enjoyed the wedding and I did not have to worry about any details (I did not talk to vendors at all during the reception except to thank them at the end!). Now that I am planning our second wedding back in my home country, I wish she could fly there with us! We strongly recommend Sandra to help you plan your wedding.

Jess

Married on 09/06/2013

Any bride stresses about their big day and all the planning that goes into it. Sandra was absolutely amazing! I couldn't say that enough. She was there from beginning to end making sure everything went smoothly. Not one thing went wrong on one of the biggest days of my life and its all in large part to Sandra. My day was absolutely amazing and her professionalism and attention to detail was astonishing! I could not thank her enough for everything that she has done! My wedding was a success and my family and friends can't stop talking about how wonderful everything was :)
Jess and Matt Kossak

Allie

Married on 07/20/2013

Sandra was the planner for a wedding at my venue, The Arboretum Club, a couple months ago and she was phenomenal! I started working with her about 6 months before the wedding and she was truly amazing to work with the whole time. She was extremely organized and timely with everything. She and I kept in touch almost every week, which I found incredible because that means that she is constantly thinking about each of her weddings. I could really tell that she is passionate about her job and that she cares about each of her brides. Her creative eye is just AMAZING. The ideas she had for décor made our room look breathtaking (and that is an understatement). The way she paired the colors and matched the centerpieces just brought everything together beautifully. She also made this fabulous candy table for the wedding that she worked on for weeks. She was so well organized the whole time I worked with her and completely dedicated to the wedding. The day of the wedding she kept in close contact with me and our banquet manager to make sure things were running as planned. She was in the room the entire evening and never disappeared for a period of time. She truly put all of her energy in to making this wedding a huge success. It is not often that I get to work with a wedding planner like Sandra. She is very detail-oriented, organized, and just good at what she does. Not to mention, she is one of the sweetest people I have worked with in a long time. I hope I get to work with her again soon!


Jowie

Married on 11/17/2012

Sandra and Adriana were simply the best! They are a must if you want a smooth and flawless event. They were friendly and professional, communication with them was very good. We were very pleased with their services on the day of our wedding. It wouldnt have been that successful without them.

Yuri

Event on: 08/15/2012

They are the best planners..I do really recommend them

Lisa

Married on 07/27/2012

We had a small wedding with only 20 of us all togerher. I thoght I could handle everything myself boy was i wrong, I just didn't realize just how helpful it would be to have a day of coordinator! It was GREAT working with Ur even Ur planner, because We had NOTHING to worry about the day of our wedding. It was a great feeling being able to just relax all day and not worry if a vendor showed or if chairs are set up etc. Thank you so very much because our wedding was set up perfectly, without my groom and I having to worry about a thing!

Michelle

Married on 09/24/2011

We hired Sandra and Adriana from Ur Event Ur Planner to be day-of-coordinators for our 9-24-11 wedding. Hiring them was probably the smartest and best decision we made while planning our wedding. Before the wedding, they took the time to meet with us to make sure they really understood our vision for the day. All of that effort on their part really made a difference for both our rehearsal and our wedding day because they knew exactly what we wanted and they ensured it happened accordingly. (Such as an outdoor wedding despite questionable weather which threatened all day long to pour during our ceremony!) Their level of service is exceptional. They are professional, organized, efficient, and yet warm and a joy to work with. I received several compliments from guests, our family members, and wedding party members about how impressed they were with Sandra and Adriana. I recommend Ur Event Ur Planner as a day-of-coordinator to any bride and groom who are not hiring a wedding planner but want to make sure that the day still comes off smoothly and as they have been envisioning. (And for someone looking for a wedding planner--I have no doubt they would be just as fabulous). Through their hard work and effort, we were able to relax and celebrate with each other and our guests. I would hire them again in a heartbeat.

Ruth

Married on 07/03/2011

Adriana and Sandra were absolutely awesome! We cannot say enough about the service they provided, the quality, the professionalism and the help that they were to us. We hired them as our "Day Of" planners only two weeks before our wedding day. In two weeks they were able to gather all the information from us, contact all the vendors and introduce themselves, and create a timeline. At the rehearsal they were incredible! We had 30 in our wedding party and in 90-degree+ heat they were able to organize everyone and make sure everything got done in a timely manner. On the wedding day, they saved our whole day! They kept everyone on track and made all of our plans work perfectly. They are consumate professionals, they are so sweet and personable, and they are flexible and sensitive to individual requests and needs. We heard nothing but rave reviews from all our guests. UR Event UR Planner is the way to go! They are the best!
Ruth and Thomas Mulvihill

Gabriela

Married on 11/21/2009

I would like to recommend Adriana as a candidate for a position as wedding planner.I hired Adriana as a wedding coordinator for my wedding on 11.21.09., and couldn't have been happier! Adriana did an excellent job for my own wedding and she was a huge help in putting together the many details a wedding requires. She has excellent written and verbal communication skills. She is extremely organized .The day of the wedding she took over so I could relax and enjoy it. I would definitely recommend her to any future bride who is looking to share with someone the heavy job of organizing the perfect wedding.

Marissa D.

Married on 06/15/2019

Sandy is truly amazing!

Sandy went out of her way to ensure the entire year of planning was well thought out and executed perfectly. Anytime we needed her, she was available and responsive. She truly puts her heart into the planning process and is extremely detailed oriented. She's extremely professional and a true expert in the industry. Her floral design expertise and guidance was incredible. She made the planning experience so smooth!

Our wedding had about 130 guests in attendance. Splendid Weddings is a very economical option as a day-of coordinator, which included Sandra and an assistant coordinator. Sandra helped us with vendor relations and fine tuning about a month prior to the wedding, as well as being present with her assistant our entire wedding day. Everything went famously and we were able to have a stress free wedding! It we very nice not to worry about the 'devil in the details'. She even had our venue do a surprise sundae out of our gelato bar (since we didn't do cake) - a very appreciated and memorable moment.

I hired Splendid Weddings & Events for my wedding in May and was severely disappointed. I do not feel they delivered on our agreement including not resolving day-of requests, not delivering to the timeline and not ensuring my guests were taken care of. I found the staff to be unhelpful and unprofessional and would definitely not recommend to a personal friend.

A few brief examples are not accommodating wedding day adjustments due to bad weather, skipping key events in the timeline, not ensuring guests had seats during the ceremony and not coordinating the bridal party for introductions.

Are you interested?
Send a message