23 Reviews
Recommended by 100% of couples
Quality of service

5 out of 5 rating

Average response time

5 out of 5 rating

Professionalism

5 out of 5 rating

Value

5 out of 5 rating

Flexibility

5 out of 5 rating
Awards
18 User photos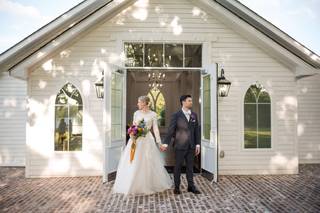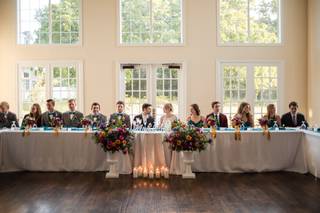 + 14

photos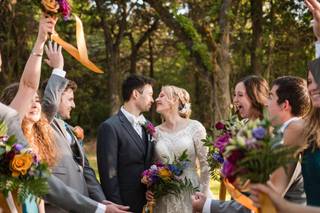 Tyler G.

Married on 11/04/2022

Made our day magical

Veronica and Speedwell Event co. was the best hire we had for our wedding day. Everything was taken care of from set up to end. Decorations, keeping other vendors on a schedule, handling problems when then arise, and so much more. We were extremely satisfied with our day and so were our guests! Her timelines are fantastic, Her communication was the best, and even on the wedding day when we had an error with one of our seating prints, she went out and fixed it all before the wedding. Truly fantastic!

Mary G.

Married on 09/30/2022

Complete lifesaver!!

Veronica was a total life-saver on my wedding day, and hiring her for month-of coordination was one of the best decisions I made! She was reassuring, answered all my questions, and helped pull everything together so that my day could run smoothly. I was able to fully enjoy and experience my wedding day thanks to her! Best money I spent! Hire her!

Laura

Married on 06/25/2022

Best Day of My Life!

My fiance and I planned a (somewhat) traditional Jewish wedding. I am so impressed with Veronica and her team! I started working with her about 8 months before my wedding. She was so helpful every step of the way! I am so grateful for all her hard work.

Are you interested?

Send a message

Leah P.

Married on 06/06/2022

The perfect day-of coordinator!

Veronica and team at Speedwell Events were so helpful in the weeks leading up to and especially on the day of our reception in Dallas. They guided everything in the background throughout the night so we didn't have to worry. Trust that the flow of your wedding day will be seamless with Speedwell.

Alexandra R.

Married on 06/04/2022

Best decision!

My husband and I highly recommend Speedwell Event Co. for any event! The services provided made our wedding run smoothly and the day stress free! Veronica at Speedwell Event Co. was friendly, thorough, and exceeded all of our expectations. I also appreciate the fast and easy communication. Not to mention, our family noticed and raved about her assistance the day day of. Book now!

Nathaniel R.

Married on 05/14/2022

Amazing Wedding Coordinator!

It was such a pleasure working with Veronica! She was incredibly responsive throughout the planning process, provided a very detailed day of calendar, and was more than patient with our numerous last-minute changes! On the day of our wedding, everything went smoothly from start to finish. Veronica didn't miss a beat and we were grateful for her hard work that made it so we could just relax and enjoy every moment! We will definitely use her again for any future events and would highly recommend her to any couple planning their wedding.

Brooke D.

Married on 04/22/2022

Perfect Partial Planning Experience!

Our wedding planner, Veronica Roemer, with Speedwell Events was absolutely fabulous. We booked her for Partial Planning where I had full contact with her from start to finish but she didn't really take over until the month-of. I had already booked my date at our venue, found my florist, and planned a couple other things when I found Veronica so the Partial Planning package she offered was perfect. I was also an out of town bride so any time I needed feet on the ground, Veronica was there and she was so flexible when we were in town the few times leading up to the wedding. I sent her so many questions over email randomly when I needed help lol and she answered every single one within a day. She has great vendor recommendations as well and was great with helping us stay within our budget!

She was a pro when it came to coordinating the actual day. Rehearsal went smoothly, (only a little family drama) but Veronica handled everything flawlessly. The ceremony and reception were perfect and, when plans changed unexpectedly, she was great at adapting. I'm so glad I didn't have to keep up with the timeline at all because she was on top of it. Veronica was a joy to work with and we absolutely could not have done it without her! Would highly recommend her services no matter what stage of the wedding planning process you're in.


+ 3

photos

Jordan T.

Married on 03/26/2022

Speedwell will make your life SO GOOD!

We hired Veronica in summer 2021 for our wedding in March 2022 after an extensive search where we interviewed many, many planners. She stood out right away for her organization, positive can-do attitude, and packages that included multiple events, as we knew we wanted to do a whole weekend. Veronica was our planner for a 125 person welcome party, a 150 person multi site wedding (ceremony, cocktail hour, and reception), and a 125 person send off brunch. Veronica was super helpful right from the start.

She sent us design ideas (we needed a lot of design help) and vendors in small batches for us to speak with and review. We were very selective with our vendors, so Veronica had to handle a lot of back-and-forth and find several batches, but at the end she found us the perfect group.

Once we decided on vendors, Veronica handled all the communication quickly and seamlessly. As we got closer to the wedding, Veronica helped us stay organized and on top of our to-do list. She made herself available anytime we needed. She helped ensure we not only accomplished what we knew we needed to, but also helped us understand all of the nuances that we weren't aware of. No question was too minor and Veronica helped us work through everything with creativity and grace.

The weekend of the event, Veronica cast some sort of magical spell and split herself into three or four because she was everywhere, doing everything. She worked like crazy to ensure that everything went off without a hitch. Veronica was always the first one there and the last to leave, we were amazed by her energy level, her conscientiousness, and her attention to detail.

Multiple vendors went out of their way to comment on what a pleasure it was to work with Veronica and how detail-oriented she was - always a great sign! Of course, minor things always go wrong, and when little things popped up, she was always on hand to squish them like a game of wedding whack-a-mole. For example, my dress had an issue with the bustle and Veronica was willing to literally sit on the ground to figure it out with my mom.

Veronica kept us on schedule and we were able to just enjoy our weekend with friends and family. Even in the days after the event, Veronica was still present and engaged for minor things that needed to be wrapped up.

Veronica did an outstanding job as our wedding planner for all three events, and she was also a delight to work with on a personal level above and beyond her skill and hard work. I can't recommend her enough for any wedding or event planning needs

Kathryn J.

Married on 01/08/2022

Couldn't recommend Speedwell Event Co more!

Speedwell Event Co. did an amazing job with our wedding planning and day of coordination! She was very organized and made my job as the bride easy! So many people told me I seemed so relaxed throughout the year of planning our wedding and I always responded with, "That's because I have a wedding planner!" Veronica made recommendations based on past experience, reached out to the vendors, coordinated the appointments for my (now) husband and I to decide which vendors we'd like to go with, and secured all the contracts. We even had some last minute requests that she was able to jump on and accommodate which was really helpful! I would highly recommend hiring Speedwell Event Co to be your wedding planner!

Dani H.

Married on 12/12/2021

Veronica is the best

If you are on the fence about whether or not you need a wedding planner, let me just help you out...YES you need a wedding planner and you NEED Veronica and Speedwell Event Co. Veronica helped me with my wedding from start to finish. From finding vendors to putting together a perfect and detailed timeline, to making sure all of my personal items made it to and from the venue, Veronica was with me every step of the way. She was the point of contact for each of my vendors, so I never had to worry about making 100 phone calls and keeping a schedule straight with everybody. Throughout my wedding planning process, she was always one phone call or text away. My favorite thing about Veronica is that she finds a way to be firm and assertive without coming off as bossy and rude. If there were any problems on my wedding day, I didn't know it because she handled everything. If I could hire Veronica to plan every detail of my life, I absolutely would! If you're looking for an easy, stress free wedding planning process, hire Veronica and Speedwell Event Co. It is worth every penny!

Wendy W.

Married on 11/27/2021

What an amazing experience!

Veronica filled in as our wedding day coordinator due to our original wedding coordinator being out on leave. But nonetheless, Veronica is/was AMAZING. She jumped right into getting to know everything about our big day. With such short notice, she understood the entire ceremony and reception flow. When she showed up on the day of she was ready and willing to help set up anything we had left to do. She really tried to get me to not do anything and to relax, but me, relax? No way! All together she worked very well with an assistant, and if there were any mishaps she let me know and instantly resolved the issues. We always had a clear line of communication and anytime I needed her she was there! I don't know what I would have done without her to be honest, she was literally THE BEST from start to finish. Keep killin' it Veronica! You're incredibly awesome, and I love your energy!

Speedwell Events's reply:

Thank you Wendy!! You're too sweet and I loved working with you and Cody! I'm lucky I got the opportunity to work on your wedding - it was perfect!!

Heather

Married on 11/06/2021

Above and beyond

The sweetest most professional wedding coordinator you'll ever work with. She made our last three months of wedding planning so easy. She was so responsive and so intentional. She guided my step mom and made our vision a reality with her expertise. She really is a bright light and my dad could not stop raving about her. She always had a smile with cool, calm and collective spirit. She made our day so smooth and just perfect. Cannot say enough!! We are forever grateful for her help and her talent. Thank you for the best wedding day we could ever ask for!!

Leora G.

Married on 10/23/2021

Hire Veronica now!!!!!

We hired Veronica to do month-of coordination and she was one of the best decisions we made for our wedding. As the wedding got closer, I started getting more anxious about small details, how everything was going to happen day-of and what I was missing. Veronica stepped in and took care of everything. She asked all the right questions, made our timeline, and picked all of our items up week of from our house to make sure they got to the venue. When we had 2 bus companies cancel on us, she worked to find a replacement within a few hours. We were able to spend all of our wedding with our friends and family, dancing, and actually got to eat a full meal. We didn't worry about logistics for a single moment. If you are considering hiring a coordinator, or even if you aren't, hire Veronica - you won't regret it for a second!

Jocelyn M.

Married on 08/28/2021

Amazing wedding coordinator for a great price!

Veronica went above and beyond to make sure our wedding went perfectly. I had such peace of mind on the day of the wedding knowing she was there, because she had done so well communicating the timeline and coordination of vendors before the wedding. She made the day of go so smoothly so I had nothing to worry about, and made the month leading up to the wedding virtually stress free. She even took videos of the bouquet and garter toss because we only had our photographer there until the cake cutting. 10/10 would recommend Veronica to anyone!

Stephanie

Married on 08/07/2021

Speedwell Events

Speedwell Events made my daughter's wedding the most perfect night ever! My husband & I did not have to worry about a thing. Veronica is wonderful especially with the details. Everything she did for us was perfection. I would highly recommend Speedwell Events for your next event.

Lori

Married on 06/19/2021

Veronica was AMAZING!

Veronica was the Day of Planner at our daughter's wedding, which took place at The Lodge at Blue Sky in a high alpine meadow outside of Park City, UT. The remote location presented some unique challenges, all of which Veronica handled swiftly, with calm confidence and a big smile. Veronica is a delight to work with…even the vendors commented on how good she was. Her attention to detail, organizational skills, competence, creativity, ability to remain calm and her positive energy meant that everything was absolutely perfect for our daughter's wedding. Thank you Veronica!

Erin H.

Married on 05/10/2021

Highly recommend!

My husband and I got married in October 2020. Veronica was excellent to work with and made our wedding vision come alive! She always responded in a timely manner and put my husband and I at ease. The exceptional organization and attention to detail makes Speedwell Events stand out from the rest!

Kailey W.

Married on 04/03/2021

Better wedding coordinator than I could've ever imagined!

When I first start planning my wedding, my mother and now-husband suggested getting a wedding planner to help me. At first I was so against this idea as a Type A, high maintenance planner-type, however I had no clue how much actually goes into a wedding these days! We hired Veronica and she jumped in armed with knowledge right away. She asked questions I had never considered and was there to help every step. On the big day, I was able to trust her and her assistant - and actually focus on getting married! I am so grateful for her and our wedding would not have been the same without. If a total control freak like me could trust her completely, so can you! I promise you will not regret hiring her for your event.


Carlee H.

Married on 01/11/2021

Best Wedding Coordinator

Veronica and her team are so sweet, down to earth, and just all around amazing. They are professional throughout the whole process and are really there for you for whatever you need. Details that I never would have thought about were done because of how great Veronica and her team are. You cannot go wrong with choosing Speedwell Events to plan any event you have.

Stefanie H.

Married on 01/04/2021

Veronica is awesome!

I am a wedding baker and met Veronica at a wedding. She was so organized and had everything set up and ready to go. I was able to just come in start working. You could tell she loved what she does. There were some issues that came up while setting something up, which required a last minute trip to the hardware store. She handled it so gracefully and patiently. I was really impressed! I have since recommended her to multiple people. She is great!

Christina C.

Married on 08/29/2020

Amazing Experience!

Speedwell Event Co. was a huge rock for me and my husband during our COVID wedding planning process. Veronica is highly organized and filled with loads of creative energy to help fulfill all of your wedding dreams. I highly recommend this company for any wedding and/or event planning assistance. I was able to enjoy my special day without having to worry about all of the little details thanks to Speedwell Event Co.'s amazing support!

Richard

Married on 10/15/2016

Veronica and Speedwell areyour key to a great wedding!

I was pleased to collaborate with Veronica and Speedwell Events for the first time recently, and was very impressed. She's big on communication, firstly. This is essential in our business, especially for someone in a role like mine (event DJ/MC). Key wedding vendors require a LOT of info ahead of time to ensure things go off without a hitch, and Veronica got us everything we needed promptly and with a great attitude. She also proved to be quite adaptable as things evolved the week-of, which she kept us all updated on very well, too.

This particular wedding took place in a great venue with several rooms on two different floors (The Schoolhouse in Dallas). Veronica did a great job of keeping us aware of where key people were throughout the night to help keep things flowing properly. She also allowed for input from us as needed, which is sometimes challenging with other planners who can be too focused on controlling the timeline or appearing to be "in charge".

I found Veronica very prepared, on-task, and easy to work with. Most importantly, the newlyweds were thrilled with her service! If you're searching for a planner for your big day, you CANNOT go wrong with Speedwell Events. I strongly recommend youcontact Veronica and try to get her booked ASAP!

Richard Gabriel Patterson
Owner, DJ and MC
GDG Elevated Events
817-907-6631
www.godjgo.com

Zugey

Married on 02/21/2012

Wizardry godmother for our Hogwarts Wedding!!!

A month before our wedding date, we decided to hire a wedding coordinator to ensure that our day would run smoothly, and to leave the logistics and detail placements to someone else. That way, we could take in every second of our special day. I had NO STRESS and knew Veronica and all my vendors were going to execute! From contracting onward, Veronica was super personable, she was like our wizardry godmother, working in the background to make sure all of our little Hogwarts details were perfectly executed and made certain we were having a good time and ready for all of the nights special moments! She brought such a positive and warm energy to our day, we truly can't thank her enough for such great service!
Are you interested?
Send a message