76 Reviews
Recommended by 100% of couples
Quality of service

5 out of 5 rating

Average response time

5 out of 5 rating

Professionalism

5 out of 5 rating

Value

5 out of 5 rating

Flexibility

5 out of 5 rating
20 User photos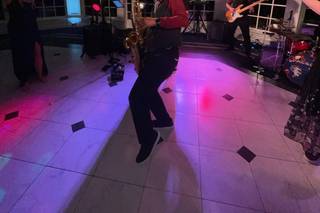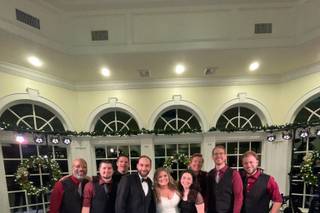 + 16

photos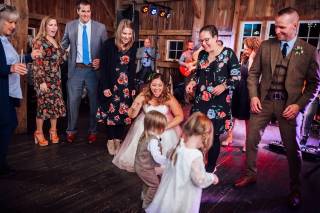 Featured

Emily S.

Married on 12/31/2019

Book them now or someone else will take your date!

I cannot say enough positive things about working with SpaceCat, and Christian specifically. First of all, if you're looking for a band that's going to wow your guests like no other, SpaceCat is that band! My husband and I threw a NYE wedding and all night long our guests kept coming up to us to rave about the band we booked. Secondly, as a project manager myself, I can't tell you how refreshing it was to work with someone as organized and on top of things as Christian, the band lead. If you're considering SpaceCat for a wedding, Christian will think of/confirm details with you that you would've never thought of. This was a HUGE help for my husband and I who were obviously new to the wedding world. All-in-all, SpaceCat is amazing, simple as that. Book them now or someone else will take your date.

SpaceCat's reply:

Wow! Thank you so much Emily for all the kind words! You and Dave were so laid back and cool to work with as well, and on my end it was an absolute pleasure to work with another project manager that stayed organized and had excellent communication throughout the process. I'm so glad we were able to help make your wedding as amazing as you imagined it!! Cheers!

Keith F.

Married on 04/08/2023

Unbelievably fun!

Christian was incredibly easy to work with pre wedding day. But the day of the wedding couldn't went better! Spacecat was the life of the party and people couldn't resist getting on the dance floor. It's been a month since the wedding day and every time I see a guest they make sure to mention how awesome the band was.

SpaceCat's reply:

Thanks for the kind words! Very glad to hear that you enjoyed working with Christian throughout the entire process...and it was our pleasure to be the life of your party!! Congratulations!!! ~SpaceCat

Brittany B.

Married on 12/03/2022

5 Stars - Hands down!

SpaceCat was the perfect choice for our wedding. They kept the dance floor packed all night., mixed in all types of music and were always checking on us (Bride and Groom) to make sure we were having a blast. SpaceCats communication through the planning process was A+, they go above and beyond to help you with your timeline, other vendors and help to ensure your big day is perfect. They made our special day everything we wanted and more. The only regret we have is not having our reception go longer so we could sing and dance with SpaceCat longer!

If your between bands, choose SpaceCat!

SpaceCat's reply:

Thanks for the kind words Brittany! An A+ planning process grade...we're looking like valedictorians here! 😂 You and your crowd were so awesome and energetic, we wish we could've performed all night for you guys too!! Congratulations again from our whole team!! ~SpaceCat

Are you interested?

Send a message

Ashley G.

Married on 10/29/2022

One of the best parts of our wedding

Working with SpaceCat was one of the best decisions that we made when planning our wedding day. These guys are AMAZING, from start to finish they just blew us all away over and over again. I would absolutely recommend them to anyone else out there, they were a cornerstone of making our wedding the magical day we were hoping to create. They were worth the splurge 1000x over. Also, I really appreciate that Christian didn't try to upsell anything, he was so honest about whether or not that extra mic or extra half-hour would probably be worth it/needed. From the planning stage Christian was thoughtful, organized, and it was clear there was so much experience he brought to the table. They gave ample time and offered very helpful planning tools to make the planning process run smoothly, I didn't feel pushed or rushed at the last minute planning at all. I felt very confident going into my wedding that it would flow beautifully. They went above and beyond, learning multiple songs for our special day and managing the audio for a quite complicated ceremony without a single hitch. They were SO FUN and brought so much positive energy and excitement to our day. I can't tell you how many of our guests said that our band was one of the best they had ever experienced and it set the tone for our night. We wanted our wedding to be FUN and let me tell you, our guests danced ALL NIGHT LONG. Their communication and follow through was just impeccable, there really were a lot of details to keep track of and these guys didn't miss a beat. Most of all, we just felt SO celebrated and cherished by the energy and love they brought to help make our day unforgettable. I will never forget the memories they helped create with us. Thank you SpaceCat !!! You guys are the absolute BEST!

SpaceCat's reply:

Thanks for the glowing review Inez! Incredibly glad to hear that we made you and Dan feel so celebrated! What a wonderful way to put it. We could not have had a better time working with you guys and performing for all of your rowdy and super fun guests! The fact that we helped make those lifelong memories with you is totally heartwarming to hear. Congratulations to you!!

Logan W.

Married on 10/01/2022

Exceeded All Expectations

Complete professional experience and beyond. We felt like we were the highest priority for the band and they made sure that every detail was planned and they executed. I could not be happier with this band. I have multiple couples that have asked for their information and I'll continue to speak their praises! Can't wait to watch them play again!

SpaceCat's reply:

Thanks for the kind words Logan! So glad that you appreciated our attention to detail and that the planning and execution of all the moving pieces necessary to make a wedding go off without a hitch! Hopefully we can perform for some of those couples and you guys can have another amazing night out in attendance! Cheers! ~SpaceCat

Maddie E.

Married on 09/09/2022

Stop looking for entertainment and hire SpaceCat

My husband and I were about a day away from signing a dj for our wedding when we stumbled upon an AMAZING band while out to grab a drink. We loved them so much we put an inquiry in online right then and there and, despite our initial plans of going home after one drink, ended up staying through their entire set. Their ability to nail songs from ANY genre/era and the energy they bring is truly unmatched. On top of how talented SpaceCat is, they made the planning process easy and fun and were a pleasure to work with. Our wedding seriously would not have been the insanely amazing party it was without them. If you're wanting a packed dance floor and a party people will never forget, hire this band!!!!

SpaceCat's reply:

Thanks so much for the kind words! So glad to hear that you found our process easy and that we helped with an amazing party!! Looking forward to catching y'all again soon for more fun times out and about! Cheers! ~SpaceCat

Ken H.

Married on 09/03/2022

Top Notch Band!!

Where do we start about our experience with the SpaceCat Band ??? To begin, it was the most professional, enjoyable and best experience of the entire wedding weekend. Remember you can't pick your family and you can't pick your neighbors but you can pick your band. The entire band was top notch and provided a family type atmosphere for us and all our guests.
Sound System--Top notch sound, lights, recorded music everything worked without any hiccups.
Prep--The attention to detail I must admit I thought was overkill but once the day came the realization hit me that SpaceCat has played "wedding before". All of the emails/calls( not really that many) all confirmed a streamlined occasion with no stress for all.
Ceremony—Best part of the evening Christian and the band made everything as seamless and enjoyable more than anyone could have imagined.
We will be utilizing them for all of our next functions and highly recommend them to anyone planning a gathering requiring a totally professional music experience.

SpaceCat's reply:

Thanks for the awesome review Ken! So happy to hear that you enjoyed the band, production, and the overall atmosphere and experience working with us!! It was an honor to be part of the day, and a pleasure to work with all of you in making it all happen!! And yeah - we've done this a time or two before! haha. Hopefully will see you all again soon out and about! ~ SpaceCat

Ken H.

Married on 09/03/2022

Great Experience - Awesome Band!

Wonderful experience working with this band! They are fun, friendly and so accommodating. Christian is awesome and paid great attention to details, names, specifics and special requests. We had a wonderful event thanks to excellent music and the atmosphere the band created. Couldn't be happier with our experience. By the big day we felt like we were friends with all of the members in the band!! Can't say enough about how much fun they are and super to work with. Go check them out and see/listen for yourself!!

SpaceCat's reply:

Thanks so much for the great review! Very glad to hear that you enjoyed the atmosphere that the band helped to create, and that you were at ease throughout our planning process!! Cheers!

Joshua

Married on 08/06/2022

Best band ever, you won't regret it!

We fell in love with this band at a friend's wedding last summer. When we got engaged and started planning our wedding we knew we wanted Spacecats for our special day! We cannot thank you all enough for making our day so incredibly perfect. It was such a fun party and we had so many compliments from all of our guests!
Along with thanking the whole band, we want to thank Christian specifically for his prompt, detailed responses to all of our questions and concerns for months leading up to our wedding. Not only is he a great band leader, but Christan helped us form a timeline to make our day run smoothly. He made us feel so comfortable with the meetings prior to make sure everything ran perfect!
If you are looking for an amazing band for your wedding, they are it! Book them! You won't regret it! We cannot thank you guys enough for blowing our expectations out of this world!

SpaceCat's reply:

Thanks for the great review Joshua! I'm so glad that all of your guests gave great feedback on the party! Everyone had so much energy to help fuel the dance floor the whole night...it made our job super easy to keep them going! Incredibly perfect - can't hope for much more than that for your wedding day! Cheers!!

Daniel S.

Married on 07/30/2022

6 Out Of 5 Stars If Possible

Highlights:
- Learned our first dance song as well as two others for Mother/Son and Sister/Brother
- Professional, timely and nothing short of the best wedding entertainment I have seen
- Got everyone dancing with great song mash-ups and getting the crowd involved


The moment my wife and I saw Spacecat at a beer festival, we thought we wanted to hire them for an event eventually. Luckily we had the pleasure of hiring them for our wedding reception and they were nothing less than professional and the perfect wedding band for our day.

From the initial meetings with Christian to the last meeting the week of the event, we were more than convinced that this was the right band for us. They were also professional and helped to guide us through the process of selecting entrance music to make sure they got the correct pronunciation of our entire wedding party and family. You can definitely tell they play weddings for a living as they dressed the part for the event which was something I did not even think of until the day of but SpaceCat already knew.

Not only did SpaceCat learn our song for our first dance but also learned two other songs for Mother/Son and Brother/Sister dances and anyone who is familiar with live music will understand that these versions were more special and different than any DJ could have played.

SpaceCat made sure that not only was everyone on their feet while they were playing, but also were engaged in the music and in return the band fed off the energy from the crowd which turned into the best music experience I have had at a wedding.

Christian also made sure that once we got to the reception all of the timing was with him and he could control the night. Once I sat down at my reception, I really felt like our jobs for the day had finished and I could sit back and relax or get up and dance to the music. Even our photographer was saying how much she enjoyed the band keeping to the time schedule we had gotten while planning the event.

Everyone who attended my wedding has asked about the band and I can only hope that SpaceCat continues to have success so I can see them more at events like beer festivals and friends' weddings.



SpaceCat's reply:

Hi Dan,

It was an absolute honor to be a part of your wedding day! Thanks so much for the great review! Stories like yours...the fact that you saw us perform at a festival on an early date and then had things come full circle to have the band perform for your wedding years later...stories like that are truly amazing! We're so glad that you felt comfortable enough to relax and enjoy it all when the big day finally arrived...but also fed off some of our energy to cut loose a bit and have some fun! We try very hard to help all of our couples feel at ease, as they should...because WE GOT YA! Hope to see you guys again soon! Cheers!

Jonathan W.

Married on 05/29/2022

Unbelievably good - hire SpaceCat immediately

SpaceCat was INCREDIBLE and wildly exceeded our already high expectations. Christian was remarkably easy to work with, responsive to our requests, and accommodating of some special needs we had (working with another band that did certain religious elements of our reception). The band also fielded requests (unbeknownst to us) from one of our fathers and a member of our bridal party. They even learned a few new songs for our reception.

We were really worried that the band we hired would feel a little "lame," or low energy. SpaceCat was the furthest possible thing. When they played Mr. Brightside at the end of the night, I thought the crowd was going to absolutely lose it.

Most importantly, the band just had such great energy and fantastic musical ability. They got the crowd revved up but did so in a non-cheesy way, which sometimes happens with wedding bands. One of our guests said, "I feel like I'm at a concert - not a wedding." Another guest (who teaches music!) said the band was exceptionally skilled. Everything was just amazing - we couldn't have asked for any more.

Don't even think about it - just go and hire SpaceCat before someone else books them.

SpaceCat's reply:

Thanks so much for submitting a review Jonathan!

So glad to hear that were were able to alleviate your worry about ending up with a cheesy or low energy wedding band! haha! A full throttle, high-energy performance is definitely a huge part of what we do every time out, and we actively try to not be the cheese ball corny stereotypical wedding band up there in the process. Mr. Brightside...yep...we definitely brought the house down for everybody with that one! You guys did great belting it out!! We hope these memories last a lifetime. Cheers!!

Melissa N.

Married on 05/20/2022

Great energy!

The Space Cats was a great band for our wedding. We heard nothing but positive comments from our guests!

SpaceCat's reply:

Thanks for the kind words Melissa! So glad to hear that everyone had a great time and positive feedback!! Congratulations again and cheers to you and Austin!!

Daniel S.

Married on 04/30/2022

April wedding at the Detroit Athletic Club

We had the great fortune of having Space Cat perform at our recent wedding. We cannot express enough how fantastic of a job the band did from start to finish along the wedding process. Christian was extraordinarily helpful and friendly in his communication leading up to the day of the event, working diligently to address our wants/needs and providing fantastic insight into the many details (venue specifics, timing of the speeches, etc.) that go into a wedding reception (we would have been lost without his guidance!) all while maintaining absolute professionalism.

The top-tier service they provided in helping us plan for the reception was only outshined by how amazing of a performance they put on! The music was fantastic and they truly drove the momentum and excitement we had celebrating throughout the evening. Overall the past several weeks, nearly all of the compliments we have received about our wedding from our guests have centered around how unbelievable the music and dancing was. We will never be able to thank Christian and the rest of Space Cat's members enough for such a perfect wedding reception!


SpaceCat's reply:

Thanks so much for the glowing review Danny! So glad to hear that we were able to help make your wedding reception a perfect night, and that all of your guests enjoyed the show and had great things to say!! It was an absolute pleasure to work with you!

Mary L.

Married on 11/06/2021

Everyone will love this band!!

Space Cat was definitely one of the highlights on our wedding day. They were so easy to work with and made the planning process extremely seamless. We found them after looking at many Detroit bands on Youtube and could tell they were very talented, and they did not disappoint! They made sure everyone was having a great time. They engaged the crowd, coordinated a group photo with the entire wedding and kept everyone (young and old) dancing all night long! Everyone kept telling us how great they were. They are amazing!!


SpaceCat's reply:

Hi Mary, thanks so much for the kind words! So happy to hear that we were one of the highlights of your big day, and that you were happy with the seamless planning process leading up to the wedding! Thanks so much for choosing us to be a part of your wedding team! Cheers!!

Rena M.

Married on 10/08/2021

Our wedding day would not have been complete without SpaceCat!

SpaceCat should be a must at all weddings. We were so thrilled with our experience from start to finish. They handled the music for our ceremony, cocktail hour, and reception. They are so talented, and even performed the horah (Jewish traditional dance song) live! All of our guests continue to boast about how fantastic the band was. It is one of the main highlights of our entire wedding day....I can't recommend them enough!!

SpaceCat's reply:

Thanks for the great review Rena! It was an absolute pleasure to work with you guys, and it's always a fun time to perform the Hora...we were more than happy to play one live for you! Y'all REALLY got after it too...that's what happens when a bunch of cross-fitters get to lifting people up on chairs. Things get a little scary (in a great way of course haha). I'd say "hope" to see you guys again, but I know we will out and about somewhere soon! Until then...cheers!!

Brittany F.

Married on 09/25/2021

Hire SpaceCat - you WILL NOT regret it!

My husband and I saw quite a few SpaceCat shows while we were dating and we always said we'd have them perform at our future wedding one day. We booked SpaceCat for our wedding in September and it was the best decision we made! From the very start of the planning process Christian, who is the band leader, was so easy work with due to his organization, willingness to answer any questions and he made the planning process so easy for us. The entire band was SO kind, fun and full of energy and made our wedding such a blast. The lead singer Steve even brought my husband up on stage which was hilarious! We received so many compliments from guests on how much fun they had at our wedding because of SpaceCat and some even said it was the best wedding they've been to! We had the band play track music at our ceremony and cocktail hour, MC our entire reception and then play live music for the dancing portion of the night. They exceeded our exceptions - I highly recommend booking them and checking out their shows!

SpaceCat's reply:

Wow...thanks so much for the great review!! It was an honor to be a part of your day! Glad to hear that you enjoyed the band's energy, and had a good experience working with us through the planning process too! Any time we hear the phrase "exceeded expectations," we know we did our job!! Looking forward to seeing you and Grant out at a show again sometime soon! Until then, congratulations and enjoy married life!!!

Melissa S.

Married on 09/05/2021

Best wedding band!

We wanted to send a special thank you to Christian and all the folks from SpaceCat. They were the absolute best wedding band we could have imagined for our special day. From the first time we heard SpaceCat and their lively set in a venue in Rochester, we knew we wanted them to play at our wedding and they definitely exceeded all of our expectations. Not only was the band the talk of the reception for many of our guests, but the hands-on approach Christian took to the planning and logistics coordination prior to the wedding day helped to minimize our stress level and allowed us to pivot to other last minute changes (which are unfortunately par for the course for a wedding during Covid). The way SpaceCat involved the crowd and kept everyone energized is a rarity at weddings that we have not really seen before. Folks were dancing up a storm all night and it was tremendous fun and we cannot say enough good things about the whole band.

Thanks again to SpaceCat for a truly memorable event!!
-M&D

SpaceCat's reply:

Hi Melissa! Thanks so much for the kind words! It's true - we did have to navigate some changing tides due to covid, but I'm so glad to hear that we were able to exceed your expectations nonetheless!! You and Drew were an absolute pleasure to work with and we are so glad that you and your guests all had an amazing time and partied hard on the dance floor with us. That's what it's all about! Cheers!

Beth L.

Married on 08/28/2021

Best Band!!

I really wish I could give SpaceCat more stars because they were absolutely amazing! They had everyone on the dance floor all night! They even got my husband to join in on a song! They know how to read the crowd and give the people what they want! So many people told us it was the best wedding they've been to, and they had a hard time leaving the dance floor for a drink or to socialize because song after song was a hit! If you have any concerns about the original song sounding too different as the band plays it, don't be. Steve's vocals on "what a wonderful world" made you think Louis Armstrong was performing, so talented! Ashley absolutely killed it as well! Our guests loved the energy all night! Christian (band manager) was so easy to work with and made planning seamless. I will recommend them to anyone looking to hire a band, they made our wedding so much more iconic than we could have imagined.

SpaceCat's reply:

Hi Beth and Matt, first thing's first...time to write the team at Weddingwire and tell them to unlock a "SpaceCat rating" 6th star!!!! LOL. We are so glad that you enjoyed Ashley and Steve's vocals, and that you had a seamless experience with our planning process. We work hard to keep it stress-free for couples...you have enough other stuff to worry about...we like to make things easy! You guys were great to work with as well, and your crowd was a pleasure to perform for with all of their energy!! Congratulations again...now go have that cocktail!! Cheers!!

Kelly

Married on 08/21/2021

Book this band!

Hiring the SpaceCat was the best decision we made for our wedding! They were beyond INCREDIBLE and our dance floor was packed all night!!! We had so many guests so it was the best wedding band they have ever heard and I agree! Also they were very easy to work with,
Professional and responsive. If you want the best wedding band out there you found them!

SpaceCat's reply:

Thanks so much for the kind words Kelly!! We are so flattered to hear the "best band ever" feedback...all of your guests made the night so much fun with their fun energy and smiling faces! The fact that you found us easy to work with is icing on the cake. So glad you enjoyed the experience all around!! Cheers to you and Kevin!!

Nick S.

Married on 08/21/2021

SpaceCat made our wedding!

SpaceCat was unbelievable - They exceeded the very high expectations we had and truly made our wedding everything we wanted and more. From start to finish you could not keep our guests off of the dance floor. They were super talented, played an excellent set list of songs and brought tremendous energy to our day! After the event the crowd was chanting encore and they came our and rocked it for one extra song! Also, once they finished there was about 20 people who had approached me to ask who they were and raved about them. We cannot thank SpaceCat enough for such an amazing night. I would 100% recommend them to anyone I know and everyone I don't. My wife and I agreed, if we had to go back and do it again - booking SpaceCat would be the first thing we did!

SpaceCat's reply:

Thanks so much for all the kind words Nick! It was an absolute honor to perform for you and Grace, and so flattering that everyone chanted for an encore...how could we not oblige??? I hope that we can perform for you all again soon...whether back in public when things ramp back up...or maybe even at another wedding for some of your guests that might've been interested in working with us! Until then...cheers (with a cocktail in hand) to you guys!!

Mark F.

Married on 08/14/2021

Wedding…..

Christian was great through the planning process. Gave lots of recommendations and considerations we had not thought of. The band was great the day of. Our guests had great things to say and were on the dance floor throughout the night. Great music and would highly recommend

SpaceCat's reply:

Thanks so much for taking the time to submit your review Mark! I'm so glad that we were able to help with some of the underlying details and moving parts of the reception, and that the guests rocked out on the dance floor all night!! Congratulations again to you and Becca!!

Nancy D.

Married on 07/10/2021

Out of this world

SpaceCat is your dream vendor. They are easy to work with and help you with the planning. They will give you choices/options and where you don't know what to choose will guide you or pick for you if you prefer. They followed up numerous times before the event to make sure we had everything set up correctly. They took time to focus on all the little things. As an example, our event was a wedding reception and they ensured they could correctly pronounce everyone's names, reviewing them multiple times.
Most importantly, THEY ARE AN AMAZING BAND. Quality sound, high energy, great vocals and everyone had so much fun! I can't tell you how many compliments we have been given about the reception, the quality of the event and the "fun" people had there. The dance floor was crowded all night long.

If you need a band, shop no more. You will be thrilled with their performance.

SpaceCat's reply:

Thank you Nancy for your time and for the kind comments! It was an absolute pleasure to work with you throughout the planning process, and of course to have SO MUCH FUN with y'all on the wedding night!! Great food, nice people, wonderful energy from the crowd...weddings like this are the reason we have the best job in the world! Cheers!!

Cassie G.

Married on 06/12/2021

Incredible performance (and pandemic problem solving!)

We and all of our guests absolutely loved SpaceCat's performance during our reception! They not only sounded great but also brought such great energy to our wedding and delivered a memorable experience. Our friends and family gave us so many compliments about the band during the reception and for days after BUT they don't even know how great this band truly is!

From the very beginning Christian (band leader) was incredibly helpful. He was always thorough in answering our questions and offered great advice; talking to him you can really tell that, with his years of experience, he's seen it all. During the pandemic Christian only became more essential to us; he brought a positive attitude and, even more importantly, solutions to every new problem we encountered. When restrictions derailed our initial plans and our venue struggled to adapt - everything from moving the reception outside, finding flooring and power - Christian was able to solve every problem within hours. When we were faced with rain Christian helped us make the call to move our reception back indoors, even refunded us for equipment they wouldn't need inside, and managed to get us uplighting. In spite of the stress of planning a wedding during a pandemic, we always felt better after talking to Christian.

On our big day SpaceCat arrived and setup promptly, giving them plenty of time to rehearse and their sound engineering to tweak the levels so they were perfect. The result was an amazing sound that filled the room. The sound engineer ran the music and mics during the ceremony very smoothly so everything came through at a good volume, not too quiet or too loud. When it came time for the grand entrance Christian flawlessly pronounced everyone's names and, like magic, had a microphone in the right person's hands when it came time for the toasts which kept things running on time. After dinner, they nailed our first song! Once the other formal dances were out of the way they went into their first set and right away the dance floor was packed. Even our guests who never dance couldn't resist the sound and energy of SpaceCat!

We're already trying to find excuses to hire SpaceCat again!

SpaceCat's reply:

Thanks so much for the kind words Cassie!! It's true - your wedding was definitely a prime example of what can be done when everyone works together with a "can do" attitude! I'm just glad we were able to help make it all work - which it did - flawlessly!!! From the moment the band hit, you and your guests made our job easy...packed the floor all night and had an amazing time. On top of that, you and Ellis were terrific to us throughout the entire process...so everyone on the SpaceCat team in turn thanks YOU for just being cool people to work with! If you ever do find that excuse to work with us again, we'll be there in a heartbeat and it will be our pleasure. Cheers!

Rachel R.

Married on 05/21/2021

Best. Band. Ever.

SpaceCat was absolutely INCREDIBLE! My husband and I knew we wanted a band at our wedding reception and after the first time seeing SpaceCat perform live, we knew they were the band for us! Christian made the planning process so easy for us, even with a postponed date. He truly listened to our vision for our reception and made it come to life. The band's energy was out of this world and the dance floor was packed all night. We are so grateful for SpaceCat and will forever recommend them!

SpaceCat's reply:

Hi Rachel, thanks so much for the great words about your experience working with us! It's so flattering to hear you set your sights on working with us so early on, and I'm glad we could help make your wedding come to life!!! Cheers to you and JD!!

Jaclyn H.

Married on 03/02/2021

Look to further for an amazing band

There are so many amazing things that I can say about this band. First, they are great to work with and easy to coordinate and plan with. They help walk you through everything and even help with details I would not think of. They really take the time to sit with you and find out what you are looking for in a wedding band. They have a wide range of songs that the crowd loved. They really read the crowd and play for what they respond well too! If you are looking for a band that really gets the crowd going and loves to have a great time with you, look no further. And an added bonus is that they play all around town at other events, so after the wedding you can still go and see them preform :). I cannot wait to have another event to hire them for!

SpaceCat's reply:

Thanks so much for all of the kind words Jaclyn! We're so glad to hear you enjoyed working with us through the planning process, and of course having a blast on the dance floor all night at your wedding! Looking forward to seeing you guys around soon! Cheers!!!
Are you interested?
Send a message