Reviews
5.0 out of 5 rating
Quality of service

5 out of 5 rating

Average response time

5 out of 5 rating

Professionalism

5 out of 5 rating

Value

5 out of 5 rating

Flexibility

5 out of 5 rating
100%
Recommended by couples
7 User photos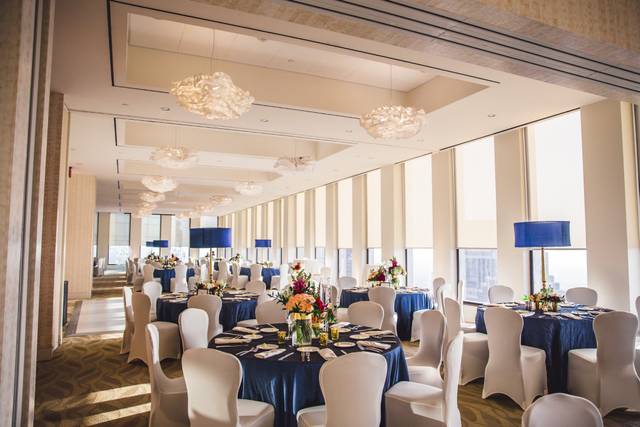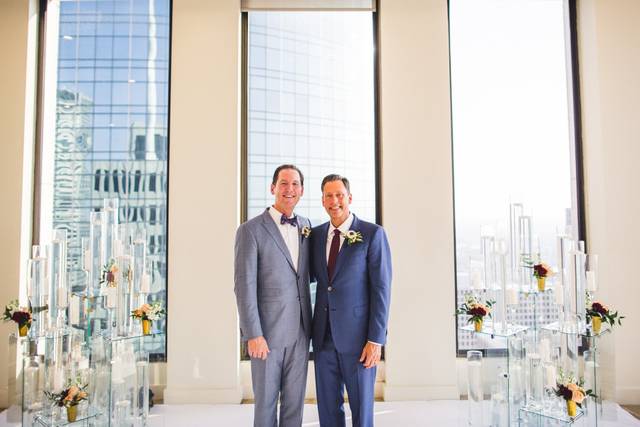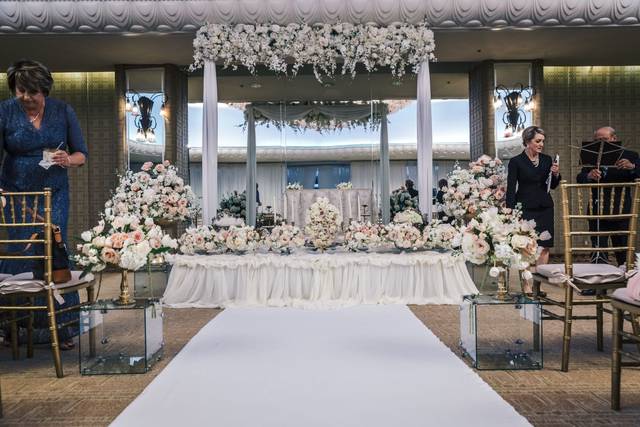 + 3

photos
Daniel W.

Married on 06/02/2018

Best decision besides "I do"

My husband Daniel West and I were married in June of 2018. We were given Samantha's name by friends who recently had gotten married in Houston and highly recommended her services. To say that Samantha was a blessing would be an understatement! From the moment we met her, we knew that everything was/would be in very good hands. During our first meeting she inquired as to what our "vision" was regarding our wedding and reception. As the weeks passed by, things fell into place with little to no stress due to Samantha's attention to detail. She kept us in the loop and on track of the pressing decisions that needed to be made without undue pressure (unless we really needed it).
Samantha remained open-minded and provided us fantastic suggestions for various vendors with quality services within our financial plan. She also provided us with excellent recommendations for the "little things" that would make a big difference to our experience without breaking the budget! Samantha brought a creative side to the process for our "modern metro" wedding--from our colors, flowers and themes to our beautful ceremonial glass and candle pedestals--everything was simply elegant, fresh and new.
We did not have anyone helping us, as neither of our parents were involved in the planning process. In addition, we wanted all of our guests particiapting /celebrating with us not to worry about things in advance or that evening. Samantha's efficiency and organizational skills made this possible both during our planning process as well as on the day of our wedding. Thinking back to what made the biggest impact regarding Samantha and her services, it was being able to trust her completely and knowing that everything was being taken care of. Samantha created a timeline of our entire wedding and reception "activities," and it was surreal how everything ran like clockwork….we even started walking down the aisle a few minutes early! As a result of her attention to detail and unwavering tenacity, Daniel and I could be fully present for the ceremony and celebration.
Looking back, the day was incredibly meaningful to everyone involved. So many of our guests told us that they had never been to such a beautful, special and fun wedding and reception. We highly recommend Samantha and her staff to anyone planning their special day or special occasion. Other than saying "I do", it was the best decision we made!


Sara

Married on 04/21/2018

Samantha with Soiree Bliss is amazing! She made the wedding of our dreams happen and exceeded our expectations for the most important night of our lives. Thank you so much, Sam!

Cindy

Married on 04/12/2018

Turned our wedding dream into a reality. Attention to detail was out of this world. The planning process and wedding day were far less stressful with Sam monitering vendor schedules, answering questions, and even ensuring we were fully fed (then greet guest) the day of the wedding.
Couldn't imagine our big day without Sam, it would've been hours late knowing my family.

Are you interested?

Send a message

Beka

Married on 03/17/2018

Samantha is a dream to work with - she helped our day flow perfectly and filled in all the gaps seamlessly for anything we missed/overlooked. She was always 3 steps ahead of us in planning and was an extremely valuable resource. I highly recommend you hiring Samantha!

Allison was so great to work with at our wedding! Helped keep everything on track, was on top of all the vendors to ensure things were set up and done properly, and kept us on track in the planning process. Highly recommend her to anyone looking for a less stressful and more enjoyable wedding day!

Allie

Married on 01/14/2017

Samantha is absolutely amazing to work with! She is efficient, creative and gets the job done. She kept everything organized and communicated with vendors for us. She is an extremely valuable asset to have on your wedding day and the weeks leading up to it. She gives great advice, knows vendors in Houston and provides great ideas in a pinch. She has all the qualities you want in a great wedding planner: confident, efficient, organized and smart. I recommend her highly and sincerely.

Lindsay

Married on 01/14/2017

Samantha and her team are top notch!! They make sure every detail is handled seamlessly. Samantha is extremely professional and when it comes to weddings & events, she knows her stuff. She thinks of details that no one else does and makes sure every single thing is covered & taken care of. She is also a fantastic problem solver and is able to resolve any issues quickly and seamlessly. We used Soiree Bliss for 2 of my sisters' weddings and would absolutely use them again and recommend them to anyone looking!

Stacy

Married on 10/01/2016

Allison was the absolute BEST! She did so much and went out of her way to make or wedding day the best day of our lives. She was so personable she became a great friend as I trusted her with everything. She made me comfortable and allowed me to have a blast on my day and not worry about a thing. I would recommend her to absolutely anyone.

Patti

Married on 06/11/2016

Always helpful to have a vision of what you want your wedding to be and an idea of the venue and reception. Then, meet with Allison and discuss how she can help you achieve that wedding. She and her team took care of all the details with regard to coordinating on flowers and other decor, making sure everything was set up as the bride/groom desired, running out to a car to obtain something we left, moving items from the church to the reception, and then boxing everything up at the end. We did not have a wedding planner/coordinator at the wedding of our other daughter and I missed her getting ready and even missed her grand exit due to other responsibilities. That will not happen if you have Allison because she will take care of everything you need. Allison and her team are extremely capable and professional, and are responsive to those "issues" that always seem to come up during a wedding. I strongly suggest you give her a call. Once you meet with her to discuss your plans and dreams, you will immediately see how she can make everything flow smoothly and ensure that even if there is a problem, no one will ever know.

Amberly

Married on 04/23/2016

From our initial phone call to the very last moments of our wedding, Samantha was incredible to work with and we are so happy that she was a part of our big day. She is extremely professional, kind, organized, personable and a great communicator. Not only was she a fantastic problem solver and total workhorse, she was a lot of fun to spend time with and a great collaborator. On the weeks leading up to our wedding, and especially our wedding day, she constantly checked in to see how I was feeling and I greatly appreciate that. She sincerely cares about her clients and puts all of her thought and energy into making sure your wedding day is the best it can be. Probably the most remarkable thing about Samantha is the way that she handles last minute changes and snafus. Our backyard farm wedding happened to be less than a week after Houston's century-flood in April of this year, and we were forced to change the location and entire vision TWO DAYS before the wedding. When we told Samantha about this massive change, she just rolled with it and helped us figure out the new logistics and details. Everything turned out perfect and it was the best day of our lives. We can't recommend Soireebliss! enough and are so thankful that we had Samantha by our side through it all. She is the best!

Janna

Married on 03/19/2016

I can't say enough great things about working with Allison from Soiree Bliss! We chose her as our day-of-coordinator and she was beyond amazing! She was always on top of everything and made it possible for me to actually relax and enjoy the day, instead of stressing about the details and logistics. She happily dealt with all my questions and concerns with a positive attitude and a huge smile. The entire day ran smoothly and I can't even imagine having to do it without her! She was such a joy to work with and made the planning process not just easy, but fun too!

If you're on the fence about hiring a coordinator, I'd highly recommend going for it. It's honestly worth every single penny. Soiree Bliss helped make our big day perfect!

Brittany

Married on 03/12/2016

Allison was my "Day of" coordinator but she was so much more than that in the weeks before the wedding. The planning meetings and just being able to email her any questions that popped into my head were such a relief when things were getting hectic and family questions were out of control.

She was absolutely amazing through it all and made me feel comfortable and was always there to remind me that she was here to help make sure I got my dream wedding.

On the day of, she and the other staff members where everywhere in the best way, making sure everything was set up and were always there to answer any questions from my family, all of whom said Allison helped make them feel at ease because she was so calm and worked through any issue quickly.

During the night, the team was never far and always went above and beyond to make sure everything was perfect, even helping me scoot my big dress under the sweetheart table so I could eat!

Overall it was such a relief to know that there was a group of people dedicated to making sure the night went perfectly and it took so much stress off of me and my family. Having a planner, and Soireebliss specifically, was one of my best wedding decisions!

Linh

Married on 12/19/2015

If I could give 10 stars, I would. Samantha is amazing. She and her team use an online platform that streamlines and consolidates all the planning. She was on top of things before I even had a chance to even remember that I was supposed to do something. She is the only reason why I was not a bridezilla. She had all the vendors covered, was in contact with them weeks before the wedding up until the wedding day. Besides her talent and knowledge of the wedding industry, she's just a nice person to be around!

Words cannot express how wonderful Allison was to us throughout this process. We hired her to be our day-of coordinator for our October 2015 wedding. We had planned to have an outdoor wedding on personal property. She helped us consider all of the rentals that we needed and suggested other creative cost-saving measures. Throughout the process, I felt very supported. However, she went from a wonderful help to a lifesaver a few days before the wedding. Tuesday before, an unprecedented flooding event was forecast for the day of our wedding. Allison helped us make the decision to find a new venue and then helped us find a great option. She worked with all of our vendors, including the new venue, to make sure they were aware of all of the changes. She also negotiated with our tenting and bathroom vendors for a refund. The day went extraordinarily smoothly, despite the incredible amount of changes. Seriously, no one would have known the difference. She helped me, my husband, my parents and in-laws feel confident and enjoy the day. I think she saved us thousands of dollars AND saved the day. I would recommend her to absolutely anyone.

Wendy

Married on 09/19/2015

Samantha and her team were probably one of the best vendors I hired for my September 2015 wedding. I hired her of a month on coordinator, and her knowledge of the industry helped more than what I could have done myself. Samantha was very easy to communicate and reach. The day of she took care of everything! My family, wedding party, in laws, husband and I were able to focus on enjoying ourselves as Samantha took care of everything. At the end of the wedding, my in laws and wedding party had nothing but good things to say with the packing up of all our decor as Samantha and her team were top of everything! I would recommend Samantha to any bride looking for a month of coordinator! Thank you Samantha and Soireebliss for making my wedding perfect!

Hayley

Married on 07/11/2015

Allison and Sam were extremely helpful throughout the entire wedding planning process. Allison was so calm and professional. It was nice to not have to worry about anything that day because Allison handled everything professionally and perfectly. Choose Soiréebliss!

Samantha and the entire Soireebliss team made our fairytale wedding a reality. It was a dream come true for us. Her attention to detail and expertise for over 13 months of planning was apparent throughout the entire planning process and wedding day. Everything went seamlessly and she handled everything with ease and professionalism. It was such a relief to know that she had everything under control from start to finish. We could not imagine planning our wedding without her. She made this process easy, stress free and a year we will never forget. She was flexible with our work schedules for meeting times. This wedding truly would not have been possible without Samantha and her team.

Carol

Married on 06/19/2015

Samantha Darr is wonderful! She helped my daughter and I navigate the planning process with many helpful tips that reflects a vast experience of "what works best." Anyone planning a wedding needs this advice, since you have only one shot at this momentous occasion. She directed us to her amazing vendors who exceeded all of our high expectations on the day of the wedding! The flowers, the DJ, the cakes and the limo service were all from her suggestions and I would definitely use them again. Finally, Samantha has a very calm demeanor and this is an essential quality--especially during the actual wedding day. She handled all the myriad of details for our wedding , that included more than 200 guests, and that allowed me to enjoy my daughter's big day secure in the knowledge that she is a professional. I recommend her without hesitation!

From beginning to end Allison was amazing. I can't imagine how I could have done it without her! Thank you for making the best day of my life go so smoothly!!

Theresa

Married on 05/30/2015

Soireebliss provided coordination for our wedding at The Grove in downtown Houston. We worked with Allison Williford. We live in Washington, D.C. so Allison's help was absolutely crucial. She was simply amazing! We loved working with her in the lead up to our wedding and she managed everything with such professionalism and joy on our wedding day. We met with more than 5 wedding planning companies when we were first looking for a coordinator and we couldn't have made a better choice!

Sana

Married on 05/22/2015

Allison Williford did an excellent job with planning and executing the event. She was very responsive and coordinated with the vendors exceptionally well. Everyone enjoyed working with her and I would recommend her to everyone.

Heba

Married on 05/09/2015

Samantha helped make wedding planning so fun and easy! She was like the conductor in an orchestra- gracefully pulling so many different pieces together to create something beautiful. She was always so excited to be working on different aspects of the wedding that she made me feel even more excited about it too. Samantha also put in way much more work than I expected and took on a few DIY projects (one that was incredibly intricate!) for us and attended extra vendor meetings. She's super organized and professional. Her vender recommendations were all really high quality. While trying to juggle opinions between myself and my family, Samantha became the perfect mediator and at times advocate for me. She also worked hard at finding ways to make our wedding unique- which is something I always wanted.

I think if you are on the fence about hiring a wedding planner, I would say just go for it! The peace of mind you will get from hiring Samantha is sooo incredibly worth it. On the day of the wedding, I literally had no worries because I knew Samantha was in control and would handle anything that came up. You can't put a dollar amount on that.

Thank you so much, Samantha!! The whole wedding would have been completely different without you. I appreciate all the time and effort you put into our special day. Thank you for being a source of peace through the craziness ;)

Erin

Married on 05/03/2015

Allison is an amazing wedding coordinator. She was a life saver for my mom and me. I did not realize how much work was involved in planning a wedding, but Allison made it a fun, enjoyable and smooth process. She helped to turn our vision into a dream wedding reality.

Allison went to all the vendor meetings with me. Her experience added value to these meetings and she asked questions I wouldn't have thought of. She always responded quickly to my emails and when I told her I was worried about something she helped to work through it so no worries at the time of the event. I would recommend Soiree Bliss to anyone who wants to be able to enjoy their event and wants it to be the best it can be. Allison recommended vendors, helped with timelines, provided feedback to our questions and listened to not only me, but made my daughter feel very connected and helped make her wedding dreams come true.

Samantha and her team were absolutely fantastic! I would definitely recommend her for anyone needing wedding planning/day coordinator service!
Are you interested?
Send a message