44 Reviews
Recommended by 94% of couples
Quality of service

4.8 out of 5 rating

Average response time

4.8 out of 5 rating

Professionalism

4.8 out of 5 rating

Value

4.7 out of 5 rating

Flexibility

4.6 out of 5 rating
Awards
46 User photos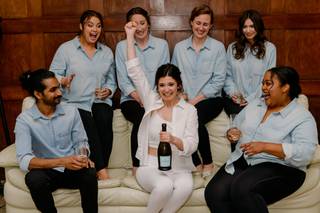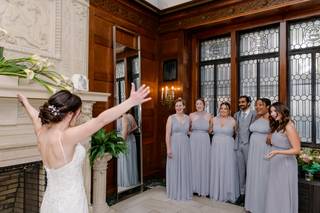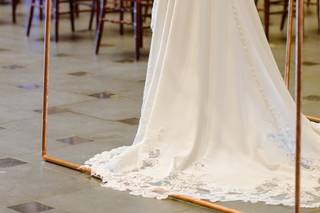 + 42

photos
Mary M.

Married on 11/05/2022

An Incredible Day

When my husband and I first got engaged, I was SO excited to spend forever with him, but the idea of planning a wedding filled me with anxiety and made me nervous. I've never planned a wedding before, I didn't even know where to start, and quickly found myself getting overwhelmed.

We went to visit Sixty State Place and the moment I walked in the door I was blown away. The beauty of the building speaks for itself; the marble walls, the ceilings, a bridal suite filled with luxurious history, vault doors - it was amazing.

What made me fall in love with 60 State Place even more, and was the reason we decided to have our wedding there - was the absolutely amazing, kind, sweet, patient, and supportive Nour.

From day one Nour told me that everything was going to be okay, that she was going to help me figure all of this out and there was no reason for me to be overwhelmed because now I had her to help me. I felt so comforted by her, and she guided me through the entire wedding planning process - like the sister I never had.

Nour knew exactly what I wanted before I even did, and had a whole vision for what the space should look like to reflect what my husband and I like. Nour even went out of her way to have some special surprises for me the day of our wedding which were amazing.

The food, the service, the staff - everything about our wedding was incredible and a 10/10.
Everyone at Sixty State Place went above and beyond to make sure our day was perfect, and we will be forever grateful for the beauty they delivered that day.

Nour will do everything in her power to make it all perfect, and she did just that for us.
We are forever grateful for her.


Deanna R.

Married on 06/11/2022

You Will Score with Nour!

I am so delayed in writing this, but wanted to say my husband and I had such a fantastic wedding with Sixty State Place! We began planning our wedding in August 2019, pre-Covid, and as such, had to push our date back a full year. Sixty State was so kind and accomodating, even honored the pre-2020 rate!

I want to call out, one fear I had was the beautiful ballroom was too echoey for a band to sound good. I'm so happy I listened to those working at the venue, along with friends and family, because we had a band and they sounded INCREDIBLE! If you're considering a band here, definitely go for it!

Ok so what did I love (I'll admit I won't be able to include everything because there are too many things to call out):

The food. Is. Incredible. Seriously, everything we ate was perfect. We're still getting compliments from friends and family on their dinners.

The bars (and bartenders) are a well oiled machine. We quizzed some guests afterwards about bar lines (something my husband and I felt strongly that needed to be avoided) and everyone said they never waited in a line! Should to to Deahmy (I am so sorry if I'm butchering the spelling, but it was pronounced Dee-Ah-Mee)! He crushed the bar service, knew my drink by heart, and even helped the bridal party ahead of the ceremony!

The staff in general was phenomenal! Above and beyond all their duties; one extra kind server helped me clean a stain from my wedding dress right before the ceremony. Others helped hide me as I ran back and forth from the downstairs area to the bridal suite. Ahead of the wedding, they even helped steam shirts I was giving to my bridesmaids (AND provided the steamer!) Seriously, Sixty State only hires the best of the best.

Ok let's talk about the best of the best of the best. Nour! Hiring Nour is the best thing Sixty State has ever done. She was SO easy to work with, kind, accomodating, and would be real with me but also open to adjustments. I want to upgrade wine? Nour is talking to wine vendors all over the country. We don't want sushi, but want to swap for late night food? Nour is sending us the list and guidance of what would be a good swap. Actually, the package we booked no longer fits our needs, Nour asked us to send her exactly what we want, and she helped put pricing down on everything so we could have our dream wedding WITHIN our budget (seriously). We're not local to Albany, but Nour was alwasy was easy to reach via text, call or FaceTime. We spent hours together, virtually, working through every last detail, which she executed on flawlessly.

I spend too much time on social media, and had grandiose ideas. Nour helped make all of them happen, and even surprised us with some bonuses day of that we were TICKLED to see. One of my favorite (pre-marriage) moments from the wedding is Nour popping into a bridal suite with a salad that she had HANDMADE just for me (which I will add was absolutely delicious). She made executive decisions based on our discussions (like showcasing flowers for the reception in the ceremony room which looked divine) and always made sure I had exactly what I needed. One vendor we had was a bit difficult to work with, and Nour handled communication with them with grace, helping them get through the day as well!

She was there from the moment we hit the ground in Albany, until the exhausted, hungover packing of our car the following morning. Seriously, well done!

Joe and his team have exceeded my impossible expectations; we are still getting so many compliments from the weekend! Thank you so, so much for everything!

+ 11

photos

Kristen

Married on 04/30/2022

Spring Wedding at 60 State

We were very happy with our wedding at 60 State! To start off, the venue itself is stunning. Gorgeous high ceilings, water walls, and lovely little remnants from its days as a bank. The cocktail hour space (the vault) comfortably fit our 170-180 guests with space for people to set down their purse, drink, or plate. Also, having both bars open during cocktail hour was very helpful. The food is amazing and we got so many comments from our guests on the bistro spread, appetizers and dinner. The venue coordinator, Nouralynn, was extremely responsive and was always ready to answer questions, have meetings, and give advice. Despite her juggling multiple events that month, we always felt like we were a top priority. Not only did she make the bride and groom a priority, but even helped guests get back to their hotel. Sixty State is so versatile and a gem of a venue in Albany!

Are you interested?

Send a message

Erin P.

Married on 02/12/2022

Above and beyond

Sixty State Place was the absolute perfect venue. My husband and I started looking for a venue during the pandemic and we ending up falling in love with the beautiful buildings in downtown Albany. When looking at the venues on the same street, Sixty State was a step above in the areas that matter most. It has multiple bathrooms on both floors which is a must when at a wedding, who wants to wait in line when they should be on the dance floor? There is a separate space for cocktail hour (which is down right breath taking) and no guests are watching tables being set up. The bridal suite is beautiful setting to get ready, perfect for amazing pictures and a close space for your wedding party to go if they need a break. The building and architecture itself is just the beginning! Joe, Deanna and Nour go above and beyond. They will meet with you for as long as you need and make you feel like they are your only client. I had many dietary restrictions and on the day of the wedding they bought special breakfast items, just for me! My dinner that night, tailored to me. Any dessert I wanted, they made it happen. Any add ons to packages- no problem. We wanted mini bundt cakes from one bakery and pastries from another, done! Andddd they picked them up! We had our ceremony at the venue and there was an issue with the processional song- Nour fixed the issue in minutes and no one was any wiser. Our DJ brought the wrong drapery the day of and Nour was making calls and made sure it got there on time. Nour is literally your personal bridal attendant for everything and anything you can think of. She is wonderful at her job and gave me a sense of ease when I knew things were out of my control, she had it. You do not need a wedding planner if you have Nour, she can literally do it all at no extra cost! Our day was amazing, our venue was down right breath taking and guests are still talking about it!

+ 11

photos

Renee

Married on 12/31/2021

A New Year's Eve to remember!

Wow. What a wedding 60 State Place can throw! My planner who I was originally working with left right before my wedding. With everything going on with COVID and the holidays I was so worried my day wouldn't be what I always wanted. We'll I was wrong. Joe, Deanna, and Nour took over and made sure my day was nothing less than perfect. Joe was making everything in the kitchen happen. His food is phenomenal, my guests are still raving about it! Deanna made sure her staff was all ready to go and where they needed to be to make it all happen. Nour was on her game, everywhere she needed to be when she needed to be. She was basically my main point of contact leading up to the wedding & the night of. She always made sure that I was happy & that everything was the way I wanted. The three of them together with the help of their staff truly made it a New Year's Eve to remember!! The venue is just gorgeous in itself, but since I'm from a very Italian family, the food made the night! From the hors d'oeuvres, to dinner, to late night pizza everything was delicious. Such a fun night of eating, drinking, and dancing!

+ 5

photos

Kaitlynn

Married on 08/21/2021

August '21 Wedding @ 60 State

We got married at 60 State in August '21 and the venue along with Ruggiero Hospitality exceeded our expectations in every way. Shelley and Joe are a great team and worked with us throughout the process to ensure the vision for our wedding day came true. The venue itself is incredible, with no detail or room overlooked when renovated (even the bathrooms have pennies built into the floor - it was a bank previously). There is a bridal suite with beautiful glass windows to get ready in and the grooms have their own lounge as well. The cocktail hour took place in the downstairs vault area which was unique and elegant for all our guests. The ballroom is beautiful and grand, the perfect venue if you are looking for an elegant wedding or event. There was plenty of food for all of our guests who raved about the Italian wedding soup and Filet in particular, some saying it was one of the best steaks they've ever had. We can't thank the team at 60 State enough for making our wedding so special.

Katelyn

Married on 07/20/2019

It doesn't get any better

Where to begin? Ruggerios catered our wedding at the Mansion at Cedar Hill in Selkirk. We can't express how grateful we were for Joe and his crew. Not only are they all around great people, they are super easy to work with. The food- OUTSTANDING. We go to their shop in Guilderland frequently so we already knew they make quality food- however, they took it to another level. It has been over a week since our wedding and we are still getting phone calls and messages raving about how great the food was. Our venue did not provide a kitchen or even a kitchen space, yet Ruggerios still provided fresh, hot food for us and our 100 guests. Their catering staff and bartenders were so friendly and accommodating. We can't recommend Ruggerios enough! THANK YOU JOE!

Jennifer

Married on 08/18/2018

I HIGHLY recommend having your wedding at Sixty State Place! Joe and his staff exceeded our expectations and made our special day perfect. They are professional and personable. It was a calm, enjoyable experience for my husband and myself. The elegance of the ballroom was stunning. Cocktail hour is still being spoke highly by all of our guests. Plus the pictures that you and your significant other can get of the actual venue itself are timeless! This will forever be a day that my husband and I will never forget. Thank you again for everything!!

Rachael

Married on 05/27/2017

Sixty state place fulfilled my dream for a wedding venue! The space is gorgeous, specifically the marble walls and unique cocktail space in the vault. I could not have been happier with my venue choice!
Monica was delightful and so easy to work with and accommodating.

I cannot say enough about the beauty of this space; highly recommended!

Caitlyn

Married on 01/13/2017

I got married at 60 State on 1/13/17 and it couldn't have been more perfect!! Monica and Marge made sure everything ran smoothly, if there were any hiccups I still haven't heard of them. They went above and beyond creating several uplighting options for us to choose from and even tying my husbands bow tie for him. The preferred vendors are also amazing, I didn't get nervous or stressed about anything because I knew we were in such great hands!! I'd recommend this absolutely stunning venue to anyone and everyone for any event!

The team at sixty state street is top-notch. Several guests stated they had never been to such a beautiful, unique venue like this one. Monica Hurry, the event sales manager, made the planning experience effortless.

Gilli

Married on 11/12/2016

We just had our wedding at Sixty State Place on 11/12/16. This venue and the team that run it are INCREDIBLE. If you're looking for a unique venue that offers class, elegance, and will keep your guests talking for days after, choose Sixty State Place. If you're looking for an attentive, enthusiastic, flexible, professional team, choose Sixty State Place. We couldn't be happier with our decision to choose Sixty State Place and we HIGHLY recommend it.

Nicole

Married on 10/07/2016

Our wedding was Friday night and it was hands down the best night of our lives. The venue was perfect & everyone has been commenting on how unique and beautiful it was. Nadine was so helpful with organizing our ceremony and reception. She put our minds at ease and did such an amazing job organizing all aspects of the wedding. Monica & Nadine were easy to contact and responded to calls or emails very promptly. I would highly recommend this venue for your wedding! Thank you so much!!

Anna

Married on 07/16/2016

Sixty State Place is absolutely gorgeous! The first time my husband and I walked in, we knew this was it. Every single one of our guests commented on how amazing this venue was. Nadine did an amazing job making sure our day was perfect.

Joa

Married on 06/18/2016

This is a one of a king type of venue. It is absolutely stunning!

Lynnette

Married on 10/16/2015

Gorgeous space it speaks to you as soon as you walk in the door!! Vaults safe deposit boxes pennies on the bathroom floors AMAZING!!!'

Melissa

Married on 03/07/2015

From the moment my finance and I walked int to Sixty State Place, we were sold. The building needs no salesman, no convincing. Truly stunning! The Vault, downstairs, if perfect for a cocktail hour space. We hosted our ceremony, cocktail hour and reception all at Sixty State Place, and our guests loved the convenience of it all!

Deanna is incredible. Her attention to detail, knowledge of the building and surrounding hotels, and relationships with other vendors is what made our wedding so easy, and not many brides can say that! She was truly remarkable, and my day was flawless because of her.

Downtown Albany Brides that are still looking for a venue, this place is a must-see!

Nicole

Married on 11/15/2014

What an amazing and absolutely beautiful venue - we are beyond happy with having our wedding at Sixty State! Every step of the way was timely and seamless. To top it all off, they have a wonderful planner Deanna that goes above and beyond to make your night incredibly special and problem-free. Working with her not only kept the bride sane, but got the groom excited for getting married, AND the guests LOVED the gorgeous atmosphere!! The venue and the service was incredible - dream come true!!!

David

Married on 10/31/2014

This is a first class venue and Deanna is the best!

Kate D.

Married on 10/18/2014

Sixty State Place was the perfect venue for us! The building itself is beautiful - they paid so much attention to detail. Every single one of our guests commented on how gorgeous the space was. In addition, Deanna at 60 is so easy to work with. She answers any questions in a timely manner and offers suggestions and input when necessary. She was on site for our entire reception making sure everything went smoothly. We love 60 State!

When life hands you a global pandemic, be happy you booked your wedding with 60 State

60 State was so understanding, flexible, and beyond nice when our wedding had to be rescheduled (twice) due to Covid19. Our original wedding was 5/7/20, our reschedule was 5/9/21, and our final date was this spring '22. The venue rescheduled with no fees and NO price change. This is pretty unbelievable with how intense inflation has been, and the quality did not suffer. I still have guests asking me to get the seafood recipes from Joe. He also made a gluten-free, vegan station, appetizers, and pizza that were all delicious. We went with stations and plated salads, and almost all my guests were too full for the late night pizza. Good thing Joe provided to-go boxes for it!
The venue changed coordinators since we first booked in 2020, and I could not be happier with the new coordinator, Nour. She was extremely communicative and available. She talked me through different choices and even stressors of wedding planning. She felt more like a friend than the venue's employee. Nour was so flexible with vendors, access to the venue, and my crazy family. Her staff was also amazing and everyone was sweet, professional, and so helpful. Two waitresses even helped me with my bustle!
It's been 4 months and I still have friends and family talking about the reception, especially the food. We made the right choice with 60 State. It's still amazing to me that they kept pre-pandemic pricing for us, 2 years later and I believe a true reflection of their integrity.

+ 5

photos

Ashleigh

Married on 07/26/2014

When my husband and I got engaged we stumbled upon Sixty State in an online search. Once we went to look at it we were sold, and booked right on the spot. It was the only venue we looked at. We had both our ceremony and reception at Sixty State. The building is so unique. While the ballroom is beyond beautiful, some of the greatest features are downstairs including the vault. Even the bathrooms in Sixty State our amazing, they really thought of every detail. We were able to have a beautiful ceremony, awesome cocktail hour and a quick room change over for the reception. Deanna Stack was such a pleasure to work with. I had visions, and she went above and beyond to make sure they were exactly what I wanted. She genuinely cared about us enjoying our wedding day. Deanna has the ability to be so sweet and kind, but get things accomplished as well. She was able to make the details of my wedding a breeze. I loved working with her, and the rest of the Sixty State team. I would recommend this for all events, including a wedding.

Jim A.

Married on 07/12/2014

We just had our wedding last night at Sixty State Place, the venue was amazing!! We originally booked with Melissa when the venue was being built and she came to help out on our wedding day as well and did a great job for us. Deanna was our head coordinator for planning and she shined for us and made our day super special, she worked around all of our needs and wants, while keeping up with a large wedding party!, she was super patient with guests, the bride and our family and did an amazing job of organizing for us. The venue is super nice and unique, we had our rehearsal dinner on friday night there as well. The ceremony took place in the main ball room, we then moved downstairs to the vault area for a super unique cocktail hour. We then went back to the main ball room for our reception and the place looked amazing. We had our wedding and rehearsal dinner catered by Birch Hill, they did an awesome job of setting up, and flipping the room while also having amazing food, and there was tons of it!! We partied all night long to the early morning hours and had a blast!! Sixty State Place provides such a great spot for unique picture opportunities being right in downtown Albany and then inside the venue as well. We couldn't have asked for a better venue and wedding night!! Sixty State Place rocked!! Thank you so much!!!

Edgar

Married on 06/21/2014

The service was not only professional, but also very kind and attentive. Their professionalism made our wedding a very smooth event and actually they helped us to coordinate and even plan things we didn't consider. One of the best experiences I have had with any vendor. I highly recommend them.

This venue is amazing! We could of not been happier! It accommodated our 180 guests perfectly.
Deanna you were great to work with!! Thank you so much for everything!
Are you interested?
Send a message