157 Reviews
Recommended by 100% of couples
Quality of service

5 out of 5 rating

Average response time

5 out of 5 rating

Professionalism

5 out of 5 rating

Value

5 out of 5 rating

Flexibility

5 out of 5 rating
32 User photos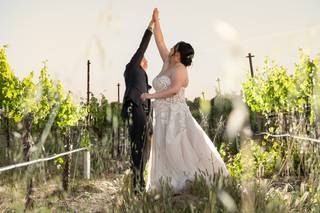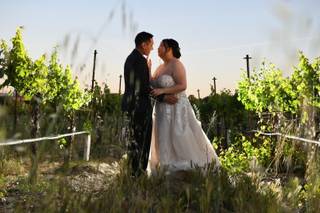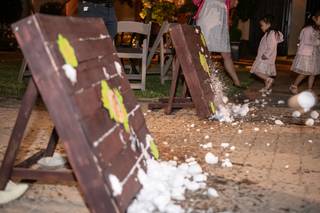 + 28

photos
Featured

Tami T.

Married on 11/12/2022

Stephanie is an incredibly talented photographer!

I couldn't imagine having anyone else photographing our wedding! Stephanie is an incredibly talented and very creative photographer. Our wedding photos came out better than I could have ever hoped for.

Secrest Wedding Photography's reply:

You're such a dear, Tami! Didn't we have fun!?!? It was an honor to be your choice as a photographer- I was thrilled with the photos! :)

Fiona

Married on 11/04/2022

Stephanie is the best!

Stephanie is an exceptional photographer who saved our last-minute pre-wedding photoshoot. Overall, her talent, professionalism, and dedication to making us happy set her apart. We highly recommend her and look forward to working with her again.

When we met Stephanie on the day of the photoshoot, my partner and I were on the verge of a nervous breakdown after an awful experience with our hair and makeup stylist (who did the makeup and hair completely different from what we agreed on, and ran almost half an hour behind schedule). However, Stephanie's calm and reassuring presence helped us relax and fully enjoy the day despite all the chaos.

One of the things that stood out to us the most was how approachable and accommodating Stephanie was throughout the entire process. She was always willing to listen to our requests and preferences, and went out of her way to make sure we were happy with the final product. Her dedication to capturing the perfect photos and poses for us was truly impressive. We truly appreciated her openness and transparency throughout the entire experience.

In addition, Stephanie brought along a beautiful veil and other items that we could use for the photoshoot, which was a thoughtful and generous touch. Her attention to detail and creativity shone through in every aspect of the shoot, and the results were absolutely stunning.

Craig

Married on 08/20/2022

Secrest Success

Stephanie was amazing to say the least! On time and on schedule with everything we discussed prior, making it easy for our entire wedding party to get in and get out. Her Sunset photos put it over the top for me…needless to say, please call her, talk to her, let her know what you want, and you'll get it!

Secrest Wedding Photography's reply:

Awww, gosh, thanks so much, Craig! It was a tremendously fun day and I thank you for trusting me with your memories! Santa Barbara is the most magical place to be married and your wedding was soooo beautiful! Congrats to you both!

Are you interested?

Send a message

Billy E.

Married on 05/20/2022

Great memories captured by the BEST

If you're looking for a great photographer, Stephanie is the person for you. She was fantastic!
We were so grateful to have Stephanie and Edwin take both our engagement and wedding photos. Our wedding was postponed like many others and we were so grateful they were flexible with our new date. They really helped out with the wedding and were super friendly to all our loved ones and was always there when we wanted a moment captured. They both captured each and every event from our wedding day from our ceremony to s'mores and even snowballs!
The pictures turned out AMAZING with a super quick turnaround! We will be keeping these pictures to remember the night for the rest of our lives, thank you!!!

+ 2

photos

Secrest Wedding Photography's reply:

We were so happy to accompany you on your magical wedding day! I know you guys waited a long time to be married (darn you pandemic!) so Edwin and I were so honored to have had gone the distance with you two! Thank you for having us along on your dream team! :')

Eduardo C.

Married on 05/06/2022

Amazing in every way

Stephanie was amazing in every way and perfectly captured our special day. She helped us find the perfect locations for our photos and was super sweet all the time. Thank you, Stephanie!

Secrest Wedding Photography's reply:

How very kind of you, Eduardo! I have such fond memories of your wedding day, wasn't Jo beyond gorgeous!?!? And the Brazilian Room is the best place to be married! Congrats to you both!

Mary D.

Married on 04/12/2022

Kind & Fun

Stephanie was absolutely wonderful with the entire process. She gives off lovely vibes and helped us plan our wedding timeline. For our wedding day the weather was out of control! We were so cold and the wind was blowing us over. I was so worried that our pictures would reflect something other than the love we felt for each other that day. After seeing the pictures, we were so pleased. She battled the elements and truly caught our emotions of that day. I love our photos.

Brian G.

Married on 04/09/2022

What an Incredible Photographer!!! Thank you!

Stephanie is a talented, creative, and dedicated photographer that captured our engagement photoshoot and wedding day phenomenally! On top of that, she has a lovely personality that you will enjoy having by your side during your intense day. She is such a kind, warm, and fun individual. She was also so responsive and quick with communication. Thank you Stephanie!

Secrest Wedding Photography's reply:

Oooh, Brian, thanks so very much! Your wedding day was so multi-facetted I just was over the moon to be included in the magic! And what a backdrop Chabot made! Congrats for making your dreams come true and thanks so very much for having me along on your adventure!

Fleur

Married on 04/02/2022

Wonderful Time with Stephanie

Stephanie is very nice, patient and professional as a photographer. We had a great time with her from discussing our wedding plan, showing our dresses to wedding photos we like. She always listened to our expectations carefully and gave us useful comments. She also kept confirming with us about some details which makes us feel she really values her work and our wedding.

The wedding day was perfect. We went to city hall, Legion of Honor, baker beach for photos. At the end, we have more than 700 well-processed photos returned by Stephanie. They are gorgeous and beautiful. WE LOVE them so much !!!

I would highly recommend her to my friends who will have weddings later. Really great experience with Stephanie.

Neysa N.

Married on 09/25/2021

You will not be disappointed, she is wonderful

Stephanie and her team were awesome! They are really friendly and very communicative about what to expect. Our pictures turned out perfect, I highly recommend her for your special day.

Jackie M.

Married on 08/07/2021

Absolutely perfect!

She was amazing! She caught the most perfect moments without me even realizing they were the photos I would end up loving the most. Working with Stephanie was exactly like having a friend there helping me out. She made everything so easy and comfortable. I will forever book with her and recommend her to all my friends and family!!

+ 6

photos

Secrest Wedding Photography's reply:

Aww, sweet Jackie!! We had so much fun, I was honored to be on your wedding adventure!! Big hugs to you both, what a day!

Jennifer

Married on 06/19/2021

In a word: AMAZING!

No need to look at any other photographers--Stephanie is just the BEST! Incredible photos (how DID she get everyone looking so good in the big family shots when we didn't have much time at all?). She captured so many special moments and details, looking through the photos is like reliving the magic of our event. She's lovely and flexible and knows what she's doing; this is an easy choice! I cannot say enough good things about her!

Zoe F.

Married on 09/05/2020

Wonderful wedding photographer!

We worked with Stephanie for not one but two weddings - our small pandemic ceremony in 2020 and our larger reception in 2021. Stephanie beautifully captured both of our special days with absolutely stunning photos. We love the couples portraits as well as the more candid group shots and have many of them hanging in our home. She was also so kind, warm and generous with her time and advice. She helped us and our families feel comfortable with professional photography with her suggestions for poses and locations. We would highly recommend working with Stephanie!

Kimberly C.

Married on 05/02/2020

Most excellent

Stephanie was our photographer and she was excellent! We wholeheartedly recommend her. She made us feel comfortable and is a wonderful, sweet person. We were so lucky to have her on our wedding day. The photos she took of us showed how precious it was to take our vows before friends and family and how much fun we all had.

Marisol

Married on 09/29/2019

Amazing photography

This photographer his a husband and wife couple. They did an amazing job in capturing all the photos we recommended. The pictures turned out better then we expected.

Jaax D.

Married on 09/03/2019

Stephanie is amazing!

My husband and I are incredibly grateful to have had Stephanie as our photographer. She captured the essence and joy of the best day of our lives. Her kindness, passion, and energy gave me comfort and confidence throughout the process. She took amazing pictures and made me feel at ease throughout the day. Stephanie is a wonderful professional and I am very pleased with her and her work.

Secrest Wedding Photography's reply:

You're such a gem, Jackie!! We had such a grand time! I'll always remember your most epic Greek ceremony- it was so special! I felt so blessed to have been there as a witness, thank you for having me as your documentarian! All my best to you both!

Corinna S.

Married on 08/03/2019

Priceless wedding photos!

I am so thankful that I chose Secrest Photography. Stephanie is a pro and our wedding photos exemplify the phenomenal work that she does. She is amazing and fun. Her artistic eye is priceless! Our family and friends can't stop talking about our lovely photos. Now we get to relive every fabulous moment of our wedding day forever!

Stephanie

Married on 07/06/2019

More than just a great wedding photographer!

Stephanie was such an incredible photographer and an absolute joy to spend time with. From the first meeting with her, we knew we wanted to work with her. She is efficient with her work but the warmest soul you will
meet and will put anyone at ease who is nervous in front of the lens.
It is clear she puts her whole heart and soul into her craft and the results are incredible. We have gotten so many compliments on our wedding photos and she got them back to us so quickly! Quit your photographer search now and book her if she is available for your day. You won't regret it and you will have someone capture the most special moments for you who is the upmost professional and easy to work with.


Linda

Married on 02/16/2019

Stephanie is simply AMAZING!

My husband and I were so lucky to have Stephanie capture the moments of our wedding. When we were searching for photographers, it is so rare to find someone with 5-stars-- and there is definitely reasons why Stephanie has it! She is incredibly skilled and passionate photographer. It was hard for me to come up with ideas, but after spending an hour with her, she was able to see the vision I wanted and she had a lot of ideas on how to make that happen. We highly recommend Stephanie for any photos you may need and hope to work with her again in the future.

Melissa F.

Married on 11/24/2018

Professional, skilled, down to earth, fun, best wedding/engagement/event photographer!

Stephanie is such a delightful person to work with and an incredibly skilled, creative, & passionate photographer. We are ecstatic with how our wedding and engagement photos turned out. They truly tell the story. We don't even regret not having video from our wedding because the photos Stephanie and Connie captured tell it all. We also had so much fun during our engagement session--Stephanie had us laughing and relaxed immediately. She was open to our ideas and also had tons of creative ideas of her own. She is personable, down to earth, professional, and she was able to clearly articulate what angles and poses we should attempt to get the right shot. She has an artistic eye for creative and fun shots as well as more serious portraits and sentimental moments. She actually also photographed my grandmother's birthday party about a month before our wedding, and those photos turned out awesome, as well. Stephanie is all around a wonderful person and talented photographer! My husband and I highly recommend Stephanie for your engagement photos, wedding photos, and other special events.

Ranjini

Married on 10/27/2018

The best way to remember your wedding day!

I would have given more stars on flexibility and professionalism if I could! Stephanie did an amazing job capturing every part of the wedding, especially the ones you wish you had more time to remember while they were happening. She's also wonderfully collaborative, and I felt totally comfortable trusting her vision. Remember your day the best way possible with Stephanie to capture your memories!

Secrest Wedding Photography's reply:

Sweet Ranjini! Thank you so much for your kind review! Yours and Eric's wedding day was utterly dotted with magic! The venue and your florist created something right out of a magazine! How blessed I felt to be your documentarian! Just stunning- lucky me! :')

Matthew

Married on 10/13/2018

Captured Authenticity vs Created Artifice

Before seeing a single photo from my wedding, I was already prepared to give Stephanie a 5-star rating.

Stephanie was incredibly responsive and on top of communication throughout the entire planning process. I never felt like I had to chase her down or that I wasn't her top priority. She is very easy to get along with, open to lots of ideas, and always ready with fun suggestions of her own.

I wanted to work with Stephanie because I saw from her portfolio that she has the ability to capture intimate moments that tell the grander story all in a single frame. With her photojournalism background and approach, she is a master at capturing authentic moments, rather than creating posed, unnatural ones.

Stephanie's ability to artfully capture moments as they are was key for my wife and me because the wedding was actually a surprise we sprung on our guests the day of. We needed someone who would be able to navigate the uncharted territory of such a unique event and still artfully document it all.

And Stephanie certainly delivered.

If you want the standard photos that look just like everyone else's, hire the best-rated wedding photographer in your budget. If you want exceptional stills that truly reflect the ineffable essence that is specific to you and your day, hire Stephanie Secrest.

Secrest Wedding Photography's reply:

A wedding like I've never had the honor to attend! The multiple surprises that you both kept your guests at the edge of their proverbial chairs will forever be in my heart! It was a spectacular wedding day and it was beyond an honor to be chosen. Thank you both for such a lovely review! :')

Lauren S.

Married on 10/05/2018

Amazing Wedding Photographer

Stephanie is an amazing photographer and a gem. My husband and I could not be more pleased with our photos. She went out of her way to find another first look photo location when we found out the original location would be closed less than a week before our wedding date. She went above and beyond by driving to multiple locations sending us videos from four different first look locations to choose from and also helping drive the wedding party to multiple photo locations day of. She assisted in other ways not just related to photography and helped make our wedding day as magical as possible. Highly recommended

Secrest Wedding Photography's reply:

You're wedding was unbelievably charming and I was so honored to be a part of it! You both were so brave learning (at the last second!) that we couldn't do the first look in the redwoods! I was so impressed how you held it together! Rock on, Lauren and Matthew!

David

Married on 09/17/2018

Professional, Quality, Personable, Silly

Both my wife and I JUST LOVE Stephanie, we want to adopt her! She has experience, professionalism, an obvious love of her craft, and produces excellent results! At the same time it's so clear that she's fun loving and silly, which fit so very well with our personalities. She has an AMAZING eye for composition, framing, color, and lighting, and somehow a perfect trigger finger for getting THAT shot. Her photojournalism expertise is very evident in the quality of her photos.

+ 2

photos

Stacey S.

Married on 09/08/2018

Simply perfect

Hiring Stephanie to be our photographer was the best vendor decision we made for our wedding. Not only is she a warm and sweet person to be around she is an extremely talented photographer. She had the best ideas for shots and even made time in her schedule to come to our rehearsal to make sure all our plans went smoothly day of. I can not say enough good things about her! I loved my photos and loved having a photographer day of that felt more like an invited friend.

Rebecca

Married on 06/17/2018

Stephanie did our wedding photos. She is talented and so lovely to work with! The whole experience was awesome and she even set my shy little step daughter at ease with her cute, kind and silly personality. (She's still saying 'holy unicorn!) we love the pictures she took and we are so thankful. Aside from being a great photographer she is also just the sweetest person who can really put herself in your shoes and be in the moment with you!
Are you interested?
Send a message