53 Reviews
Recommended by 89% of couples
Quality of service

4.5 out of 5 rating

Average response time

4.5 out of 5 rating

Professionalism

4.4 out of 5 rating

Value

4.4 out of 5 rating

Flexibility

4.5 out of 5 rating
1 User photo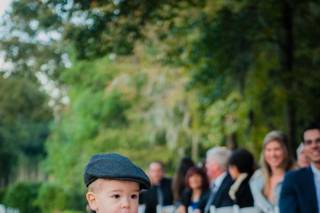 Jennifer M.

Married on 04/25/2020

We love Jodi!

We had a destination wedding in Savannah, during COVID, and we could not have been any happier with Jodi! She helped us find all of our amazing vendors and got us in contact with each of them. At the last minute when we had to have a ceremony venue change, Jodi helped keep me calm and found us a new venue within a day that turned out better than we could've ever expected! She was so patient with us and was truly so fun and nice! We are so grateful for how wonderful our wedding turned out in the midst of such a crazy year! All thanks to Jodi!!

Savannah Wedding Dreams's reply:

Thank you so much!!! Your wedding was amazing and you both are the best couple and so easy to work with.

Katie D.

Married on 03/28/2020

Amazing Planner

Jodi is a dream to work with! Planning a destination wedding 900 miles away isn't an easy task, and then throwing a pandemic in the middle of it, only complicates things, but she was perfect through it all. She is personable, professional, flexible, easy to get a hold of, and made it to where the day of my wedding was a breeze. She made sure I always had mints and a beverage ready! My spouse and I actually got to enjoy the day, and it was magical.

Savannah Wedding Dreams's reply:

You are both amazing and I am going to miss you both. Your family and friends were so much fun. You both are truly blessed to have such a support system.
Have fun on your honeymoon and relax!!!

Debbie

Married on 12/06/2019

There are not enough superlatives to describe Jodi at Savannah Wedding Dreams. Planning our daughters destination wedding was easier than imagined simply because we hired an exceptional individual. Jodi went over and above in arranging and working with the venue and all the vendors. She was always available to answer any and all questions we had during this process, and believe me, there were many. Her kindness and patience was an added blessing for this mom and daughter who live several states away! She and her team were a pleasure to work with the day of the wedding, they kept everything running smoothly and on time. We highly recommend Savannah Wedding Dreams for local or destination weddings.

Are you interested?

Send a message

Nicole S.

Married on 12/15/2018

Thank you for helping on our magical day!

I am a wedding planner in the wedding and recently was married on December 15th, 2018. Having worked so many weddings I knew I needed someone behind the scenes to help with the final touches of my big day and am so glad I hired Jodi! I would not have been able to pull it off without Jodi. She was accessible and was able to pull together the final details of my big day that were important to me. She helped coordinate the ceremony and it went so smoothly. She was there when I needed her but not in my face, which was exactly what I wanted in a coordinator. She is so kind and sweet and I am SO SO SO happy I hired her for my big day!!!!! Thank you Jodi!!!

Autumn

Married on 11/16/2018

Necessity!

I was planning a destination wedding and had interviewed a few planners/coordinators over the phone that honestly did not seem that professional or took on more than one wedding a day. Then I spoke with Jodi and I immediately knew I wanted to hire her. You could hear the genuine interest in her voice. She only did one wedding at a time to ensure you got her total attention the day of and she specialized in destination weddings so dealt with brides not being local and offered her time in assisting with meeting with vendors, taking pictures of venue, recommending other vendors, and letting me ship boxes of decor to her house. My wedding weekend came and if there were a few mishaps I didn't really know of them because Jodi constantly was on it and made sure everything flowed perfectly. The mother of the ringbearer forgot the sign so she ran out and got a new one hours before the ceremony, she made sure the grandparents were okay all throughout the reception, she assembled and distributed my welcome bags (my guests were spread all over downtown Savannah), helped with my decor for my rehearsal, the list is endless. The best part was how much i got to enjoy my day bc i fully trusted that's jodi had it under control. I couldn't have imagined my day without her and highly recommend her! She is the sweetest and works very hard to make your wedding dreams come true! Thank you Jodi!!!

Alexa

Married on 12/30/2017

Jodi and her team were beyond incredible. I booked her for my "month of" planner, but she was right by my side long before that answering any question that came to mind. She helped make my wedding truly a dream and would recommend her to anyone that even THINKS they may need someone to help make their dream day come true. She's amazing, both personally and professionally.

Savannah Wedding Dreams's reply:

Awww Thank you Alexa!!! Your wedding was so beautiful!! Thank you for allowing us to be apart of such a special day!!

Brittany

Married on 09/23/2017

Kim was the Day Of Coordinator for my wedding and she did an excellent job. Being a wedding planner myself, I was worried I might be in wedding planner mode on my wedding day instead of in bride mode. Kim didn't let that happen. She was on top of every detail, ensuring that my ceremony and reception were set up to my specifications and that the entire day ran smoothly and on time. This allowed me to be relaxed and really present with my family and friends throughout my wedding day. I was very impressed with her professionalism, attention to detail and how she was able to anticipate my questions and desires and act on them before I could make the request.

Savannah Wedding Dreams's reply:

Brittany, Thank you so much for the great review!! Kimberly is amazing and we are very happy to have her on our team. Your wedding was amazing and you were such a beautiful bride!!!

Melissa

Married on 09/17/2017

Jodi went above and beyond to make my wedding fairytale a dream come true. She got everything planned, booked, delivered, and set up perfectly, and ran the show all night. I cannot thank her enough for all she has done for my special day. On top of that she's an exceptional person. Thank you so much!

Kimberly

Married on 09/03/2017

If you are looking for a wedding planner do yourself a favor and hire Jodi. She was absolutely amazing! I can't describe how grateful we are. She handled everything better than we could have ever imagined. Jodi was sweet, professional, thoughtful, responsive, and an overall delight. I could go on and on but I could never do Jodi justice. She made our day so special. Thank you Jodi for everything!

Tori

Married on 08/26/2017

Where do I begin? Jodi has been an absolute joy to work with since I first reached out to her. We planned our wedding from start to finish in 4 months and hired Jodi as a day of coordinator; even prior to the wedding, Jodi was always available and prepared to share her honest advice, review contracts with us, suggest vendors, and more. We truly couldn't have done it without her!

Before the wedding, Jodi contacted and managed all vendors. She asked the important questions we didn't know to ask since we were planning a wedding for the first time. She walked all of our friends and family through the wedding traditions during the rehearsal. During the wedding, Jodi made sure we stayed on schedule, completely set up and cleaned the space, and paid attention to every detail. Her assistants were just as caring and vigilant-- they were so kind and helpful, and everyone worked seamlessly as a team throughout our big day. Jodi and her team absolutely wonderful and ensured that our day was perfect!

Additionally, for my fellow brides on a budget, Jodi's services are an excellent value. I was so pleased with the quality of work and assistance she provided for the same cost or less than local competitors. I would hire Jodi one million times over, and could not recommend her more! My guests even commented that this was the first wedding they'd attended without anything going wrong. If you want your wedding day to go over without a hitch, hire Jodi and the Savannah Wedding Dreams team! Jodi, thank you so much for helping us take this huge step in our relationship in such a beautiful way!

Savannah Wedding Dreams's reply:

Tori, Thank you so much for the great review. Your wedding was amazing!!! I am going to miss you and all our phone calls. I know your marriage will be strong. You both have so much Love surrounding you with your family and friends. Jodi

Heather

Married on 07/31/2017

My husband and I renewed our wedding vows a couple weeks ago for our 20th wedding anniversary in downtown Savannah at the Gingerbread House:) I knew after meeting Jodi that she would make everything perfect and keep me from stressing over everything as I always do:) It was the most beautiful day and everyone had the most wonderful time celebrating!! Jodi is one of the most kind hearted, genuine, loving, professional vendors a girl could ask for! She is like another Mom how she takes care of you during all the hecticness of planning! If you need a planner to make your day beautiful and stress free...grab Jodi while you have the chance!!! She is wonderful!!:) Thank you Jodi for making our day amazing!

Savannah Wedding Dreams's reply:

Heather, Thank you so much for the great review. I still can't believe we did your 20 year vow renewal. You are absolutely stunning!!! Here is to the next 20 years!!!

Juli

Married on 06/16/2017

Jodi was terrific! I planned a destination wedding and she was invaluable, putting me in touch with great vendors and recommending venues! She went above and beyond to make our day the best for us and our guests! Highly recommend Jodi to anyone planning a Savannah wedding!!


Hope

Married on 05/27/2017

Do yourself a favor and hire Jodi.

From match-making us with the best caterer (Simply Southern) and the best photographer (Sweet Peony) and the best venue (Savannah Station). She is simply the best. But wait there is more....

Every step of the way, Jodi was there. At the rehearsal, she made one of my bridesmaids promise her to make sure I ate before the wedding. She knew how I was feeling before I did. When my sister was having a hard time getting alterations on her dress, Jodi was there. When I wanted a certain centerpiece but our budget had been cut (due to a job loss), Jodi had a plan. When the bridesmaids try to steal the show (and they will), she was there. She came to my hair appointment, to our rental house, my "get ready" house before the wedding, to my rehearsal dinner. She checked on me every step of the way and made sure I was okay.

Jodi is honest, caring, kind and most importantly protective of her brides and believe me when I say, you will need her by your side on your big day.

Jodi, we love you and you now have new friends for life. We promise to keep in touch. We miss you already and are sooooo happy that you made our Savannah Wedding Dreams come true.

Thank you for everything we could not have pulled off all this without you!

Guests comments include: it was flawless, seamless, stunning, the best wedding they've been to, even the toughest of guys were in awe of how beautiful the tables were.

Can't stress it enough, she's the best!

Samantha

Married on 05/06/2017

OMG. You really get the full package with Jodi. It was the most perfect destination wedding. She went so far above what we could have ever imaged or invisioned for our big day. She took such good care of myself and my groom making sure we ate and everything was taken care, we never missed a beat with family and friends. I can't describe how I feel about jodi but if you have the opportunity to work with her you're doing yourself a favor.

Lee

Married on 05/01/2017

Jodi made our wedding perfect. She made our small wedding so special and her personal touches were much appreciated. We highly recommend!
Thank you Jodi!

Jenna

Married on 04/29/2017

I cannot begin to explain how amazing Jodi is and how much of a godsend she was for our wedding. We were planning a wedding in GA all the way from IN and without Jodi, we could not have a pulled it off. From start to finish, Jodi was friendly, responsive, and completely on top of everything. From recommending vendors in the area to acting as liaison between us and the vendors. Our day was perfect and I can guarantee it was because of Jodi! Would choose her 100 times again. Thank you for everything!

Melanie

Married on 04/07/2017

Jodi truly went above and beyond to make my day more special than I could ever imagine! Every email I sent her was responded to in MINUTES! Being that this was a 'destination' wedding, that was very important to me! Not only did she find me the best of the best as far as vendors go in Savannah, she was on top of it making sure they hit every mark necessary which was more than appreciated. I feel very bonded to Jodi and will never thank her enough. She is a special lady who ANYONE would be lucky to have as their wedding planner!! Hugs and kisses Jodi!!

Savannah Wedding Dreams's reply:

Thank you so much. This means the world to me. I am going to miss you. I am glad we are Facebook friends so I can stay connected to you as your life moves forward.

Very nice people. very pleasant to talk to over the phone and flexible and understanding to any changes in the schedule, planning, etc.

Alexandra

Married on 10/14/2016

Jodi was and has been amazing throughout planning a wedding for my friend. Her warm open heart has left us inspired. She has gone above and beyond planning a wedding. Jodi genuinely cares about you having your perfect special day. I highly recommend Savannah Wedding Dreams as your wedding planner.

Jodi was such a big part in making our dream destination wedding in Savannah come true! We hired her for the month of coordination but she was involved and instantly available via phone/email even during the planning process to ensure that any questions were answered and that we had the best vendors that will deliver on the big day.

Jodi has a great bubbly personality and is so easy to work with! She really went out of her way to ensure that our wedding day went off without a hitch. Starting with the wedding prep she would text photos as things are set up to help calm my nerves and ensure that everything was getting done exactly to my vision.

She was able to anticipate needs and deliver: she worked with our photographer to adjust the timeline so that we would be able to have the most amount of time for pictures, she brought the bridesmaids and the groomsmen snacks when we were getting ready, and she always made sure to give me water and remind me to stay hydrated during the big day.

Planning the wedding from out of town and having not worked with any of the local vendors I anticipated at least some hiccups on the big day but Jodi was really key in making the dream happen! She really went above an beyond to make sure that I relaxed and enjoyed Savannah while she did her magic to make my wedding day really smooth and effortless!

She is a true professional- organized, dedicated to your dream, fun to work with, and a must have for your wedding!!

Charlene

Married on 09/03/2016

Words cannot express how thankful I am that we found Jodi - she is as good as they come! As a destination bride, Jodi was SUPER helpful in identifying every vendor I used for my wedding day. What's great is she hand picks 4 or 5 for each category (i.e. caterer, venue, flowers, cake, photos, DJ, etc.), gets quotes and even negotiates for you. She keeps tabs of all the vendors and is always super responsive to emails/texts and phone calls. She came with me to my venue visit, tasting and even met me 2 days before the wedding to make sure I was calm. My wedding was the day after Hurricane Hermine and she woke up early Saturday morning to visit our outdoor ceremony site and took videos to assure me that it will be GREAT. She spent the day with the girls making sure we had everything while we got ready, handled transportation logistics with the groom and stayed throughout the entire wedding to make sure all ran smoothly. She created the timeline for me and sent it to all vendors so I did not have to worry about deliveries/arrivals, etc. In addition to the perfect wedding planning and execution, Jodi is a wonderful person - always putting her bride first and is 100% committed and passionate to her craft. Thank you, Jodi, we will miss working with you dearly!

Savannah Wedding Dreams's reply:

Awww This means everything to me. Much Love to you both!!!

Fatima

Married on 07/16/2016

Jodi was truly amazing! My husband and I hired her for the month of coordinating the wedding. We live in Kansas City and so we were relying on Jodi to be our eyes and ears in Savannah as we reviewed caterers, linen providers, florist and local wedding photographers to name a few. In addition, my husband and I had a rough month prior to the wedding with serious health issues and troublesome efforts with getting international guest visas for our friends which made us lean on Jodi even more than we had anticipated from the get go. She was outstanding! Never once did we feel that something should have been different or that we didn't feel that the wedding was our special day. To top it off, Jodi was focused on giving us the best experience at anytime regardless of the event. When we had pre-wedding get togethers with family and friends, Jodi was there making sure my husband and I had no stress and that the event was going perfect (even without being asked to!!). Further, for the wedding event itself, Jodi personally designed several decorations including a fantastic centerpiece for every table which consisted of driftwood, beautiful arrangement of flowers, fabrics and sea ornaments.

As for the wedding event itself, it was truly a fantasy. There was not a single thing wrong or unexpected throughout the entire event. That isn´t to say the event probably had no hiccups but the fact that Jodi showed her strength and made sure not a single issue wasn´t resolved or put on our shoulders, which to me is the ultimate success of a coordinator.
We recommend Jodi to anyone looking for a coordinator for ANY event, but especially for a wedding!



Savannah Wedding Dreams's reply:

Wow Thank you so much. This review means the world to me. Much love to both of you!!!!

Jayla

Married on 07/09/2016

Jodi is the best. My husband and I hired her for the month of coordination. Any time I needed her no matter the time she was there for us to answer all our questions and give suggestions. When my hairstylist had something come up Jodi went out of her was to find me a fabulous hairstylist. Our family and friends can't stop talking about how our reception was decorated thanks to Jodi. She is truly a friend for life. Jodi went out of her way to meet with all our vendors to make sure everybody was on the same page. Our cake decorator wanted to deliver our cake as our guest was showing up and Jodi didn't give up until the delivered it before the guest started arriving. Jodi goes above and beyond as a wedding coordinator. I love her so much and my day couldn't have been as great without her. Love you Jodi Jayla&Jeff

Courtney

Married on 05/28/2016

If i could rate Jodi at a million I would. Jodi is not only the best wedding planner in Savannah but she is like a mother and best friend! I don't even know where to begin with how much I appreciate everything she did for us before, during and after our wedding day! From the emails, texts, phone calls and week prior nightmares she was always there for us to count on!! My day went so smoothly and she perfected my every idea and more of how I would want my wedding day to be! The way she communicated between myself and my other vendors was outstanding. She is so brilliant and she definitely knows what she is doing! If you are planning a wedding, you NEED to book Jodi! I just can't say enough about how caring and professional she is. She will not let you down. Weddings are HER specialty! SHE IS THE BEST!!!!

Christy

Married on 05/14/2016

Jodi was a true blessing on my daughters wedding day. My daughter thought that me and her could do everything by ourselves the day of the wedding as we had already done all the planning prior to hiring Jodi. I inquired to Jodi about 6 months before the wedding day and we connected instantly. Even before hiring her and we didn't actually hire her until about 3 months before the wedding, she would email me periodically asking how we were doing on the planning and if we needed anything. She was always so nice and willing to give me helpful information even before she was hired. Finally, one day in February my daughter gave me the okay to hire her. I remember it was about 10:30 that night and I emailed Jodi asking her if she was still available and of course within about 15 minutes she responded and said yes. We couldn't have done everything she did on that day. She was there for us for the rehearsal and on the wedding day. She's very pleasant to work with and always returned my texts, phone calls and emails immediately. Thank you Jodi for everything you did for us!! I would highly recommend Savannah Wedding Dreams.
Are you interested?
Send a message