40 Reviews
Recommended by 98% of couples
Quality of service

5 out of 5 rating

Average response time

4.8 out of 5 rating

Professionalism

5 out of 5 rating

Value

5 out of 5 rating

Flexibility

5 out of 5 rating
24 User photos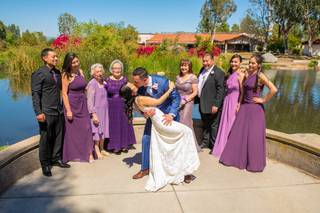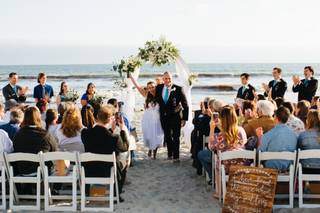 + 20

photos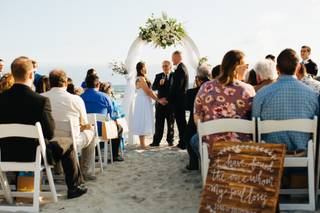 Nicole

Married on 11/06/2021

Seamless and beautiful

As our-of-towners planning a micro beach destination wedding, we needed help navigating the details and San Diego Destination Weddings came through! Jamila was wonderful and made the day run completely smoothly. The flowers were exactly what I'd asked for and the music was on point. They were flexible with us as we tried to make our special day work amid COVID. So happy!

Gemma G.

Married on 05/01/2021

Memorable Intimate Wedding

Our original wedding date was scheduled for August 22, 2020 but with covid restrictions, we had to reschedule & relocate. Jacquelyn and her team were flexible by accommodating to our changing needs and the current circumstances. Our micro wedding was even better than what we imagined it to be. Our small intimate group with just family was very memorable & sweet. It was the best day of our lives and we have Jacquelyn for helping to make our special day happen for us. Much love and appreciation goes out to Jacquelyn, Jamila, Pastor Chris, and Robert!

Kimberly S.

Married on 08/07/2020

Jamila, with San Diego Destination Group was the BEST!

Jamila was amazing. We had to plan things from Texas and when I reached out to San Diego Destination Group I was not sure what to expect. But when Jamila got involved, I felt like she really cared about us as people and not just clients. She was patient with us and ensured that we had a really smooth day. That meant so much to my husband and I. Actually are whole family felt she did an amazing job. So yes I would recommend this company.

San Diego Destination Weddings's reply:

Thank you Kimberly. Jamila and I are so happy that you were happy with your wedding. We enjoyed making your wedding dreams come true!

Are you interested?

Send a message

Alla

Married on 09/28/2019

Special day made stress free and beautiful

Jacquelyn made our special day run very smoothly. We did not have to worry about anything and could just focus on enjoying the day. Initially we had some misunderstandings but through good communication with Jacquelyn despite a long distance and 10 hours time difference (we live in Europe), Jacquelyn managed to make a stressful wedding preparation experience far more pleasant. On the actual day Jacquelyn went extra mile to help my family set up their surprises for us. She made sure we had our food on the day (very sweet of her!) and let us know in advance when we were running close to our budget for alcohol. After the wedding, when we had an issue with number of photos included in our package with photographer, she spoke on our behalf with photographer to make sure we are happy. Thank you so much Jacquelyn for making our special day stress free and very special as well as events before and after! Hugs from Europe.

Carrie S.

Married on 03/08/2019

Seamless Coordination on Day-Of

I am from San Diego, but my now-husband and I live in New York. Since we were looking at planning a wedding remotely, we decided it made sense to use a wedding coordinator to help us plan and realize our wedding. Jacquelyn and Jamila focused on the big-picture items (venue, DJ, photographers, flowers, cake, timeline, etc.), while we were able to focus on the details. I sent Jamila pictures of how I wanted things to be arranged and the day-of, she and her assistant set everything up. Everything looked exactly how we envisioned. Weddings can be stressful, but SDDW alleviated that stress and let us focus on our day.

Nason321

Married on 01/06/2019

Amazing beautiful beach wedding

I always knew that if I was going to be married it would have to be on the beach. I called SDDW knowing absolutely nothing about how to plan a wedding, I just knew it had to be on the beach on a Saturday. Jamila then contacted me soon after I signed the contract and made my dream happen. She helped me choose the right flowers, the right cake (even helped come up with an awesome wave/starfish design), the right decorations, ensured we had talked to the pastor, and made sure everything was smooth and perfect for a very reasonable price. The only thing we had to do was choose the songs, help our bridesmaids and groomsmen choose their outfits, and write our vows. She literally took care of everything else and whenever I had a question she would respond almost immediately. She even sent me pictures of the ceremony set-up and the beatiful ocean as I was anxiously getting ready. I was truly blown away by the experience and will happily recommend her to anyone who wants the perfect beach wedding in San Diego. SDDW truly cares about what they do and want you to walk away feeling like your perfect wedding dream came true. It definelty did for me, and I'm sure it will for anyone they take under their wing.

Keesha B.

Married on 12/10/2018

Our Special Day With San Diego Destination Weddings

From the first conversation I had with Jacquelyn about planning our wedding in La Jolla, I knew I was making the right choice. I love that I was able to customize every little detail of our small beach wedding and working with Jamila over the months before our wedding was amazing. Jamila is a fabulous wedding planner and understands the emotional needs of a soon to be bride as well as the attention to detail. We were blessed with the most beautiful wedding I could have asked for. We felt cared for by both Jamila and Jacquelyn and we couldn't have been more happy about the way everything turned out. Dream come true!

Kara P.

Married on 12/05/2018

Dream Maui Wedding

We worked with the company's owner Jacquelyn Mendoza. We specifically were under Maui Destination Weddings.

Jacquelyn was very warm and friendly. She obviously cares about you as a couple and doesn't just see you as clients. Our friends really liked her, and she's very down to earth, kind, practical, and funny. I think I always secretly dreaded the idea of a wedding planner, thinking they would be high-maintenance or control freaks, but Jacquelyn was none of those things, she was like a chill mom helping you with your wedding. She was easy to work with, and has been in the wedding planning business quite a while--so she's an expert! I get stressed out easily, so planning my own wedding, even though a year out, was already proving to be overwhelming for me. So even though I was initially nervous about using a wedding planner, it turned out to be a huge blessing because it took away a lot of the stress and worry I was experiencing. A bride has so many things to worry about, so having someone else bear the brunt of the work and worry about the nitty-gritty details was such a relief for me.

The day of the wedding, everything was so beautiful, and so much better than I could have done on my own. Jacquelyn's company finds the best vendors so that you know you'll get great value in your package, and what's nice is her company offers different packages for different budgets. We were blessed to win a free wedding in their first annual Maui Dream Wedding giveaway. And the wedding was perfect even though we had less than three months before the wedding when we won! We had the opportunity to work with AMAZING vendors, and she also was great about allowing me to add some personal touches to the wedding and reception. The reception was so elegant that as soon as I entered the reception I felt amazement, joy, and relief. Jacquelyn was able to give me a dream wedding I couldn't have done myself. The venue was the beautiful Lahaina Loft, a venue that's right on the historic Front Street, with a balcony overlooking the street and with ocean views.

Why spend hours analyzing vendors and reading reviews, when you can have a pro do it? If you want an intimate wedding, if you want to elope, or if you want a huge wedding, and if you're in the market for a wedding planner, Jacquelyn / The Destination Wedding Group should top your list!

*note: some pictures are mine and some were taken by our photographer Amity Mason, the great photographer that Jacquelyn picked out!

+ 7

photos

San Diego Destination Weddings's reply:

Thank you so much Kara and Daniel for the wonderful review!
It was such a pleasure getting to know you and working with you to make your wedding dreams come true! This was truly a special experience and all of the wedding professionals involved were so thrilled to be a part of providing you with your Maui Dream Wedding!

Richard S.

Married on 10/30/2018

Our Maui wedding

Jacquleyn, thank you so very much for making our Maui destination wedding so special. We had a limited budget and it worked out good, her team was great we'll have memories for a lifetime, Thank you again to all of you!
Richard &Jojo

San Diego Destination Weddings's reply:

Hi Richard & JoJo, Thank you! It was such an honor to work with you both and a pleasure to be able to meet your budget to provide you with a beautiful wedding experience!
I wish you both the very best in life!

Shana B.

Married on 09/10/2018

Fabulous!

Jamila was amazing! She took care of every detail on our big day so that we could relax and be fully present with each other, family and friends. We couldn't be more grateful for everything Jamila did to make our day so memorable and special. Thank you, from the bottom of our hearts!
Shana & Chad

San Diego Destination Weddings's reply:

Thank you Shana!
Jamila is an amazing coordinator. We are so blessed to have her as part of our team!

Flo

Married on 11/18/2017

Jacquelyn Mendoza is largely responsible for the flawless execution of our wedding. We were trying to manage a wedding long distance, and without her, I would have lost my sanity months ago. We read the reviews of SDDW before we met her Jacquelyn Mendoza, and I honestly saying the negative reviews worried me. They are the anomalies, SDDW clearly took the feedback in and incorporated solutions into their business practice going forward. Calls and texts were promptly returned, the contract terms were fulfilled completely, and every detail was perfect. We (me) went overboard from what we originally specified we wanted, despite my husband's efforts to remind me we wanted a down-to-earth wedding. She handled the change controls with ease. I didn't have to remind SDDDW about anything, and there were no surprises. I am a detail person, when you run high 8-figure projects, you learn that the details break you. That didn't need to be explained to Jacquelyn. She had it covered. She thought of things I didn't, made the reception and wedding look great, and managed a challenging venue where the wedding was to occur. Her choices were excellent: Photography (Stephy Wong), Cake (Cute Cakes), DJ(Sunset Music), and Flowers/decor. Our officiant came prepared, though my husband would have preferred that were told prior to the ceremony that we needed to bring our ID to the ceremony. The food was provided by the venue I selected, however, Jacquelyn performed the tasting for me, since I had to travel on the east coast most of the third quarter. Her choices were impeccable. SDDW exceeded all expectations.


San Diego Destination Weddings's reply:

Thank you Flo! It was such a pleasure working with you and Tom!
I am going to miss talking with you. We have to keep in touch!
I wish you all the best on your new lives together as husband and wife!
xoxoxo

Cathriona

Married on 08/28/2017

We can highly recommend San Diego Destination weddings! If anyone is looking for a beautiful destination wedding it's the place!!! the setting and area in La Jolla was just amazing and working with Jacquelyn was just brilliant, she was so helpful making our special day just wonderful and no stress involved. Thank you again Jacquelyn for all your help for making our wedding day magical for us.
Cathriona & Shay from Ireland

Tina

Married on 02/19/2017

I have only love and respect for SDD Weddings and Jacquelyn Mendoza! Her vision and execution went beyond our expectations. My new husband and I received and continue to receive compliments about the entire day from the food, photography, videography, flowers, venue, organization, and all the details. The day ran smoothly and without a hitch!

The planning was mostly completed via email and phone calls since we were in Texas. It was quite easy! For some items, we were sent a short list of vendors and selected the one we liked. For other vendors, Jacquelyn made the selection for us. Jacquelyn was available via text, phone, and email for any spur of the moment questions we had. She gave soundful advice and recommendations.

Leading up to the special day, Jacquelyn made sure we had everything we needed. On the wedding day, Jacquelyn ensured that neither I or my husband had any worries. She ensured that we stayed in this special moment and soaked in the entire day as husband and wife.

Please do yourself a favor and hire SDD Weddings to create your wedding day. You won't regret it!

Vanessa

Married on 09/23/2016

Jacquelyn is hands down the best! All I can say are positive things about her and the wedding planning. My husband and I wanted a destination wedding in the states and we could have not picked a better place. We planned everything with Jacquelyn via phone calls and email until we flew in from Wisconsin to personally meet her. She is such a sweetheart! She had asked us what our budget was and all the details we gave her was on point. The wedding was the best day of our lives. Everything was PERFECT!! All of our guests were pleased with the entire day. A lot of our friends had told us many times that it was the best wedding they have been to. We have to give credit to Jacquelyn for that. I would highly recommend to have her as your coordinator. We are so lucky to say we have gained an amazing friend and will be keeping touch with her. Thanks for being so great and making the wedding of our dreams come true Jacquelyn. You ROCK!!


Ecatherina

Married on 09/18/2016

Jacquelyn was very friendly and helpful. We were on a very specific budget for our vow renewal and we were able to get everything we desired! Thanks!!

Tommy A.

Married on 06/23/2016

Jacquelyn was amazing! we planned our wedding with her over the phone and via email, we had to put our faith in her and she did not let us down...She is an awesome person first and foremost,which made dealing with her and planning everything a pleasant experience. We did drive across from Arizona for cake tasting and to walk Sunset Cliffs (wedding site) and just that short time with her validated she was the correct choice...Our wedding was beautiful,she added personal touches and the ceremony was everything we had hoped and went as smoothly as anyone could hope for. I would certainly recommend her without hesitation to anyone and everyone,she is the best!! TEAM JACQUELYN!

Monique

Married on 08/15/2015

Hi everyone, every girl dreams of her fairytale wedding. Thanks to Jacquelyn and her great team for helping my husband and I make that come true. I love her she so awesome. Not only was I nervous about making my dream wedding come true especially with the thought of a destination wedding, being that we live 6 hours away she made sure to reassure me that all my ideas would be incorporated with my wedding. I found her as I was visiting San Diego and just decided to pull up wedding planners in the area. She was so awesome from our very first phone call conversation and responded immediately from emails to phone calls. She drove around with us to find the perfect place on the beach to make my day beyond beautiful and real. My husband and I married on August 15 2015. I highly recommend Jacquelyn as a wedding planner, she kept me from becoming the bridezilla I thought I'd become with the stress of a wedding. All I had to do is show up with my dress and be ready to say "I do" to the man of my dreams.

Michael

Married on 01/31/2015

We found San Diego Destination Weddings to be awesome to work with in planning and coordinating our son's U.S. wedding reception. Everything turned out perfect! SDDW is very easy to work with and offer great value for their services.

Sherri

Married on 01/04/2015

The experience we had with Jacquelyn Mendoza was top notch. Anything we needed, she took care of. Any question, she had the answer for. She was always available. Usually, weddings come with some sort of stress, but I have to say...I had absolutely no stress. We showed up and everything we very smoothly!! She took care of all of our guests VIP style. I would definitely recommend her to anyone wanting to get married in San Diego.

Jane T.

Married on 10/03/2014

My husband and I knew we wanted to get married in San Diego but we didn't know how to make that happen since we lived in Northern California. The thought of planning a destination wedding seemed so daunting, until we came across San Diego Destination Weddings online. From food tastings to the wedding ceremony, Jacquelyn Mendoza helped answer all of our questions and most importantly, made our valued out of town guests feel at home. Many of our friends and family commented that our wedding was one of the best weddings they had ever been to and a lot of it had to do with the vision, professionalism and passion of Jacquelyn. Thank you Jacquelyn for making our dream wedding come true!

Mary

Married on 09/13/2014

My husband and I booked our destination wedding for the beach in Oceanside. Having people travel from all over the country, we were concerned about everything going off smoothly. Jaclyn had to be out of town but she put Jamila in charge and Jamila was a rock star! The qualify of her work in helping us pick the cake, meet the minister, and her talent in making the flowers, tables, sand ceremony, arbor, and catering look beautiful make this a 5 star wedding! I am so thankful for San Diego Destination Weddings truly making it our dream come true. P.S. The cake and flowers were unbelievably beautiful--much more amazing than anticipated. P.P.S. We didn't even think of it but they offered a really reasonable video service--that video is now one of our prized possessions. At the end of a long day, we can look back at the video at sunset of our guests from 1 to 90 years of age. Both now and years from now, it'll be our only memory of many of those people and it is the only time that specific group of people will ever be together!

Viviana

Married on 05/31/2014

Very happy with the service, Jacquelyn made things very easy. Highly recommend!

Erin

Married on 05/18/2014

The best decision we made for our wedding was choosing Jacquelyn Mendoza as our wedding coordinator. We worked with Jacquelyn starting with the day we booked our reception in the Nautilus Room at the Coronado Community Center and chose the South Beach location on the beach in Coronado for our ceremony.

Jacquelyn worked with us to make the wedding everything we had hoped for and we could not be happier! Jacquelyn is very patient and easy to work with. She works with and contracts excellent vendors and she coordinated every detail for us, while still allowing us to give input on different aspects of the ceremony/reception and meet with the various vendors prior to the wedding.

The day of the wedding was very low stress for us due to all of Jacquelyn's hard work and emphasis on details. We were able to really enjoy the day and did not feel we had a thing to worry about as Jacquelyn and her assistants, Lauran and Jamila, handled everything! They created the perfect beach ceremony and beach-themed reception for us. We were so pleased as were all of our guests.
We are so grateful and highly recommend Jacquelyn!!
Thank you so much, Jacquelyn!!


Jonell

Married on 10/25/2013

I cannot say enough great things about Jacquelyn Mendoza! She did an amazing job planning our destination wedding in San Diego at Moonlight Beach Overlook. If you are planning a wedding with her, consider this location! She works with some wonderful vendors and gets great prices for your package! She was quick to respond to my questions, and she made sure any of the "little details" I wanted were there. Attendees still tell me "that was the most beautiful wedding I've ever been to!" Our minister, the location, the decoration, and the way everything was organized made for a lovely ceremony! We had a small reception at the Sheraton La Jolla, and Jacquelyn did a great job incorporating flowers and other things from the ceremony into the decorations. Plus, she was the one making sure EVERYTHING was on track that day from the morning hours until the very end!! I loved working with Jacquelyn, and I think you will, too!!!!

We planned our Son's wedding from the East coast to happen on the West coast so of course we were concerned that everything would be as we expected. What we received was that and more. Everything was absolutely perfect from the flowers to the reception. Jacquelyn and her assitant made the day a memorable experience for both my Son and Daughter-in-law as well as all our guests. I would recommend them to anyone planning an event in their area!!
Are you interested?
Send a message