58 Reviews
Recommended by 100% of couples
Quality of service

5 out of 5 rating

Average response time

5 out of 5 rating

Professionalism

5 out of 5 rating

Value

5 out of 5 rating

Flexibility

5 out of 5 rating
36 User photos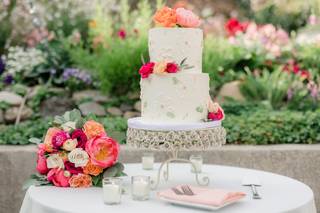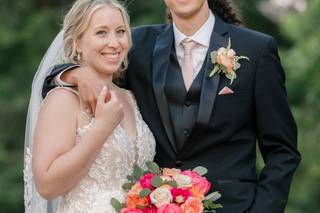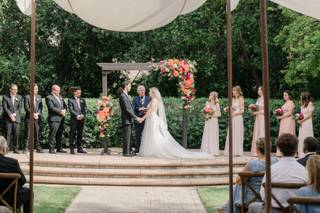 + 32

photos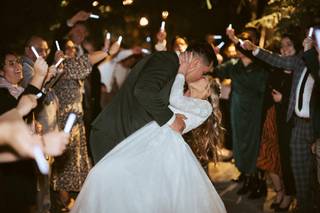 James

Married on 06/15/2022

Samantha Hall Events

Samantha and her team were true pros as Samantha navigated and handled our wedding ceremony and reception from initial planning, leading up to the big day, the ceremony and reception through wrapping up the festivities. The attention to detail, system Samantha has in place for planning and execution and cool-under-pressure mentality and workflow made our wedding day a wonderful and unforgettable event. On the day of the wedding, we didn't have to worry about a thing, Samantha and her team had everything handled. We highly recommend Samantha and her team to make your special day a day you'll always remember. - Sabina & James

Wendy J.

Married on 05/27/2022

An amazing wedding isn't magic when you have Samantha!

Samantha Hall Events came highly recommended and we could not have been happier to have her for our daughter's wedding! My friends couldn't believe how smoothly everything was going during the planning process - we had a detailed plan, a design, amazing vendors, and best of all, our daughter and (now) son-in-law were not overwhelmed and I was not crazy with stress for our 100-person wedding! One friend said "it's magic!" and I told her "it's not magic, it's Samantha!" She made sure we had an amazing photographer, a very talented and practical florist, a fun and experienced DJ, and every other vendor we needed. She made sure we had a beautiful design that reflected the couples' tastes and sensibilities. She made sure everything that was important to them, and lots of things they hadn't realized were important to them, happened just as they should. She was warm, responsive, supremely organized and resourceful. She met any challenges with humor, grace, and effective solutions. She coordinated seamlessly with the venue and made sure every tiny detail was taken care of. She kept us informed and was always there when we needed her. We chose her partial plan (two months - one you choose and one leading up to the wedding including day of), plus a couple of add-ons we wanted. It's the best money I've ever spent! We did our first month about 11 months out and came away with everything set up and a detailed list of what she and we needed to do every step of the way. Everyone said it was the best wedding they'd ever been to and it's all because of Samantha. The day of the wedding was perfect because she and her team were there to make sure it was. My advice - make sure you get Samantha Hall Events lined up now!

Traci D.

Married on 04/26/2022

Samantha made the day everything we hoped it would be!

Our daughter recently got married and we hired Samantha as the wedding coordinator for the event. Planning a wedding can be very stressful but as soon as Samantha came on board my stress almost immediately subsided. She was instrumental in making the day perfect in every way, making sure that all of the brides wishes were met and that the brides were happy and unstressed the entire day. During the planning process she was extremely attentive to details and handled every bump in the road that came up and was quick to answer any questions and get back to us quickly. I don't think we could have pulled it off without her and her team and we would definitely recommend her and use her in the future.

Are you interested?

Send a message

Christine

Married on 04/23/2022

Best day ever!

Choosing Samantha as our wedding planner was the best decision my husband and I made. We loved how Samantha had different planning package options on top of a la carte add-ons that helps each couple customize the entire wedding planning experience to best tailor their needs. Samantha's hard skills and soft skills as a wedding planner made her the most amazing wedding planner that we could have asked for. Samantha is systematic and organized in her approach as well as personable, calm, and diplomatic. Samantha is also knowledgeable, creative, easy to work with, and possesses great communication skills. She helped reassure us and gave us confidence that everything will be perfect the day of the wedding. Spoiler alert: everything was perfect and our minds were blown!! Samantha not only executed our vision for the wedding, but she went far beyond expectations. The day of the wedding Samantha and her team took great care of my husband and I along with all our guests. We got many compliments from our guests on how smoothly the wedding day went and how professional Samantha and her team were. My husband and I highly recommend booking Samantha Hall Events!

Taylor V.

Married on 04/22/2022

I couldn't of pulled my wedding off without her!

If you're going to splurge on anything, splurge on a Wedding Coordinator. Samantha made everything so much easier and helped me actually ENJOY my wedding day!

Rami L.

Married on 03/11/2022

My experience was a 10/10! Amanda was the best!

If I could recommend anything for your wedding, it would be to book a wedding coordinator/planner. It was the best decision I ever made. Amanda and her team were so sweet and just the best. They made all my wedding dreams come to life and I seriously don't know what I would have done without them. Planning a wedding is so stressful but I guarantee if you book with Samantha Hall events you won't regret a thing. From the organization, to running every detail by me, to her sweet personality, Amanda truly was the best and was worth every Penny!

+ 2

photos

Toni R.

Married on 01/13/2022

Samantha made our dreams come true! Best decision ever!

My sister stumbled across Samantha Hall Events on a Pinterest post of a really pretty wedding she did at my venue at Calamigos Ranch in Malibu. I was also so pleased to learn she was one of Calamigos Ranch's preferred vendors for wedding coordination.

Getting a wedding coordinator is one of the best decisions and best money spent you'll make on vendors for your wedding. Samantha was hands down the best decision and she and her team made my wedding perfect! My husband and I got married at The Oak Room at Calamigos Ranch in Malibu on February 25, 2022. Samantha made everything seamless, stressless, and she and her team handled every special detail and coordination with all of the other vendors so flawlessly.

She was so organized leading up to the wedding, took so much off our plate, and had such great vibes. She truly went above and beyond to make sure our wedding DIY elements were displayed creatively, she kept our vendors on track, she timed everything perfectly and was the reason our wedding was as magical as it was. We decided to add on Samantha's rehearsal services last minute and it was worth it to make sure everyone was prepared for the next day. Even with a brand new baby at home, she spent so much time with us 5 weeks up until the wedding, the day before and the day and night of the wedding.

Samantha was well-versed and very knowledgeable with all the rules, as well as knew all the staff members from our wedding venue, she knew most of our other vendors and our vendors all highly recommended her saying they've done many beautiful weddings alongside her, she kept my husband on time (which is saying a lot), and she made sure every detail down to what drink I wanted throughout the night was covered. If there were any issues I had no idea because she made sure to handle everything so I could relax and enjoy our special day.

My husband and I were in awe, our guests said it was the best wedding they've been to, and our wedding far exceeded our expectations due to Samantha. We highly recommend booking Samantha Hall Events! HUGE thank you to Samantha and her team for making our wedding so special! By far the best investment of our wedding costs!

+ 17

photos

Taylor C.

Married on 04/28/2021

Sam is an angel

Sam was the absolute ideal dream wedding planner I could have ever asked for. She made me feel so organized, so on top of everything and didn't miss a single details. She was so responsive and quick to reply to any concerns or questions I had, and made me feel so love, special and taken care of on my day as well as the year and a half leading up to it. I'm actually so sad I won't have another wedding, just because I'd want to go through the whole experience again, haha. I recommend her to ANYONE searching for that perfect person. She's so chill and all around just the best vibes. I truly miss her so much and I hope her and her team gets to plan a friend's wedding in the future so I can experience their top notch service and magic. I LOVE THEM!!!!!

Zoe H.

Married on 01/10/2021

The Reason for a Successful Wedding Day

Samantha made my wedding day the most stress-free, peaceful day of my life. There were multiple occasions that I said out loud on my day, "Is anyone surprised how easy this is???" Seriously, she covered everything, thought of everything, and made the day the best day of my life. There were multiple moments where I asked her questions, only for her to say that she already had covered each and every detail. Nothing was left undone. Also, multiple family members and friends of mine vocally expressed how dialed, funny, and kind she was throughout the day. Cannot recommend her enough.

Briana B.

Married on 10/02/2020

Best Coordinator hands down!

Samantha and her team made our big day effortless and so much fun! During the pandemic and having to change our wedding plans 3 times, Samantha was so flexible and accommodating to make sure we had the wedding we were hoping for. Her expertise and guidance was so incredibly helpful that it took off all the unnecessary stress off my shoulders. We hope to use her services for our future baby showers!

Lauren

Married on 02/16/2020

She made it all possible - heartfelt, organized and efficient

I can't thank Samantha Hall enough for making the wedding of my dreams come true. From the beginning, her kind and thoughtful personality won me over - she was able to pick up my tastes, vision and personality immediately and provided instruction accordingly. She not only answered all my questions and last minute thoughts with genuine advice; she became a confidant and someone my whole family felt comfortable with. She provided the sense of ease and reassurance that I needed most when the details were piling up, and the wedding day ran so smoothly because she was running everything behind the scenes without me hearing or noticing any issues. Please look no further. She truly is the best there is.

Carol S.

Married on 11/02/2019

Wedding Planning

I whole heartedly recommend hiring Samantha Hall Events to help any bride and groom plan their wedding. My husband and I worked with Angela for "day of" planning and it was so unbelievably worth hiring a coordinator. Angela really went above and beyond for us! She was available to chat on the phone with me several times for over an hour after work, she listened to my vision of my big day, helped coordinate vendors, establish timelines and took care of things I didn't even know about! Angela and her team were so professional, sweet and organized on our big day. Many people at our wedding even commented on their professionalism and organization running the event and helping pack up afterwards. They truly helped us plan a fantastic, smooth running wedding!

Allie B.

Married on 09/14/2019

Samantha Hall exceeded our expectations!!!! :)

During the wedding planning process I interviewed 7 planners/coordinators and immediately knew that Samantha stood out from the rest. During our initial phone call she asked me heartfelt, and caring questions - how did my spouse and I meet? What was my vision for the wedding? What were the most important elements to both of us? And I am so grateful that I decided to work with Samantha because she absolutely exceeded our expectations. I am extremely detail oriented and organized, but I have found my match - someone who helped us with our 5 weeks out planning and day-of coordination PERFECTLY. She made us feel comfortable and offered suggestions that were always based in experience and professionalism. Her team on the day-of was fantastic and made sure to find solutions to any last minute blips that came up. I HIGHLY recommend Samantha and her team! And happy to chat if you have any questions for me

Carly L.

Married on 09/07/2019

Thank you Samantha Hall Events!!!

I had the best possible experience working with Samantha Hall Events for my wedding this month. My overall planner was Amanda and day-of person was Angela, and they could not have been more wonderful.

They are so knowledgable about weddings and offer suggestions and advice a bride would never think of without their help, which I was so grateful for. I appreciated their organization, responsiveness, and joy in what they do.

Their strategy on the day of is to offer as much help as possible and execute each task and event throughout the day in an organized but non-pushy way. If you wanted to push the timing of something back, like the bouquet toss, they were more than happy to execute that but would make sure you stayed on track regardless. They are wonderful at taking the stressful part of the wedding for the bride out of the equation.

I would recommend them 10 times out of 10 to any bride looking for a wonderful planning company. Thank you, Samantha Hall Events - you made the day perfect!

Sarah

Married on 07/20/2019

10/5 stars. Excellent!

I would 100% recommend Samantha Hall Events for her planning services. We chose the 5 weeks/day of coordination, and our coordinator Angela Russo was nothing short of spectacular. She truly went above and beyond to take care of everything from the moment we began working together to the end of the wedding. When I remembered I needed to email a vendor about something, I would check my email and see she had already taken care of it. She thought of every detail and made sure the event ran smoothly. It was such a pleasure to work with Angela and this company -- I would choose them all over again in a heartbeat.

-- Sarah Watson

Monica W.

Married on 01/06/2019

I will recommend Samantha forever

Samantha and team are absolutely incredible.
If you want to have a chance at enjoying your wedding day and if you don't want to have to think about the little details that make everything happen, you need Samantha. I could not have had a more perfect day and we owe that a lot to her and her team.
We hired Samantha as a month-of-coordinator and as I mentioned in the title, I would recommend Samantha forever and I will encourage all people planning a wedding to have a wedding coordinator that you can trust. Samantha was always very quick to respond to all my questions and kept all of my vendors on track. She effectively dealt with a space-y vendor of mine that was not very responsive and Samantha provided alternatives in case that vendor ended up not working out (sorry for putting you through that Samantha) and was able to catch a mix up in payment to the cake company before we ended up not having a cake on the wedding day.
I highly recommend Samantha. You will NOT regret having her on your team.

William G.

Married on 11/18/2018

Professional, top notch Coordinator/Planner

If you are having any doubts over who to hire to help plan/coordinate your wedding just stop right now and go with Samantha. My wife and I worked with her for two months remotely from Michigan to prepare for our SoCal wedding and it was effortless. We really could not have done it without her.

Michaela L.

Married on 10/27/2018

Need a planner? Look no further!

In our opinion, Samantha Hall Events is the way to go for all your wedding planning needs! Samantha and Amanda had our backs from start to finish. Their excitement for our special day was palpable and their skills are second to none. They went above and beyond to make sure our wedding was customized to our liking so rest assured, they'll have your day under control so you can enjoy every moment. Samantha and Amanda, we don't know what we would have done without you! Thank you!

Sarah

Married on 08/18/2018

I met Samantha when I was a bridesmaid in one of my best friends weddings that she was coordinating, and as soon as it came time to plan my own, I knew who to call! Samantha is extremely efficient, organized, and knowledgeable which really helped me out a lot and made me feel so much less stressed during the planning process and on the big day. I had a huge sigh of relief after just a planning phone call with her! She provided really great insight, advice, and support and she really went above and beyond to make our wedding weekend special. On top of that, she is super friendly and just a lot of fun. A huge thank you to Sam and her entire team for being so professional and awesome

Brittney

Married on 06/30/2018

Samantha and her team went ABOVE and beyond to make our wedding day absolutely perfect. She was very easy to communicate with and ensured every detail was taken care of. Her vendor communications and management was incredibly efficient and made the weeks leading up to the wedding seem seamless. She is worth every penny! Absolutely recommend if you want someone down to earth, professional, and attentive.

Michael

Married on 05/19/2018

Samantha Hall Events did a great job coordinating our wedding.
We were getting pretty close to the date and we didn't have a coordinator yet. We were worried that we wouldn't be a able to find someone available. Samantha did a great job making time to chat with me about our needs and then set us up with Amanda.
Amanda was super. Her enthusiasm and professionalism were just what we needed. She did a great job of filling in the gaps, letting us put the wedding together the way we wanted, but helping us with referrals and opinions when needed. When it came down to getting everything done, it was such a relief to have her on our team, as she really knew what she was doing. Also, the vendors she referred us to were all fantastic. Of particular importance was the help and support that we got from Amanda's whole team on the day of our wedding. They swooped in and helped take care of all the little details, ensuring that the bride and I could relax and enjoy the day. Big thanks all around.

Rachel

Married on 04/28/2018

Samantha Hall and her team provided day-of coordination services for our Santa Barbara Historical Museum wedding in April 2018. Given our larger wedding party, intercultural wedding, and international guest list, we felt it was important to hire an organized and adaptable coordinator who could work well with lively groups.

Five weeks before our wedding, Samantha reached out to us to coordinate the remaining logistics among our vendor team, schedule a venue walk-through, and plan our wedding day timeline. We appreciated her responsive communication, thorough planning, and flexibility. At our ceremony rehearsal the day before our wedding, Samantha effectively oriented our wedding party to the day's plans while keeping everyone relaxed. On the day of our wedding, she and her team showed up on time to coordinate the day. She and her team were warm, attentive, and organized. They anticipated our needs as well as those of our wedding party. They worked well with all vendors to set up the venue and incorporate all décor details. Samantha ensured we stayed on schedule from the moment she arrived until we had to leave the venue. Samantha also was able to think on her feet and problem-solve when some wind gusts necessitated modifications to certain décor items. She and her team worked with the other vendors to clean up the venue after we left. Maintaining her lively energy and sense of organization, Samantha allowed us and our entire wedding party to relax and completely enjoy the day.

Annelie

Married on 12/09/2017

I needed Samantha more than I could ever realize. I've planned a few events so I felt like I could do this by myself and have everything under control. As time progressed I realized, not only can I NOT do this alone, I don't want to, the stress of creating a timeline, contacting every vendor, making sure payments are sent on time, making sure they arrive on time, handling the walk throughs, setting up and taking down decor - IT'S JUST NOT POSSIBLE. And even I could swing it, it would have been too much, you want to enjoy your time leading up to the wedding not emailing every person involved in the wedding. I had more Christmas decor that Santa's village (Decemeber wedding) and I thought I had great ideas of how to decorate everything - the final product, the way Samantha and her team installed everything IS THE MOST BEAUTIFUL THING I'VE EVER SEEN. It was literally the wedding of my dreams and it's all thanks for Samantha. She's prompt, organized, aggressive on your behalf, creative and all around such a fun person to be around. Thanks Samantha Hall Events!

Erin

Married on 11/03/2017

When looking for a month of wedding coordinator to tie everything all together I did a lot of research and calls with companies and ford Samantha Hall Events to be the best value and the warmest company I talked to. Everything went perfect at my wedding. They were very responsive over email, phone or text and during the wedding made sure everything went great with all of the vendors and stuff going on!!

Kaitlin

Married on 10/08/2017

Samantha and her amazing team provided A++ service and coordination for our wedding at the Malibou Lake Mountain Club. I hired Samantha as my day-of coordinator, but the month before the wedding, it felt like she had been working with me the entire year and a half I had been planning! I particularly loved how she got things done in a timely manner (I have a type A personality- so this was a major plus). In addition, all of my vendors loved working with her as she has great attention to detail and is extremely personable. I could go on and on about the amazing things Samantha did, but the important thing to note is that she is organized, assertive, yet kind in her interactions with everybody. I highly recommend her to anyone in need of a coordinator who is professional and passionate about their work.
Are you interested?
Send a message