27 Reviews
Recommended by 100% of couples
Quality of service

5 out of 5 rating

Average response time

5 out of 5 rating

Professionalism

5 out of 5 rating

Value

5 out of 5 rating

Flexibility

5 out of 5 rating
Awards
30 User photos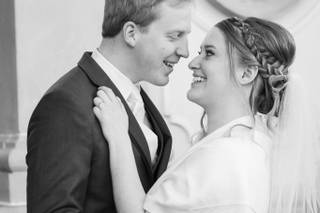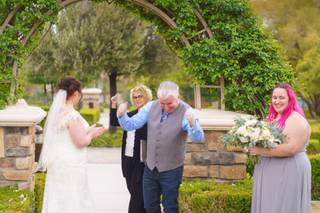 + 26

photos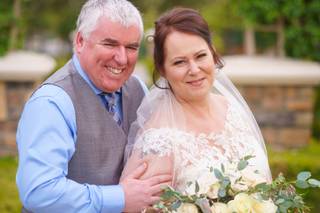 Featured

Andrew

Married on 03/22/2020

COVID-19 Wedding Salvation

Sam is an absolutely brilliant photographer but, beyond that, he's friendly, personable, professional, and made us feel totally at ease during both the planning stages and during our wedding itself.

We had originally booked Sam to do a six-hour shoot on our wedding which was scheduled to take place on Saturday 11th April 2020 but which, owing to the COVID-19 pandemic, actually took place last month.

Sam was able to work with us on a very short notice basis to accommodate not only a change of schedule but a change of venue and a vastly reduced guest list (going from roughly 100 people to just 3 of us)!

Sam immediately set us at ease on our big day. He knows how to get the best out of his subjects and was really excited by the photographs he was taking. When we saw them we immediately saw why he was so happy. They are truly fantastic. The lighting, the colours, the composition are all wonderful. He really captured the love, the emotion, the fun of our wedding.

We cannot rate Sam highly enough. It was a real pleasure working with him. He is a true professional!

Sam Fawaz Photography's reply:

Wow,
I really can't thank you enough for such a beautiful review and kind words.
You are such an amazing lovely couple. Wishing you all the best in your life together.
Be safe, and sure will meet again soon.
Warmest regards,
Sam

Martha D.

Married on 03/10/2023

Exceptional photographer, above and beyond

I am absolutely thrilled to give Sam at Sam Fawaz Photography a well-deserved 5-star review! From the moment we first met Sam, we knew that he was the perfect photographer to capture the love, joy, and magic of our special day. His passion for photography is evident in every shot, and he has an uncanny ability to capture the most authentic and heartwarming moments.

Sam made us feel comfortable and at ease throughout the entire process. He was professional, attentive, and incredibly patient, ensuring that every detail was just right. The result is a collection of stunning photos that we will treasure forever. Sam's artistic vision and expertise are truly unparalleled, and we couldn't be happier with our decision to trust him with capturing our wedding memories.

Not only did Sam deliver breathtaking photographs, but he also went above and beyond by helping us feel relaxed and enjoy every moment of our wedding day. His genuine care for his clients and commitment to excellence truly sets him apart. We are so grateful for the unforgettable experience Sam created for us, and we wholeheartedly recommend Sam Fawaz Photography to any couple looking for an exceptional photographer who will capture the love and beauty of their big day.

Thank you, Sam, for your incredible talent and for giving us the most beautiful memories that we will cherish for a lifetime!

Hanna P.

Married on 06/11/2021

Beautiful and natural photos of our favorite day

My husband and I got married in November - Sam was able to take beautiful photos around Las Vegas (including at the sign!) in a short amount of time before the ceremony. We didn't have a lot of time or location flexibility for photos, but the variety and quality of what we received doesn't show that at all, and he was able to take many candid shots over the 8 hours he was with us. Most impressively, we only had about half an hour after the ceremony to do ALL of the family / group photos. Somehow he did it, and the photos he captured are natural, fun and beautiful. Thank you so much, Sam! We will treasure these forever and already have two framed :)

Are you interested?

Send a message

Victoria R.

Married on 10/19/2019

Amazing work for affordable price!!

Sam was absolutely amazing beginning to end! Being in Texas trying to plan a LV wedding was tricky because there's a lot of fake vendors on the internet. Sam's flexibility and price range was definitely seeming too good to be true! But after talking with him and seeing his amazing work and great reviews, I knew he was the perfect fit for our big day! Communication throughout the planning process was a breeze. The day of he gave us a helpful posing tutorial to help us to look our best. His direction was on point and he captured not only the big moments but all the perfect candids. The amount of photos and all high quality is absolutely unbeatable especially for the affordable price! Me and my husband are truest blown away with our pictures and eternally greatful for his beautiful work. 10/10 recommend!!

Adina M.

Married on 08/08/2019

Very easy to work with and excellent person

We had no trouble setting up appointments and getting pictures taken. Sam knows locations and he was able to pick the right time of the day and create a mood that brought the best in us. Absolutely recommend

Kodi W.

Married on 05/05/2019

Over & Beyond

Sam was over and beyond what I was expecting from our wedding photographer. I researched on the internet to find a photographer for our Vegas wedding. I scheduled with him without ever meeting him and all of our contact was via e-mail. So I wasn't quite sure what to expect the day of. Sam showed up right on time, and instantly got to work getting all the accessory photos and the "getting ready" photos. He gave great direction the whole time and really made us feel comfortable. My husband wasn't too keen on getting his photos taken, but Sam turned that right around and had him laughing in the pictures. Sam's attention to detail and eye for finding the right pose and the right angle is amazing. He even wrangled my crazy group of people to get all the family and group shots that I was hoping for. His prices are excellent for the work that he provides. I would recommend Sam to anyone looking for a great photographer!

Chris M.

Married on 03/22/2019

Top notch photographer

As a photographer, I am very picky as to whom I want to photograph my family. This guy is not only an amazing photographer but super nice and extremely professional. I highly recommend his services. Not only is he a top notch photographer but his prices are extremely reasonable too. You get a lot of bang for your buck!

Garrett

Married on 08/19/2018

How many more 5 star reviews do you need to book Sam? You will be at a loss for words when you get your photos.
Sam was AWESOME! Very professional, great personality, extremely helpful and the results...WOW! He has such a creative eye for photography, and his work reflects that there is true passion in his art.
He offers "packages" that range in prices and all of them are more than fairly priced. There is no value that can be placed on the quality of the photos we received and our reaction to looking through our photos was truly priceless. Every photo was perfect.
The photos from the entire day turned out absolutely stunning. My wife and I couldnt be more thankful and greatful to Sam for capturing our wedding day, and really capturing "us" and our personalities in the photos. The creative style of his work is incredible, and seeing the final photos he took is beyond words.
We recommend Sam 10/10 and will definitely be booking him again for any event when we need photography.

Thank you again Sam!

Jennifer

Married on 08/10/2018

Oh my gosh! I don't even know where to begin!! I was blessed to have found Sam AND for him to have an opening in his schedule that would accommodate our wedding. He was so responsive to my emails and forgiving when I would drop the ball in communication. We checked out his only portfolio, package rates, and online reviews and booked him. We paid the deposit, provided him with the dates, and some ideas we had for shots. He then let us know what he felt would work best in the timeframe designated for our chosen package. I touched base with him the day before the shoot to establish a meeting point and time and that was it. He and his assistant, Lillian, were right where they said they would be at the appointed time. He is so knowledgeable about posing individuals to capture their best features given the lighting, etc... It was like a modeling class in additional to a photoshoot. He got hundreds of pictures of us and our attendants and the family. THEN, we RACED through the Venetian to grab a cab and race to the Bellagio BEFORE the next show. We hiked up dresses, grabbed bags and satchel, and RAN through the crowds (dress all up around our waist. The bride and two other people carrying different parts of it, weaving through people until we reached the perfect spot for him to set up.). We caught our breath and the photoshoot resumed. When the fountain show was over, we packed up and hiked up like before and took off weaving through the throngs of people in the streets and on the sidewalks until we made it to the Paris casino for the next shoot. Wow! It was exhilarating and exhausting all at once. Sam is passionate about his work and has a wonderful eye for detail, lighting, and perspective. He is so very kind and patient and reassuring. Lillian was such a help, as well getting us set up at each location. The processing and turnaround on getting the pictures developed and uploaded for our review was less than a week. And, those digital images WERE FLAWLESS!!!

+ 2

photos

Asha

Married on 05/17/2018

When we were looking for a photographer
We views his photo gallery and my fiancé who's now my husband was convinced on the quality of his work .we didn't hesitate or take no chances we booked him the same day we found him,he's the best photographer I've ever seen he's knowledgeable and he even show us how to pose and we literally was following his directions the whole entire pictures session.We love all our pictures we couldn't be happier and he's prices are reasonable compare to other photographers I totally recommend him to anyone who's looking for a fun,professionally with a good price and still get a high quality work .On our wedding day to us he wasn't just a photographer he was like a family we thank him for amazing time and great.

+ 5

photos

Sam Fawaz Photography's reply:

Thank you so much Asha for your wonderful and kind words.
I definitely had a great pleasure & honor working with you, your family and beloved friends on your wedding day. Thank you for your trust and for having me to be an important part of your special day.
I hope to see you in Vegas again :-)

Jason

Married on 04/28/2018

Sam was great! He dealt extremely well with a tough photography situation for our wedding (tight timeline). The photos all turned out gorgeous! He's a truly talented professional, and I recommend him highly.

Christian

Married on 12/22/2017

When we saw the amazing photo gallery on his homepage we were immediately convinced to choose him as our wedding photographer. The contact via email was absolutely professional, fast responding and he also asked for our specific needs and expectations to provide the best suitable arrangement for us.
We had the photo session just after our wedding ceremony. Sam and his wife Susan did an awesome job! We had a lot of fun and learned how to pose and to look great on each photo. Moreover Sam is very creative in finding the best places and really knows how to catch the right moment, perspective and light. While taking photos we already knew they are definitely surpassing our highest expectations.
We are really happy we choose Sam. We not only got fantastic photos, we also got a lot of fun and great memories. If you also want to have spectacular and professional photos, choose Sam!!

Sam Fawaz Photography's reply:

Thank you Christian for such an amazing review.
Thank you for letting us be an important part of your Special Day. We loved every single moment we had with you. You guys are wonderful.
Please remember that you have a family whenever you decide to visit Vegas again.
Love you both.

Tahlia

Married on 10/21/2017

Sam was hands down the best photographer I've ever worked with or seen. His knowledge on what locations and lighting was extensive and he was even amazing with how our posture was when we were posing. Right down to the way our hands where placed, our heads were turned and even where to be looking. If your looking for a photographer put Sam at the top of your list.

Sam Fawaz Photography's reply:

Thank you so much for the wonderful review.
It was my great pleasure and honor being an important part of your special day. I hope to see you in Vegas again soon :-)

Kara

Married on 06/28/2017

Sam made our elopement wedding in Vegas absolutely special. He was prompt, on time, and extremely professional. My wife and I do not know how to pose for pictures and he did all the work for us to make sure we were posed in the most beautiful ways. He knows all the most beautiful places on the strip to capture the structural beauty of Vegas and made us look damn good. I am forever grateful for Sam and his work and I would recommend him to anyone. Thanks to Sam's photography we will always have these memories. Also his prices were extremely reasonable for the quality of work he provided! Bravo! Highly recommend his services

Cassey

Married on 08/05/2016

Sam was excellent! We worked with him for our engagement shoot and our wedding reception - and we STILL cannot get over how amazing our photographs for both are. He was very accommodating with our budget, ideas, timeline, and really took the time to get to know my husband and I....which allowed us to get some amazing photographs of our entire process that really reflect us as a couple. Cannot recommend Sam enough!

Annika

Married on 06/01/2016

Hi Sam,

We would like to extend our sincere thanks for capturing the magic of our special day! You did such an amazing job and we are truly happy that you said yes in such a short notice to do a photo shoot at the Grand Canyon for our wedding. Special thanks for being so patient and great with us considering we just came of a long-haul flight from Australia and hadn't slept much in the last 24hours. You are such a pleasure to work with and have such a great nature, you truly cared and capitalised on every opportunity to create a great shoot. You guided and assisted us in professional manner in regards to our 'posture and posing' too. Thank you once again, we wish you all the best in you future endeavours and we would happily recommend you to anyone planning a Vegas wedding!

Kind regards,

Andre & Annika from Gold Coast, Australia.

Audrey

Married on 05/08/2016

No surprise with Sam, he will be up to your expectations.
Being a photographer myself, I strongly recommend Sam for his work and its rigor. You cannot be disappointed.!!!

Julie

Married on 04/16/2016

we has Sam do our wedding saturday april 16 2016 and he did an amazing job. i am so happy with him. my pictures are everything i could have wanted that night. he also did some photos of my new husband and just I one the strip. AMAZING just AMAZING!!!!

Adan

Married on 03/24/2016

A big thank you to Sam for being such a fantastic photographer for our wedding! Sam was a great part of the wedding, mixing in and capturing the special moments as well as creating beautiful portraits. Lying in the dirt to capture that perfect shot is Sam's specialty, demonstrating his desire to provide you with great and unusual images. Thanks again Sam for capturing our special day.

Kim B.

Married on 02/14/2016

My husband and I were so fortunate to find Sam Fawaz Photography as we planned our quaint, last minute wedding in Nevada on 2/14/16. In the two weeks prior to our wedding (it can be done) we began planned our big day we didn't think we'd be able to find is a good photographer on short notice. The wedding was 1 hour outside of the city, at a beautiful winery surrounded by mountains, just how we envisioned our wedding day. We saw great reviews of Sam Fawaz Photography & immediately contacted him. To our pleasant surprise, Sam emailed us back right away (with enthusiasm) wanting to help if he could. After a few emails back & forth he said he would make himself available for the afternoon of our ceremony. He understood what we needed & agreed to travel with us, as a group taking photos from the time we left our hotel in Las Vegas until we returned early evening. Sam went above & beyond our expectations as a photographer! Sam Fawaz is a FANSTASTIC photographer, professional, attentive, friendly, open to ideas, fun & also taught us a lot as he was shooting photos. He has a great eye for seeing photo opportunities that ultimately made wonderful memories for us in the final product. He also has a shining personality which in turn made us feel completely comfortable on one of the most important days of our lives. He takes his job seriously but also showed us how much he loves what he does in turn being a true artist & an extremely talented photographer! He captured our wedding day like no other could & thanks to Sam we remember every moment of it. He is great to communicate with and processed our photos quickly so we had them soon after our return home. We hope to connect with Sam again since our small group of family & friends at our wedding deemed Sam an honorary family member & friend! If we could give Sam 10 stars we would without hesitation! We highly recommend Sam as your wedding or special event photographer! We're a fan of Sam Fawaz Photography all the way!



What an amazing photographer! We had asked Sam Fawaz to perform photography services for our Vegas Wedding in December of 2015. He then spent the entire day with us from 12 pm till long after sunset shooting at dozens of locations all over Vegas - both interior and exterior. He found classic backgrounds to match the Renaissance theme of the wedding & my wedding dress - made the whole experience feel like a FAIRY TALE! I did indeed look like a princess in some shots - I was surprised because he brought out beauty in me I never thought I had!

Sam Fawaz gave us unbelievable angles - even laid down on the ground for some shots - especially to get the "Paris" Casino's Eiffel Tower. For other shots - in front of fountains and statues of Caesar's Palace - he literally made me look like a statue - this speaks to the high adaptability and exquisite talent of this photographer; he makes the subject of the photograph echo the "paysage" of the background so precisely and with such subtlety - as to leave the observer speechless. He made all photographs available to our friends and family in an online gallery & also sent us two very cute Bride & Groom shaped USB's via regular mail a week later containing double the copies of the work.

We definitely would recommend hiring this photographer for your event - be it a wedding, a bachelorette party, a business brochure, a prom, a family gathering, a friends' trip, regular modeling shot, advertisement/promo, nightclub outing, scenery compilation, classic memories photoshoot, sports team/local school/college competition memorabilia photography, or any other event in which you would like to have only the best of the best quality and service. We are very pleased with the results and all of our friends and family are enjoying the gorgeous photographs created by the hand of a True Master.

Mr. & Mrs. Dr. Von Glockner De Corona.


Brittany

Married on 08/16/2014

We knew we had to have Sam when we saw his photography. But getting married in Vegas in the middle of August meant we had to have our wedding in the evening because of the heat! My husband and I were a little nervous we wouldn't get those amazing light and bright photos we had fallen in love with. Sam was flexible the day of and rolled with the punches when my hair & mu was running late. He captured the sweetest photos of my husband and daughter getting ready and he did not disappoint with the outside shots! He knows his way around Las Vegas to make sure we got all the spots we'd asked for and more. He was easy going and made the whole process fun. We had so much fun running around with him and will treasure these photos for our lifetime! Highly recommend!

Theresa

Married on 04/25/2014

I am so excited to have found Sam! He was great with communication and professionalism before the wedding, he was great at the wedding, and the pictures came out amazing! On top of that he had the pictures edited and out to us with in the following week of our wedding! I can't recommend him enough!

Laura

Married on 10/06/2012

AMAZING!!! I got my photos one week after my wedding day. All I want to say is amazing!!! I can't even express how much I love the photos. Sam is truly a master. All of his technique and skills is essential for those photos. We feel so lucky to have Alex to be our wedding photographer. He keeps our best memory into the photo and I will never forget these moment. Don't hesitate, the money you spend will be totally worth!

WOW! Sam is unbelievably talented. I have had nothing but wonderful compliments on our wedding pictures and though scenery has a lot to do with that, I know so much of it is because of Sam. From our first conversation on the phone to the last email I have enjoyed every interaction. Getting pictures taken with him was exciting and if it weren't for time schedules I would have loved to take more. Everyone looks fantastic in our pictures and he captured so many unexpected moments. You would feel lucky to have him take pictures for you!
Are you interested?
Send a message