165 Reviews
Recommended by 96% of couples
Quality of service

4.8 out of 5 rating

Average response time

4.8 out of 5 rating

Professionalism

4.8 out of 5 rating

Value

4.9 out of 5 rating

Flexibility

4.8 out of 5 rating
104 User photos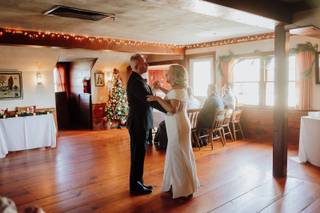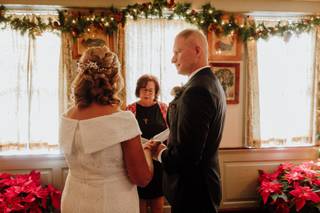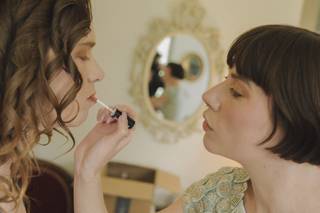 + 100

photos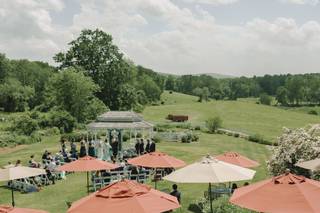 Jenn G.

Married on 12/10/2022

intimate Christmas Wedding

With only having 32 guests, we had our wedding in the Brookfield room, it was a perfect room. Nancy and Donna were amazing, they guided us from the very beginning until the very end with every detail, it didn't matter that it was a small wedding. I appreciate everything they did for us. Our guests are still raving out the food and venue.

Helen P.

Married on 09/16/2022

Car through the barn, no problem.

My son's wedding was a beautiful, memorable occasion made possible by the Salem Cross Inn staff even though their venue was taken out that morning by a car through the barn. The staff worked extremely hard to give my son and daughter in law the wedding they had envisioned. They bent over backwards to accommodate every one in the restaurant part of the building even when more people that expected showed up. The food was wonderful, the happy hour had a wide variety of hors d'oeuvres that the guest raved about, the outdoor bar looked like it was always there and the meal was fantastic. Salem Cross Inn and it's staff worked tirelessly till the end to make this a perfect wedding. I would recommend it to anyone.

Samantha J.

Married on 08/26/2022

Wedding Venue

Salem Cross did a wonderful job helping to make our wedding day special. Donna and Nancy were great hosts and were able to answer all of our questions when they came up. The whole meal was delicious and everyone still talks about it to this day. We lost power for two hours after our ceremony due to a thunderstorm and they handled it with ease and were still able to get all the food out on time and made sure everyone was having a good time. I would recommend this venue to anyone that is getting married in the future.

Are you interested?

Send a message

Jessica K.

Married on 06/11/2022

Amazing! Could not recommend them enough.

We could not have asked for a more perfect wedding at Salem Cross Inn. From the moment we stepped onto the venue, we knew that this is where we were going to get married. The grounds were the perfect backdrop for our special day. There is so much natural beauty and history there. The food and drinks were amazing and not your typical run of the mill wedding food. Everything is fresh and homemade and many of our guests said that it was the best wedding they had ever been to. Nancy and Donna were great to deal with and made navigating wedding planning in a pandemic stress free. We could not recommend Salem Cross Inn enough and cannot wait to return in the future for dinner.

Chelsea M.

Married on 06/03/2022

Perfect for our needs

The pandemic left us without our original venue and no direction to look for a new one in. I started talking with a stranger about my desire to have a wedding at a scenic, rustic setting, and how much I wanted that antique/colonial "vibe", on our somewhat limited budget. They pointed me to Salem Cross Inn and I'm so glad they did.
SCI had everything me and my new husband were looking for in a venue- sweeping, rolling, beautiful scenery, authentic rustic charm, a gorgeous barn, and the weddings they do are all-inclusive. It was indispensable having everything centralized and under one bill, not having to worry about rentals even if it rained, as well as all food and drink which were absolutely delicious. Their wait staff are all very friendly too. (That also meant we could have the rehearsal with dinner the night before, no problem). They were even able to set us up with their baker for our cake who was equally high-quality, and the fact that we were able to afford it was the best part of all. They were very flexible in many ways; up until the morning of my wedding it looked like it might rain, and I was able to wait until then to make the call as to whether we'd be indoors or out. The bridal suite was perfect for me and my girls; it's nice and bright and good for photos. We also made some very specific requests such as turning the bridal suite into a "quiet space" so that during the wedding loves ones who struggle with sensory stimulation could have a place to decompress in, and they accommodated that, as well as providing small touches like easels and putting up some additional lighting I brought in the barn (shout out to their maintenance person!). Granted, I did feel mildly prodded-at for asking some detailed questions to ensure my vision was pulled off the way I had it in my head (but it was my wedding, and as you can see I like to be thorough) but everything was taken care of and pulled off perfectly on the Day Of.
Salem Cross Inn is virtually everything I could have hoped for in a venue and was the perfect place to host one of the happiest days of my life.

+ 5

photos

Andrea B.

Married on 05/29/2022

An excellent venue!

I am so happy with how my wedding went at the Salem Cross Inn! The venue is gorgeous, the food delicious and the staff super helpful. I got so many compliments from my guests and highly recommend this wedding venue!

Sarah M.

Married on 11/19/2021

Magical Romance

If you're looking for a venue that leaves your guests in awe over the historic magical romance this place provides, then the Salem Cross Inn is the venue for you. Both, Nancy and Donna handled our wedding date changing 3 times, due to covid-19, with such grace and elegance that there was never any added stress to our big day! My husband and I always felt like we were apart of their family when in their presence and felt that the two of them made our wedding process easy, fun, and the best experience we could have every hoped for! We highly recommend the Salem Cross Inn.

+ 2

photos

Brian G.

Married on 11/03/2021

Brian and Becky 1/23/2021

We lost our venue two weeks before our wedding and nancy and her staff were very accommodating.She helped with the Justice of the peace ,Horse and buggy ,The Dinner and the cake.They made our wedding day special

Kathryn P.

Married on 10/30/2021

Best Venue, Best Staff, Best Day

We had our Wedding in October 2021, after having to reschedule it three times due to COVID. Donna and the team at Salem Cross Inn were phenomenal. She was understanding, flexible, organized, kind, helpful, knowledgeable... there are not enough adjectives to describe how wonderful she is! Salem Cross Inn was the perfect venue for our wedding reception. The food was amazing, the atmosphere warm, and the dancing untamed. Our guests left happy. It was the best day of my life, and I wholeheartedly believe it was because we picked the perfect venue!

+ 3

photos

Jillian

Married on 10/22/2021

Perfect barn wedding venue

Everything was perfect for our wedding! The food was amazing and everyone was impressed on not only how good it was but also how hot the meal was served.

Salem Cross are great at making sure you stay on schedule and help coordinate to get everyone inside ready for dinner in time that we didn't even have to worry about that.

We served the apple pie for dessert and it is such a great touch and fun way to see each guest. We also had the carriage ride for just us two as we left the ceremony and it was a nice time with just us two before we went back for pictures and the reception. The venue itself is wonderful and such a beautiful area! Highly recommend this venue for a smooth wedding day!

Ashleykate

Married on 10/02/2021

Breathtaking Venue

Words cannot express how happy my husband and I are that we had our wedding at Salem Cross Inn.

From the moment we connected with the venue, Donna and Nancy have been nothing but professional, supportive, and excited for us.

On and before our wedding day they coordinated with all of our vendors, and were so organized! All this is so important for a stress free day and just makes Salem Cross Inn an incredible venue to work with.

The inside, outside, the food, the decor, and all of the small details they provide is BEYOND incredible. All of guests were blown away and still ranting about how it was the best venue they have ever been to for a wedding.

We chose to do the house salad with their own (amazing) dressing, prime rib, maple jack chicken and their deep dish apple pie and each were such a hit. When I tell you it is the best food we have ever had, I truly mean it.

We had our ceremony outside in front of the gazebo, cocktail hour in their tap room and outside, dinner in the barn and then back down stairs to the tap room for dancing. Each location is stunning and just adds special elements to each event of the night.

I highly reccomend Salem Cross Inn, you will not be disappointed, and I promise you will have wedding of your dreams

Joshua J.

Married on 09/24/2021

It was a perfect night!

My wife and I were married and had our reception at the Salem Cross Inn last September. We could not have asked for a more beautiful and more accommodating venue! It rained and their contingency plans worked perfectly, followed by pictures on their gorgeous hillside grounds once the sun poked through. The venue was a rustic barn theme that we loved and our guests still talk about that night a year later. It was quite a party! The food was amazing and the staff were super helpful throughout all the steps that go into planning a wedding. I would absolutely recommend checking them out!

Michelle O.

Married on 09/11/2021

The Perfect Rustic Venue

Nancy was a dream to meet with - she made all my fears planning a wedding disappear when my fiancé (now husband) and I began planning our wedding October 2019. From the home style cooked meals (fireplace prime rib!), to the ceremony space, bridal suite, cocktail hour, to wedding cakes - everything you can need and more is offered at this venue. Salem Cross is the decor in itself, and it truly was the perfect backdrop to our big day. They provide you with a list of vendors they work closely with, such as DJ, officiants, floral, hotels, etc. which has made the planning experience that much easier as well. Once quarantine hit, my husband and I spoke with Nancy about what we should do. She assured us she was going to accommodate and support us in whatever decision we made. She truly was the most understanding individual - it made us that much happier we chose this venue from the start. We were able to still have a small intimate ceremony this past Halloween with our immediate family members because the date meant so much to us. On the day of, Nancy and Donna went above and beyond making sure we had everything we needed and have been so accommodating despite the craziness of COVID. We can't wait until this September when we can have the rest of our friends and family join us for the awaited reception. Can't imagine having our wedding anywhere else other than Salem. HIGHLY recommend!!!

PC: Chrissy Kites Photography

+ 7

photos

Kayla C.

Married on 08/22/2021

Absolutely Perfect

Nancy and Donna at Salem cross we're so amazing to work with! I ended up having my wedding in the middle of the first hurricane in 3 decades to make landfall in New England and Nancy was right there the whole time making sure everything went as smoothly as it could! The building and wedding space is perfect. It's such a cozy environment inside and looks gorgeous all set up and put together. The barn, where the reception is held, was the exact environment I was looking for. The food, was out of this world, all of our appetizers were eaten and everyone thoroughly enjoyed their meals. The flow of the reception was not too fast or slow. The staff was so supportive and there for anything that we needed beforehand or during the day. Everything about the day was perfect! My husband and I would 100% recommend Salem cross to anyone!

Erin I.

Married on 07/17/2021

Incredibly Happy

We could not be happier with our experience with Salem Cross Inn. Planning a wedding from across the country is stressful and complicated but Nancy and Donna were quick with their communication and made everything as easy as possible and as such the day went incredibly smoothly. The food was excellent and the barn and grounds were simply stunning. Salem Cross Inn graciously accommodated all our requests especially when it came to our complicated food menu. We had 15 guests who were vegan and several of them told me their meal gave them great ideas for home cooking as it was a meal they had not experienced before. We had 90% thunderstorm forecasted for the day so Salem Cross Inn not only set us up for an outdoor ceremony, but also had an indoor space set up and ready to go if we had to move inside at the last second. Thankfully, the weather held and we were able to enjoy the gorgeous flower garden and gazebo. All in all, we are extremely grateful to the Salem Cross Inn staff for creating such an amazing day for us and will hold these memories dear forever. 

Melissa B.

Married on 05/29/2021

Ease of Mind During Crazy Times

COVID 19.... The pandemic changed so many things and left so much uncertainty, and our wedding was no exception. Nancy and Donna worked through all these uncertainties with us and constantly communicated with us any changes that would take place. They even helped us with reaching out to other vendors for videography and our cake. Our hosts cared deeply about us and that was displayed through each conversation with them, the intentionality of the servers, the outstanding food, and the beautiful barn that made this day one to remember. We thank Salem Cross Inn for all their support for my husband and I, we would not have wanted our wedding anywhere else!

Katy F.

Married on 10/24/2020

An absolute dream

We got married at Salem Cross 10.23.21 and it was nothing short of a dream. It was everything I could've envisioned and more. Nancy and Donna were so great to work with throughout the entire process. We had to reschedule due to Covid and they were so accommodating and made the process a breeze. Their professionalism was impeccable, they even helped clear tables the night of! Talk about hard working women. The barn and grounds are absolutely breathtaking. The atmosphere is warm, and inviting. The food is the best food I've ever had at a wedding (and probably ever will). The entire menu is delightfully curated, featuring hand crafted artisan dishes, made with love from locally sourced ingredients. Honestly, I wouldn't change a thing. I will recommend them over and over! Thank you so much for the wedding of our dreams. We can't wait to come back for years to come!

+ 3

photos

Owen C.

Married on 10/10/2020

Better than could have ever imagined

What a stress free and very accommodating venue Salem Cross Inn is. Donna and Nancy were able to answer all our questions and meet all of our needs while keeping our minds at ease and the safety of our guest in the forefront during a global pandemic. The food is always amazing and the wait staff are the nicest around. We had the ceremony outside at the gazebo with the beautiful fall foliage in the background. Following the ceremony was a wonderful sit down meal in their immaculate 2 floor barn. Our guests gave multiple compliments at how attentive and professional the staff were. I would definitely recommend this place to anyone looking for a wedding venue to remember.

Heather L.

Married on 09/19/2020

Wonderful!

Salem Cross Inn went above and beyond to make my wedding day perfect! All the staff were amazing. They made me feel at ease and helped tremendously in planning my big day. Donna and Nancy were absolutely wonderful to work with while planning my big day. The ceremony outside couldn't have been any more beautiful with some of the most amazing scenery. The food was absolutely delicious! I couldn't have picked a better venue!

Kasey

Married on 08/22/2020


There isn't a better word to describe this place than perfect. Nancy and Donna make this experience easy and stress free and are very accommodating. I planned my sister perfect day for over a year since she lived in California and I was out here. Every bump in the road, Nancy or Donna was there to reassure me everything was going to be perfect.
On the morning of the wedding. The skies were completely clear, the sun was out, the cattle were out. Everything was completely perfect. While the bride was getting ready in the beautiful bridal room, I was downstairs being the bridezilla making sure everything was in place. Nancy was so awesome and let me do whatever I needed to. I didn't need to do much, Nancy had everything under control. The ceremony was perfect. Paula Roberts was awesome with the coordination of the ceremony. At the reception the outdoor bar and happy hour was outstanding. Completely outstanding. The reception exceeded my standards. Martha was in charge of our reception. I was told by guests it was the first wedding they had someone come over and ask how everything was and how impressed they were with that. The food was incredible. Definitely the best food I've ever had at a wedding. I highly recommend having your wedding here if you are looking. Everything about this venue is perfect and beautiful. The staff and owners are so nice and helpful. Thank you Nancy, Donna and Martha and the entire Salem Cross Inn staff for a perfect day!

Mary C.

Married on 08/15/2020

A dream come true

Getting married at Salem cross inn was a dream come true. My guests were beyond happy with the atmosphere, the food, the beautiful rustic feel, and the amazing service from every single staff member at this venue. Nancy salem, her sister and Donna really care about every bride that they work with.. they all just went above and beyond for me and my husband. I could not have asked for a better team to put together our beautiful day.

+ 6

photos

Michael S.

Married on 10/06/2019

Could not be more perfect

In Brief: From start to finish, food to venue, The Salem Cross Inn made our wedding absolutely perfect and affordable. They were so professional, communicative and supportive throughout the entire process; we would highly, highly recommend them for any wedding.
In Detail: My husband and I were having a Western (cowboy) themed wedding (line dance instruction and all) in the fall and were seeking a venue with a barn that served excellent food. We were fortunate enough to have stumbled upon The Salem Cross Inn through a friend's recommendation and once we saw the pictures online and the wedding menus, we knew we had to check out the place. We were particularly excited about their prime rib as an option for our wedding guests as it is roasted in an antique fire pit.
From day one, we were highly impressed with Nancy's organization, efficiency and honesty. She explained all of the options clearly, showed us each part of Salem Cross and what they offered, explained the menus, and gave us a pricing quote based on our expected number of guests (approx. 130 guests). Donna, their gifted baker, was also able to meet our needs for a custom cake (Grand Marnier-laced cake with chocolate ganache). Despite all these custom offerings, when we saw the cost estimate we were shocked….at how affordable it was for such a lovely venue and for all of the choices we had available for our menu.
From the time we confirmed our wedding spot, throughout the next 18 months, both Nancy and Donna were very communicative and helpful. Both were attentive to phone calls and emails. Donna even baked us a sample of our cake for us to try (which was so good words could not describe it). We had no surprises at all throughout the process and found both Nancy and Donna exceptionally easy to work with. Nancy suggested many options that helped smooth out the execution of the wedding, especially the day of, which alleviated a lot of the stresses leading up to a wedding (Listen to Nancy – she knows what she's doing!) The venue had all of the available hookups needed for us to have our ceremony outside with a DJ and videographer, and to have our reception nestled wonderfully inside the rustic barn.
The day of, The Salem Cross could not possibly have been more professional and attentive to our and our guests' needs. We even had a member of their staff dedicated to our wedding in case we needed anything. Our goal was for the food and cake to be the stars of the show, so we put the bulk of our budget to that. The Salem Cross did not disappoint – our guests (and us) raved about how good the food was – appetizers, main meals, and even the bread. Many also raved that our custom wedding cake was the best wedding cake they ever had (many of our friends are foodies, so to hear those kinds of compliments meant a lot to us as that was what we were trying to achieve). Our guests (and we) also raved and how well their staff decorated the barn and tables with the decorations we brought to the venue. To further highlight Nancy's and Donna's dedication and professionalism, both came back to check on us during our wedding on a Sunday evening.
My husband and I are very particular and picky people. With that in mind, we both firmly believe that our wedding at The Salem Cross Inn was nothing short than perfect. We talked about our wedding for weeks afterwards, still marveling at how humbling the entire event was. We will still be talking about it for years to come. The Salem Cross was the backbone for this unforgettable experience. We cannot thank them enough for the experience they helped us create, and for the memories that will last a lifetime.

Cori F.

Married on 10/05/2019

Extremely pleased with our wedding!!!

We are extremely pleased with our wedding. The day of the wedding was stress free for us. Our guests had a blast. The food was delicious with multiple helpings of the Roast. I think the wedding party polished off all the pesto meatballs ourselves. We would recommend Salem Cross in a second. Before writing this review we read some of the other reviews and can see many of the same points. We would recommend sitting down early with Nancy or Donna before you have anything else planned. They have a list of vendors and recommend some off the list. We used the violinist. We also used the Florist Barry from their list, who was absolutely amazing and worked to our budget. Many of the flowers came from their own grounds. We were nervous at first using the vendor list but were extremely pleased with them. This is an extremely nice place and we can see why so many people try to have their wedding there. We are understanding of the time frame constraints mentioned in some of the other reviews as we wouldn't want to or want anyone's wedding to interfere with ours. That being said, we felt the entire staff's attention was dedicated to our wedding while we were there. Any requests we had were addressed immediately. Any questions we had during the planning phase, that were answered in a way we were a little bit concerned about actually worked out perfect and Nancy's recommendation was spot on. We have nothing but good things to say about our wedding at the Salem Cross Inn. We would definitely recommend them. Also be open minded about the Vendor list, it worked out great of us. Also the Wedding "cupcake" idea was perfect.

Jessica

Married on 09/21/2019

Amazzinnggg

Where do we even BEGIN. Oh my goodness. My husband and I had an absolute DREAM wedding. It was even better than our imagination could take us. All of our guests where blown away by the beauty of the venue and how delicious the food was and the GORGEOUS gorgeous flowers (we hired Barry, the recommended florist). I seriously had in my mind that we would have a super simple, bare-bones wedding and had adjusted my expectations because we were paying for the wedding ourselves. I have extremely high health expenses so our budget was limited. When I walked down the aisle and walked into the venue for the first time my jaw hit the floor. We saw the venue during the tour and we saw pictures of prior weddings. Let me tell you - NONE of that does this place any justice. In terms of planning, everything went pretty smoothly. Every single one of our vendors was incredible. I mean - worship the ground they walk on - incredible. We need to talk about Barry for a second. Both my husband and I are obsessed with him - my husband probably even more so and he's a guy's guy, motorcycle-riding, a bit rough around the edges kind of guy. My husband was like "we NEED to have more flowers" to which I rolled my eyes and said okay (he can be a bit "extra"). Oh my goodness - that was the best decision EVER. Barry is a one of a kind. I've been to many weddings and our wedding flowers were HANDS DOWN NO CONTEST the BEST flowers I've seen in my whole entire life. And he is BEYOND reasonable. If I could just hire him for every single event for the rest of my life I would. The food was and is SO FREAKING GOOD. We had the Prime Rib and Maple Jack Chicken. Everyone - and I really mean almost everyone - was eating off of each others plates just because they wanted to try every dish Salem Cross made. The charm of this place right down to the antique dishes and silverware is astonishing. Nancy and Donna are super organized and definitely have it together. My questions were unorganized and we had family members trying to change some things and they didn't even bat an eye. We felt like we were in good hands the whole entire time. It's such a cliche but our wedding really was the best day of our lives, to have all of our family and friends together in such a beautiful place. You will not regret having your wedding at Salem Cross

Kathleen G.

Married on 08/30/2019

The Perfect Rustic Wedding!

Our wedding at Salem Cross was absolutely perfect!! The scenery and rustic vibe was an absolute dream. Guest are still raving about the food!! The staff was all wonderful, and Donna was so professional and helpful every step of the way! They were very accommodating with changes and requests we had. We could not have had a more picture perfect day! Make sure you also hire Paula Russell to help coordinate the ceremony - one less thing to stress about!
Are you interested?
Send a message