Reviews
4.9 out of 5 rating
Quality of service

5 out of 5 rating

Average response time

4.9 out of 5 rating

Professionalism

4.9 out of 5 rating

Value

4.9 out of 5 rating

Flexibility

4.9 out of 5 rating
99%
Recommended by couples
59 User photos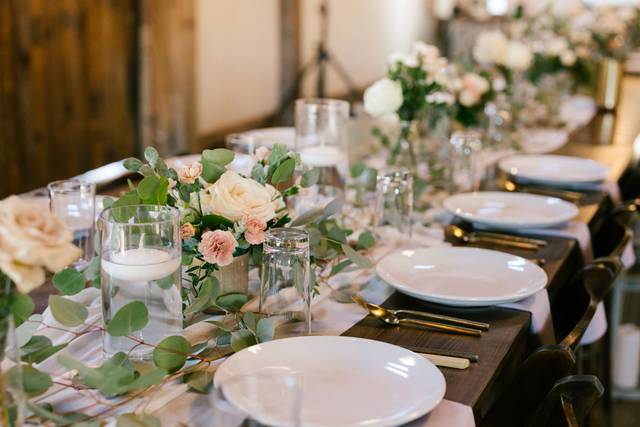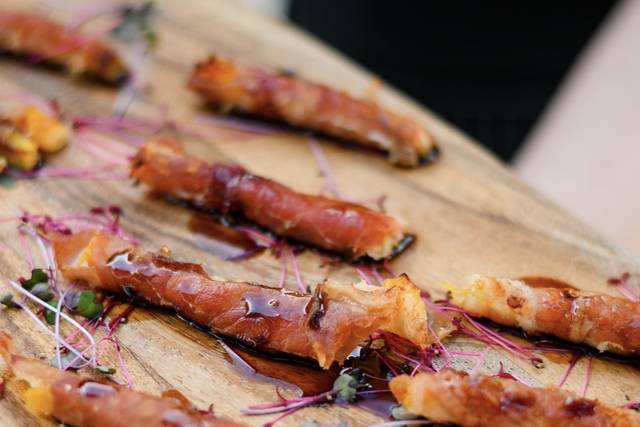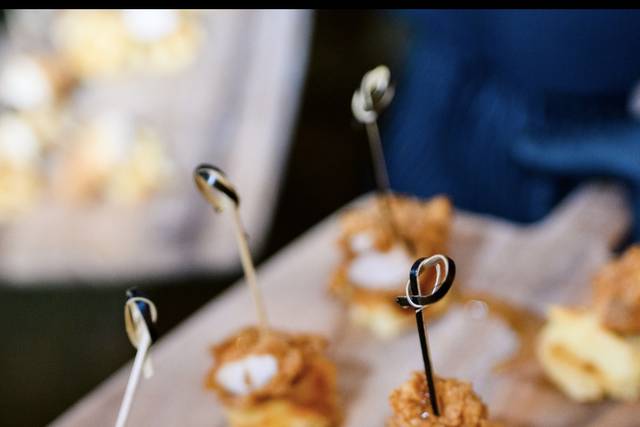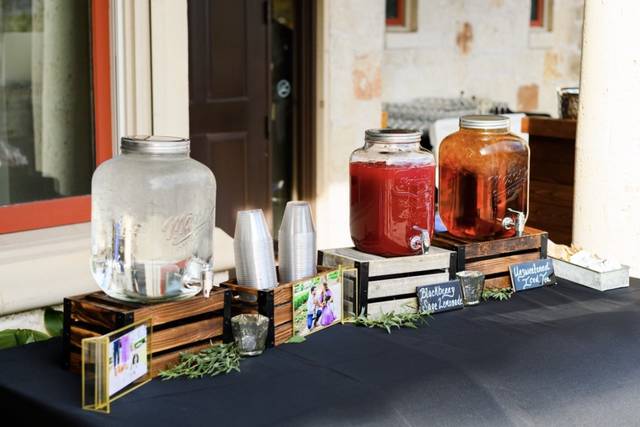 + 55

photos
Featured

Chayah T.

Married on 06/12/2022

Incredible!

I was blown away by the friendliness and professionalism of everyone who worked our event!

The day was such a blur, I regret not getting more names down because I saw so many people going the extra mile for my guests; checking on them, keeping the mood upbeat, taking photos for people, one staff member knew ASL and was assigned to the table with our Deaf guests and interpreter, which they thoroughly enjoyed, and I even saw a little dancing in there! Our bartenders were amazing and so sweet to me and my guests!

The food was incredible, we were shocked they actually lived all the way up to the tasting in the full service! My guests kept coming up through dinner service to tell us how good the food was. We had several vegan and vegetarian guests who were also wowed by the options available to them. Family-style was definitely the way to go, our servers made sure our guests had enough of everything they needed and answered any guest questions quickly!

Working with Cheyenne and Claudia was a breeze. They were so helpful and knowledgeable throughout the planning process and made getting all of our staffing and rental needs met in one place a snap decision.

Royal Fig made sure my husband and I had plenty of drinks, water, and passed apps as we were dashing around for photos. I also really appreciate all the help they gave my family clearing their items out. I literally had nothing to worry about, they were ON it and treated all of our items with respect!

The Shiner Bock short rib and truffle mashed potato is so famous for a reason! Absolute must-try!

My husband and I were so appreciative to see they had even packed our getaway car with water bottles, cake, utensils, and a selection from our dessert bar.

We really got value in the guest experience for our money. If we had this wedding to do all over again hiring Royal Fig would be the first decision we made!

Kaeli F.

Married on 09/22/2023

Amazing Caterer!

I cannot recommend Royal Fig enough for your wedding day catering! The surf + turf option is incredible. So many people complimented us, saying it was the best wedding food they have ever had; a few even said it was the best meal they ever had. In addition to food quality, the staff is amazing to work with during the planning process. We worked with Cheyenne from start to finish; she was great at her job - kind, communicative, accommodating and very responsive.

Maria

Married on 06/17/2023

Royal Fig covered every detail on food and service the night of the wedding!

The very first contact with Ashley from Royal Fig was very positive. Never planning a wedding she was so helpful throughout the whole process!
Ashley made the the food tasting experience so positive and had great recommendations down to glassware and linens!
The wedding night was the really beyond my expectations with the food. We had around 170 guests and I can't tell you how many compliments I received on the food and the service that night.
When picking a vendor you really want to go with people you can have faith will do a great job, Royal Fig did that for us!

Are you interested?

Send a message

Taylor L.

Married on 06/17/2023

Hire Royal Fig Immediately!

Royal Fig was one of the best decisions we made for our wedding! After attending numerous weddings over the years, I've come to realize that food is often a topic that lingers long after the celebration ends. Well, let me assure you, Royal Fig exceeded all expectations.

From the appetizers to the dinner, the quality and taste of the food were exceptional. Our guests couldn't stop raving about how incredible the dishes were. The culinary expertise of the Royal Fig team truly shone through, making our wedding meal a highlight of the evening.

However, it wasn't just the food that left a lasting impression. The professionalism and attentiveness of the entire Royal Fig team were remarkable. We had the pleasure of working with Sarah throughout the planning process, and she went above and beyond to ensure that every detail was taken care of flawlessly. Additionally, the service provided by the Royal Fig team on the day of the wedding was outstanding.

If you find yourself contemplating which catering company to choose for your wedding, I strongly urge you to stop your search and hire Royal Fig. Trust me, it will be one of the best decisions you make. Their exceptional food, combined with their professional and personable team, will leave a lasting impression on you and your guests.

Thank you, Royal Fig Catering, for making our wedding day truly magical. You have our highest recommendation!

Michele L.

Married on 01/07/2023

Amazing Catering Team

What a great experience it was to work with Royal Fig. They did a fantastic job in working with our budget and provided us with so many options that it made it tough to choose - everything was just so good. We also loved that we could work with their pastry chefs to make our wedding cake - it was just so convenient to have a single team to work with.

The food was simply amazing - our guests adored the passed appetizers, the meal was delicious and everyone received an ample portion, and the end of the evening popcorn bar was an unexpected surprise that delighted our guests. The cakes were phenomenal and absolutely beautiful.

Ben B.

Married on 12/10/2022

Highly recommend!

Royal Fig was amazing from the start of our planning process all the way till the end of the wedding day! The food was incredible (we had so many guests compliment it) and the service was also amazing. We worked with Ashleigh who was so helpful! Would definitely recommend.

Katy S.

Married on 12/09/2022

Delicious and Fresh

Royal Fig was an absolute joy to work with! We have gotten so compliments from our family and friends that it was "the best wedding food" they'd ever had!! I found out I had a gluten allergy between our tasting and our wedding, and they were so accommodating to make sure I still had everything I needed. The service was outstanding -- we had our own personal server who took the best care of us all night and made us feel so special! We did family style, and it was an amazing decision which we would highly recommend!!
Royal Fig also has a relationship with a local liquor store, and our venue allowed us to bring our own alcohol. Royal Fig provided bartenders AND picked up our liquor, so we didn't have to get it to the venue!
They also helped us with a little prank we played on a few of our guests! :)
It was an excellent experience from beginning to end! Our guests were sooo happy too!!

Kelsey C.

Married on 12/09/2022

Sooooo Perfect

Everyone says wedding food is bad right - not Royal Fig! They saved me some appetizers and they were insane! Hailey suggested some butternut squash prosciutto number that was quite literally insane. We did a bunch of stations and they were DELISH. I had a custom cocktail and they NAILED it. Everyone said it was fantastic and I adored it.
I'm mostly writing this review to shout out my guy Daniel because he was amazing. My train took like thirty minutes to bustle and I was starving. I asked my newly minted husband to get some apps and my maid of honor came back to say that the waiter really wanted to serve me himself. He came with the appetizers and literally stood there with me while I devoured them as my bustle was being fixed. He held the tray out when I dropped things because I'm not a graceful gal. Talk about above and beyond. All of Royal Fig was incredible but big thank you to Daniel who made my giant bustle situation fantastic.

Dawn Z.

Married on 12/03/2022

Outstanding

Royal Fig was outstanding from the very beginning with planning to implementing the final vision of my son & daughter-in-law. The food was over the top and the service was excellent. We had many of our guests compliment us on how good the food was. We loved working with Cora, our Royal Fig coordinator as well as the wait staff and bartenders. They were a pleasure to work with and the staff was so personable. Highly recommend Royal Fig - you won;t be sorry.

Camille W.

Married on 12/03/2022

Outstanding Caterer

Royal Fig was one of the catering companies recommended to me by our planner, Butterfly Bridal Events. Once we did a tasting with them, we were sold and signed the contract that day! Their food is oh.so.good and their service impeccable! We had plated dinner seating. All our guests raved about the food and the service. They even remembered how I like my steak cooked a little more than the way they do them. We also ordered some of our desserts from them and they were the first gone! lol I would highly recommend Royal Fig!

Jessica R.

Married on 11/05/2022

Most Amazing Food!

Mary and the Royal Fig team did such an amazing job!! The food at our wedding was one of our top priorities and they did not disappoint! Everything was amazing, from the cocktail hour to dessert everyone raved about the food long after the wedding was over (and we are still hearing from our guests how delicious it was!) My Husband and I were so well taken care of by the staff, making sure we always had a drink in hand and our food needs met. I cannot rave about Royal Fig enough! Highly recommend them for any event but especially your wedding!

Jane W.

Married on 10/22/2022

Absolutely amazing experience with Royal Fig!!

Royal Fig was phenomenal!!! The food was delicious but the presentation was also amazing! We chose family style and I was so impressed with how attentive the staff was at keeping the platters full of food. The food was perfectly prepared and very flavorful! The bartenders and servers were so professional and attentive. As the bride, anytime my glass was almost empty, a server would ask me if I wanted another drink. I was very impressed. All my guests raved about the food. I cannot give enough praise to Royal Fig. Sarah Willams was our event coordinator and she was outstanding!! She worked so hard to fulfill all my requests. She was able to work with my wedding planner to assist with logistics that "saved" the day by helping moving tables and chairs after our tent was delivered. I am so thankful I chose Royal Fig for my wedding!

+ 2

photos

Paul N.

Married on 10/01/2022

You MUST have them as your caterer!

If you get the opportunity to work with Morgan and Royal Fig to cater your wedding, you have to have them. My wife and I are huge foodies, and a lot of our culture and family experiences revolve around food. That's why it was super important for us to have the best food and catering team we could find.
We went to a bunch of tastings from various large caterers around Austin, and, in the end, Royal Fig stood above the rest of them. Being that we had a pretty large guest count of 225, we were looking for not only good tasting food, but someone who could manage feeding everyone in an organized and timely manner.
When we met Morgan at our tasting, my wife and I immediately were drawn to how experienced, organized, and friendly she was. The first thing we said to each other after the tasting wasn't about the food (the food was delicious) but how much we liked her. We could tell how professional she was and genuinely wanted our day to be the best day ever. Once we decided to have Royal Fig as our caterer, we felt like she stepped up even more. She was extremely responsive to changes in the menu and booking another tasting to make us feel good about the changes. She was an essential cog in helping plan the table layout to make sure guests felt comfortable and serving logistics made sense.
On the day of, she and her team made the venue look amazing. From the rental dinnerware and decor, to the dessert table she decorated. You can tell she was looking at all the details, to make us feel special. Every guest we talked to afterwards said the food was some, if not, the best they've had at a wedding. The staff during cocktail hour and dinner service were awesome as well. They worked so efficiently bringing the food out to our guests. We did family-style, and it seemed that all the tables had food in the blink of an eye. We also got a lot of compliments from our guests of how nice the wait and bar staff were.
I could go on and on even more about how great Royal Fig was. They were the perfect caterer/wait staff/bartending/set up team we could have asked for. They exude professionalism, care, experience, attention to detail, and their food is freaking good. We would give the highest recommendation to anyone that needs catering services. Thank you Morgan, and thank you Royal Fig team.

Paul and Tiffany

Sarah

Married on 10/01/2022

Incredible Caterer!

Royal Fig provided the catering and desserts for our wedding, and we were extremely happy with both! From their first initial booking to our many, many questions and lengthy discussions about the process, Ashley at Royal Fig did an excellent job of re-assuring us and accommodating our needs. The food was fantastic, and the desserts were even better! We particularly appreciate that they were able to provide vegan options for certain members of our families and additional seating for family members who brought young children. We'd be happy to use them again if we ever need a caterer and highly recommend them to anyone looking for a caterer for their wedding day!

Meg P.

Married on 09/03/2022

Amazing service, food & team to work with!

The Royal Fig team was so great to work with in putting together out wedding for September 3, 2022. Cora was incredible responsive to all of our questions / edits and made sure the entire evening was executed flawlessly. We had to build a menu that was kosher/halal friendly for a number of our guests but still captured the foods that my husband and I loved - the Royal Fig team did this beautifully! We had rave reviews from all of our guests on the food as well as the desserts. Quite a few people stuffed extra cookies & sweets in their pockets for the bus ride home!

We also had an unexpectedly rainy day, but you would never know it based on how the team put everything together. Cannot recommend Royal Fig enough!

Lori

Married on 07/08/2022

Excellent Experience

Excellent experience!! Food was outstanding and the customer service was impeccable!

Royal fig is amazing

Our wedding was catered by Royal Fig. It was clearly one of the best decisions we made! Their food was amazing (rave reviews from all of our wedding guests) from our passed appetizers to our family style dinner to our wedding cake. The staff was wonderful. They really took care of our guests and had a dedicated individual for the bride and groom. Without hesitation I would recommend them to anyone looking for an event caterer!

Jordan P.

Married on 05/19/2022

Amazing!!!

The food was the one of my husbands biggest concerns - we HAD to have GOOD food! It is too often that you go to a wedding and the food is luke warm, over cooked, small portions, and you find yourself hungry most of the evening. Royal Fig exceeded our expectations! This was a tough decision because for any catering vendor, often times you have to pay and secure their services before doing a taste test - so how do you really know?? I did a lot of research beforehand and trust them enough to move forward with Royal Fig and I am SO glad that I did! So many guests complimented our food offerings and were really impressed that it was wedding food. Beyond the food tasting AMAZING, the staff was super professional! We had lots of compliments on the bartender as well -- lots of good reviews on their margaritas! I am so glad we chose Royal Fig, they truly contributed in a big way to making our big day super special!

Gracie B.

Married on 05/14/2022

Thank you Royal Fig!

Royal Fig were the BEST caterers EVER! They were wonderful to work with from start to finish. Harley was super communicative and very helpful with planning our menu. She was professional and a BLAST to work with. She made sure all of our wedding food (AND DRINK) dreams came true! She was so patient with us while we finalized our menu and was always clear with pricing. We couldn't have asked for a better team. The staff were SPECTACULAR day of the event. They were so nice and all of our guests complimented us on how wonderful the staff were. I can't thank Royal Fig enough for being so fantastic. The food was impeccable and we received compliments from our guests, saying how this was the best wedding food they've ever had. Your search is over, book with Royal Fig now! :) Thank you Harley and Team for being such a magical part of our day! xoxo G + S

Halle M.

Married on 05/06/2022

Incredible food and service!!

THANK YOU to Royal Fig for creating a night to remember forever. To cut to the chase - the food was absolutely delicious (the short ribs really are THAT good) and the service was impeccable. It surpassed our expectations and elevated the experience for our guests.

From the beginning, Royal Fig was nothing but polished. They were prompt and professional in communicating, and our coordinator Morgan was fantastic. She helped us choose the right menu/service to fit into our budget, and was also so excited to help me plan the little details of my dream wedding – something I never expected from a caterer! On the day of, I knew we were in good hands as Morgan and her team helped prep the tables and pull everything together. My husband and I had our very own dedicated server that delivered us a private round of drinks and appetizers after the ceremony, as well as our drinks of choice throughout the night - we felt so taken care of. And as mentioned, the dinner and bar service was FLAWLESS and the food was epic! Our guests continued to rave about it all weekend (and still do 5 months later). We can't recommend them enough!

Megan B.

Married on 04/30/2022

Amazing food

We chose Royal Fig based on prior reviews of the amazing food and we are so happy we did! From our tasting to actual wedding night, the staff was professional and easy to work with. All the staff on the night of were great to work with. Everyone loved the food! We chose a signature cocktail and everyone loved it so much we ran out of Tequila. I cannot recommend Royal Fig enough.

Hannah L.

Married on 04/15/2022

Incredible

The service, the quality of the food, the canapes, the communication, their flexibility to meet our needs, the overall professionalism from everyone we engaged with - the Royal Fig are amazing. Please use the Royal Fig for your catering services - you will not be disappointed!

Amy M.

Married on 03/06/2022

Royal Fig - Simply the Best!

Planning a wedding during a pandemic is no joke, but Harley, Kristen and the entire process with Royal Fig was the absolute best choice we made in selecting vendors. As an Austin area wedding professional myself, I have strong relationships with lots of caterers, but would only trust the very best with my only daughters big day! Harley was so professional and a calming voice with positive solutions so that we could celebrate safely. The on site experience by the Royal Fig team exceeded expectations. We had a pre-ordered plated meal with the pork chop and short rib entrees and our guests are still raving about the food! The team also passed our late night Whataburger snacks along with cake to all our guests. They were all so kind and accommodating.

Hire Royal Fig today if you want to have a stress free and top of the line event! You will not be disappointed! They are THE BEST caterer in the Austin area!

Lauren S.

Married on 03/05/2022

Excellent food and excellent service

We had a fantastic experience with Royal Fig, who because of the pandemic we hired on our planner's recommendation without being able to taste the food first but it was truly exceptional. They're so responsive, made our rentals through Marquee extremely easy, and our guests are still raving about the food. Hire them, and have the Shiner Bock short ribs.

Tara B.

Married on 03/04/2022

they helped us consolidate multiple wedding day needs

Royal Fig was such a great vendor to work with! I feel like they helped us consolidate multiple wedding day needs including the catering, bartending, reception/ceremony setup/breakdown, Champagne tower, and rentals (tablecloth, table settings, etc). We worked with Morgan Bryant leading up to the wedding and she was a rockstar at answering questions and helping with all the details. The day of staff was amazing and provided great customer service! Multiple guests shared feedback how good the food was. I would highly suggest working with Royal Fig!
Are you interested?
Send a message