57 Reviews
Recommended by 95% of couples
Quality of service

4.8 out of 5 rating

Average response time

4.7 out of 5 rating

Professionalism

4.7 out of 5 rating

Value

4.9 out of 5 rating

Flexibility

4.7 out of 5 rating
3 User photos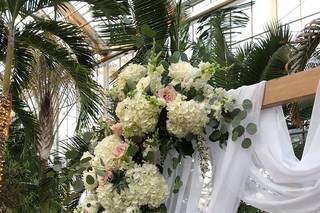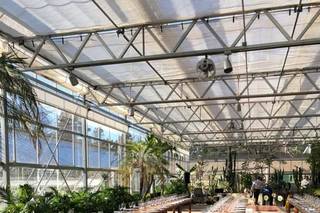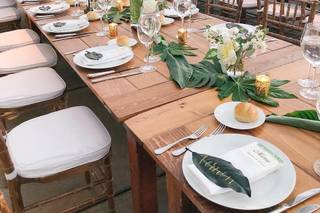 Catherine

Married on 06/04/2022

Unforgettable wedding reception venue!

My husband and I are so thankful to Heather and her team at Roger Williams Park Casino, who coordinated a magical wedding reception for us at the Casino last weekend. My husband and I loved the vintage, classic, historical ambience of the Casino building, and the surrounding park. It was a beautiful space in which to have our reception- and made for beautiful photographs! Our guests were stunned when they first saw the second floor reception area for dinner and dancing. Heather Manning was wonderful to work with. We very much appreciated and benefited from her wealth of experience planning events for the parks. She was knowledgeable, helpful, communicative, and gave great planning advice while also understanding and bringing to life our preferences. We are especially appreciative as she and her team were flexible and helpful with us related to scheduling our event during the pandemic.

Lila O.

Married on 06/03/2022

Beautiful and unique wedding venue

We got married at the Botanical Center in June 2022 and it was absolutely perfect!! The layout flows very well - we had around 100 guests and fit comfortably in the Conservatory for the ceremony and cocktail hour and the Mediterranean Room for dinner and dancing, with the bar in the connecting hallway between the two. During the reception, our guests were able to enjoy both rooms, which was great for those with children or guests who just wanted to have a conversation away from the noise of dancing, since they could hang out in the Conservatory. I was worried about being hot in June but with the doors and windows open we were all quite comfortable. The natural beauty of the venue is stunning, and in the evening the lighting creates a lovely dreamy atmosphere. We were also able to do our first look in the Victorian Rose Garden and take pictures throughout the grounds of the Botanical Center, including the other two greenhouses. With so many gorgeous spaces to explore, your guests are sure to be wowed and your photos are sure to be incredible. Having an air-conditioned space to hide out in prior to the ceremony and to keep our personal belongings in was a big bonus.

Heather was extremely easy to work with in the lead-up to the wedding. Any time I had a question I got an email response back from her that day if not within the hour. Three days before the wedding one of my officiants tested positive for COVID, and Heather immediately jumped into problem-solving mode, bringing her personal wifi hotspot to the venue so that we could set up an iPad and Facetime for the ceremony. She also coordinated well with our other vendors. Overall, we had the wedding of our dreams at the Botanical Center and I highly recommend other couples take a look!


Our guests loved partying with plants!

We held our wedding at the Roger Williams Park Botanical Center for our July 2021 wedding and it was awesome! Heather and her staff were accommodating and helped us with some manual labor even the day before and the day after our big event as we dropped off and picked up items for the wedding. The setting was gorgeous for all of our photos, and because of the natural beauty of the space, we didn't need any decor. Although it was not air-conditioned our guests had a blast and loved partying alongside plants!

Are you interested?

Send a message

Dana

Married on 08/08/2020

great venue

Great venue. Very hot in the summer but worth it. Heather is awesome to work with. Great place to have an innovative wedding!

Rana C.

Married on 11/30/2019

Such a beautiful spot

We had our wedding at Roger Williams state park and they made it so easy and straightforward the whole way. We had our ceremony at the Temple of Music. The grounds were beautifully maintained and the photos were amazing. Can't wait to go back this summer and see everything in full bloom!

Marjorie C.

Married on 08/25/2019

Impeccable

Heather and Heidi make an incredible team and made our wedding experience amazing! From the serene outdoor views to the beautiful historic vintage ballroom. Great choice for couples .

Jaylene

Married on 04/06/2019

Simply Magical!

We got married in the Botanical Center and it was perfection! Our guests loved how unique the space was and enjoyed all the natural beauty of the space. The staff was always friendly and responsive and I would highly recommend the venue to anyone especially if you are getting married off season!

Lindsey

Married on 07/29/2017

You can't get a better deal than the Roger Williams Casino. It has the classical beauty and detail of a mansion ballroom for a seventh of the cost! I could not be happier with our wedding at the Casino. It is such a beautiful space with SO MANY nearby landscapes for taking photographs! We used the rose garden and the band stand for some of our pictures and they came out better than I could have ever dreamed. Heather was so down-to-earth and easy to work with and got back to me sometimes within minutes of my emails, even with the tiniest detail-oriented questions. I loved using the downstairs area for cocktail hour and the upstairs for dinner and dancing. It has enough space for large parties and space for a band, a string trio, and a little alcove for the newly weds! I seriously can't rave about this place enough. It was PERFECT for my vintage, Victorian-themed wedding. I felt like an absolute princess all day. And you CAN'T BEAT THE COST!!!

Lisa

Married on 01/20/2017

I could not be happier with my choice of venue for my wedding. From the moment I stepped foot into the Roger Williams Casino I knew that was where my wedding would be and loved the idea of having our wedding in a Victorian-style building. Heather and her team were amazing to work with and extremely accommodating to my sometimes ever changing mind. We also did our ceremony at the Botanical Center and loved everything about it. The entire day went so smoothly with the help of Heather and her team and I was amazed at how stress free I was the day of the wedding.

Alexandria

Married on 06/04/2016

Roger Williams Park Botanical Center was the most amazing place for my wedding. We loved having the ceremony in the garden center, cocktail hour in the other half of the garden center and outside, while the wedding party took pictures. Then we just walked right down to the tent for a gorgeous night and awesome view.

Jessica

Married on 08/15/2015

Heather and crew were amazing. Their preferred vendors for catering, we went with Emery's, did a superb job and we have had rave reviews about the food, service and how gorgeous the venue looked. You can't beat the pricing at the Casino and we were able to get married out at the bandstand overlooking the water. This venue was so gorgeous and perfect for our 150 person wedding, leaving ample room for the bar, dj and generous sized dance floor on the second floor. Cocktail hour was on the first floor, it was nice to be able to break it up the way it was. There were elevators for those who needed it and a large outdoor porch for additional space on the first floor. Everyone was great and the wedding went perfectly. We highly recommend this venue.

Stacy

Married on 06/13/2015

We are so happy we had our wedding reception at the beautiful Roger Williams Botanical Center. We knew from the moment we walked in the door that this was our unique wedding reception choice. Heather, the event coordinator, gave a lot of honest advice and was very flexible and accommodating during the planning process. Richard was also fantastic to work with. He took the time to show us a variety of set up options and was happy to answer any questions that we asked. Every time we visit the botanical center it only looks more and more amazing and the day of our wedding it was an absolute breathtaking backdrop! Its absolutely beautiful!

Alexis

Married on 10/11/2014

Heather was amazing. She answered any and all questions promptly. The venue itself was absolutely beautiful and I would recommend everyone that can to have an event here. Staff and service was amazing.

Jillian

Married on 08/31/2014

The Casino Ballroom was the perfect wedding venue for us, it was elegant and I am certain the photos will come out great! Both Heather and Lori were beyond helpful, they answered all of my questions, spent time giving us a tour of the park and help to pick other excellent vendors. They were knowledgeable and great to work with. The guests loved the venue, huge success!

Dayna

Married on 08/31/2014

We had our ceremony at the Botanical Gardens on 8/31/14. I loved it at first sight - from the minute I walked through the door I knew this was the place we had to say our vows! Heather was great and answered all of my questions - she was a huge help! They even have a stunning wooden arch you can use at no cost! We opted to put pipe and drape at the end of the aisle so I was hidden before walking down the aisle, and when that curtain opened and I saw how stunningly gorgeous everything was I was weak in the knees! It was so beautiful it barely need any decor. It was hot but there's a nice cross breeze from keeping the doors open. I loved everything about the venue - it was simply breathtaking!

The Casino is absolutely beautiful and where we chose to have our vintage glam themed wedding. It has so much character and is truly breathtaking - the place really does speak for itself. Further, Heather Manning was so fabulous to work with. We planned our wedding from out of state and she was extremely responsive to my numerous (and there were many!) questions and is very well informed. She always made time to meet with me when I was in RI as well. I cannot say enough about how great she was. I am so happy that we chose the Casino for our wedding - it was perfect!
On a side note, it is at the tale end of renovation and I'm sure it will be even more fabulous once done. This renovation did not impact our day at all nor was anything noticeable during the reception. I highly recommend the Casino!

Carrie

Married on 10/26/2013

Everyone was so helpful and wonderful to work with. Heather and her staff were kind and knowledgeable and the venue was beyond beautiful!

Erin

Married on 06/22/2013

Heather and the staff at the Casino are great to work with, from the very first email that we sent to the day itself. Even with planning her own wedding for the week prior, Heather was still very responsive and helpful to all of our questions via email or in person. On the day of, the staff members that were there for the day introduced themselves to us and were very friendly. The Casino itself is so beautiful and needs next to no decorations or additions, and has the perfect cocktail hour vs. reception space. We had about 150 people and it worked perfectly - and luckily, nice enough weather that people could sit or walk around outside the Casino. The caterer is really the vendor that runs the building once you have booked them, so it would be helpful to have a caterer that knows the building or someone with a day of coordinator to carry out all of the directions & logistics. You're also able to reserve the Rose Garden to take pictures and other spots in the park are the perfect location. We have such wonderful memories of our wedding at the Casino and wish we could go back and do it again!

I had people from out of town who never been to Providence! I chose e Casino because it is a piece of history here n Ri! The girls were extremely accommodating and helped out tremendously the day before! I could not ask for more! All of my guests were impressed with the Casino!

Sarah

Married on 08/31/2012

The Botanical Center was the perfect venue for our wedding. It is such a unique and stunning venue with lots of natural beauty. One of the many pros of having our wedding at the botanical center was the fact that it is so well decorated on its own, which meant we really didn't have to do much to dress it up. We were able to keep our decorating very simple, which was great for our setup and breakdown crew and it was nice on our wallets too. Our photographer had so much fun taking photos in and around this unique space and was able to get some truly amazing photos that couldn't hold a candle to photos taken at other venues. Part of that was the photographer, but part of it was the botanical center itself. Our wedding was on a hot 90 degree day, but the humidity was very low. We had all doors open and a few big fans running and the bathrooms were air conditioned. We warned our guests ahead of time about the possibility of being warm, so most had prepared themselves for the heat. Our guests did step outside or stand in front of a fan at times, but it didn't take away from the fun of the whole night. People were socializing and dancing the whole time. We had so many compliments on this venue and we know our wedding will stand out in people's memories for years to come because of the venue that we selected. Just watch the weather ahead of time and be sure to warn guests and rent extra fans if the weather is hot.

Kim

Married on 06/09/2012

Fell in love with the Casino at first sight. Heather Manning was fabulous during the whole planning process. She answered questions promptly. She even let us come in on a couple different occassions to see the ballroom all set up for a reception so we could get an idea before my big day. She is very helpful and knowledgable about the park so seriously, ask her anything and she'll point you in the right direction. Advice to future Casion/Botanical Brides, if you want to have your formal pictures taken in the Rose Garden, Carousel, Japanese Gardens, Temple of Music, etc, get permits!! (Heather will advise you of this as well) Having those saved my day!

Our guests loved the charm of the historical site. It isn't your average country club or hotel. It's special and so much fun.

Michael

Married on 06/01/2012

PERFECT backdrop for any event. Beautiful surroundings and friendly staff!

Veronica

Married on 05/26/2012

We loved this venue, and so did or guests! It was a perfect setting for someone who loves the outdoors, without having to be outdoors. It also saved us a lot of money on flowers. The personel were helpful and we had no problems. I think it will be a very memorable venue for all our guests and I cannot wait to see how our pictures turned out with the lovely surroundings we had :)

Renee

Married on 04/14/2012

I was in a fairy tale for sure!

Heather at the casino is a doll and so easy to work with. The whole place is filled with romance and charm and a steal for the price.

I had about 150 people with a buffet. Everything went so smooth and I really loved the extra room my guests had to mingle between floors.

We have a lot of elderly aunts and uncles and the access to get in and up floors was so easy!

Also, the bridal suite was a life saver!!! So lovely too!

Kara

Married on 07/30/2011

My husband and I were so happy to have found the Casino to have our wedding reception in, it is really one of the hidden gems of reception halls in the area (we found it through our caterer Russel Morins Fine Catering - who is also awesome!). It is a gorgeous building, and has a great setting in the park, which was perfect for all of our pictures. It was also A LOT cheaper than all of the other places we looked at and included beautiful ballroom chairs and all the tables which was a huge savings on rental costs! The staff was very helpful in getting everything set up and Heather even gave me a final call the day before the wedding to make sure there was nothing else we needed. I think the nice thing about the casino is that there is a separate bar area downstairs for cocktail hour and then the ballroom upstairs. It was nice to have plenty of space for our guests to mingle, downstairs and to have the option of sitting out on the veranda too! If you haven't already check out the pictures of the ballroom on thier website - the inside is beautiful (and requires little to no decoration which is yet another huge money saver) All we added for our wedding was centerpieces to the tables, I think anything more would have been overdoing it. Overall we had a great experience and would recommend the casino to other couples getting married in the area.
Are you interested?
Send a message