110 Reviews
Recommended by 100% of couples
Quality of service

5 out of 5 rating

Average response time

5 out of 5 rating

Professionalism

5 out of 5 rating

Value

5 out of 5 rating

Flexibility

5 out of 5 rating
27 User photos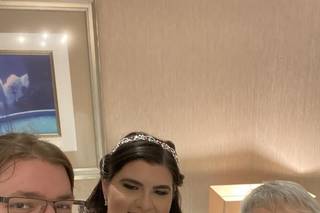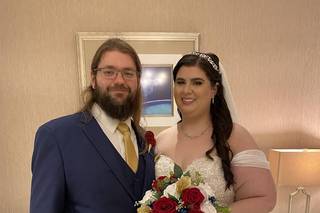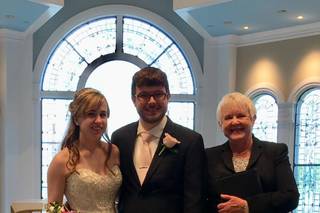 + 23

photos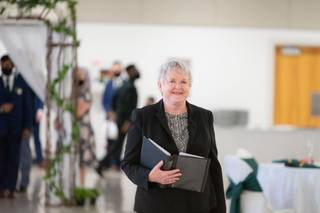 Megan

Married on 11/08/2022

Best of the best!

Renee was wonderful to work with from beginning to end in being a part of our vow renewal. She is kind, quick, and very thorough with making sure your ceremony is tailored specifically for your special day. Her Disney themed ceremony script was absolutely perfect for us and added the extra touches to our ceremony at the happiest place on earth. She really makes you feel so special and makes sure you take the moment to take it all in since the day goes by so quickly. And waving her magic wand to concluded the ceremony is such a sweet little touch to a magical ceremony, my guests were absolutely delighted when they realized she was waving her wand to wave some special "magic" over us before we sealed our renewal with a kiss. I would absolutely recommend her to anyone getting married or renewing their vows. You will love working with her every step of the way!

Renee Silverman - A Lovely Ceremony's reply:

Megan, thank you so much for your kind words! It was a true pleasure and honor to add to the magic of your Disney Vow Renewal celebration!

Becky M.

Married on 01/22/2022

Warm, welcoming officiant

Renee was fantastic to work with. She helped us write our first ceremony, then re-write it a year later (when we had a quick wedding during the pandemic) and our big celebration became a vow renewal ceremony. She even helped out with advice and comments on our wedding vows. Renee is so kind, with a huge smile on her face, and would make any ceremony special. We would highly recommend working with her for your celebration - she is a wonderful officiant.

Sean S.

Married on 06/04/2021

A Lovely Experience!

We were looking for a non religious officiant for our Disney World Wedding and after much research Renee seemed like a good fit for us. From the very beginning she was warm, personable, and a joy to work with. During our first conversation with Renee, she seemed genuinely excited to work with us. Renee thoroughly explained the different packages to us but was never pushy one way or the other, which we really appreciated. Once it was time to actually move forward with the marriage license process, Renee was helpful beyond belief. Being that we were getting married in Florida but living in New York, her step by step guidance streamlined the process and made it easier than we could have ever imagined. During our rehearsal, Renee walked us through our ceremony and gave everyone helpful tips for making the ceremony seamless. The same can be said for the big day - Renee was a joy to work with and we are so happy we chose her to be a part of our special day!

Renee Silverman - A Lovely Ceremony's reply:

Sean and Jen, thank you so much for your review and kind words! It was truly a pleasure to work with you, and to see how the two of you shared every moment of your ceremony!

Are you interested?

Send a message

Grace G.

Married on 05/10/2021

I feel like ALL weddings need to be tailored in this way...

I've always been a rebel and never did things like everyone else, so when it came time to plan our wedding ceremony I thought of only one person - Renee Silverman. She had officiated my best friend's wedding and I fell in love with their ceremony because it was unique and you could really understand the couple for who they are. That's exactly what we wanted for ours and we're still getting compliments about how special the ceremony was! Renee worked with us every step of the way and emphasized a collaborative process which is crucial if you want to create a ceremony that is authentic to you. We had a handfasting ceremony sprinkled with our favorite nerdy moments and a heartfelt message to our family for bringing us together. It felt like us because it was us, and that's what weddings are about...celebrating your love and Renee makes sure that your day is just that. We are so grateful for Renee helping us put together the words to say how much we love and commit to each other. After working with Renee, I feel like all weddings should be tailored in this way so if you want something truly special and unforgettable then Renee is your person!

Tabitha C.

Married on 01/08/2021

The Best Officiant in Orlando

I absolutely hands down had the best ceremony and Renee helped me achieve it! She took all my ideas and came up with the perfect ceremony script. Her voice is very warm and loving and I couldn't imagine my ceremony without her. She's a true professional and is a pleasure to speak with. She listens to what you want and learns about you as a couple. There are many officiants in Orlando but no one is as unique and special as she is!!!!!

Ashlyn V.

Married on 10/17/2020

A Magical Experience

Renee played such an integral part of our wedding day and we are overjoyed with how beautiful our ceremony was. We got married in Disney World and living 12 hours away did not hinder our planning process with her one bit! She took the time to get to know us and our story over Zoom and walked us through every step of the wedding process, down to what we could expect at the rehearsal. She quickly and thoroughly responded to all emails and our questions. We felt so comfortable having her as an officiant and we, including our family and friends, absolutely adored our ceremony! Renee was so genuine and joyful to have been a part of our day which made us even more thankful that we chose her to officiate. If you are looking for someone who feels like family and truly cares to make your day extra special, Renee is the perfect officiant!

Renee Silverman - A Lovely Ceremony's reply:

Ashlyn, it was joyful to get the two of you off to a magical beginning to your wedding celebration! Thank you for choosing me to be a part of it!

Bridget B.

Married on 08/04/2020

Fairy godmother and so much more!

I'm not sure how our day would've even functioned without Renee. Not only was she there throughout our turbulent journey of actually getting to the wedding- we had to postpone and then cancel our original Disney wedding because of Covid-19- but she made our day so very special. She tailored the wording of the ceremony to fit our new location and helped us to authentically express ourselves in our vows. We couldn't have asked for more.

From calming my husbands nerves, handing us tissues, and giving us beautiful advice, Renee is nothing short of amazing. She is a true professional who brings the magic. We loved having her officiate our marriage. Please book with her! We promise that you will not regret it!

Love,
The Bermudez family

Joanna K.

Married on 03/16/2020

Renee is the best!

We found out that Disney was closing the day before we were supposed to fly to FL from NJ, and less than 4 days before our wedding. While I was in a mad scramble trying to find out from the DFTW people whether our wedding was still allowed to happen, Renee reached out and assured me she would be there if we kept the date, and would be there if we rescheduled. I almost cried when I read her sweet email. Leading up to then, she had been wonderful, answering all of my questions, putting together a beautiful ceremony script, and making the process of getting a Florida marriage license from 1,000 miles away simple and stress-free. On our wedding day, she was the perfect officiant, with her added touches that meant so much - without me having to think about it, she took care of finding a spot for my bouquet during the ceremony; she knew just when to step away for the photographer to get the perfect shot of our first kiss; she gave us tips that made for a better ceremony; the magic wand waving delighted my guests and everyone who saw photos of it afterward; and, most of all, she was a kind, warm, and reassuring presence from the moment I met her in the Boardwalk lobby. I cannot recommend Renee enough.

Caroline B.

Married on 11/22/2019

Renee was our magical fairy godmother!

When we were deciding on an officiant for our Disney wedding, we knew we wanted to have someone that would make the ceremony personal and unique to us. Renee did not disappoint. From our first conversation through the actual wedding day, she was incredibly sweet, thoughtful, and responsive to our questions and needs. We got so many compliments on our ceremony and how special it was. Our guests also enjoyed her magic wand waving at the end of our ceremony. I cannot recommend Renee enough. She was truly our fairy godmother and I couldn't imagine our ceremony being as wonderful as it was without her.

Renee Silverman - A Lovely Ceremony's reply:

Thank you so much for the honor (and fun!) of being a part of your wedding day. Working with wonderful couples like the two of you is why I say that I love what I do!

Ronnie S.

Married on 10/30/2019

More than A Lovely Ceremony!

There are not enough good things I can begin to say about Renee. It was not until we began the process of selecting an officiant that we realized the importance of their role. We were having a Disney wedding, and with my husband and I having a love for Disney, we wanted someone who would embody the Disney spirit. First, we researched all of the officiants on the list- google searches, web sites, pictures- everything. Something about Renee stood out immediately. Her website really conveyed her excitement for what she does. Being one that exhausts every decision, I needed more. I emailed all of the officiants that were of interest. Their responses set them apart. They were all kind, but Renee's response had a warmth behind it. It was more than words in an email or a business transaction. In between the lines, you can really sense that Renee has a deep love and passion for what she does; she wants to make this day magical for you. Her emails were very detailed and thoughtful- she really has a desire to make that connection with couples. In the spirit of Disney, I said to my fiancé "she reminds me of the Fairy Godmother...I think I want her." He agreed.

We scheduled a phone call with her, and she thoroughly went over every detail of the ceremony, fine-tuning it to personalize everything to US. She had so much to offer that we didn't even think of! The 3 of us talked for well over an hour, and even though it was our first phone conversation, it felt as if we'd known her for years. She made us feel so comfortable and reassured. Until that point, the wedding was just a list of things we had chosen through Disney's coordinator- but Renee brought it to life and got us even more excited! She made it more real in that phone call.

As the wedding approached, she was in constant contact- reminding us of important dates, keeping us informed on everything we needed, even helping us pick out elements for our ceremony when we were unsure. And then the actual day came. I emailed her the morning of with a little freak-out moment. She called me immediately to offer reassurance and answer all of my questions until I was comfortable. We finally met that afternoon right before the ceremony. It didn't even feel like a first meeting because we had gotten to know each other so well over the months prior. The ceremony was obviously perfection and Renee performed it effortlessly. Some of the guests had roles in the ceremony, and beforehand, Renee was sure to go over everything carefully with them to make sure it was seamless. I was so worried they would arrive and be confused about what to do, but Renee made sure she talked to them and explain everything so they would be comfortable. I've never said to other people after their wedding "wow, we really liked your officiant," but the days following the wedding, we received so many comments from our guests about how much they loved Renee. We're so grateful that Renee officiated our ceremony. She is not only a great officiant, but a kind, genuine, soul.


Renee Silverman - A Lovely Ceremony's reply:

Ronnie, your kind words made me cry (happy tears)! It was such a joy to work with the two of you, and to make sure that your wedding ceremony was something you'll always remember with a happy memory. Couples like you are why I love doing what I do -- thank you again!

Cate H.

Married on 10/29/2019

A true fairytale wedding service!

Renee from A Lovely Ceremony worked with us to create a truly bespoke ceremony. We wrote it together with her and she guided us, made suggestions and tweaked it until it was absolutely perfect for us!
So many guests have said to us that our wedding was the best ceremony they'd ever been to, and although I may be a little biased - I have to say I agree!
Go for the bespoke ceremony - worth every single penny! Xxx

Renee Silverman - A Lovely Ceremony's reply:

Cate, thank you so much for such kind words! It was a pleasure, and so much fun, to work with the two of you to make your ceremony 100% unique to the two of you!

Robin K.

Married on 06/07/2019

Renee is the best!

We had our Disney Fairytale Wedding on June 7, 2019. It was literally a dream come true. I truly had an amazing team to help pull all of it together, but there is one person who definitely stands out, and that is our officiant- Renee Silverman @ A Lovely Ceremony. I'm religious and my (now) husband is Agnostic, so we wanted a ceremony that could be tailored to our needs and completely customizable. After receiving our first email from Renee, I knew she was the one ;-) I felt like she really took the time to ask about our relationship and hear our story because she genuinely cares about her couples! She kept communication with me throughout the entire planning process and made sure we were on time with getting the legal process taken care of. I really appreciate this, because the closer you get to the wedding day, the more tasks you have to complete and little things can get forgotten or missed! After communicating for months via email, we finally were able to meet at the Wedding Rehearsal and instantly I knew we made the right decision! Renee has such a calming voice in the midst of all the chaos and gave me the best advice for the big day. Because of her, I was able to remain calm at the altar, look into my husband's eyes and take it all in. I did not see anyone else in those moments, which is a gift I will forever cherish and never forget. My wedding party and guests had nothing but great things to say... My planner and photographers love working with her for Disney Weddings! ... My husband says she made him laugh ;-) We both absolutely adore you, Renee, and can't thank you enough for joining us for such a special occasion! We look forward to planning a vow renewal in the future years with you! Thank you so much for everything! You are amazing!

Renee Silverman - A Lovely Ceremony's reply:

Robin, I will always remember your wedding ceremony with a smile on my face -- especially since I made your sweet hubby smile!


Brittany M.

Married on 06/01/2019

A perfect ceremony!

We can't say enough good things about Renee! We had the honor of her being our officiant for our Disney World wedding. Our ceremony turned out absolutely perfect, and that's because of the beautiful and personal script that Renee helped us put together. She can be as creative, funny, or serious as you want. And you can add whatever elements or events you want. The sky was the limit while we spent the 12 months before our wedding working together to craft something that ended up feeling so uniquely us. The process was so easy and fun. Renee took care of everything, was so quick to respond to every email, and was also so quick in her ability to present us wonderful and well-written drafts. She was always great at initiating conversations with us throughout the year, always checking in every couple weeks to see how we were doing. Renee also guided us through the marriage license process, and despite the fact that we are from New York and had to do it all through mail, she made it all so easy to understand and complete. My fiancé (at the time) asked Renee for advice while he wrote his own vows, and she helped him through it with helpful suggestions, which resulted in an absolutely beautiful piece that came from his heart. Renee is incredibly generous, compassionate and patient, and it showed through in the way she spoke at our ceremony. Not only did Jeremy and I love how it all turned out, but we also received a lot of compliments from our guests that really appreciated how personal and unique our ceremony was and how they really enjoyed Renee's presentation of it all. It's common to not put a lot of planning and attention into the ceremony, but I highly recommend that you work with Renee because you will soon realize how much the ceremony can greatly enhance your day. She helped us create something unforgettable that ended up being our favorite part of the day.

Renee Silverman - A Lovely Ceremony's reply:

Oh, Brittany, your beautiful review made me cry tears of happiness! It was so wonderful to work with both of you on your wedding ceremony, with the end result being, in your words, "unforgettable." I will always remember it as one of my all-time favorites!


Faye G.

Married on 05/28/2019

Just fabulous

We had a destination wedding in Florida on 28th May and I feared that it was going to be tricky due to the long distance from the UK. Renee made everything so simple and such a great experience. Everything was done ready for the day all with Renee's help. She was fantastic. Meeting her at the wedding was lovely, she's such a heartfelt person and involved my 7 year old as much as possible which was fantastic as I couldn't have asked for anything more. The words read at our wedding were beautiful and I am so glad we picked Renee, she was such a special part of our day. Thank you Renee.

Renee Silverman - A Lovely Ceremony's reply:

Faye, thank you for your wonderful review, and for including some of the photos I took! It was truly an honor to be a part of your wedding day!

Alexa B.

Married on 03/17/2019

Best in Central Florida

We could not have asked for a better officiant! Renee was friendly, upbeat, and got to know us from the minute we met her. Her ceremony was just the right mix of modern and traditional and she worked with us to add the elements we wanted. She offered excellent guidance on a secular ketubah and on the process for our marriage license. Any time we sent an email we heard back from her within a day (sometimes within an hour!) and her responses were always thorough and helpful. Do yourself a favor and pick Renee for your officiant!

Renee Silverman - A Lovely Ceremony's reply:

Thanks so much, Alexa, for your kind words! It was a joy to work with the two of you on your meaningful wedding ceremony!

Florian B.

Married on 02/14/2019

The perfect fairytale wedding!

We spent some time last year researching officiants to perform our wedding at Disney's Wedding Pavillion and Renee caught our eye. We had an initial Skype call and me and my partner Jo instantly said to each other after the call 'Renee is perfect!'
How right were we!
Renee spent a lot of time with us going through every little detail for the ceremony and also getting to know the two of us. Our ceremony was tailor made and had some 'moments' which all turned out perfectly on the day.
One thing that really struck us was how calming Renee is. A wedding can be a nervous moment but having our 'Fairy Godmother' :-) running the show, we had nothing to worry about!

I really can't recommend Renee enough, an absolute pleasure to work with and the perfect person to deliver our ceremony. We had such a good time on our journey putting all the details together.
We can't wait for the video to be produced and sent to us to watch it all back, it truly was a fairytale day.
Thank you so much, you really contributed massively in giving us our perfect day.

Renee Silverman - A Lovely Ceremony's reply:

Flo, thank you SO MUCH for your review! It was so much fun for the three of us to create your ceremony, and I'm glad that you and Jo were pleased with the results!

Nicole C.

Married on 02/08/2019

Thanks for making our day special!

Renee was outstanding. She was quick to answer any questions and made the moment for us so special. You could tell her experience through her work and advice. We were privileged having her be a part of our day!

Sandra B.

Married on 01/28/2019

The best wedding officiate ever!

My husband and I renewed our Wedding Vows at Disney World and we are thrilled that we selected Renee Silverman to be our wedding officiate. She is extremely professional, punctual in answered e-mails and her dedication to her work is exemplary!!!!! She made us feel so important and she even has a magic wand and reminded us of Cinderella's godmother. We HIGHLY recommend Renee to all of the young brides to be and for vow renewals!!!!!!!! We think the world of her!!!!!

Kelly

Married on 08/21/2018

My husband and I are so grateful and happy that we got to share our day with Renee! We are both introverted people and were having a tiny Disney wedding for our immediate family, but even so, we were nervous about the ceremony and being in front of people while sharing a very personal moment. Working with Renee was an absolute pleasure--she put us at ease and gave us advice to help calm our nerves. She was always quick in answering any of our frequent questions and had a calm confidence that put us both at ease. I cannot recommend her highly enough.

Renee Silverman - A Lovely Ceremony's reply:

Kelly, thank you so much! It was a pleasure and honor to help to make your wedding day meaningful and memorable!

Michael

Married on 07/17/2018

Perfect scores for Renee. During our Disney wedding planning she was always willing to work with us and clarify if we had any questions. Her professionalism and quality are second to none as she made sure that both myself and my wife were comfortable and prepared for our big day.

Beth

Married on 07/09/2018

GRATEFUL is the first word which comes to mind when thinking of what to write about our experience with Renee. I am so grateful for EVERYTHING Renee contributed to our wedding. From the very first phone call I truly felt as though it was destiny I was put in contact with her. The time and effort Renee gives to making sure the ceremony is exactly what you envision is unprecedented. Whatever anxiety we may have had at rehearsal about the wedding was put to rest that evening in large part because of Renee; her directions and tips for the ceremony made all the difference in the world. The actual ceremony was perfect- it felt as though a family friend who has known my husband and I our entire lives was marrying us. Everyone who attended the wedding was wildly impressed with how personal and natural feeling the ceremony was. I just cannot imagine the day and Renee not being a part of it -- my husband and I feel so thankful our memories of that day include her! We WHOLEHEARTEDLY recommend Renee --- you will not be disappointed.

Carolyn

Married on 05/26/2018

It really was a "Lovely Ceremony"!!

Our wedding ceremony was absolutely perfect thanks to Renee! My now husband and I came to Orlando from New England for our wedding so all of our ceremony planning was done by phone & Email, but the quality and thoughtfulness our ceremony had felt as if we had had numerous in person meetings. The best part was Renee surprising us with some wording from our favorite Disney movie "Frozen" at the end of our ceremony (the exact same wording happened to be on our cake topper!). This really made our ceremony that much more special and personal. Anyone who chooses Renee to be their wedding day officiant will not be disappointed; she puts in the time and effort to make sure your ceremony is personal, meaningful, and certainly unforgettable! Thank you Renee!

Renee Silverman - A Lovely Ceremony's reply:

Carolyn, thank you so much for your kind words! It was an honor to be a part of your wedding day, and I'm so glad that the surprise wording I added to your ceremony made you happy!

Daniella

Married on 02/14/2018

Choosing Renee as our officiant was the best decision we made. As soon as we Facetimed Renee we had an instant connection with her and knew she was the one for us, so warm, kind, happy (we came off the call saying she reminded us of the fairy godmother) and knew exactly what we wanted. It has been an absolute pleasure working with Renee and we cannot recommend her highly enough. We felt so lucky to have found someone like Renee.
The ceremony was so important to us, that it was unique to us as a couple and Renee understood this straight away. She was so helpful sending us ideas and reviewing our ceremony draft regularly until we were completely happy with the finished ceremony. All of our wedding guests commented on how lovely the ceremony and Renee were. She made our very special day all the more magical and her 1, 2, 3 wise words of advice is the best advice we have ever been given and it made the ceremony all the more special for us as we really stayed in the moment, a moment we will remember forever.
Thank you Renee, for everything, no words can really express how blessed we feel to have met you.
Lots of love, hugs and pixie dust
Dani and Ben xxx

Emma

Married on 01/14/2018

We contacted Renee because of all of these 5-star reviews and now she gets another – she is terrific! She is very prompt in responding to emails and we had fun drafting our personalized ceremony with her. I felt confident she would be great, but on the day of the wedding she exceeded expectations. We got many compliments on our ceremony and my mom said Renee was among the best officiants she's seen. It was a pleasure to work with her and I would recommend her to anyone looking to have a unique ceremony with personal touches. She clearly loves what she does. Our ceremony felt so special to me and I was SO happy with how everything went.


Renee Silverman - A Lovely Ceremony's reply:

Emma, thanks so much for sharing your experience! It was so much fun to work on, and create, your wedding ceremony, and I'm so happy that you were pleased with the result!

Brian

Married on 01/08/2018

We were referred to Renee and A Lovely Ceremony from friends of ours who had their wedding performed by her. After contacting Renee by email, she immediately scheduled a video call so we could get to know each other. A few moments into the video call my now wife and I had an instant rapport with her and immediately made the decision to have Renee to perform the ceremony.

Not only did she work with us to provide us with a ceremony that would be both elegant as well as comedic, but she was able to assist in a number of facets that we, as Non-Florida residents, were uncertain about. For instance, Renee was knowledgeable about the marriage license application process and timeline which allowed us to easily complete it from hundreds of miles away.

Due to circumstance, our rehearsal was held in a ballroom but our wedding was slated for a different venue. Renee was knowledgeable of the details of our Disney venue and was able to inform us on where certain markers would be. As a result we were able to visualize where we would stand, where to walk, and how to face. This made the actual ceremony comfortable and minimized the amount of faux pas on our part. Because of this, the ceremony went exceedingly well.

Renee has a wonderful sense of humor that complemented our somewhat goofy personalities but is very professional to ensure the integrity of the ceremony. She is extremely personable and she was invested in our ceremony to ensure that it was as magical as we could have imagined.


Renee Silverman - A Lovely Ceremony's reply:

Brian, thank you so much for your kind and wonderful review! It was so much fun to work with the two of you on your wedding ceremony, and I will never forget the special moments that made it uniquely yours!
Are you interested?
Send a message