34 Reviews
Recommended by 99% of couples
Quality of service

5 out of 5 rating

Average response time

5 out of 5 rating

Professionalism

5 out of 5 rating

Value

4.7 out of 5 rating

Flexibility

5 out of 5 rating
9 User photos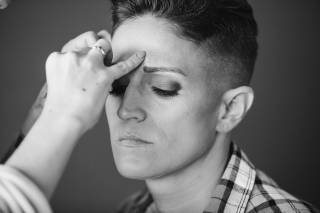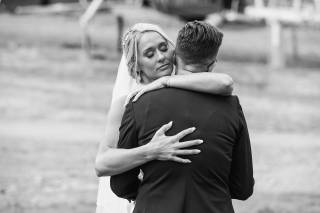 + 5

photos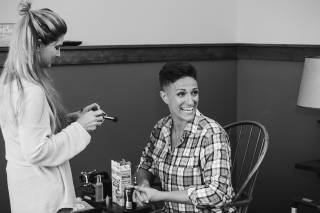 Kelly

Married on 10/11/2020

Laura is amazing in every aspect!

Laura from RJ West is absolutely amazing!! She did the makeup for me and my bridesmaids for my wedding! She truly understands how to balance what I was looking for with her own expertise to create the perfect look for me, my wife, and all of our girls. Some of us wanted to go a little heavier on the makeup and some of us very light, but all of our makeup and colors were balanced with our outfits and each-other. Every single person was thrilled! Laura is kind and talented and easy to work with. She exceeded our expectations. Thank you for making us feel beautiful and confident on our special day!

+ 6

photos

Christina

Married on 11/11/2017

Laura was Phenomenal!!!!! All my bridesmaids looked absolutely amazing!!!!! They loved it!!! My makeup ( as the bride) was gorgeous!!!! We got compliments all night about my makeup.

Mikaela

Married on 10/07/2017

From the minute I met Rachel, I knew she'd be a pleasure to work with. I was very particular about my make up and she couldn't of been more accommodating and honest with her opinion. I've had the pleasure of working with Rachel and Laura for not only my wedding but also my best friends wedding and they are both very sweet and professional. They listen to what you ask for and know how to truly give a natural look!!

Are you interested?

Send a message

Morgan

Married on 04/08/2017

Rachel and her team are absolutely amazing. After getting my make up done by RJ West for two other weddings (and countless events on my own), it wasn't even a thought to not immediately book them. Whatever the look you are trying to achieve, Rachel will achieve it. I think to me as a bride the best part of hiring RJ West was that every single bridesmaid, my mom and mother in law, LOVED their make up. Who can successfully pull that off without having one girl "absolutely hate it" or have to retouch something? This wasn't just the case for my wedding either but for the two I was in too!!

Callie

Married on 09/10/2016

Rachel is an incredible woman! She was on time, fast, professional, and personable. And that was just on my wedding day (which was a pretty chaotic morning)! During my trial, she helped me pick out an elegant look that would easily transition from my day time ceremony into my nighttime reception. She went over color pallettes for my girls, also, asking about bridesmaids dresses and accessories. She went over all of the costs so there were no surprises the day of. Needless to say, she was thorough. Typically, I don't wear a lot of make up. I am more of a natural kind of girl with a lot of nude eye shadows and light blush for complexion. She made me feel like myself while accenting my features and making me camera ready. I didn't look or feel overdone. I cannot speak highly enough of her and her shop. I only wish I could give a sixth star for general awesomeness!

Amanda

Married on 07/03/2016

Rachel and her team were amazing for my wedding. She was very quick with her response and she made myself and my whole bridal party look amazing. Thank you so much we will recommend you anytime, can't wait to use them again!!

Amanda Biondo
7*3*16

Taylor

Married on 06/11/2016

I went to R.J. West today for my bridal trial with Rachel. Being that I do not wear a lot of make up, I have really struggled trying to find a makeup artist that understands what natural means. After speaking with Rachel a few times back and forth on the phone and through I felt extremely comfortable using R.J. West. This morning I went for my trial with pictures of what I wanted to look like. Before Rachel started we talked about my wedding and what my theme was. She looked through my pictures and added some of her own thoughts. After she was finished I was truly in love with my make up. It looked like the pictures I had brought with me, but even better. The false lashes she used feel so natural, I can't tell I am wearing them. She also helped me chose colors for my bridal party.
I can't wait for my wedding day!
Thanks so much!
Taylor

My family and I have been long time R.J. West fans, we love their products, but more importantly, we love the women who work there. They listen to exactly what you envision and make it a reality! For my wedding, I wanted something that still allowed me to look like myself, but with a little more sparkle- which is what they did. I also appreciated that they were able to come to our home, which made getting ready with my mom and sister even more fun and special! Their makeup also came out amazing, and they both said that they loved their looks as well!
I felt comfortable, confident and glamorous, which is how your should feel on your wedding day!



Ellen

Married on 11/15/2015

everything was perfect-the make-up was just the way I wanted it-someone was always readily available to me whenever I called-the make-up experts arrived on time. I could not have been happier with the service.

Danielle

Married on 11/13/2015

Bridal make up is one of the most important parts of your wedding day, it is the way you start your day , and it makes you feel like a starl! R.J West not only makes you feel beautiful, they make you feel so special, and go above and beyond to make sure your bridal experience is one you will never forget. I have had the pleasure of knowing Rachel, the owner of RJ West for many years , and I have recommeneded numerous Brides to her because I know she is the BEST of the BEST! This past November it was finally my turn to sit in her chair and it was such a treat! Rachel and her team pampered us and made each of us look beyond gorgeous! She was such a big part of starting my day off so special, and giving me beautiful make up and memories that will last a lifetime. My pictures are so amazing and so much of that is thanks to her and her team! Choosing RJ West will be one of the best decisions you make for your wedding! P.S Book her in advance she is in high demand lol. Happy Wedding Planning!

Rachael

Married on 09/19/2015

I CANNOT say enough about Rachel and her team!! Not only did everyone in my family and bridal party look better than they EVER have before but RJ WEST helped with all my pre-wedding skin needs! Including elimitinating all my brown spots from sun damage through light therapy the facial included in your bridal package is a really great touch!. My skin never looked better for my big day and my honeymoon!! Rachel worked with me at my trial to really achieve the natural look I was looking for. I do not wear eye shadow but I knew I wouldn't look like a bride without it. She made me look better than even my highest expectations! My husband was so happy that I looked like myself! Also I loved how Rachel and her team had set up in the bridal suite, very professional, the lighting, chairs, make-up and how they displayed it all, made myself and my wedding entourage feel like celebrities! Having one girl get airbrushed while another got her makeup done. Getting ready we were right on time! And Rachel showed up even before me!!! When I got there everything was ready to go! My father said that he has never seen my mother look more beautiful and even my mother in law was impressed!!! Do yourself a favor and just hire RJ West!!

Aimee

Married on 08/15/2015

I loved working with Rachel and the ladies at R.J. West for my wedding and some other special events! I will definitely be using their services for future special events! Rachel is awesome! We did a few trials, which I highly recommend. It is good to experiment with a few different color palettes. She has really nice make up lines with a tremendous assortment of colors. I love how they do foundation their because it looks very natural yet hides all the blemishes! My wedding was in August so if you have a Summer date I recommend asking for a pressed powder to keep the shine down on your skin. These ladies are very relaxed and know what they are doing. The make up looks done but not over the top. And all of the girls are awesome! I highly recommend using them for a wedding, special event or just for tips on application. The store also has some awesome make up and skin products. Laura Mercier is a personal fave. Thanks again to Rachel and the team. :-)

Jessica

Married on 07/11/2015

Working with RJ West was one of the best decisions I made during the planning of my wedding. I loved that I was able to make apts online and correspond with them via email, over the phone and in person-- they were so accommodating in terms of communications. Natalie made everything so easy and helped me with every question I had along the way. It was one vendor that made me feel like I didn't have to worry, which was SO important since there were so many other things to worry about.
Another bonus to being a bride is when you sign the contract you get a free facial with one of the specialists there. My facial was with Sarah and she was amazing!
On the day of, Rachel and her team were SO flexible. They let us come and go as we needed to and did not make me feel stressed in ANY way shape or form. Going upstairs to their private bridal suite was so special. We brought food and drinks and were able to spend time together without any distractions. My bridesmaids looked absolutely gorgeous, and I didn't look too bad either ;o). Rachel did exactly what I wanted and it turned out exactly as I had dreamed it would. She's a pro!

I LOVED WORKING WITH THEM!!!!! I highly recommend choosing RJ West as your make-up artists.

R.J. West Bridal's reply:

Thank you so much for your review!! Congrats again!

RJ West is the go-to place for makeup for your special event. We used them for my daughter's wedding and they came to my home to apply with everything they needed including chairs. Their makeup lasts all day/night and feels very clean and natural on your face. Rachel and Natalie do a wonderful job and made our whole wedding party look beautiful. I wouldn't use anybody else.

R.J. West Bridal's reply:

Thank you so much for your wonderful review!

Darlene

Married on 04/10/2015

I'd like to start off by staying that finding a make up artist for your wedding day could be a very intimidating process.
Let's be real, from the unreal expectations we see on Pinterest to everything we read and see on social media, you can only imagine for any bride, the sakes are high and you want to score highest. Its your day!
Having the RJ West Artists work on me personally was like a I scored a wedding right out of Pinterest.
Now, what do I mean?
Well, imagine looking at someone else wedding from an outsiders prospective and reading the stories of his/her perfect day we only imagine
"Was her day really that flawless?"
Well, for me it was.
With the calm, assuring, understanding and perfectly PERFECT touch Rachel and the girls at RJ West create is almost seemed unreal.
Ask me, did I just walk into a live Pinterest photoshoot of some one else's wedding day?
Or, is this all real?
Is this really how it can be?
I found myself feeling comfortable, calm, collected, wait this is my wedding day right?
I was not intimidated, I did not lack confidence in Rachel and her team and I knew I was receiving the highest quality of care and attention.
Well, yes, I think this is all becoming very real.
From the moment I walked into Rachel's shop, I just knew she would be the person to calm me, beautify me and capture the beauty I felt inwardly and represent that on my face, for the most "perfect face, on the most perfect day".
Rachel and her team arrived on time at such an early hour to get my bridal party of 12+ people made up so effortlessly.
Each of my bridesmaid and bridal party had complimented Rachel and her team for their outstanding work and professionalism they had brought to the table that day.
She had been the source of my confidence letting me know that I was beautiful whether or not I was ready to feel so.
Thank you Rachel, for making my day, myself and my bridal party look flawless.
You are truly a talented, kind woman.

R.J. West Bridal's reply:

Thank you so much for your amazing review and congratulations again on your wedding!

Kelly

Married on 11/01/2014

Natalie and team were amazing. She was professional, nice and fun to work with! My makeup turned out amazing and I would 100% recommend to all of my friends! Thank you, Natalie!!

R.J. West Bridal's reply:

Thank you so much for your 5 star review!

Carly

Married on 10/18/2014

I have to say RJ west is amazing! They not only did an amazing job with my makeup but gave the same treatment to my bridesmaids and mom. My bridesmaids had no clue the production- chairs,lights, high end makeup, etc - all my girls felt like celebrities! Not only were the bridal services amazing but I am now hooked on the spa services. They definitely made me a customer for life. I can not rave more about Marissa and Rachel and the entire team at RJ West!

R.J. West Bridal's reply:

We are so glad you all felt so special on the big day! Congrats and thank you!

I would highly recommend using RJ West for your wedding or special event. Rachel is an amazing makeup artist! Her keen eye to enhance natural beauty is evident. She was able to do my makeup exactly as I asked, and the end result was even better than I could have anticipated. Not only did she transform me and my bridesmaids into the most beautiful girls in the world, but she made the process fun and relaxing. She does it all with a smile and with a demeanor to make everyone feel relaxed and at ease.
Overall, the makeup at my wedding looked stunning. Besides being a joy to work with, she has a laid-back approach to make you feel comfortable. I received countless compliments on how great my makeup looked that day and it lasted all night!

R.J. West Bridal's reply:

Thank you for writing a great review! Congrats again!

Jennifer

Married on 10/05/2014

I can't say enough good things about Alicia and Rachel at RJ West. I was the matron of honor at my sister's wedding. Alicia did my make-up and Rachel did my sister's (the bride). I got SO many compliments on my make-up - it was absolutely beautiful. And there are no words good enough to describe Rachel's talent. My sister looked magazine/TV ready and not at all cakey. I highly, highly, highly recommend RJ West.

Jaime L.

Married on 10/05/2014

Rachel made me feel beyond beautiful. I honestly never thought I could look as good as I did on my wedding day. Never did my makeup seem "caked on" or look that way in pictures. Everyone commented on my looks and made me feel great. I can't say enough about her work! Alicia from the store did two of my bridesmaids make-up and they looked fantastic as well!

R.J. West Bridal's reply:

So glad you were happy with everything! Congrats!

Rachel was a pleasure to work with. The quality of her work was amazing!! She made everyone look their absolute best, while still maintaining their natural beauty. I highly recommend her!

Lore

Married on 07/26/2014

I would highly recommend RJ West for any occasion; their professionalism and attention to their clients' needs far outweighs any other vendor I've come across. My makeup for my wedding was flawless!

Kristy

Married on 07/18/2014

It was a pleasure working the R J West team. My experience was truly special, and i couldn't be happier how everything turned out. The R J West team made the day easy, comfortable and most of all beautiful.

Alanna

Married on 05/24/2014

Always loved using Rj west for an event but on my wedding day I wanted the best! Rachel did the most amazing job on my makeup and made me feel so beautiful!! I can't thank you enough!!

Jenny

Married on 09/07/2013

Rachel and the team from R J West did an absolutely beautiful job with my makeup and that of my mother and five bridesmaids. We all felt gorgeous and at ease. They use only the highest quality products and really work with you to ensure your makeup is not only modern and beautiful, but something that you personally like. A job very well done and I continue to send friends and colleagues their way!
Are you interested?
Send a message