Reviews
4.9 out of 5 rating
Quality of service

4.9 out of 5 rating

Average response time

4.8 out of 5 rating

Professionalism

4.9 out of 5 rating

Value

4.8 out of 5 rating

Flexibility

4.9 out of 5 rating
97%
Recommended by couples
19 User photos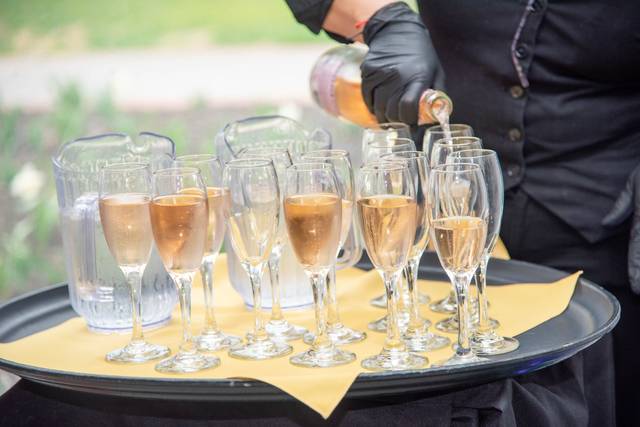 + 15

photos
Michelle T.

Married on 05/28/2023

We haven't stopped getting compliments!

Everyone LOVED the food at our reception; people are still reaching out trying to collaboratively figure out how to recreate their honey almond encrusted chicken! The antipasto display was beautiful, and the servers were beyond lovely throughout the night. We were blown away by the professionalism and quality of the food right from our tasting. The company is very flexible about allowing you to supplement bar package; we brought in some Irish cream to go with our coffee bar and some champagne for the head table. I would recommend this company to anyone and everyone in the area!

Angela W.

Married on 03/23/2023

Flavor and Class

Yum is all I can say. My guests are still raving about the food. The service was excellent and the price was very reasonable. I would definitely recommend them!

+ 3

photos

Emily P.

Married on 12/10/2022

Great food and great staff

The food was great, the attention to detail was on point. They went above and beyond to make sure the food was perfect. The only drawback was the wait staff being too good at their jobs and clearing my drinks away too quick before I could finish the drink! Haha

Are you interested?

Send a message

Puja P.

Married on 07/09/2022

Great Service Company w/ Ethnic Wedding Experience!

POTR & Bobby are THE people to work with for all your event service needs. Bobby went above and beyond to accommodate our south asian event and work hand in glove with our ethnic caterer. The planning for our 2 day 4-5 events was complex to say the least and Bobby was a fantastic mediator to ensure we could host a successful event. He put our caterer, venue and planner at ease with his level of competence and adaptability/flexibility. The level of professionalism POTR displays is incredible. They were always on point and ready to serve, clean up or help with whatever we needed. I would 100% recommend POTR as the most fairly priced and enjoyable team to work with. We are so grateful for their hard work, dedication to excellence, and would use them again anyday!


Ron F.

Married on 06/18/2022

Perfect in Every Way!

We began talking to the Puttin' on the Ritz folks last October knowing that our planned 50th anniversary party would be at a busy time of year. They were helpful throughout the process and worked with us on the many details. The food selections were wonderful, and we changed them several times, never was there a problem. When the day came for our event, the staff arrived early and began setting up. The food was excellent, the service impeccable, the staff helpful and friendly and the entire day was everything we could have asked for. Event Manager Denise was a joy to work with and covered every detail to perfection. When they finished, everything was cleaned up, leftovers packed for us, and they left us with perfectly clean and neat areas everywhere they worked.
We will without a doubt use them the next time we have a need for a catering service - and highly recommend that you do so as well.
Nothing but the highest ratings for Puttin' on the Ritz!!

Jenna K.

Married on 06/11/2022

Amazing experience!

We had a great experience with Putting on the Ritz. Claudia was exceptionally responsive throughout the whole process. She was very helpful from the beginning of planning up to the wedding day. Claudia is very experienced and competent in her field. She had helpful insight into floor plans for the cocktail hour and reception for the best experience and helped us to customize our menu options to accommodate all guests.

Putting on the Ritz ,Catering's reply:

It was my sincere pleasure working with you. I wish you both a long and happy life together. Best wishes, Claudia.

Kathleen L.

Married on 05/21/2022

Best party ever!

From start to finish, Bobby was incredible to work with. Having never planned a wedding before, I had no idea where to begin when it came to feeding 130 people. Bobby helped us plan the perfect menu for our wedding and he knocked it out of the park on the wedding day itself! Everyone raved about the food and the bar- holy cow, the bartender was the star of the show! The food was SO delicious and everyone raved about it! We loved working with Putting On The Ritz and we are so thankful for everything they did to make our wedding so incredible!

Lilly M.

Married on 04/16/2022

Amazing food and service!

Putting on the Ritz was fantastic for our spring 2022 DC wedding! Starting from the tasting, I could tell they were very accommodating and customer-service oriented. I really wanted to taste their mac n cheese (being from Wisconsin I'm very picky about it!) and they let me come back for a second tasting just for the mac n cheese alone; needless to say it tasted amazing! They worked so well with our venue and were easy to communicate with. Neil was our point person at first (wonderful guy), but he ended up leaving for another job a few months before our wedding. We were nervous about having another catering manager who was new, but Debra pulled it off 100% and everything was wonderful! My biggest selling points for this caterer were (1) very reasonable price for what you get and (2) amazing taste of the food, especially the apps!! Beyond that they were friendly, easy to work with and professional! Would recommend to anyone getting married in the area!

Addy V.

Married on 12/18/2021

Absolutely Delicious

The food was absolutely delicious!! We had the discounted winter special buffet and loved everything on my plate (which is saying something because I am incredibly picky). Every person we spoke with loved the food!! Putting on the Ritz was even able to cater to our large portion of vegan guests which was hard for a lot of other caterers to do. Would definitely recommend!

Jeannine

Married on 09/25/2021

Tastefully Done!

We went for a "tasing" before we chose this vendor. They had the room set as if we were attending a wedding based on possible ideas. We chose from an extensive menu and had so many options!


Lisa

Married on 09/05/2021

Can't recommend Putting on the Ritz enough!

Putting on the Ritz was one of the highlights of our wedding! They came highly recommended by our venue and they did not disappoint. Every part of the experience was wonderful. Neil is a true delight to work with and was communicative the entire time of the planning process and was an integral part of our wedding day. We got a ton of compliments about the food and it was just as good on our wedding day as it was at the tasting. They are a must have if you're getting married in the DMV area!

Roger

Married on 08/21/2021

What a wonderful experience!

First of all, the food was absolutely delicious. POTR did such an excellent job at making each dish extra special. Cassie was wonderful as well. She was super attentive to our needs and was always quick to respond with friendly communication which was done mostly by email. The serving staff was fantastic as well. Everyone was great and I highly recommend POTR to anyone with catering needs and especially a wedding event. Well done Putting on the Ritz! You made our wedding even more special! Thank you.

Pinyao R.

Married on 08/14/2021

Great experience

We're very happy we chose Putting on the ritz for our wedding. Cassie was so responsive to our emails and calls and went above and beyond to make sure all the details were exactly as we wanted. The food was delicious and the service was phenomenal. We will definitely be using them again for other events!

Erin

Married on 07/31/2021

Yum .

We used Putting on the Ritz for our wedding reception at one of their proprietary locations (the Great Room at Savage Mill), and it was a delicious decision. Several guests commented on how much they liked the food and we have to agree. Make sure to consider their fun custom ice cream float bar for summer events! Our favorite appetizers were the Cape Cod (lobster on a pretzel roll) and Date with a Pig. The short rib was delicious and the crab cakes full of crab meat. Make sure you bring a good appetite when doing a tasting to choose a menu! One note in figuring out cost--gratuity wasn't part of our contract, so make sure to add that into our budget (and the staff do deserve it).

Jackie

Married on 07/24/2021

Putting on the Ritz

The food was excellent and my guest loved it!!

Monica

Married on 07/13/2021

Putting on the Ritz lives up to its name!

My husband and I chose POTR to cater our wedding reception. From the beginning, Neil was highly responsive. Our tasting was wonderful -- it was a pleasure to meet with Neil and try the awesome selections. As we continued on in this process, Neil worked hard to help us with our ideal reception. His guidance and patience while we figured all the details out together was much appreciated. On the day of the reception, Denise was amazing and on top of everything. She really helped pull our vision together and kept everything on track. The rest of the staff were wonderful too -- we noticed their attentiveness and everyone was so friendly and made our reception a success. We were also lucky enough to meet the owner, Bobby!! He was lovely to talk to and funny. We truly are grateful for everyone involved that helped make that night that much more spectacular. We are still getting comments about how great the food was (especially the cupcakes!) and how everything looked. You all ROCK!!!!

Thanks again!

Monica and Dorian

Jenny H.

Married on 05/08/2021

The food was delicious

We had a wonderful experience with Putting on the Ritz. Our wedding was postponed multiple times due to COVID and they stuck with us through it all. We had a Zoom meeting with Neil to go over the menu and layout and then met in person to finalize details as the wedding got closer. On the actual wedding day, we were so impressed with the whole crew that arrived, from those setting up, passing the appetizers, the bartenders, to the servers. All were very professional and a pleasure to work with. The setup of the room looked beautiful. The food was delicious, and they even packed up the leftovers for us to take home and enjoy for days after.

+ 2

photos

Jennifer Y.

Married on 04/17/2021

Excellent Service AND Food

Working with Putting on the Ritz (POTR) was a FANTASTIC experience! Shortly after signing our contract with our wedding reception venue (St. Francis Hall), we reached out to a few caterers on their recommended vendor list. POTR/Neil was the first to respond! Working with Neil was a delight - he responded quickly/promptly, answered ALL our questions (there were a lot), organized a wonderful tasting, and worked with us to put together our cocktail hour/dinner menu. As we approached our April 2020 wedding, Neil helped us navigate pandemic related questions and assured us everything would be great...and it was! The food was excellent (we received many positive comments) and the service was fantastic. The POTR team were friendly, attentive and professional. Neil made sure there was a tray of appetizers set aside for me and my husband after we took our photos, his team checked if we needed any drinks, and they also boxed two dinners for us when they noticed we were up greeting our guests and didn't have the chance to finish our meal. I highly recommend working with POTR and Neil!

Kayia J.

Married on 03/21/2021

Top Notch Service and Food

Putting on the Ritz is an AMAZING catering team in the DMV area. The level of professionalism is unmatched. Neil is wonderful and a pleasure to work with. The owner was also so very nice as we worked with him getting into a new venue space after an abrupt change of plans due to COVID. The food is also spectacular and the presentation is top notch. Hire them now, you won't regret it!

Rachel T.

Married on 10/10/2020

Best Caterer

We couldn't have asked for a better person to work with. Cassie was beyond helpful. She was everything I needed for my wedding and helped me out together a wonderful wedding during COVID. If you're a bride looking for someone who is amazing look no further. Cassie truly was wonderful. I'd give Cassie alone 10stars if I could.

Lena H.

Married on 08/21/2020

So great to work with!

Great experience! At the tasting, I voiced concern over the chicken being a bit dry and Angie reassured us it would be perfect the day of. We also decided we wanted the chicken prepared in a different way (breaded and fried instead of baked) and it turned out delicious the day of the wedding, not dry at all! All the sides and other dishes were amazing as well!

Sonya

Married on 07/05/2020

Delicious!

Amazing, high quality food for wedding reception! Very special!

Jill

Married on 06/05/2020

Always excellent!

I am a DJ with Bialek's Music Agency and have worked with this catering company many times. They are beyond knowledgeable and efficient, as well as able to work with all budgets and styles! I love them!

Nikita B.

Married on 03/15/2020

wedding caterers

i was very happy with the taste and presentation of food.

Emma T.

Married on 03/13/2020

Best Food ever! YUMMY!! Mouth watering!

I want to extend my sincere thanks to Neil and the entire crew of Putting on the Ritz. We had so many choices from food to linens. Neil helped us with the layout of the wedding and reception at the Newton White Mansion. The design that he came up with was perfect. They have worked at the venue numerous times and it showed!
From the setup of the chairs to the set up of the tables and buffet stations, everything was just wonderful. The food was prepared fresh!! Nothing frozen. From the time they started cooking the food, my guest were anxiously awaiting the meal. The smell was delightful! I received so many complements from the guest! Everyone said that they had never had food like that at a wedding. YUMMY!!
The food for the cocktail hour was just a warm up for the meal. I have to say that the one food everyone raved about was the spinach dip at the cocktail hour. OMG!!
When you hire them not if, you have to have that dip for your wedding or event.
I have numerous food allergies and they did a great job at keeping all of those off the menu.
Again I just can not say how great they were! Putting on the Ritz is a local business ( we actually live right down the street from them). Please help support your local businesses! Without you they can not continue to do the great work and make that special event even more special.
Are you interested?
Send a message