65 Reviews
Recommended by 100% of couples
Quality of service

5 out of 5 rating

Average response time

5 out of 5 rating

Professionalism

5 out of 5 rating

Value

5 out of 5 rating

Flexibility

5 out of 5 rating
41 User photos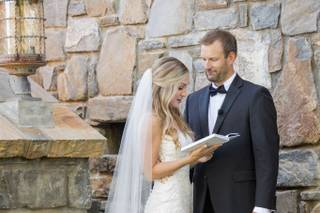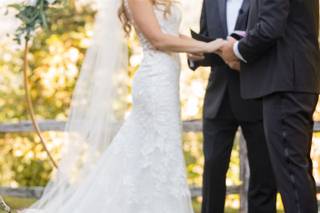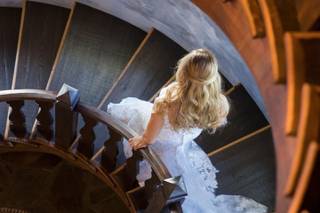 + 37

photos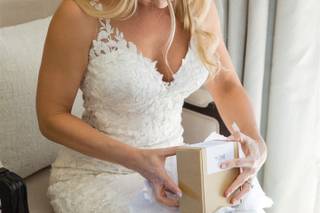 A Buckshorn

Married on 10/08/2022

Pinnacle Events

Lindsi was just amazing. Super organized, level, sweet, kind - ALL THE THINGS! Our family truly enjoyed working with her. You know they were great when one of the reasons we're sad that the wedding is over is that we will miss our wedding planner!

Amanda

Married on 09/23/2022

Definitely hire this team for your wedding day!

Julie, Lindsi and Peyton were a true pleasure to work with! From the big picture down to the littlest detail, Pinnacle's team is always one step ahead thinking through logistics, various scenarios, timeline and programming, and always keeping your ultimate goal and vision in mind. Over the course of the wedding planning process, it was very valuable to have Julie on board to field questions, coordinate with vendors, and work through all the details so by the time we arrived on site for the day of our wedding, everything flowed so seamlessly! We couldn't thank Julie and Peyton enough for ensuring our wedding day turned out the way we envisioned. Highly recommend this amazing and wonderful wedding planning team!

+ 4

photos

Amy Z.

Married on 09/17/2022

Amazing wedding planner!

We contracted Pinnacle Events for full service wedding planning and are so glad we did!

We worked with Lindsi for over a year and were so impressed by her attention to detail, professionalism, responsiveness, and just how much she really cared about us having and enjoying our dream wedding!

We planned our Castle Ladyhawke wedding while living in the NYC area so it was incredibly helpful to have someone local to the area and familiar with many of our vendors. Even though we weren't able to meet with Lindsi in person very often, it was so easy to collaborate with her via email and Zoom, and Lindsi was instrumental in helping us line up meetings with various vendors the few times we were able to fly down to NC (e.g. visiting the venue, cake tastings, reservations at the two restaurants whose chefs cater for the castle, visiting the rental showroom, etc.)

She really did so much for us from start to finish. It was so reassuring to have her on vendor calls to make sure we were asking all the right questions and to help us review contracts. I also can't imagine putting together the day-of timeline without Lindsi's help coordinating the schedules of all the vendors.

I'd definitely highly recommend Lindsi and Pinnacle Events for anyone looking for wedding planning services!

Are you interested?

Send a message

Elizabeth

Married on 08/21/2022

Like a princess

We did a "destination" wedding in Highlands -- you need Lindsi and Julie on your team! They had all the details planned out and all the answers to the questions. It was so easy. Great communication and so easy to work with! I could not imagine planning and going through the big day alone. They took stress away and eased my mind. It really was the best weekend and day ever in part to them. Thank you Lindsi and Julie!

Jackie S.

Married on 06/10/2022

Highly Recommend!

My husband and I both highly recommend Julie and her team at Pinnacle Events. We got married in Highlands, NC but we live about 5 hours from there, so we were planning from afar. Julie provided wonderful vendor recommendations, insight of the area, handled communications between vendors, and made the planning process very seamless and efficient for us. Julie was always available for questions and advice (outside of when she was planning other events). And she also kept us on task, which proved to be very important for me! It's very easy to get caught up and become overwhelmed with all of the details and decision making involved so I found it vital to have someone making sure that we were staying on task and that things were being done in a timely manner. There was so much more to wedding planning than I initially anticipated, but Julie had things covered between her own lists/notes, wedding software and other resources available that helped us to simplify the process as much as possible. Julie is extremely organized and detail oriented and really thought of every small detail to ensure that we were getting everything that we wanted out of our day and that any and all of our concerns were addressed from beginning of the planning process and all the way through to the day of our wedding. Julie really got to know us both and was able to make recommendations or help us make final decisions based off what she thought we would like. She was also proactive in handling any issues that arose. For example, we had one vendor that had a family emergency and was not able to work our wedding anymore and before even notifying us, she had already found a great replacement for us to consider who was available on our date and that we were more than happy with ...so that was a large crisis avoided before I even had time to stress over it. I think the peace of mind you receive from having someone like Julie and her team help you along the with process is essential in planning any wedding big or small. Lastly, Julie and her team are delightful people and were all so accommodating and easy to get along with. You can tell they love what they do and take a true interest in the relationships that they have with their clients and vendors. Thank you, Julie!! - J & D

Amanda W.

Married on 06/05/2022

The Pinnacle events team is a godsend

You won't regret hiring Pinnacle events for your wedding! I hired Julie with the month of planning package, and she was extremely helpful even outside of that month. My fiance is in the armed services and we were worried we would have to postpone (well before the 1 month package kicked in) and Julie was my rock through that stress - even though thank god we didn't have to change the date. The wedding day itself went off without a hitch, all of my guests kept complimenting the amazing job Julie and her team did to pull off our event!

Kasey H.

Married on 06/04/2022

Amazing Wedding Planner!

Lindsi was the best wedding planner we could ask for! We hired Pinnacle Events to come in and help us in the 3 months leading up to the wedding, and it was one of the best decisions we made. Lindsi jumped right in and connected with all of our vendors to get them what they needed, built a timeline for the entire wedding weekend so everything would run smoothly, and also talked us through those minor details and situations to prepare for, most of which I honestly had not even considered. In the final weeks, I had "decision fatigue" and was struggling to make even basic decisions around the wedding. Thankfully, Lindsi understood and was there to help me with those last-minute choices - she understood our wedding vibe and vision and helped get us across the finish line and up to the altar.

Thanks to Lindsi's professionalism, efficiency, skills and expertise, the weeks, days and even hours leading up to our wedding were so much less stressful and way more fun. We could relax knowing that if anything was going wrong, Lindsi would handle it. She is also just a super fun, kind person who was great to have around all weekend. Highly recommend Lindsi and Pinnacle Events!

Kbh

Married on 06/04/2022

Absolutely the Best!

Lindsi Cauley managed both the Pre-Wedding Welcome Party at our home and the Wedding itself and she was Outstanding in every detail. We told her what we imagined and she quietly and expertly made it happen, anticipating elements we didn't think or even know we needed to think about. Lindsi is skilled and professional working with every vendor and the venue, but she is warm, friendly, and fun! We had a wonderful time working together. The party and the wedding really did exceed our hopes and expectations across the board. It was all absolutely beautiful and the ease and effortless way Lindsi carried out our shared mission, not a small feat regarding a wedding, was so impressive.

Brian K.

Married on 05/14/2022

Highly recommend Pinnacle Events

Lindsi and Pinnacle Events were great, they were prompt and thoughtful in everything they did, would HIGHLY recommend to anyone in the area!

R S

Married on 04/03/2022

Wedding at Castle Ladyhawke

Lindsi was super helpful in getting a timeline for my event and working out all of the things that I had forgotten to do. We had a wonderful rehearsal dinner that would not have happened without her help as we were struggling to find places. Our wedding turned out beautiful and she was always there to help us!

Maree S.

Married on 12/31/2021

New Years Eve Wedding Gala

Julie and Lindi are amazing! They helped make every minute detail of our dream wedding come true. They went above and beyond to keep everything on track and to keep me organized as well in the planning process. Lindsi was skillful in organizing and making sure the entire event was executed perfectly- she also reduced my stress level because I knew I could count on her. I recommend them with the utmost highest regard!

+ 13

photos

Deana L.

Married on 10/19/2021

Simply beyond!

There are no words to express how grateful we are to you except to say that our experience with you was over the top! Having two weddings under my belt and having never worked with a wedding planner before I couldn't have predicted what the experience would be like. Your genuine care and attention to every detail of our daughter's wedding was extraordinary and I truly do not know how we would have pulled off their magical day without you. I appreciate how effortlessly you blended your professional expertise and experience with our personal vision for our daughter's wedding. Not once did we feel that you were imposing your ideas above our own. Instead, you respected what we wanted and did whatever it took to make it happen while at times gently steering us in another direction when you thought it was necessary. Honestly, I couldn't imagine a better experience and outcome and will recommend you with enthusiasm to anyone who is looking to have a spectacular event!


Emily N.

Married on 10/19/2021

Dream Team!

Lindsi and Julie are a dream team! They helped support my husband and I through scheduling, and then COVID re-scheduling, our wedding. We had a lot of out of the box ideas and they were there as a sounding board all of the way through. They supported us in our creative thinking and were also able to tether us to realistic deadlines, complications, etc. to make sure that our day ran smoothly. I cannot recommend them highly enough. They are more than planners - they are trusted confidants and friends. Having you there day-of to talk through and coordinate all of the millions of details we had no idea would come up (but you saw coming!) was key to being able to be emotionally present on our day. Our wedding was beyond anything we could have dreamed of - thank you both from the bottom of our hearts!

Mai N.

Married on 10/16/2021

The best decision ever

Julie, Peyton, and Lindsi at Pinnacle Events are the absolute best! We just had more than our dream wedding thanks in HUGE part to their tireless work behind the scenes. I cannot recommend them enough. They are the perfect wedding planners and embody every characteristic you would want - they are incredibly organized, prepared, friendly, kind, experienced, creative, and more. And they are just the right amount of bossy to make sure everything is running smoothly. The entire wedding party was so impressed and loved working with them. They are by far the BEST decision we ever made, right after deciding to get married! They met with us multiple times before the big day, had several phone calls/Zoom meetings, and innumerable emails. All while planning 3 weddings the same week as us! And more! But you would never know because they are 100% present with you at every step of the way. I have already recommended them to several people getting married in the area. Please, save yourself the stress of planning a huge event on your own. I did not worry about a single thing due to these ladies. THANK YOU Pinnacle Events!

Yu-Jin H.

Married on 10/09/2021

Perfect Coordinator for Our Perfect Day ❤️

Lindsi was our "Day of Coordinator" and we cannot thank her enough for helping us have our perfect wedding day.

Anytime we talked to Lindsi, we could feel her dedication and care for us. Planning a wedding during the pandemic added unexpected challenges for us. But Lindsi was able to guide us through anything and everything! She was very understanding and flexible but was also able to give us the right amount of push and great advice to plan our dream wedding.

Even our family could not stop raving about how great Lindsi was. She was warm and friendly to our families and guests. She also handled all of the wedding related questions from the wedding party and the guest. We were able to enjoy our day to the fullest thanks to Lindsi!

Every wedding advice will mention that a wedding planner is a must-have, and no doubt our number one advice is to hire Pinnacle Event as the must-have wedding planner!

Thank you, Lindsi, for all of your hard work to make our day so special (and stress-free)! We loved working with you and wish you the best!

Yu Jin & Christopher

Claire I.

Married on 09/18/2021

Attention to detail and great communication

We worked with Pinnacle for our June 2022 wedding, which was beautiful in every detail. We were grateful for Lindsi's collaboration throughout the process — she was willing to answer our questions for months beforehand, and gave us helpful guidance about vendors in the area. She also helped us think through details we never would have thought of, which made the day of move much more smoothly than it would have otherwise. She and her team were endlessly patient with many different personalities during the rehearsal and the long day of the wedding, and we know how much thought and hard work they were putting in in the background to ensure that everything went according to plan. We're still on a high from how beautiful the day turned out to be — and of course are grateful to those whose long hours of hard work made it happen!

Sherry M.

Married on 09/11/2021

Amazing experience!

Lindsi & Julie have developed the 'White Glove' business model and were absolutely delightful to work with!

From their professionalism, accessibility, attention to detail, timely communication, industry knowledge, local supplier relationships, financial savviness and by far the epitome of organization, they have the unique ability to make you feel as if you are their only client.

While part of the overall wedding planning process entails interviewing multiple wedding planners, I strongly encourage you to save yourself the time and engage Pinnacle Events first as they are simply phenomenal (and I have very high standards and tough to impress!)!!!

Partnering and entrusting Pinnacle Events was indeed the best gift I could have ever given myself as Mother of the Bride. As my primary focus was to be fully engaged in the moment to absorb and witness every ounce of this magical weekend, I will be forever grateful as Lindsi & Julie afforded me this opportunity of a lifetime.


Chelsea R.

Married on 08/21/2021

So good at their job!!

We feel so fortunate to have Lindsi and Julie as our wedding coordinators! If they are available, WORK WITH THEM! Their timelines, advice, organization, etc. set the foundation for our wedding experience to be beyond our wildest dreams. They calmed me down and helped us get organized through the planning process. Then on wedding day, it was amazing to know the details were taken care of, and I got to experience so much more because they are so good at their job! Thank you Lindsi and Julie for your listening, support, organization, and holding the significance and specialness of the day.

Margaret J.

Married on 06/26/2021

Working with Pinnacle Events was the highlight of wedding planning!!

We worked with both Julie and Lindsi during the wedding planning process and I cannot say enough good things about both of them. They work as a cohesive team and were always up to speed on everything. My family and I were completely stress-free the week of the wedding because we knew that Pinnacle Events was going to handle anything and everything. And they did! Everything ran smoothly because of them!!! Their master timeline was incredible and helped all of our vendors stay on schedule. Their organization of every detail was amazing!!! Not to mention they are both lovely humans to interact with and I adore them both! I planned our North Carolina wedding from another state, and having their expertise and professionalism made everything SO easy. They are the best of the best.

Taylor S.

Married on 05/13/2021

A Must Hire!!

Do yourself the absolute best favor and hire Pinnacle Events!! By far the best investment for our wedding. Julie and Lindsi are truly incredible people. They continually mentioned how easy we were to work with, but in reality, they made it that way for us!! Any questions, any favors, any appointments, any recommendations... they are there for you. At the meeting with our venue, Julie and Lindsi kept the staff on task and even made sure to ask very specific questions to them that we would have never even thought of!! They are professional and definitely have the experience to know what to ask and what to expect. Do you know exactly what you want, but don't know how to make it happen? Ask Pinnacle Events. You don't know what you want at all or what would work best? Ask Pinnacle Events. They are so personable and give you individualized attention. The day of your wedding, don't worry about a thing! They will give you updates and constantly check to make sure everyone is on time, on task, and even make sure there's no extra errands she/they can do for the bride and groom to make the morning even more special. We appreciate them SO MUCH!! Just hire them! You will thank them (and mostly yourself for doing so) every step of the way. I guarantee it.

Steven C.

Married on 05/01/2021

A Picture Perfect Day

Pinnacle Events, Specifically Julie and team, were instrumental in making our big day everything we had dreamed of. Julie was very helpful in making sure everything went according to plan as we navigated through the restrictions associated with COVID-19. She was always available to answer questions, make vendor and set up recommendations, in addition to constantly showing us she was committed to planning our wedding. I would strongly recommend Pinnacle events to anyone planning an event.

Elizabeth D.

Married on 04/10/2021

Hire them right now!!

If you're wondering who to hire to help plan your big day, look no further!! Julie and Lindsi are truly the best in the business. They went above and beyond to make sure our wedding day ran flawlessly. It not only rained, it POURED on our outside ceremony/reception. They quickly adjusted our timeline to ensure we got great photographs and even rearranged the reception venue last minute to avoid the puddles. When everything should have gone wrong, they somehow made it right. My wedding day was stress free and I was able to sit back and relax and ENJOY my wedding day. They both had the best attitude and stayed positive throughout the whole evening, even though they were both soaking wet by the end of the night. Every single detail was thought of and covered. I couldn't recommend them more highly!! Thank you both for helping my dream wedding come true!

Jordan

Married on 11/13/2020

Peace of mind

Through Covid , questions and planning , endless emails, etiquette information, the team at Pinnacle was outstanding to work with. They made everything easy from start to finish. I had absolutely no worries leading up to and the day of. They went above and beyond to make sure I was top notch all night. The sweetest memory was how many times Lindsi fixed my diamond necklace ensuring that the clasp was to the back and was sparkling all night! It's the simple things to me. They treated us like family and made sure we had everything we dreamed of and more.

Bethany W.

Married on 11/07/2020

Above and Beyond Our Expectations

When looking for a wedding coordinator, Julie and Lindsi with Pinnacle Events were very helpful in explaining the services they could offer while taking into consideration the planning and preparations that I had already completed. They were happy to customize a package that provided just what we needed for month-of wedding coordination. Leading up to the wedding, Lindsi was prompt and professional in helping me get everything organized and ready.
My husband and I cannot thank Lindsi enough for all of the hard work she put in to make our rehearsal and wedding day run so smoothly. She calmly managed any problems that arose (including our officiant cancelling the day before the wedding.) We were able to relax and enjoy our wedding day with full confidence that Lindsi was gracefully juggling vendors, wedding party, and family members.
We would highly recommend Lindsi and Pinnacle Events. Our wedding would not have been as amazing without them.


Stephanie R.

Married on 04/04/2020

Life changing

To think that I almost decided against getting a planner for my wedding..... Julie and Lindsi are truly a force and everyone should have these supportive badass doers for their wedding and all life events. They are organized, thorough, and focused all the while bringing joy and peace to the room. My wedding was unfortunately postponed due to the current pandemic which was only mildly stressful because of these two women. They stayed with me throughout the entire process, and supported me when I postponed my wedding 6 more months. Hear me when I say they changed my life and absolutely deserve to be acknowledged as a critical component to my wedding being the best day of 2020 and my life.
Are you interested?
Send a message