240 Reviews
Recommended by 98% of couples
Quality of service

4.9 out of 5 rating

Average response time

4.9 out of 5 rating

Professionalism

4.9 out of 5 rating

Value

4.9 out of 5 rating

Flexibility

4.9 out of 5 rating
13 User photos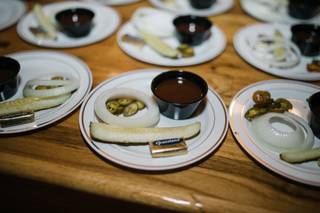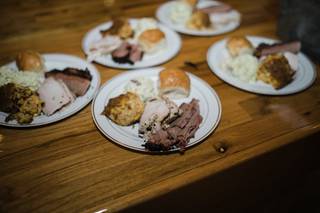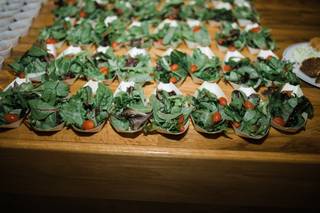 + 9

photos
Kaitlyn K.

Getting married on 06/01/2023

We loved pej!

PEJ was the perfect choice for our wedding. Mona was so knowledgeable, responsive and easy to work with throughout the entire process. We had to make some fairly significant changes to our guest count and Mona made sure that we received top tier service and made the most of our money. On wedding day the presentation was exactly what we wanted/expected and our guest couldn't stop raving about how tasty the Texas BBQ was! PEJ really elevates what they serve and they truly make the clients a top priority. If we had to do it all over again we'd select PEJ time and time again! 

Lynze B.

Married on 02/04/2023

Highly recommend

We used Pej events for our wedding and we were impressed with everything. From the communication to the food to the bar service. Everything was perfect

Kali F.

Married on 01/12/2023

Delicious & 10/10

PEJ was our first tasting out of 2 and after the 2nd one we knew PEJ was definitely the one to go with. The food at the tasting was amazing and even more when it came to our wedding the food tasted exactly the same. Our guests had nothing but great things to say about the appetizers to the main course itself. We spoke with Mona from the start and she was wonderful to work with. She was clear in communication, quick to respond and helped to stay within our budget. Food is usually the top priority to many couples and sincerely if you are thinking about PEJ just stop the search right now and book them. You will be happy and your guests will be happy.

Are you interested?

Send a message

Tamara M.

Married on 09/03/2022

PEJ Events - An Excellent Choice for Catering Your Wedding!

We chose to work with PEJ Events for our catering services at Canyonwood Ridge and highly recommend them for your special event! PEJ Events is great partner to have to cater your special day. Why? First, let's start with the food… YUMMY! Everyone commented how delicious everything was, from the incredible passed appetizers to the beautifully presented and scrumptious dinner. They offer several catering options to fit your budget and provide tastings to assist you in making your menu decisions.
Their food selections are nothing short of amazing, but more importantly, their staff is out of this world! They are professional, friendly and provide outstanding customer service for your guests. We were fortunate to work with Mona Thomas at PEJ Events and she is brilliant at what she does. Her catering expertise, which includes linen and service rentals, combined with PEJ's delicious food, and their skillful, friendly staff, resulted in a stunning banquet served with style and elegance. Please call Mona at PEJ Events to see how they can complement your special day with exceptional catering services for your family and friends.

Marie A.

Married on 08/17/2022

Money worth

We had our wedding at Cayonwood Ridge and PEJ was our cater They are amazing!! Mona was very knowledgeable, patient, easy to talk to with our entire process. We had the buffet style and the food taste amazing compliments to the chef!! and you get your money worth. They were even able to accommodate to our vegetarien guests. On our wedding day the staff that was working were amazing, and professional. I will hire them again without any hesitation.



Kambrie K.

Married on 08/06/2022

100% would hire again

PEJ honestly made our wedding day. They were very easy to work with and the food was absolutely incredible. Our guests are still talking about how good the barbecue was! They're truly full service and even work with a rental company to bring things like linens with them on the wedding day. We also used them for our rehearsal dinner, so they were able to bring our linens with us the night before so we could start setting up early. If you're margarita people, their mix is fantastic and it's included with their deluxe bar package. We used this as one of our signature cocktails and ran out of tequila pretty early because of it! Overall PEJ was one of our best investments for our wedding and if your wedding is in the Austin area, booking them is a no brainer.

Brittany L.

Married on 07/30/2022

Amazing experience

PEJ was so professional and helpful throughout our planning experience. My planner raved about them as well and we received so many compliments from our guests on the food. 10/10. I also am a wedding photographer and worked with them at another wedding and they are just as good behind the scenes.

Kirk D.

Married on 07/24/2022

Best Catering Experience

PEJ was amazing. Their performance exceeded my expectations in every way imaginable. The food was excellent, their service was amazing, and their professionalism was impeccable. As a doctor, I usually do not recommend companies, but I would use PEJ again without any reservation. They helped make my daughter's wedding "The most perfect day she had ever dreamed of".

Bridget

Married on 06/11/2022

Wedding & Rehersal

We used them for our rehearsal and wedding! They were amazing. I would recommend them to anyone.

Rachel Q.

Married on 05/14/2022

Hire PEJ Events for your rehearsal or reception!!

We hired PEJ Events for our rehearsal dinner, and let me tell you it was DELICIOUS! Not only delicious, but the head caterer made sure we were taken care of all night. The incredible service and quality of food blew away us. Thank you!

Kelsey D.

Married on 04/02/2022

A perfect 10!

From the start, communication with PEJ was incredible. They were so accommodating to all our requests- adding and removing things from our quote and providing a very thoughtful vegetarian option. We did the BBQ buffet from PEJ catering and got so many compliments from our guests. My aunt even asked them what they put on their broccoli salad and they gave her the ingredients! PEJ brought my husband and I plates of food as soon as we sat down, and also packed two more plates for us to take with us at the end of the night (which we definitely devoured the second we got to our honeymoon suite). The price and the quality of food can't be beat! Our coordinator told us that PEJ was one of our most on-top-of-it vendors that day!

Jacqueline H.

Married on 02/12/2022

We love pej

From beginning to end, working with PEJ was a great experience and we were so happy we chose them as our caterer! We are still getting compliments today about how our dinner was some of the best barbeque ever!! Lori was professional and responsive, and helped us with any changes that we needed to make. She was super flexible with us and very helpful throughout the entire process.

Jennifer M.

Married on 01/14/2022

PEJ catering

We used PEJ for our wedding and they were amazing! Their attention to detail and quick responses, as well as flexibility in last minute changes, were so helpful and appreciated! We have been to hundreds of weddings where the food left more to be desired but we were very impressed by our meal and the service they provided on our wedding day! I would absolutely recommend them to anyone! We worked with Kristin to for our wedding and she was amazing. I only have wonderful things to say about this vendor and can't recommend them enough!

Patricia B.

Married on 12/18/2021

SO many compliments1

We absolutely loved PEJ Events for our wedding. We have received so many compliments on the food for our wedding and we are thrilled. Everything was so yummy and everyone was so friendly at our wedding. I could not ask for more. People still talk about it!

Maria D.

Married on 12/03/2021

Incredible Expereince

The food was so good, people wanted to get seconds immediately! But with the awesome portions, they didn't need to! It was fabulous and easy working with the crew and literally everything was taken care of. I would hire them again in a heartbeat.

Melanie L.

Married on 12/02/2021

The best catering team!

Where do I even start with PEJ! From the very beginning Mona was just AMAZING. She took such good care of us and got us set up for our food tasting. We had to go to a Pok-e-jos off of 360 / South Lamar for our food tasting and the team there was so awesome. They took such good care of us and of course the food was delicious! We booked PEJ right away with no hesitation. We were advised that Mona was leaving PEJ but left is in such great hands with Kristin. Kristin is the best pre-event catering person we have ever come across. Being a very anxious bride, I had a million and one questions, food allergy, diet needs that guest had that needed to be taken care of. Kristen made sure that all of our needs and guest needs were taken care of. She was always there to answer my million and one questions. I am just so speechless with all that she has done for us. Kristin truly made our wedding day so perfect on the catering side, it was just so smooth. The wedding day team members and lead were just so so amazing and really went out of their way to make sure we were all taken care of. I couldn't thank PEJ enough for being apart of our special day and making everything so perfect! Kristin made this all possible for us . Thank you a million times PEJ & Kristin❤️

Paul C.

Married on 12/02/2021

Our wedding experience

Gave good suggestions on how to improve our wedding experience and then executed flawlessly. Staff was positive and worked long and hard

Stephanie C.

Married on 11/19/2021

Total Dream Team!

PEJ Events was a DREAM to work with - absolutely a five star experience! Not only were they able to provide catering services, but we were able to also have bartending services, as well as linens due to their partnership with Premier Rentals. While I could go on and go about our experience here are my strongest reason you need to stop scrolling and reach out to them TODAY!

*Communication - at no point did I ever feel ignored, forgotten, or my concerns unheard. The team was prompt to respond and always kind and knowledgeable! Anna was our point of contact and was amazing!
*Food Itself - Um…DELICIOUS! Our guests have continued to comment on how yummy this or that was at our wedding. As foodies, my husband I love this!! Book a tasting and find out!
*Client Experience on Wedding Day - Our PEJ Lead was Randy and we were so impressed. As soon as we had a free moment he sweetly came over, introduced himself, and walked us through what we should expect from them that day. It made us feel confident and reassured this piece of our wedding was in good hands. Then, during the photos after the ceremony, they went out of their way to bring us over drinks and some appetizers since we were busy taking pictures during cocktail hour. Lastly, we were impressed that Randy checked in with us to see what we would want to eat and pulled it together and had it at our sweetheart table after we entered our reception! Shout out to Doc as well behind the bar making delicious drinks and getting all the laughs!

Melissa M.

Married on 10/30/2021

Our guests left full and happy!

We used PEJ on recommendation from the venue our daughter selected and also the lodging venue recommended them as well. I'm always dubious about wedding buffets in general but let me tell you the passed appetizers during cocktail hour were beautifully presented and tasted wonderful. I'm addition to guests being served the service staff made it a point to serve all the bridal party as they posed for their photos. Dinner was served inside and beautifully presented. There had been a snafu with our rentals not being easily located where a third party had placed them. PEJ event staff were able to locate the crates and in spite of having very little time, had the place settings out and even got the napkins knotted and placed. The food was scrumptious! We had pork tenderloin and chicken breasts and they were cooked perfectly, served warm, full of flavor and beautifully presented. The sides were also excellent and those rolls! Oh my they were delicious. The salad was fresh and the dressing was just the right balance. Communication was professional throughout and the on site staff members were efficient from set up to service to clearing tables and extremely friendly and unobtrusive. Pricing was very competitive and they worked with us on some special menu considerations. It was a great experience. I have done hundreds of special events professionally for my job and have dealt with many types of venues, numerous caterers and a variety of menus over the years. I am picky and PEJ did not disappoint on even one item.

Joshua E.

Married on 10/24/2021

Great Texas BBQ

Kristin and her team did a fantastic job. They quickly came and set everything up the day of the wedding for us to have our own staff serve our guests. Everything was organized, accounted for, and looked great. Most importantly the food was delicious! Everybody loves good barbecue at a Texas wedding and they were exactly that. The turkey, brisket, and sausage were all wonderful and all our guests raved about the sides (Beans, Cole Slaw, Mac and Cheese). There was plenty of food to go around. Highly recommend.

Arlene H.

Married on 10/22/2021

Mother of the Bride

PEJ They where very prompt, professional and so accommodating food was delicious and still warm when it came to the table!! Bartenders where amazing!!
They where awesome!! Definitely will use them again!

Brenda

Married on 10/15/2021

Perfect tasting experience

This review is based off of the tasting only. We live in Houston and traveled to Roundrock for our tasting. They made sure that everything was prepared when we arrived and they reserved our own section to taste. It was as easy as it could be. The store manager was super helpful! Everything was delicious! Definitely recommending! We booked them for our wedding!

Amanda W.

Married on 10/02/2021

amazing food and service!

PEJ was incredible! I would recommend them over and over again. From the start, we had a wonderful experience. Anna!!! Holy cow, that girl needs a raise - she was AMAZING! She was so quick in our responses and met all of our needs without question. When it came to the food, my guests raved about how delicious everything was. My uncle, who is a brisket connoisseur commented that it was one of the best briskets he's ever had. We had an attendant the whole night who did anything we asked. He was so nice and I couldn't have had a better experience with PEJ. If we need any catering in the future, hands down, we will be going through them.

Dryden F.

Married on 09/10/2021

The best food and service ever

THE BEST FOOD EVER! I have been to a lot of weddings and I always notice how the food is just never that good. For my wedding, I wanted the food to be amazing and I found that with PEJ. GET THE MAC AND CHEESE YOU WON'T REGRET IT. not only is everything amazing, but the portions are huge and the staff is so nice and helpful. If I had to do my wedding all over I would 100% hire them again!

Patricia D.

Married on 08/28/2021

Quincenera

Excellent food, arrived exactly time request, very professional, staff friendly and helpful in everything that would stress you out. So happy that we chose Pokejos, 1st event with them ❤, planning my 25th anniversary ❤. Definitely will be using them again, but until March. I have been receiving calls from guests that were very impressed with Pokejos.
Are you interested?
Send a message