96 Reviews
Recommended by 100% of couples
Quality of service

5 out of 5 rating

Average response time

5 out of 5 rating

Professionalism

5 out of 5 rating

Value

5 out of 5 rating

Flexibility

5 out of 5 rating
13 User photos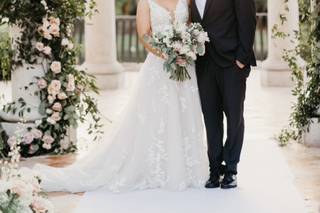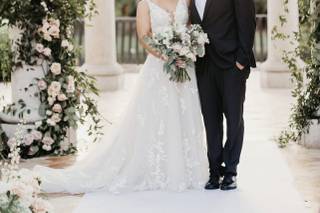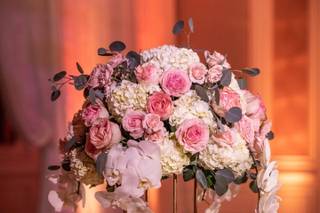 + 9

photos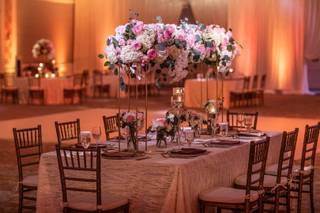 Exceptional

Believe the hype! Stacey is simply the BEST. She truly cares about her clients and goes above and beyond to make their vision a reality - and then some! She is kind, smart, honest and incredibly resourceful. Any bride would be lucky to work with her. I'm so grateful. Thank you for everything, Stacey!

Michele M.

Married on 06/14/2022

Stacey Feldman is a force of nature

Wedding planning can be daunting, and add the fact that your from out of state to the mix and you have an added stress factor. From start to finish Stacey Feldman is a force of nature! In a world where people just want to do their job and go home, stacey and her wonderful team will handle anything and everything with grace and class and will take on all the stressors without watching the clock. Their goal is for your only job to be present and enjoy the event . They will harpoon any issue that comes up and make sure you don't see it, or have to deal with it. They make you family feel taken care of in that "we got you" kind of way. Anyone who gets onto her calendar as their planner is beyond lucky! Cannot recommend her enough or give her enough stars!

Barbara C.

Married on 06/11/2022

Excellent, above and beyond what was expected !! She showed caring attention to every detail!

The wedding hit the mark of the kids dreams and more . We couldn't have done it without Stacey . She is creative, caring , thoughtful, and showed the utmost attention to every detail and completed everything we added and asked for .
Her team took care of us at every event over the weekend with professional and caring detail .

Are you interested?

Send a message

Nancy A.

Married on 03/22/2022

Wedding planner

Stacey went above and beyond. Responds immediately. The wedding was amazing and we absolutely could not have done it without her. She was truly the best!!

Angela A.

Married on 03/19/2022

Amazing Planner for an Amazing Day!

Stacey was an absolute angel during our wedding process- always there to answer all of my questions and ease whatever nerves I had that day. Our wedding was a fairy tale and Stacey made sure every detail we wanted was included! On wedding day we had the pleasure of meeting her team and they are the dream team for sure! We would absolutely recommend Stacey for anyone planning an event or wedding, she is a rockstar! We love you, Stacey!

Nicole M.

Married on 09/07/2021

The Best Planner to Ever Exist EVER!

Where do we begin? Stacey goes well above and beyond to make sure that she understands your vision for your wedding, make you feel understood and appreciated, and best of all makes you feel like a friend. Throughout the entire process Stacey was an absolute magician. She makes all the stress that could be of wedding planning completely go away so that you get to show up to your event and get to be in the moment for every step. She is kind and considerate and immensely creative. She thinks of every little detail to make your event feel special and help you think of things you didn't even realize were important to think about. She pulls off magical events that everyone will rave about for years to come. Best of all! We have a new friend in Stacey and are so lucky to have her in our lives.

Mary D.

Married on 03/20/2021

Mary DelPrete

Stacey was incredible. She was on point with all bookings and extremely knowledgeable of everything. She has high energy and detail oriented, and got things done without hesitation. She was personable, fun, solved every problem, and treated the party as it was her own. We absolutely love Stacey and would recommend her to anyone who wants the perfect party.

Katherine H.

Married on 10/10/2020

Best Wedding Planner!!!

Stacey is absolutely the best wedding planner around. We started wedding planning back in August 2019 and were living in Oklahoma at the time. From the moment we spoke to Stacey on the phone our minds were put at ease. She is easy to talk to, warm, friendly and truly keeps your best interests at the forefront of planning. Not only did she make planning a wedding from across the country easy, but she handled every curveball COVID threw our way. From downsizing our wedding, to our venue cancelling on us last minute, Stacey handled with grace. Stacey is super organized and made us and our families feel as if we could relax and enjoy ourselves on the big day. We love you Stacey! Thank you for everything!

Jashita T.

Married on 05/05/2019

Sam & Tony´s Wedding the best wedding at Jashita


Stacey is the best wedding coordinator I've ever met, super organized, and professional. Every detail is important to her, a quality that makes a difference in the outcome of wedding production. His experience and great love for what he does, is reflected in the experience in the satisfaction and joy that his clients regain. Undoubtedly, the best wedding experts in the world.

Dori F.

Married on 03/20/2019

Best Gift To Give Yourself

If your planning a wedding..the first gift you need to give yourself is Stacey.. From the moment we met..I knew she was the one..Her friendly, warm personality makes you feel so comfortable. She is easy to talk to, listens, delivers and her only desire is to make you happy and feel like you are the only client she is working with you. Nothing is out of reach for her. She is innovative, creative, suggestive, passionate about each detail. She never stops. Stacey is available always..night, day, responds immediately .. yet is always one step ahead of what needs to be done..so you rarely call her.. I was the most relaxed mother of the bride days before the wedding. I was a guest at my daughters wedding because I had Stacey and her team with us. Her timelines are incredible, organized easy ..Bonus..you can't help feel like she is your friend, and you never want her to stop your daily catch up calls.. She is THE BEST!!!

Erica S.

Married on 03/16/2019

Beyond Amazing!

Where do I begin to describe Stacey? From her organization skills to her wealth of knowledge on all things wedding related, my special day would have been no where near as incredible as it was without her on my team. Stacey has such creative ideas, she listens when you speak and plans acorrdingly, and she is so calm and collected during all the chaos that a wedding brings. My only regret about working with Stacey is not starting with her day 1 of the wedding planning experience. She is so much more than a wedding planner. She goes above and beyond to make sure everything leading up to the wedding and the day-of runs as smoothly as possible. She was a dream to work with and I will miss working with her but know she will be in my life forever as I am eternally greatful for her and all she did to help me have the best day ever!

Morgan

Married on 03/09/2019

Stacey is THE best.

I am about six months late writing this since Stacey was so excellent that I really didn't know how to thank her properly. She helped me plan a destination wedding for about a year and a half. I couldn't meet with all my vendors because I was working, and I just trusted Stacey's judgment to pick the best people. Because of the distance and since I couldn't see what was going on, Stacey would always take m,y calls when I was nervous and re-assure me that we were on track. She accommodated my schedule whenever I would fly down to Florida to meet with me. She planned for me the most fantastic wedding and wedding weekend. All I really wanted was "fun," and she nailed it! Stacey puts a lot of effort into her work and her brides and does so with the best attitude. There are many reviews on this page that say that Stacey is the best--it's because it's true!

Sherri

Married on 02/23/2019

Dreams Do Come True!

Words cannot begin to express how incredibly grateful I feel to have met Stacey and to have had her be such an integral part of my wedding. From the beginning, she was looking out for me and my now husband to make sure that, above everything else, we were happy at every step of the process.

As someone who is very indecisive, Stacey helped me narrow down important decisions and introduced me to the best vendors who would best help me realize my vision. She was available 24/7, always immediately responsive to our calls, texts and emails, no matter how trivial of a request or question. There was not a single request, big or small, that she did not deliver.

Stacey was not just our wedding planner, she became a great friend and confidante. Our families are not local, so it was Stacey who was there for all the important pre-wedding appointments, including the most stressful part for me: my dress fittings.

Our entire wedding weekend went smoothly. Stacey made sure that all the logistics were taken care of so that we didn't have to worry about a single detail.

People keep saying that my wedding was one of the most beautiful they have ever been to. That is a testament to Stacey and her unwavering commitment to making sure that everything I dreamed—and more—came true.

Kathy B.

Married on 02/23/2019

Magical wedding

Stacey Feldman is deserving of her reputation as a premier wedding planner in South Florida. She has a unique ability to listen to the wishes of the bride and groom and bring their vision to fruition. Our wedding was magical and we are so grateful for all of her hard work!

Kathy and Lee Balefsky

Scott C.

Married on 01/26/2019

Client First

Stacey did an amazing job planning our wedding. Stacey is extremely professional, hardworking and dedicated. She goes above and beyond for her clients. We cannot thank her enough, it was the most beautiful perfect wedding we could have ever imagined.

Lindsey

Married on 01/26/2019

AMAZING to work with

Stacey and the entire staff were fantastic. They were extremely organized, professional, timely, and wonderful to work with. They made wedding planning easy and fun, and went above and beyond on the weekend of our wedding to make sure that all of the events went flawlessly. Will absolutely use them again for another important event in our lives!

Arthur

Married on 08/12/2018

Are you looking for a wedding planner in South Florida? Look no further! You've found the best of the best! Stacey helped my wife and I plan our absolute dream wedding, and it was spectacular. We are weeks away from our wedding day and we are still getting daily compliments about how well put together, meticulously planned, and unforgettable our wedding was. Stacey is hands down THE BEST in her field and we are forever grateful to her for making our dream wedding an absolute hit. She is reliable, a hard worker, funny, has amazing taste, the BEST connections, and it is apparent that she loves what she does for a living. Look no further folks, Stacey is the BEST choice for a wedding planner in South Florida.

+ 3

photos

Margarita

Married on 08/12/2018

When you dream ,dreams do come true with amazing talent and dedication of my beautiful wedding planner Stacey Feldman!! Thank you so so much for bringing my kids dream wedding to reality. Its was everything they dream of!! ALL vendors was amazing team of professional people with great personalities!!! THEY did outstanding job!!! ALL our guest was very happy to be there to share our kids happiness !!! From the bottom of our heart my husband and i thank you so much for your amazing job!!!With love Margarita and Gennady Mushlin!!!(MOTHER AND FATHER OF THE BRIDE)

Julia

Married on 08/12/2018

Where do we even begin?! Not only is Stacey the VERY BEST wedding planner in South Florida (actually, in the WORLD), she is the most attentive, caring, communicative, genuine, loyal, and all around amazing woman! Not to mention she's hilarious which made her THAT much better to work with. She wasn't just our wedding planner, she became a genuine friend. Every fitting she was there. Every vendor appointment she was there. Every conference call with our parents she was there. She kept us up to date on every single due date, payment transaction, decor orders, etc. You name it, Stacey was on it! There is no way we could have had such a spectacular wedding without Stacey!! Her communication skills are excellent and any time she was busy or wouldn't be able to reply back to us right away she always made sure to let us know so we didn't worry. She has magnificent taste and gives the very best advice based on her ten years of expertise. Stacey is just the best in the wedding planning business-hands down!! She made our vision for our wedding day come to life even down to the little details of not having any greens showing in the flowers. Everything we asked for she made happen. Our entire wedding weekend was a dream-like fairytale thanks to Stacey and her amazing team!!! Her main goal was to make sure we were not stressed or worried about ANYTHING during the weekend and she definitely achieved that goal! Stacey and her team took care of absolutely everything and all we had to do was show up and have the best time getting ready with our bridal party and celebrating with our family and friends. There are no words to describe our appreciation for Stacey--she is truly the hardest working wedding planner and we are forever grateful for her love and dedication to making our dream wedding day come true. If we could give 5 million stars we would. THANK YOU STACE!!
Love forever and ever,
Julia & Arthur Dosik

Lauren

Married on 08/04/2018

Incredible Officiant!!

My husband and I are so thankful that we found Rev. Bill Freeman for our August 2018 wedding. We met with him at a tea shop in Arlington to get to know each other and determine if we were a good match - and there was no question! We shared stories of our pasts and discussed our ideal wedding. Bill gave us such confidence in our ideas and was able to draft the perfect ceremony for us! We shared edits back and forth a few times, and couldn't have been more thrilled with the final product.
Bill was extremely kind and polite, but also professional and organized, which is so helpful in the midst of planning a wedding! On wedding day, he was ready to roll and had a calm, pleasant demeanor. It was wonderful to hear our families' comments after the wedding - our ceremony pleased everyone, but most importantly ourselves! Thanks Bill!!

Sebrie

Married on 06/02/2018

Stacey is simply amazing. Her knowledge and expertise in weddings makes the process easy and seamless. I really valued her opinion and suggestions to make my wedding perfect, which it absolutely was. She runs a tight ship when it comes to a schedule, and is on top of every detail at all times. I honestly could not have made so many thing possible without her and I am so grateful to have her by my side through the entire process. At the end of the day, she wants her brides to be happy, and she will stop at nothing to make that happen. She's not only an incredible planner, but an amazing friend. <3

Suzanne

Married on 04/07/2018

Stacey was beyond valuable for my daughter and I as we planned this wedding for over year and a half. She guided us to vendors that were right In line with our tastes and budget and listened to what we envisioned for this wedding. She did not invoke her own ideas but rather provided suggestions as sheer guidance so we could make an informed decision and know what was trending and fabulous! Her response was absolutely fantastic! Each time I called or emailed her she was on it right away. She is efficient and organized and pays attention to the details. I will recommend her to all my friends and family! I'm sorry it's over!

Taylor

Married on 04/07/2018

Where do I begin, Stacey was the most amazing wedding planner a girl could ask for. She made the 1.5 year of planning easy and fun and attended EVERY (I mean every) appointment with my mom and I. She was always quick to respond to all of my texts or emails, even if I sent them at midnight. Thank you thank you thank you Stacey and the Peacock Team for all of your hard work! Our wedding was all that I could have dreamed of and one for the books, wish we could do it all over again. I will definitely recommend Peacock Premier Events to anyone!

Mindee

Married on 03/10/2018

Stacey and her team of professionals @ Peacock Premiere made the wedding experience stress free. Every detail was covered and the entire planning process was a pleasure. Her recommendations of vendors, band, florist, beauticians, musicians were all amazing! Wedding Day was perfect. No detail was overlooked, and as MOB is was above and beyond any expectation.

Jenna

Married on 03/10/2018

Stacey and her team at Peacock Premier Events were FANTASTIC! Stacey was always available to connect on wedding ideas and updates and was very forthcoming when she was not available due to commitments with other brides. Despite planning multiple events, Stacey made me feel like her only client! She was always responsive, honest, helpful and an advocate for my dream wedding. She was able to make my dream wedding a reality and I cannot thank her enough for making this such a wonderful and memorable experience!
Are you interested?
Send a message