31 Reviews
Recommended by 99% of couples
Quality of service

4.9 out of 5 rating

Average response time

5 out of 5 rating

Professionalism

4.9 out of 5 rating

Value

4.9 out of 5 rating

Flexibility

5 out of 5 rating
Awards
33 User photos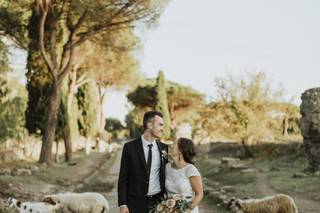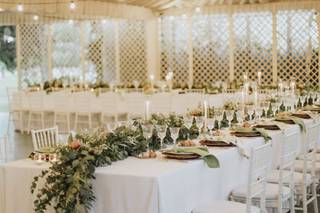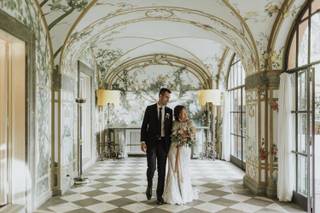 + 29

photos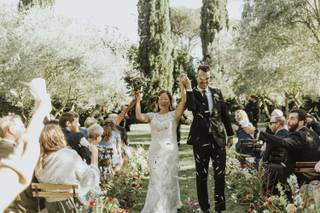 Valentina P.

Married on 10/14/2022

Everything turned out perfectly with Parade!

Everything turned out perfectly the day of the wedding! The Parade team helped make sure that everything was done exactly how we wanted it and gave us great advice throughout the process of planning the wedding. They helped us choose the perfect vendors and supported us the entire time! Would highly recommend choosing Parade to help plan a wedding :)

Parade Wedding's reply:

Thank you Vale, it was amazing to plan and design your elegant and fun wedding in one of our fav venue in Rome. Your wedding party will remain one of the best ever!!!! We love you guys🥰

Rachel B.

Married on 10/01/2022

Amazingly Detailed, Organized, and Professional Destination Wedding Planners

The Parade Team was truly amazing from start to finish. Back in April 2021, we began thinking about a destination wedding in Rome. Anna and Giorgia met with us over Zoom and helped us with every aspect of the planning process. We initially hired them for a venue selection, but after they were so incredibly helpful with planning every single detail and answering all of our many questions (including translating vendor information and contracts from Italian to English for us), we had no doubt in our mind that we NEEDED to hire them for their full planning and design services. After 18 months of planning and preparation, and countless emails back-and-forth, our 50 wedding guests traveled from the US to Italy for two incredible evenings - our Welcome Party and our wedding ceremony and reception. Both were picture perfect, and the Parade Team made everything run so smoothly. They are so quick to respond to our questions and concerns, and their eye for style and design let us step back and relax, while they did all of the hard work! They are truly angels, who are so patient, kind, and so sweet. Even at the end of a long day of setting up, the Parade Team helped call taxis for some of our guests after the reception/party was winding down. Anna, Giorgia, and Agnese are AMAZING. If we ever HAD to get married again, we would LOVE the chance to work with these fabulous women again. Thank you for everything, Team Parade!!

+ 3

photos

A&J

Married on 09/12/2022

Expectations Exceeded

Parade helped us achieve the exact type if wedding we wanted. We were from Ireland and did not see the venue until we arrived. It was perfect and exceeded our expectations. They helped us organize both the legal and religious aspects of the wedding which was vital. All the vendors were of high quality and you can tell that Parade has a very good relationship with its vendors. Parade will be able to deliver what you want no matter how simple or extravagant.

Parade Wedding's reply:

Dear Alma and Jason, thanks for your words!! We will keep in our minds the emotional atmosphere we could feel during your wedding ceremony and the smiles of all your guests celebrating your love with you!!

Are you interested?

Send a message

Emily R.

Married on 09/10/2022

The Absolute Best

This review is long overdue for the wonderful team at Parade. Our September Tuscan wedding was simply magical and delivered beyond our expectations. It's difficult to plan a wedding abroad so we knew how important it was to pick the right planners. After interviewing three different companies, we knew the Parade team was the correct choice. They are genuine, creative and have a fantastic selection of vendors. They gave us suggestions and designs but also allowed us to be part of the process and to add our own unique touches. We had multiple events over a three day weekend and the team helped us with the designs, coordination, menus… with everything! We wanted to include as many authentic Italian elements to our weekend and the Parade team delivered. Our guests still talk about the weekend and describe it as "being in a movie".

Thank you Giorgia, Anna Veronica and team for making this the most special, memorable experience of our lives. You are beautiful people and we certainly felt your genuine souls when you cried with us during our vows and also when we said goodbye. It's undeniable how much you care about your work and about the couples you work with. We'll be sure to call you when we plan our 10th anniversary party in Italy ;-)

Irene T.

Married on 08/25/2022

Amazing wedding

Parade team helped us plan an amazing wedding that guests are still talking about, 6 months later!

Unless you speak Italian, it is CRITICAL to get a planner, as many of the best vendors are local and don't speak english. We loved working with their team and the wedding went without a hitch.

Parade Wedding's reply:

thanks a lot Irene for your feedback. You that we are fall in love with the NY couples but you have a very special place in our heart. Your kindness, beauty and joy of life will always in our memories and we are so grateful to be a part of your amazing italian wedding adventure.
With love
Giorgia and Anna

Alessandra P.

Married on 08/06/2022

The best day of our life

We organized our wedding with Parade, and we are extremely satisfied with the experience. From the first appointment there was a good feeling with Giorgia and Anna, and we immediately realized that their esthetic sense and their professionality were exactly what we were looking for. Ours was a complex wedding, as it was organized during the Covid lockdown. We had to separate it in two different dates (one for the ceremony and the other for the big party) almost a year and a half apart from one another. Giorgia and Anna handled this transition phenomenally, firstly organizing a wonderful ceremony and mini-party, and then an outstanding big party, helping us avoid any problem such a long postponement could carry. In addition, my husband and I are living abroad right now, and we had to switch to a long-distance organization. On this aspect Giorgia and Anna were exceptional, constantly adjourning the planning, letting us always have full knowledge of every detail. On a pure organizational point of view, the result was beyond our expectations: by suggesting us great suppliers and coordinating them in order to get a marvelous set-up, they made us 100% satisfied. Not only the catering and the music were great, but there was an incredible esthetic taste in the combination between location, graphics and flowers. We would never have expected such a stage. Giorgia and Anna suggestions were also extremely important for my and my husband dresses. We had a small winter liberty-style marriage and a summer open-air country-chic party, very colorful but of great taste, like we would never had been able to set-up just by ourselves. Furthermore, we decided last-second to organize a small welcome event the day before the summer party: Giorgia and Anna did not even flinch to the idea, and they organized another splendid experience in record time. They also were able to read and understand our tastes in a great way: we just had to choose between their suggested alternatives, without really never having to ask to change any substantial part of their draft. In the end, both the events worked like clockwork, coordinated by the two of them without any accident. To summarize, organizing our wedding with Parade was a choice we would absolutely do again: they helped us have two of the best days of our lives, and much of the credit goes to them.

Parade Wedding's reply:

thank you guys for all your kind and emotional words. we are glad and proud to have been you wedding planner through these years. you are amazing!!!!
Best

Giorgia e Anna

K&J F.

Married on 09/05/2021

Exceptional 5star wedding planner & coordinator

Parade offers brilliant and creative planning and day-of-coordinating service that is nothing short of extraordinary. We searched for a reasonably and fair priced full wedding planning service in Rome, Italy for our destination wedding in 2021. We narrowed it down to several and ended up selecting Parade based on their responsiveness, professionalism, and charisma. They care deeply about you and your special day. They exceeded our expectations in every way: they went above and beyond to achieve utter perfection. Planning a wedding during a pandemic was very challenging, especially as an American couple, but with Anna and Giorgia by our sides, we felt confident everything would be handled—and it was. They booked the most exceptional vendors, always keeping quality and also, budget in mind. They forwarded communications and were timely and organized. They were so thoughtful with every planning detail and truly provided 5 star service day of coordination. We cannot say enough about Parade. We highly recommend them for your destination wedding planning! We just wish we could do it all again!

Parade Wedding's reply:

Thanks a lot Kohleen and Josh for trusting us and having involved us in your wedding planning! It has been challenging, that's true, but for this reason was then even more special! The ceremony, the reception overlooking the city view and later the party... we are very grateful for letting us be there by your side! Wishing to meet you again soon!!

Alessandra P.

Married on 12/12/2020

Professionalism and elegance

Thanks to Anna Veronica and Giorgia we were able to organize our small (but fabulous and elegant) wedding in Rome in December 2020. Despite the restrictions related to the COVID pandemic, it was an amazing and special day for us. Anna Veronica and Giorgia have taken care of every single detail. Thanks to their professionalism and kindness we had OUR day and we will never forget it.

Parade Wedding's reply:

Thank you Alessandra, your words are so precious for us. This 2020 it was a challenge for us and especially for you, but your love is stronger than all. Your micro wedding is only the first chapter of long beautiful love story ❤. Can't wait to celebrate with an amazing reception in Rome on next 7th of August 2021. With love Giorgia and Anna

Emily S.

Married on 05/10/2020

Parade is Absolutely Incredible

Anna and Giorgia were a complete pleasure to work with! We were planning a wedding in Italy from Colorado, and had never been there before. They helped us with all our questions, got back to us quickly, and helped us assemble the most amazing team of vendors. I work as a wedding coordinator in Colorado and they went above and beyond my expectations. They put all the details in place day of and the wedding was completely magic and so easy and we were able to enjoy ourselves and our guests. Thank you!

Parade Wedding's reply:

Thanks a lot Emily! It has been a big pleasure to work with and for you! We loved the Italian area you chose and we can say that the Villa was just amazing!! It is really fun and inspiring for us to work in collaboration with colleagues, so... looking forward to do it again!!
With love, Anna and Giorgia

Yahwe G.

Married on 12/07/2019

Amazing experience !

Planning a destination wedding can be challenging, specially when you are in a 8 hour different time zone. Since our first phone conversation, I knew Anna and Giorgia from Parade weddings were a perfect fit. They were very warm and it made me feel at ease. They were very professional and organized, and they chose the best vendors for me, from the lighting company, the floral design, the catering to the most beautiful location someone can dream of. I would not hesitate in hiring this beautiful and kind duo. Thank you so much for everything, Luca and Yahwe

+ 6

photos

Parade Wedding's reply:

We really cannot find the right words to tell you how exciting and inspiring the planning of your dreamy day has been!! Also it was a big pleasure to work side by side with an amazing designer as you are! So thanks a lot for choosing us for your Midsummer Night's Dream (the atmosphere really was this kind!!).
Hope to see you again soon!
With Love
Anna and Giorgia

Isabella

Married on 10/05/2019

the best choice for our wedding

Giorgia and Anna Veronica are two amazing and professional people, they have been attentive to every detail. This gave us the opportunity to live the wedding day and enjoy every moment. Everything went very well, they couldn't do a better job. They helped me choose the color palette, the tablecloth, the dishes, the flowers, the cutlery. They were really precious, always available and kind. Without them my marriage could not have been so beautiful. Thank you very much girls.

Parade Wedding's reply:

Thank you too lovely girl. You refined and elegant beauty ispired Us to plan and design something of magical for your wedding day. For us it was an honour to be a part of your big day and your walk down the aisle in one of he most beautiful church in the heart of Rome surrounded by roses and pampas grass and your shiny eyes will be treasured for ever and ever into our hearts. With love Giorgia and Anna Veronica

Hannah-Maria H.

Married on 09/07/2019

Dream destination wedding planner!

We live in London but wanted to get married just outside Rome. When we started looking for wedding planners, we found that most were not very transparent about their pricing structure or seemed to work only in one style which didn't suit us.

It was immediately different with Anna and Giorgia!! From the first call we could tell that they are great listeners who treat each of their couples as being unique and had a special ability to understand what we were looking for (even when we didn't yet!) They showed us a selection of extremely talented and professional vendors for each component of the wedding (hair and makeup, photographer, videographer, lights, florist, catering) which was evident in every detail.

They never got tired of our many questions and usually responded in a matter of minutes which was hugely comforting! They were also amazing in handling last minute crises with care and patience, even arranging transport for our guests in this small town outside of Rome in the last few days.

As we have never planned such a large event before, it feels amazing to know that you have the freedom to customise the day however you would want, but the logistics and details are being managed by people who you can trust completely (both in competency and in understanding your unique style).

On the wedding day we didn't worry about anything; and it was so far beyond our expectations (and that of our guests, who have still not stopped raving about the food, the décor, how it went seamlessly, everything)!

Anna and Giorgia have the rare combination of being very talented, professional and experienced – but at the same time warm, kind and caring. We could not have chosen anyone better to take care of the most important day in our life!


Parade Wedding's reply:

Dear lovely, beautiful and gentle Hannah. Your words fill our hearts with joy. it was an honour work with you helping you to make your dreams came true. You are very special and unique souls and we are so glad having the chance to create so much beauty. Everything must have been perfect and planned in the details because you are just perfect. have a great live and see in you in London next year!!!!
With love
Giorgia and Anna Veronica

Valentina S.

Married on 07/27/2019

Passion and love in their hands

Anna and Giorgia perfect to make a dream of love a reality. At our first meeting they understood the style of marriage we wanted. With elegance, precision and that touch of creativity that made the difference. Our guests have appreciated every detail making all guests feel at home. Passion and love in their hands.

Parade Wedding's reply:

Dear Valentina, thank you for your kind words. It was a pleasure to work for you and make your dreams come true! With love Giorgia and Anna

Jennifer C.

Married on 06/07/2019

Phenomenal, Professional, Elegant, Perfection!

Italy was a destination wedding for us, as we were traveling from the United States. We had family and friends coming from 3 different countries and were in need of planners who could help us not only organize just an affair, but help us to create our dream wedding as well. Mere words cannot articulate how perfect our wedding was and it is because of the magnificent people at Parade Wedding. Because of them, our wedding exceeded our wildest dreams. From the production and venue to helping us find the perfect flowers to the excellent food to the cake, and most importantly working with both Anna and Giorgia, our wedding could not have gone better. We are so grateful and will remember this for the rest of our lives. Giorgia and Anna are deeply dedicated and passionate about their work. The love they put into their productions shows how connected their hearts are to every detail. Every meeting was informative and professional, as well as exciting and fun! Their response time to our emails was practically immediate, their suggestions for every detail of our wedding was perfectly in lined with our desires, and the day of the event, each detail, was completely flawless and handled impeccably. We had our full trust in them from our first meeting for every decision and it was the best decision we could have made for this special moment in our lives. Anna and Giorgia developed an instinct with what we wanted by day one and their professionalism was consistent and incomparable. We will hold them in our hearts as an integral part of our most special day for the rest of our lives. Couples looking to have a dream wedding in Italy, these are your people, especially if you are planning from overseas.

Parade Wedding's reply:

Guys, thank you for your words, your thoughts and all emotions shared. We are so grateful to our clients for allowing us to enter in their stories and to share one of the most beautiful moment of their lives! You chose such as a stunning place like Amalfi Coast for your destination wedding and, we have to tell you, you were perfect for it, just like it was perfect for you! We will remember that terrace, born to be the best spot ever for a ceremony then becoming a magnificent dancefloor for people loving each other!
So thank you for all this! Those moments are the reason why we do love our work and will do! Hope to see you soon!!
With Love, Giorgia and Anna

Kelsea E.

Married on 11/21/2018

Best day of my life!

Parade was able to help me plan the wedding of my dreams in Italy. They were able to take my vision and bring it to life despite me living in a different country. Throughout the whole process I knew the big day was going to be perfect due to their attention to detail, communication and talent! I couldn't have asked for better planners and now I have amazing memories to last me a lifetime.

Parade Wedding's reply:

Thank you for your kind words Kelsea! It has been such a pleasure to make your dream come true! The atmosphere both in Villa Gregoriana and in the reception venue was warm and intimate, as you asked and just like we dreamt about :-)
We are overjoyed about your happiness!
Warm regards to you and Ryan!

With love, Giorgia and Anna

Silvia

Married on 10/06/2018

What to say, our wedding has been a dream and it wasn't easy not only because we live in America and planning and organizing everything was very hard but thanks to parade wedding we realized all our dreams.

Parade Wedding's reply:

Thank you Silvia and Erick!!! We loved to plan and and design your fairy wedding. You wanted and dreamed to live in a fairytale like a beatiful princess and prince and every datail hadto follow this fil rouge and we worked day by day to give you it involving only the top of the top of vendors, everything had to be perfect and awesomelike you! With love Giorgia and Anna Veronica

Stéphanie G.

Married on 09/29/2018

For a magical wedding

If, like us, you live aboard and planned to married in Italy, you have to choose Giorgia and Anna Veronica to help you! They are creatives, patients, flexibles, of course really disponibles and they make you feel confident for this big day. With our dream wedding is coming true!

Soraya

Married on 09/15/2018

I managed to organise a three day wedding event in Rome for 48 guests via email and WhatsApp without having seen the venue or tested the food thanks to this duo! It was amazing to see everything I had dreamed of in my wedding come true thanks to their hard work, professionalism and responsiveness. Highly recommended!

Cristina

Married on 07/14/2018

They're the best! You can totally relie on them. We got married in Italy while leaving in Paris. We explained how we wanted our wedding to be and they did the rest. The result was amazing! It felt so good to have them on charge before, during and even after the D-day. Thank you again :)

Elena

Married on 06/30/2018

We had a valid and strong support in organizing our wedding. Parade wedding satisfied all our demands with creativity. They found the best and cheapest solutions.

Lynda

Married on 04/06/2018

Parade Wedding Planners are amazing!!!! Planning a destination wedding can be very stressful, and trusting someone to do everything exactly as you want is daunting, but Anna Veronica and Giorgia took our hopes and thoughts and made it a reality. They are a great team who are efficient, patient, hard working, talented, tasteful and lovely people. We trusted them to execute everything for 3 different events on 3 different days and each one was not just perfect, but even better than we could have imagined. The venues were magnificent, the options were outstanding, everything was fabulous. Not only did we love everything, but our guests were in awe of how the events went smoothly and just had fun. Anna and Giorgia organized every single detail and had the best suppliers to choose from. We also had some last minute requests and they made it all look so easy. They are the best event planning team and the nicest people who you can trust to make your dreams come true. The dream team!

Alina

Married on 12/09/2017

It was exiciting planning our wedding day with the Parade Girls, the perfect partner for a very special event. They were careful with all our desires, very professional in order to manage all providers, creative and chic in every final solution. Five stars for them!!

Drieske

Married on 09/10/2017

Parade weddingplanners made our wedding perfect! We live in the Netherlands and we found them online. They came up with the best catererer, photographer, sound people and made the location look really perfect! They always respond reaaly quick to our mails. They answered every question we had. Thanks for facilitating our perfect wedding!

Erika

Married on 09/09/2017

Il giorno del matrimonio è indubbiamente uno dei giorni più importanti della vita di una persona.
Nella mia vita per lavoro, organizzo eventi...ma organizzare un matrimonio...beh...è tutta un'altra storia.
Giorgia & AnnaVeronica sono due grandi professioniste, preparate nel loro lavoro, appassionate e innamorate di quello che fanno.
Essere brave è un conto ma essere eccezionali è un altro...e loro sono eccezionali.
Prima di tutto la loro rete di contatti (location, catering, fiori, allesimenti, foto video ect...ect...) è incredibile: tutti i fornitori con cui abbiamo avuto a che fare ci hanno supportato con professionalità e passione, tenendo sempre conto del nostro punto di vista, consigliandoci sempre la cosa migliore e allo stesso tempo rispettando e tutti i nostri desideri.
La loro conoscenza nel mondo degli eventi, dei singoli momenti e di tutte le necessità / criticità di un giorno così importante è stata FONDAMENTALE per la riuscita dell'evento.
Oltre a questo, aggiungo che impagabile è la loro disponibilità, il loro sorriso, la loro calma (e ce n'è molto bisogno nei preparativi di un giorno così importante).
Averle avuto al mio fianco è stato assolutamente fondamentale per assicurare la perfezione dell'evento.
Non le ringrazierò mai abbastanza.
Il loro non è un lavoro...è una missione...e ogni matrimonio reralizzato con loro è unico, speciale ed inimitabile.
Grazie di cuore a voi!

Giuseppe

Married on 09/09/2017

Marrying is something unique, magical and unrepeatable.
Anna Veronica and Giorgia, this, have understood it first and have been able to do great things taking care of the smallest details.
They have accompanied us all from design to realization, as if they knew us from a lifetime, with their meticulousness, their commitment, and their results.
That day, even though for their work was "one of the many" events, they made us perceive it as the most special of our lives.
Thanks to Heart Weddingx!

Are you interested?
Send a message