48 Reviews
Recommended by 100% of couples
Quality of service

5 out of 5 rating

Average response time

5 out of 5 rating

Professionalism

5 out of 5 rating

Value

4.9 out of 5 rating

Flexibility

5 out of 5 rating
39 User photos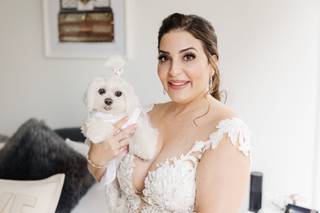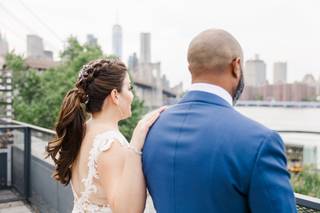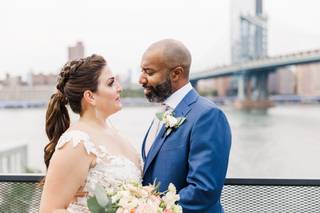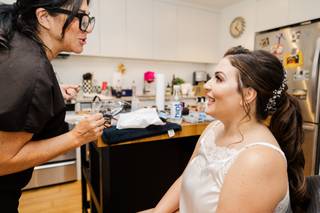 + 35

photos
Amanda D.

Married on 10/07/2022

5 stars all around

Just finished my hair and makeup trial with Stacey and the team. Great experience from start to finish. Stacey made me feel very comfortable from the moment I walked in. Bailey and Gaby were both pleasures to work with and left me feeling absolutely beautiful. I can't wait to work with them again on the big day.

Bianca S.

Married on 09/17/2022

Stunning Hair & Makeup!

Stacey and her team were incredible to work with for my wedding, their work is just stunning! She and Gina did an absolutely beautiful job with my wedding hair & makeup, and all of my bridesmaids and mom looked gorgeous too. Stacey was wonderful, from the trial where we tried several suggestions she had, up until the weeks leading up to my wedding where she cut & soft layered my hair, and I'm so excited to go back to her salon after the wedding. She has a discerning eye for what works well but was also so pleasant in taking in my input. Cannot give a more glowing recommendation!

Jenissa S.

Married on 09/03/2022

Amazing communication!

Stacey made me feel like I was her only bride. Listened to all my concerns and made sure the day turned out perfectly. My team, Gina and Nadia, were both amazing!!

+ 2

photos

Are you interested?

Send a message

Katie

Married on 09/03/2022

Hair Trial

I am working Stacey and her team for our wedding--just had my hair trial and it was amazing! Loretta styled my hair and it was beautiful. Stacey has been so great to work with--she is helpful and excited and makes the process just fantastic!

Rosie N.

Married on 08/27/2022

500 stars for hair and makeup, every time

The absolute best of the best! Everyone made me feel so beautiful for my shower and I can't wait for them to do my rehearsal and wedding. Stacey is as good as it gets!

Jessica W.

Married on 06/04/2022

Absolutely perfection!

One stop shop for your bridal hair & makeup ! Gaby and Bailey were the dream team! Extremely professional, so easy to talk to and to work with and made my bridesmaids look stunning! Everything we did on the trial day was exactly what I was anticipating (actually even better) the day of the wedding!!

Katie R.

Married on 11/13/2021

Amazing Experience!

Stacey and her team were absolutely amazing to work with, the entire experience was flawless and everybody looked stunning. I would recommend them to anybody looking for hair & makeup professionals, so hapy to have found them!

N Thomas

Married on 10/16/2021

fantastic hair & makeup with a fun and experienced team!

Stacey and her team were absolutely delightful to work with -- and the end results were gorgeous! I loved Stacey's attitude -- she exuded humor, confidence and style. I trusted her to do a fantastic job and she delivered!

Stacie

Married on 10/12/2021

Simply the Best

Stacey and Gabby from Once Upon a Bride are simply the best. Stacey gave me the most luscious, ethereal Titania-inspired braid that made me feel like a true fairy Princess and Gabby gave me the luminescent drama that I wanted in my makeup. Both ladies were so patient and collaborative with all my day of bride anxieties and actually listened to me and all my bridesmaids about what we wanted. From trial leading up to the wedding they were easy to communicate with and made all of my beauty dreams come true. I cannot recommend them enough!!

Lexia S.

Married on 10/02/2021

Bridal Hair & Makeup

OUAB was excellent. They accomplished everything I wanted and were joys to work with. Destiney for Hair and Alicia for Makeup were truly wonderful!

Mary C.

Married on 10/24/2020

Life saver of a beauty team -- and made me feel like like a Barbie doll!

6 weeks before my re-scheduled wedding (thanks, COVID) my beauty team I had previously hired turned out to be a scam. With a lot of tears in my eyes, I immediately picked up the phone and called Stacey at Once Upon A Bride who by a miracle, was still available and had a superstar make-up artist at the ready to step into the job. The talent of the OUAB team is outstanding and transformed me into the Barbie girl bride of my dreams. I cannot recommend them enough! They are worth every penny for your assurance that you'll have the best experience from trial to the wedding day -- and look like a knockout.

Melanie

Married on 10/10/2020

Hair Trial

I had a bridal hair trial with Stacey from Once Upon A Bride and it was an absolute dream! Stacey took my amateur requests and celebrity photo ideas and turned them into reality. I am obsessed with all three of the styles she took me through! On top of that, she really helped me envision how the full look would come together on the big day - i.e. once we have the appropriate hair extensions, how we'll ensure the look will last all day long, etc. She consulted me on what I should be doing for my hair between now and then (cuts, color) to ensure the best possible outcome on my wedding day, which is something that has been lacking for me in other trials. The experience was consultative and thorough - and on top of that, super fun!!! I highly, highly recommend doing a trial with Stacey and the Once Upon A Bride team. Next up, the wedding day!

+ 2

photos

Kristin

Married on 10/03/2020

Wonderful Hair Trial

When I first contacted OUAB, Stacey was very helpful and responsive and made every effort to accommodate me and understand what I was looking for in a wedding day hairstyle. After reviewing my vision and budget, she paired me with Destiney. I just had my trial and it was nothing short of amazing. I didn't totally understand the purpose of the trial - but during the session Destiney (and Stacey!) worked to explain and show me different hair style options, styles of curls, and haircare during the months leading up to the wedding. The experience was wonderful and my hair looked GORGEOUS - I looked just like myself but a bit more elevated. I can't wait for the actual wedding day!
Not to mention I will certainly be going to Stacey and Loft 26 for all my hair care needs going forward.

Shoko K.

Married on 01/10/2020

Will never go anywhere for hair and makeup again!!

My (now) husband and I wanted to celebrate our wedding by having a dance party with our closest friends and family. It was important to us that we enjoyed every minute with our guests as well as with each other, and that we were present for every moment, promising ourselves that we wouldn't let the little things bother us on our day. So for me, hair and makeup was a HUGE priority. It would have to be perfect, it would have to last all night, and I'd just have to trust that it would stay perfect without checking in all the time...THIS is where Stacey and her team comes in!

The trial experience was so thorough, which I LOVED because I wasn't sure yet about which look I wanted to go with. Alicia was so fast and professional, and when I told her a few days later that I wanted a little more glam but didn't really go into specifics, she did exactly that on my wedding day without missing a beat. I got my hair color done at the salon with Loren, and it was the same thing. We texted each other briefly with some photos and when I walked in, I just let her do her thing based on one photo I had especially liked that she had sent me, and she did an amazing job. I'm usually a micromanager for sure, but for some reason, I just felt confident that it was ok to take a step back on this one because I trusted how professional and knowledgeable everyone was. I'd also been talking to Stacey throughout the whole process asking her a million questions, so it was like everyone knew my vision without me having to say a word.

I finally got to work with Stacey for my hair trial, which we scheduled for a few days after getting my color done, and it was beyond what I expected. We chatted the whole time but I kept noticing to myself how effortless it was for her to do everything, even with me showing up 20 min late. And when she was done, my first reaction was that I liked it, but maybe I wanted it to be a little less perfect and a little more subtle, but Stacey just nodded and told me to wait an hour and see how I felt.... Well how I FELT was NARCISSISTIC and insanely happy- I took a million selfies, danced around the house asking my husband if my hair still looked the same, made him take pics from the back every hour on the hour, and I even made him take a video of me doing my part of our choreographed wedding number just so I could watch the way my hair moved. He was a little shocked I think, because this was all very out of character for me, but I was IMPRESSED. My hair was perfect after that one hour, and then it miraculously stayed that way the whole night. So yeah, IT LASTED.

Stacey and her team are amazing, fast, and very cool and chill. They're artists and they know what they're doing. I had initially thought that I'd need to get someone Japanese for hair and makeup who'd be more familiar with my skin, my coloring, and most of all my hair, but I liked Stacey's vibe after our initial phone conversation so I went with my gut, and I'm so thankful I did! Especially because my husband got on a mic and belted out Frank Sinatra's The Way You Look Tonight and really sang it TO me, inches from my face, and at that point, the tears kept coming and it almost turned into ugly crying but I was able to muster just enough strength to stop that from happening. Our wedding was everything I'd hoped and more-complete with a spontaneous afterparty at our hotel and the hotel bar that lasted until 5 am, which my friends and I haven't done in years. Not surprisingly, my hair and makeup lasted the whole night, and I only know this because of photos that people sent us in the following days. It was a really really FUN time and I now have amazing pics of me and my husband really enjoying ourselves, laughing a lot, and having the time of our lives with people who love and support us. I didn't want to miss a single second of it, and thanks to Stacey and Alicia, I didn't have to!

The photos I'm including in this review were taken by Erica from Clean Plate Pictures except for the last two with Stacey and Alicia!


+ 6

photos

Jaclyn

Married on 04/12/2019

Love Love Love OUAB!

I cannot thank Stacey and her team enough for my hair and makeup on my wedding day. Aside from delivering exactly what I wanted, I felt like I was getting ready with my friends the morning of my wedding. Stacey (hair), Gaby (makeup), and team, all were amazing with the best energy, which put my at ease and made me relax while leading up to the hours before the ceremony. My hair was down, wavy, effortless, and not overdone which is exactly what I wanted (In Stacey's words "runway") while Gaby's make up made me feel gorgeous while still looking like myself. Lots of love to Stacey and her team, you all were amazing and I could not have picked better!

+ 2

photos

Melanie

Married on 10/20/2018

Beautiful hair and makeup!

I am so thankful I met Stacey and the OUAB team of Gaby (makeup) and Jamie (hair). I had my wedding a week ago. Gaby and Jamie did my hair and makeup as well as my mom's hair and makeup. We both felt beautiful and looked the best we've ever looked! My mom and I couldn't be more thrilled. I would not hesitate to use the OUAB team again. I highly recommend them if you want to look and feel absolutely beautiful on your special day!!!

Julie

Married on 05/18/2018

We booked OUAB for elopement day hair and makeup and are sooo happy we did. Stacey is very responsive and communicative and we so appreciated that since we were traveling from Texas to NY to get married. My fiancee and I met with her at the salon the day before our ceremony to discuss hair and makeup ideas and we received the best welcome when we walked in. It was like we were old friends and her excitement and energy are contagious.
On the day of Stacey and Daniella showed up at our hotel promptly and wasted no time getting the room situated and set up for us. They handled two brides flawlessly and were so much fun and relaxed. I love how Daniella made us look like super gorgeous versions of ourselves. She asked questions and made sure we were happy during the entire process. Stacey is one of a kind and we loved her. She worked with both of us to come up with our final hairstyles and we couldn't have been happier. She took her time during and made sure we were both good before leaving, giving us some final sprays and touches before heading out. Sad she is in New York and we're in Texas but we'll find a reason to pop in to her salon on our next visit!!

Maggie

Married on 01/27/2018

Love gaby very professional and courteous. She did my make-up for my wedding and it was stunning! Will definitely refer her! Thank you!

Kathryn

Married on 12/09/2017

I was so happy to have found Stacey and her amazing team. Stacey was so fantastic to work with in the planning process and on the wedding day. Stacey, Daniella, Shari & Destiney all did such beautiful work, AND they made what could have been a crazy morning feel relaxing and fun. I have been in many weddings in the past where we always seem to be rushing when the hair and makeup is running behind. Not only did OUAB finish on time, but we were done early and had some extra time to enjoy together as a bridal party and leisurely get ready before the first look. I can get a bit nervous having other people do my hair and makeup, but Stacey and Daniella made me feel so beautiful and my husband thought it was perfect as well. My wedding day was romantic and snowy so I couldn't resist going outside for some photos. I know Stacey was worried, but my hair and makeup still held up wonderfully! Thank you to OUAB for helping to bring such an amazing day to life!

Jacinta

Married on 09/01/2017

Stacey was AMAZING!! She was super responsive and helped design my killer wedding day look. Loved that she was always available and accommodating to all my make up requests/change of minds, and make sure I always felt relaxed, sure, and comfortable about all the big day decisions. But honestly, Stacey and her team just rocked the day - they were so much fun and fit in so well with all the bridal party. Couldn't speak more highly of them!!! Love love love!!

Toni-Ann

Married on 07/22/2017

Gaby and Destiney are the absolute best. My wedding party consisted of me, my sister, my 60 year old mom and my 96 year old grandma - and Gaby was able to do the makeup perfectly for all of us (quite the range!). She made my 96 year old Nan look 76, my mom looked absolutely stunning and me and my sister loved our looks as well. I got the airbrushing and she mixed the shade perfectly - it looked flawless. Destiney also can make magic happen with hair. She is unbelievable. She has the incredible ability to make what you are thinking in your head come to life - and she makes sure you are happy throughout the process. 10/10 - would definitely recommend to everyone.

Romy

Married on 07/18/2017

Stacey and her Team did an awesome Job to make my big day unforgettable! I came from Germany to get married in New York so we had to organise it all via mail and short-term, but it was all easy and reliable and I felt like a princess as I left the Salon. Perfect Job!

Melanie

Married on 06/24/2017

Stacey and her team went above and beyond on my wedding day. My bridesmaids looked amazing. Stacey also helped me pick out the best style through several hair trials. The end result was stunning. I can't recommend her enough.

Elena

Married on 06/17/2017

The entire OUAB team was awesome! Stacey and her team made my wedding day awesome. I booked make up for me (bride) and for 5 other people for the day-of the wedding. I did a make up trial with Karen and it was awesome. Karen was very professional and during the trial we did a couple variations, she took a bunch of pictures and she used them as guide for the day of, tweaking a few things here and there based on my requests.

Stacey was amazing and super accommodating. The make-up the day of was going to be at the venue, but the venue would only give us 3 hours prior to ceremony. So Stacey sent a second artist to make sure that we were all ready with time to spare. Karen and Daniella, the two artists, were there 10 mins early (a blessing!) and they were able to start me on make up as soon as I got there. They were also extremely patient waiting for the other girls who got there late, and got everyone ready with time to spare.

I would definitely recommend Stacey and her team to any bride! They are all professional, courteous, kind, thoughtful, timely, and dedicated to making your day be so very special.

Adrienne

Married on 06/03/2017

I highly recommend Once Upon a Bride for your wedding hair and make up. They did my mom's and my looks for my wedding day and I could not have been happier with both. My mom felt the same. We did not have time for trial since I live in Texas, but they nailed exactly what I wanted. My hair and make up still looked great the next day. They come to you so it is stress free!
Are you interested?
Send a message