Reviews
5.0 out of 5 rating
Quality of service

5 out of 5 rating

Average response time

5 out of 5 rating

Professionalism

5 out of 5 rating

Value

5 out of 5 rating

Flexibility

5 out of 5 rating
100%
Recommended by couples
Awards
33 User photos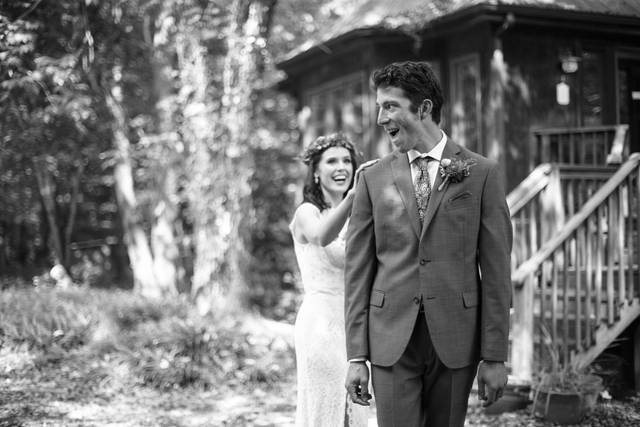 + 29

photos
Kate F.

Married on 06/17/2023

Priceless Memories

Our wedding photos are everything we wanted and more!

My husband and I just finished looking through our gallery for the first time, and I cannot begin to count the times we exclaimed, "oh, wow!" "That's amazing!" "How did they get that?" Over and over again.

We chose Oak City Photography because we could tell from their galleries that Liz and Kim really try to capture the couple's aesthetic, rather than just using generic poses. We also loved how they seemed to excel at candid photos of guests. The results did not disappoint - these are photos that I cannot wait to purchase, send to friends, print, and frame. They got every photo we asked for and so many more that I didn't think to request that I'm so glad to have.

In addition to deliver a stellar final product, Liz and Kim are absolutely lovely people. They were such fun to have around as we got ready and during the reception. Furthermore, Kim went above and beyond to climb up on a ladder during the reception to get the entire group photo we requested.

10/10 would recommend reaching out to Liz and Kim for wedding services. It was worth absolutely penny, because the moments they captured are priceless.

Janice M.

Married on 11/05/2022

Cannot recommend highly enough!

Liz really made the day ! She was patient with kids and older folks and went above and beyond to make to make our special day something amazing. This is the person you want to capture your memories.

Katelyn

Married on 03/05/2022

Perfect Photographers

Liz and Kim are absolutely amazing! They were flexible when we had to delay the big celebration due to COVID, and Liz even agreed to do an elopement shoot with us (oh, and she helped us find a spot to do the elopement!). On the wedding night, they were incredibly fun to be around and made our families and friends feel at ease in front of the camera. The elopement photos were beautiful, and I have no doubt our wedding celebration photos will be perfect.

Oak City Photography's reply:

It's been such an amazing journey with you both! I'm so glad we could be a part of your celebration.

Are you interested?

Send a message

Brooke W.

Married on 09/11/2021

Hire Them! You Need a Photographer That Can Capture Every Moment of Your Day to the Fullest!

From the planning process to the wedding day, working with Liz was a breeze! She knew exactly how to execute our vision and we could not be happier with how the pictures turned out! As you might assume, gathering a large group of people either pre or post ceremony for a photoshoot can be a bit like herding cats; Liz was able to keep everyone focused and having fun at the same time! Besides Liz's natural talent as a photographer, her personality is what makes her stand out from other photographers out there. She will keep you wanting to take photos, even for people like me and my husband who are typically photo averse!

Our favorite moment that Liz captured was our "first look" photos; they were absolutely incredible and truly speak to her ability to show a range of emotions in a matter of seconds. We feel that every special moment of our wedding day was documented to the fullest. Do not look any further if you are looking for someone that can capture your true love on your wedding day and have fun while doing it!


+ 8

photos

Featured

Kessler.jacquelyn14@Gmail.com

Married on 09/04/2021

Amazing, Amazing, Amazing!! Must Hire!

Liz and her team are absolutely fantastic! We are so happy with our entire experience! Liz is super cool! She will meet you somewhere neat to have a beer and discuss your ideas and desires for your big day! Liz and her team showed up early to the venue to scope the place out and find the best angles/ rooms/ lightings for pics. Great first look photos of my dad, my dress, my rings, everything. She was also very good at taking all the family photos early and upfront so they could enjoy the cocktail hour. Wrangling over 30 family members can be like herding cats but she managed it all professionally. Liz and her team even danced on the dance floor while taking our photos. What I also love is that Liz also took great photos of all our guests, which will make a great souvenir for our thank you cards. The pictures really captured the fun and heart that went into the day! 10/10 would hire again.

Oak City Photography's reply:

We had so much fun with you all! You guys were so sweet and welcoming. We felt like we were one part of the party. Thanks for choosing Oak City Photography and we hope to work with you again someday!

Rachel

Married on 12/19/2020

Amazing. Perfect.

Liz did a fantastic job for my wedding. She literally risked her life for it! Pandemic weddings can't be easy, what with date changes, venue changes, fear of dying of a virus... Liz rolled with the punches, and turned an incredibly hectic day into the most beautiful experience. My husband isn't a fan of PDA or pictures, so I thought it was going to be a disaster; but when we got our pictures back, all I saw was joy. Thank for Liz for turning a stressful day into forever-beautiful memories!!!

Ashley S.

Married on 10/09/2020

Liz is amazing!

I couldn't have asked for a better photographer! Liz was amazing! She took SO MANY photos at our wedding and I can't wait to see them all. Liz is very outgoing, fun, professional, creative and captured our wedding in 5 hours! Hands down the best!

+ 3

photos

Jessica

Married on 09/26/2020

Highly recommended

We couldn't have asked for a better photographer for a 2020 wedding. Liz was kind, understanding, and empathetic through all of the date changes and plan changes. She was very easy to work with and get in touch with. Her photography style fit exactly what we were looking for.

Sofia

Married on 10/05/2019

Very grateful!

My husband and I received our photos and we cannot be more thrilled! We appreciate sincerely every step- the orignal meeting, the process to hire, and on wedding day, they were amazing! They even helped my husband with tying his tie! :) We had a very relaxed wedding day- nothing too fancy and with close family and friends and we loved how laid back they were. They made taking photos super easy. Having them as our photographers made our day much more special.

Liz and Kim: Thank you, from the bottom of our hearts, for such a great experience and we appreciate so much having you as our photographers. We highly recommend!

+ 2

photos

Kelli

Married on 11/24/2018

BEST Wedding Photographer in Raleigh!

Liz and her team were everything we could have wished for. We were anxious about hiring a vendor that we didn't have a personal relationship with but her responsiveness to our questions and overall kindness evelated the whole experience. Not only that, but the pictures turned out amazing and our whole family agrees. So happy we used her for our big day, 10/10 would recommend!

Danika

Married on 02/24/2018

Planning a wedding in Raleigh while living in Houston is NOT an easy task but once we landed on Liz's website our journey instantly became smooth sailing. She worked so closely with us, answering countless questions and making herself completely available to our every need.

She was so attentive and responsive via email and/or phone call. She even took a call one afternoon while she cooking to prepare for a party she was hosting. I had to tell her she could call me back when she wasn't busy…LOL!

We didn't get a chance to meet Liz, face to face, until the day of the wedding. At our first encounter, she instantly put us at ease because we could tell right away she didn't need any guidance. Everyone standing there knew we were in great hands. She thought of EVERYTHING and her demeanor lets you know right away she has it all under control.

And then it was go-time. The lights came on and she did not disappoint. She was absolutely amazing!!! I don't even recall seeing her during the ceremony but, based on the current set of teaser photos we have, we know she was working overtime. She's just so good that she can blend and be of no distraction.

And as soon as we wrapped up the ceremony, there she was, getting everyone in order for a big group photo. She even arrived 30 minutes earlier than we initially requested and stayed for the entire ceremony…all on a last minute, game time decision.

There couldn't be a photographer out there more accommodating than Liz. If you have any upcoming photography needs then you don't need to look any further. Thank you so much for all you did. You and your craft received so many compliments from our wedding guests and I wanted to pass the kind words along. It was such a pleasure working with you!!! Many thanks for helping make our wedding day so special.

Mike

Married on 04/29/2017

Liz and Kim were easily the best vendors at our wedding. It's apples to oranges comparing a caterer, event coordinator, DJ, rental company or photographer. However, if I did, I would give Liz, Kim and OCP an A+. They were everywhere that we needed them, not overly pushy, but strict on time when necessary. They were kind and courteous to our family and friends, outgoing and extroverted when talking with guests. Honestly, we loved having some of them around more than our guests!

In all seriousness, though. Oak City Photography needed very little to do such a great job. They showed up, ran around, planned and took photos based on availability and remaining time, and then left us to party. They were not obstructive with any of our plans, and never interrupted us -- only interjected to take a candid photo from time to time.

Have a planned out shot list, especially in case you have a family that is split or people that do not get along. Ensure that the shot list includes the wedding party, or specific separate photos within the wedding party. Liz and Kim do a fantastic job of reminding you to do this, but it's still something that you should prepare.

Elyse

Married on 10/22/2016

Liz and Kim were a phenomenal photography duo! Having them at our wedding was like adding two really fun guests (who also took great pictures!) to the party.

Liz and I hit it off from the moment we met and every interaction was extremely professional. She spent extra time with my husband and I during our venue walk through, was quick to respond to emails and questions, and delivered beautiful photos of our day. During our wedding, Liz and her assistant Kim captured plenty of great moments throughout our day and looking back through our pictures always brings tears of joy from all the wonderful memories.

If you are looking for a great photographer at an incredible price, I would definitely consider Oak City Photography! They are the best! :)

Greg

Married on 09/24/2016

First and foremost, Liz and Jess are awesome photographers. Secondly, but equally as important, they are super fun and easy to work with. The photographs turned out amazing. Liz has a great eye for lighting and catching those candid moments that, without a photo, you may not have even remembered you experienced. They could be both discreet and also be a big part of the day's fun. In terms of convenience and accommodation, they were willing to travel nearly two hours away from their home turf to be part of our special day. My wife and I could not be any more thrilled with their service and product. We highly recommend Oak City Photography to all who are in need of a photographer for their event.

Tabitha

Married on 08/12/2016

Liz and Kim were the best investment for our wedding day. We met with Liz before we signed a contract and then had a site visit before the wedding. Liz always promptly answered emails and calls and provided additional recommendations to make our day special. On the day of the wedding, we were so grateful to work with Liz and Kim - they put our family at ease, professionally and kindly handled "interruptions" from well meaning family members!, and helped to make our day perfect. Liz has an eye for detail as well as settings for the perfect backdrop.
Looking back, we are so thankful to have worked with Oak City - for the quality, the interaction, and the expertise. We will only use Oak City in the future for family shoots and additional photographic needs! Thank you to both Liz and Kim!

User2556113

Event on: 12/05/2015

Liz worked so well with our crazy pup for our mini session! Her patience and professionalism were top notch. We loved our pictures, but the greatest part was we had so many compliments on them from our friends and family. We would highly recommend Oak City Photography to everyone!

Karla

Event on: 11/20/2015

Oak City Photography is wonderful on detail and creativity. I highly recommend them!

Emily

Married on 04/11/2015

Liz was amazing to work with! She made us very comfortable and captured our wedding weekend spectacularly. She was the perfect mix of grabbing the pictures you want and not knowing she's even there. We couldn't have asked for a better photographer for our special day. We will definitely be working with her again in the future!

Kelsey

Married on 04/05/2014

Liz, from Oak City photography, took our engagement and wedding pictures and they were wonderful! She did an amazing job capturing those special moments from our memorable day! She was such a joy to work with and we would absolutely recommend Oak City photography for your wedding and engagement needs!

Kathleen

Married on 10/26/2013

My husband and I were thrilled with our engagement session and wedding photos. Liz and Jess were wonderful to work with. They were professional, yet, flexible, humorous, and relaxed. Services are reasonably priced, prompt, and done well! We hope to work with them again in the future!

Ashley

Married on 09/21/2013

Liz was great! She did my bridal portraits and I am so happy I did them! She was flexible with appointments, was beyond prepared for the session, and had my photos ready very quickly. She takes the time to get to know her clients and really enjoys what she does. Her friendly, encouraging demeanor helps you feel comfortable and helps ensure the best pictures of your special day :)

Anne

Married on 01/21/2012

Shades of Red recently did our wedding, and I would highly recommend them to other brides as well!! They were very professional, yet fun and creative, and they even managed to make the required formal photos into a good time! They were organized, confident, and able to be flexible to the given situations. I think they even got a photo of my father in law directing traffic after the wedding!

Try them out; I guarantee you won't regret it!

Nikki

Married on 08/26/2011

If you are looking just to take pictures.. look somewhere else. If you are wanting to have a blast, laugh at each other, and create a memory while having a professional grant your every wish, Shades of Red is where it's at! Very professional, very creative, top notch photos that will have you wanting to make up reasons to have another photo shoot! Highly Recommend Shades of Red! These gals ROCK!

User648288

Event on: 08/18/2011

Shades of Red Photography have photographed my yearly family pictures for severial years including birthday pictures. The photography is creative and they are able to capture everyone's personality, even the dog! I have been very very happy with the final products from Shades of Red Photography.

Lindsay

Married on 10/27/2018

Professional & Great Quality

Liz was so great to work with! From the planning, to engagement photos to the wedding, she really captured the magic of our day.
Are you interested?
Send a message