296 Reviews
Recommended by 93% of couples
Quality of service

4.7 out of 5 rating

Average response time

4.7 out of 5 rating

Professionalism

4.7 out of 5 rating

Value

4.6 out of 5 rating

Flexibility

4.6 out of 5 rating
38 User photos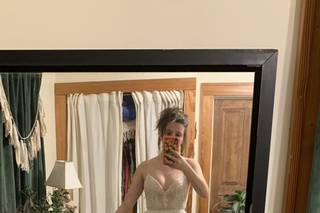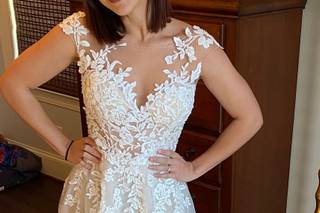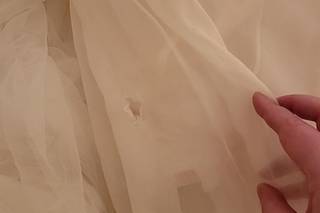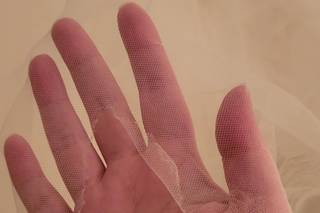 + 34

photos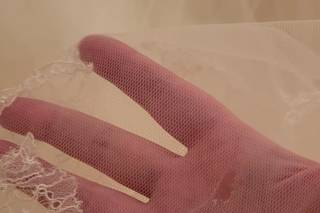 Mil C.

Getting married on 11/03/2023

Can't say enough great things!

Nearly Newlywed's team was absolutely incredible from start to finish! I wasn't planning on buying a pre-loved gown, but after reading about the company's background I was hooked - why do brides have to feel shame about getting a great deal on a dream gown? I loved the flexibility to return the dress if it didn't fit or I simply didn't like it. Christie was incredible and provided phenomenal customer service, especially as I was trying to receive the dress by Christmas so I could show to family and friends gathered for the holiday. I was able to afford my absolute DREAM gown from a designer who doesn't even sell anywhere near my home, for a fraction of the original cost. My goal is to hopefully have a great time wearing it at my wedding, and then re-sell it for a bit less to another bride who has her eyes on this pricy designer (and make a bit of my money back, because why not!). I felt secure in my purchase thanks to the "white glove treatment" I bought at check out, which meant I had extensive videos and photos of my dress sent to me before purchase. All and all, a truly fantastic experience! So glad something like this exists and will be telling all my friends about this :)

Liz S.

Getting married on 09/10/2023

Flawless experience from start to finish

I can't say enough about how great my Nearly Newlywed experience was. I found a beautiful dress, but was going to be traveling and unable to receive delivery. The team worked with the seller to delay shipment of my dress - they were astonishingly proactive, responsive, and helpful. Can't recommend highly enough!!

Emilie

Getting married on 08/19/2023

Got my dream dress for less than $500

I had such a good experience with Nearly Newlywed. I found a gorgeous gown in great shape that was selling for 80% off the retail price. I love that they have a return policy, so I took the leap and luckily, it fit great! I brought it to a seamstress today, during my 5 day return window, just to make sure the adjustments I needed made to the dress could happen and there wasn't anything I was missing. It's good to go and I can't wait to wear it in August!

Are you interested?

Send a message

Patricia

Getting married on 07/08/2023

I can't believe the condition of the pre-owned dress

I was skeptical, but the 5 day window to return the dress for any reason was what convinced me.
I got almost a 50% discount by buying a pre-owned dress. I am in love with it.

Elizabeth S.

Getting married on 07/07/2023

Smooth, straightforward

When I started looking for a wedding dress, I knew the pre-owned route was what I wanted, but I wondered whether I'd find the right quality and fit. The dress I found on Nearly Newlywed far exceeds my expectations. It's gorgeous, in wonderful condition, and the listed measurements were accurate. It took just a couple weeks from when I ordered to when the dress arrived, and I appreciate that they took the time to verify authenticity and accuracy. Highly recommend!

Kendall D.

Married on 05/03/2023

Very easy and quick!

From creating the listing to the completion of the sale, the whole experience with Nearly Newlywed was easy and stress free. Clear directions were given the whole way through for how to take photos/videos of the dress, how to ship to the buyer, and what to expect. If you're looking to sell your dress to its next home, you can trust Nearly Newlywed!

Isabella R.

Married on 03/23/2023

Christie Wedding Dress

Christie was amazing at responding and getting all of the questions I had answered. This was a stressfree process and now I have my dress for my big day 😊 Thank you so much Christie and to the seller that had this beautiful dress.

Bridget M.

Married on 03/03/2023

Effortless sale

Nearly Newlywed provided me with such a great experience. I was able to sell my unused wedding dress with ease. They did all the work for me. The communication was prompt and detailed.

Lenora H.

Married on 12/03/2022

Nearly Newlywed Is Fantastic!

I found the dress I wanted brand new with tags for a fraction of what it was listed for on the bridal website. Nearly Newlywed was very responsive, helpful, and informative throughout the entire experience, and I couldn't be happier. Special shout out to Christie and Melissa for the emails, information, and just checking in to make sure my experience was wonderful. Can't say enough good things about this company and its employees! Thanks so much!

Sarah

Married on 11/05/2022

I found my Pronovias wedding dress and paid half the price

For any bride looking to get a high quality dress on a budget, Nearly Newlywed is probably the best pre-owned wedding dress option. They were SO responsive (both via support chat and email), even though I was ordering my dress near the holiday season. Their support team was also super friendly and really great communicators which is a huge deal when you want to make sure a dress is going to fit, etc! Their biggest selling point is that if you order a dress and it doesn't work out, you can return it to the seller for just $50 which is so worth considering the money you'll be saving buying a pre-owned dress. I'm so happy that I'm recycling a dress that otherwise wasn't going to be worn again, and that I saved a TON of money!

Bri S.

Married on 10/29/2022

Look no where else

Great selection of dresses at reasonable price. Very easy to search and filter. You do not communicate with seller directly which made the process super simple. The team there were very easy to communicate with, answered all questions and provided tons of helpful info! They made sure the dress was exactly as described. Shipping was fast!

Chantelle M.

Married on 10/15/2022

Excellent Product and Service

Received my dress a few days ago! Absolutely loved that I found my dream Stella York designer wedding dress for a fraction of the cost. I was a little hesitant buying a wedding dress online, but I received exactly what was advertised and promised. My primary contact was Patti, and she was genuinely encouraging when I initially had my doubts and she updated me every step of the way. Confirmation, tracking, and delivery, etc etc. Thank you Nearly Newlywed and thank you Patti!

Cailyn C.

Married on 08/13/2022

Great customer service experience

I ordered two dresses from Nearly Newlywed. However, I found my dress before the dresses arrived (quick shipping btw!). I worked with the amazing customer service team to return the dresses and appreciated the thorough inspection for both the buyer and seller. I would highly recommend Nearly Newlywed for any wedding dress buyer or seller. They take the stress out of online wedding dress shopping!

Nee-Ka L.

Married on 05/29/2022

Absolutely incredible!

I have always hoped to find a second hand dress, for many reason including the meaning behind it and the price! I was torn between different companies or thrifting sites, but Nearly Newlywed blew me away! They were the most responsive company I think I have ever worked with, and they were made everything exceedingly easy! This sounds cheesy, but I really cannot recommend them enough. I am so happy with my dress!

Holly W.

Married on 05/07/2022

Some of the best customer service

I found a dress on Pinterest that I absolutely fell in love with years ago. Prior (much prior) to my engagement. After tracking down the designer and finding out they'd gone out of business, I found it for sale on nearly newlywed. After purchasing it, there was some concern about possible yellowing of the dress, as they do. I can't give enough compliments to the team at nearly newlywed. They've been so transparent with me through every step. . Let's put it this way, I haven't even received my dress yet and have already had one of the best Customer service experiences ever. I do hope I'm happy with this dress. But if not, I know I can return it and will more than likely use this company to find the exact one for my day. (Although I know my first choice will be the one… I've oogled it for at least 5 years)
Keep up the amazing work Nearly Newlywed!

C Glitter

Married on 03/05/2022

Said yes to the first dress!

After having been discouraged by the high prices of designer dresses, I decided to give a used dress a try. I found a dress that was originally over $4000 for $700 that seemed to be about my size. The odds of the perfect fit seemed against me and I was slightly worried it might show up dirty or not as the original dress but Nearly Newlyweds are on top of it. The customer service staff reached out to me several times throughout the process and were very helpful. They notified me when they received the dress from the seller, informed me thoroughly on the condition of the dress, made sure I still wanted to purchase before sending, sent it to me in a timely manner, and checked back in once it arrived to see what I thought. I was one of the lucky ones who tried on my very first dress and it's perfect. This vendor made the whole process stress free and enjoyable. Thank you to the Nearly Newlywed team!!

Dalal H.

Married on 10/30/2021

Amazing service

Melissa was super helpful in getting me a brand new hayley paige for an amazing price! Thanks girl ❤️

Ellen R.

Married on 10/30/2021

Would recommend Nearly Newlywed to my best friends

I always thought that it was rather strange and wasteful that so many of the most beautiful (and expensive) dresses people get to wear only see the light of the day once. And I was very excited when I came across Nearly Newlywed - a large yet easy to navigate collection of wedding dresses that come with photos of the dresses on real people. I found my dream dress, which was no longer available offline because the brand had gone out of business, and bought it. The whole process was very reasonable - I was given five days to decide whether I wanted to keep or return the dress for a full refund. I asked for a day extension because I could not schedule a consultation with a seamstress right away, and the seller agreed to accommodate me. Email communication with the seller via Nearly Newlywed was quick and easy. The dress was exactly what I expected and I love it more because I got it for half the original price and because it was a special dress for someone else at some point. I'd recommend Nearly Newlywed, where I found the one, to any of my best friends.

Jordan H.

Married on 10/30/2021

Nearly Newlywed is THE BEST choice!

I am so thrilled I found my dress on Nearly Newlywed. I was able to browse so many more dress options than I was able to in just a couple bridal stores and I am certainly indecisive enough that I needed to look at a hundred to know for sure!

When a dress I loved on their site was no longer available, their amazing concierge team immediately sent me some other options (the same dress in even better condition) from their site and I knew it was the right choice.

It's a way to help the environment, help your budget, help another bride - it's honestly the best choice you could make.

Karen M.

Married on 10/28/2021

Found my dream dress!

I was looking for a wedding dress but didn't want to pay $1,000 or more for a dress I'll only wear once. I googled budget wedding dresses and Nearly Newlywed came up. I went to the website and found my dress! I couldn't believe it. It's stunning! I recommend Nearly Newlywed to anyone that's looking for a beautiful wedding dress without the extravagant price tag!

Chrissy C.

Married on 10/04/2021

Finally my turn.

I have been maid of honor 7 times and a bridesmaid in 3 other weddings, but as I turned 40 I had nearly given up on finding my own happily ever after. When I did and started dress shopping I fell in love with a gown that was totally out of my price range. Thanks to Nearly Newlywed, I have my dress and saved more than $800! It arrived well packaged and exactly as described by the seller. Perfect! Ladies, don't hesitate to use Nearly Newlywed!!

Ashley M.

Married on 09/25/2021

Best experience

Recommend 10 out of 10! I saved over $4,000 on a stunning gown with a note from the original bride that made me cry - so grateful & have a stunning dress

Molly

Married on 07/06/2021

Highly recommend!

I've been searching tirelessly for the perfect dress but so discouraging when seeing how expensive they can be. So when I found nearly newlywed I was so happy! Beautiful dresses for a great price! I am so happy and thankful that I purchased from them!

Lauren M.

Married on 06/26/2021

The Last Minute Dress

I ordered this dress just three weeks before my wedding. The customer service was so helpful and responsive by responding to me after hours and helping me get expedited shipping!! The dress looked just as it did in the photos, and got here when they said it would get here. It was worth every penny! And I am now going to look like a princess on my wedding day:)

Kathryn

Married on 06/22/2021

It was wonderful. They made the process so easy!

Great website, friendly staff, they made reselling my dress easy!
Are you interested?
Send a message