61 Reviews
Recommended by 100% of couples
Quality of service

5 out of 5 rating

Average response time

5 out of 5 rating

Professionalism

5 out of 5 rating

Value

5 out of 5 rating

Flexibility

5 out of 5 rating
98 User photos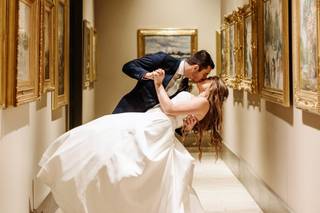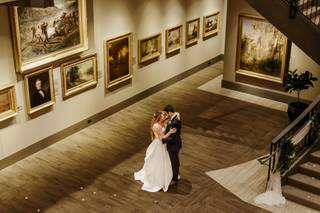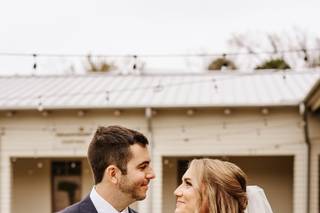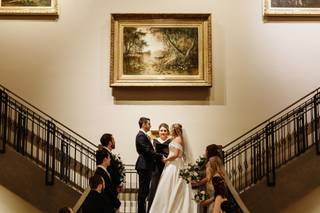 + 94

photos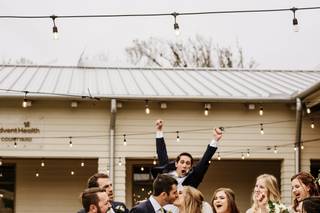 Featured

Elise W.

Married on 12/18/2021

Wonderful!

We were drawn to the MOAS as a venue simply for the fact that it was different from every other wedding venue we looked at. On top of which, the museum has so many options to choose from. You can even use the Planetarium as a ceremony space, which we considered for a brief moment. The price tag was also within our budget, and we got more bang for our buck. We got engaged during the hight of the pandemic, so flexibility was another key factor, and the museum was very flexible in regards to that, though we never switched dates. Having a live band was the most important thing to us, so we were also looking for venues that had space for a band, and would allow a live band (some places do not). We also wanted our wedding to be a unique experience that spoke to who we are as a couple and the MOAS was that place for us. We even found our photographer through the MOAS, and she was incredible! Highly highly recommend.

+ 8

photos

Museum of Arts and Sciences's reply:

Thank you so much Elise! It was such a pleasure working with you and Patrick!
Wishing you all the best,
Doris

Emily D.

Married on 01/07/2023

Beautiful Venue, Easy to Work With

This venue was so amazing and a great value! They were very easy to work with and flexible with us.

Museum of Arts and Sciences's reply:

Thank you so much for your kind words Emily! It was a delightful event, and I am so happy for you and Harrison. We were honored to be a part of your wedding day.
Best regards,
Doris

Alex T.

Married on 12/10/2022

Dream Wedding

This venue was everything we were looking for. The natural beauty of the museum was a huge selling point and made our decorating go so smoothly. And while the venue was perfect, the people made it the best experience possible. Doris was always there to answer our questions and help us with anything we needed. Couldn't recommend the venue enough!

+ 2

photos

Museum of Arts and Sciences's reply:

Thank you so much for your compliments Alex! It was a pleasure working with you and Nicole to make your wedding day extra special. Our team was honored to be a part of your wedding day.
Best regards,
Doris

Are you interested?

Send a message

Ashley B.

Married on 11/05/2022

Beautiful, unique, unforgettable

10/10 recommend the MOAS. The staff was so sweet and accommodating and helped every vision come to life. The guests raved about the venue and all the exhibits they were able to check out while in attendance. It was an absolute dream

+ 3

photos

Museum of Arts and Sciences's reply:

Thank you so much for your kind words Ashley! It was delightful to work with you and Adam to make your special day unique and spectacular. We were honored to be a part of your wedding day.
Best regards,
Doris

Rachel D.

Married on 08/20/2022

The perfect Museum Venue

I recently had both my rehearsal dinner and ceremony/reception with the MOAS and I could not have chosen a better place! Doris the venue coordinator is a complete gem and a wonderfully attentive and kind person who helped through every step of the way. The venue was beyond my husbands and I's dream and offered us the chance to get married among the art in their permanent gallery which was breathtaking. We are so pleased with the entire experience and cannot recommend it enough. You also cannot beat the price, while venue was one of the most important aspects to us, the Cici and Hyatt Brown Art Museum offered everything we were looking for and did so at a budget friendly price! They made sure our special day was perfect!

Museum of Arts and Sciences's reply:

Thank you so much for your compliments and for letting us be a part of your team to make your wedding day so special! We very much enjoyed working with you and truly appreciate your love of the museum!
Sincerely,
Doris

T. Drager

Married on 07/10/2022

Beautiful venue! Very unique place for a wedding.

Great experience! The museum staff, particularly Alex Middleton, were extremely helpful in planning and executing the perfect wedding day for our daughter. They delivered on every promise and the day was just perfect.

Taylor K.

Married on 04/09/2022

Amazing and unique!

I knew going into wedding planning that I wanted a venue that wasn't the typical barn style that is popular. We searched and toured so many different places that were all unique in their own ways, but the Cici and Hyatt Brown Museum of Art just stuck with us after we toured it the first time. MOAS is really two separate buildings and both are amazingly beautiful and have so much character and uniqueness in themselves. You would never think of having your wedding inside of a museum, but once you see it you will not think of anywhere else!! The staircase is so beautiful (and easy to walk up and down on), and how can you be mad being surrounded by amazing art pieces that also make your pictures that much more special. Also, this venue is soooo affordable and you barely have to decorate because its a museum and has art all over!!! Doris was our event coordinator, and she was amazing as well. She quickly responded to my millions of questions and emails and helped make the process painless and stress free. I wish I could relive our day over and over again and could not be happier with our venue choice!!

Museum of Arts and Sciences's reply:

Thank you so much for your kind words Taylor! It was a pure delight to work with you and Ben to make your dreams come true. I was honored to be a part of your wedding day.
Best regards,
Doris

Sabrina

Married on 03/11/2022

Working with Freddie was absolutely amazing! We were able to email or call her anytime we had questions or concerns, and she always responded quickly. The day of our wedding she was more than amazing! She made sure everything was in place as we asked, and before we could turn around to ask about something, she was right there with an answer. She's magically! The Museum offers several amazing areas for photos and were so great in helping us achieve our dream. We choose the Train Station and it was the first every ceremony and reception done in the same location. It went off without a hitch! They have several different options to choose from to make your day special and all the staff were so helpful. Freddie was the most amazing wedding coordinator and helped our day be as wonderful as we wanted it!

Museum of Arts and Sciences's reply:

Thank you for the kind words! We loved working with you, and are so grateful we could be a part of your journey. Wishing you a lifetime of bliss!

Nicole D.

Married on 02/26/2022

Amazing and Beautiful!

The Museum was an amazing, beautiful location, and Doris was such a help throughout the planning process. We rented the Permanent Gallery, Courtyard, and Main Hall for an amazing value and couldn't have asked for better!

Museum of Arts and Sciences's reply:

Thank you so much Nicole! It was such a pleasure working with you and Alec on your wedding. It was a beautiful evening!
Sincere regards,
Doris

Julie H.

Married on 02/19/2022

A dream of a venue

My husband and I were married here in February 2022 and it was an absolute DREAM! We fell in love with this venue from our very first walk through and it was everything we had hoped plus more on our big day. We had the pleasure of working with Doris who I believe is the event/rental manager for the whole museum and she was so awesome and made everything so easy for us. She was also in touch whenever we needed and gave us great insight whenever we had questions. We had so many compliments on our venue and I can't help but smile every time I reflect back on every moment. This venue was also much more affordable than other venues we toured. I would recommend this venue and working with Doris to everyone I know!

Museum of Arts and Sciences's reply:

Thank you Julie for your kind words! Working with you and Jerrad was such a delight and your wedding was beautiful!
Wishing you all the best,
Doris

Claire M.

Married on 02/01/2022

Incredible Wedding Experience at the Cici and Hyatt Brown Museum of Art

The venue was spectacular. Everything my daughter dreamed of and then some. Museum staff, particularly Doris Strnad, guided us through the process, made great suggestions and then delivered. When I say the night was magical, I mean it. We are so thrilled we picked this venue. The museum is a show place in itself. Our guests were amazed at the art and it served as a showplace for our community.

Museum of Arts and Sciences's reply:

Thank you so much Claire! I truly enjoyed working with you to make Julie and Jerrad's dreams come true!
Wishing you all the best,
Doris

Christina H.

Married on 11/06/2021

What a dream

Getting married at the Cici & Hyatt Brown Musuem of Art was absolutely perfect. The art that surrounded us was amazing PLUS we didn't have to focus on extra decor - win/win. Our guests really enjoyed walking around the galleries during cocktail hour and we loved having it all in one space. Choosing indoors in FL was wise because we had an absolute monsoon the day before - even though it was in November, you never know with our weather. It was extremely cold so our guests didn't go outside but thats alright because again, our venue was all set up and it made it super easy to pivot the game plan the day of. I cannot recommend this venue enough- excellent staff which helped a bunch along the way (letting us stop in and show our parents around a few times haha) and our photos are just perfect. They even shut down the museum at 4:00P so we could have our ceremony at 4:30p! So awesome. Thank you MOAS for your part in making our day so special!

+ 2

photos

Lauren M.

Married on 09/24/2021

Wonderful Experience

From Doris (event manager) to the whole staff was an absolute delight to work with. Every interaction, they were so sweet and helpful. I couldn't recommend this vendor more! If you want a unique and beautiful venue choose them!

Jewel J.

Married on 07/17/2021

From the very first time we met to tour the venue, Doris was courteous, kind, flexible, and professional.

My wedding reception at the MOAS was one of a kind and the most exciting, fun, and romantic night of our lives. The staff was friendly and accommodating. Everything was set up exactly how we planned. The Lemerand Wing was beautiful. I truly felt like a princess. Doris worked with us from beginning to end, always patient, kind, and professional. I would like to personally thank her for helping me to make my dream wedding a reality. The venue was perfect and affordable.

Shannon B.

Married on 05/29/2021

Beautiful Venue

This museum is a stunning venue. All of the guests who attended my wedding were in awe of the beauty. With this venue, you barely need any decoration because it has so much character and beauty already! It's also the best price around! Everyone is nice! The event manager Doris does everything she can to make sure everything is perfect for your event. 10/10.

Stephanie

Married on 12/11/2020

Perfection!

No complaints! Tori exceeded our expectations and offered so much more than just venue manager! Her timeliness, patience and support helped us tremendously! The staff was exceptional in every way!

Valerie A.

Married on 10/03/2020

Beautiful place to have a wedding!

My now husband and I are so glad we chose to have our wedding at the Cici & Hyatt Brown Museum of Art! We chose the venue because we wanted to have both our ceremony and reception indoors due to unpredictable FL weather, and thought the museum was a unique and beautiful place to have a wedding. The museum is elegant and private, and includes spaces for the bridal party to get ready before the wedding. We received multiple compliments on our venue choice, and enjoyed a night we will never forget. A bonus was working with Tori the rental manager- she is friendly, very professional, and kept us updated during crazy COVID wedding planning! Choose Daytona MOAS as your venue, you won't regret it!

Grace K.

Married on 09/12/2020

Excellent wedding venue

Wow- could not have chosen a better venue. Tori, the main event coordinator is beyond helpful, and on her A-game at all times. She is incredibly knowledgeable, flexible, and will help you build the perfect event. The museum has a variety of packages designed to fit your exact wedding needs, and are within a very reasonable budget. Tori went so far as to coordinate with all of our wedding vendors so we didn't even have to be involved in all of the planning which was just another added bonus. 10/10 would use again, and would not hesitate to recommend this outstanding service to a friend. Exceeded all expectations.

Megan

Married on 08/08/2020

Beautiful venue really nice staff

Loved my wedding here. It was the perfect venue! Beautiful staircase for ceremony backdrop.😍

+ 2

photos

Katherine J.

Married on 08/04/2020

Best Place to Get married at!

My husband and I had our wedding there and it was the most incredible experience ever! Tori Carta made sure that everything was perfect for us so we would not have to stress. Thank you making our wedding not only memorable for us but for our guest as well!

Keisha W.

Married on 01/11/2020

Tori is Awesome!

My wedding experience was greatly appreciated! If it wasn't for Tori my wedding venue would've not been what I dreamed of. Thanks to her it was everything I've dreamed of. Through wedding rehearsal she was great and to the end she was the best!

Kelly

Married on 12/31/2019

Romantic, Unique, and No Stress!!!

When we were planning our wedding, we had a few tough factors to deal with: wedding in another state from where we live, 5 months to plan it, non-religious setting, only 23 guests. The Museum of Arts and Sciences in Daytona Beach, FL ended up being more perfect than we could have ever imagined. Yes, "more perfect" is a thing, especially at MOAS.

Tori Carta with the museum was beyond helpful. She understood that we could only make a couple in-person visits before the wedding so she came to every meeting extremely prepared and was available via email or phone the entire time. She arranged to have reception wine tastings, planetarium show/ceremony options, and reception floorplans meetings on the same day for us. Her communication was impeccable, which meant no day-of or post wedding "surprises" like additional billing. She was there for my entire wedding, from dressing room prep to photos to ceremony to reception to clean up. If you have a wedding planner, great! But if you don't, do not fret if Tori is on your team. She thinks of everything!

MOAS has tons of gorgeous options throughout the museum for your ceremony and reception that can hold as little as 20 guests and up to 250. We decided to have our ceremony in the planetarium and reception in the train station of the Root Family wing of the museum. Seth Mayo works with in the planetarium and designed the most romantic, stunning, and sentimental ceremony show for us! Our wedding started with a show of the night sky on important dates like the days we were born, the day we met, our first date, and when we got engaged. As I walked down the aisle the room was illuminated by falling stars, during our ceremony there was a huge full moon behind us, and at the end there was an animation of 2 galaxies combining to represent our families coming together. All we had to do was send Seth our dates and music, and he made it the magic happen. We only had one meeting with him before the wedding (which was not what they would normally prefer) but he showed us tons of options and by the time we left we knew exactly what it was going to be. When we came for our rehearsal we just got to sit back and watch in awe basically!

The reception was in the Root Family wing of the museum so our guests got to leave the ceremony and wander through the museum while my husband and I had a moment alone to dry our tears and then take photos. The reception area was in the train station, which is a great backdrop for pictures so you really don't need any decorations (which saves you SO MUCH money and stress!). All I had to do was bring in the centerpieces and cake earlier in the day. The reception set up by the museum staff was so beautifully professional. The museum provided a projector and screen so we could do a slideshow of our family wedding photos, and as far as music goes they had all the PA stuff needed- I just plugged in my phone and done! The museum provided tables, chairs, linens, bar, bartender, cake cutting station, trash cans - everything you don't even think of they have!

We didn't know any local food or photography vendors but that was no problem. Tori gave us a full list of pre approved vendors and then her personal recommendations. The Museum also provides alcohol for you from some GREAT distributors! Not your typical Bud Lite/Miller Lite/Yuenling choices (although those are available too!) but local craft IPAs and imported stouts and tripels. Tori arranged for a wine tasting for us to pick out the wines to serve at our wedding, and we were shown over a dozen different wines that I've never seen in stores. It was so hard to pick because they were ALL INCREDIBLE!! And the pricing on their bar packages can't be beat.

I can't recommend this venue enough. Tori and Seth were not only helpful but so kind and enthusiastic that it felt like they were our friends throwing this wedding for us. Whenever I looked to them at any point during the wedding, they were smiling huge too just like our families and friends. The guests that came and the people that have seen the photos all say "this was the most memorable wedding I've ever seen" or "I didn't know you could get married in a planetarium!!" or simply "too cool!!". And from the outside it looked like a million bucks and a million hours of planning/stress. But trust me when I say this wedding was so easy, so affordable, and more perfect than we imagined.

+ 6

photos

Victor D.

Married on 11/02/2019

Greatest venue, Rental manager and Price!

My wife and I had a great experience Cici and Hyatt Brown Museum of Arts venue. Tori the rental manager/coordinator did an amazing job making our experience stress free. She was very responsive, informative, professional and involved pre and during wedding. I would highly recommend this venue to any couple getting married. The place is gorgeous and so affordable! Thanks again Tori for all your help!!

Ashley

Married on 10/12/2019

Amazing Venue!

Tori at the CiCi and Hyatt Museum was great to work with and the museum was the perfect venue for our wedding! All of our guests were wowed by the venue and all of the art! I would HIGHLY recommend the museum for your wedding or party! You won't be disappointed!

+ 2

photos

Elizabeth S.

Married on 10/12/2019

Beautiful and unique venue

The Cici & Hyatt Brown Museum was the perfect venue choice for our wedding! The indoor and outdoor space were the perfect size and provided a beautiful reception setting for both our outdoor cocktail hour and our formal reception inside. The rental manager Tori was incredible! She was so responsive, organized, and attentive to every detail throughout the planning process, especially considering we were planning our wedding from out of state. She was also so receptive and flexible for our last-minute changes. So many of our guests commented on how beautiful the venue was and really enjoyed getting the chance to view the art during the cocktail hour. I would definitely recommend the Museum to anyone looking for a wedding venue!
Are you interested?
Send a message