87 Reviews
Recommended by 97% of couples
Quality of service

4.8 out of 5 rating

Average response time

4.9 out of 5 rating

Professionalism

4.9 out of 5 rating

Value

4.8 out of 5 rating

Flexibility

4.8 out of 5 rating
10 User photos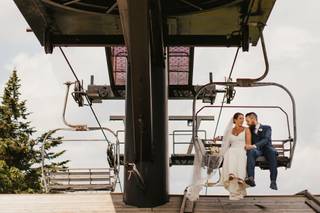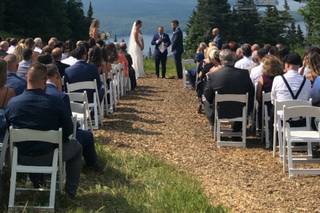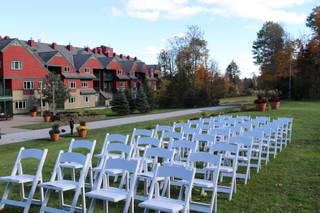 + 6

photos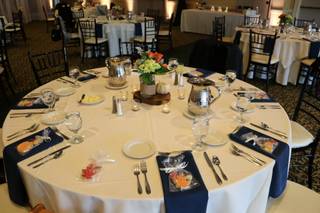 Allison

Married on 06/28/2019

Picture Perfect Wedding Weekend!

We chose to get married at Mount Snow because that is where my husband and I met. We were so pleased with the team of staff that helped us with our wedding. The social sales manager Anna was extremely helpful with managing our room block as well as helping us understand the overall cost of everything. We cannot say enough wonderful things about our wedding coordinator JoAnn! In addition to being kind and caring, she is extremely knowledgeable in how to run a wedding and her experience made the whole planning process simple. From the second we arrived on our wedding weekend, JoAnn made us both feel 100% at ease. JoAnn and her colleague Crystal, keep our wedding timeline on track and were there to answer any of our questions and even periodically checked in on both of us to see if we needed anything. Last, but not least our banquet manager Jason executed an amazing cocktail hour and reception for us. Everyone raved about how delicious the food was and how attentive the waitstaff was. We especially loved how JoAnn and Jason made sure we both had food and drink during our post ceremony photos and throughout the reception. If you are looking for a true "all inclusive" wedding weekend experience, then Mount Snow is the venue for you! Our guests loved being able to spend the weekend at the pool, golfing, riding the lift to the summit, and hiking.

Rachelle S.

Married on 12/08/2018

First real wedding at the new Carinthia

Absolutely amazing. The new Lodge is epic, the Mountain views are as well. Guests raved about the food, the service, the venue, the mountaintop, and the chair lift. Very accommodating for all family even those who are wheelchair bound. The wedding team was so accommodating and worked to make everything perfect for us.

Ashley

Married on 09/15/2018

Perfect Day that was Issue Free!

We worked with mainly Crystal planing our wedding from 12 hours away, and she made the process so easy! The venue was perfect, and the staff captured our vision perfectly. The day of the wedding was stress free, I don't even know if there was any issues because Crystal handled everything. Jason was our maitre d' and he was also amazing, even tying my shoe for me when I couldn't bend down in my wedding dress. The food was also perfect. Our guests raved about the wedding, I highly highly recommend Mount Snow!!

Are you interested?

Send a message

Trey

Married on 08/11/2018

Where to begin..... Our special day was thrown a sever curve ball 4 months before the date, and we needed to quickly secure a new venue. Mount Snow stepped up and completely floored us with their level of support and service. JoAnn, Shannon, & Jason treated us with white glove care from start to finish. It rained on our day, and the team had a Plan B (& C) lined up. Without missing a beat, they were able to give us an incredible event. I could write a novel about all the concerns, questions, requests that I threw at them, and every last one was addressed. Seriously, the event team at Mt Snow is incredible. End your search here and lock the your date in. You will not regret it.

Cassie

Married on 08/04/2018

Beautiful venue and amazing staff

I have nothing but amazing things to say about our wedding at Mount Snow! Shannon, Crystal, Jason and the rest of the staff were great to work with. They responded promptly to all questions and concerns throughout the planning process, and were even more supportive during our wedding weekend! In a weekend full of downpours, we were able to have our first look pictures on the summit and our ceremony outside during the 2 hours of sun, and I couldn't have been happier! Crystal and staff did everything possible to make it work, knowing that my summit pictures were so important to me! Our guests are still talking about how much fun our wedding weekend was and how they can't wait to return to Mount Snow for a getaway! I would recommend Mount Snow to anyone looking for a stress-free experience and BEAUTIFUL venue for their wedding!

Marrissa

Married on 10/14/2017

My husband and I were married at Mount Snow on 10/14/17. Everything, from our initial conversation with Shannon Wheeler a year and a half ago until the moment the last guest checked out the following morning, exceeded our expectations. From the beginning, Shannon, the banquet coordinator Jason, and each and every person we had contact with were outstanding to work with. Despite having some unexpected changes in the couple months leading up to the wedding, Shannon and the staff always offered the comforting reassurance that everything would go according to plan, and every minor detail would be taken care of. And it was. The lawn where the ceremony was held was in perfect condition (and the foliage on the Mountain was spectacular), the reception room was decorated just as we envisioned (despite my hesitancy to leave that all up to someone else lol), and our guests raved about the food during the cocktail hour and the reception. Shannon was even able to bustle my dress before the ceremony without any practice or preparation beforehand. Shannon, Jason, and the entire staff were on top of everything from beginning to end, and really put us at ease. My husband and I wholeheartedly recommend Mt. Snow to any couples considering getting married in Vermont.

Katie

Married on 09/30/2017

My husband and I just recently hosted our wedding weekend at the Mount Snow Resort on 9/30/17 and the best way to describe our experience is WOW. From when we started planning last September until we said our goodbyes that Sunday as man and wife, was through and through an amazing experience! Shannon Wheeler was the first friendly face we met and she ultimately sold us on the venue. She was warm, down to earth, knowledgeable, and extremely accommodating. She was our point of contact for the rest of the year leading up to our wedding date and I have to give her so much credit for her speedy responses, patience with all of our silly questions, her organizational skills and even her decorating skills the day of the wedding! We did our dinner tasting in February with the banquet manager, Jason, and we have to commend him on his excellent customer service and professionalism while at the same time still keeping it real. Jason and Shannon were both present at our rehearsal dinner, which we hosted on site at the 1900 Burger. Together they became a power team, offering drinks, organizing and helping in anyway they could. Mount snow offered a wedding block rate for our overnight guests to receive a discount on room reservations. All of our guests were very pleased with their accommodations and couldn't stop raving about how incredibly nice every single staff member was. It was raining the morning of our wedding but showed signs of stopping and Shannon gave us the option (a few hours in advance) to brave the cold and have the ceremony outside like we had envisioned. The reception was held in the Somerset Ballroom in the resort and it was perfection! From the hors d'oeuvres, to the Caesar salad, prosciutto and spinach stuffed salmon and miso glazed salmon, it was the perfect foodie experience! We'd like to extend a very special thank you again to Shannon and Jason as well as the entire Mount Snow staff. Without you we couldn't have said "I do"!

Lindsey

Married on 09/29/2017

Our wedding on 9/29/2017 at Mount Snow was better than I ever could have imagined! The venue was absolutely perfect...we did a first look at the summit, our ceremony was in the garden, and our reception in the ballroom. The fall scenery and just the awesome backdrop of Mt Snow was just perfect...and I can't say enough good things about the Mt Snow staff who made our wedding exactly as we envisioned and made sure everything went without a hitch! Everything started with Shannon who was just amazing to work with when we started our planning. She made it so easy to plan the wedding and their cost estimate sheet she provided made it extremely simple to understand the total costs including the tips and taxes we needed to plan for. This was really useful when we were deciding on food and number of people to invite. She handled every one of my questions early in the process, and even handled some of my family requests for hotel rooms which I know was probably not easy!! Then came JoAnn, our actual wedding coordinator, and she was the best! She gave me a clear checklist to fill out and once we laid out the timeline, she made sure all day we stuck to it, I didn't have to worry about anything. She always made sure to ask me what I wanted, even when I had my mom and sisters trying to give her guidance, she had my back!! Crystal was also great, assisting JoAnn on our wedding day...I greatly appreciated her keeping tabs on the groomsmen when they decided to go up the lift and keeping everyone on-time!! I also have to rave about Jason, the facilities coordinator there, he was just fantastic!!! He was always near by, making sure food was great and the ballroom was set up exactly as we needed it...I even loved when he hopped into the photobooth with us at the end of the night! We just felt so welcome by the Mt Snow staff and that each of them personally cared about us and our special day! Thanks again Mount Snow!!!

Alissa

Married on 08/26/2017

What a great experience working with Mount Snow - we utilized the Grand Summit as our primary accommodation for our wedding guests (Aug 2017) and Shannon was so easy to work with, organized and responsive. She provided regular updates on our room block and our guests had a seamless experience. Thanks again!

Basia

Married on 08/19/2017

Our wedding was Perfect! We have a lot of Thanks to the team at Grand Summit Resort at Mount Snow, they are amazing!!!! JoAnn was our coordinator and was available to answer any questions, provided suggestions and was there the entire weddding weekend to assist us and our guests. Another great option that Mount Snow offers is a hotel for all the guests. We had a small wedding ( about 40 guests) and all of our guests stayed at the hotel making our wedding more special. Thank You Mount Snow Resort Team for taking care of us and making our Big Day so special!

Jim

Married on 08/05/2017

JoAnn Upper and her staff were truly amazing. JoAnn was extremely accommodating & organized. Our calls & emails were promptly returned, which was extremely important since this was a destination wedding where virtually all attendees traveled extreme distances to get there. Even though we had an offsite wedding venue, JoAnn set up an indoor venue as well, in case the weather did not cooperate. Although we were able to complete the outdoor service (barely) in spite of weather delays, we could not have done it without the cooperation of the entire staff. Jason went above & beyond the call by commandeering their shuttle van & driving over about a dozen guests that missed the bus due to our changing time schedule. The reception venue, food, & bar service were all terrific. This venue is aptly named "The Grand Summit". It's a terrific place for a wedding & reception.

Kristen

Married on 07/07/2017

To say Mount Snow and it's staff are amazing is an understatement. From the second I chose this venue everything worked as good as I could have expected. From the venues to the food and the staff, everything was amazing and perfect for our day. Shannon, Joann and Jason specifically were so wamr, inviting, helpful and understanding of all the things we wished to envision for our day and made them come true. I am utterly over joyed eith happiness with Mount Snow and I still have people raving about it 3 weeks post wedding!

Shannon

Married on 06/17/2017

There are no words adequate enough to describe how wonderful the staff at Mount Snow are at planning a wedding! My husband and I were married there in June 2017 and we truly had the weekend wedding celebration of our dreams! From the outset, Shannon was fantastic in her level of organization, responsiveness, and care. She presented us with a clear framework for planning the costs of our wedding weekend, which allowed us to escape any hidden costs that are often associated with weddings. Our wedding coordinator Janelle was absolutely wonderful! She helped us plan every detail of our Friday Welcome Party at the SnowBarn, the big day on Saturday, and brunch on Sunday. Her expertise in event planning is matched by the kindness and consideration that she showed us throughout the entire process; especially on our wedding weekend! Additionally, we are indebted to the amazing staff at Mount Snow (Jason, JoAnn, etc) who worked so hard to serve us up an incredible wedding weekend. We give Mount Snow our highest recommendation as a place to host your wedding, knowing that you'll be in great hands and your guests will enjoy fantastic accommodations and such a fun weekend in the mountains!

Kathleen

Married on 11/04/2016

Our ceremony was offsite so we used the ballroom reception venue only. Our coordinator, Shannon, set up a wonderful food tasting for us and made sure the ballroom layout was just the way we wanted it before the event. On the night of the reception the tables were set up beautifully, including the tables in the hallway which displayed our guestbook, menu, seating chart and a large photo of us (among other knickknacks). Our dinner was served first so we could actually eat, which was great! Drinks of our choice were brought to us, too. The clean up afterward was efficient with all gifts brought right up to our room that night. The rest of the decor we could pick up the next day.

My favorite reasons for having our reception at Mount Snow: the staff works well together to make your event run smoothly, the after party venue is mere steps away, and all of your guests can stay on site for the night.

Tiffany

Married on 10/15/2016

Even though the hotel had a wedding on site the same weekend as my wedding block, my guests were all very satisfied with the accommodations as well as the treatment of all the staff.

Katie

Married on 10/15/2016

It's my pleasure to give a glowing review to the Grand Summit Mt Snow Resort.

I'm originally from VT but my husband and I now live in Los Angeles. It was a challenge to find a venue from the other side of the country and literally took years, until a friend said I should go check out Mt Snow while I was home for Xmas in Dec 2015.

I was happily surprised by the prices at Mt Snow! This had been the most inexpensive venue we had seen so far and it had everything that we wanted.

Needless to say, we went forward with Mt Snow. Our day went smoothly and all planning was effortless and efficient, even from LA.

ONE complaint about the bridal suite was that there was no full length mirror. The front desk was unable to locate one and a friend of mine ended up going out and buying a mirror at Dollar Tree the day of for the bride and bridesmaids. I would add that if Mt Snow has a slightly more spacious, brighter suite for the women to use to get ready in, that would be better. We were in a lofted suite but it felt a little cramped, and I only had 4 bridesmaids and 2 stylists.

Our coordinator Janelle was a VIP. First of all, my sister made all the escort cards by hand and gave them back to me, and when I handed them to Janelle the day before the wedding, I realized that I hadn't put them in ANY sort of order. Janelle just said "I got it!" and fixed it for me.

There was also a miscommunication with our florist where she was supposed to bring the necessary materials to hang the fabric for the arbor, and she forgot it. Janelle scrounged up whatever tools she could find the day of the wedding to hang the fabric herself.

The convenience of Mt Snow is that everything can happen in the same place, making it safe and accommodating for everyone. There are nice options for rain too, which is important for weird VT weather.

The food was great! I heard 0 complaints and I had multiple guests that had specific dietary needs.


Richard

Married on 10/01/2016

We used Mount Snow for a wedding hotel room block. Shannon was always very responsive - all of our questions were answered by the next day, and she gave us advance warning if she would be out and unable to respond. We were so happy with the service that we increased the size of the block and advised guests to stay at the Grand Summit.

We used Grand Summit at Mount Snow as our hotel for guests who were not staying at our wedding venue. The planning process was smooth, Shannon was very helpful, constantly sent updates about guests and we had a shuttle bus hired off site who were allowed to pick up and drop off guests at The Grand Summit. We appreciate everything they did to make our guests comfortable and happy.


Jennifer

Married on 09/17/2016

This venue for our wedding was beyond what we had imagined! We couldn't have asked for a better, flexible and so kind staff to work with! I have been complimented with a lot of my ideas and just eagerness to have my wedding there. Also so pleased with how amazing my staff was. Shannon and JoAnn are both amazing! Jason did fantastic with our food! Thank you to all! We had a blast :)

Erin

Married on 09/17/2016

Mount Snow was the perfect site for our recent wedding and reception. The staff was responsive and easy to work with. We were able to relax and enjoy ourselves on the big day, knowing that everything behind the scenes was taken care of.

Masha

Married on 08/13/2016

When we first got engaged my husband and I knew we wanted to get married in the area and set up a few appointments with various venues. Given our love for skiing at Mount Snow it was our first stop, and after meeting with Shannon we immediately canceled all our other appointments. Not only are the grounds absolutely lovely from the wedding garden to the summit of the mountain itself where you can opt to do a first look, but everything about the planning process is well thought out to be as stress-free and transparent as possible for the couple. There are no surprise costs as Shannon immediately provides inquiring couples with a cost estimate spreadsheet including taxes and gratuity that can be adjusted by guest count so you always know your budget.

Moreover, the entire team at Mount Snow is phenomenal. Our coordinator Janelle was very helpful and responsive in all the planning stages leading up to our wedding day, but we were most impressed on the day of when we had crazy weather and Mount Snow still managed to pull off the day largely as we had planned. Janelle managed to get us to the top of the mountain right at the moment the weather cleared for a gorgeous first look, and even to pull off an outdoor ceremony timed so perfectly that the rain broke after everyone was already back inside for the reception. Maybe we got lucky, but the important thing was that Janelle as well as the intern Carrie and other members of the team did everything they could to take the stress out of the situation for the couple which is so important on the day. You can really tell the staff cares about delivering on the day, and are so good at what they do. If it's in any way possible to make something happen, they will make sure that it does.

From beginning to end everyone at Mount Snow is so professional and kind, and the beauty of the mountain can't be beat. If you're thinking of a wedding in southern Vermont do not hesitate to contact Mount Snow!

Jillian

Married on 07/16/2016

I would recommend Mount Snow to any couple who is getting married. Our wedding was in the middle of July and it was absolutely perfect. The outside garden was breathtaking and the guests raved about the cocktail hour. It was truly our dream wedding. The food was delicious and the staff was very accommodating.

Ronnica

Married on 07/08/2016

Anyone who is thinking about booking Mount Snow for their wedding should do it! It was the best experience that my new wife and I could have ever hoped for. It is worth every penny!

Courtney

Married on 07/03/2016

Where do I even begin :) :) !?! Before my fiancé and I became engaged, we had taken many ski trips to Mount Snow. We absolutely love to ski at this mountain and everything about Mount Snow is simply amazing. When we got engaged, we had thought why not get married at Mount Snow!? It has so much symbolism for us and that's when I reached out to Shannon Wheeler. From the very start, Shannon has been nothing but AMAZING to us! She was very knowledgeable, fast to respond to emails/phone calls, and just a very down to earth and fun person. When we met Shannon, she showed us around the grounds and painted a vision for us as to where our ceremony, cocktail party, and reception would take place for our wedding (mind you, we met Shannon in January 2015 when it was snow covered and cold, and we got married in July 2016 and had no idea what the grounds would look like!). Shannon did such a great job at painting a picture for us. We trusted her fully! During the planning process, Shannon and JoAnn (our wedding coordinator) helped us with EVERYTHING! They provided us with so many wonderful recommendations for vendors (DJ, officiant, bakery, restaurant for our "Welcome Party", florist, salon for hair, makeup artists, etc.). We had no complaints with any of the recommendations Shannon and JoAnn provided us. They both made us feel stress free on our wedding day because they took care of everything for us. Everything went so perfectly for our wedding day.. we absolutely loved every minute of it! All of our vendors came through for us and made our wedding day so special! The staff at Mount Snow also made sure our wedding day was top notch. Jason and Jesse at Mount Snow were amazing to work with regarding food and beverages for our wedding. I can't express enough how pleased and ecstatic my husband and I are to have had our wedding at Mount Snow!! We couldn't have asked for a better venue or better people to work with! Thank you so much for making our dreams come true!!!

Rachel

Married on 07/03/2016

We had our room block at Mount Snow and also held our next-day brunch in the Somerset ballroom. The staff was so helpful and it was a complete pleasure working with Shannon. She's professional, responsive, patient, and eager to help. They made everything so easy! I would definitely recommend working with them.
Are you interested?
Send a message