87 Reviews
Recommended by 93% of couples
Quality of service

4.7 out of 5 rating

Average response time

4.7 out of 5 rating

Professionalism

4.7 out of 5 rating

Value

4.7 out of 5 rating

Flexibility

4.4 out of 5 rating
67 User photos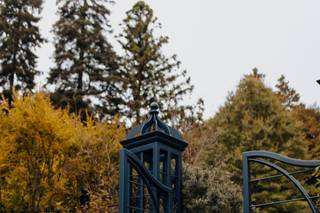 + 63

photos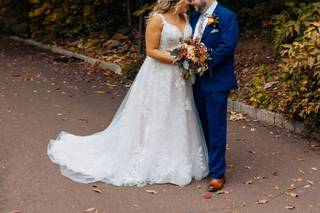 Featured

Julia T.

Married on 09/24/2022

Incredible Venue

We are so thankful for the Morris Arboretum and all their wonderful staff. We had the pleasure of working closely with both Toy and Sarah Ruth for our Fall wedding and they worked so hard to make sure that our big day was absolutely perfect. We originally planned to get married at a different venu but had to change venues about 4 months out and Morris went above and beyond to welcome us into their family and ensure that our wedding day was everything we wanted. Their incredible land is unmatched in Philadelphia. There are so many incredible spaces for photos, ceremony, and cocktail hour. It's an absolutely stunning space and we feel so fortunate that we got to get married in such a beautiful place.

+ 2

photos

Morris Arboretum's reply:

Julia! We are so thankful for you and Dave bringing your celebration and love to our gardens. Look at those photos, wow!

Thank you so much for taking some time to share your experience with us and our future couples. We all wish you so much joy and happiness together!

Sincerely,
Sarah Ruth, Toy and the Rentals Team
XOXOX

Jessica S.

Married on 04/01/2023

Amazing Day

I wouldn't change anything! The Morris Arboretum was our first choice for a few reasons, one of which being sentimental, so we didn't really consider any other venues. Everything was lovely! The provided coordinator, Brit, was amazing! She made everything flow so smoothly and she was so nice. The grounds were awesome, so many places to take pictures.
There was a massive storm for about the first half hour of cocktail hour, so we weren't able to use Out on a Limb, but everyone was moved into the reception early and it wasn't a problem.
All of the teams worked really well together and if there were any issues, I was not aware of any. Everything was truly amazing!

Morris Arboretum's reply:

Dear Jessica,

Thank you so much for your kind words! I'm so glad you and Tom had such a memorable time. I know we won't forget this one! I'm so glad you were able to capture so many great photos outside and that the ceremony was perfect before the storm. What a night! Thank you so much for sharing your love and your family and friends with us. We wish you the most happiness in your lives together!

Sincerely,
Sarah Ruth & The Rentals Team

Cristina A.

Married on 11/05/2022

Our Perfect Autumn Wedding

Sarah Ruth, the rentals manager at Morris Arboretum, guided us from day one of our wedding planning. She was professional, well organized, and her communication was excellent. Expectations were set from the beginning; Should you book here, remember that this is first an arboretum and protecting the grounds is top priority (tell your memaw to leave the confetti at home.) Nature gifted us an INCREDIBLE display of fall color. The event was seamless, our guests raved about both the foliage and the way the caterer used the spaces (be sure to go with Out on a Limb for your cocktail hour!) and our photographer marveled at the beautiful grounds. We felt supported in our decision to work with Morris Arboretum every step of the way. What a wonderful way to start our marriage! We are still glowing from the weekend. We absolutely recommend holding your wedding at Morris Arboretum

Morris Arboretum's reply:

Hi Cristina,

Thank you so much for your kind words! We were so happy to have you and Joe with us for such an important (and lovely!) day. I appreciate you taking some time to share your experience with us and future couples. We hope that every wedding here is as beautiful and magical as yours!

Have a great holiday season and enjoy each other so much!

Sincerely,
Sarah Ruth & the Rentals Team

Are you interested?

Send a message

Leah H.

Married on 09/15/2022

Gorgeous and friendly!

I am so happy we chose Morris Arboretum! The scenery was breathtaking, and we were able to have the ceremony/photos at golden hour and sunset! Sarah Ruth and staff were friendly and helpful through the whole journey! Will definitely recommend as I cherish the memories of our special day!

Morris Arboretum's reply:

Dear Leah,

Thank you so much for the kind words! You and Aaron were a pleasure to work with. We are so happy that you had a wonderful time. Thank you for choosing the Morris Arboretum and for taking the time to give us a review. It means the world to us!

We wish you the best success and happiness together!!

Sincerely,
Sarah Ruth and the Rentals Team

Lynna S.

Married on 08/12/2022

Dream wedding venue!

Morris Aboretum was an INCREDIBLE setting for our dream intimate garden wedding! It felt like a true fairy tale and our guests could not stop talking about what a beautiful setting and wonderful experience they had. It was a dream come true for us! Highly recommend!

Morris Arboretum's reply:

Hi Lynna! Thank you so much for your review. We were so happy to have you and Nick with us for your wedding. I'm glad to hear everything was lovely for you and your guests. We wish you all the best success and happiness together!

Sincerely,
Sarah Ruth & The Rentals Team

Jeanette K.

Married on 07/24/2022

What a beautiful day 🥰

I want to thank the Morris Arboretum for being the most beautiful venue for my husband and I's special day. I visited twice before our big day, but the gardens were even MORE MAGICAL in the evening as the sun began to set on our late July summer wedding.
There are of course endless places to discover and it's truly such a unique setting for the start of your new chapter as husband and wife! It's the perfect setting to have the outdoors, but also the convenience of an air conditioned building someone could pop into, as well as comfortable restrooms.
I don't know if it was the venue or our caterer (Company's Coming 😍) but someone pre-popped one of our white wines and left a huge jug of iced water for the bridal getting-ready-room, which was so nice!!!
My only qualm would be that on the day I did notice a couple sour young kids who did not seem thrilled to be working, including brushing by annoyingly at me, the smiley happy bride...? For context, it was recording-breaking hot out that day!! Which is why we kept water out on ceremony site for everyone, including our vendors! It makes me wonder if it was the individual's problem, or if the Arboretum should take better care of their staff.
But anyway...
We absolutely cannot wait to travel back to my home state to again visit Chestnut Hill and the Arboretum in celebration of some anniversary in the future. THANK YOU, EVERYONE!

+ 4

photos

Morris Arboretum's reply:

Hi Jeanette!

We are so glad you and Jinhao had a lovely time. Thank you so much for sticking with us through the pandemic and making the journey all the way to our gardens for such a special occasion! We wish you all the best success together. Travel safely!!

Sincerely,
Sarah Ruth & the Rentals Team

Ben

Married on 07/09/2022

Wow! Morris Arboretum!

We were grateful to host of wedding at the stunning Morris Arboretum! Our family and friends raved about the breathtaking gardens and loved strolling the grounds before/after the ceremony and cocktail hour. The Morris Arboretum team was a tremendous help from our first tour to when we left the venue on our wedding night.

Morris Arboretum's reply:

Thanks so much, Ben! We loved having you and Kellsey, and all of your lovely family and friends with us here at the Morris Arboretum this summer. We are all so glad to hear you had a good time. Best success in your next adventures together!

- Sarah Ruth & The Rentals Team

Casey H.

Married on 06/19/2022

Amazing wedding venue!!

We had a beautiful wedding at the Morris in June 2022. It was everything we had hoped it would be. The site was gorgeous, out on a limb was an amazing spot for cocktail hour, and the tent was beautiful. The staff was responsive and flexible, which we appreciated as we planned our wedding during the pandemic and had to reschedule. We can't recommend the Morris highly enough if you want an outdoor wedding!

Morris Arboretum's reply:

Hi Casey,

Thank you so much for hosting your wedding here with us! We are all so happy that we could work with you through the pandemic and have a successful day this past weekend. Thanks again for sticking with us! We wish you and Matt all the happiness and success together! Enjoy your summer!!

Sincerely,
Sarah Ruth & The Rentals Team

Kellie

Married on 05/14/2022

The perfect garden venue

We went to see the Morris Arboretum as a possible wedding venue and then decided that we didn't need to see anywhere else. We loved how beautiful the grounds looked. The "Out on the Limb" treehouse was a big draw for us to have cocktail hour. Unfortunately, it did rain on our wedding day so were unable to use it. As a result, we had cocktail hour inside the visitor center, which was a fine alternative. The staff was very friendly and we were still able to take some pictures outside using the clear umbrellas that the venue has available for use. The venue has a list of approved caterers (we chose Company's Coming). There's also only one approved vendor available if you want to hang flowers from the ceiling of the reception tent, which we chose not to do. Otherwise, everything else was pretty flexible. I'm glad that we had our wedding here and look forward to coming back to visit the Morris Arboretum in the future.

Morris Arboretum's reply:

Hi Kellie,

Thank you so much for choosing us! We are so happy that things went well despite the rain. Thanks for taking the time to share your experience here. We wish you and Mike the most happiness together and hope to see you in the gardens again soon!

Sincerely,
Sarah Ruth & The Rentals Team

Kelly

Married on 04/02/2022

Gorgeous Venue - Trees Are Worth It

My partner and I had our wedding ceremony and party at Morris and the ceremony was perfect. The trees, the cherry blossoms, the wild flowers and the sunset was all just breathtaking. My photographer had shot at the arboretum previously and her expertise was lovely day-of. Planning the wedding layout and keeping me organized with the payments - Morris was there for me. I can't recommend this venue enough.

The only note I have is we had a small wedding (

Morris Arboretum's reply:

Dear Kelly,

Thank you so much for sharing your experience here! We are so happy you chose the Morris Arboretum for your celebration. How about those amazing photos!! We love to see them every time. We wish you and Joe the best success and happiness together!! We hope to see you in the gardens again soon...

Sincerely,
Sarah Ruth & The Rentals Team

Tara E.

Married on 10/09/2021

My Dream Wedding

I knew I wanted to have my wedding reception at the Morris Arboretum before I was even engaged! The grounds and gardens are gorgeous. The venue was perfect for my vintage, Bridgerton garden theme. This venue offers such a unique experience, especially with the option to have your cocktail hour in the "Out on a Limb" treehouse, which we did. Our guests are still raving about how unique it was. The sunset during cocktail hour in early October along w/ our harpist we had playing created a whimsical experience in the trees. The reception tent fits about 175, but we had 115 and it was perfect. Just enough room for the dance floor, bar area, and tables without it being too crowded. The staff at the MA are super kind, helpful and responsive. They offer a golf cart for the day of to transport for photos, to explore the grounds and help elderly/handicapped folks around. There are a lot of rules since this is an arboretum and they have to protect it, but you honestly don't need much given the natural beauty. We used Wild Stems to install the dance floor and ceiling decor for the tent and Company's Coming as our caterer. The whole experience was perfect. Our guests, family, friends and most importantly ourselves all had a lovely, fun, memorable time. Everyone is still talking about it! The MA and their staff were a huge part of our wedding success!

+ 3

photos

Kristin B.

Married on 09/12/2021

Unique & Beautiful Location

Morris Arboretum was an absolutely perfect venue for our wedding. We really wanted an outdoor wedding and with COVID, we were especially glad that the entire evening (ceremony & reception) could be hosted outside. The grounds are absolutely beautiful and extremely well maintained. We opted to have the ceremony at Pennock Walk in front of the small garden and fountain. Our cocktail hour was hosted in Out On a Limb (at sunset) which is basically a huge tree house- not many people get that opportunity!! Our reception was held under a large canopy tent behind the visitor center. Sarah Ruth and Shawn were so nice to work with and their details sheet was instrumental in helping to figure out all of the small details and planning. Becky was our day of supervisor and she helped the evening to flow seamlessly. We arrived to the venue early to take pictures and she helped to coordinate our location with our golf cart driver so guests wouldn't see us before the ceremony. Becky is also a life-saving seamstress!! I would highly recommend this venue - it was just perfect and the staff was phenomenal.

Jennifer H.

Married on 09/10/2021

Beautiful and unique

We highly recommend Morris Arboretum if you're looking for a natural and unconventional wedding venue. The Arboretum is unlike any other venue - the endless gardens are stunningly beautiful and add a fun component for your guests to enjoy. All of the staff we worked with were so wonderful and helpful: Sarah helped us through all of the difficulties of postponing, Shaun helped us with all our last minute questions and planning, and Kelsey was with us on-site the day of our wedding and was the biggest help! Something to be aware of is The Arboretum is a historic site so there are some reasonable restrictions such as hanging items or flames restrictions in the garden.

+ 2

photos

Morris Arboretum's reply:

Hi Jen,

Thank you so much for choosing the Morris Arboretum for your celebration! We are so happy you stuck with us through pandemic times and had a beautiful event with us this past Fall. Thank you for sharing your lovely photos, look at the two of you!! We wish you and Isaac the most happiness together and hope to see you in the gardens again soon. Have a great summer!

Sincerely,
Sarah Ruth & The Rentals Team

Jade D.

Married on 08/26/2021

Seamless experience and beautiful venue!

We had a great experience planning our wedding at Morris Arboretum. They were friendly, responsive, and flexible answering our many questions and allowing us to visit on multiple occasions to plan. They made the process easy, clear and efficient. There are so many gorgeous spots for ceremonies and photos and the tent was a great location for our reception. Our wedding planning process with them was seamless and covid-safe. We would do it all over again!

Jamie W.

Married on 08/13/2021

Dream wedding!

We cannot say enough about Morris Arboretum. We had to postpone our wedding due to COVID, and the entire team was so helpful with the change of our contract, and ensuring our needs were well met regardless of the date. On the week of our wedding, due to weather we decided to have a ceremony location change, and Shawn (the rentals coordinator) was quick to help us decide on the best option, and ensure that all went to plan.

We ended up having our ceremony on the Widener lawn, and it was absolutely stunning. Our guests could not stop gushing at the lovely green backdrop. Our cocktail hour was on the Out on a Limb elevated boardwalk, and this was easily the most unique cocktail hour I have ever seen. All of our guests were in awe at how cool & beautiful this space was. Some of our guests even took the time to explore a bit of the arboretum, and many have asked about visiting as a guest to get the full experience.

Our reception off the stone building was everything we could have ever dreamed of. The tent looked absolutely gorgeous, and the building was a lovely backdrop to our party all night long.

We were able to get so many incredible pictures all around the arboretum- they let you use a golf cart with a driver and this made transporting us, the 2 photographers & 2 videographers a breeze! We were able to get so many unique and gorgeous photos.

The entire wedding planning process was so simple. They allowed us to visit as many times as we wanted (for free!) so we could continue to get an idea of what we wanted for our big day and show our close relatives. Shawn deserves all the praise; she was always a quick phone call or email away, and no one made us feel like they were on our side more than Shawn.

Overall, Morris was an absolute dream. There is truly no where else that would have given us the wedding we always wanted, and we could not be more grateful to the arboretum & staff for being so incredible.

Jennie C.

Married on 10/03/2020

Picturesque Wedding Backdrop with Extremely Friendly Staff

We had an amazing time having our wedding at Morris Arboretum. After having our first one canceled in the pandemic, the venue was more than accommodating during our rescheduling process. They have several beautiful ceremony sites to choose from and ensured that our entire experience there went smoothly. Could not have asked for a better day.

Nicole G.

Married on 09/26/2020

Stunning venue

The venue was stunning in the fall. It happened to rain and there was a perfect "plan B" in place. We took amazing photos in the surrounding gardens and got an AMAZING sunset. The process was smooth working with the staff planning and day of, even with COVID. Absolutely recommend this location as a venue!!

Morris Arboretum's reply:

Dear Nicole and Matt,

It was a pleasure having you with us for your wedding day! We are so happy everything went well and you had a good time. Thanks for taking the time to share your recommendation here. We look forward to seeing you around the gardens again soon!

Sincerely,
The Rentals Team

Jessica E.

Married on 05/29/2020

Beautiful venue with great communication

Our review is based on customer service and communication with the team at Morris Arboretum. We had planned our wedding for Spring 2020; due to the COVID-19 pandemic, this event was postponed and eventually cancelled. Although we unfortunately didn't get to experience the wedding we originally planned, the team at Morris Arboretum was incredibly understanding and great at communicating throughout this process. Based on our experience- we would definitely recommend Morris Arboretum as a wedding venue.

Ashley T.

Married on 07/27/2019

Beautiful venue

We could not have been happier with our decision to choose Morris Arboretum as our wedding venue. Many of our family members questioned why we were making them travel an hour away for our wedding, but they instantly understood after taking in the beauty of this venue. Everyone that we worked with was so helpful and friendly, and the coordination we received on the day of our wedding was immensely valuable. Our photographers could not get enough of the beautiful locations for photos. Everything ran so smoothly and was coordinated in such a way that we had no worries things would get done on the day of our wedding. I can not express how GORGEOUS this place is. Definitely recommend visiting, even if it is just to walk around for a few hours.

+ 2

photos

Morris Arboretum's reply:

Dear Ashley,

Thank you so much for your kind words about the Morris Arboretum! We were so happy to have you and Colin with us for such a special moment in your lives. We are happy we could help make it memorable for you. Thank for sharing your experience and helping spread the love.

We wish you the most happiness and success together always!

Sincerely,
The Rentals Team

Kristen F.

Married on 07/26/2019

Best wedding venue ever

Morris Arboretum was amazing! I had the best experience and my guests cannot stop talking about how amazing the venue was. Every photo we took was a show stopper, and I would recommend this venue to anyone and everyone!

Diana

Married on 06/01/2019

A fairy tale wedding location. Not your typical venue.

My husband and I were married at the Morris Arboretum in June 2019. Booking the Morris as our venue was one of the best wedding related decisions that we made. Looking at all the different venues in the area was an overwhelming experience, but when we arrived at the Morris Arboretum we knew we found the place we would get married. We had our first look in the rose garden at 4pm, this allowed us to get the majority of photos done prior to the ceremony and enjoy our cocktail hour. The atmosphere was romantic and private. After the first look, bridal party, and family photos we had our ceremony at Baxter's Memorial. This location on the grounds was perfect for us and provided a beautiful brick balcony type of fixture. After the ceremony, we arranged to have our cocktail hour on Out on a Limb. This was a unique experience and not the standard cocktail hour. Guests were able to enjoy their cocktails while overlooking the grounds of the arboretum. I especially liked getting married at the Morris Arboretum because it provided a special and different experience for our guests. While my husband and I got our pictures taken, our guests were able to walk around the grounds and see all the beauty that the gardens have to offer. After our wedding, we kept receiving texts from our guests stating how the wedding and venue was unlike any of the other places they have been. My husband and I plan to go back and visit the spot we were married frequently and remember our special day together. That is something that cannot be done at the other chain-like venues. Our wedding at the Morris Arboretum was truly a dream and exactly what we imagined.

Maura

Married on 04/13/2019

Perfect and Easy - Stunning Venue

Morris was very easy to deal with from day 1. They were clear about what they offered, and helped us to ensure it was the right fit. It is a beautiful, no-frills but perfectly natural and simple venue. We were looking for something that would help us to all be in the space together with a stunning landscape - it was great!

Tara

Married on 09/21/2018

Amazing. So beautiful and effortless

Cassandra

Married on 09/09/2018

We'd had our wedding at Morris Arboretum and was perfect (despite being rained out). Firstly, they are well organized and have a superb rentals team, John and Andrea were lovely and helpful. Secondly, it goes without saying that the venue is completely gorgeous. Thirdly, and what makes them stand out that much more; we had our original plan rained out, but Morris made it work and we hardly felt that we missed because of how prepared they were to deal with rainy days. For our first look, they had a golf cart ready for us to use, the driver was patient and prepared. The venue has multiple large rooms in the carriage house so that what was originally meant to be a treetop cocktail was moved to their gallery room with lovely artworks by living artists. And our ceremony we had in the middle of the dance floor under their tent, which was beautiful and intimate, due the lighting of the tent and somebody excellent work by our florist. Everything moved and flowed beautifully thanks to their preparedness and the attentions of John K. the venue coordinator. We loved our rainy day wedding at Morris!

Lien

Married on 07/19/2018

Our wedding was on Friday July 20th 2018. It was a great night for my family and all the guests. We can not say enough "thank you" to all the staff at Morris and Catering's Coming Company. Everyone was very very professional, helpful, and friendly. Everything was greater than I expected and nothing to complain about. I would highly highly recommend this venue for any couples.
It was the best day in my life.
Are you interested?
Send a message