Reviews
5.0 out of 5 rating
Quality of service

5 out of 5 rating

Average response time

5 out of 5 rating

Professionalism

5 out of 5 rating

Value

5 out of 5 rating

Flexibility

5 out of 5 rating
100%
Recommended by couples
Awards
2 User photos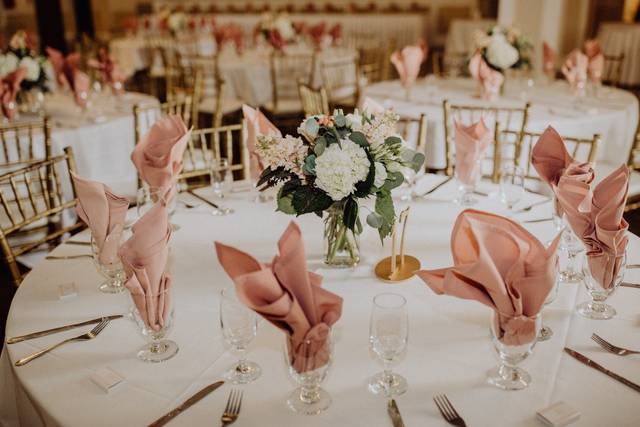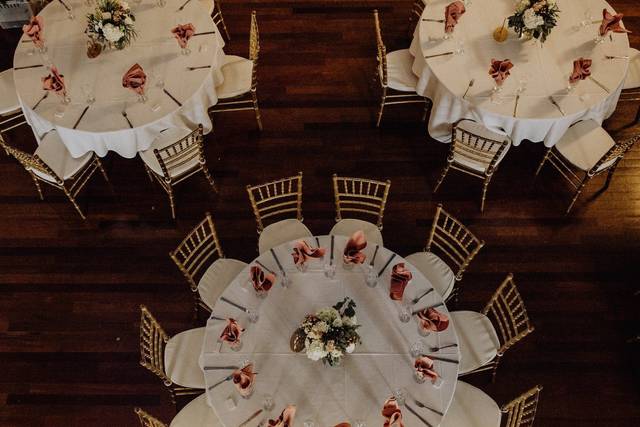 Emily S.

Married on 12/31/2019

Truly a godsend

My now husband originally questioned the need for a wedding planner/coordinator, but one of the very first things he said the morning after our wedding was how incredibly thankful he was that we had booked Meagan (no joke). And too, my dad (who probably didn't even know what a wedding planner was lol) mentioned on several occasions following the wedding how amazing Meagan was the whole night and how she truly helped keep things moving and on track. And finally, from my (the bride's) perspective, Meagan is such a godsend. She's not only organized, but because of her years of experience, she knows and thinks of things you'll never think about. Additionally, she's incredibly creative and has so many vendor relationships that she'll be able to create the wedding of your dreams within your budget. BOOK HER, YOU'LL BE SO THANKFUL YOU DID!

Erin

Married on 05/19/2018

My experience with Mitten Weddings was amazing, and it was totally worth it. We could not have pulled off our big day without Meagan and Dawn who helped us on our day. She took care of things in such a professional and seamless way. They are absolutely wonderful and you don't want to miss the chance to work with them!!

Susie

Married on 05/05/2018

Meagan and her team are fabulous! Total pros! Warm, funny, and no detail goes unnoticed! If you are in the market for a wedding planner, run do not walk to contact Mitten Weddings! You will not be disappointed!

Are you interested?

Send a message

Ashley

Married on 09/30/2017

Meagan was amazing to work with! I hired her for day of coordination and not only did she help me day of but the two weeks prioer to the wedding. She contacted all my vendors to make sure everyone was on the same page. She also helped me update and finalize my day of timeline and make some decisions that I was struggling with. Meagan also helped set up some of the decor at my venue so I didn't have to have a family member do it and it helped myself and my mom not have to worry about it the day of the wedding! She has a great relationship with a lot of local vendors and was there to help them as they came to the venue to set up floral, dessert, decor etc. She was always great at responding to my emails! I would recommend her to anyone and everyone! I'm so glad I hired her for the big day! My family really appreciated all she did too. She even made sure we had our wedding meal boxed up at the end of the night to take home and enjoy the next day! She really helped with the flow of the reception and made me feel at ease. You won't regret hiring her for your big day!!

Cathy

Married on 08/12/2017

Meagan McPhail is an excellent wedding planner. My daughter is stationed overseas with the military and she hired Meagan based on reviews and with speaking to Meagan over the phone. We were not disappointed! Not only did Meagan help to make virtually ALL the arrangements, (sometimes putting her clients before her own family, I'm sure) but she went above and beyond the day of the wedding, making sure everything was setting up, vendors arrived on time, people enjoyed themselves and were safe. Meagan stayed until the very end...until the last decoration was down and wedding guest was safely on their way home. Meagan's expertise on weddings was so appreciated, I can't even begin to describe it. It took much of the "burden" of wedding planning off the bride and her parents.

Megan

Married on 06/17/2017

My husband and I are so happy we decided to hire Mitten Weddings and Events. Meagan and her team went above and beyond to make sure our day was perfect. From contacting all of our vendors, to bringing my dream wedding to life, Mitten Weddings and Events is the best in the business. As being a former event planner, I knew I needed someone who could stay 10 steps ahead of me and someone who paid close attention to detail, that's exactly what Mitten Wedding and Events did. One of our favorite moments was when Meagan arranged for my husband and I to have a sneak peak of our reception area. I will never forget that moment walking in and seeing all the beautiful details pulled together on the best day of our lives. Thanks Meagan and team for all of your hard work.

Erin

Married on 03/18/2017

Mitten Weddings is very prompt, professional and passionate about catering to your needs for your special day!! I highly recommend Meagan and her high quality advice and guidance!

Fallon

Married on 10/15/2016

Meagan and Team are truly brilliant. It has been almost a year since our dream wedding, and we couldn't have done it without Meagan. From keeping us on track with our budget, to making the appointments at the vendors, to just being a person that will support you when you're on the verge of breaking - she is your girl. I will be forever grateful to Meagan at coordinating a seamless plan for our wedding and helping our vision come to fruition.

Andrea

Married on 10/15/2016

Best decision, ever! Well, maybe second to saying "yes" and marrying my husband. I like to think of myself as organized, efficient, and always having a plan; so originally I thought I could do everything myself. DON'T be that bride! Hand over the reins, and let the experts, like Meagan and her team at Mitten Wedding and Events, assist with your wedding. Meagan was 5 steps ahead of me throughout the entire process. Every aspect from planning, menu selection, corralling vendors, and especially the day of coordination was seamless and stress-free. Mitten Wedding and Events never left me waiting for a response, they were always accessible, and they were better than on-time, they were early to all meetings. The integrity and professionalism of Mitten Wedding and Events should set the standard for everyone in the industry. I highly recommend their services, you won't be disappointed!

Janelle

Married on 08/20/2016

Hiring Mitten Weddings and Events was the smartest decision we made for our wedding this past August. We were planning a semi-destination wedding about 3 hours away in West Michigan and I was so overwhelmed, our venue was just the location so we had to coordinate all of our venders ourselves. I am so happy we decided to hire Mitten Weddings and Events for month of/day of coordination. Meagan went above and beyond throughout the whole process, giving me advice and answering all of my questions along the way. I seriously can't even imagine how I could have pulled it all off without her! I am amazed by how smoothly our wedding day went, I was completely stress-free thanks to Meagan! She took care of every single detail and everything was set up exactly as I imagined, it was the best feeling ever walking into my dream wedding! It was so refreshing being able to enjoy the day we'd been planning for so long, and just know that everything was being taken care of. We are so incredibly thankful for everything Mitten Weddings and Events did to make it the best day of our lives!

Matthew

Married on 08/20/2016

My wife and I are very happy we hired Mitten Weddings and Events for month of/day of wedding planning. Meagan was an invaluable resource at our wedding. Without her things wouldn't have gone so smoothly. She went above and beyond the call of duty, driving groomsmen from place to place, getting everything organized, and so much more! I couldn't recommend her more for anyone getting married! Everything was done exactly like we had hoped. The day was perfect. 5 star!

Mariah

Married on 06/25/2016

Meagan and her team are fantastic. She helped with my daughters wedding in June. She is very organized and helpful with great suggestions. I would highly recommend Mitten Wedding and Events for planning your special day.

Angela

Married on 05/28/2016

My husband and I were married May 26th, 2016. We planned a "Michigan Destination" wedding, so the venue was about 1.5 hours from our house, and only the location came with the price, so we had to pick all our vendors, and I was trying to keep our costs down, so I did A LOT of DIY items.

I had heard that Day-of Coordinators are so worth the money... but of course after seeing how much money we were spending on everything else I kept asking myself if I really NEEDED one..... well I can tell you that you should DO IT DO IT DO IT DO IT!!!! 100 times over!

I chose Mitten Weddings and Events after being referred their from one of the Bride to Bride websites I was on.

I could not be happier with the choice! Meagan and her team were there for everything! They had every detail under control, and took the worry out of my day - I cannot tell you how amazing it was to just BE THE BRIDE on our wedding day and not the problem solver!

We ran into an issue with running out of white wine...DURING COCKTAIL HOUR....because it was so warm...no one was drinking the red and this was while we were taking photos.

The only reason I know this happened is because Meagan just confirmed with us that we wanted her to buy more before her team ran to get some.... and all we had to do was say yes, and then it was handled.

I could go on and on about how worth it booking with Meagan was, she was professional, detail oriented, lovely to plan with, and really affordable after looking at a lot of other prices!

I cannot thank Meagan and her team enough, they really made our day PERFECT!

Nicole

Married on 01/16/2016

The most important decision my husband and I made for our wedding was hiring Meagan from Mitten Weddings and Events to be our wedding planner and day of coordinator! Meagan handled EVERYTHING for me to truly ensure myself and my family was 100% stress free on my big day! When the planning began I was worried about only having 8 weeks to plan but Meagan stepped right in and took care of everything I needed. She was very easy to get a hold of for questions or concerns and was so helpful along the way. Meagan is very knowledgeable in the wedding industry and has a very impressive background working for luxury hotels. I was extremely impressed with our very detailed timeline for our wedding day. Everyone knew where to be, what time and the entire day couldn't have gone more smoothly, between the photographer, cake, vendors for ceremony/reception etc everything was perfectly timed out and I had not one single worry all day. The venue was set up EXACTLY as I had imagined if not better. I could never have planned this wedding so perfectly without Meagan's assistance and I'm so glad I chose Mitten Weddings and Events!!!!

If you are till looking for a wedding planner, save yourself some time and hire Mitten Weddings and Events. Meagan's dedication and professionalism in making everything perfect (both leading up to and during the big day), is a service that you can count on, trust, and be grateful for even after the wedding. Meagan's service went even further above-and-beyond that, exceeding our expectations and consistently delivering our dream wedding. She is very connected to some of the best vendors. We are so thankful we hired Mitten Weddings and Events. Our day was truly stress free.

Nicole and I were amazed with Mitten weddings and events. Everything went so smoothly on the wedding day because of them. We decided to book a planner last minute when we were getting over whelmed with details. Meagan has so much knowledge of the wedding world and is very professional and responsive.

I would not hesitate to recommend her to anyone needing an event planning.


Mitten Weddings and Events has helped with numerous weddings and events. There is no better money spent than with Meagan to make you feel at ease through the entire planning process. Meagan will help you find the perfect vendors and will execute all details with ease and grace. All you will need to do is show up and Enjoy your Day!

Justin

Married on 03/07/2015

Meagan assisted us with wedding planning and day of coordination. My wife and I wanted to enjoy the planning process without feeling stressed about what may or may not be running smoothly. Meagan made sure everything was prepped and ready on time. We couldn't have done this without her. Also the money savings was great since we were able to utilize some of her vendor discounts.

Sarah

Married on 10/04/2014

Hiring Meagan for my wedding was one of the best decisions I made. She kept up with all the details and changes and was very re-assuring along the way. There were some vendor changes that popped up the week of the wedding that I was very worried about and having her really helped me and I was able to relax as she was able to take care of them. Meagan was someone I knew I could count on to get things done and all the small details that I wanted to make the day special, she executed precisely how I wanted. Meagan was great at answering any questions I had, and was very knowledgable regarding vendor contracts and the wedding world in general. She kept in constant contact with me which made me feel valued and that she really understood what I wanted.

Andrea

Married on 03/08/2014

I hired Meagan as my wedding planner for the rehearsal and day of planning. I also had her help me plan up to the day of the wedding.
I was not a bride who loved the planning experience so I was so thankful to have Meagan to help me along the way. She provided advice on vendors so I was able to make educated decisions upon hire based on experience, pricing and professionalism.
I had a lot of ideas on Pinterest, and she was able to bring those ideas to life within my budget by using vendors or DIY ideas I wouldn't have thought of before.
I was very nervous the day of my wedding with the usual jitters and hoping everything went perfect for me and my husband as well as our guests. Meagan not only assured me everything would, but she proved it did. The day of our wedding went without a glitch and our guests still talk about their experience. She was always available when I needed her and worked with a smile on her face, which makes the world of a difference to a bride :)
I'm so thankful I had her with me for planning, the rehearsal and the day of the wedding. I highly recommend hiring Meagan for whatever your planning needs are!

Kelly

Married on 12/14/2013

From start to finish Meagan helped me plan every detail and bring my visions (and too many pinterest pictures) to life. She not only directed me to vendors that would be a match for my vision and my budget but helped bring it all together as well. The day of our wedding i thought i would be stressed out, but thanks to the preparing and detailed day of events everything went off smoothly. I could not put into words the blessing it was to have Meagan by my side taking the stress off of my shoulders along the way. She truly went above and beyond to make my dream wedding go from a fairy tale to reality.

Tiffanie

Married on 06/09/2012

Meagan is absolutely amazing! She was really able to help me with all the overwhelming details when it comes to wedding planning. When it finally came to my wedding day, I didn't have a worry in the world because I knew she had taken care of everything. My wedding day was perfect and I owe so much of that to her and all her hard work. HIre Meagan and you will not be disappointed, she doesn't miss a beat:)

Clare

Married on 08/21/2010

Megan and Rachael did an incredible job for our wedding at the Ford Piquette Plant in Detroit! Originally we weren't going to hire a planner because we thought we could do it all. We are so thankful that we did. They managed all the moving parts, big and small so that we had no worries on the big day. Everything was seamless and we were able to enjoy ourselves. Thank you so much ladies!

We hired Meagan as our day of wedding coordinator and she was wonderful. Extremely organized, extremely communicative. There were a couple minor issues (the rehearsal was a bit disorganized, though we did have a non-traditional ceremony) and we felt she left the wedding too early (there was an issue with the venue that arose after she left and people were coming up to me to deal with it). However, hiring her was one of our best decisions! Meagan provided a much-needed sense of calm the entire month before the wedding!
Are you interested?
Send a message