59 Reviews
Recommended by 100% of couples
Quality of service

5 out of 5 rating

Average response time

5 out of 5 rating

Professionalism

5 out of 5 rating

Value

5 out of 5 rating

Flexibility

5 out of 5 rating
3 User photos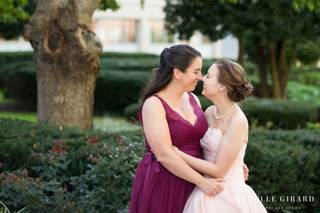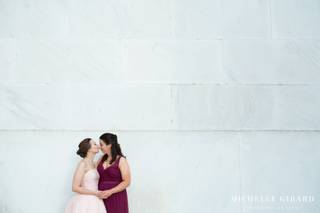 Christina

Married on 06/30/2018

Michelle is an amazing photographer. My husband and I are so happy we hired her to capture all of the special moments during our wedding. Michelle was so easy to work with. She is very warm and inviting, but also very professional and responsive. She made us feel very comfortable both during our engagement shoot and on our wedding day (despite the fact that we got married on one of the hottest days of the year!). She is directive when needed, but her photos feel very natural and relaxed, not super posed. If you are thinking about hiring Michelle, do it! You won't be disappointed. Her work is so beautiful!

Rebecca

Married on 10/21/2017

I cannot rave about Michelle Girard Photography enough. On a day full of so much hectic energy and requiring so much attention, Michelle's expert eye and calm presence made photo time feel effortless and the photographs are flawless. This included taking photographs in the middle of a tourist-heavy area that holds special significance for both my wife and me. Michelle was able to get three families to move, pose, laugh, and present in quick time, all the while keeping everyone's energy up. She captured each wedding party member's unique spirit and eased parents who usually avoid the camera. My wife and I could not have asked for a more perfect record of the day's events. Absolute perfection. (And her assistant, Jeff, was very helpful, too.)

Dana

Married on 09/09/2017

Michelle recently took the photos for our September wedding, and we could not have been happier. Everything was seamless, from planning the schedule for the day, to corralling our family and friends into group shots (which is often like herding cats), to getting our pictures afterwards. Michelle made us feel so comfortable and really listened to our vision for the wedding, and her ability to capture the spirit and joy of the day completely shone through. Not only is Michelle an awesome photographer, but she is fun, friendly, and totally the kind of person you want to grab a beer with. I cannot recommend her services highly enough.

Are you interested?

Send a message

Raeanne

Married on 07/01/2017

Michelle was amazing, we couldn't have picked a better photographer. She was polite, helpful and always asked our opinion. I will definitely be contacting her again in the future for events and recommending her to everyone I know! Thank you Michelle!

Lizzie

Married on 09/10/2016

Michelle Girard is fantastic, hands down. From the moment we first began talking to her on the phone, we knew she was just what we were looking for. She was relatable, personable, super easy to talk to. We had a few strong ideas of what we wanted out of a wedding photographer and she was open to everything we wanted to do, especially if it was out of the ordinary. On the wedding day, Michelle and her second photographer arrived and immediately got to work without much direction. Michelle fit right in and was really fun to have around. She felt like a friend. She gave clear direction when needed - large family photos, etc. and then took candid shots very well. It was clear that she wanted to make sure we were getting everything we needed and wanted from her. Overall, she has excellent communication and a fantastic personality - a gem! She also posts a sneak peak of the photographs on her blog within a week of the wedding, so you get to see some of the photos early! Along with the photos she posts a little reflection on the day, which was so fun to read. Highly recommend Michelle!

Jamie

Married on 09/04/2016

Michelle was absolutely AMAZING. From the first time we met with her, she was incredibly warm and enthusiastic and truly took an interest in getting to know my husband and I as a couple. Our engagement shoot was a great experience and we were able to become comfortable around the camera and with Michelle's very helpful cues. Michelle communicated quickly and effectively whenever something came up or when we had questions. On our wedding day, Michelle and the second photographer, Luke, were exceptional at directing both us and our family and friends. Michelle was both personable and very patient, as I often became distracted. We could not be happier with our pictures. They are beautiful! And we received them in a very reasonable amount of time. I'm looking forward to the next person I know to get engaged because I cannot wait to personally recommend her!

Laura

Married on 05/07/2016

My husband and I were initially drawn to Michelle's work because of the artistry and uniquely personal quality of her photos, but it was her warm, fun and outgoing personality that completely sealed the deal for us. Neither of us is very comfortable in front of the camera, so it was important to find a photographer who we really clicked with to help us relax and drop our guards – and from the first minute with Michelle, we were at ease. We met in person several times to plan both the engagement session and the wedding day. During the actual shoots, we were relaxed and laughing and felt like we were just hanging around with a good friend… who also happened to be taking pictures of us. Don't get me wrong, Michelle is a professional and was continuously directing us in order to stage the photos, change our positions or movements, and change locations, while laughing along with us and enjoying the time. And the pictures are absolutely gorgeous! The wedding photos especially are beyond what I had hoped for – there are so many amazing shots that evoke the feeling of the day, from getting ready to the ceremony and the reception. On our wedding day, Michelle and her team were all a pleasure to work with. My husband was a little nervous for his getting-ready pictures with the second photographer whom we had not met previously, but we shouldn't have worried – Michelle's 'second shooter' and her assistant were a great fit for us. Michelle and her team moved discreetly throughout the reception to capture pictures of the festivities. When we got to the cake cutting and realized that we didn't actually know what to do, Michelle saved us by whispering instructions while she captured the moment! Since the pictures became available for guests to view, I have received so many compliments on how beautiful they are. Michelle was absolutely worth the investment, both for the quality of her work AND for the joy she brought to our wedding experience!

Michelle was amazing! She worked closely with us on a very tight timeline to ensure that we would love our wedding photos. We had a lot of stress about the day, with absolutely zero event-planning experience, and she was masterful at helping us figure out exactly what we would want and need. We can't say enough good things about our wedding photos and working with Michelle!

Caitlin

Married on 10/16/2015

Michelle Girard was our photographer during our 10/16 wedding in Harkness State park. We found Michelle at the CT wedding expo in Hartford. We found many photographers that day, and had a lot of research to do to choose the right one for us. After looking at many portfolios and emailing back and forth with many folks, we knew Michelle's photos and personality were something special. There is magic in her photos. It sounds corny, and it might just be the photoshop, but I also think she has a way of taking your special day and making you feel absolutely comfortable while she clicks away. She has a way of finding just the right lighting, or creating it with some added flash, but boy did our pictures just look wonderful. Our family and guests appreciated working with her. She was very good at telling folks where to stand when necessary or if there were a few adjustments they could make to make the photos look great. We were able to take such wonderful photos (and so many!) and really take advantage of our ceremony/reception space. We would highly recommend her to everyone for your photography needs! We are really so happy with our decision to work with her. :)

Cait

Married on 09/05/2015

Michelle is incredible, both as a person and as a photographer. Not only are my photographs so incredibly beautiful from that day and exactly what I wanted, but Michelle was such a blessing to have around throughout my entire wedding day! Michelle also did our engagement photos, which we also absolutely loved. Her presence is extremely calming and she is also very efficient. Michelle knows when to be directive and when to let moments unfold. Michelle is extremely professional but also a lovely and fun person. She is also an excellent photographer. I also felt very supported and connected to Michelle every step of the way throughout my planning process and she was very patient with my (many, many, many) questions. She also was very responsive and answered me quickly and thoughtfully. Additionally, my husband loved her, and my husband is NOT comfortable in front of the camera and he really truly was with Michelle and it shows in our photos.

Also, working with Michelle is very easy- she makes the process very streamlined and very easy- she takes care of everything on her end (in my case finding a great second shooter, making her own travel arrangements, etc and her billing system is extremely clear and easy). These aren't always the first things that come to mind, but I really appreciated this when I was planning my wedding.

Ultimately, I cannot recommend Michelle enough. She is extremely talented, and really knows photography from all of the technical photography aspects and has a great eye for detail as well as flattering angles, lighting, etc. I am THRILLED with my wedding photos, as is everyone who has seen them. Michelle is everything I was looking for in a photographer and she definitely surpassed all of my expectations! I consider myself extremely fortunate to have had her as my photographer.

Andrea

Married on 09/03/2015

Michelle Girard was the perfect choice to capture the joy of my daughter's wedding day! You need only to view her work here or on her website to realize that she is a very talented and skilled photographer. But Michelle brought so much more to the wedding day. She demonstrated compassion when working with our elder family members, she was able to wrangle all of the family members for the formal portraits, she made the couple very comfortable in front of the camera and she respected the wishes of the parish priest while still managing to capture beautiful and emotional images. We were thrilled with the quality of the final images and with the timeliness in which she delivered the photos. Michelle exceeded our every expectation. Thank you Michelle!

Ashley

Married on 07/18/2015

Michelle photographed our engagement photos and wedding. We were so pleased with her results. Michelle was a pleasure to work with every step of the way. She even surprised us with a slideshow from our wedding! Her home office is very welcoming and perfect for viewing such special memories. Best of all, she has an adorable goldendoodle (we have two)! I highly recommend Michelle.

Heather

Married on 07/17/2015

Michelle Girard is an amazing photographer and my husband and I were so lucky that she was able to capture our special day and give us photos that will last a lifetime! Michelle is such a professional, sweet, and down to earth individual that takes great pride in her work. The moment we met Michelle we were amazed with her work and her personality. It was like catching up with an old friend. She made us feel so comfortable helping us plan our vision to capture our special day. She kept us calm the entire wedding day and handled everything that we had discussed plus went above and beyond to capture many details from the day using a very artistic approach. Her photographs were absolutely amazing, and we especially loved the ones she took when no one knew she was watching. Our wedding guests also raved about how great she was and what wonderful work she did. I have and will continue to recommend Michelle Girard Photography to everyone I know, and I cannot wait for her to do maternity/family pictures in the future.

Ted

Married on 11/15/2014

Michelle Girard creates an environment where people feel comfortable. This simple fact was the deciding factor for my wife and I when we chose Michelle over other vendors. As many do, we met many photographers before we chose Michelle; she wasn't the more or least expensive, and the energy, enthusiasm, and expertise she brings are her core competencies.

On your wedding day, you'll enjoy having a vendor that is as excited as your guests to be there and work with you; that is what Michelle brings to the table, and so much more.

Dana

Married on 11/08/2014

Michelle was absolutely incredible. Not only is she a funny, smart and kind person, but she is an extremely talented photographer. She always answered our questions and emails within a day or two and was very easy to work with. Most importantly (for us), Michelle offers incomparable value. She charges extremely reasonable prices for very high quality work. We got such a rich variety of photos; formal shots, candid, posed, action dancing shots - we have over 600 beautiful pictures within one month of the wedding and are SO pleased and impressed. I highly recommend her!!

Amy

Married on 11/01/2014

We met Michelle at a very large wedding show close to a year before our wedding. Her photos on display took our breath away with the perfect lighting and emotion. We walked around that show for hours, but needed to go back a second time to chat with her again because we felt an instant connection to not only her work, but with Michelle herself.

When you meet Michelle for the first time, you feel like you're being reunited with a best friend. Michelle is effervescent and so much fun to be around. But when it comes to her work, she is no joke! While she always is super fun, there is a seriousness when she's working that shows in her incredible work.

We met with Michelle a few times before our wedding to discuss the shots we wanted, and she gave us pointers and tips to consider for locations, shots, and just general wedding planning advice. She took our engagement photos and was so flexible about rescheduling when our original date was rainy.

Speaking of rain, our wedding day was a complete wash-out. Michelle reached out to her colleagues in the area and came up with a fabulous (dry) location for our "first look" pictures when our original location was flooded and muddy. As with last minute changes, there are sometimes snags, and we weren't without ours, but Michelle stayed positive, focused and in charge--something I TRULY appreciated when I was frazzled.

The images we received from Michelle are breathtaking. We seriously could not be more pleased with photographs from our very special day.

I cannot recommend Michelle more highly. Book her while you can. You will be NOT be disappointed.

Ryan

Married on 10/18/2014

Michelle is extremely comfortable to work with she has a very artistic eye and we are glad we got to be part of her wonderful work. We are very pleased with quality, timeliness and overall professionalism Michelle provided for out reception event.

Brian

Married on 10/17/2014

Michelle was all around great! She went above and beyond in many ways and created great photos of our wedding. We highly recommend her. She's a true professional with elegant style, a creative vision, and high quality photos. You won't regret choosing her.

Emma

Married on 09/13/2014

Words cannot express how wonderful Michelle is. From the first time we met she was personable, funny, sweet, and professional. Throughout the whole process she made us actually feel comfortable being in front of a camera for hours. Our engagement pictures turned out amazing and it was from there that I knew else had made the right choice. Our wedding pictures were unbelievable. She captured all the special moments and then some all while being so wonderful. So many people came up to me afterwards and said how great she was. Michelle was the perfect addition to our wedding and added so many special touches that we will never forget!!

Angela

Married on 09/05/2014

Altogether we would give Michelle Girard's photography a 5 out of 5. We went to a couple photographers before finding michelle, and fell in love with her work immediately! She is personable, passionate and truly loves what she does. You can see all of this through meeting with her even for the first time! We would recommend Michelle to everybody and anybody :) we can't stop starring at our wedding photos! We couldn't thank Michelle enough for capturing our amazing day.

Danielle

Married on 08/22/2014

My husband and I absolutely loved working with Michelle! She took beautiful engagement and wedding photos for us, and we got along like we were good friends quickly! She has great quality photos and such an easy going and fun person to work with. We can't recommend her enough! Thank you Michelle!

Katy

Married on 06/28/2014

Michelle is amazing to work with! We found her on weddingwire and Skyped with her to see if she would be a good fit for us. We do not live near each other and she was willing to speak with us on the phone and through Skype. Immediately, we loved her portfolio and her personality. We knew she was perfect for us. Our engagement session was wonderful and it gave us an opportunity to really get to know Michelle. My husband does not always photograph well when he is nervous and Michelle made him feel very comfortable. Leading up to the wedding, Michelle was easy to reach and promptly returned any emails I sent. The day of the wedding was amazing and Michelle captured each moment beautifully. We have only seen a handful of pictures so far, but they are AMAZING! Family and friends have told us they are the most beautiful pictures they have ever seen. I can't wait to create the album with Michelle and see the rest of the photos. Michelle has a wonderful personality and is easy to work with. She is worth every penny!

Vanessa

Married on 05/25/2014

Michelle is everything you'd want in a photographer. She's personable,(even with grooms that hate having their picture taken) professional, (quality service from start to finish) punctual (with both communication and the pictures) talented (her pictures speak for themselves) and goes above and beyond to satisfy her clients. From the extra time she spent with us during our engagement shoot to the cute bride and groom cookies she sent us as a thank you; everything she does is top notch. Her pictures are of course BEAUTIFUL and somehow she managed to capture all the details and little moments we want to hold on to forever. But it's her attention to detail, experience, and focus on client rapport that allows you as the bride (and groom) to know from the start you're in good hands. I would (and do) recommend her to anyone!

Meredith

Married on 03/08/2014


We would like to thank Michelle for making our wedding photo experience absolutely amazing. She made us feel so comfortable and natural, all while guiding us into beautiful poses for the pictures. Her personality fit right in with our friends and family as we all loved her. We saw her work in the Berkshires of Massachusetts for our friends wedding, and we are so blessed that she could make it to Costa Rica to be a part of our big day. Michelle has creative ideas for unique photos. Our pictures speak for themselves. She really captured every moment, from getting ready in the rooms, to the wedding, to the sky lanterns at night on the beach, and dinner afterwards. We would (and already have) recommended that friends of ours use Michelle as their wedding photographer. She's absolutely amazing at what she does. Thank you Michelle!

We cannot say enough about how wonderful Michelle Girard has been throughout our entire wedding process. As engaged couples quickly realize, the wedding planning process can be quite overwhelming and it is hard to find people who you can rely on and trust when it comes to wedding services. We were lucky to meet Michelle Girard at a bridal show and were immediately impressed by her work, her down to earth nature, and her good sense of humor and honesty. She was upfront with us during the negotiation process and made sure that we were comfortable with what we were going to receive. We were not local to her office, but were able to communicate effectively via email and had an in-person meeting before officially booking which was very helpful.

Michelle offered a complimentary engagement session for two hours or so (because we were not local we did have to pay for travel, but not too much). Michelle ended up staying and working with us for 6 HOURS, not including travel! She was fun, calm, relaxed and wonderful to work with, and had great ideas. We weren't pressured at all to know exactly what we wanted or choreograph things ourselves.

I also cannot say enough about how great Michelle was during the wedding day. During all the stress of getting ready and coordinating a house full of people running around she was the most helpful person in organizing and moving us forward. We didn't pay for a coordinator (thankfully), and Michelle was able to embody not only that role but also one of a calming and reassuring third party who kept everyone in check. She was a reliable separate "set of eyes" on everything who was so supportive and kind.
Are you interested?
Send a message